With TikTok becoming one of the most popular and influential social media platforms over the past few years, it's no surprise that many influencers are now vying for the top spot. But who is dominating the TikTok world? This article offers a list of the top 50 TikTok influencers of 2023 – all carefully selected and ranked according to their success on the app! So who will be crowned #1?
Introduction to TikTok
TikTok is the latest craze that's taking over social media. It's the newest platform for users to express themselves through short, funny videos. TikTok is quickly becoming a go-to destination for anyone looking for a good laugh or creative video content.
For those new to TikTok, it's fairly simple to get started. All you need to do is download the app and create an account. Then you can start watching videos from other users and creating your unique content. The app also includes various built-in tools that allow users to edit their videos with special effects, filters, music, and more!
So if you're ready for some fun (and maybe even some internet fame), it's time to jump onboard the TikTok train! Get ready because this wild ride is sure to be one of your favorite social media experiences yet!
Why TikTok is Taking Over Social Media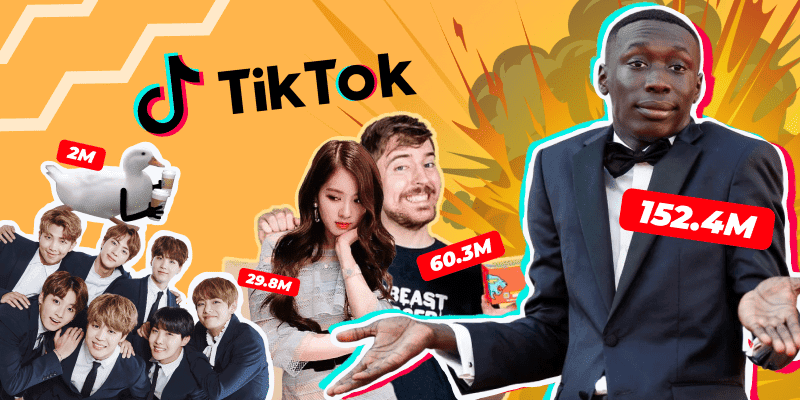 TikTok is taking over the world of social media, and it's no surprise why. This app has revolutionized how we share content with friends and random viewers. From funny skits to lip-sync challenges, TikTok has something for everyone!
Fun and Engaging
Creative Platform
Highly Shareable
Wide Variety of Content
Trending Topics.
It doesn't matter if you're a college student just looking for some entertainment or an aspiring influencer on their way to stardom – users can find unique ways to express themselves through short videos. Plus, there are tons of options when it comes to music, filters, or effects. With all these features combined, it's no wonder why TikTok is quickly becoming one of the most popular apps among young people today.
Types of TikTok Influencers
TikTok, the latest social media platform to take the world by storm, has given rise to an entirely new breed of influencers: TikTok Influencers. If you haven't heard of them yet, don't worry—we're here to fill you in on all the fun! From skit makers and lip syncers to prankssters and dancers, there's a wide variety of types of influencers who are ruling the TikTok universe.
The ever-entertaining Skit Makers can be found churning out hilarious videos with creative storylines ranging from relationship drama to teenage antics. Lip Syncers bring life to popular songs or original creations. Pranksters put up videos that make us laugh out loud as they pull off unexpected stunts or jokes in public places.
Benefits of Working With TikTok Influencers
TikTok influencers are taking over the business world! Companies everywhere have jumped on board and are reaping the benefits of working with these creative superstars. But what does it mean for your business? Let's find out how TikTok influencers can help you grow.
Building relationships with TikTok influencers can be a powerful tool for businesses looking to increase their visibility and reach. Influencers on the platform have built large, loyal audienceso spread messages about products and services. This kind of organic endorsement from people who already have established trust with their followers is invaluable to growing a brand or company. Plus, it's just plain fun! Working with an influencer on an exciting campaign is sure to liven up any dull office environment.
List of The 50 Most Famous TikTok Influencers In The World
The world of TikTok is often viewed as a chaotic place full of outrageous trends, hilarious content, and hordes of influencers. From lip-synching to prank videos, it's no wonder why TikTok has taken the world by storm in recent years. And while there are many talented creators on the platform, only a few have risen above the rest and earned their rightful place among the 50 most famous TikTok influencers in the world.
This list wouldn't be complete without mentioning Addison Rae Easterling, who has proved her worth as one of TikTok's most influential figures with over 67 million followers. Then there's Charli D'Amelio—the original queen of TikTok—who continues to dominate the platform with over 99 million followers tuning into her every move. And how could we forget about Loren Gray Beech?
How to Become a TikTok Influencer?
Are you looking to become the newest TikTok influencer? Are you ready to join the ranks of Charli D'Amelio and Addison Rae? Well, look no further! Follow several simple steps to become the next big thing on TikTok.
First, you' need a catchy username. Don't be afraid to get a little creative – we suggest something involving your pup or favorite snack food! Next, unleash that creativity and make some fun videos. Whether it's lip-syncing, dancing or comedy – pick a style and go for it. Make sure to include plenty of trendy hashtags so users can find your content more easily!
Finally, don't forget to engage with other users.
How to find TikTok influencers for your brand?
Are you looking for a way to promote your brand? The answer is TikTok influencers! Finding the right person to promote your brand on social media can be tricky. Luckily, there are several ways to locate and hire influencers who specialize in TikTok.
First and foremost, it's important to calculate how much money you want to invest in your influencer. Knowing this will help narrow down your search results and make sure you find an apt match. Secondly, get familiar with the type of content that's popular on TikTok so you know what kind of videos your potential influencer should create for your brand. You could even use some hashtags or search by location if you're looking for a specific audience.
Finally, don't forget about pre-existing relationships!
Conclusion about TikTok Influencers
TikTok influencers are here to stay. The competition is fierce and only getting fiercer, but that doesn't mean you can't join in the fun! Got an idea? Don't worry if you don't have thousands of followers – even the smallest TikTokers can make a big impact. Who knows, maybe you'll be the next big thing? So what are you waiting for? Get out there and show us what you got!