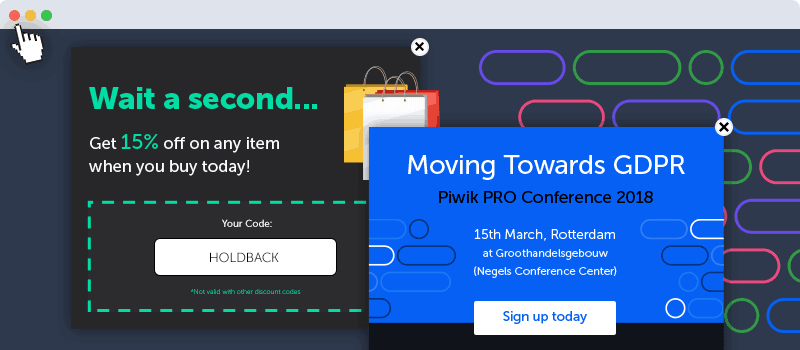 Today pop-ups are largely associated with high bounce rates. You can rarely hear about how well they grow conversion. Users are ready to turn a blind eye on banners, chats, contextual messages, and newsletters, but they are extremely irritated with the improperly set display of pop-ups. Nevertheless, bounce rates increase solely on the resources where pop-ups are improperly used. For such giants as Amazon, L'Oreal, and Forbes, pop-ups only help to grow conversion. Actually, if correctly used and customized, they are more effective than banners, online chats, and other similar stuff.
Chat, banner, hello bar, or pop-up: what's more effective?
The conversion generated by chats, hello bars, and banners was proven during the practical and theoretical studies by Entrepreneur, GBR, NP, and other well-known companies. Yet only pop-ups provide maximum efficiency and give the desired results, including sales, subscriptions, database growth, and turning one-time customers into loyal ones. So how does the most irritating advertising element turn out to be the most useful?
Chats are an effective way to improve U/X and interact with the customers who don't like one-to-one communication directly on the website at any time (if there is a 24/7 support).
Banners are a part of traditional advertising which relies on a budget, bright visualization, motivating offer, and (in some cases) CTA. They can't be interesting and conspicuous if they are improperly set and don't take into account clear target segmentation.
Hello Bar is used as a more organic and modern alternative to pop-ups. It's a fixed in the top panel welcoming form with a call-to-action and the related button. No wonder that many marketers refuse from 2-3 types of pop-ups and place one pop-up and a hello bar instead. This makes the pop-up less annoying and the greeting works more effectively.


Statistics is another eloquent proof of the fact that a properly set pop-up is the best of all advertising stimuli. 54% of users want to interact with websites by email, 23% – communicate by phone, 21% – prefer to use online chats, and 2% – use social media. It's logical that users should be able to subscribe to a newsletter in a pop-up window and hello bar instead of a chat or banner. Pop-ups are particularly great because they are dynamic. Popping up objects attract more attention. If they are properly set, well-designed and have relevant content, this can totally nullify the irritating effect. One window in a corporate style with a clear and motivating call-to-action and a button is more likely to get users interested.
You don't need to have a budget, totally redesign your website, or hire a support team to use pop-ups. They work without all these stuff. Moreover, pop-ups help to increase conversion on all fronts: subscription, callbacks, direct or indirect sales. To achieve the results, you need to be creative and make sure that the offer in a pop-up is relevant to the page where it appears.
Types of tasks that can be solved with pop-ups
Pop-ups are suitable almost for any purpose and page. You can try them out for your project to:
1.GENERATE LEADS AND GROW A CUSTOMER BASE
The recommended pop-up type: subscription to news, articles, reviews, and social media.
Benefits: sales, organic traffic, repeat sales, conversion growth.
Place: pages with content (news, articles, blog, etc.), products, pricing, or subscription/registration options (main pages).
If you aim for customer base and audience, you definitely should tell about your content. If you want to increase traffic, get repeat sales, or just make your pop-ups more effective, consider placing lottery pop-ups, which will generate conversion by making visitors complete a certain target action.
To generate leads and create/grow your customer base, you can use a social media subscription form offering to learn more about a product/service or giving a discount in exchange for an email address. It can also offer the subscription to a newsletter and articles or even a money bonus for the users who are ready to provide their email and phone number.
Pop-ups also help to sell new content. For example, you can offer a free book for subscription or blog activity. In this respect, you can also gift podcasts, check-lists, and useful guides. Here is the key rule: if you want to sell your content without being pushy or find potential subscribers, your pop-up must give them something really useful, like life hacks, juicy ideas, tips, etc. Everything that at some point has helped you can be useful and interesting for your target audience. As a result, people will definitely use the source of such valuable information.
Lottery pop-ups are a great tool for lead generation. Who wouldn't want to get a substantial gift without any effort? Everyone dreams to be encouraged in their actions, and in this case, there is a double benefit. A user can win and be announced a winner, which is really flattering even if the prize isn't a Porsche or a month trip to Paris.
2.INCREASE SALES
It's about all sales, direct and indirect.
The recommended pop-up type: discounts, time-limited offers, promo codes, bonuses, and gifts. Also, this type of "hooks" includes product samples, offers with a trial period or cashback, and windows with the items related to the chosen product.
Benefits: sales, organic traffic increase, customer base growth.
Place: landings, product and promotional pages, product cards, pages with pricing, shipping conditions, or registration/subscription. Such windows can pop up almost on every page of an online store. The most important is to make sure their content is relevant to the page.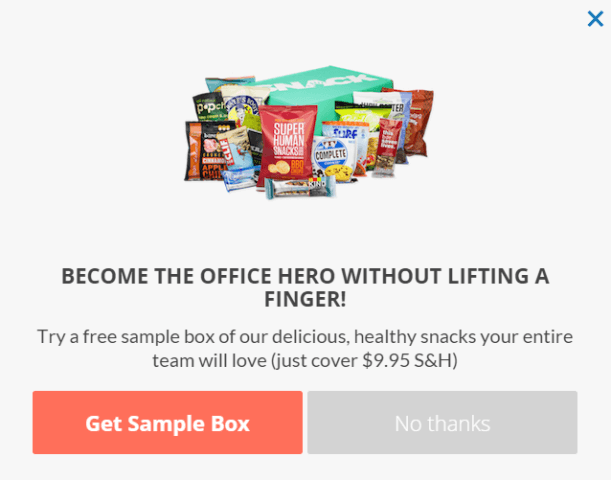 To increase sales, you can place certain offers on your pop-ups. If you want to attract the attention of website visitors and find new customers, promise them a discount. Just make sure that the indicated numbers are real and you can afford them. You can also leverage a discount to keep users from leaving your website. Once a user wants to close the page, they will see a popup with a discount offer and a text like "Stay with us and save more!". Give your visitors a choice, and a great part of them will willingly opt for a bonus or gift.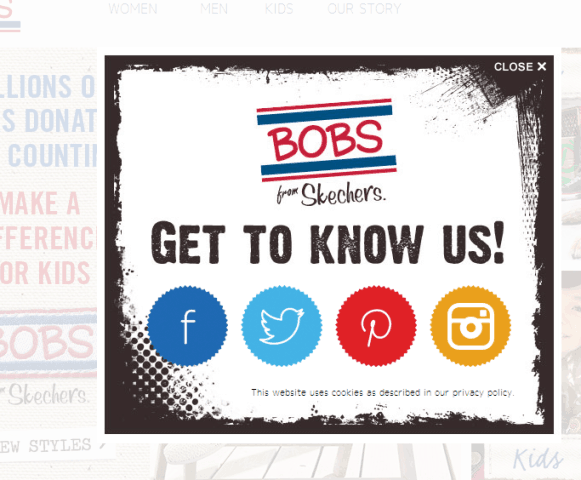 Time-limited offers are a great way to stimulate sales. Yet they only should be targeted at new website visitors. For example, you may offer a discount for an instant order. This is a good way to tell users about promotions and discounts motivating them to act with the fact that the freebies will end soon and they will squander the opportunity to save.
Using such windows, you just play on the desire to make a bargain. However, this doesn't work with regular visitors, since they definitely know what promotions you have and how long they last.
Promo codes, bonuses, and gifts are good triggers for sales growth. They are effective with almost every visitor and customer. The best place to display such pop-ups is product cards, main pages, personal dashboards, and pages with prices and promotions. You can limit the duration of the discount to increase the chances that the product or service will be sold in time.
Also, sales can be promoted with the pop-ups offering a free sample. A potential customer likes the fact that they don't owe anything and can assess whether they really need the product. Such windows are effective on landings and pages with a product description.
A great way to cross- and up-sell are windows and pages with related products shown at the cart stage. In this case, you offer visitors a product with a discount or promise them a gift if they buy two items. Large online stores always add a related items block to product cards and carts. This really works. Moreover, pop-ups turn out to be more effective than sliders and separate website pages.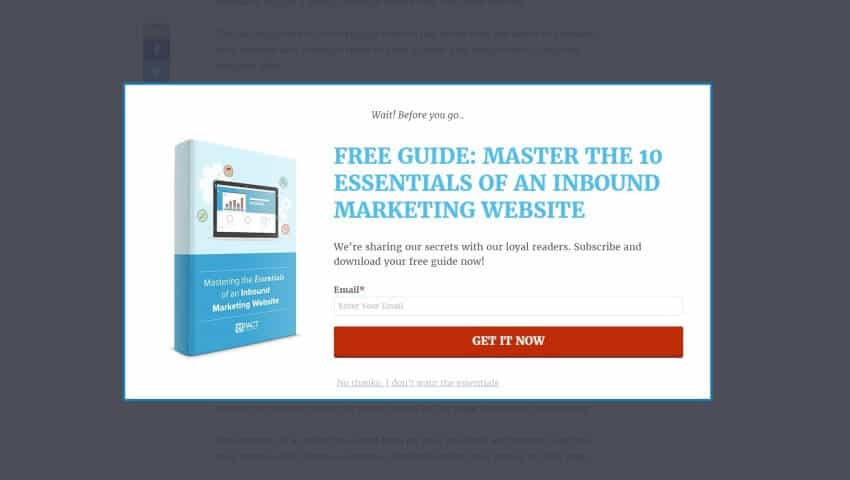 Cashback is a separate topic. Anyway, cashback pop-ups increase sales. They are effective when users want to leave a product or main page. You can keep customers with a promise of a good cashback or discount promo code.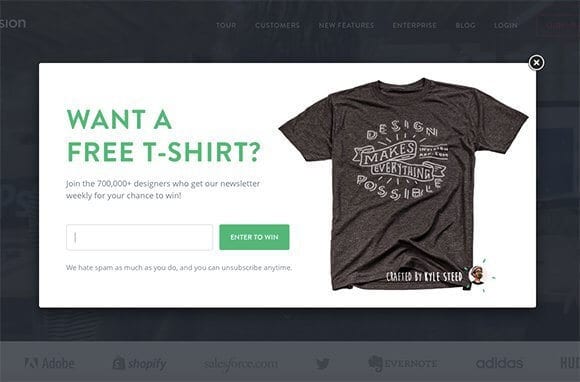 3.IMPROVE USER EXPERIENCE AND INCREASE REPEAT SALES
The recommended pop-up type: feedback, questionnaire
Benefits: Repeat sales, organic traffic growth. If you can get feedback from your customers or visitors, don't lose this opportunity. This will help you to make changes based on the preferences of your target audience without extra financing and A/B testing.
Place: Any type of page is suitable. Such pop-ups are often displayed when a user refuses to view the page, but not necessarily. If users already don't want to spend their time on your resource, you can learn what bothers them in exchange for a little encouragement.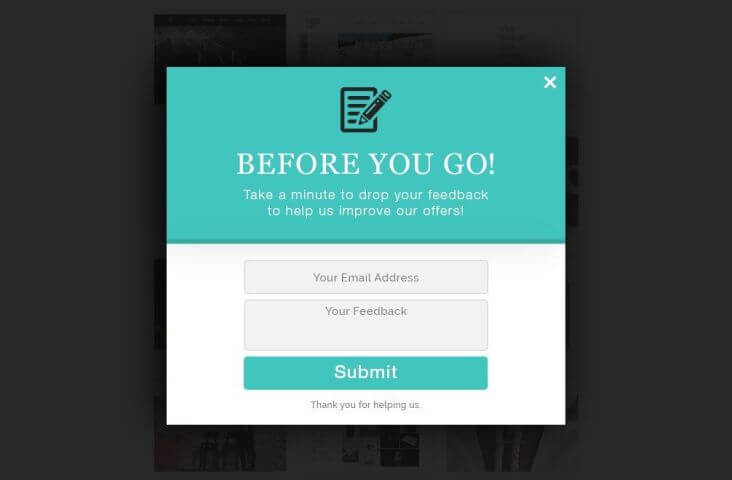 Ask them directly: "How can we improve?". Ask to explain why they don't want to view the page and offer them to leave a complaint or suggestion.
To improve behavioral factors, you can use pop-ups with the information about the updates on your website. For example, TripAdvisor applies this approach to offer users to check out hundreds of appealing hotels. Pop-ups allow you to tell what was done or added on the website to make users'/customers' interaction with the resource, offered products, or services more convenient.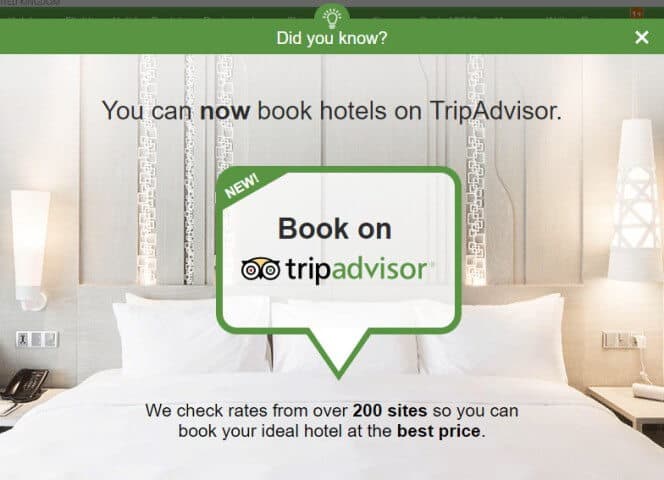 Conclusion
Pop-ups can increase conversion of any website. They allow you to increase sales, grow the number of readers, customers, subscribers, traffic, and eventually turn one-time buyers into fans of your brand. Using them you can even test changes on your resource without spending extra funds. Just select the type of a pop-up, its location, and a relevant message, add a CTA, and enjoy positive results. With this approach, you are sure to have them.