Marketers seek the greatest tools to streamline their work and achieve their goals in today's fast-paced digital marketplace. We've listed the 20 finest marketing tools to assist you in overcoming modern marketing issues. From social media management to UX analysis, these tools will supercharge your marketing strategy and help you ace your campaigns ?.
Our top picks include:
For instance, Plerdy UX Analysis offers valuable insights into how users interact with your website, helping you make data-driven decisions to improve user experience and conversion rates. Meanwhile, content scheduling platforms enable you to plan and publish content consistently, keeping your audience engaged and informed.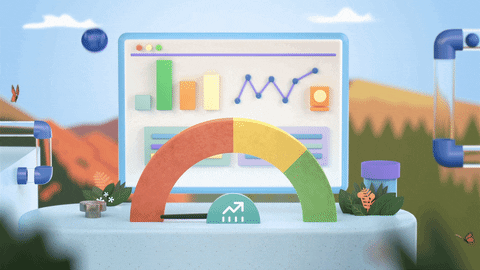 We'll explain each marketing tool's characteristics and benefits in detail. This advice will help you improve your marketing and beat the competition.
What is a Marketing Tool?
A marketing tool is an essential resource that aids businesses in effectively promoting their products or services. These tools come in various forms, from digital platforms to traditional print materials. Their marketing solutions help companies increase sales, brand exposure, and customer base.
Some widely used marketing tools include:
This interaction fosters trust and loyalty, ultimately boosting a company's bottom line. Similarly, optimizing a website for SEO can dramatically enhance online visibility, drawing in more potential clients.
In conclusion, a marketing tool is crucial for any business seeking to bolster its presence in the marketplace. Companies can enhance their promotional efforts and achieve their objectives by employing various resources.
Types of Marketing Tools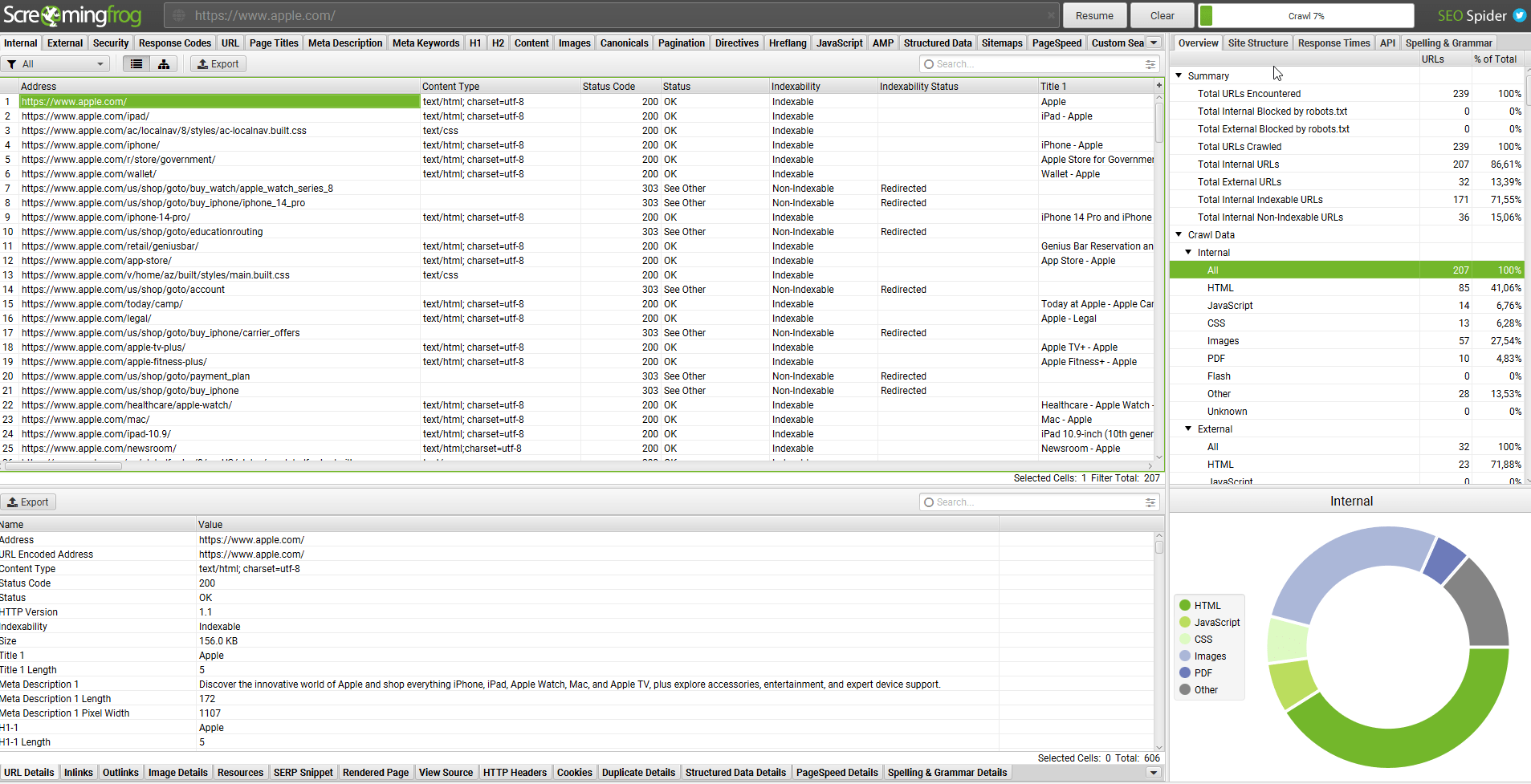 Various marketing tools are available to help businesses enhance their promotional efforts. These resources cater to various objectives, from brand building to customer engagement. Therefore, understanding the different types of marketing tools is vital for selecting the right approach for your company's needs.
Some popular categories of marketing tools include:
Digital Marketing: Exploiting online platforms to reach a broader audience. Examples include social media management, email marketing campaigns, and SEO.
Content Marketing: Producing and distributing valuable content that captivates potential customers. Blogs, articles, infographics, and videos are common formats.
Advertising: Promoting your brand through paid mediums such as print, radio, TV, and online ads.
Public Relations: Managing your company's reputation and fostering positive relationships with the media and the public. Press releases, media pitches, and crisis management are essential elements.
Analytics and Tracking: Utilizing data-driven insights to monitor the performance of marketing campaigns and make informed decisions. Plerdy, Google Analytics 4, and customer relationship management (CRM) systems are popular choices.
Businesses may use Facebook and Instagram to create compelling content for their target audience. In addition, pay-per-click (PPC) advertising can boost website traffic immediately.
In conclusion, the wide variety of marketing tools available provides businesses numerous opportunities to bolster their promotional strategies. Companies can effectively boost brand awareness, engage customers, and increase sales by carefully selecting the right combination of tools.
Conversion Optimization and Heatmap Tools
Optimizing conversions is the name of the game for marketers, and heatmap tools prove to be an ace in the hole. These innovative solutions paint a vivid picture of user interactions, shedding light on areas ripe for improvement. With heatmaps, you can pinpoint high-traffic zones, identify dead ends, and iron out any kinks in your website's user experience. By harnessing the power of conversion optimization and heatmap tools, marketers can fine-tune their strategies, driving up engagement and ultimately boosting sales. So, don't just sit on the sidelines—dive into the world of heatmaps and turn up the heat on your marketing success!

Plerdy, a trailblazer in the digital marketing sphere, offers businesses a treasure trove of tools designed to catapult their online presence to new heights. This all-in-one platform gives marketers valuable insights to make data-driven decisions and optimize their marketing efforts.
Key features of Plerdy that set it apart from the competition:
Heatmaps for tracking user behavior and identifying trends
Conversion funnel analysis to pinpoint weak spots and improve conversion rates
SEO audit for refining on-page optimization
Event tracking for real-time analysis of user interactions
Comprehensive dashboard to monitor key performance indicators
Time and tide wait for no one in the fast-paced world of digital marketing. Plerdy is your go-to solution, ensuring you stay ahead of the curve while maximizing your business's potential. With Plerdy by your side, you'll be primed to leave competitors in the dust and seize every opportunity to flourish online.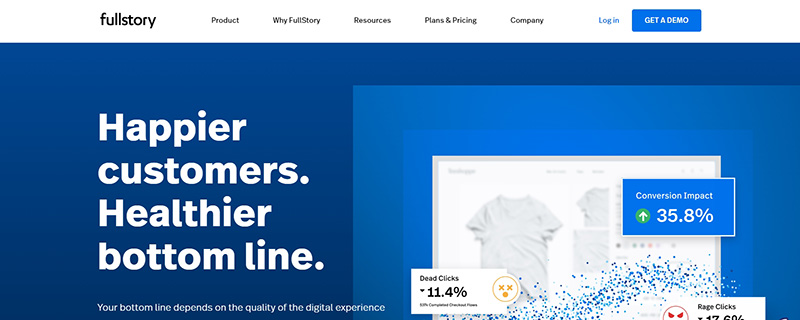 Digital businesses seeking an edge in today's fiercely competitive market need a powerful ally – and FullStory is just the ticket. This top-tier software is a must-have tool for anyone looking to dive deep into user experience and pinpoint areas for improvement, keeping customers hooked and conversions rolling in.
FullStory boasts a suite of impressive features:
High-fidelity session playback for accurate user experience analysis
Advanced search capabilities to quickly locate relevant data points
Real-time click and scroll heatmaps for instant visualization of user behavior
Exceptional privacy controls to safeguard user information
Seamless integration with popular platforms, streamlining your workflow
By leveraging FullStory's comprehensive insights, you'll be well-equipped to fine-tune your website, optimizing the user experience like a pro. So, why wait? Embrace the power of FullStory and watch your digital business thrive in this ever-evolving online landscape.

In digital marketing, Inspectlet emerges as a shining beacon for businesses striving to understand user behavior and optimize their websites. This powerful tool sheds light on the intricacies of user interactions, helping you make informed decisions to bolster your online presence and conversion rates.
Here's a rundown of inspect let's standout features:
Dynamic heatmaps that visualize user engagement and clicks
Session recordings that capture every mouse movement, click, and scroll
Form analytics to diagnose and rectify user bottlenecks
Error logging to flag issues and maintain a seamless user experience
Customizable metrics to align with your unique business goals
With Inspectlet in your arsenal, you'll have the insights to finetune your website and pave the way for success. In today's cutthroat digital landscape, it's high time to harness the power of Inspectlet and watch your business soar to new heights.

Regarding digital marketing tools that pack a punch, Matomo (formerly Piwik) is a heavyweight contender. This powerful marketing analytics platform allows companies to make data-driven decisions.
Matomo's standout features include the following:
Comprehensive website analytics for granular insights into user behavior
Privacy-centric design, ensuring GDPR compliance
Customizable dashboards for a personalized experience
Self-hosted or cloud-hosted options to suit your business needs
Seamless integration with popular content management systems and e-commerce platforms
By harnessing the power of Matomo, you'll be able to make data-driven adjustments to your website, fine-tuning your marketing strategy like a well-oiled machine. So, take the plunge and give your digital business the analytical edge to stand head and shoulders above the competition. With Matomo in your corner, you're sure to come out swinging.
Social Media Management Tools
Diving into the dynamic world of digital marketing requires an arsenal of powerful tools, and our Social Media Management Tools list offers just that. These cutting-edge software solutions have been crafted to bolster your marketing strategy, ensuring your business stays competitive. By leveraging these essential tools, you can navigate the intricate social media landscape with finesse, propelling your enterprise to new heights in the digital realm.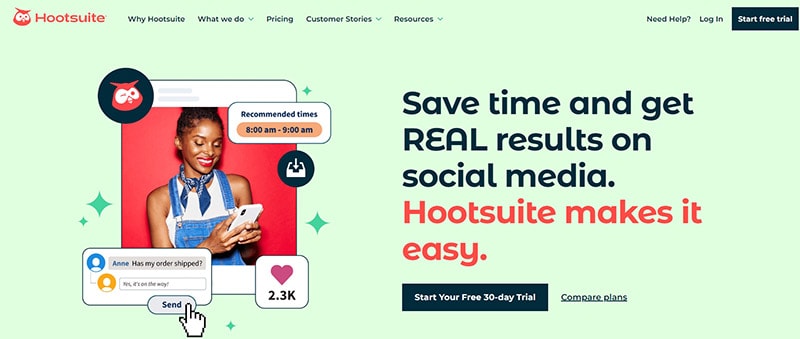 Hootsuite, a digital marketing pioneer, gives organizations an all-in-one social media solution. This powerful software is a linchpin for managing multiple social accounts, eliminating the need to juggle between platforms. Its intuitive interface simplifies scheduling posts, engaging with audiences, and monitoring performance – all from one central hub.
Key features that make Hootsuite a must-have for modern businesses:
Unified content management
In-depth analytics
Social listening capabilities
Team collaboration tools
Catering to a wide range of enterprises, from start-ups to industry giants, Hootsuite's extensive features elevate your social media presence to new heights. Adopting this indispensable tool will make you well-equipped to conquer the digital marketing arena, leaving competitors in the dust. With Hootsuite by your side, you can seize every opportunity to connect with your target audience, bolster your brand's image, and, ultimately, drive business growth.

In the fast-paced digital marketing realm, Buffer stands out as a reliable ally, arming businesses with the necessary tools to navigate the intricate world of social media. In addition, buffer's user-friendly interface makes scheduling posts, tracking performance, and engaging with audiences a breeze.
Here are some stellar features that put Buffer in the spotlight:
Seamless content scheduling
Tailored analytics
Social listening tools
Team collaboration options
Buffer supports any social media campaign for startups to industry giants. By embracing this powerful tool, you'll be well-equipped to elevate your brand's online presence, leaving competitors in your wake. Buffer enables you to tap into the potential of your target audience, fortify your brand's image, and propel your business toward growth and success.

Sprout Social, a powerhouse in the realm of digital marketing, provides businesses with a robust toolset to master the art of social media management. This innovative tool serves as a beacon, illuminating the path to success in the ever-evolving world of online engagement. Sprout Social's sleek interface simplifies the process of scheduling posts, interacting with audiences, and measuring performance across multiple platforms.
Unified content scheduling
Customizable analytics
Advanced social listening
Streamlined team collaboration
Sprout Social caters to an extensive range of businesses, from up-and-coming start-ups to seasoned industry leaders, bolstering any social media campaign. By harnessing the potential of this versatile tool, you'll be well-prepared to outpace competitors and make a lasting impression in the digital landscape. Sprout Social helps you connect with your audience, boost your online presence, and expand your business.

This innovative tool acts as a guiding star, leading your marketing efforts through the labyrinth of online engagement. Later's streamlined interface enables effortless scheduling of posts, audience interaction, and performance tracking across a myriad of platforms.
Here are some standout features that make Later a top choice for businesses:
Visual content planning
In-depth analytics
Social listening capabilities
Team collaboration options
Later caters to various enterprises, from emerging start-ups to established industry powerhouses, providing a solid foundation for any social media campaign.
Email Marketing Tools
Embarking on a digital marketing journey demands a well-stocked arsenal, and our list of Email Marketing Tools delivers just that. These innovative software solutions boost marketing efforts to keep your firm ahead of the competition. By leveraging the power of these essential tools, you can expertly navigate the ever-evolving email marketing landscape, boosting your brand's presence and driving business growth.

Mailchimp, a digital marketing giant, offers organizations a complete email marketing toolkit. This innovative program puts your brand at the forefront of online conversation. Mailchimp's intuitive interface simplifies crafting eye-catching campaigns, segmenting audiences, and measuring success.
Notable features that make Mailchimp a top contender include the following:
Mailchimp caters to a wide array of enterprises, from burgeoning start-ups to industry juggernauts, laying the groundwork for any email marketing endeavor.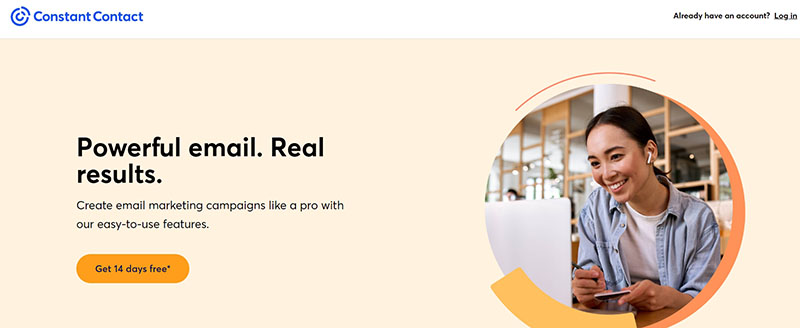 Constant Contact, a linchpin in the digital marketing ecosystem, equips businesses with robust tools to excel in email marketing. This innovative software serves as a compass, steering your marketing endeavors through the ever-changing landscape of online communication. Constant Contact's user-friendly interface streamlines the process of designing captivating campaigns, managing contact lists, and tracking performance metrics.
Standout features that make Constant Contact a top choice include:
Customizable email templates
List management and segmentation
Event marketing tools
Comprehensive reporting
Constant Contact caters to diverse businesses, from up-and-coming startups to seasoned industry leaders, fortifying any email marketing strategy. With Constant Contact at your disposal, you can cultivate meaningful connections with your audience, leaving a lasting impression that sets you apart from the competition.

SendinBlue, a digital marketing pioneer, equips businesses with a complete email marketing suite. This innovative technology guides your internet marketing activities. SendinBlue's intuitive interface simplifies the tasks of crafting engaging campaigns, maintaining contact lists, and evaluating performance metrics.
Key features that set SendinBlue apart from the pack include:
Email and SMS marketing integration
Automation workflows
Transactional email capabilities
Real-time analytics
SendinBlue provides a solid email marketing platform for ambitious start-ups to established industry giants. This powerful tool will help you engage your audience, boost your brand's online presence, and grow your business. With SendinBlue in your marketing toolkit, you can forge lasting connections with your audience and leave an indelible mark that distinguishes you from competitors.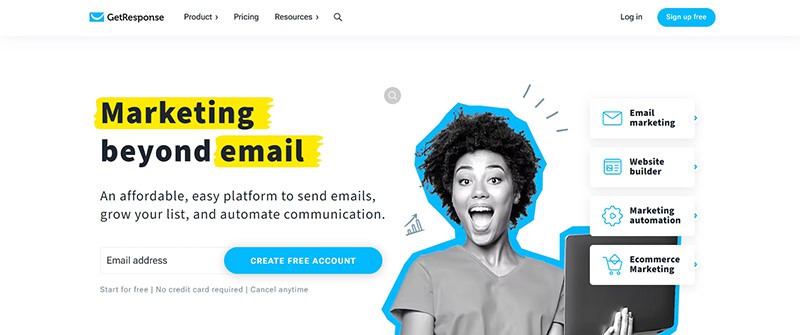 GetResponse, a powerhouse in email marketing, paves the way for businesses to foster meaningful connections with their target audience. This digital marketing tool is a linchpin for crafting compelling campaigns, orchestrating seamless communication, and driving engagement. With GetResponse at your side, you can elevate your marketing prowess and set your business on a trajectory toward success.
GetResponse's standout features include the following:
Marketing automation
Landing pages and webinars
CRM integration
Advanced segmentation
Businesses of all shapes and sizes can harness the power of GetResponse to cultivate their online presence, from budding entrepreneurs to seasoned professionals. With its finger on the pulse of the latest marketing trends, GetResponse keeps you ahead of the curve as you strive to outshine the competition. This powerful software will give you the marketing tools you need to leave an indelible imprint on the digital environment and strengthen your brand's position.
Content Marketing Tools
Diving headfirst into the vast ocean of SMM tools, marketers and agencies must find the pearl that elevates their SEO game. With an arsenal of top-notch tools, you'll seamlessly navigate the ever-evolving tides of the digital marketing world. So, anchor down and embark on an exciting journey as you explore this treasure trove of social media management solutions, cherry-picking the perfect tool to bolster your agency's online presence.

HubSpot, a titan in digital marketing, empowers businesses to flourish in the bustling online landscape. This all-in-one platform streamlines marketing efforts with its top-of-the-line software.
HubSpot's powerful suite includes:
CRM: Keep your finger on the hand of customer relationships, nurturing leads and fostering loyalty.
Marketing Hub: Craft captivating content, monitor engagement, and fine-tune your strategies.
Sales Hub: Seize opportunities with a well-oiled sales machine, driving conversions and revenue.
With HubSpot's cutting-edge features, businesses can hit the ground running, carving out their niche in the digital arena. By placing your trust in this formidable marketing powerhouse, you'll be well-equipped to conquer challenges, seize opportunities, and leave the competition in the dust. HubSpot is the platform businesses should use if they want to build a name for themselves in the constantly developing field of digital marketing.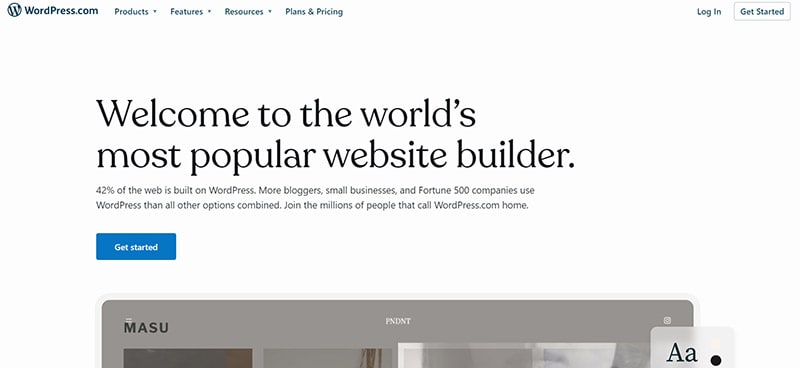 WordPress, the undisputed king of content management systems, has long been the darling of digital entrepreneurs and businesses. Its intuitive interface and rich ecosystem of plugins and themes make it the go-to platform for crafting websites that stand out.
Key WordPress features include:
Flexibility: Whether you're launching an e-commerce store, a personal blog, or a corporate website, WordPress has your back.
Customization: Thousands of plugins and themes are available, ensuring your site reflects your unique brand identity.
SEO-friendly: Built with clean code, WordPress naturally lends itself to optimization, helping your site climb the search rankings.
Community support: A vast and thriving community of developers, designers, and users ready to lend a helping hand.
With the power of WordPress, businesses can create a digital presence that leaves a lasting impression, attracting visitors and driving growth. So, dive headfirst into the WordPress world and watch your online ventures soar to new heights, propelled by the unparalleled capabilities of this versatile platform.

This powerful tool helps optimize your WordPress website, ensuring it gets noticed by users and search engines alike.
Perks of using Yoast SEO include:
Streamlined optimization: Craft compelling meta titles and descriptions while also focusing on keyword usage, all within your content editor.
Readability analysis: Gauge how user-friendly your content is, with suggestions for improvements like sentence structure and paragraph length.
Schema markup: Boost your website's visibility by adding structured data, making it more appealing to search engines.
Social media integration: Preview and customize how your content appears on social media platforms, maximizing its impact.
Unlock the full potential of your website with Yoast SEO, a must-have plugin that paves the way to online success. By taking the guesswork out of SEO, Yoast empowers businesses to create content that resonates with users and ranks high on search engines, giving them the edge they need to thrive in today's competitive digital landscape.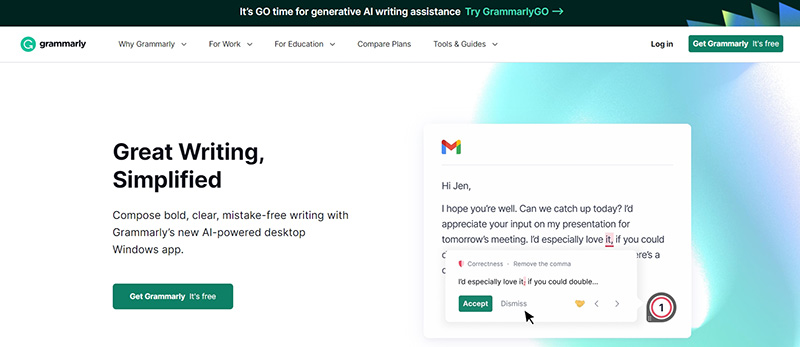 Grammarly, the bee's knees of writing assistance tools, brings impeccable polish to your content – an indispensable asset in the digital marketing landscape. This cutting-edge software ensures your text is spotless and engaging, allowing businesses to communicate effectively and professionally with their target audience.
Key features of Grammarly include:
Advanced grammar and spell check: Iron out any kinks in your writing, from punctuation errors to commonly confused words.
Clarity and conciseness: Streamline your sentences, cutting the clutter and delivering your message precisely.
Tone detection: Ensure your writing strikes the right chord with readers, adapting your style for a tailored approach.
Plagiarism detection: Safeguard your content's integrity, keeping it original and authentic.
Step up your content game with Grammarly – a potent weapon in any digital marketer's arsenal. Grammarly helps businesses succeed in today's competitive internet market by perfecting writing.
Marketing Automation Tools
Diving into the ocean of social media management tools, you'll discover a treasure trove of SEO-enhancing marketing marvels to elevate your agency's online presence. By mastering these tools, you can orchestrate your social media symphony, harmonizing content and streamlining campaigns like a maestro.

Marketo, a powerhouse in the digital marketing realm, offers businesses a suite of tools to streamline their marketing efforts like a well-oiled machine. Its robust features allow you to create tailored experiences that resonate with your audience, fostering brand loyalty and driving growth.
The platform's comprehensive capabilities include:
Lead nurturing and scoring
Email marketing and automation
Landing pages and forms
Campaign management and analytics
Social media marketing
By harnessing the potential of Marketo, you can skillfully navigate the marketing landscape, seizing opportunities to engage with customers and expand your reach.
In a digital world where standing out is paramount, Marketo equips businesses with the tools to craft compelling narratives and build meaningful connections. So, embark on a journey with Marketo and watch your marketing endeavors flourish like never before.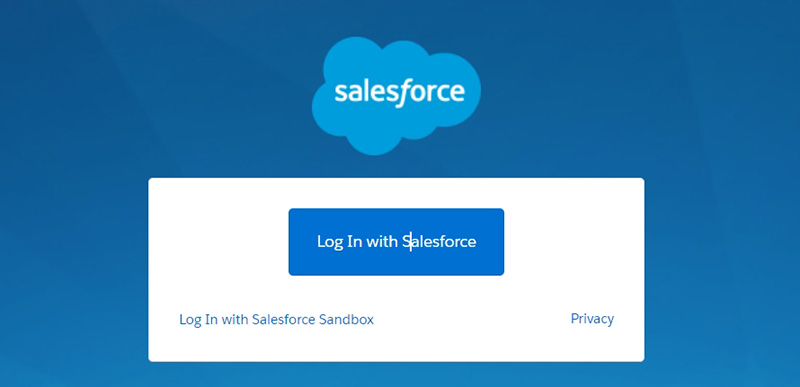 Pardot, Salesforce's dynamic marketing automation platform, empowers businesses to elevate their digital marketing game with its versatile toolkit. The software's robust capabilities cater to B2B marketing professionals' unique needs, allowing them to forge stronger connections with their audience and skyrocket their bottom line.
A few key features Pardot brings to the table include:
Advanced email marketing and automation
Customizable landing pages and forms
Lead management and nurturing
Dynamic content and segmentation
Insightful reporting and analytics
Pardot's seamless integration with Salesforce CRM enables businesses to pull out all the stops when optimizing their marketing strategies. This winning combination allows for a synchronized dance between sales and marketing teams, streamlining processes and driving results.
When you tap into the power of Pardot, you're not just making a splash in the digital marketing ocean – you're riding the wave of success. So, take the plunge with Pardot and let your marketing prowess shine like never before.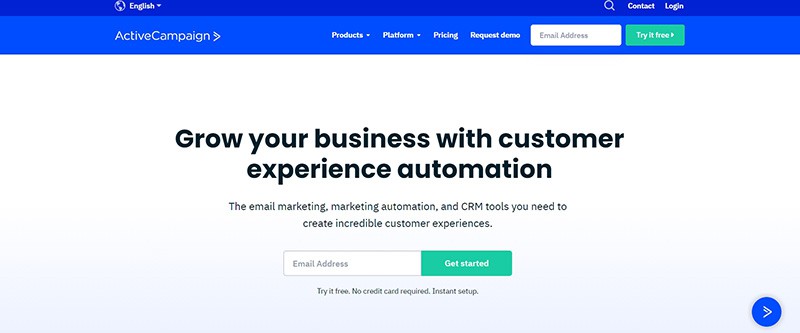 ActiveCampaign, the all-in-one marketing powerhouse, offers businesses a comprehensive suite of tools to catapult their digital presence into the stratosphere. By leveraging its innovative features, companies can effortlessly weave seamless customer experiences and bolster their bottom line.
ActiveCampaign's robust offering includes:
Email marketing and automation
CRM and sales automation
Messaging and chat
Machine learning-powered segmentation and personalization
Designed with user-friendliness in mind, ActiveCampaign enables marketing maestros to orchestrate complex campaigns with the finesse of a virtuoso. So say goodbye to juggling multiple platforms – ActiveCampaign puts everything you need at your fingertips, providing the perfect harmony between marketing, sales, and customer success.
With ActiveCampaign as your marketing co-pilot, you'll navigate the digital landscape like a seasoned pro. So, buckle up and set your sights on the horizon – ActiveCampaign is your ticket to marketing stardom.

Customer.io, a trailblazing marketing tool, empowers businesses to forge meaningful connections with their audience in the digital realm. By harnessing the power of automation, Customer.io helps companies craft personalized experiences that resonate with customers and drive results.
Key features of Customer.io include:
Behavioral targeting and segmentation
A/B testing and optimization
Real-time analytics and reporting
Multi-channel messaging capabilities
With Customer.io in your marketing arsenal, you'll be able to cut through the noise and deliver messages that hit the mark every time. Whether nurturing leads or delighting existing customers, this platform will have you firing on all cylinders.
So, why settle for a one-size-fits-all approach when you can tailor your messaging to each unique individual? Customer.io helps you break free from the cookie-cutter mold, enabling you to create bespoke customer journeys that foster loyalty and fuel growth. Ride the wave of marketing success with Customer.io, and watch your business flourish.
Bottom Line
In conclusion, the marketing world is brimming with powerful tools designed to enhance your strategy and drive results. Our "20 Best Marketing Tools" list has highlighted the cream of the crop, showcasing various solutions to tackle various tasks and goals marketers face daily. ⚡
From social media management to in-depth analytics, these tools cover it all:
Plerdy for UX analysis
Content scheduling platforms for posting consistency
Email marketing tools to engage subscribers
SEO and keyword tools for higher search visibility
As a marketer, you can now confidently shop for the best tools to boost your Shopify store, enhance your website's performance, and show off your website. Remember, the correct marketing tools can save you time, money, and resources each month, helping your business succeed.
One standout tool to consider is Plerdy, which offers valuable UX analysis to help you optimize your website for an improved user experience. So don't let any opportunity slip through the cracks—give Plerdy a try and see the difference it can make for your marketing efforts!
So, fill your marketing toolbox with these essentials, whether you're a small business or a marketing manager at a large company. Then, start your options, compare pricing, and read reviews on Capterra. With the right marketing tools, you're sure to elevate your campaigns and achieve your objectives. Happy marketing!