Even when you think your newly written article is perfect, Google Search bots may treat it differently. They will detect SEO mistakes, like keyword stuffing, metadata issues, missing tags, etc. As a result, your content will rank poorly and never attract the expected readers.
The SEO analysis feature saves you from such failures. It automatically scans the text to spot any problems and advise how to eliminate them.
Why Do You Need to Check SEO Content?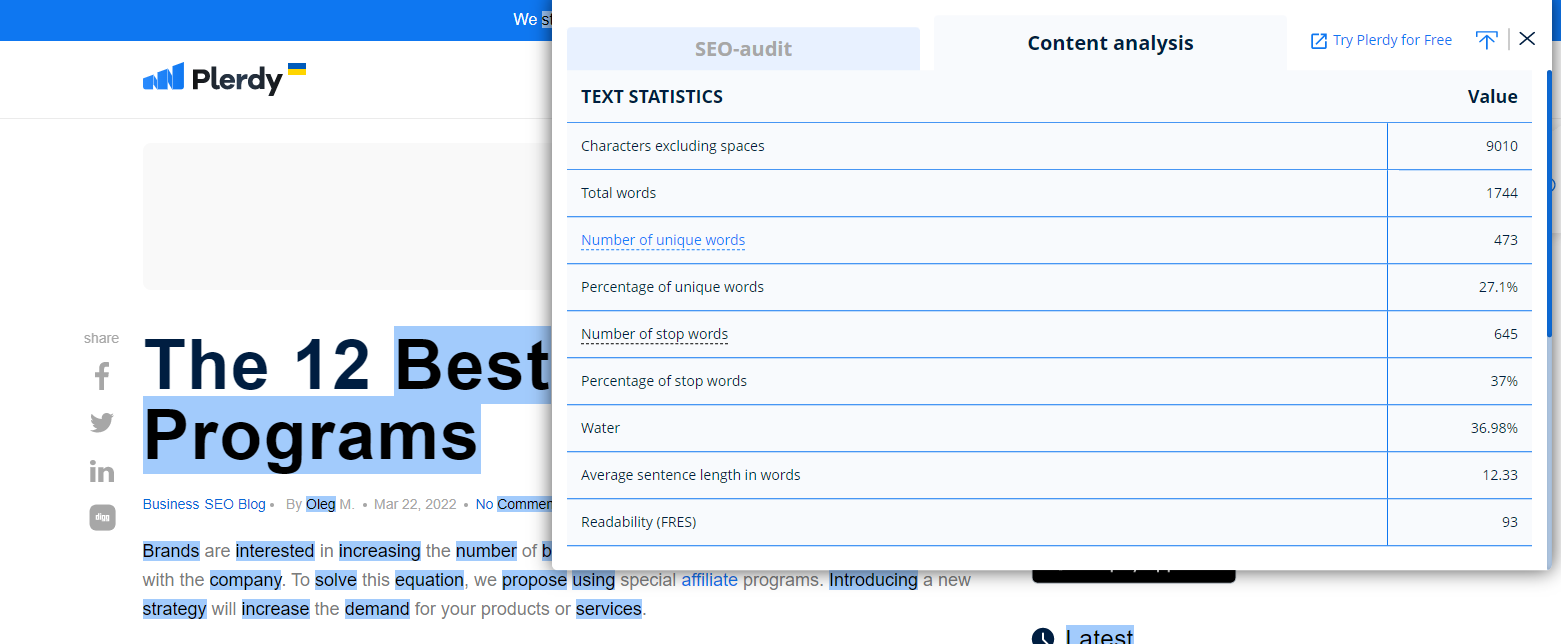 Specialized tools improve the quality of texts on your website and make them more noticeable online. In particular, SEO content checks allow you to:
Improve your website positions in search results. Optimized content ranks better in Google.
Outperform competitors. Those who ignore SEO checks will have lower rankings and fewer website visits.
Ensure a smooth user experience. SEO checkers analyze the quality of text and offer tips to improve it.
Importance of SEO Content
SEO content includes blog posts, articles, case studies, white papers, and any text you add to your website pages.
The primary task of any SEO materials is to promote your business and power your marketing campaigns. That's why SEO content is always dedicated to a specific topic. For example, if you offer banking software, your articles and keywords will be related to the financial industry, fintech trends, etc.
Overall, SEO content is the top way to generate leads through Google Search. Unlike paid ads, it's free and ensures long-lasting results once you get to the top. As a result, most modern businesses use SEO blogs in their customer engagement strategies.
SEO Content Checker by Plerdy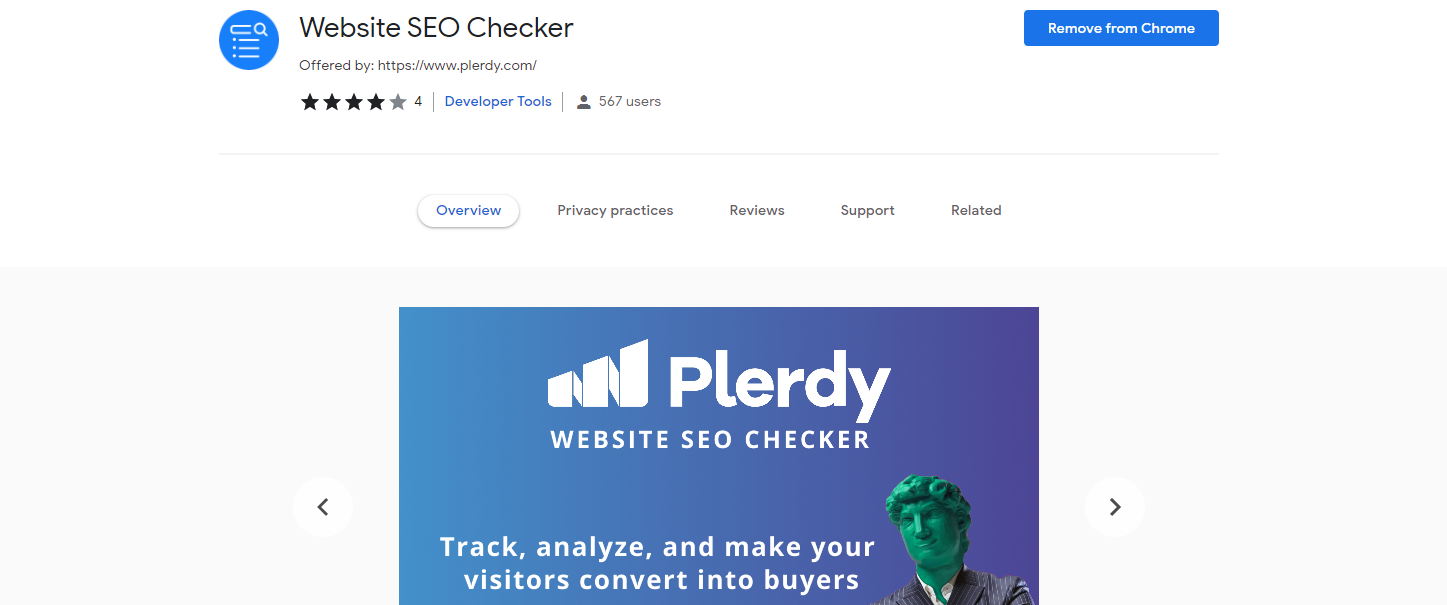 SEO Content Checker by Plerdy is a free Chrome extension you can install in your browser to analyze content on the go. It scans semantics and on-page SEO of any web page in seconds. You only need to click on the extension icon to see highlighted problematic text segments. In addition, you can analyze both your website and the web resources of other brands to run competitor analysis.
What Data Plerdy Collects
Currently, the extension collects two types of data: on-page SEO and content.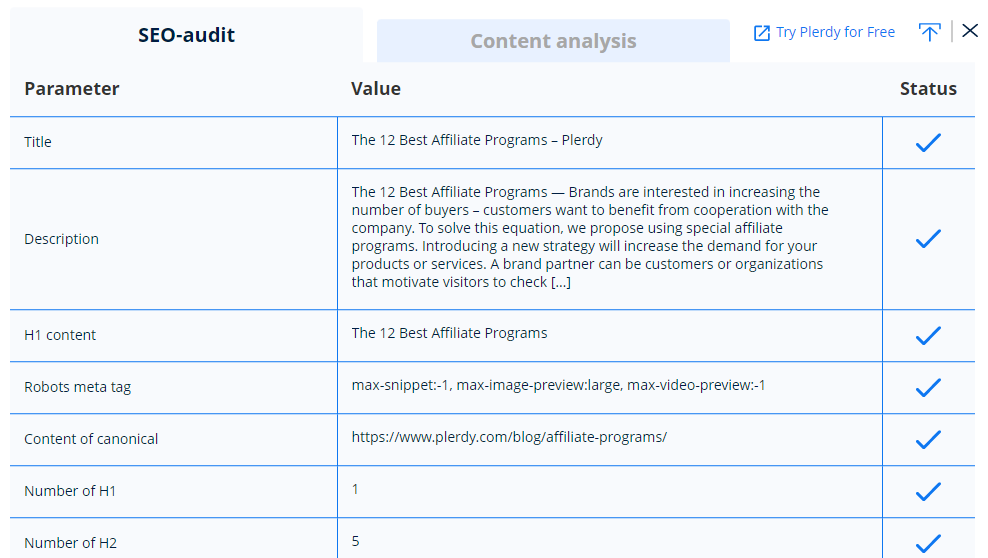 In the SEO Audit section, you can view the following metrics:
Title, Description, H1
Number of H tags
Number of javascript files
Number of style attributes in tags and body
Number of tags 'a' with '#' in href
Number of tags with comments on the page
Meta noindex, nofollow, and canonical.
This feature lets you see SEO metrics to ensure your web page ranks high. Use it to make sure the text you are about to publish has no SEO mistakes.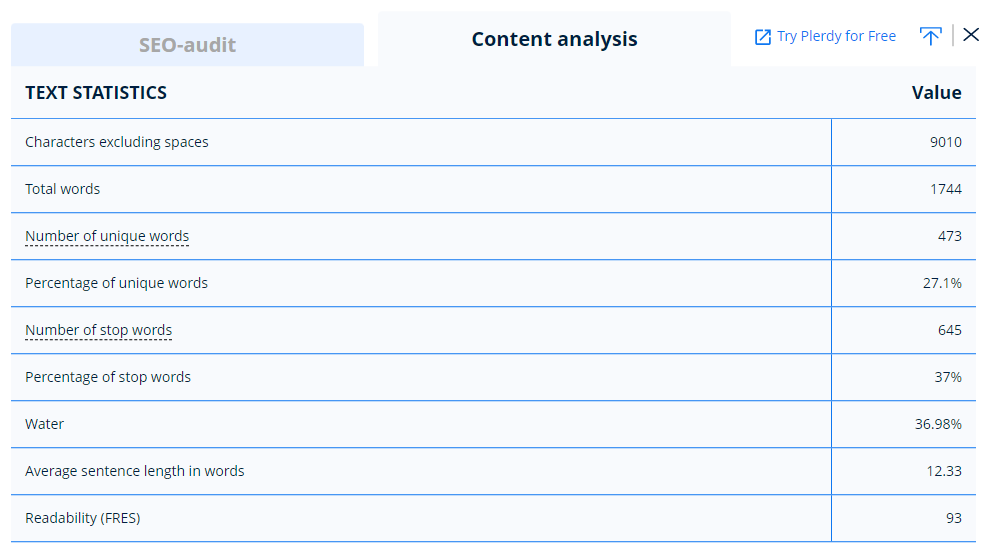 The Content analysis function validates the quality of the analyzed content. You can find out:
Characters excluding spaces
Total words
Stop words (specific words, their number and percentage)
Top words
Unique words (number and percentage)
Readability (FRES)
Water
Average sentence length in words
Once the tool estimates your content quality, you can improve it to meet the universal standards. With these changes, you will enhance readability and Google ranking.
Reviews
"A convenient little tool I use to analyze my website and see what matters for search engines. I haven't known about some things, such as the percentage of Stop words. It made me research this topic and optimize my texts." (Derek Padula)
Plerdy SEO Content Checker is also available as a web solution with advanced features. You need to sign in to the Plerdy platform to collect more data, compare metrics, generate reports, etc.
Conclusion
An SEO checker tool is essential for any marketer, content manager, and SEO expert. It's an effective way to create written materials with high Google ranking and quality. Try Plerdy SEO analyzer for free now to see how it works.