A website builder is an online DIY website builder tool. Regardless of your skills – a beginner or an experienced web designer – you can create a business site for your company in a matter of hours.
How do such platforms work? The bottom line is that you choose one of the proposed templates then create your site using "drag and drop" interface elements that you distribute around the pages. No wonder such platforms are called website builders.
There are two types of platforms:
Offline. They are separate CMS with additional plugins. As an example – WordPress + Elementor. Using WordPress.org, you download a CMS installed on your server (or first on your local server). Elementor is an auxiliary plugin that allows you to create different pages and move prepared blocks. It is worth considering that this option requires some technical skills.
Online. Such website builders already come with web hosting services. Ideal even for inexperienced users or those who want to create a landing page for advertising campaigns without delay.
Do you need to establish a company's presence on the Internet in the blink of an eye by launching a website or online store on the World Wide Web? Find a website builder that works well for small business owners and entrepreneurs.
What factors play a key role in choosing a website builder? Consider the following points as you review your options:
Convenience. Choose a platform that doesn't require the skills of a web designer or programmer – unless, of course, you want to "code." A website builder should be simple and not raise many questions directly about the process of building a website.
A mobile editor. Most sites have a mobile-friendly version, so it is imperative to have a mobile editor.
SEO. It is crucial to have the possibility of page optimization and indexing by the Google search engine.
Style, relevance, and readability of templates. "Airy," not trivial, design templates are the future indicator of position in the hierarchy of search results of websites. Visitors will also appreciate the originality of the design.
Google Page Speed. For SEO and increasing organic traffic, having a fast website page loading speed and avoiding unnecessary JS and CSS files are important.
Sync with extensions. In the case of scaling, it becomes necessary to connect to third-party services – a good website builder allows you to do this.
Technical support. At any time, you may need to consult a specialist. Find out if your website builder has this option.
Quick update. The regularity and speed of new content releases are key to the site's success. Therefore, consider how the settings work in the platform of your choice and how easy it is to make changes or add content.
Custom forms. Make sure the platform allows you to create forms to communicate with customers.
Settings options. The practical features you'll need are the ability to add your visuals, fonts, logos, and more.
Analyzing these factors will lead you to choose a high-quality and understandable website builder for small businesses.
19 of the Best Website Builders for Small Business
To narrow your search, we have compiled the best website builders distinguished by their convenience, quality, and modern design. Read on for a summary of their features, pricing, and reviews of the G2 rating.

The cloud platform provides a full range of features for building a website, from single-page business card sites for small businesses to multi-page sites for large companies. Templates are sorted into sections corresponding to the company's type of business and, thanks to flexible grids, you can adjust the design. Among the functions you'll find settings for promotion, such as:
A customized SEO plan and tools
Visitor analytics
Tools for marketing campaigns, email newsletters, etc.
The company provides monthly service plans in two categories:
Website Plans:
Connect Domain – $4.50
Combo – $8.50
Unlimited – $12.50
VIP – $24.50
Business & eCommerce Plans:
Business Basic – $17
Business Unlimited – $25
Business VIP – $35
In the review, Thomas M noted the practicality of choosing templates for beginners, Barry S noted the practicality of the classic editor format, and Mayan K noted the convenience of the user interface.

Offering customizable portfolio galleries, these designer templates with carefully selected fonts and color palettes are the tools to create an amazing website. For a business card site, templates of all activity niches are presented. Here is the pricing:
Personal – $12
Business – $18
Basic Commerce – $26
Advanced Commerce – $40
The online program is used by clients such as Winona Ryder, Sophia Bush, Sadie Williams, Craig Ward, and Altrock.
Speaking about the platform, Sheridan J writes that a website builder is a great assistant when you need to set up a website in a short amount of time and build a path for communication with customers. The user under the nickname User in Real Estate says that he easily managed to link the existing domain with the site he created.

The platform offers an advantageous technique: creating a laconic business card website without paying anything for it. When you are eventually ready and successful enough to upgrade, scale by paying for additional expansion features. These include settings for creating an online store, SEO, and marketing tools.
The price looks like this:
Basic – $6.99 (Pay per year saves 20%)
Standard – $10.49 (saves 20%)
Premium – $13.99 (saves 40%)
E-commerce – $14.99 (saves 50%)
Jackie W is delighted that her parents can maintain and customize their site independently, without the need for specialists. The user under the nickname Administrator in Commercial Real Estate praised the speed, awareness, and willingness to help the technical support staff.

The company employs 3,500,000 designers and teams to create the design and customization of sites. The website builder allows customers to monetize their content – it will only be available to registered users with a subscription. In addition, the platform provides customers with training – over 400 video tutorials that cover all the necessary topics: from typography to 3D transformations.
The variety of tariff plans is amazing, and pricing is based on four different types of plans.
Individual plans:
Starter is free
Lite – $16
Pro – $35
Team:
Team – $35 per person
Enterprise – negotiated with the client
Site:
Basic – $12
CMS – $16
Business – $36
Enterprise – negotiated with the client
E-commerce:
Standard – $29
Plus – $74
Advanced – $212
The client list includes Upwork, Dell, Zendesk, Rakuten, and Lattice.
Karan Gupta, CTO at Shift, notes that thanks to the platform, they can publish updates to landing pages in minutes – instead of going through an entire development cycle.

With this website builder, you can create a free business card website in just an hour. As a bonus, you'll have access to SEO tools and a mobile editor. This allows you to view the design and settings of the site on mobile devices and then adapt the interface based on your needs.
Clients have access to monthly tariff plans:
Unleashed – $2.61
E-commerce – $8.01
E-commerce Plus – $14.31
Clients include Surf-happy, Stoicshirt, and Forrest.
In a review on Trustpilot, Ali Rıza Yoltaş shared that the most practical side of a website builder is the ability to customize everything in an instant and on your own.

The platform offers White Label tools for creating a recognizable branded website. Clients have two options: build a site without using codes or build a site using one of the programming languages ​​- JavaScript, CSS, HTML, or API. To design a one-page business card site, you can opt for one of the numerous available templates with adaptation for all types of devices.
Monthly tariff plans:
Basic – $14
Team – $22
Agency – $44
Custom – negotiated privately
For e-commerce sites, there is slightly different pricing:
Standard – $7.25
Advanced – $19.25
Unlimited – $39
Jack F shares that the editor saves him up to 75% of his time, and the program itself is ideal for creating a project from scratch and always having the potential for further expansion.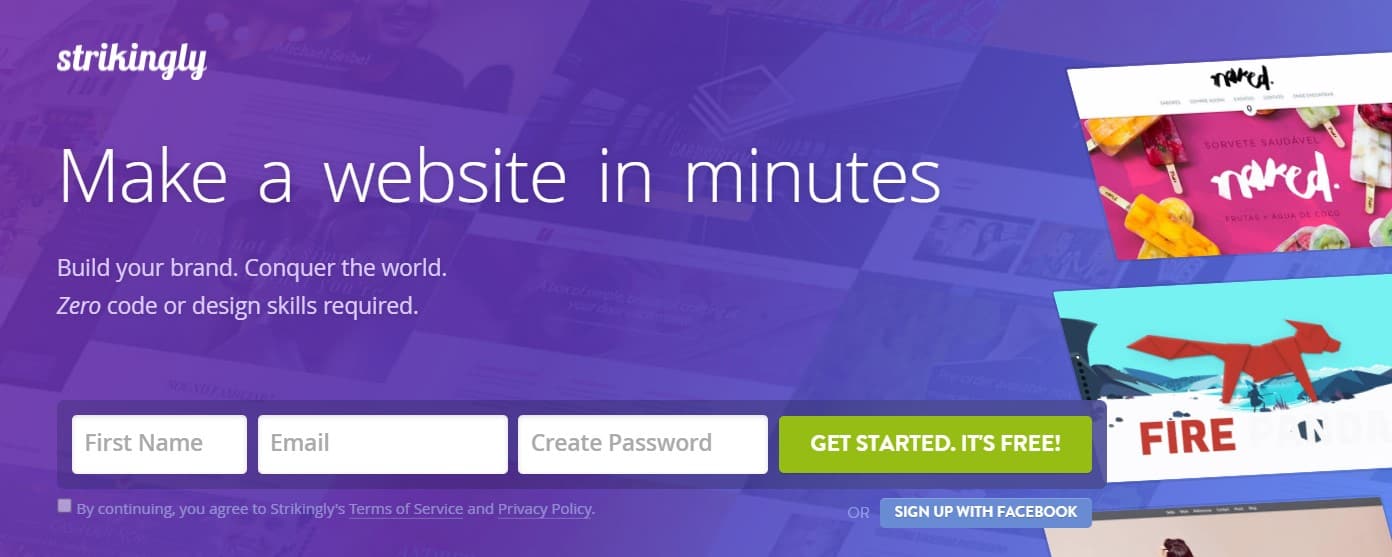 The platform showcases many settings for interacting with visitors – forms, live chat, a newsletter, and subscriptions. All sites built with this website builder, even single-page ones, get free built-in HTTPS.
For advanced tools, you can choose one of the following tariff plans:
Limited – $8
Pro – $16
VIP – $49
Platform clients include Red Paper Plane, The Henningsens, Franklin Scholars, Passion Explorer, and Dan Makoski.
Nicole H loved the LinkedIn data import and the abundance of templates for the free version, while Joancel C was amazed at the optimization for mobile devices.

The website builder offers small business owners a standalone email setup program and free web hosting.
Customers can choose one of two tariff plan options:
In her review, Ana H commended the image library and the cultural settings. Patricia D had a positive impression of the step-by-step consultation and guidance when creating her website.

A world-renowned website builder, it accounts for over 42% of self-made websites. The built websites can integrate with Eventbrite, Pinterest, OpenTable, Calendly, Mailchimp, and YouTube. Plus, you can easily migrate your site from other platforms, including Blogger, LiveJournal, Movable Type, Tumblr, Wix, Typepad, or Xanga.
There are tariff plans for different budgets:
Personal – $3.40
Premium – $7.48
Business – $20.38
E-commerce – $36.68
Companies such as CBS, The New York Times, TED, Spotify, and TIME have built their sites on the platform.
Manish C noted many plugins to improve your site. Katrina B correlated price with some features, highlighting the undeniable benefits for customers.

The website builder offers startups or small businesses the option of creating a stylish logo and, when it is introduced into the site interface, the platform automatically adapts the shades of the pages to the brand's colors. The site builder features standalone ADI functionality. In addition, there is a Legal Text Generator so your provisions will be GDPR-compliant.
There are tariff monthly plans with timely annual payment:
Play is free
Start – $9
Grow – $15
User photographer Alina Atzler shares that he is proud of his site and notes the ability to control the clarity of the photos uploaded to the created site.

The building blocks of the website builder include specially designed content blocks. You will also be able to embed videos from YouTube and Vimeo.
The tool is used by Vivid Signs, Graphics Inc, Mane Tamer Hair Spa, All Steamed Carpet Cleaning, and Perfect Cut Tree Service.
The first month of use will cost just $1.95. Access to further tools and services is variable and comes with different pricing policies.
Kevin A speaks about the sheer simplicity of building a website with this website builder, while Saad S celebrates the advantage of domain, hosting, and e-commerce tools for newbies.

Websites built on this platform have SSL built-in. When you create a website, you access data from the HubSpot CRM and integrated marketing tools.
To start, customers are offered a free version of HubSpot Marketing, or they can pay for a monthly plan starting at $25.
Brian Ruhlmann, director of sales and marketing at AdmitHub, is delighted with the time he saved in marketing.

You can set up live streams and posts from Instagram, Facebook, and Twitter, in addition to hosting. The platform retains previous versions of your site so that you can revert back to them later if needed.
The monthly service packages offered are:
Starter – $3.46
Premium – $5.39
E-commerce – $8.30
The company also provides hosting and domain name registration services.

The landing page builder for WordPress allows you to create the most effective landing pages with great conversions. It contains over 40 prefab blocks, including headers, buttons, and calls to action, making it easy to create layouts. There are also WooCommerce blocks for online stores.
The range of services you can access depends on the monthly payment plan you choose:
Basic – $39.50
Plus – $99.50
Pro – $199.50
Elite – $239.60
Ryan D. Sullivan writes that the new landing page design is the best for a website, and Ruthie Unaegbu says that competing website builders lack such features in their arsenal.

The service simplifies all processes, such as creation, management, and development, for WordPress websites created by newbies. For advanced users, it speeds up these processes. The program backs up to platforms Amazon S3, Google Drive, and others. The Total Cache tool improves website loading speed which directly affects your search engine rankings.
Choose one of the sets of services for the following tariff plans:
Total Cache Pro – $8.25
Total Upkeep Premium – $2.50
Crio Pro SuperTheme – $3.25
Post and Page Builder Premium – $2.50
Cloud WordPress – $1.66
Speed ​​Coach – $1.66
Dulanjali S speaks positively about its wide range of website building features and tools. Vrushali R writes that a website builder helps her save time.

Let's create free websites in 24 languages. The templates, divided into groups by industry, have built-in content stubs that you can use as your own. In addition, you can install a videophone – videos are also included in the content blanks.
If you want to access premium services, then there are the following tariff plans for websites:
Limited – $3.83
Mini – $6.47
Standart – $11.75
Profi – $20.98
E-commerce rates are different:
Standart – $11.75
Profi – $20.98
Business – $28.90
Maisha Dyson speaks highly of the technical support that makes building and maintaining the site a hassle-free experience.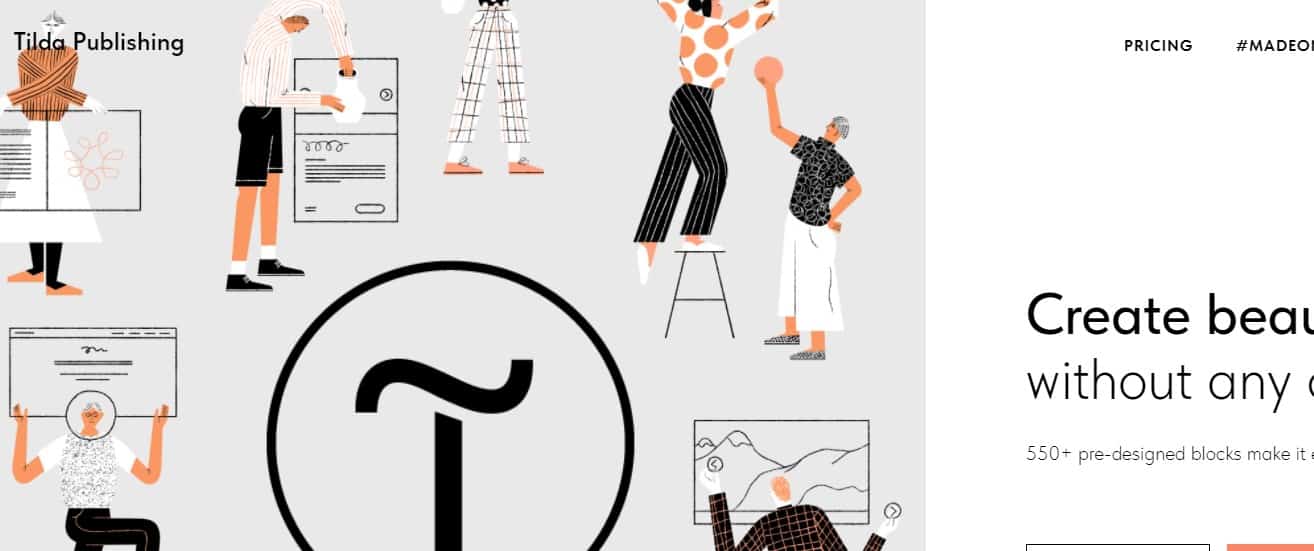 The Zero Block website builder and web editor helps you create a unique website with a design adapted to your corporate style. It focuses mainly on typography. You get ready-made combinations of images and text, photos, a built-in photo editor, and icon collections.
Clients include TechRadar, Skillspace, Minervo, Techstars, and Paralect.
Use one of the following tariff plans:
Personal – $10
Business – $20
There is also a free version with limited features.
Igor Krasnik cites this website builder as the most powerful tool he has ever used. Andy Page has been using the platform for two years now and is surprised at the speed with which the website builder is adding new pages and programs to the site for the students of his school.
DashClicks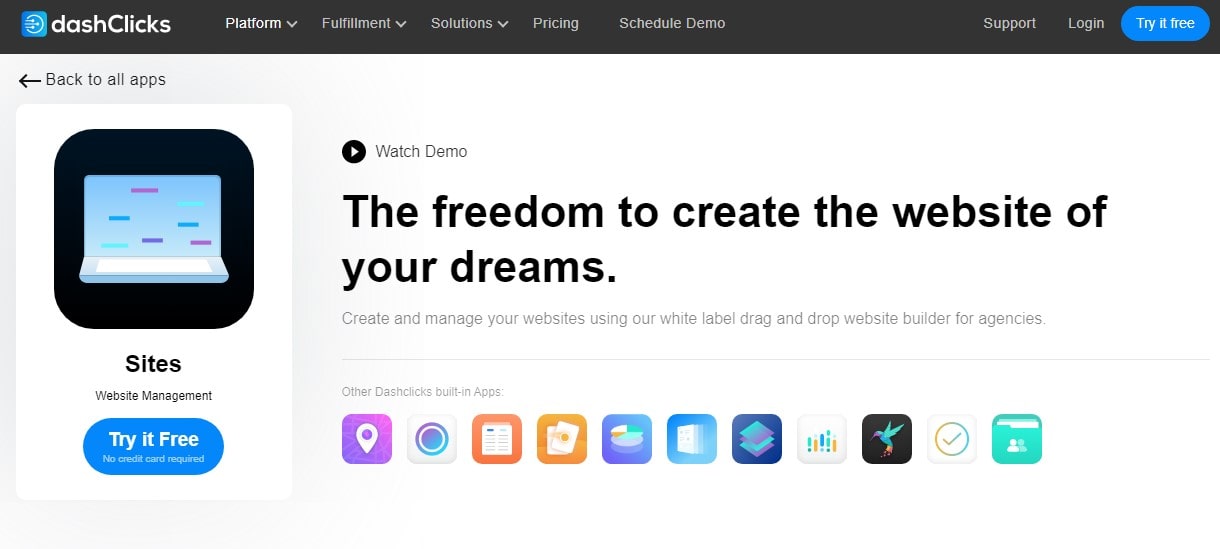 DashClicks' Sites app helps you create the website you always wanted to. All you need to do is select a template of your choice and that's it! Your new custom website is ready within seconds.
The best thing about this website builder software is you don't require any prior technical experience to build, manage, and optimize your site.
Note: Sites includes hosting which is done on AWS. An SSL certification to ensure your website is protected is also provided to you along with your completed site.
If you're interested in using the Sites app, you can opt for a free trial. Post which, you can choose to opt for one of the three paid plans:
Pro: 97 USD a month
Plus: 297 USD a month
Premium: 597 USD a month
Weblium is an easy, effortless site builder. You can choose 300+ ready-made templates and make any changes to them: add and remove blocks, create pop-ups, contact forms, CRM, and more. Any website made on this website builder will look good on all devices and will be optimized for search engines.
Customers can choose one of two tariff plan options:
In the review, Sonya Ramsey writes that Weblium templates are top-notch, creative and interesting. This website builder helps her to create websites using modern and interesting templates.
Conclusion
Are you creating a business card site, multi-page site, or online store? You can find useful templates and settings offered by a website builder for each option. To summarize the benefits of using a website builder:
Speed. It's possible to create a full-fledged website in a few hours, or even less.
Simplicity. The website builder allows you to avoid the involvement of specialists. This, in turn, saves you money. In addition, all other processes associated with changing or adding content do not require much effort.
Website builders make it much easier to work with a website, allowing you to redirect your energies to more important aspects of your business.