Are you looking for an exceptional web design company to transform your website from drab to fab? Look no further, because we've compiled a list of the top 33 web design firms in 2023! These companies are sure to impress with their areas of expertise, which range from those specializing in sleek, modern designs to those understanding the importance of user experience. This list has something for everyone, whether you're a small ?? business or a large corporation.
Intro about Web Design Companies
Every year, digital influencers come up with their own top lists of agencies specializing in web design or website and mobile application development. Such rankings highlight the most popular trends in the industry. Companies that are shortlisted or even top the rating have a great opportunity to effectively promote their services. The "Best Choice of the Day/Month/Year" sign on the agency's website immediately makes it more appealing to potential clients, even if they haven't heard about the rating. These lists typically include the largest web design firms, but smaller firms do appear on occasion.
The following questions are often asked:
How many web design companies are in the US?
How can web design companies gain a competitive advantage in the marketplace?
What services do web design companies offer?
How to handle companies that are price-shopping web design services?
How to start your own web design company?
Many web design companies use Plerdy heatmaps and video recording sessions to analyze user behavior on customer sites. Our tools make the work of website-building companies easier.
Lauren Solomon – UX Designer at PayPal and Founder of VoxPopin.
The main benefit of compiling such lists is seeing the best in the industry and being inspired by their values. Furthermore, by studying the best practices and rises and falls of those ahead of the pack, a company can pave its own way into the world of web design and grasp popular tendencies. In essence, that's what the ratings are for.
How to choose the web design company
There are several key factors to consider when choosing a web design company:
Portfolio – Look at the company's portfolio to see examples of their work and get an idea of their style and capabilities. This can be found on Behance, Dribbble, Awwwards or of course, on their website.
Services – Make sure the web design company offers the services you need, such as web design and maybe even development on a specific platform like Shopify or Magento. Although, some web design companies do strictly and only web design.
Prices – Consider the company's pricing policy and make sure it fits your budget. But weigh all the moments because the price will not always have the same service. Check all the quotes received from web design agencies.
Experience – Look for a company with experience in developing websites for businesses similar to yours in your niche. In most cases, someone who does web design for online stores may not be good at designing for a dental or B2B website.
Reputation – Read reviews on Clutch and ask for references to get an idea of the company's reputation and how it deals with customers. Who doesn't have any unfortunate situations, so don't judge strictly 🙂
Communication and cooperation – choose a web design company that is easy to communicate with and ready to cooperate with you in creating a web design.
Considering these factors, you can find a web design company that is a good fit for your business and your website. I think this is not the whole list because it may differ from the situation and your request. But I hope it will help.
The Best Web-Design Agencies
The renowned website Awwwards has chosen its favorites among web design agencies. In addition to this list, we have selected our own TOP 5 companies from the USA and New York, which set trends in the world of web design. Use our list of the best web design companies for small businesses to get a high-conversion website.

Company office location: Kyiv (Ukraine)
Specializes in: web design, web development
It is the best internet design company. In their projects, The First The Last rely on the fashionable "magazine" design trend. The designers feel nostalgic about the old-day print media and are not afraid to express this feeling on their websites. In addition, the company's websites make use of stylish typography, occasionally enhancing its artistic flair with bright fashion photos. All these contribute to the "glossy magazine" feel most website visitors enjoy so much.
These Ukrainians have demonstrated that their desire to meet the high standards set for their work is a healthy ambition, not a desire to tilt at windmills. They believe that the path to success is not easy to follow, but they are eager to demonstrate their mastery and creativity in their work and their own corporate website design. The nomination for "Best Studio of 2018" at the Awwwards demonstrates that they are on the right track.

Company office location: Brescia (Italy)
Specializes in: Web development, web design, SEO
Adoratorio is one of the best website design vendors. In their works, designers from Adoratorio use their genuinely Italian feel for style and beauty. They make use of people's natural desire for harmony and tactile aesthetics. Their works exemplify the Danish concept of hygge, but with an Italian twist, such as sophistication and a penchant for intricate detail.
Unusual design techniques imitating textures and bright images used by Adoratorio in their website designs make you want to feel the screen with your fingers. "We touch the digital world with handcrafted amazingness," claim the developers in line with their works.

Company office location: Paris (France)
Specializes in: web design, web development
In 2013, detailed textures gave way to minimalistic and flat design tendencies. Websites started to resemble each other in a certain way. The independent studio Bonhomme was founded in that very year, emphasizing harmony and natural-looking designs. The sophistication of simplicity is the main belief Bonhomme upholds.
Since its inception, the studio has collaborated with many renowned clients. Google, Audi, Volkswagen, Renault, Festival De Cannes, Coca-Cola, and others have chosen "harmony of simplicity" for their products.
The success of the website lies in the quality of collaboration, claim Bonhomme specialists.
Visit the studio's website and subscribe to the news to know what's "in" in the world of web design.

Company office location: London (the UK)
Specializes in: web design, development, and eCommerce marketing
This is an award-winning web design company. "We help brands sell online" is the motto of this London-based studio. Rotate designers target the business world in their projects, adhering to the "time is money" principle. Rotate believes in minimalism and making the most of each pixel – nothing should distract the client from making a purchase. The WOW effect is achieved by juxtaposing the functional elements against a clean, white background and incorporating subtle animation. As a result, the design remains dynamic while remaining strict and elegant enough to look good on a smartphone screen.

Company office location: Coimbra (Portugal), Porto (Portugal)
Specializes in: web design for websites, web development, and brand style.
Burocratic is one of the leading web design companies. Burocratik designers employ a spectacular presentation screen with ambient photos and videos to create the traditional WOW effect for websites. The web design websites evoke the users' feeling of presence and product involvement as if they were holding the product in their hands.
Projects centered on realistic design brought the studio to the Awwwards shortlist in 2018. Each project is presented on the company's Vimeo channel, which is regularly updated.

Company office location: Florence (Italy)
Specializes in: web design for digital and VR
Monogrid is one of the top-rated web design companies. This Italian web design studio taps into another passion shared by most people – the hunger for beauty and innovativeness. The company specializes in VR design projects, which is still a new and unexplored field for many. A unique experience at the boundary of virtual reality and the analog world is what the developers promise to demonstrate in their works. The studio's website oozes uniqueness and innovativeness, and its hypnotic animation lures visitors into the new reality.
We are a bunch of talented people always looking for something new and challenging, and we work hard to successfully merge beauty and technology together and push our boundaries, say Monogrid team members. As we can see from the company's portfolio – nothing can hold these guys back!
Company office location: Amsterdam (the Netherlands)
Specializes in: web design, strategy, branding, and eCommerce
Build in Amsterdam specialists rely on a precise understanding of their clients' business objectives as the main key to success, despite being deeply immersed in strategic planning and passionate about beauty. "We work with brands in which we believe," the team says. As a result, developers see their primary role as assisting their clients in obtaining all of the necessary tools for development and free growth, providing brands with a solid foundation to withstand any market challenges.
Clients have highly appreciated the works of Build in Amsterdam studio from Adidas, Openwear, Nike, Frans Hals Museum, and many others.

Company office location: Montreal (Canada)
Specializes in: web development, branding, web design, graphic design, and media
Within its ten-year history, Locomotive has often topped the list of the best design studios in the market, so it naturally earned its "Best Studio of 2018" Awwwards nomination.
Locomotive developers want to make each brand and trademark stand out, ensuring that the products they work with meet market demands and customer needs.
The company relies on technological innovation as its main strategy since such an approach guarantees that the products and services offered by Locomotive will be on point in the future.

Company office location: Verona (Italy)
Specializes in: web development, and web design
AQuest is a great webdesign studio. Creative minds from the most romantic Italian city, Verona, have infused their website with their famous artistic flair. Request designers aim to make products that can inspire their users with the beautiful world they create. According to the developers, using innovative technology is the surest way to achieve this goal.
"The best decisions are made in your heart," claim AQuest specialists. In their works, they employ creativity that borders on surrealism. With their passion for technology and out-of-the-box thinking, AQuest imparts their unusual perception of trivial things to the rest of the world, making their works stand out from the rest.

Company office location: Hilversum (the Netherlands), London (the UK), Stockholm (Sweden), Dubai (the UAE), New York, San Francisco (the USA), Mexico (Mexico), São Paulo (Brazil), Buenos Aires (Argentina), Shanghai (China), Singapore
Specializes in: web design, branding, video, mobile applications, games, animation, VR
MediaMonks is one of the best web design firms in the world. The company operates on the principle that quality work translates to success, while a significant quantity of quality work translates to global success.
Founded in 2001 as a creative agency, MediaMonks studio has conquered new fields, continuously exploring state-of-the-art technology. As a result, the studio can boast of projects in strategic development and SEO, filmmaking, animation, creation of visual effects, mobile applications and VR & AR technologies, and even charity.
The company realizes all of its ambitions, opening offices and hiring talents all over the world, far beyond the US and Europe. New offices have been opened in Brazil, Argentina, China, and Singapore, with the new expansion plans stretching to India. Company office location: Paris (France)
Specializes in: web design for websites, interactive installations, and web development
Immersive Garden is regarded as one of the best web designing companies. In 2017, the company was nominated by Awwwards and CSS Design Awards as "Studio of the Year," In 2018, it received the "Website of the Year" award.
The website of this studio relies on realistic images and high-quality graphics that create the effect of "immersion" in the alternative reality.
Our vision is focused on crafting meaningful concepts and stories thanks to digital experiences, claim Immersive Garden developers.
Aside from web development, the company also creates interactive installations, applications, and various types of media content. Immersive Garden's team strives to create a powerful presentation for each new brand with which they work in order to make it recognizable and familiar to the target audience.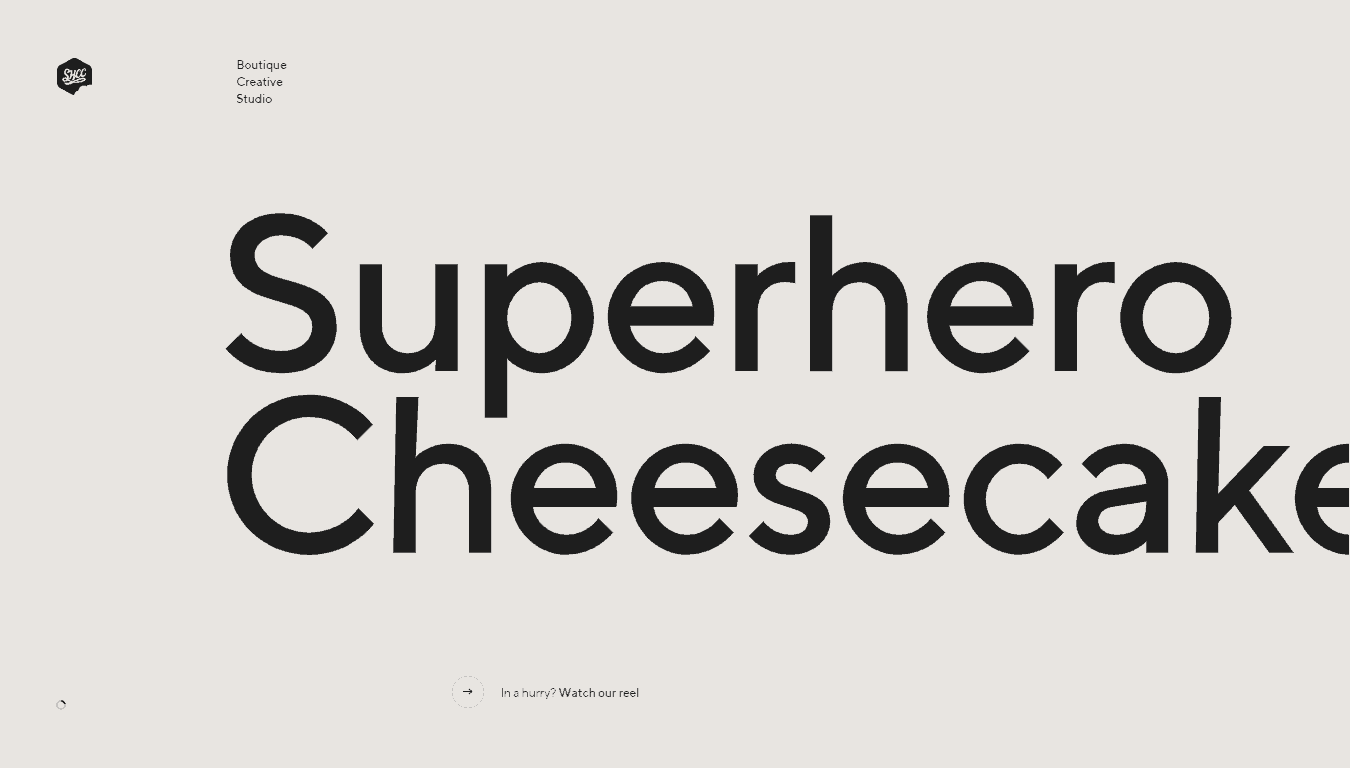 Company office location: Amsterdam (the Netherlands)
Specializes in: web design, web development, marketing
The developers of this Amsterdam-based studio are ambitious enough to wear web design superhero capes.
These creativity giants from Amsterdam do not mind sharing a project with some other agency at a certain stage. Effective collaboration is the key to success, whether with the client or some other contractor.
Flexibility in communication, ability to compromise, and the best decision are the strengths shared by all Superhero Cheesecake members. This approach successfully tapped into the needs of such well-known clients like Puma, G-Star, and Heineken.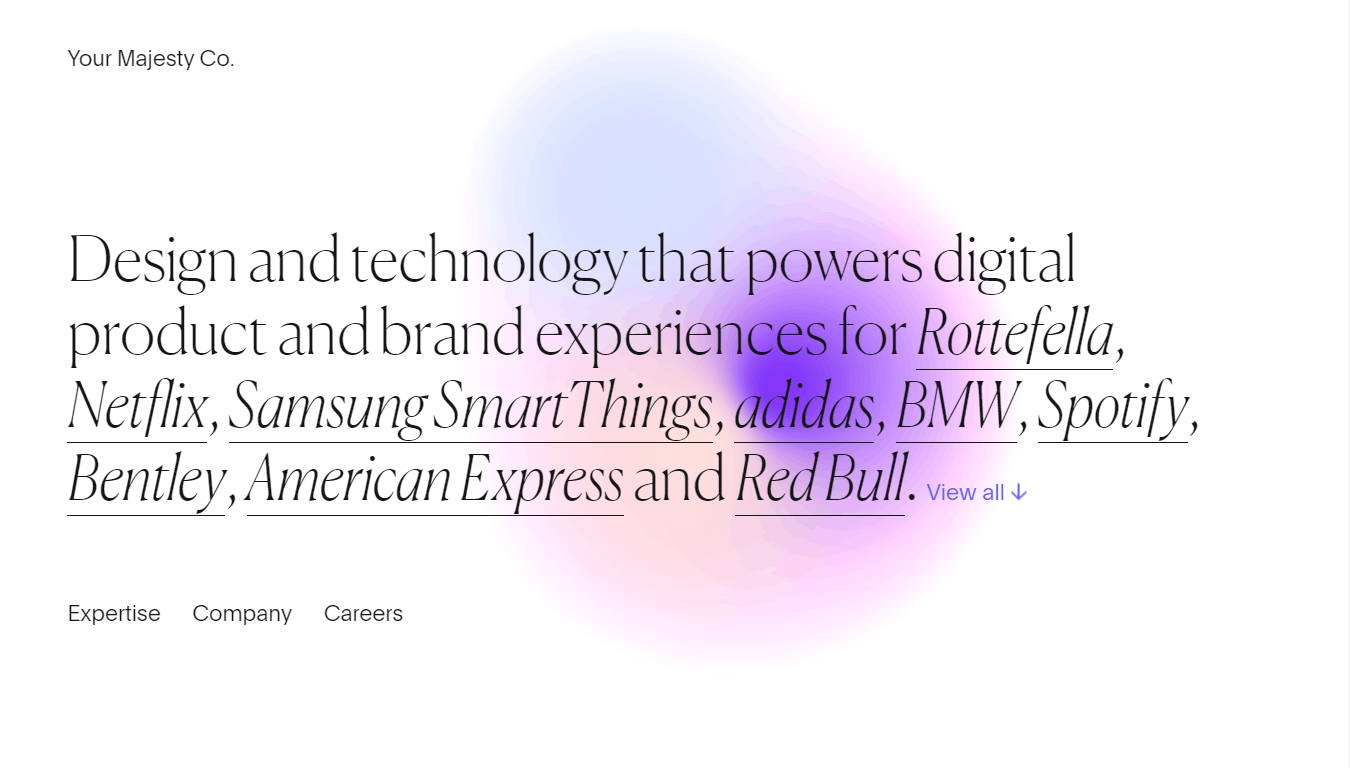 Company office location: New York (the USA)
Specializes in: mobile and web development, web design, and branding
"Our company is home to a constantly growing set of powerful ideas to move the human experience forward" – that's the way this design studio presents itself. The company has offices in New York and Amsterdam, but its roots are in Sweden. In addition to appearing on the Awwwards rating lists on a regular basis, the studio has received numerous awards, including Cannes Lions, Webby Awards, and Creativity Awards.
The company's ideas and experience drew the attention of technological behemoths such as Apple: the Apple.com landing page was designed by Your Majesty's team. Aside from that, the studio has worked with well-known clients such as Netflix, Samsung, Adidas, BMW, and Bentley.

Company office location: Liege (Belgium)
Specializes in: web design, web-development, and brand strategy.
"Every pixel counts," said the Belgian designers, and they really mean it. As a result, the studio's works are easily recognizable by intricate details and sweet drawings that subtly guide the website user from page to page without being overwhelming.
EPIC Agency's web design website is a perfect combo of excellent visuals and content. Following the typography and colors, the user gets all the necessary information about the offered products or services.
Helping clients achieve their business goals in a way that tastes exquisite, like Belgian chocolate – through a person's natural desire for beauty – is the whole secret of EPIC Agency's success.
Company office location: San Francisco, New York, Los Angeles (the USA), Reykjavik (Iceland)
Specializes in: marketing, branding, eCommerce, web design, mobile application and web development
Strategy, design, content, and technology – are the four pillars of Ueno's success. The company has four offices in San Francisco, New York, Los Angeles, and Reykjavik.
Giants like Google, Reuters, RedBull, Airbnb, Lonely Planet, Cisco, Dropbox, and Uber will find giants among Ueno's clients. According to the customers' feedback, the studio is a reliable partner, which will take any product it works on to a higher level.
The company is well-known for its ability to look at a product from a new perspective and come up with novel applications and developments.

Company office location: Montreal (Canada)
Specializes in: web design, interactive technologies, and graphic design
The designers from this Montreal-based studio with a beautiful French name show us how to achieve success by aptly using shades of white and clean, almost monochrome mockups. Many renowned clients, including Google, have greatly appreciated their ideas.
Deux Huit Huit agency was founded in 2011, and it has been nominated for many web design awards and topped rating lists ever since. This proved the relevance of the team's ideas and motivated them for further achievements. The company's specialists concentrate on a strategic approach to product development enhanced by sound technical skills, demonstrating that profound knowledge is the key to success.

Company office location: Copenhagen (Denmark)
Specializes in: web design, branding
This agency is concerned with designing and branding social and cultural products and services. Stupid Studio's goal is to create new, sustainable ways of measuring success that will make the world a safer and friendlier place to live. The team's main goal is to inspire the business world to pay more attention to social and commercial issues.
The noble objectives of this Copenhagen agency have tapped into the emotions of Awwwards voters, who have brought Stupid Studio to its place on the list of the best design agencies of 2018.

Company office location: Lyon (France)
Specializes in: web design, development
The developer's team from Lyon, France, believes in perfection by design, which makes the product successful. Striking the right balance between creativity and technical efficiency is the main strategy upheld by the company's specialists.
Founded in Paris in 2005, Rezo Zero has been an independent graphic and web design developer.
The designers draw their inspiration from modern art and 1990s architecture.
The company's new project – The Hope Gallery platform, is aimed at financing the endeavors of modern artists.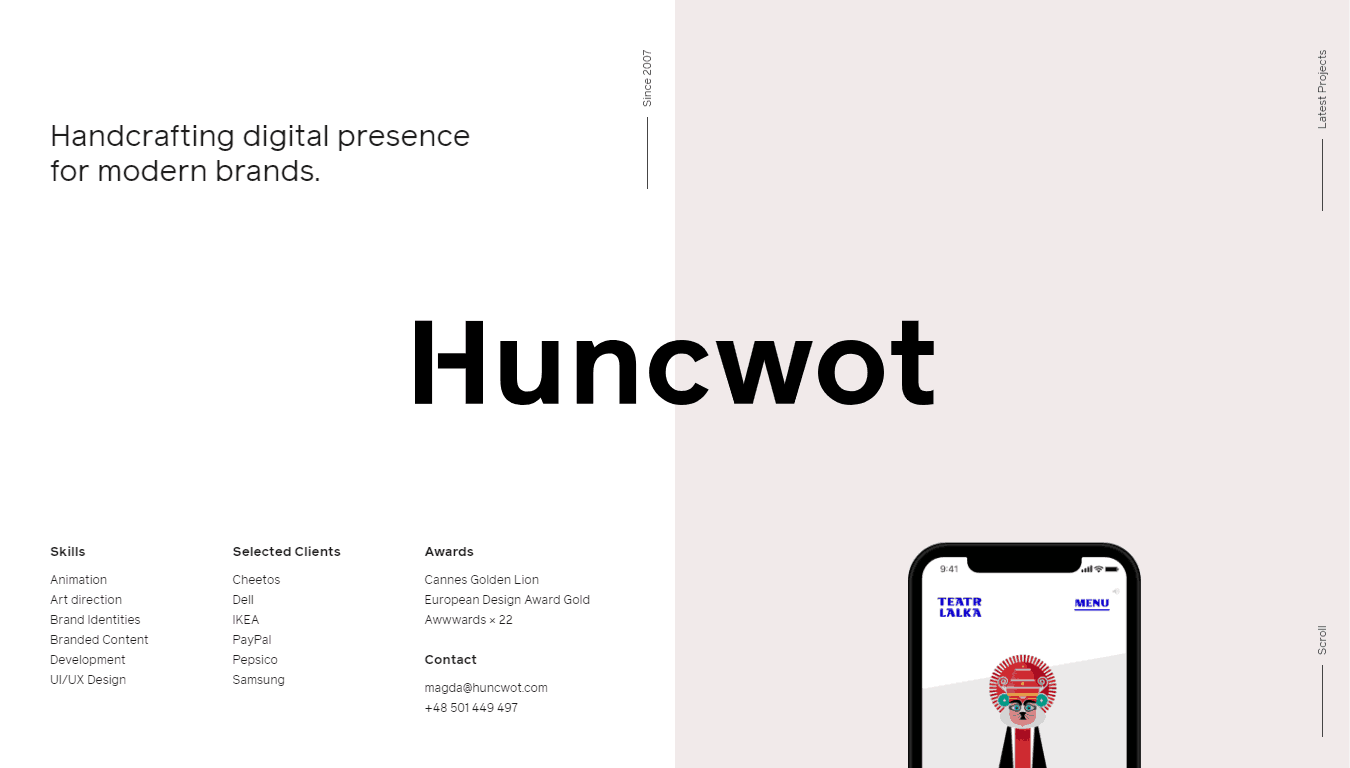 Company office location: Warsaw (Poland)
Specializes in: web design, branding, development, UI/UX Design
In 2007, the Warsaw-based design firm specializing in interactive installations and intellectual technology development was founded. Since then, the company has gained valuable experience and collaborated with companies such as Cheetos, Dell, IKEA, PayPal, Pepsico, and Samsung. Furthermore, the huncwot website earned the company prestigious awards such as the Cannes Golden Lion and the European Design Award Gold. Simultaneously, the works presented at Awwwards received 22 awards, and the company was nominated for "Best Web Agency of 2018."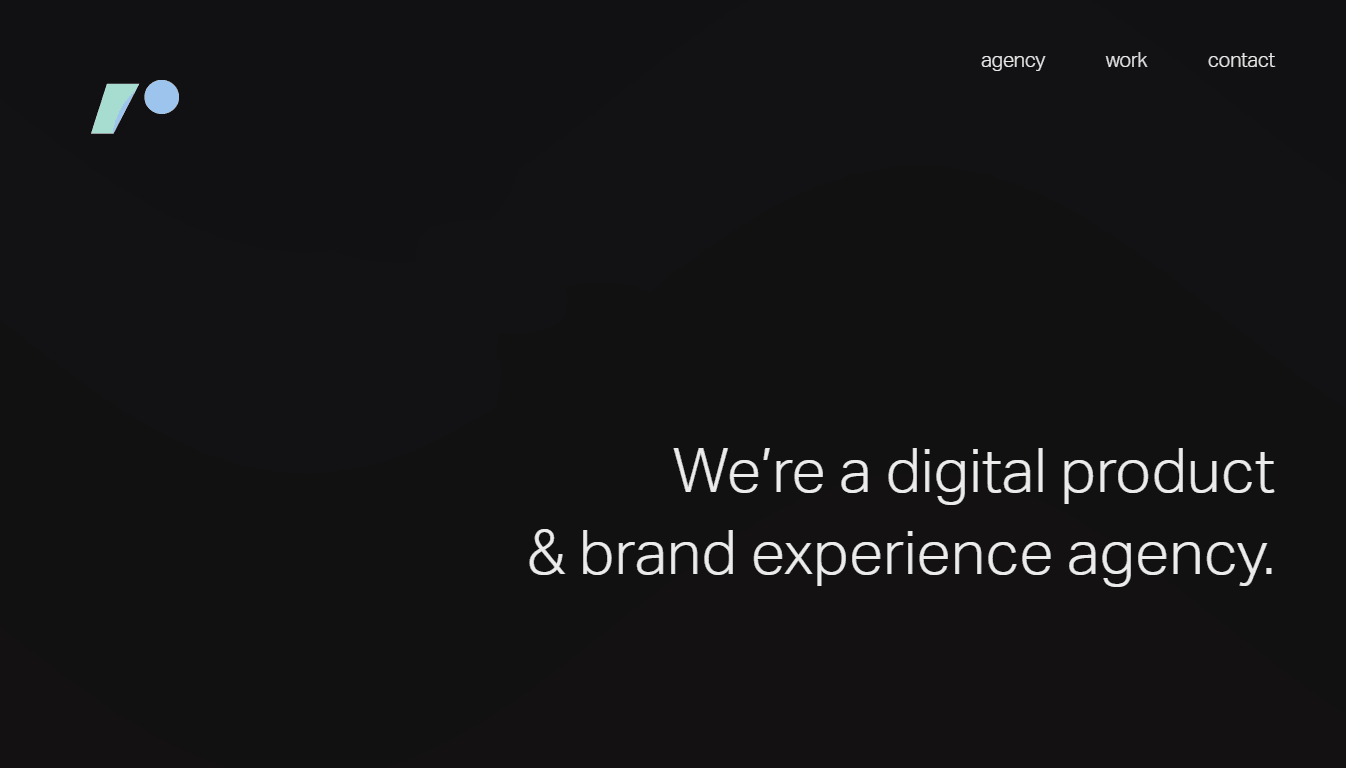 Company office location: Oakland (New Zealand), Sydney (Australia)
Specializes in: web design, branding, eCommerce website, interactive technology, development, VR&AR
Since 2006, the company has been developing solutions that aid in the creation of an emotional bond between products and their customers. Gladeye, on the other hand, believes that what is well-begun is half-done. Finding a niche in the market and researching its needs is the first step toward success. After that, the product development cycle begins. The designers then take a creative look at the product's opportunities, design solutions, and innovative technologies used throughout the process.
What if we were dreaming of your website? ask Gladeye developers.

Company office location: Montreal (Canada)
Specializes in: mobile and web development, web design, and digital marketing strategies
Montreal is home to many top-rated design agencies. Along with Locomotive, the year's agency, one more company named Akufen assumed its place among the nominees. In 2018, the studio was shortlisted by CSS Design Awards, FWA, and Awwwards in the "Website of the Day" nomination.
Akufen attributes its success to its excellent graphic artists' team, branding professionals, and creatively minded developers, who make use of any technological innovations appearing in the industry.

Company office location: Zurich, Bern (Switzerland)
Specializes in: web design, corporate platforms, digital development
One more Awwwards nominee for "Studio of the Year" is a well-renowned agency developing modern solutions for web and mobile technologies. The best digital studio in Switzerland, Hinderling Volkart AG, has been pursuing its success and public recognition since 2007. A small design and development agency has grown into a large corporation, a self-sustaining ecosystem that educates professionals in design, branding, and information technology. Hinderling Volkart AG is more than just an office; it is also a coworking space that welcomes independent professionals. Many of them remain with the company. Among Hinderling Volkart AG's clients are well-known brands such as Swiss, Lufthansa, and Ferrari. Furthermore, the agency has a blog where it posts news about its IT accomplishments.
Company office location: Paris (France), San Diego (the USA)
Specializes in: digital marketing, web design, branding
The company aims to build brands its clients would be proud of. More so, they strive to exceed all expectations by using the most innovative technology and the rich experience of its professionals. The company has offices in San Diego (the USA) and Paris (France). The team unites many international professionals from the US, France, Germany, and Norway.   Regardless of the country, they come from, all team members pursue the common objective – to help their clients achieve their goals and set new ones. Among the clients of Oui Will are Audi, Lincoln, Ralph Lauren, Watch, and Burton.

Company office location: Amsterdam (the Netherlands)
Specializes in: digital, web design for websites, and strategy
This Amsterdam-based studio values originality and creativity. Within the five years of its existence, the studio received more than 40 awards in international contests and ratings in design and development.
The diverse team of Wonderland strives to live up to the studio's name and will tolerate no round-of-the-mill templates. Pushing the boundaries of modern design and putting all their mastery into creating a sense of magic – that's the secret key to success Wonderland developers use to create their award-winning website, which brought the company "Website of the Day" and "Best Developer Studio" nominations. The studio's unique approach has appealed to such clients as Disney, Nike, Tesla, and Le Cafe Noir.
Company office location: Rezzato (Italy)
Specializes in: mobile and web development, and web design
Thriving on high-quality websites and mobile applications that help the users achieve their goals, the team of professionals from this studio based in a small Italian city is good enough to compete with big companies from New York and Paris. Furthermore, atmospheric projects embodying the classical Italian understanding of beauty have got many fans among the Awwwards voters. Though this studio can hardly boast of working with well-known brands, the lack of well-known clients did not prevent Basilico from being nominated for best studio of the year. Obviously, talented professionals have a high chance of winning the race in the near future.
The Best Design Studios of the USA
The USA is a mecca of designers and creative people with ambitions. The designers and developers arriving in this country strive to work for the local studios to gather experience from their colleagues. Some of them are willing to go through numerous interviews and competitions in order to secure a contract with one of the American companies.
However, there is a tendency for many European design studios to open their offices in the US, which is a more prolific way to win a competitive edge in the American market. For this reason, many of the US design agencies on our TOP list originate from Europe.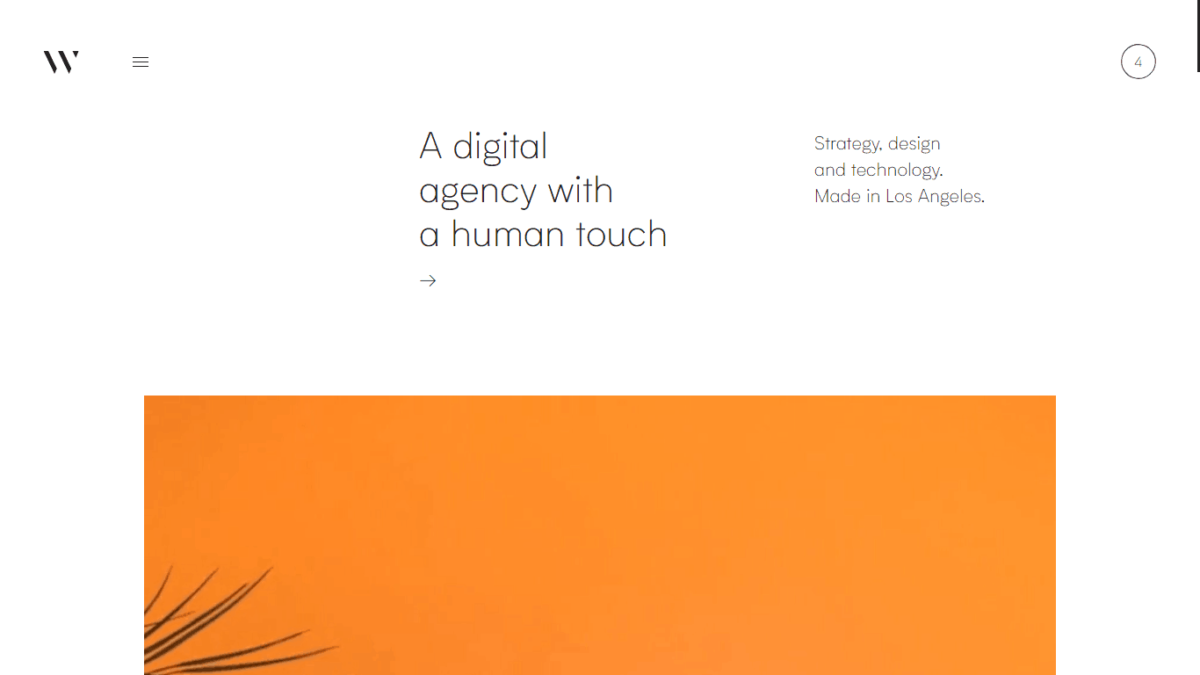 Company office location: Los Angeles, the USA
Specializes in: branding, web design, mobile design, VR and web development
Watson DG preaches deep immersion in the project's details before getting down to business. The experts research everything: user behavior, market trends, data, and analytics. The outcome of this close-up examination serves as the foundation for the new web design website. The team makes no promises of magic, only hard work and research. As a result, it matches the diverse and frequently contradictory expectations of the target audience with the product's properties in the most efficient way possible.
Watson DG's profound approach to work and vast experience has assisted in attracting clients such as Sony, Amazon, Paramount Studios, Riot Games, Disney, Universal, Lionsgate, Fox Searchlight, and Warner Bros.

Company office location: New York, the USA
Specializes in: branding, marketing, and web design
The professionals from this New York studio strive to create brands that would potentially change the users' lives. For the better, of course. Bright and fashionable colors of the company's flat and material designs subtly influence the consumers' perception of the product and help to present it in the best light.
This know-how allows the company to effectively bring new brands to the market as well as carry out successful rebranding and repositioning campaigns. The professionals claim to derive pleasure from working with startups and noncommercial products but are also proud to have collaborated with Google, Foursquare, Versace, and Hillary for America.

Company office location: New York, the USA
Specializes in: branding, marketing, web design, and development
The professionals at Hello Monday are "on the mission to turn the worst day of the week into the best one!" While working on their projects, they use their great sense of humor and share their good vibes with the product users and clients. "Work and life should be fun. On Mondays, that's particularly important," claim the designers.
The studio was born in 2006 in Aarhus, Denmark. The team's vibrant ideas appealed to the public, encouraging them to open two more offices in New York and Copenhagen.
Such big-name clients have shared the humor and love for life of the Hello Monday team as Warner Bros., National Geographic, Google, and Nasa.

Company office location: Chicago, the USA
Specializes in: web design, mobile, and web development
The website of this web development studio based in Chicago stands out from the rest of the flock owing to its originality and sophistication. With its innate Belgian modesty, the company positions itself as a "medium-sized" one. Its first office was opened in Belgium years ago when the studio started working with small shops and boutiques.
The second Dog studio office was opened in Chicago, closer to San Francisco, New York, Seattle, and Los Angeles.
In 2018, two Dogstudio projects were nominated for the "Website of the Year" category, and the show is still going on.
The Best Design Studios of New York

Company office location: New York, Los Angeles (the USA), Stockholm (Sweden), London (the UK), Barcelona (Spain)
Specializes in: web design, marketing, mobile, VR & AR and web development, product-design
This studio has become a branding and web development trendsetter, with offices in various countries and a headquarters in New York. B-Reel even has its own film production company that specializes in commercials. More than 100 designers, developers, content writers, marketing specialists, and producers are constantly researching the latest design and IT trends to find the best solutions for each of its projects.
The studio's blog features weekly updates on the latest technology news.
B-Reel enjoys collaborating with fashion brands such as Moschino and H&M. Nike, Netflix, Google, Spotify, and MTV have all expressed gratitude for the studio's assistance in managing and presenting their brands.

Company office location: New York (the USA)
Specializes in: branding, development, web design, and marketing
Huge professionals are concerned with the same question throughout the entire product development process, from concept to physical realization: "Will the end product be useful to the consumer?"
Within its first ten years, the studio has collaborated with Google and Eurosport and established a number of subsidiaries, including offices in Los Angeles, Atlanta, Chicago, London, Toronto, Singapore, and other major cities.
Huge trains its future professionals in its training facility and publishes its IT news journal. The Huge empire exemplifies a fundamental approach to work with its NC-projects center, cafe, photo- and filmmaking studio, and own business education center. Even Elon Musk would be impressed by such a profound attitude.

Company office location: New York  (the USA)
Specializes in: marketing, branding, VR & AR and web development, and web design
Stink Studios in New York upholds the values of sound business planning, creativity, and innovation. The studio was established in 2001. Since then, the company's developers, designers, and marketing experts have worked with Adidas, Spotify, Strava, and Google.
The offices of the web design firm are located in the world's six largest cities, where fashion trends are set: New York, Los Angeles, Paris, Shanghai, Berlin, and London. Furthermore, stink Studios has opened its own filmmaking studio, Stink Films, prompting the team to launch its own service Rita, which allows its users to create high-quality HD videos on any device, including a standard smartphone.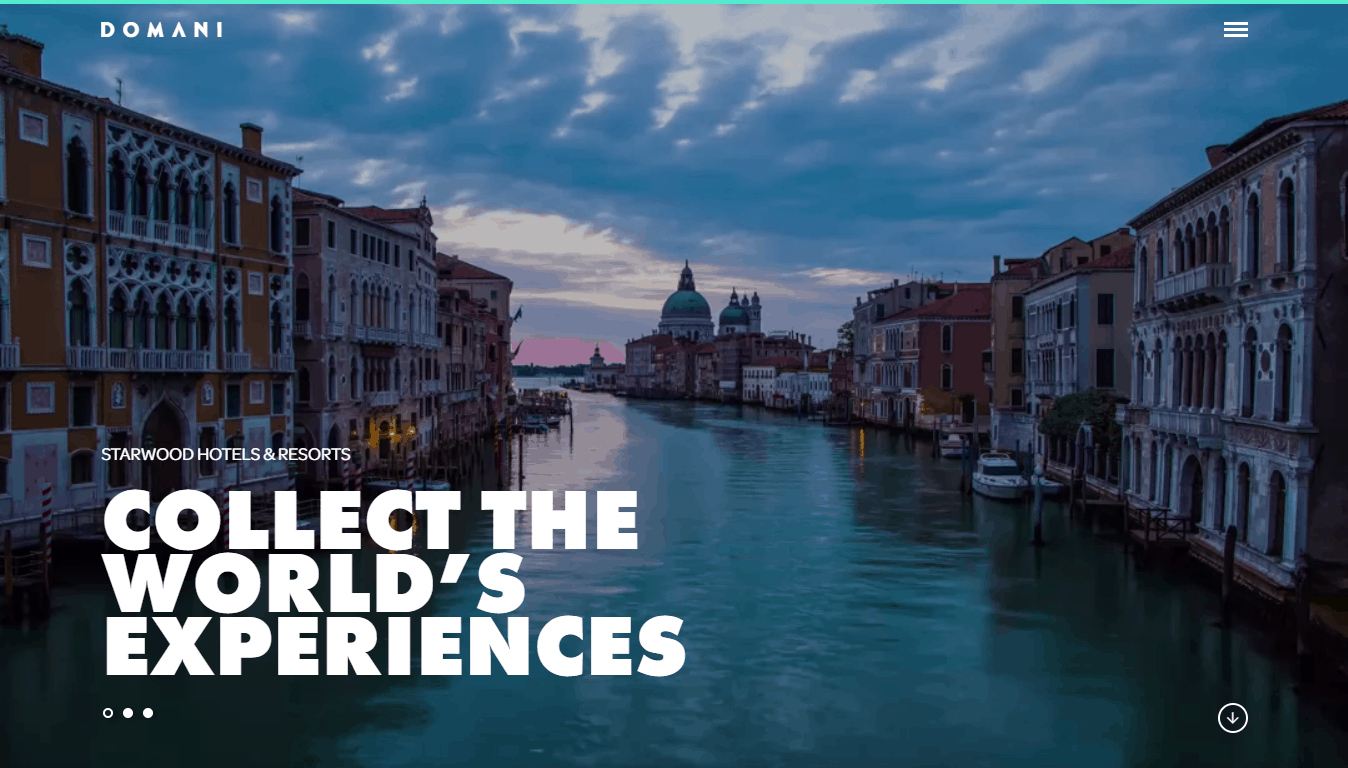 Company office location: New York (the USA)
Specializes in: marketing, branding, development, and web design websites
The studio was founded in 2001 as a design agency. The developers attribute their success to their creativity, apt use of technology, and the ability to put themselves in the client's shoes.
These skills help DOMANI Studios build big and small websites that inform the world about new brands and products. "If you feel safe, it means no one needs you," claim DOMANI Studios professionals and accept the challenges posed by complicated tasks and demands to provide something new and non-trivial. The studio's decisive approach has granted it awards and nominations in the best developers rating by Awwwards: it has got 15 "Website of the Day" nominations and one prize for the best website of the year.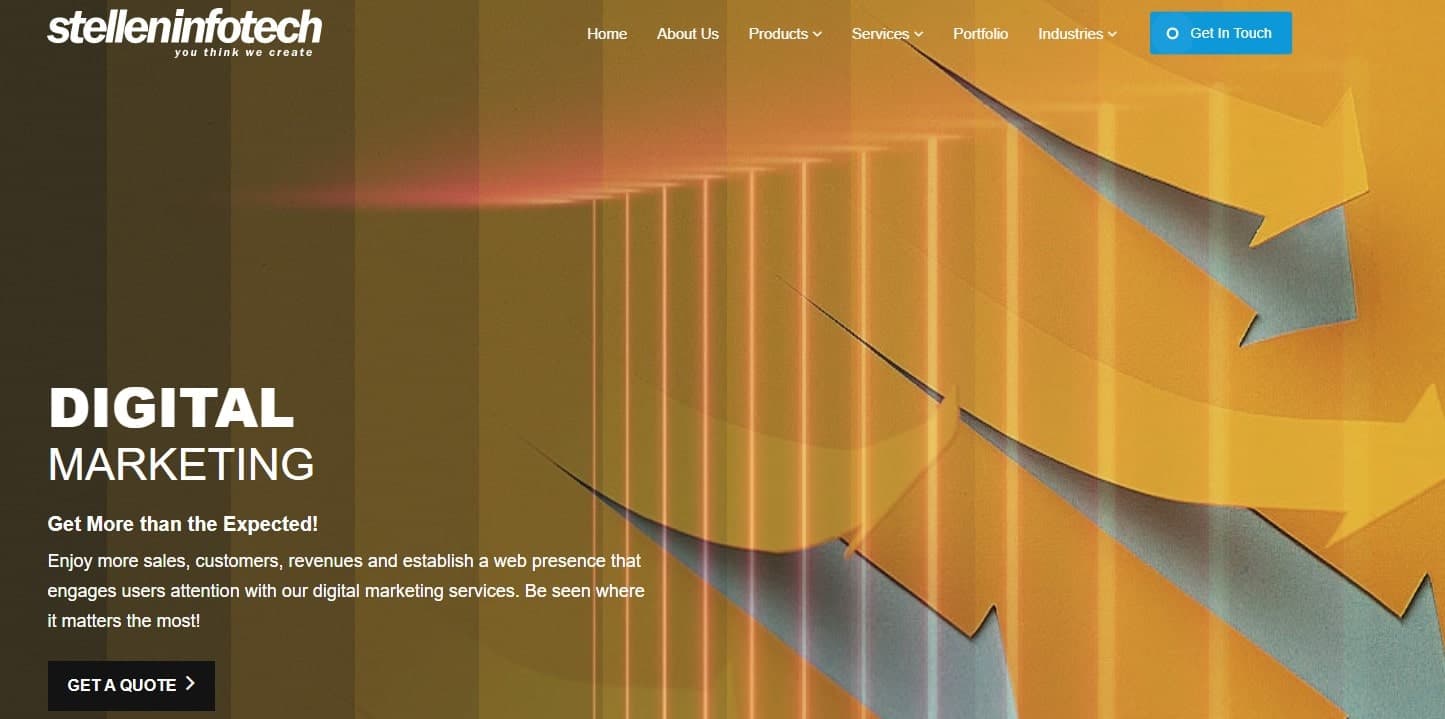 Company office location: Santa Monica (the USA)
Specializes in: Web Design, Web Development, Web Development Services, PHP Development Services, WordPress Development, Mobile Application Development, SEO Services, Digital Marketing, Ecommerce SEO Services, Codeigniter Development
Business Description: Stellen Infotech is a Web Design and development company specialized in providing dynamic web and mobile applications to enterprises, in order to assist them in enhancing their productivity by gaining visibility on the internet. We offer various services like Web Development, Web Designing, Mobile Applications and Search Engine Optimization – SEO, among others. As a web designing company, we provide a clear and effective website design package coupled with an intelligent internet marketing strategy, which will help you to expand your business globally in a dynamic manner.
Ideas of what can make a web design agency a top web design company
Like any other website development company or SEO agency, there are always several factors that can contribute to a web design agency being considered a top company in the industry:
Quality of work – the best web design company produces high-quality work that is visually appealing and user-friendly for the user and the specific target audience. It should be noted that beauty does not always equal high conversion on the website.
Customer Satisfaction – Mostly, the best web design company has a track record of happy customers who have a positive experience with it both in terms of the quality of the site, fast and high conversion, and of course, profit.
Expertise – someone will achieve very large expertise working with top brands in a web design company sooner or later. CEOs strive for the team to become super experienced, and there would be many qualified specialists who are and will become experts in their field or web projects.
Innovation – Tastes change, and the best web design company that will always be up-to-date with the latest web trends and technologies and can come up with new and innovative web ideas that will rocket CR and improve UX.
Professionalism – in any field, no one likes extra bills to pay, and the same in web design companies; one should professionally interact with clients. In this case, you should stick to the deadline and not increase the budget for web design.
Strong portfolio – no matter how you slice it, the best web design company has a strong portfolio of successful websites that showcase their abilities and superior experience.
By meeting these criteria, a web design agency can become a leading company in the industry.
Conclusions
The top 33 web design firms in 2023 have pushed the envelope in terms of innovation and creativity. These businesses specialize in everything from visually appealing designs to bringing user experiences to life, so if you want a stunning website that will make people say "Wow!" you know where to look! Remember that finding a website designer who understands your vision, goals, and budget is the most important thing!