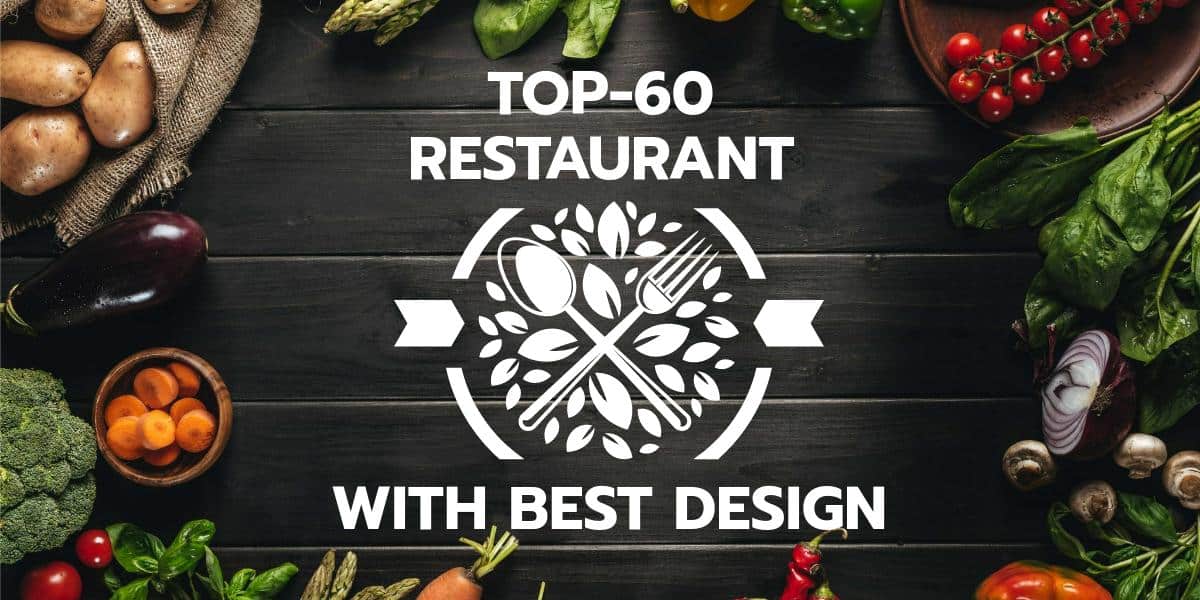 High-quality UI/UX elements are crucial for any type of a website. A well-thought-out design increases conversion, stimulates user engagement, and enhances chances that visitors will return to a resource.
We have prepared an overview of restaurant websites with 60 truly unique designs. Each of them deserves special attention as the owners of these places did their best to present them in the most appealing way. It also worth noting that this list isn't a rating based on a certain criterion. We compiled it for illustrative purposes to show the selection of best restaurant sites. All of them can definitely win various ratings.
1. Eleven Madison Park
A renowned restaurant that serves new European haute cuisine. One of the most popular dishes at this place is a lavender and honey roasted duck from the chef, Mark Welker. The site is done in a minimalist design. A great portion of each page is taken with a white background with small text blocks and thematic images on it.
2. Osteria Francescana
A well-known restaurant in the small town of Modena in Italy. At the beginning of its existence, it was almost closed because of the novelty of its dishes. Yet under the guidance of its chef, Massimo Bottura, the place became extremely popular and won numerous awards. The design of its site stands out with carefully selected images, which thanks to a neutral background create a great contrast. Each dish in these pictures looks like an exquisite and thought-out composition.
3. El Celler de Can Roca
El Celler de Can Roca in Girona (Spain) was twice ranked first in the most influential ratings of European restaurants. The core of its cuisine is a new Catalan style. The design has some unusual solutions. For instance, on the homepage, you get acquainted with the team of this restaurant. The other pages are done in a vintage monochrome style. A horizontal scrolling is another interesting feature.
4. Mirazur
This restaurant is located in Menton, France. It specializes in Mediterranean cuisine. The design of the site has a light-colored marine theme with a special touch of France.
5. Central
Central Restaurante operates in Lima, the capital of Peru. The restaurant has become famous for its contemporary Peruvian cuisine. In 2017, this place was recognized as the best in Latin America. The design of its site deserves your special attention. After loading it, you can start an exciting journey within the web resource.
6. Blue Hill at Stone Barns
This New York restaurant opened its doors in 2000. They cook dishes mainly from products supplied by local farms. But it's not only about an unusual approach to cooking – their website design is also unique. They use a newspaper style and a bunch of appealing thematic images.
7. Alain Ducasse au Plaza Athénée
This restaurant of haute French cuisine is located in Paris. They usually use for their dishes fish, vegetables, and cereal crops. The website of this place has a beautiful parallax design, which perfectly balances graphic and text elements.
8. Restaurant André
This Singaporean restaurant boasts its French cuisine. But in addition to an unusual approach to food presentation, it's also worth mentioning the special design of their site. It's minimalist and has an interesting arrangement of content blocks as well as exciting themes that attract users' attention.
9. Piazza Duomo
Piazza Duomo is located in Alba (Italy). The cuisine of this place is based on the modern Italian tradition. The restaurant's site has a typical for parallax websites design and a nice flower theme.
10. D.O.M.
In the beautiful city of São Paulo, there is a great restaurant with a succinct name D.O.M. Its style relies mainly on the Brazilian cuisine with Amazonian native ingredients. Not only the gastronomic traditions are great, their website also deserves your attention. They have unusual arrangement and rotation of certain blocks and a bright accent on details.
11. Le Bernardin
This New York restaurant serves exquisite seafood dishes. In addition to appealing food serving and interior design, this place can be proud of its nice and carefully thought-out site. Depending on the page you are on, it will have either vertical or horizontal scrolling. An interesting idea of navigation is also worth noting.
Jacks Bar isn't a typical restaurant. Actually, it's a pub with some great ambitions and numerous awards. Its website is created in a classic pub style: bright images, tattoos, and the combination of white and black.
13. The Clove Club
This is another London restaurant on our list that perfectly combines fine dining and modern web design. Their site is a landing page with a typical scrolling. Text and graphic elements are seamlessly united here.
14. Arzak
Arzak is located in San Sebastian (Spain) and known for its Basque cuisine. Despite common gender stereotypes, this restaurant is led by a woman. The website design sticks to calm sober colors. An introductory video and photos on the website are just great.
15. Le Mugs
We absolutely adore the site of this place. It is worth your attention not only because of nice images and well-matched combinations of colors, the animation is also wonderful. Additionally, it has an appealing and original design of a menu page.
16. ELE
This restaurant specializes in modern Asian cuisine. Its design accentuates graphic elements which take the main part of the screen. The text is put in small blocks and always nicely contrasts with the background.
17. Michi Ramen
Michi Ramen is a restaurant of Asian cuisine. This place is first of all known for its ramen, a Japanese and Korean dish. In its web design, you can also trace a distinct Asian theme. Just take a look at its thematic images and unusual font.
18. Blackhouse
The most piquant thing in the design of this restaurant site is a contrast of colors and fonts. Within this site, you can notice a clear monochrome theme. As to the fonts, they have an unusual typographic style. Additionally, there are different elements of design which remind of old printing traditions.
19. El Burro
This place serves a variety of Mexican cuisine dishes. Mostly these are tacos, burritos, and salsa. As to the design of their site, it sticks in your memory with bright, juicy images, and color contrasts. Acid shades go well with calm, pastel tones.
20. Quay
This fine dining restaurant is located in Sydney, Australia. This is the most famous and renowned place on this continent. Quay's team has decided to take the best "ingredients" of the web design world and use them on their site. A nice video, parallax effects, and high-quality images. What can be better?
21. Gourmet Natural
This Portuguese restaurant specializes in Portuguese haute cuisine. The design of its site has distinct local motives. Also, a graphic component is really well done and images perfectly complement the corporate style.
22. La Marcha
Californian La Marcha Restaurant is known for its seafood dishes. Their web design is well-thought-out and based on parallax scrolling. In addition to interesting fonts, it also has thematic vector pictures. The images on this resource are worth your special attention, as they are bright, juicy, and well-matched with the main theme
23. Paddock
The first New Zealand restaurant in our TOP is called Paddock. Besides a unique location, this place has a site with an unusual UI/UX solution. In fact, it only consists of three pages, but they include everything you need. A great example of a good arrangement of information and a well-planned structure.
24. Block 16
This restaurant specializes in street food and takes it to an absolutely new level. Thanks to juicy burgers, french fries dressed with various sauces, and chef hot dogs, this place has gained its well-deserved popularity. Block 16's team not only does their best to serve great food. They have also worked on their website design. It has high-quality, vibrant images and nice videos. Also, the structure and content of the site are really thought-out.
25. Rosewater
The website of this restaurant uses a parallax scrolling effect. Also, it has well-matched fonts and vector icons. As always, we recommend taking a look at images. High-quality, bright, and detailed – they attract users' attention and perfectly demonstrate local dishes.
26. Astrid & Gaston
This is another restaurant from Lima, the capital of Peru. It is renowned for its haute cuisine. The website design is done in mainly calm, sober shades. It has a lot of images with dishes and interior of the place. A font is really nice here and fits into the general style.
27. The American
The American in Kansas City is a stylish fine dining restaurant founded over 40 years ago. Besides the quality and serving of food, they have also taken care of their interior and website design. The site has light colors and a bunch of high-quality thematic images.
28. Pitch Bar & Eatery
This small Welsh restaurant largely serves typical British dishes. Its design is balanced, nice and has a reserved English style. Also, there are appealing photos of food and the interior of the place on most pages.
29. L'Amour Fou
This Brusselian restaurant boasts not only an ample menu but also a great website design. The site is dominated by three colors: white, black, and red.
30. Pastaria
This restaurant is located in Clayton, Minnesota. You will definitely notice a classic American touch in its style and web design. Their site is a typical landing page with unusual navigation and nice images.
31. Giuliano
Giuliano is a restaurant of modern Italian cuisine with over 20 years of experience. The site of this place has a typical for parallax scrolling style. It is perfectly complemented with well-matched colors and high-quality images.
32. Storstad
This restaurant site is a landing page, but each scroll takes you to a screen in a certain style. All images are high-quality and detailed. The main drawback of this site is contrast. Storstad's team should improve the readability of text on many pages.
33. Fud
This Italian restaurant serves mainly street food. In their menu, you will see burgers, paninis, pizzas, French fries, etc. Fud's website has a typical landing page style. Extremely tasty and detailed images will draw the most of your attention. Also, the site has nice color palette and font that perfectly complement the overall design.
34. Brass union
Brass union is a restaurant with a fascinating minimalist design. Again, their site is a landing page which can be navigated with a few scrolls. Also, it has a clear typographic and postal theme.
35. Ruxbin Chicago
As you can guess from its name, this amazing place is located in Chicago. The website design is modern and stylish. It has a lot of appealing images and nice text elements.
36. The Eddy NYC
The Eddy NYC is a Manhattan restaurant, which is often mentioned in different gastronomy-related media. As to the structure, this is a typical landing page with many background images.
37. Junction Moama
This Australian place has a long and noble history but it can also boast a great design. Their page has a lot of graphic elements and content blocks are really well arranged. A navigation menu and animations deserve your special attention.
38. Baobab
In addition to stunning food design, this restaurant in the ancient Spanish city of Zaragoza also has a compelling website. With each scroll on the main page, you switch to another color. Moreover, all of these sections have a bunch of GIFs and animations. An unusual location of graphic elements complements the overall style and makes this site really eye-catching.
39. Mercer Tavern
This is a Canadian pub, so obviously it's not a typical restaurant. Yet it has such a great website, that we had no choice but to include it in our TOP. The style of this site attracts with its minimalism. There are only one short page and a menu, but they allow you to check everything you need.
40. Whitmans
Whitmans restaurant specializes in street food. The place was opened by native New Yorkers and always uses fresh and juicy ingredients. The design of their site stands out with light shades, colorful images, and interesting fonts.
41. Cow&Co Cafe
This is a great Liverpool restaurant serving a variety of traditional English dishes. Their site has a very peculiar structure: it is divided into three parts, and each of them has unique content. In addition, the fonts here are really nice.
42. The Monocle Café
The Monocle Café has two locations: London and Tokyo. Just take a look at the structure of its website! A large portion of pages is taken with the images of dishes. An original arrangement of content blocks and color selection complement the overall style really well.
43. Drury Buildings
You can come across this place strolling down the streets of Dublin. Both the restaurant and its site have an interesting style. The site has characteristic colors and an original arrangement of content blocks. Thematic images and unique style perfectly complement the overall look.
44. Colonia Verde
This Brooklyn restaurant has a captivating website. Original navigation, transitions, animations, and vivid images create a really great presentation of this place.
45. Bay Street Biergarten
Bay Street Biergarten is a special position in our top. It has a 360 tour website that will walk you through the restaurant. Any user can take a look at the great interior of this place. The website has its own unique features and style of graphics.
46. Lemonade
Lemonade is a place with a stunning website and a super cool approach to food serving. The site has well-thought-out transitions, animations, and an interesting arrangement of content based on scrolling.
47. OLÉ SOIREE
OLÉ SOIREE's team has come up with a very interesting hook for their main page. Once you visit the site, you will see two images with a scroll button between. You can move it to check different backgrounds. The arrangement of image blocks is also worth your attention.
48. Big Apple Hot Dogs
This is probably the most beautiful website of a place that sells…hot dogs! The characteristic feature of this site is its cartoon style. Every new scroll takes you to a new hot dog type.
49. Giraffe
This is another British restaurant on our list. Their website is really stylish and has many appealing images and nice fonts. In addition, they used some well-designed graphics.
50. Quintonil
Quintonil is a perfect place for fans of modern Mexican cooking. They created a nice website with adorable photos of their dishes and great navigation. Users can easily go to the necessary section and have a quick access to reservation if they decide to visit the place. The site also includes photos of people who work in Quintonil, which adds to a more personal approach.
51. elBarri
elBarri is a chain of six restaurants in Barcelona where you can try the tastiest tapas and other traditional Spanish dishes. It worth noting that in 2015, Albert Adrià, the chef of Tickets restaurant was voted as the best pastry chef. These guys also keep their standards high with their website. They found a really interesting solution to present all six restaurants. Their chain is shown on the map of Barcelona, so users can easily find their way or click the necessary restaurant if they want to learn more.
52. BEEF meat & wine
BEEF meat & wine is a Ukrainian restaurant which was opened in Kyiv in 2010. They present themselves as a "Meaty, Masculine, Multinational Restaurant". The home page includes a nice thematic video. Also, the site has a lot of high-quality, juicy images. The pages combine light and dark shades, so the text is easy to read.
53. Fujiwara Yoshi
Fujiwara Yoshi is a chain of 3 restaurants named after the renowned chef Fujiwara Yoshi. Besides nice interior and dishes, its team also paid due attention to the website design. Again, landing on the main page, you will see a nice thematic video. In addition, it has well-combined content blocks and matching fonts.
54. The Ledbury
The Ledbury is a London restaurant known for its vegetable dishes cooked by Brett Graham. Yet its site is also worth your attention. This is a monochrome landing page with a minimalist style and great navigation. Going to the corresponding sections, users can check a great wine selection and view photos of dishes.
55. Attica
Those who are lucky to visit Australia or live there should definitely learn more about this restaurant. It serves unique local ingredients and opts for an informal style. Actually, this approach is reflected on the website of this place. It has urban background images with interesting animation and effects.
56. Lucky Restaurant Vinotheque
This is another Ukrainian restaurant with an appealing site which we strongly recommend taking a look at. It specializes in haute European cuisine and is operated by the renowned chef, Volodymyr Yaroslavskiy. The design of the site has mainly light colors. A part of scrolls is taken with large detailed pictures of dishes. Again, this is a typical one-page site.
57. De Librije
De Librije is a world-known Dutch restaurant. Its home page has some great black and white photos of people with pop-up reviews and facts about this place. A black background creates a really great contrast with the images.
58. La Famiglia
La Famiglia is a Ukrainian chain restaurant serving dishes of different cuisines. Each restaurant has a separate page on the site, but they are united with the same style. Also, the site has a lot of beautiful images and interesting loading animation.
59. First Line Group
FIRST LINE GROUP is a family of nine Ukrainian restaurants with different styles. Each place boasts its own unique atmosphere and design. As to the website, it has parallax scrolling, light colors, and a bunch of thematic images and graphics.
60. Arbequina
Here is the last but not the least restaurant in our top. Arbequina will remind you of a cozy small Spanish café. Its website has a compelling and quite unusual design. The main part of the screen is taken with a nice image and the rest changes depending on the page.
Conclusion
Here is the end of our Top 60 Restaurant Websites with Great Design. Reading this list you could learn more about the cuisine, story, and style of each place as well as take a look at its website. As you can see, awarded fine dining restaurants pay equal attention to their web presence and interior, service, or cuisine.
UI/UX elements are really crucial to website promotion and help to turn visitors into potential customers. We hope you have found this article exciting and useful. Subscribe to our email and push notifications as there is a lot of interesting waiting ahead.