A marketing strategy is a set of actions that promote the goods or services of a company. It is based on the 4Ps: price, location, product, and promotion. Traditionally, the strategy is based on the expectations of the target audience.
Following a marketing strategy allows a company to effectively communicate with its target audience, generate interest in its products, and set achievable goals.
Studying examples of marketing strategies will help marketers build their promotion plans based on successful cases from other companies. This will increase the pool of consumers and make goods and services more efficient.
The Key Components of Marketing Strategy Examples
Marketing strategies are constantly changing, so using outdated algorithms will not succeed. Instead, you can choose among the relevant communication methods based on your budget for website promotion and the characteristics of your target audience. To determine the right strategy, it's important to know who your message is directed towards. For B2B, there are some standards for effective communication, while for B2C, it is more appropriate to use others.
Most examples of online strategy are based on the following channels of interaction with potential customers:
Website promotion in social networks.
E-mail mailing lists.
Referral programs to attract new customers.
Interaction with opinion leaders.
Paid advertising on Facebook and Google.
If your budget allows, you can take advantage of several of these options. Or you can concentrate all of your resources on only one channel. The list contains promotion methods that require financial investments depending on the niche and competition.
Best 7 Marketing Strategy Examples
A marketing strategy has several simultaneous goals. It is designed to:
Increase demand for a service or product.
Generate interest from the target audience.
Introduce offers on the company's website and create a demand for them.
Here are some of the most successful and original examples of marketing strategies that can be transferred to almost any brand – even for a company that is smaller than the market leaders listed here.
Marketing Strategy Examples: Bounty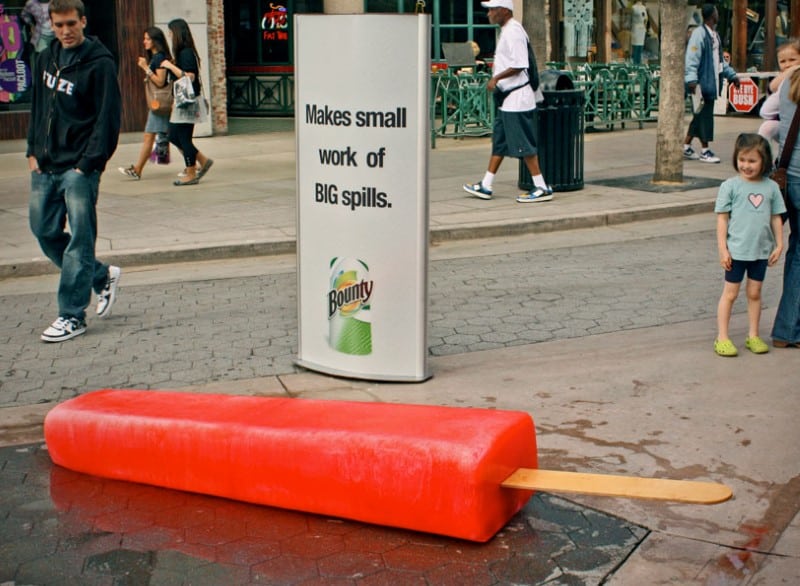 Bounty paper towel brand marketers have decided to move away from traditional advertising media and focus on understandable situations that are relatable for the buyer. So, if gigantic spilled cups of coffee and huge melting ice cream cones appeared on the streets of cities, a modest city light with a roll of paper towels next to it would be simple and understandable.
At the heart of the campaign is guerrilla marketing, and it is hard to ignore. Here, the interactions of the target audience with the brand are much greater than they would be with traditional advertising using a poster or other medium of commercial information.
Marketing Strategy Examples: Spotify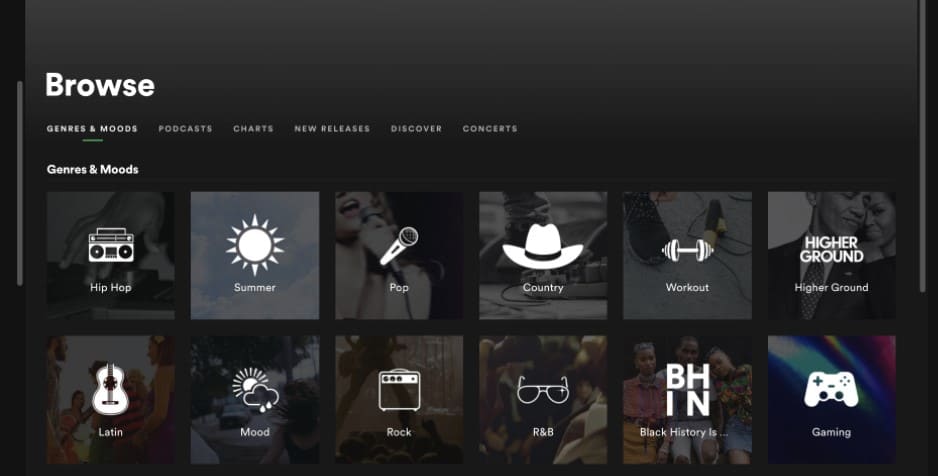 This marketing strategy example shows how to retain users and prevent them from going to competitors. The music streaming service Spotify relies on the convenience and practicality of its application interface.
The attractiveness and practicality of the design, the abundance of possibilities, and the availability of a free version of the service allowed it to become a favorite in terms of the number of users – it reaches almost 300 million people worldwide. At the same time, half of the music lovers use paid subscription services.
Spotify's strategy is based on user-friendliness and comfort. The application even employs artificial intelligence to select new songs in its audio collection based on the listener's preferences.
Marketing Strategy Examples: GoPro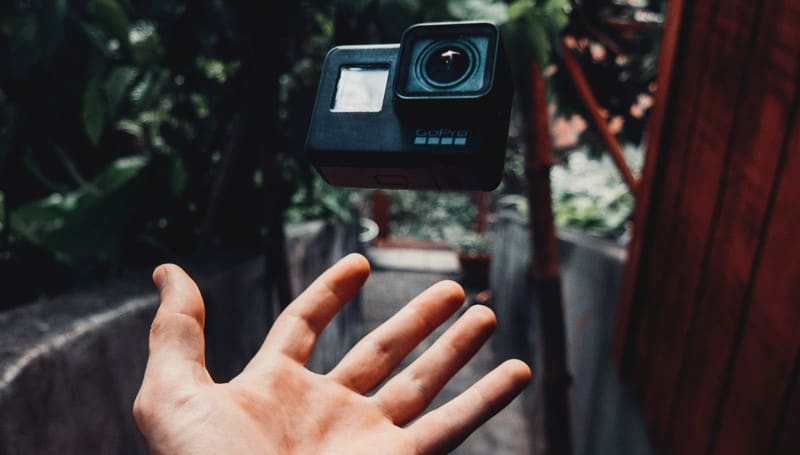 One goal of a marketing strategy is to spread positive information about the brand and attract a target audience that will be loyal to the company. For example, extreme sports camcorder manufacturer GoPro uses fan content on social media posts. This helps to popularize the brand and attract new buyers interested in quality action videos.
The manufacturer also offers its video editor, which automatically overlays a watermark with the brand's logo on the video sequence. So, as the user spreads stories about their adventures and shares the secret of unusual shootings, viewers are also aware that GoPro made it possible.
In addition, GoPro regularly holds contests among its users, rewarding them for the originality of their content with updated equipment and other valuable prizes.
Marketing Strategy Examples: Sephora

Sephora chose a customer retention strategy based on a profitable partnership program in Canada and USA markets. The tiering system used to differentiate customers gives the brand a feeling of exclusivity. About 80% of sales are carried out by current loyalty program members, making the business as stable as possible.
Marketing research has shown that four-fifths of customers use their smartphones to select or order products. Therefore, the brand's stores offer free Wi-Fi and a mobile app featuring an attractive and intuitive interface for shopping.
Marketing Strategy Examples: Vogue

The company's strategy is to create a sense of belonging to the elite viewers of the publication. VIP clients have the opportunity to communicate with the editorial staff, key figures in the fashion world, and beauty consultants. They also have access to insider thematic content.
Interest in the glossy magazine and its online version is supported by invitations to private entertainment events as guests of honor or by offering discounts on the most interesting cultural programs.
The personalized loyalty program was developed as a result of sophisticated marketing research. According to the brand representatives, using a strategy that emphasizes rewards has a positive effect on the publication's subscriptions.
Marketing Strategy Examples: Nike

Nike's content strategy is designed to maintain interest in its social media accounts. To keep consumers' attention, the brand disseminates motivational content and information that indicates the convenience and practicality of their products.
Since the beginning of the formation of the brand, the founder has worked to popularize physical activity and offer products that will make sports more convenient and enjoyable.
Nike does not post social media content aimed directly at advertising its products. Rather, it associates its clothing and footwear with athletic performance and personal victories. This kind of information works great on the subconscious and encourages the target audience to strive for new achievements by purchasing new equipment.
Marketing Strategy Examples: Taco Bell
The preferences of its target audience are what drive Taco Bell's social media presence. The company's clients are active and friendly people with a bright sense of humor and a desire for social contacts.
Social media has made it possible for the brand to communicate with its audience in real-time, so Taco Bell posts are always trending. In addition, the company actively communicates with opinion leaders and trendsetters, which allows it to constantly increase its pool of potential customers and disseminate news about various promotions and special events.
Conclusion
As the examples of marketing strategy show, the presentation of attractive products to the target audience can be both original and traditional. To motivate people to talk about your brand or product, you need to get their attention and meet their expectations. You can achieve both these aims by using word-of-mouth or viral content that is directly or indirectly advertising your products.
To build a good marketing strategy, it is important to rely not only on creativity but also on the characteristics of the consumers for whom the campaign is being created. For example, take advantage of people's desire to save money, become part of a popular community, or take a break from everyday life.