How many search results do you scroll through before clicking a link? Over 90% of users choose an eCommerce website from the top 5. The conversion of those first is always higher. So make sure you are among them.
In eCommerce, continuous lead generation guarantees a dynamic expansion in conditions of fierce competition. When it comes to SEO, traffic is never too much. The larger the volume of eCommerce website traffic, the more sales and the better profit you enjoy.
If one or two users out of hundreds visiting your website make a purchase, this may seem insignificant. Now imagine that your eCommerce site's traffic grows to two thousand per day instead of two hundred visitors per week. A possible result based on simple calculations increases to several dozen buyers daily.
How to achieve this? Optimization tips only! In eCommerce, SEO is the main profit generator. Here are the main recommendations and tips for optimizing an online store.
Guide for eCommerce Website SEO
How to upgrade your old eCommerce site SEO? Use this guide to achieve eCommerce website SEO bringing good results. Here are the steps and tips to follow:
Optimize the eCommerce website structure.
SEO of the Title and Description meta tags on the eCommerce site
Create SEF URLs for the eCommerce website
Image optimization
Find and improve broken links
Homepage SEO of eCommerce sites
SEO of categories of the eCommerce website
Product page SEO of the eCommerce website
Adaptive eCommerce website design development
Set up the scraper site and a single URL format
Configure Robots.txt and sitemap.xml files for the eCommerce website
Connect webmasters' tools to the eCommerce website
Create and run SEO for the 404 error page
Delete or edit duplicate pages and content
SEO of eCommerce site HTML tags
Test and improve load time
Let's discuss our eCommerce website SEO tips in more detail.
Tip #1. Optimize the eCommerce Website Structure
When conducting SEO for the eCommerce site, think about target consumers first and then about your benefit. Visitor satisfaction from interacting with the site is an influential behavioral factor. Therefore, it is taken into account when ranking websites for search queries.
If your online store combines different products in one category, forget about high conversions and user convenience. It may seem there is nothing wrong about making visitors complete several extra clicks, but in reality:
It's easier to close the online store's tab, return to search, and purchase from competitors than to struggle with navigation.
Recommendations for improving the website's structure are Google's engine optimization instructions, so respect the rules.
A convenient site structure benefits the user experience and the time spent on the website. After all, the goal of any company is to make buyers stay as long as possible to buy more goods.
How to optimize the website structure for good SEO results?
A properly optimized website structure matches user requests in search engines.
One category can be divided into many subcategories. Clustering allows covering multiple key queries to get into the top search results. If a category is placed on 1 page, users will have trouble finding the necessary thing.
Tips for proper SEO of the website structure
When designing the website structure of the online store:
Use user-friendly SEF URLs (transliteration of words in Latin) instead of dynamically generated URLs.
Create an ordered, logical and easy-to-navigate site structure (main → categories → product/article).
Make the navigation menu visible and display it everywhere across an eCommerce site.
Use navigation chains ("breadcrumbs") to enhance the website's usability.
These tips help create a convenient and logical structure with ergonomic navigation, which matters for visitors and search engine bots.
Tip #2. SEO of Title and Description Meta Tags on eCommerce Websites
For proper Title and Description SEO optimization for an eCommerce website, let's learn more about these meta tags.

Meta tag Title – the page title displayed in the search. It helps search engines understand the subject of the URL.
Meta tag Description – a concise summary of the URL content for search engines.
Because the page snippet in search results is generated based on these tags, they play a crucial role in eCommerce site SEO.
Tips for proper SEO of the title and description meta tags
Recommendations:
Title/Description meta tags should correspond to the URL content and briefly characterize it.
Use relevant keywords, but avoid repeating them too often. Search engines perceive it as spam.
The text of meta tags for each URL must be unique.
Use conversion words in titles of online stores (buy, price, target city name, etc.)
To create Title and Description meta tags for separate website URLs manually or automatically, your CMS must have the corresponding functionality. Contact specialists if a self-recording engine is used and this feature is unavailable.
Always follow these tips because search positions depend on the interest in the described offer and SEO of the Title and Description meta tags.
Tip #3. Create SEF URLs of eCommerce Website Pages
SEF refers to a Search Engine Friendly URL. This is important not only for eCommerce sites but also for information projects and other websites.

Why does an eCommerce website or regular site need SEF URLs?
Title and Description inform search bots about content, while SEF URLs tell how the URL can meet user needs.
SEO Tips on SEF URLs of eCommerce websites
To avoid problems with the URLs of the eCommerce site, follow these tips:
Do not use Cyrillic. This adversely affects ranking, and when you copy such an address, these words immediately change to unknown characters.
Prefer short SEF URLs. 60-80 characters is a perfect length.
Use a hyphen instead of spaces between words in SEF URLs. Avoid other punctuation marks since it harms SEO.
Do not indicate numerous key queries in URLs.
These simple tips will considerably boost the visibility of your website. Make sure to share them with every member of your marketing and SEO teams.
Tip #4. Image Optimization
Images are integral to any site. This is the main online store element because visitors searching for specific products first pay attention to the photos.
Image optimization solves two main problems: it speeds up loading and increases traffic through conversions from image search.
You can optimize the photo size using a graphic editor. It reduces the weight of the photo by 20-30% and keeps the quality. Users usually don't see the difference.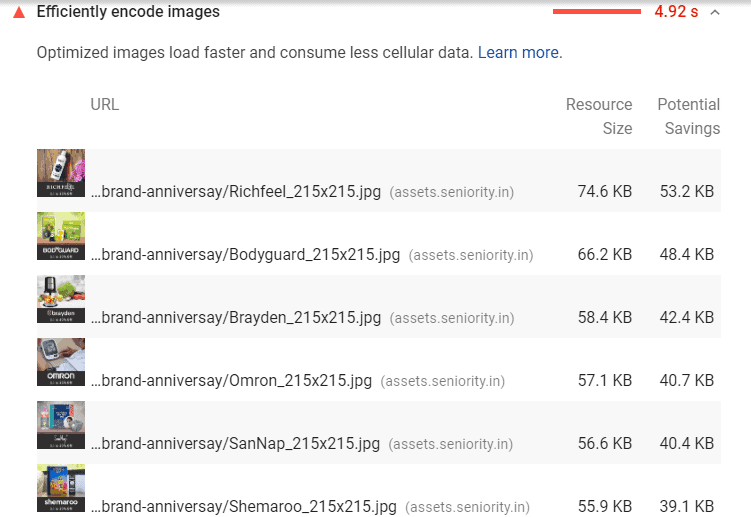 Tips for eCommerce site SEO:
Edit the image URL to indicate the name or idea of the product (e.g., notebook-dell-xps15.jpeg). This option is much clearer than a complex set of characters like edre54546rgty.jpeg.
Pay attention to alt attributes (alternative image descriptions). They replace the images that cannot be displayed correctly and are considered by search engines when indexing for Image Search.
Of course, using unique and high-quality images is always preferable, even though generating them takes time. Such content makes your products more attractive.
Tip #5. Use Reviews on Product Pages
Customer reviews are one of the most underestimated eCommerce SEO techniques. They show search engines that people are interested in what you offer. Google sees that your business is open to feedback and is more likely to assign it a good ranking. Besides, user eCommerce reviews provide your websites with long-tail keywords with low competition and high relevance.
Thus, the main advantages are:
Higher eCommerce site ranking
More quality keywords
Increased SEO authority of your eCommerce website
Additional information about each product

Moderate eCommerce reviews if you want them to sound polite and bring new leads. You cannot delete nasty comments, but you can reach out to the person to fix the problem and improve their experience.
Tip #6. Find and Improve Broken Links
Broken links lead to non-existent web pages, both internal and external. Since such links harm user experience on an eCommerce site, they are devastating for SEO. Therefore, you must detect and remove broken links while following other SEO best practices.
How to find them?
Use Site Explorer to detect all broken external links.

How to remove broken links?
Use any of the following tips:
Replace the broken URLs with live links.
Remove the broken links if they are not critical.
These approaches may be time-consuming, but the positive effect on your eCommerce site is worth it.
Tip #7. Homepage SEO of eCommerce Websites
Usually, an eCommerce site homepage is optimized for general search queries like "the online store of equipment in Washington." I won't exaggerate its importance, but the main page still is a business card and a crucial entry point for visitors.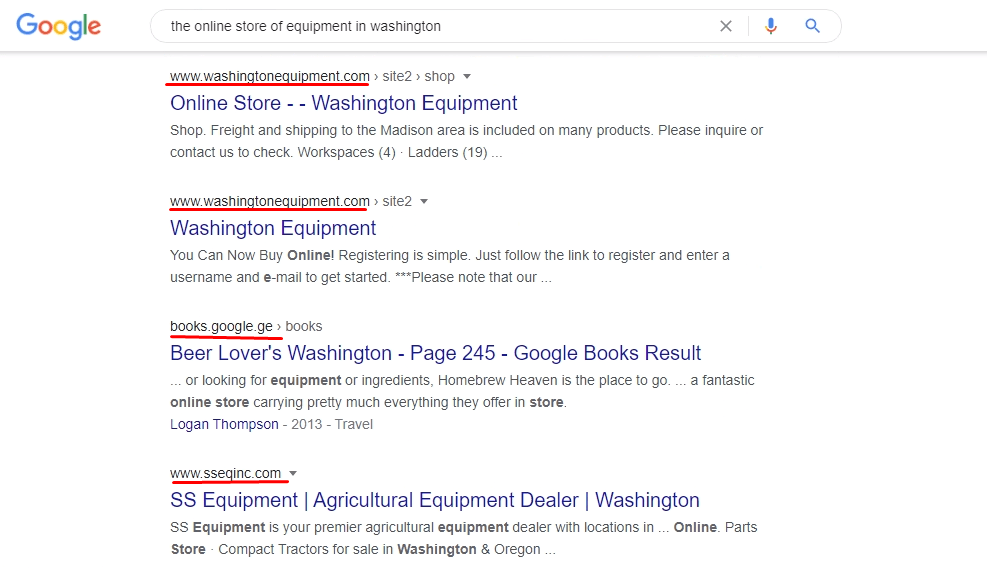 Tips for proper SEO of the eCommerce website homepage
Since homepage SEO should include common queries, adopt the following eCommerce homepage SEO practices:
The alt attribute of the online store logo must contain target queries. Links must lead to the main page;
The menu block must be noticeable and provide convenient navigation to various site sections.
The block of popular or new products must be in the first half of the screen to hook visitors and boost interactions.
Place a small text (3-4 thousand characters) under the block with goods. The text must contain the main information about your store mentioning targeted queries.
Before starting SEO, we recommend looking at your competitors' methods for homepage SEO of their eCommerce websites.
Tip #8. SEO of eCommerce Website Category Pages
Product categorization is one of the most significant components of eCommerce SEO. Information sites may not use categories, but for online stores, they are entry points to check the catalog when searching for products.

Tips for proper SEO of online store categories
SEO methods to use:
Integrate breadcrumbs and optimize content. Subcategories and individual products must contain targeted queries in their links.
Add a unique text of 150-300 words to categories with targeted queries to improve their visibility in search.
Perform SEO of Title and Description on the online store categories.
Remember that SEO of categories has a tremendous impact, as increasing targeted traffic to category pages will increase the conversion of the entire eCommerce site.
Tip #9. Product Page SEO of the eCommerce Website
The effect of SEO on eCommerce site product pages is tremendous. They are the main landing and conversion pages and require thorough SEO optimization.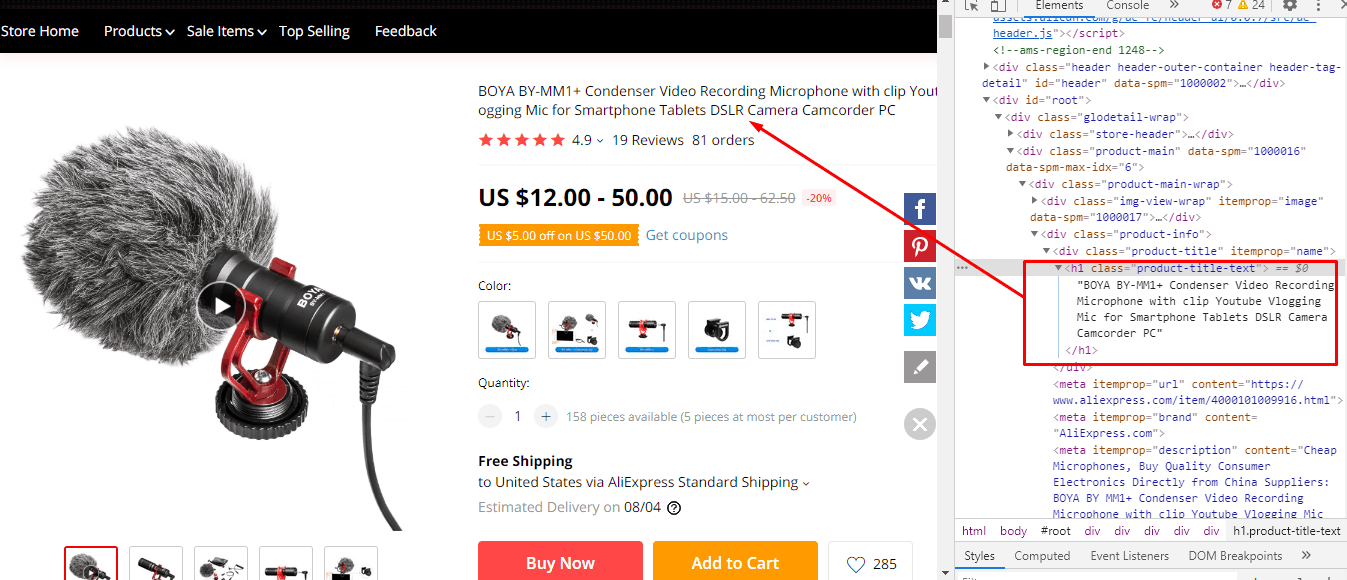 Tips for proper SEO of eCommerce website product pages
SEO of product pages includes the following SEO best practices:
Write the title (H1) that includes the product's full name.
Optimize the Title and Description meta tags with the name of the corresponding product, conversion words, and target queries.
Create unique "selling" descriptions, informative for potential buyers and relevant for search bots.
Optimize product images.
Add social buttons.
Integrate additional features (the ability to add reviews, compare products, save to favorites, etc.).
Mind that you must optimize every product page on your site. It will bring more traffic to your store and increase purchases.
Tip #10. Adaptive eCommerce Website Design Development
Adaptive website design arranges page elements according to the device screen. Thus, it's equally convenient for desktop and smartphone users.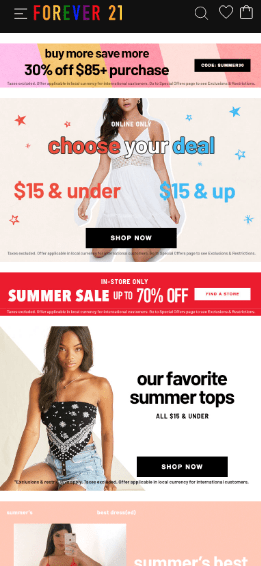 Adaptive design positively affects behavioral factors. For example, it reduces the refusal rate and interrupted purchases – the indicators that affect search ranking.
Tip #11. Set up the scraper site and a single URL format
Setting up the scraper site implies specifying the main version of the site (with www or without www) in the robots.txt file. The 301 redirects to the main scraper are additionally configured.

For example, https://site.com/page-example. If the same page is available in a different form, for instance, with a closing slash "/" at the end, SEO suffers as search engines perceive it as a duplicate.
Tip #12. Configure Robots.txt and sitemap.xml Files for the eCommerce Website
The robots.txt files allow website owners to manage indexing by instructing bots whether to include a specific section or page in the search index. They can also prevent search bots from indexing a site while engineers still develop it.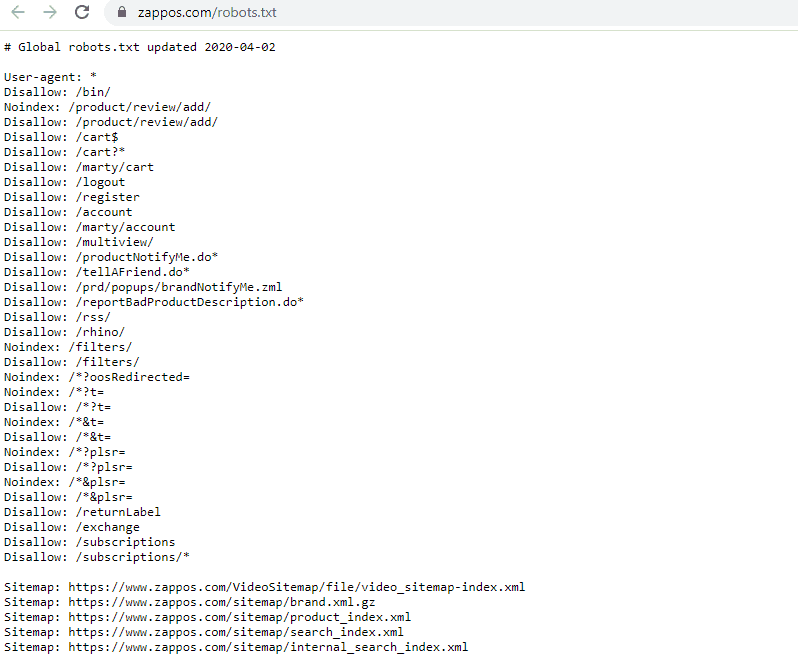 sitemap.xml facilitates website scanning by search bots, which is essential for online stores and other large web projects (1.5-2 thousand pages or more).
Tip #13. Connect Google Search Console Tools to the eCommerce Website
Google provides all eCommerce and other website owners with a free webmaster's panel called Google Search Console. This panel allows you to monitor site indexing, view requests for which it appeared in the search, and receive notifications on errors that may lower SEO value.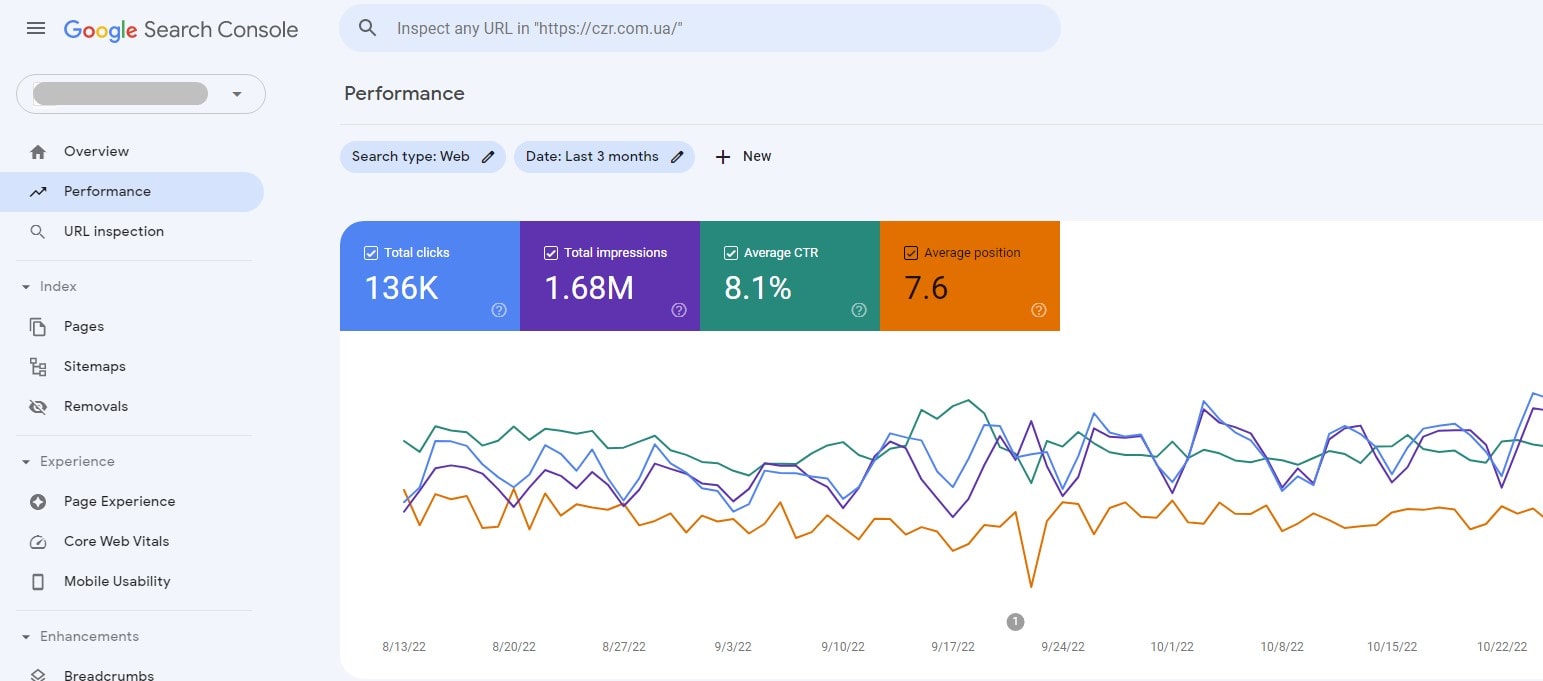 Tip #14. Create and Run SEO for the 404 Error Page
The server generates the "404 Not Found" error in response to a user request to open the URL that does not exist or is deleted. A well-designed 404 page keeps users on the site and invites them to further interaction. In addition, it should display the corresponding status (You can check it using webmasters tools).

This step is imperative for eCommerce websites and other commercial projects because losing even a small number of visitors results in lost profit.
Tip #15. Delete or edit duplicate pages and content
Website duplicates happen for several reasons, including technical errors in the CMS, poorly designed architecture, or publishing plagiarized content. People rarely care about site duplicates, but search engines hate them.

Duplicate URLs negatively affect the ranking and have a low chance of reaching the search top, resulting in low conversions. You must check the website for duplicates using special tools (NetPeak Spider, Google Search Console) and then eliminate them.
Tip #16. SEO of eCommerce Website HTML Tags
eCommerce website HTML tags form the structure of pages. The hierarchy of headers begins with the H1 tag and ends with the H6 tags – from the main title to tiny subsections.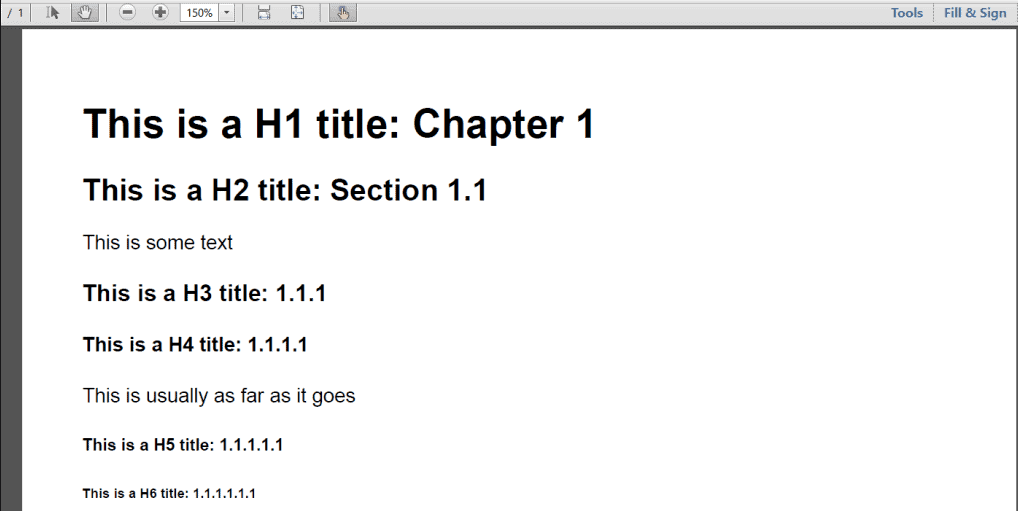 Do not underestimate H1-H6 headings! They attract search engines to your site, thereby contributing to SEO.
Tip #17. Test and Improve Load Time
According to several studies on Internet marketing, if the load time exceeds 4 seconds, 75% of users refuse to view the website, close the tab, and return to the search. The recommended load time for an eCommerce site is 2-3 seconds.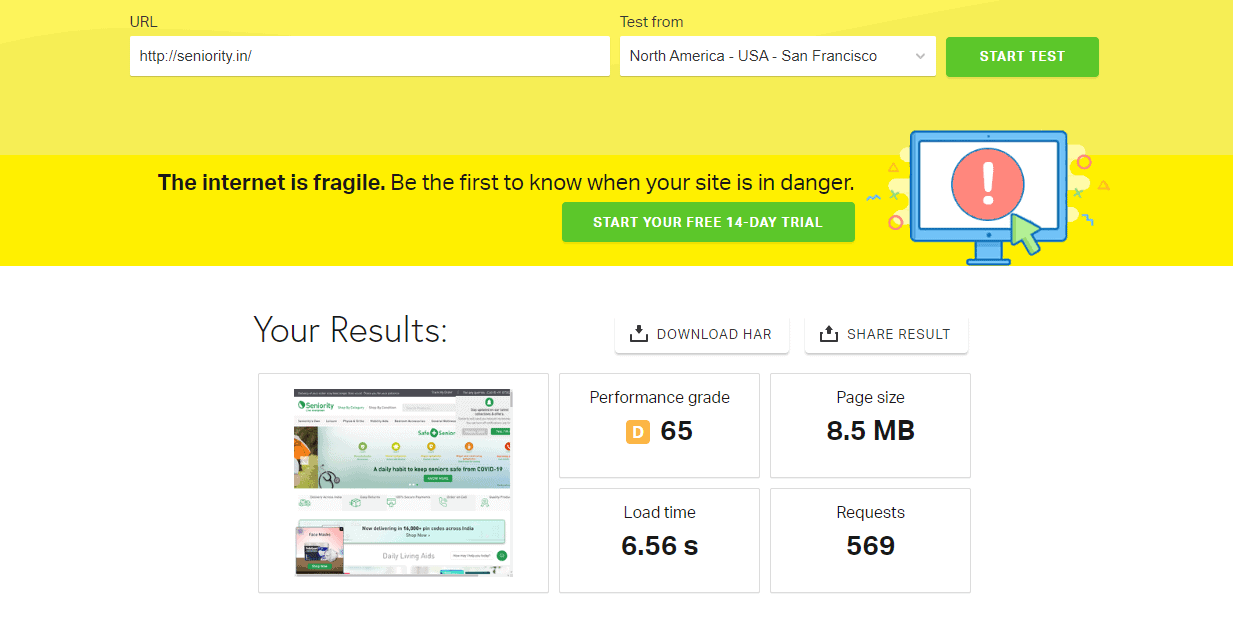 Improve load time using the following services:
You can use any of these services or an alternative tool to check the website speed. The key point is to ensure it's fast enough through testing and optimization.
Conclusion
This article explains reliable SEO approaches for eCommerce sites. Nevertheless, each project requires an individual SEO approach. Therefore, a preliminary website audit is necessary to identify possible errors and plan the changes.
If you are an eCommerce site owner, you can use the above list to self-assess your site. Still, we recommend using express audit services, where experts will evaluate your eCommerce website SEO professionally.