Competitive analysis is not always at the forefront of marketing plans. Can you say the same about your company? Read on to determine why competitor analysis should be high on your priority list and how to present competitor analysis using a competitor benchmarking template.
A competitive analysis aims to compare the strengths and weaknesses of competitors and your own. Here are some reasons to complete competitor analysis reports:
First, you will understand what needs to be improved in your business strategy.
Second, you will keep up with market trends.
Third, understand the audience, their interests, needs, and values.
As a result, you will have a competitive advantage.
There are many nuances when conducting a competitive analysis, and there are many nuances – use a proven competitive analysis template.
With the competitor analysis template, you will answer the question: "Who are my competitors?" The template will simplify the work – you will learn how to get ahead of your rivals. Don't neglect actionable methods and templates to improve your business strategy!
Why Perform a Competitor Analysis?
In short, competitor analysis is a strategy for identifying the key players in your market and studying their marketing tactics, product, and audience. As a result, you will clearly understand and assess your position in the market – and all this is based on a template. Competitor analysis is essential for everyone, from new startups to businesses with years of experience. After collecting the data, entering it into the template, and conducting the analysis, you will understand the following:
Strengths and weaknesses – you will learn where you can beat your rivals and where you need to improve.
Indicators of the value of your product – how unique and in-demand it is in the market.
Any gaps in the marketing strategy of competitors or the quality of their product.
Opinions of customers and buyers – reviews will tell you what users think.
Why is it necessary to regularly conduct a competitive market analysis? First, the result will point you to where you can outperform your rivals and keep the audience. This will give you a guideline for growth. In addition, you will be aware of industry trends. More details about a competitive analysis and its components, how to conduct it, and what illustrative examples of competitor analysis templates look like are later in our article.
How to do a competitor analysis template?
A competitive matrix template can help you organize information about compared companies. You will know what indicators to focus on and have a research plan. Marketing agencies that do a competitor check professionally can also use a competitor profiling template to present their findings to clients. A competitor analysis chart always looks more convincing than unstructured reports.
How to write a competitive analysis report template?
Decide what kind of research you do the most frequently before creating a competitor review template.
Understand what software you rely on to map the competitive analysis worksheet (e.g., you may use Hubspot competitor analysis or research with Ahrefs). The software provides different data, which will affect the structure of your competitor comparison template.
Create a competitive analysis sample to test the advertising competitive analysis template.
Share the competitor evaluation testing template with all related teams explaining how to fill it in.
If you don't need a custom competitor analysis spreadsheet, you may rely on any competitor analysis marketing plan example available online or in our article. However, a ready competitive assessment template will allow you to start the analysis immediately.
Alternatively, you may prefer software that generates detailed reports and use them instead of a competitor survey template. This competitor's analysis format is great for internal use.
Thus, you get all the data in charts and tables, and you can compare the main indicators. – додати Thus, you get all the data in charts and tables, and you can compare the main indicators by entering them in a competitive analysis table example.
Could you go through them and analyze them? – додати Could you go through them and analyze them to fill in a UX competitive analysis report example?
Best 5 Competitor Analysis Template
Instead of tinkering with creating a report for yourself, we suggest using some of the best competitor analysis templates. A template will facilitate this process and help avoid mistakes when defining the reporting structure.
SEO Competitor Analysis from Ahrefs
With the Ahrefs website, you can identify your competitors and analyze them.
You can also choose any other country.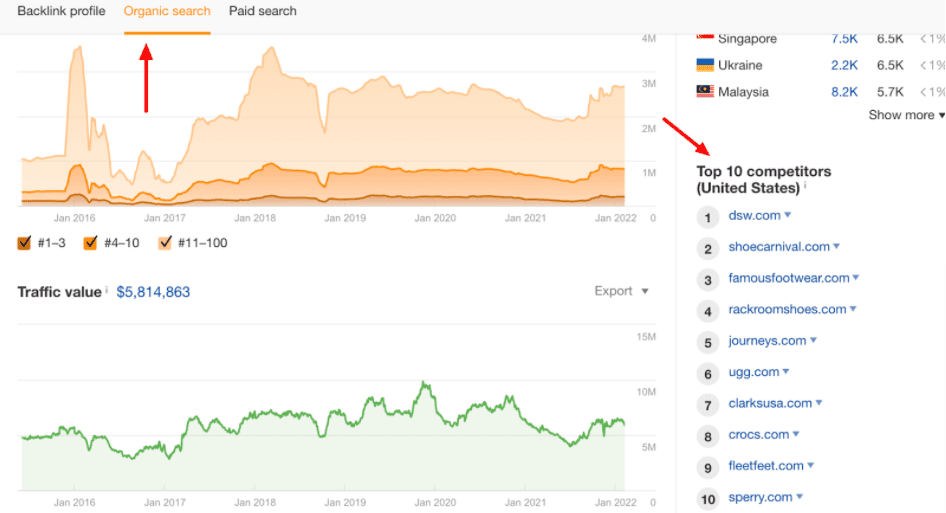 Reporting in this type of analysis implies the presence of such indicators:
Screenshot 1: Ahrefs Rank (AR) – a comparative analysis of the strength of the backlink profile of the main competitor and others.
URL Rank (UR) – reflects the strength of a landing page's link profile on a 100-point scale.
Domain Rating (DR) is a less detailed version of AR. It shows the rank of a website's backlink profile relative to others in the database on a scale of 0 to 100.
Keys – All organic keywords or a specific page URL rank in the top 100 organic search results.
Traffic – Estimated monthly direct traffic to the target site, subsection, or URL from search.
Top pages – data about the site's pages, subdomain, or subfolder with the maximum organic traffic.
Types of links – shows how many non-repeated domains lead to the site.
Thus, you get all the data in charts and tables, and you can compare the main indicators.
Web and Social Media Analysis
You will find links to social networks on the competitor's website. Could you go through them and analyze them? Competitive analysis in social networks will determine the following results:
Find out which web platforms competitors are actively promoting their brand on TikTok, YouTube, Facebook, Twitter, Instagram, Pinterest, and others – when new information is added, how many likes and comments they get, and how often people share their content with others.
Determine their strategy, promotion methods, and ways to address the audience.
Find out when the best time is to post promotional content.
Determine the most "lively" topics for discussion and identify ineffective ones that do not provoke responses.
With the help of social media analysis, you can identify effective "leverage" the audience and find out which method of communication suits your customers. And with the help of our template, you can structure the data and get a clear picture.
Competitor Website Analysis

Competitive analysis in the network is carried out in four steps:
Define your competitors. As with any crawl, keywords will help you. Use the social networks directly in the search – look for your competitors there. In addition, pay attention to the brands that the potential audience is interested in – competitors may also be hiding there.
Gather data on your competitors – what kind of audience they have, how big their audience is, how fast their audience is growing, what social networks and websites rival companies use, their level of engagement, and what hashtags they use.
Perform a SWOT analysis. It will give you results in four areas: strengths, weaknesses, opportunities, and threats. The first two factors are internal, and the last two are external.
Repeat competitive analysis regularly so you can track your results and be on the lookout for new competitors.
Analyze traffic channels. This can be done based on data obtained using Similarweb.
A ready-made competitor analysis template will help you quickly enter, view, and analyze data.
Small Business Competitive Analysis Template

The Small Business Competitor Analysis template follows the same principle as other types of analysis – it allows you to comprehensively study the market, products, methods of competitors, and their business strategies. For example, a competitor analysis template for a small business might include the following:
Primary market research – surveys, private focus groups, and a detailed study of a competitor's product through its use.
The study of trends defines what is interesting to the audience and what is no longer relevant.
The competitive analysis template from Plerdy will help you with this.
Evaluating Results vs. Unique Value Propositions

Comparing the results and value proposition for an e-commerce niche is a defining stage in business development. First, it is necessary to understand what is the advantage of rivals. Here are a few examples: a trading company can be famous for its excellent quality, fast delivery and reasonable prices. And the demand for online lessons from a private mathematics teacher may be due to the uniqueness of his particular teaching methods. It would help if you found out what features competitors have, what makes them competitive and what brings them to the first positions. For this, the following analysis can be carried out:
Compare your products or services – quality, speed of delivery, and value for money.
Determine the features of the competitor's product – what are its unique features that attract customers? You can read reviews, purchase a product, or order a service.
Find out the number of orders per month – place a test order, save its number, and repeat the action after a while. Then, you will find out how many orders were made per day, week, or month using the number.
For a comprehensive analysis, use the template.
Conclusion
Constant analysis of competitors is an important step toward achieving your business goals. He will make you the best and allow you to stay in this position – ahead of competitors in development. We are sure that well-designed templates will help you with this – very soon, you will see the result of your efforts.