The tools you have in your UX Design toolbox can significantly impact crafting an awesome user experience! In other words, equipping yourself with the 18 best UX design tools and software available can make a difference between good and great interface design. 🛠
Just think about all the diverse tasks UX work could entail. You must do competitor research and analyze their UI designs to improve yours! Building user interfaces, testing prototypes, and running usability tests to ensure everyone has a positive, engaging experience with your product — all of this takes time and effort that can be cut short thanks to modern tech tools. ⌨️
You may not realize how beneficial these tools are in getting your work done efficiently, though. Whether mobile UI designs require adjustment or use voice analysis for dialog systems, there's a sweet outcome when you take advantage of the industry's latest optimal UX design tools. People are interacting with intuitive products they love! 😊
UX Tools for Analyzing User Behavior
With Plerdy's design tools, you can give your users the best possible experience. From design audits to heatmaps, our powerful tools provide important data and insights vital for ensuring a design is optimized to its full potential. Plerdy's design tools can take your website from ordinary to extraordinary, ensuring that every user enjoys their experience on your website. With all our design facilities, Plerdy is equipped with the best tools to improve UX on your website.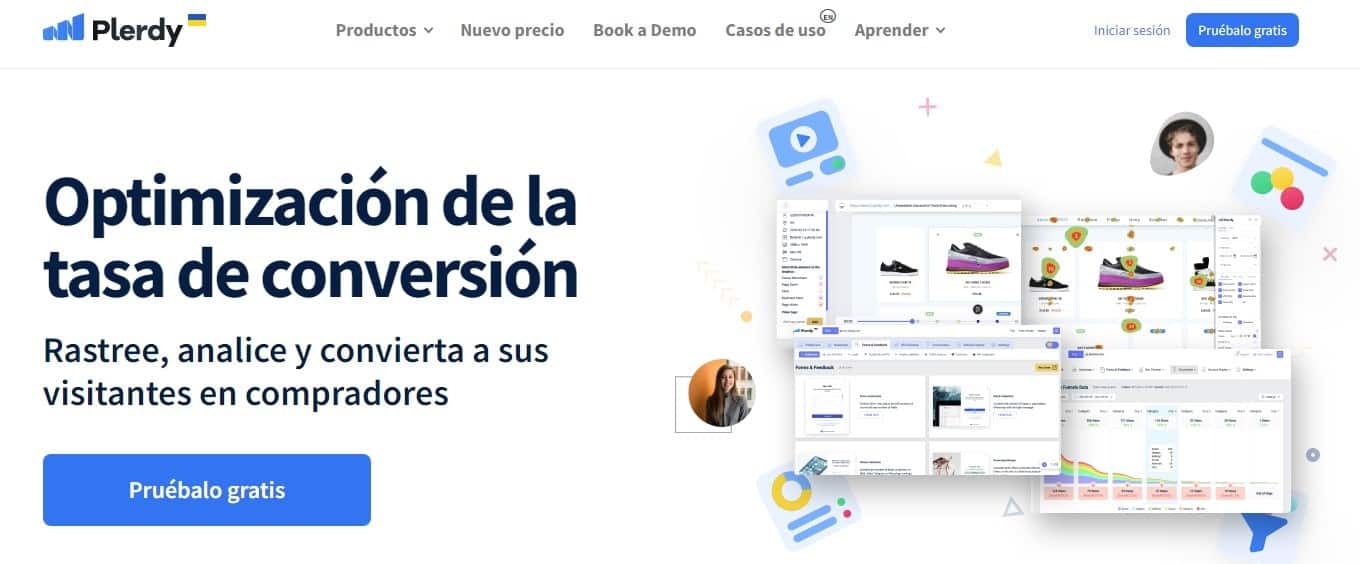 Here are the Plerdy design tools that affect UX improvement:
Heatmaps for better UX. Designers use an array of tools to design for the best UX possible. Heatmaps allow designers to track user behavior and clicks and filter them based on device type and traffic channels. Plerdy's Google Optimize Integration capabilities help design teams segment users into groups and analyze their behavior separately. Furthermore, using the tool, they can detect which website design elements are least effective and which parts of a page are making users leave.
Session Replay for better UX. UX design tools like Session Replay can help design teams measure the success of their design. Using session replays, they can track what users do on their website, segment visitor activity by event type (clicks, scrolling, etc.), analyze mobile/desktop customer behavior separately, and use Plerdy's Google Optimize Integration to launch A/B tests. With this tool at their fingertips, design teams can identify areas for improvement and design the best user experience possible!
eCommerce Tracking for better UX.  Designers can use various tools to measure UX improvement by eCommerce tracking metrics. Track design elements that affect sales, such as checkout forms or product pages. Figure out what buyers are more likely to interact with so designers can design cutting-edge experiences that will captivate and inspire users everywhere. Segment users based on their behavior and analyze the design elements they prefer over others. By understanding what attracts buyers and drives conversions thanks to using this tool, design teams can make informed design decisions that provide the best user experience.
Ultimately, design tools are a key piece of the puzzle for creating the best user experience possible. By determining the right metrics and leveraging design tools to their fullest potential, designers can craft UX designs that optimize user interaction and satisfaction.
The List of 5 Best UX Tools for UX Analysis
This list of the five best UX design tools for UX analysis comprises design-oriented companies tailored to provide an enhanced user experience. Designers and experts have carefully selected these tools, making them the best in their field. Each tool offers unique design capabilities, from Optimal Workshop to Google Optimize, enabling users and design teams to design better experiences.
Optimal Workshop is a comprehensive UX research and design tool that helps businesses gain valuable insights into user behavior and preferences. From intuitive card sorting tools to powerful tree testing, the tool enables UX designers and users to analyze and optimize their content structure quickly, confidently and effectively.
Top clients that use this tool:
Ube
IBM
Capital One
General Electric
Yelp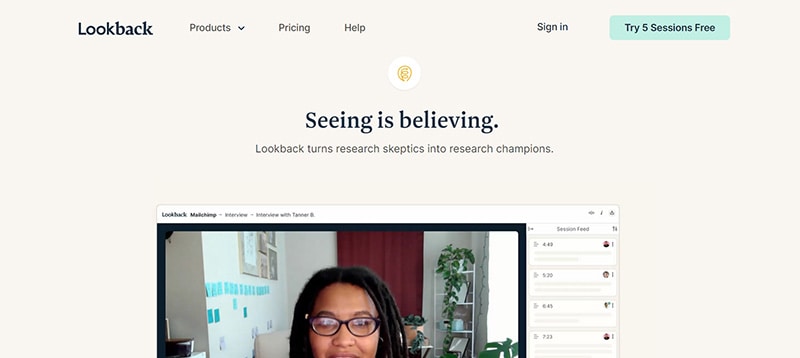 The Lookback UX tool makes user testing and design easier than ever by allowing businesses to connect with customers directly in a secure environment. This UX tool allows supervisors to control sessions with custom introductions, instructions, and closing messages. At the same time, users can provide feedback using interviews and screen sharing – ensuring accurate results every time.
Top clients that use this tool:
Google
Facebook
Square
Lego
Figma

UserTesting is the leading UX tool for getting customer feedback on almost any customer experience, from a website and mobile app designs to prototypes and real-world experiences. Detailed insights into user behavior help UX designers quickly identify opportunities and validate ideas to improve their designs.
Top clients that use this tool:
Canva
GoDaddy
Alaska Airlines
HP
Subway

Maze provides robust solutions for participant recruitment, collecting user insights, and industry-standard reporting, making product design and discovery continuous and autonomous. The UX tool offers usability tests, surveys, card sorts, and more, allowing designers and users to get in-context product feedback and quickly validate concepts.
Top clients that use this tool:
Cloudflare
Braze
Telenor
Accenture
Glovo

Google Optimize is a free tool that helps UX designers to test different variations of their websites and deliver personalized experiences and designs for each customer and business. This UX design tool provides easy-to-use features, such as statistical analysis and A/B testing, allowing users to optimize their websites and get insights into how visitors interact. As a result, designers and users can make more informed decisions on improving the user experience best.
Top clients that use this tool:
ChromaDex
Frontend
Tech Stack
Taylor Stitch
Web
As a UX analyst, having the right tools to support your workflow and quickly analyze user interactions can drastically improve efficiency and performance. The five tools mentioned in this chapter – Optimal Workshop, Lookback, UserTesting, Maze, and Google Optimize – are great for tackling your UX analysis needs. Whether it be recording user sessions, heatmaps, visitor notifications, or click-tracking features that help you deepen insight into user behavior and optimize website design for better functionality and scalability – these five recommended UX tools can serve as useful options to supplement a UX analyst's workflow.
The List of 13 Best UX Tools for Creating UI/UX
Now I suggest that you consider another 13 best UX design tools that can be used for creating stunning applications and websites. With these helpful tools at your disposal, there's no limit to how creative and innovative you can be with your website design projects. So get ready – it's time to build something beautiful for you and your users! 😉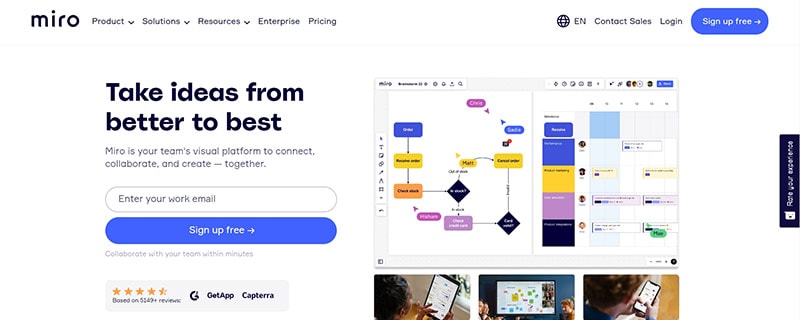 Miro is an online collaboration tool designed to unlock creativity and accelerate team innovation. The platform's infinite canvas allows teams to hold engaging workshops, design products, collaborate on ideas, and more. Its Developer Platform enables users to connect with essential tools organizations use daily while delivering a single shared workspace that supports all work models. With this tool, UX designers and different users can easily create visual representations of their design projects with increased efficiency and collaboration opportunities.
Top clients that use this tool:
Walmart
Cisco
Volvo
Deloitte
Okta

Figma is a powerful design tool built for teams who make products together. From rapid ideation to high-fidelity prototypes, Figma helps everyone involved in product development stay connected and productive with its collaborative tools and easy-to-use interface. With this tool, designers and other users can work together in real-time and maintain version control, speed up feedback cycles with stakeholders, and ensure everyone is on the same page.
Top clients that use this tool:
Zoom
Notion
GitHub
Kimberley-Clark
Coinbase

The leading visual collaboration tool, InVision, enables teams to collaborate on designs and prototypes in real time, improving the speed and accuracy of their design process. With features like design version control and live presentation mode, the UX tool helps product teams and users stay organized and on the same page throughout their user experience design journey.
Top clients that use this tool:
Advisor Engine
Credit Suisse
IBM
The Economist
Adidas

Balsamiq is a rapid wireframing tool that helps user experience designers quickly create mockups and prototypes of their user interfaces. It's intuitive, easy-to-use software with a powerful digital medium allowing quick sharing and modifications. This "zenware" tool helps users stay focused on the important aspects of the design.
Top clients that use this tool:

Wireframe.cc is a free online UX tool for creating super simple wireframes of website and mobile app designs. It is an incredibly useful tool to help UX designers visualize how their user interfaces will look and feel before they start coding or designing them in earnest. The intuitive drag-and-drop interface of the user experience tool makes for speedy prototyping, allowing users to iterate on their designs until they reach perfection rapidly.
Top clients that use this tool:
Mashable
Smashing Magazine
The Guardian
CSS-Tricks

An intuitive prototyping UX tool enables UX designers and other users to create realistic prototypes of web and mobile apps without any coding, making the design and testing process easier and faster. The user experience tool also offers collaborative tools to support a better design process.
Top clients that use this tool:
Amazon Kindle
Mangoman
Philips
Sei
Virtina

A powerful vector editor tool designed to help UX designers take their designs from ideation through realization. Offering robust features such as prototyping, free UI elements, and collaboration tools allows user experience designers and other users to transform their ideas into incredible product designs quickly and efficiently.
Top clients that use this tool:
Google
Pok Pok
Facebook
HCSC
XBOX

The Adobe XD tool is the perfect solution for any UX designer looking to create and prototype intuitive user experiences easily. With a range of powerful built-in design tools and breakthrough precision and performance capabilities, the user experience tool Adobe XD ensures that the tasks are solved effortlessly and efficiently. Additionally, its intuitive design lets users quickly design a user experience from start to finish without leaving the app.
Top clients that use this tool:
McCann Central
Sanofi
Posterscope
Microsoft
Stink Studios

UXPin is an ideal UX design tool for those who wish to optimize their UX analysis process. It offers a variety of user features, such as variables, interactive states, conditional interactions, expressions,  the data generator (integrated with Unsplash), and more – enabling you to craft the perfect UX design. Moreover, you don't need extensive training or coding knowledge to get started as the tool has an intuitive and modern editor that can help users design quickly and efficiently.
Top clients that use this tool:
PayPal
Amazon
Johnson
Caterpillar
T-mobile

The Pidoco user experience tool allows UX designers to easily create interactive wireframes for web, mobile, and enterprise applications. It is a powerful prototyping UX tool that helps reduce development time and costs by allowing users to create clickable design mockups quickly. At the same time, its drag-and-drop interface makes it easy to understand and use even for beginners.
Top clients that use this tool:
Zimory
Sanofi
Arvato
Finnlabs
Unimall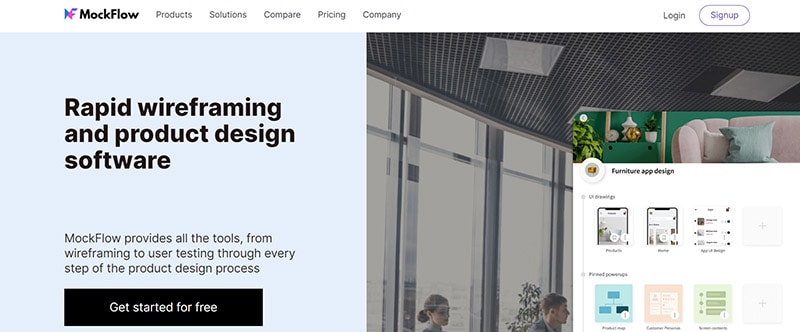 This online wireframe tool helps UX designers combine teams, assets, and tools to design complete products and user experiences. Its convenient drag-and-drop interface allows users to easily create software or website design mockups with a few mouse clicks. Moreover, users can collaborate with other team members in real-time, making it an extremely efficient UX tool for creating user experience designs.

Marvel is a powerful and intuitive design and prototyping tool that helps UX designers create stunning visuals with no coding knowledge needed. It provides an easy-to-use platform for low- and high-fidelity wireframing, prototyping, designing, and more. The UX tool also features integrations that power up workflow, making it incredibly simple to quickly generate user experience design specs.
Top clients that use this tool:
Buzzfeed
Monzo
Cabify
Stripe
Typeform

Proto.io is the perfect user experience tool for UX designers who want to create fully-interactive and animated web or mobile prototypes without writing any code. The intuitive platform allows users to cover the entire design process, from mockups to high-fidelity prototypes. The UX tool has user experience features such as review and test capabilities for enhanced accuracy and quality assurance.
Top clients that use this tool:
Ideo
PayPal
Burger King
Showtime
Nordstrom
After understanding the tools mentioned in this chapter, it is essential to know when and why each should be used for UX Analysis. Then, putting these tools into practice can prove invaluable to UX research. And having a clear understanding of the consequences and decisions based on their use can help develop the most effective product. Ultimately, the combinations of knowledge, skills, techniques and tools outlined here will help build more successful, user-friendly products that meet user needs.
Conclusion about UX Tools & Software
Creating an awesome user experience is a goal that matters for any project, regardless of the challenges that come along the way. The 18 best UX tools and software we've covered in this article offer a flexible and practical solution for individuals, full-time departments, or project-based collaborations.
These tools range from popular software like Google Analytics 4 to specialized tools like Plerdy, providing qualitative and quantitative user experience measurements. For example, you can increase your site's value and rate of action through recordings, response rate, scroll, CTA, and buyer's journey guides.
Join the new phase of UX with tutorials, updates, and practical guides that help you stay up-to-date and focused on your goals. Feel free to hire a UX professional to get the most out of these tools or explore alternatives to find the software that suits your needs. Thank you for reading, and happy collaborating!