The importance of competitor analysis in marketing is hard to overestimate. Assessing competitors' strengths and weaknesses helps strengthen your own business. So let us go into more detail about how it all works and what competitor information categories are useful in competitor analysis.
Competitive analysis is the ability to track, understand and consider competitors' strengths and weaknesses. Competitive analysis helps you detect gaps in your work and determine the actions of competitors. As a result, you gain:
Understanding how to improve your business strategy.
Knowledge of strategies to beat the competition.
Find out which traffic channels the competitor is working with.
What marketing activities is your competition using?
What do competitors' customers like, and what do they not?
The competitive analysis provides an opportunity to learn from your own and others' mistakes. This is a huge advantage, which is a shame not to take advantage of. To keep up with your competitors, conduct competitive analysis regularly.
What is Competitive Analysis?
Competitive analysis is based on collecting and analyzing information – this is necessary to understand your position relative to competitors. The nature of competitive analysis can be defensive or offensive. In this process, you identify possible threats and weaknesses of competitors – based on this data. You can then create and act upon more effective marketing strategies.
It is worth noting that there is no place for intuition and assumptions in competitive analysis – it is completely based on specific data and facts. Furthermore, competitive analysis implies an in-depth study of all marketing strategies of rival companies and specialty areas. For example, one of our blog articles talked about competitor SEO analysis.
Now is the right time to figure out what the depth competitor analysis consists of. So, competitor analysis includes the following areas:
Features and quality of the website. Displaying images, download speed, search tools and more.
UX. Ease of customers' interaction with the site – navigation, ordering, technical support, mobile device support.
Content strategy. How is the call to action carried out? What are the descriptions of goods/services and blog posts?
Social networks. Engagement rate, chosen platforms (Facebook, Twitter, YouTube, Linkedin, Pinterest, TikTok, and others) and posting frequency to these platforms.
Marketing tactics. How often do competitors hold promotions, discounts, etc.?
Email marketing. Newsletter emails, their types and offerings, and data on abandoned carts.
Reviews. Positive and negative responses and their essence through the analysis of Yelp, G2, Capterra, Clutch and others.
SEO. What content generates more organic traffic, and how is it getting backlinked? For this analysis, you can use Ahrefs or Semrush.
Traffic. Identifying channels that bring more traffic. Similarweb can be used to analyze data.
Onboarding. A video or a product demo presentation is offered to instruct how to handle potential clients. Of course, specifics depend on the type of business – B2B or B2C.
PR. Which media are they published most often, or where is a brand or competitor's website mentioned?
Google Ads. Which search advertising campaigns have been launched and which are currently active? Analysis of requests and ads. Use Ahrefs or Semrush for analysis.
The number of orders and competitor turnover. To get this data and remember your order number, you can purchase something from a competing online store. The same action should be repeated a month later so that you can calculate the number of completed orders for this period. Then, the number can be multiplied by the average order value. As a result, you will get the approximate turnover of the competitor.
Brand popularity. You can use Google Trends or Google Ads Keywords Tool to check the number of searches for a competitor's brand query and which countries performed the most searches.
Whatever analysis you choose to employ must be done at all stages of doing business. It is advisable to build your marketing strategies for market promotion with a competitive analysis.
Why is Competitor Analysis Important?
By researching your competitors' website-product mix, marketing strategies, and SEO, you receive invaluable insights into your target audience's preferences and the tricks of rival companies.
Why is it important to regularly conduct this analysis to improve its position in its niche? New competitors appear, market trends change, and Internet marketing and the e-commerce niche develop. Accordingly, tracking and considering all of these changes is crucial for a successful online business.
Benefits of a Competitor Analysis
What is the use of a competitive matrix? Taking a closer look at the value of a high-quality and comprehensive study of the work of rivals reveals three main advantages of competitive analysis:
You will see how heavily the product is in demand. Not all products will be in demand, and not all will compete. To not move at random, "ask" your competitors about it. With the help of research, you will learn about trends and new products and understand what to consider when developing a new product or introducing it into everyday life.
Evaluate and improve the effectiveness of your marketing campaign. Your strategy's success can only be understood by comparing yourself to your competitors. If your marketers are at the stage of developing strategies, then competitors can "tell" you what to implement.
Identify potential customers that your competitors have missed. There is always a portion of consumers who have received less attention or been neglected altogether. By using customer journey maps, you will identify these gaps. As a result, your spheres of influence will expand and reach a different audience.
As you can see, competitive analysis is worth investing your efforts, money, and time in.
Competitor Analysis Framework
How do marketers identify primary competitors? The key to conducting a good competitive analysis is five components.
SWOT Analysis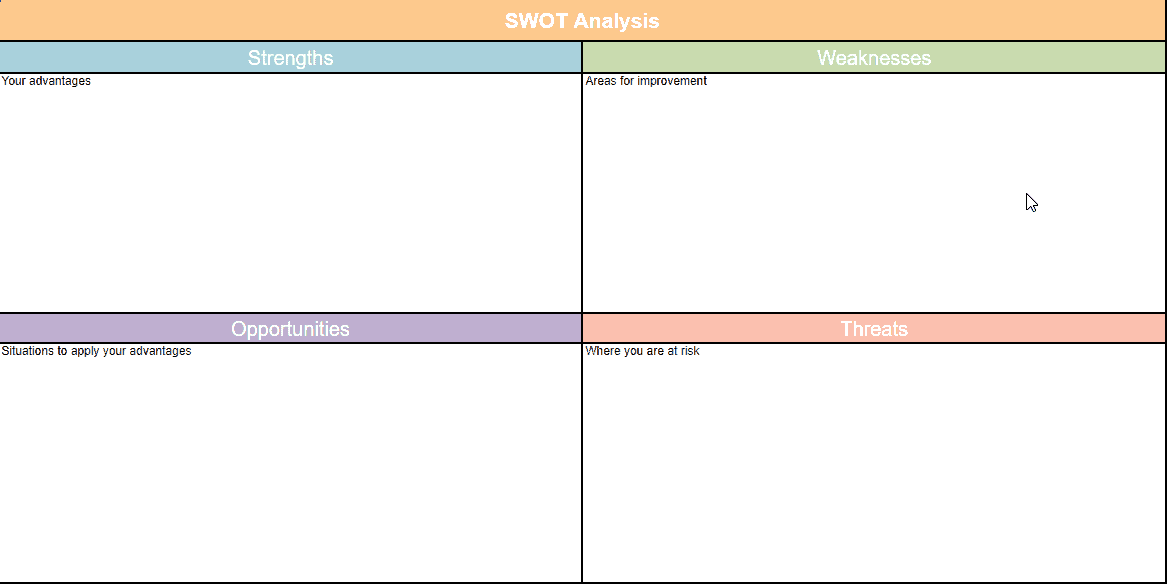 SWOT analysis is based on four pillars: Strengths, Weaknesses, Opportunities, and Threats. So what do you learn from this data? The four main indicators include two internal and two external factors:
Strengths. The answer to the question: What are the advantages of your competitors? For example, brand reputation, resources, culture, etc.
Weaknesses. What is bad or lacking for a competitor?
Opportunities. After such a competitor survey, you will discover where the paths for growth are open – both new developments and improvements to existing ones.
Threats. What circumstances can jeopardize the success of the product? For example, price increases, the appearance of competitors unknown to you, or a changing political or social occurrence.
The SWOT method is used to identify potential strategic opportunities. Marketing agencies use it for Competitive Environment Analysis (CLA).
Porter's Five Forces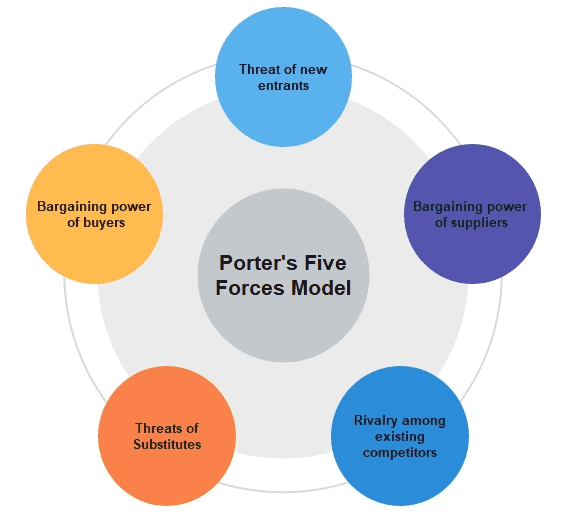 The following method analyzes competition across five segments:
Buyers. The number and their degree of influence on the price and solvency.
Suppliers. The market of suppliers and their uniqueness, quantity, and influence on the cost of the product.
Replacement. How many companies can replace you in the market, and what alternative products do they provide?
Rivals. The number of your rivals and the comparison of your products.
New members. How easy is it to get into your niche, and what are the chances of success for companies that start in this area?
At the end of your research, you will draw up a strategy based on real market performance. For example, if you realize that the industry is saturated with the same products, you can focus your energies on making the product more unique.
Strategic Group Analysis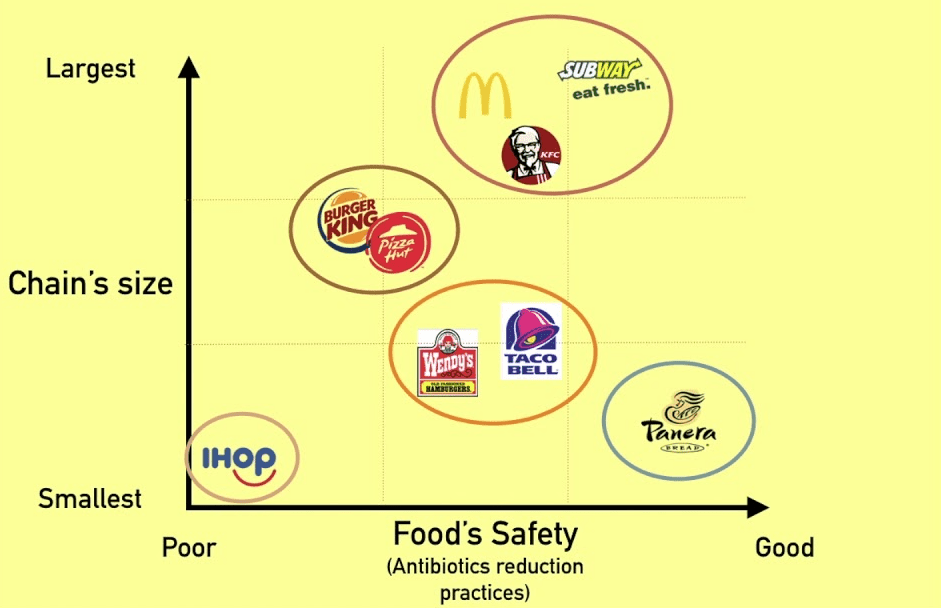 The method helps to analyze competitors in clusters based on the similarity of strategies. As a result, you will gain insight into the impact of different strategies and identify your closest competitors. Depending on your needs, you can classify competitors by type of product/service, market share, and other characteristics. Research is especially relevant if your goal is to assess the position of other companies.
Growth-Share Matrix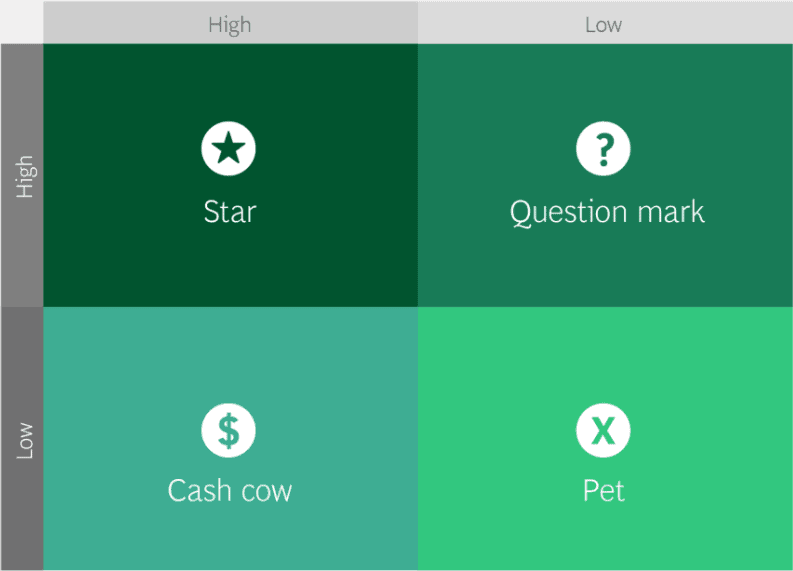 This allows you to analyze the market and answer the question, "Is it worth investing in a particular product?" The Growth Matrix ranks products based on market share, showing the most successful solutions. In the same way, you can analyze the development of a competing company to see what is attractive to consumers.
Perceptual mapping
Position mapping is a visual demonstration of customer perception of a product versus your direct or alternative opponents. You can see the maps of the consumer's actions on the way to the product – movements, contact points, and interaction.
5 Competitor Analysis Examples
To better understand the role of competitor analysis in marketing management, we suggest you discover the answer to the following question: How does competitive analysis work? But, first, let's take a quick look at a few examples.
An example of a Geographic Market Analysis
An Airbnb-like website that provides rental services is an example of this. First, you need to analyze your competitors and divide them into groups. We studied competitors in the following categories:
Business and company indicators
Product
Clients and awareness
Marketing
Basic Analysis of Competitors and Their Products
A thorough product category competition analysis consists of a few stages. The Shopify blog provides a competitive analysis template. The components of the list, the competitor analysis parameters, and the number of competitors are at your discretion. In this example, you can see an analysis of a makeup brush seller.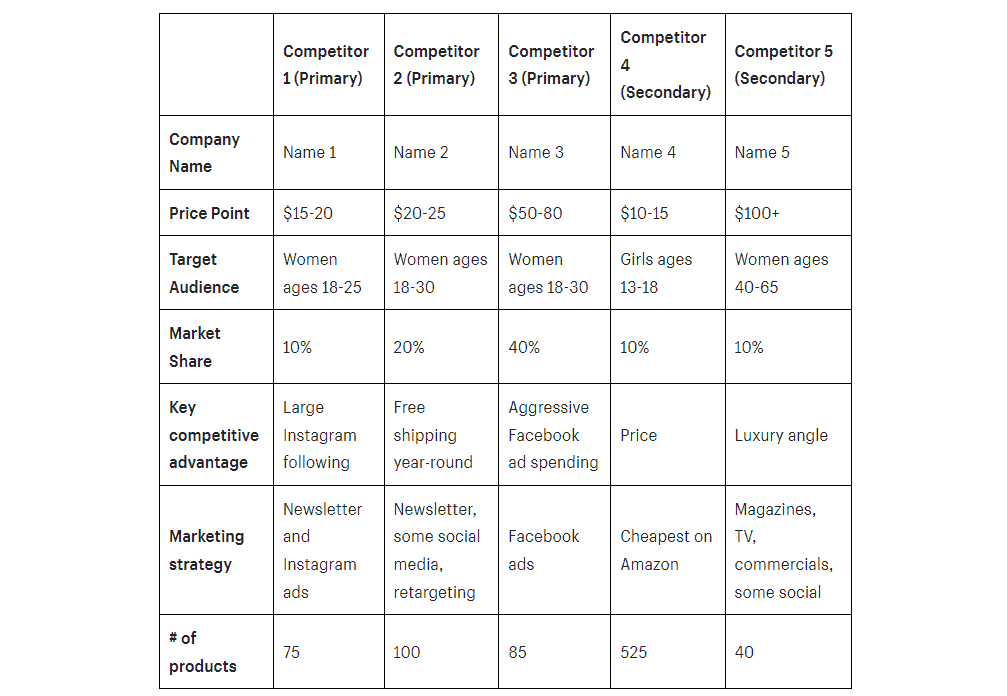 Determining your Position in the Market Relative to Competitors
An example from the Asana review demonstrates how to position yourself in the market. To do this, we created a graph with the X and Y axes – representing the most important levers of influence on competitiveness. Customer satisfaction and market presence were among these.
Competitor SEO Analysis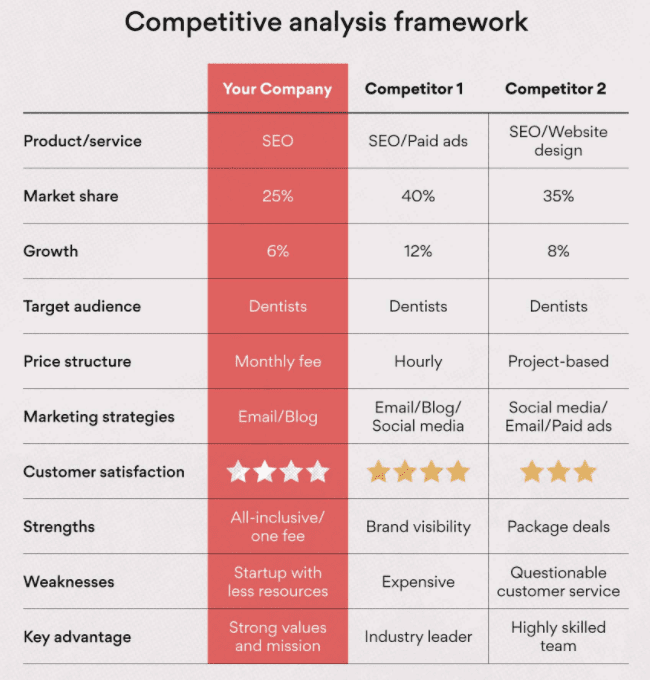 This example used a marketing agency dedicated to SEO optimization of dentists' websites. A detailed analysis was published here. The following is what was done to conduct the analysis:
A list of contenders was compiled using a Google search
Marketing strategies (on service offerings using tools like Ahrefs for SEO analysis of competitors' websites) were examined
SWOT analysis was carried out
A graph was created with existing competitors, showing that the two companies outperformed the client regarding the market presence and positive responses.
The results are transferred to a table. Thanks to this, you can see the solution for creating an effective strategy.
Determining market share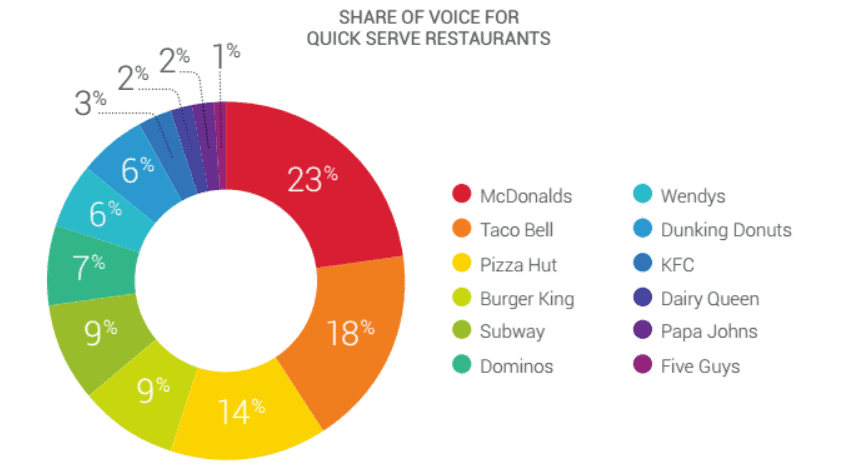 An example on the Buffer blog shows how to determine a company's market share. The example in the article used fast-food restaurants were used. Using the Brandwatch tool, the following results were obtained:
The vote share graphically displays the number of mentions on social networks, search engines, and websites.
Suppose you've tried an appropriate competitor analysis model and collected the necessary competitor info. Now think of the following: what are some insights you gained from conducting a competitive audit? Sum them up and use the obtained competitor report as the base for your business's further development.
Conclusion
If your goal is to reach the top level in your niche, competitive analysis should be a mandatory part of strategic planning. In addition, a successful competitive analysis is a key to boosting your own business. Now when you understand the purpose of competitor analysis, time to proceed to identifying and analysing competitors in practice.