Semrush is one of the leading web tools for website optimization and analysis. Its features fall into five categories: SEO, Content, Market Research, Advertising, and SMM&SERM. You can use it to run keyword research, analyze competitors, track search ranking, etc.
The available features and capabilities largely depend on your subscription plan. The more you invest, the more you get. Read this overview to learn about Semrush pricing options and pick the most suitable one for you.
Semrush Pricing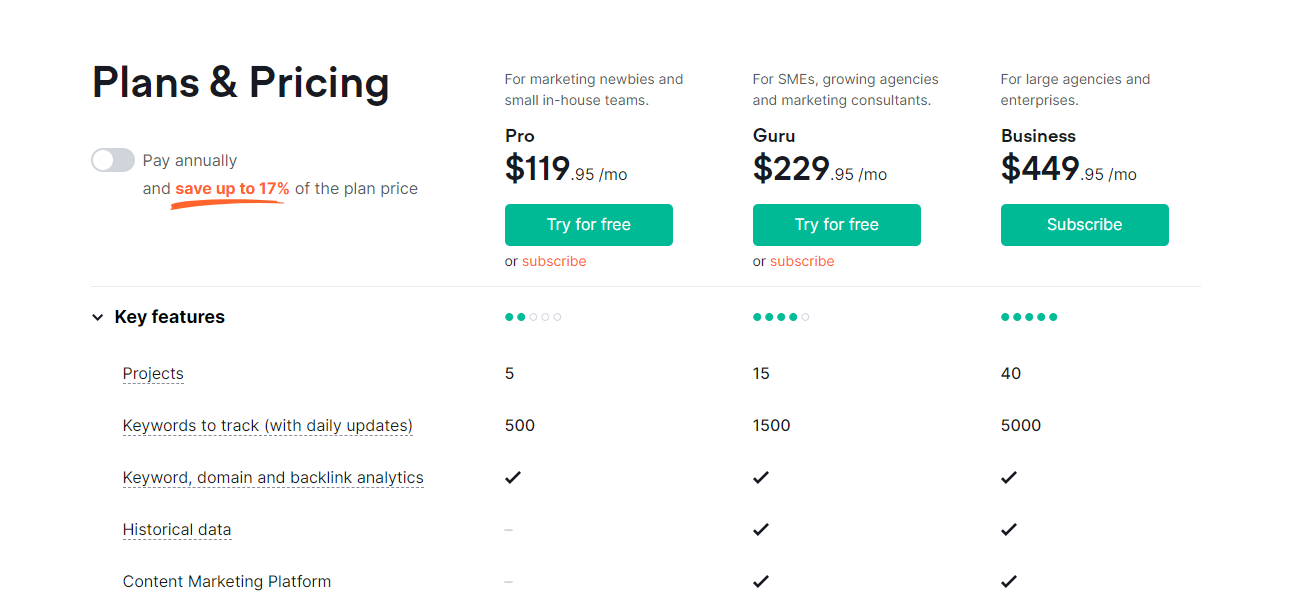 Semrush offers three plans with varying functionality. For example, you can pay every month a higher price or purchase an annual subscription to save up to 17%. Hence, if you are sure this tool is what you want to use for a long time, it's better to pay in advance and cut expenses.
Quite predictably, advanced plans cost more and have sophisticated features. Here's a table comparing the most critical functions and tools.
Top Pricing Plans Compared
Pricing for the Pro version ($99.95/mo)*
Pricing for the Guru version ($191.62/mo)*
Pricing for the Business version ($374.95/mo)
Total number of projects
5
15
40
Total number of tracked keywords
500
1500
5000
Keyword, domain, and backlink analysis
+
+
+
Historical data storage
–
+
+
Content marketing features
–
+
+
Google Data Studio Support
–
+
+
API access
–
–
+
Share of Voice feature
–
–
+
Domain & Keywords Analytics

Results/report
Reports/day
Keyword updates/month

10,000

3000

250

Reporting

Scheduled PDF reports
PDF template sharing
*If paid annually
When to use each pricing plan
Pro is great for beginners and small teams with a limited budget.
Guru works for small and medium businesses, agencies, and professional marketing consultants.
Business is best for large marketing agencies and enterprises.
Ad-Ons
Besides the main features, Semrush supports extra functionality you can purchase for deeper marketing and Search Engine Optimization analysis. These are:
Local SEO features (from $20/mo depending on the type of functionality you are buying)
Additional users (from +$45/mo per user for the cheapest plan to +$100/mo per user in the business subscription)
Semrush Trends for traffic analytics (+$200/mo per user)
Agency Growth Kit for advanced automation of the agency-level workflows (+$150/mo)
For more detailed information about Semrush pricing, visit the official website.
Additional questions about Semrush pricing plans
Do they have a free trial?
Yes, you can get a free account, but you won't be able to use some tools and retrieve data from Semrush. Besides, free users may create only one project, which is unsuitable if you manage several websites.
Can I cancel the subscription?
Yes, you can cancel your subscription or switch to another pricing anytime. However, if you decide to cancel it within the first seven days, you will get a full refund.
How can I pay for Semrush?
This platform supports all leading payment methods, including Visa, Mastercard, Discover, American Express, and UnionPay credit cards. You can also use wire transfer and check or money order upon request.
Semrush Pricing Reviews: What Others Think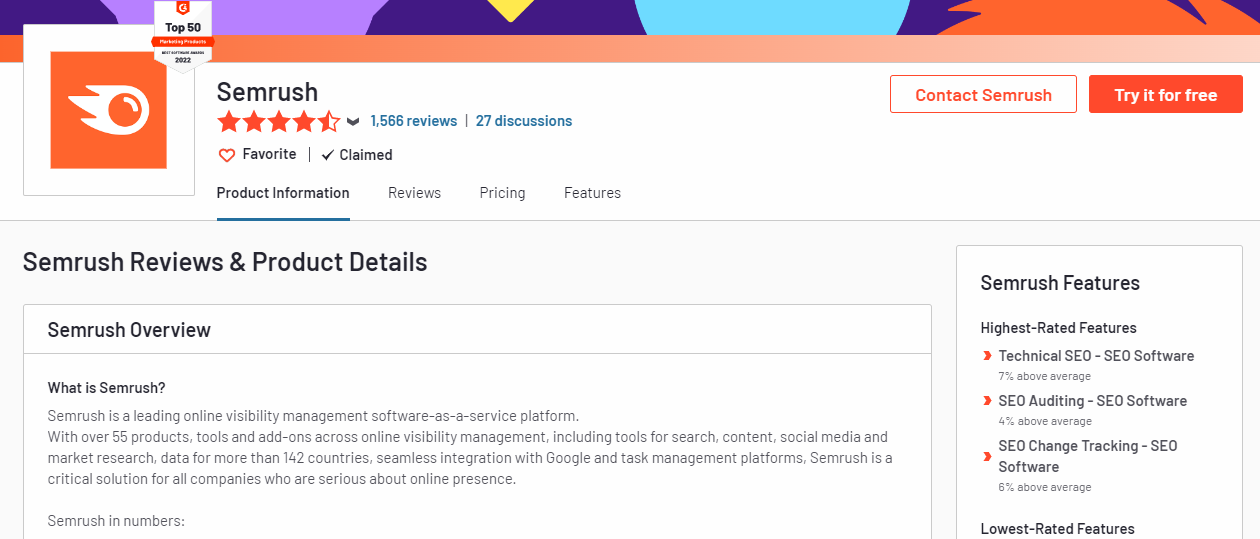 If you wonder whether other Semrush users are satisfied with the value they get for their money, reading reviews is very helpful. We have included a few publicly available reviews to shed some light on what people say about pricing.
"We apply the tool to check our own pages and our customers' sites. It shows how the pages rank for specific keywords and where we may improve website SEO. The platform also helps us come up with keyword ideas for sponsored advertising. These features alone pay off the value of the membership (Manager in Marketing)."
"Semrush is a unique platform with the best Search Engine Optimization toolkit on the market. I would say it's 100% worth the price. They offer top-tier customer service that is always ready to help should my team need it. Another great thing about Semrush is reporting. It saves us a lot of time as we can smoothly retrieve and send reports to our clients (Executive Assistant)."
"I would change the pricing policy, especially for the On-Page SEO Checker (Certified Public Accountant)."
"The final cost can ramp up too fast. Small ad-on packs are pretty expensive (Marketing Consultant)."
"I truly like its ease of use. Semrush is quick, just like their customer service and communication. Though, I believe extra user licenses are a bit pricey for what they offer. It would be nice to have them lowered (Russell O'Sullivan, Managing Director)."
"This platform is a little overpriced. For small and mid-sized businesses, it can cost as much as hiring a separate person. Besides, the software imposes limitations on the number of added projects, which complicates management (Abhishek S, Strategic Outreach Specialist).
"The instrument doesn't provide a Pay-as-you-go model. Hence, you may pay for more resources than you actually use. They should cut down the rates and add more highlights, helping advertisers to reduce marketing expenses (FAYYAZ A, Assistant Planner).
As you can see, most reviewers believe Semrush delivers good value for its price. However, some people still don't like that you need to pay for more users and call this solution expensive.
Conclusion of Semrush Pricing 2022
We hope this article will help you select a perfectly matching Semrush plan. If you are still unsure what you need, test the free version for several days to know what capabilities you need most. Remember that you can freely switch plans if anything goes wrong.