Few people know, but recruiters use electronic systems at the initial stage of selecting applicants' resumes. They often use ATS, a candidate tracking software. Out of hundreds of applications, the digital headhunter leaves only 10–20 CVs for SEO specialists who are most suitable for the conditions of the company. In larger companies, the selection of final applicants is based on keywords- skills, past positions, and responsibilities. This means that for the system to notify you, it is necessary to correctly draw up a resume – taking into account the specifics of the profession. When writing a resume for an SEO specialist, the following points should be kept in mind:
A good resume should immediately present a portrait of an SEO specialist – what you know, what you can do, and what you have achieved.
What are the types of SEO Resume?
The basic structure for all SEO resumes is the same, but the type of presentation and its essence will be different – especially for newbies and senior SEO specialists. So what exactly do you need to fit into each type of resume?
Junior SEO Resume
Choosing a hybrid or functional layout is recommended for SEO beginners – their experience will not be the most impressive section. However, the HR manager should pay attention to the key skills required for the job – it will not be superfluous to write them down in detail.
The second aspect that needs to be demonstrated to the employer is passion and lust for activity. Record it in the description. Here's an example of how to properly describe yourself as an SEO professional. And how you can get it wrong!
✅ RIGHT

An energetic marketer with a passion for Internet marketing and technical SEO. I have project management skills, with a solid foundation in data visualization and research. I strive to use data analysis skills and research results as an SEO analyst on Google.
❌ NOT RIGHT

A marketer with no work experience who wants to learn and work hard in the future to become an experienced SEO analyst.
The first example focuses on the skills and qualities you already have, even if you are starting your career. This description will demonstrate that teaching you is a winning investment. The second, on the contrary, says more about the fact that you will receive the benefit, not the employer. Since the description sounds like: "I know that SEO exists – teach me." Such a presentation is unlikely to impress anyone. Instead, a resume should highlight your zeal for success, your goals, and your professional qualities.
What about those who are just planning to become SEO specialists? What if the experience is zero, but you need to write something? Create a small, original WordPress blog in an area of ​​your choice and do some SEO work on it. Optimize your content, experiment with titles and images, and monitor your rankings. Here's an example of how this experience can be presented:
✅ RIGHT

Freelance SEO Specialist

July 2018 – until now
❌ NOT RIGHT

Created a blog and fan page on Facebook.

The first, correct option indicates specific achievements in promoting the web page. Attention: work is calculated in months – do not falsify production.
For entry-level SEO specialists, you need to indicate the degree of education and the specific responsibilities you have already performed. Then, they will showcase your content optimization skills.
2015 Bachelor in Marketing
New University of Buckinghamshire, London, UK
Term papers relevant to the specialty: inbound marketing, data analytics, copywriting.
Managed a student blog for over two years, increasing the number of visits from zero to 5000 per month.
Such a detailed profile description will make you more interesting to a potential employer. And it will help the HR department or manager immediately understand your potential.
Mid-level SEO Resume
Mid-level SEO specialists can (and should!) provide an employer with more information about their results. Here's a classic example of a well-crafted CV:
Let's sort it out by categories:
Personal address data. The employer does not have to search the entire resume for how to contact you. Place this information at the beginning.
Profile. Characteristics of an SEO specialist as an employee, indicating important qualities – striving for cutting edge.
Literacy, initiative, meticulousness, experience and diplomas. Present yourself as effectively as possible.
Work experience. While the sample resume only contains one job, which is often the case for mid-level SEOs, it details accomplishments, responsibilities, and implementations. Your level needs to be backed up by specific facts.
Education. You can mention an advanced degree, which shows your level.
Skills. They are listed by category. In the example, the listing focuses more on those qualities and skills important for the SEO position. I'm talking about analytical skills, time management, and attention to detail.
Volunteering. The information does not interfere with compiling a positive characterization.
Certificates. Their presence will show your desire for in-depth knowledge and your motivation to become a great SEO specialist.
It is important to consider that when listing your achievements, skills or responsibilities, it is better to use bullet lists – structured information is better perceived and easier to remember.
Senior SEO Resume
Reverse chronological order will help to demonstrate the SEO experience. It will highlight your rich experience and professionalism. What should a senior resume include? Its construction is as follows:
Profile. Start your resume by describing yourself as an SEO specialist. The example covers both professional qualities and personal qualities – no less important for working in a company. For example, do you know how to settle differences diplomatically? Be sure to mention this character trait. You will become a valuable employee for the team.
Skills. Indicate as many of your skills as possible – including proficiency in software for work, analytics and information gathering. The section should demonstrate your level in the present.
Work experience. One of the most important points for a senior SEO professional. In this section, make sure to describe in as much detail as possible your responsibilities, achievements, and examples of the work done (companies, projects, startups, websites).
The sample contains a description of the last job. But the first experience is worth remembering in detail: the starting position will show how your career progressed and demonstrate your initial skills.
These are the pivotal sections for a senior SEO resume. You can also add several others – for example, participation in specialized courses and training.
Example SEO Resume from Plerdy
The SEO resume example for Plerdy is a little different from the traditional presentation.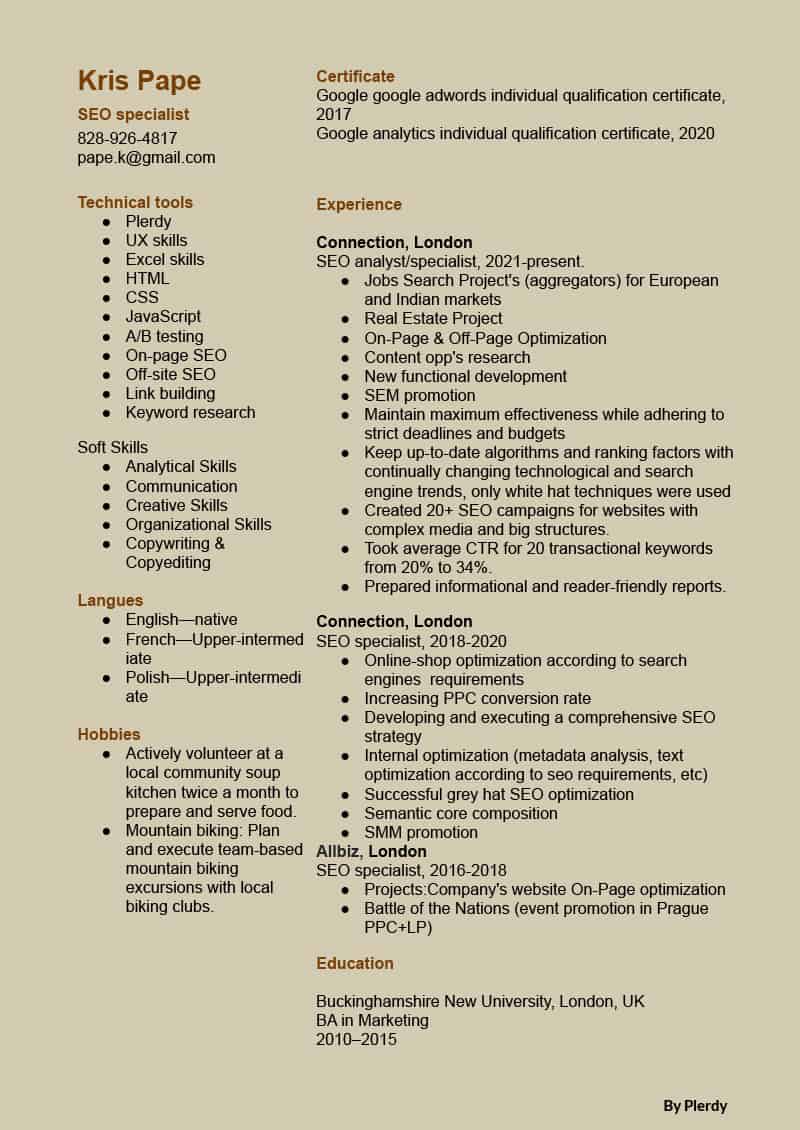 What sections does it contain? Let's take a look at a standard SEO resume in turn:
Contact details – name, phone number, and email.
Proficiency in specialized tools – including Plerdy, knowledge of JavaScript, HTML.
Flexible Skills – qualities and skills that make you a better specialist. Among them are an analytical mindset, communication skills, creativity, and organization.
Languages ​​- start with your mother tongue.
Hobbies – what are your hobbies, and how do you spend your time outside of work (sports, fishing, landscaping?).
Certificates – course title and year of completion, from most recent to oldest.
Work experience – also in reverse chronological order, with a description of responsibilities and achievements.
Education – a place of study and years. Without a description of the completed coursework or additional lessons.
A meaningful resume fits easily on one page, with information in two columns.
The second resume example for Plerdy is for a Senior SEO.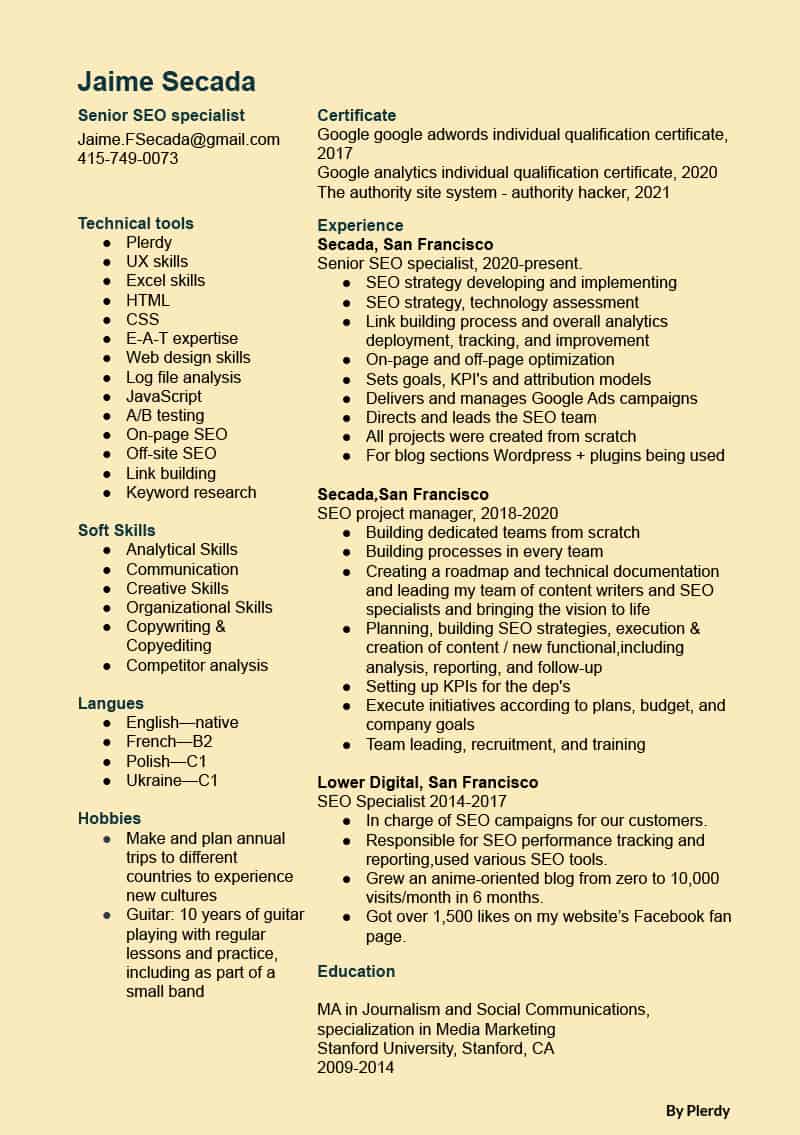 What changed? It lists more professional skills and more responsibilities for each job presented.
What is missing from a Plerdy SEO resume as opposed to a standard CV? First of all, there is no description of the candidate's profile – after the contacts, there are specific skills and experience. In addition, less attention is paid to information about education, the emphasis in the resume is on the real achievements of an SEO specialist.
The best vacancies for SEO
Company vacancies on Glassdoor and Indeed show that corporations and agencies are overwhelmingly looking for masters of their craft. Exemplary vacancies include productivity requirements. Based on the requests posted, we have compiled for you a list of unique requirements for SEO specialists from five different companies:
Data analysis in collaboration with the team. For example, Square focuses on the ability to research with a team in the office and globally.
Building a strategy for search engine optimization. At CARFAX, the first requirement is the ability to plan for new projects. As well as the ability to adapt and integrate into current processes to establish a strategy for their development.
Ability to track and analyze traffic, conversion. See opportunities for optimization. ActiveProspect notes the need for proficiency in analysis and reporting tools.
Confidence and performance. Feedonomics is looking for results-oriented professionals. More specifically, ones that can confirm their achievements with real facts.
Development and implementation of methods to improve performance. Bill.com describes specific requirements – within three months of work, the specialist is expected to make the first changes and updates to the content. And in six months – a program for creating content and finding links for it.
The job market is filled with lucrative offers and positions for Senior and Middle SEO professionals. Everyone asks for a strong command of tools such as Google Search Console, Analytics, and counterparts.
Output
Are you an SEO specialist looking to join a leading company? Write a concise, truthful, and objective resume that communicates your qualifications without undue modesty. The employer should want to see you on their super team! Explore the desired vacancies – analyze and adapt your resume to the requirements of a potential employer. Do not neglect the little things: choose a template for the document that visually denotes the necessary columns. Please take advantage of our recommendations. Be persistent – and march forward to new achievements! And, if you manage to get your dream job, share the secret of your success in the comments on this article. Perhaps that will motivate debutants to believe in themselves and strive to achieve their dreams as well! The world will become a better place, and you will get a plus in SEO karma!