Does an unknown name sign your essay? Is a paragraph of a dissertation hard-won – in a colleague's project? This is plagiarism – the appropriation of other people's ideas, studies, articles, essays. When it is detected, the results of the work are usually canceled. Plagiarism is fraud. But sometimes, even the author's text contains elements of plagiarism – thoughts can involuntarily coincide with those already published.
To identify dishonesty and to avoid duplication, special plagiarism checkers are used. They look for coincidences in the text, analyze, compare them with other sources. Their main function is to weed out content that repeats other people's publications. By analyzing your text, you can see how often certain words or phrases appear on the page. In-depth analysis allows you to exclude secondary, pay attention to various aspects and nuances of the content. For authors – copywriters, journalists, and students – this is an opportunity to improve their style, ability to present a topic from an unexpected point of view and check your grammar and spelling at the same time.
When working with text, follow these simple rules:
Become experts in your topic. Researching a subject takes time and effort, but your bottom line will improve.
Formulate sentences, describe the essence – be useful to the reader.
Use simple words, short, concise sentences that are easy to understand.
Write, read, throw away the excess. Control and correct yourself. Don't repeat yourself.
This approach leads to meaningful, productive writing. But even then, analysis is needed because the Internet is full of content. When choosing an online or offline plagiarism checker, consider the following factors:
What sources, libraries, databases are used for verification?
What formats does the analyzer work with?
How many pages, at what speed can it scan?
Find out whether it searches for anti-plagiarism only for matches or checks for rewriting. Can it protect your authorship? Finding a convenient, fast, accurate tool that meets your requirements is easy. Below is the list of the top 20 best plagiarism analyzers.

According to the G2 version, he entered the top leaders of summer 2021. An online platform with a set of tools for thoroughly searching for errors, detecting plagiarism in the text. It is designed for students, adapted for verifying scientific papers, but suitable for writers, journalists, copywriters. Peculiarities:
Drawing up the text in the desired style, mood
Search for stylistic, grammatical, spelling errors with sensible recommendations for correction
There is a completely self-contained free version. In the paid Premium plan, information about citation sources, a more detailed report is available. The paid version of the extension from Google Chrome will cost $12. There are solutions for Microsoft Office, Windows, iPad, Android at the same price. The Business plan is $12.50.

A set of tools for improving the text. Checking for plagiarism is only one of the platform's functions. Peculiarities:
Detailed report, links to the source
The text is not saved in the system – only the author has exclusive access to it
There is a free extension for Google Chrome. Other products are available in the trial version. The price depends on the duration of the subscription: $20 per month or $79 per year. A one-time payment for the entire package with support for updates is $399.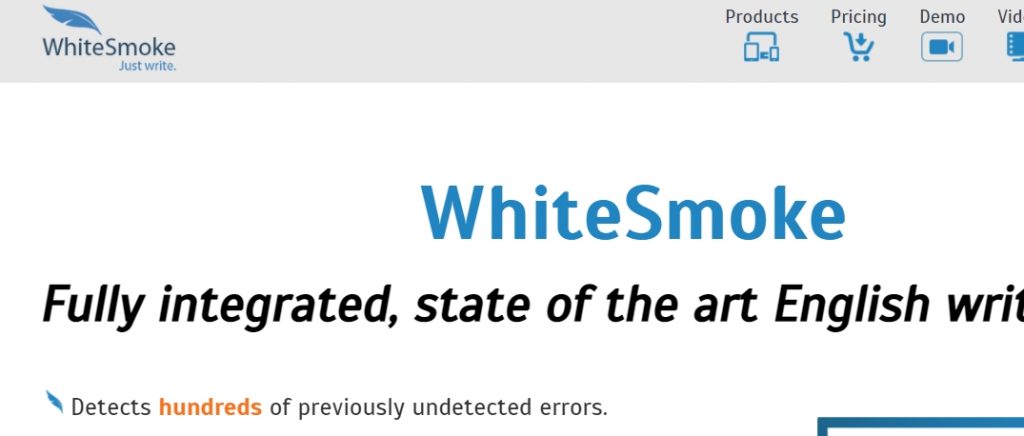 A multifunctional platform. There are three main plans with the option to pay for a year or three in advance:
Web – $5 or $3.47 per month, depending on the length of the subscription. An online solution that works on all browsers.
Premium – $6.66 or $5.55 per month. Online version for Windows and Mac. Integration with Gmail.
Business – $11.50 or $8.82 per month. Additional features, extended support.
In each tariff, the developers have provided only 500 free screenings. The purpose of Whitesmoke is to improve the style, not to search for plagiarism.

The plagiarism search tool is only part of the multilingual platform. Advantages:
Upload documents via device, cloud
Search by pictures – suitable for working with photographs, art illustrations
Automatic enhancement of uniqueness
Rewriting identification
Highlighting grammatical
Explores texts in seven languages
Only an online service is available. In the free plan, you can check no more than 1,000 words per session. The price of the extended version starts at $10 per month. I am glad about the packages: different prices, functions for enterprises, students, advanced users.

The online analyzer is aimed at students, teachers. Peculiarities:
An online version is available, integration with Moodle, Google Classroom, Canvas, an extension for Google Docs
Detects synonym substitution, paraphrasing, concurrency
Quoting is not considered plagiarism
The report from your account can be downloaded in .pdf format
Forms a personal database, so excludes self-plagiarism
The multilingual tool offers individual, corporate pricing plans. The starter pack costs $1.69, limited to five pages.

A web-based tool with a huge database of periodicals, magazines, books. Peculiarities:
Support for twenty languages
Does not take into account design elements, logos, and clichés
Detecting rewriting and compilation from different sources
Comparing multiple files is useful for self-plagiarism
Quite an expensive analyzer – you pay for each checked document. The price varies from the number of words: $19.95 for up to 7,500 words, $29.95 for up to 50,000 words, and $39.95 for long texts.

The software for students is easy to use and highly targeted. Users commented on the accuracy and speed of replay detection. Peculiarities:
Context analysis
Search for rewrites (synonymous replacement, paraphrasing)
Interactive report
The tool analyzes 2,500 words per month for free. The full version is $9.99 per month and provides quote assistant help, URL exclusion, and 100,000 words per month checked. A non-standardized analysis can be purchased additionally.

Multilingual grammar checker and plagiarism checker. Possibilities:
Insert text fragment, upload files from the device, Google Disk, or Dropbox
Excluding the URL of a specific site
The online tool is completely free, but the verification limit is 1,000 words. Aimed at educators as well as web admins and SEO professionals.
A comprehensive solution to help philology students, teachers, and copywriters. Peculiarities:
Multilingualism, including oriental languages of symbols
Comparison of multiple documents or websites
The free plan allows 20 scans per month (~ 5000 words). Tariff plans: for educational purposes – from $9.16 per month, for business purposes – from $8.33.

Detector software for online plagiarism checking. Adapted for all kinds of devices. Possibilities:
download from Google Drive
A quick search
Simultaneous scanning of multiple sources
There are no subscriptions. You pay for the credits used. One loan is $3.95, but it is more profitable to buy several at once. For unused money, you can get a refund.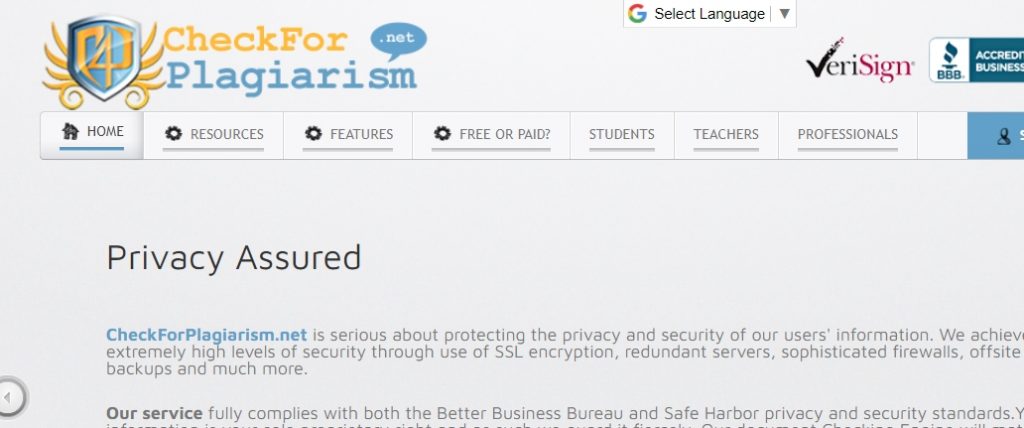 An online tool with a multilingual interface. Features of the platform:
Cloud service compatible with Windows and Mac
Detects synonym substitution and sentence structure changes
Assesses literacy
Supports most formats
The test drive is free. The price of the full version is different for students (from $20), teachers (from $85), and content specialists (from $95). You can request a trial version before purchasing.

One of the first tools to detect plagiarism (released in 2005). Outdated interface, not designed to search for paraphrases and synonyms. Peculiarities:
Works with text inserts and web pages
Searches Google and Yahoo
Setting up a notification when your text appears on the network (you will know if you become a victim of plagiarism)
The analyzer is simple, but the search is not deep. Supports only the Latin alphabet.
Professional online solution. Designed for a wide range of users. Peculiarities:
Detects text modifications and hidden plagiarism
Confidential: creates personal vaults
Withstands heavy loads
Integrates into any website
The price starts at $5 for a 20-page analysis. Personal, Enterprise and Business tariffs differ in their functions and number of scans.

Professional tool. Offers two directions:
Search for plagiarism in documents.
Protection of copyright content from plagiarism
Works with files and text can be integrated into WordPress. Compares two web pages; results can be added to exclusions. Monitors duplication of your content.

Helps to protect intellectual property and find illegal copies of the content. It will be useful for designers and artists – it works with art files and images. Possibilities:
Installs watermarks with information about the author and logo
Searches for illegally used duplicates
Removes fraudulent websites, stolen photos, and videos
Plagiarism protection and the plagiarism search costs $10 per month or $100 per year, and removal of stolen content costs $199. Some of the functions are available for free.
Conclusion
Plagiarism detection software continues to improve and develop. Today you can check the uniqueness of a text or a web page and find a cleverly disguised rewriting with a mouse click. Equally important is the protection of your data, which can be stolen. All of this is the work of anti-plagiarism tools that simultaneously control and protect your copyright.