? Attention, fellow session recording software super-fans! I've researched the top session recording software tools to record user behavior and identify room for improvement,  and this article is what I've come up with.?
Session recording software records the user's journey through your website. After analyzing the records and fixing issues, you can optimize their experience. ? User session recording tools provide invaluable insights into how users interact with different elements of a web page so that you can uncover usability issues and understand user behavior.
I will guide you in finding the best session recording solution available today! Ready? Let's dive deep into our list of must-have user session recording software.
Benefits of Using Session Recording Tools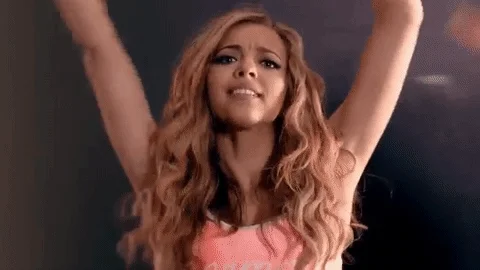 Session recording gives businesses valuable insights into their website users' behavior, allowing them to understand and optimize their user experience (UX). User session recording tools help identify opportunities for actionable improvements in customer service, marketing campaigns (SEO, Google Ads, Facebook Ads, etc.), website development, and more. So what can you get from such recordings?
With session recordings, UX specialists (researchers) quickly determine which website areas are most successful and which need improvement.
Session recording tools allow tracking of user behavior over time so that they can leverage that data for further optimization. With this recorded data, the users of these recording tools can tailor their website for better conversions and boost website engagement and satisfaction.
Session recording tools also enable users to detect issues with website performance or user experience (UX&CX) before they become major problems. Thus, the records allow them to make the necessary changes to improve user experience and prevent potential revenue loss.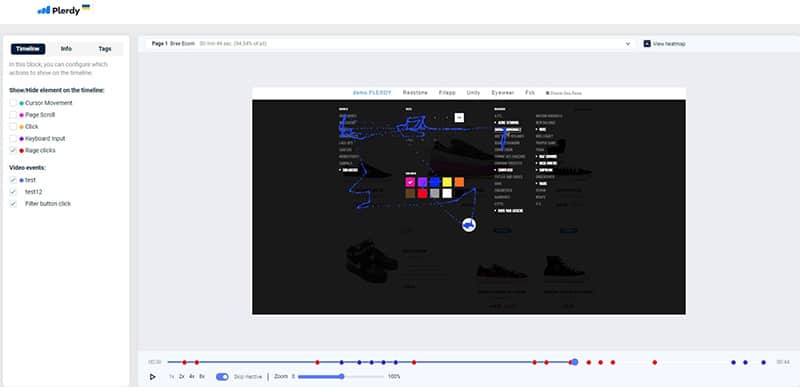 To illustrate how session recording tools work, I'll enlist three websites that benefit from the Plerdy Video Session recording tool.
Plerdy's video session recording analysis gives an in-depth view of website user behavior and engagement. For example, daybydaycrm.com has used this recording software to understand how visitors interact with their website by tracking their actions, such as clicking a link or filling out a form, through video recordings. The recorded data has helped them identify trends in user behavior and optimize the website for better performance.
Session recording also helps pro-street.dk detect usability issues on their website. This session recording tool shows screens taking too long to load, where visitors are getting stuck or having difficulty navigating, and what page elements they ignore. By resolving the issues uncovered in the video recordings, pro-street.dk improves its usability and increases user engagement.
Next, Plerdy's session recording tool is used on the website 3das.com to record and monitor how users interact with their elements across different devices. The recorded data can be used to identify potential problems or bugs that need to be fixed to ensure optimal performance and a better overall UX. With Plerdy, 3das.com analyzes its user behavior from start to finish, helping them identify areas for improvement and ensuring greater success.
Depending on the type of website, you can find different nuances on the user's way to the endpoint, which is called the "Thank you" page, analyzing their session recordings.
List of 14 Best Session Recording Tools
In fact, the variety of user session recording tools popular today is quite wide. To make choosing the best tool to record your user behavior easier, I've gathered several good software tools for recording user sessions below: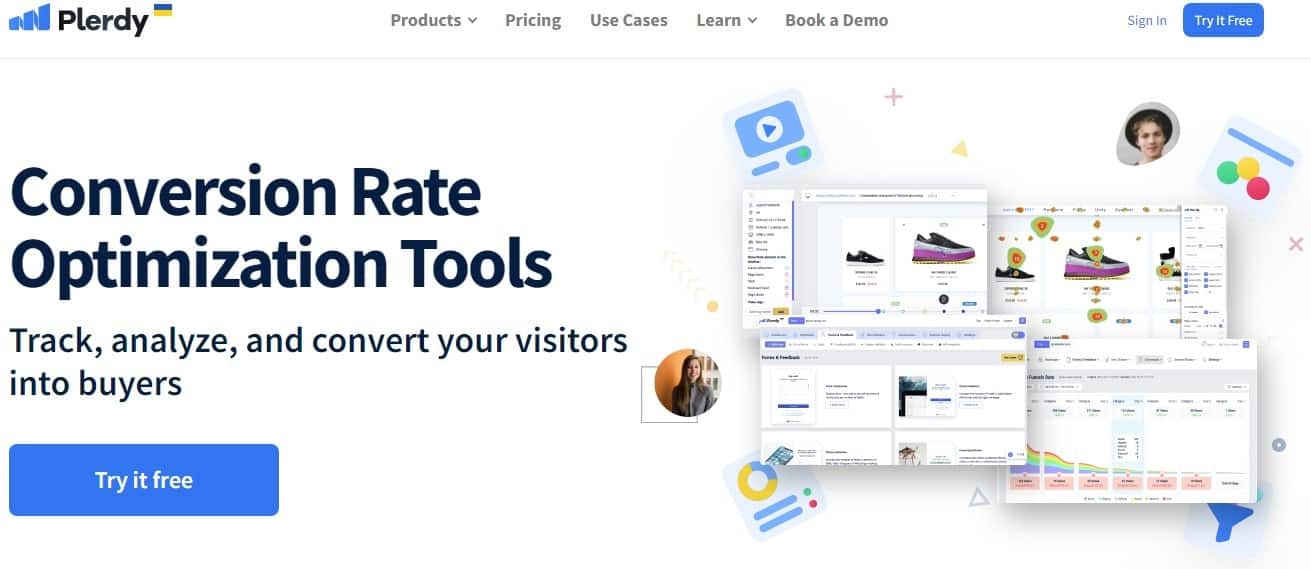 Plerdy provides website owners and UX designers with an easy-to-use software tool allowing them to record and monitor the behavior of the website's visitors by using Session Replay Software. The Plerdy recording software tool is a convenient way for CRO experts to record and analyze user behavior on selected website pages to detect and track any anomalies. Replaying the recorded sessions helps you decide how to improve your website's UX design and conversion rate (CR).
The main advantage of Plerdy's video analytics and segmentation capabilities, compared to its competitors, is the ability to create targeted campaigns easily. This session recording software allows users to quickly analyze their website visitors' activity and segment them into groups based on session type, a device used, or other criteria. Furthermore, Plerdy's integration capabilities with Google Optimize enable users to launch A/B tests to quickly measure their marketing results. As such, the Plerdy software allows users to develop effective marketing strategies and maximize user engagement.
The session recording software is equipped with various advanced analytics tools to help you gain deep insights into your users' behaviors. Plerdy provides tools such as the SEO checker, heatmaps, popup forms, conversion funnels, session tracking, and net promoter scores, among many other tools.
Softserve, Kredobank, Subaru, Huggies, and Annex Tour are all valued clients of the Plerdy session recording software. One of the clients reviewed Plerdy and how this software solved their problem. According to Alexandro L from G2, Plerdy's session recordings cover almost everything they need to improve their website. As this recording software allowed them to follow real users, they managed to identify mistakes in the design or good points.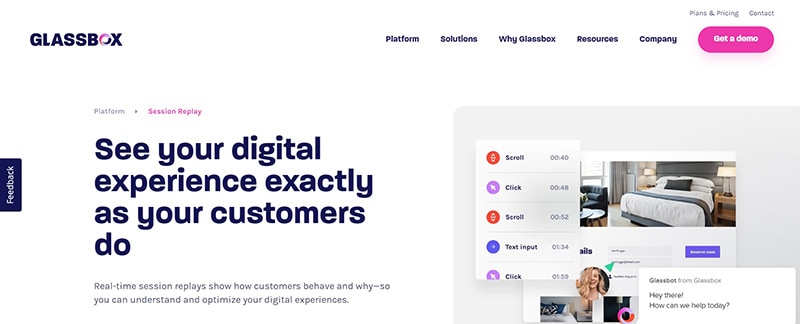 Glassbox is a fine session recording tool that lets you capture and analyze user behavior in real time. With Glassbox, you can record and monitor user activity and accurately track user interactions on real-timer websites or apps. This recorded data can be further used to optimize the user experience, identify user trends, and uncover areas for improvement. The Glassbox recorder is deployed quickly with minimal effort, and its intuitive dashboard makes it easy to understand the insights gained from the data.
Glassbox provides a range of additional tools, apart from session recording, including call-tracking software, user sentiment analysis tools, interactive voice response systems, an integrated analytics platform, product analysis, funnel analysis, mobile app analytics, and more.
The advantage of the Glassbox recorder over competitors lies in its ability to provide detailed, accurate recordings of user sessions without disrupting the UX. This is made possible through Glassbox's patented Replay & AI technology, which records sessions and user behavior while preserving the privacy of individual users.
The company's clients are AirCanada, Danone, Experian, iHeartMedia, and JohnLewis. Latisa J., the Product Owner, gave positive feedback on the company's progress thanks to their session recordings. The team is committed to making it easier for users to find and sort through recording sessions quickly and easily.

LogRocket is a useful session recorder that captures all user interactions with your website. This recording software tool records every click and scroll, showing exactly what your users see, do, and experience on each page of your website. You can playback record sessions to uncover bugs and identify user pain points from the perspective of real users. LogRocket also provides detailed analytics and insights into user behavior, which you can use to optimize your website for better performance.
Aside from recording sessions, the LogRocket tool also has a few other tools, such as the Performance Monitoring tool, the Error Tracking tool, and the Product Analytics tool.
The LogRocket software is an advanced session recording tool that offers some advantages over its competitors. One of the main advantages of LogRocket is that it records sessions and every user interaction with the system, including mouse clicks and keystrokes, giving a granular understanding of how a website is used. This level of detail is not available with many other session recording tools, making this software tool an ideal choice for users.
Swiss life, Rippling, Pinterest, Gong, and IKEA use LogRocket's session recordings. One of the reviews indicates the usefulness of LogRocket. Rob C. found session recording to be a powerful tool in helping his team uncover user intention, identify UI issues, and recover data quickly.

The FullStory tool is a comprehensive session recording solution that helps gain deep insights into the UX. This software provides real-time recordings of user sessions, which you can use to uncover bug reports, optimize website performance, and more. With FullStory's recorder, you can make your own metrics to record and track how users act and make the experience better for them. This recording tool also integrates with third-party analytics tools such as Google Analytics, Mixpanel, and Amplitude for further insights into the user experience.
FullStory has many tools to help organizations record, measure, monitor, and improve user experience. These include session replay, heatmaps, journey mapping, user segment, tech stack & integration, funnel conversions, and more.
The Fullstory tool offers a unique advantage over its competitors with its powerful session recordings. Unlike other companies, Fullstory provides detailed, real-time recordings of user interactions on websites and apps. This software helps identify problems quickly, improve user satisfaction, and optimize the user experience. With its data, businesses uncover potential issues that may be causing frustration or confusion to users. Moreover, Fullstory analytics helps users accurately measure and analyze how users engage with their products based on the video recordings, helping them make informed decisions about website design and product features.
Jetblue, Optus, GND, Panadadoc, and Soundcloud are among Fullstory's clients. Jeff W., Manager of Digital Commerce Analytics & Optimization, reviewed the Fullstory tool. Fullstory's user-friendly interface makes it easy to analyze data and share insights.

Smartlook is an easy-to-use session recording tool that allows users to understand user behavior and improve their website experience. This recording tool is a great way to gain visibility into how users engage with a website in video records and get detailed feedback on optimizing the user journey. Smartlook also integrates with popular analytics platforms, making it easy to use insights from session recordings in other analytics tools.
The Smartlook software has a lot of useful tools, like heatmaps, funnel analysis, and session recording filters, in addition to session recordings.
One of the biggest advantages of the Smartlook recorder is its intuitive user interface, which makes it easy for anyone to get started with session recordings. This software tool also offers powerful features such as session recording filters and funnel analysis, allowing users to gain deeper insights into their website visitors' behaviors.
PapaJohn's, Sanofi, Innogy, Paxful, and  AmarBank are just a few of the Smartlook recorder's clients. As a product designer, Priya P. gave a review about this software, saying the recording system was so user-friendly that she learned how to use it in only a week! Furthermore, the software gave her insight into user behavior, which is crucial for optimizing designs.

Mouseflow is a great tool for recording user sessions and seeing how visitors navigate your website. The software provides detailed heatmaps, session recordings of individual sessions, and user behavior analytics. The software also allows you to segment users based on where they come from and how they use your website. This allows you to get deeper insights into user behavior and tailor your website experience to each group.
Mouseflow offers a variety of tools aimed to help businesses get the most out of their website, in addition to the session recording. These features include form analytics, survey and feedback tools, user journey mapping, and automated data analysis.
One of the main advantages of the Mouseflow session recorder is its usability. The software for recording sessions has an easy-to-use interface that even new users can use to start using session recording and other analytics tools. The platform also offers integrations with many popular platforms such as WordPress, Google Analytics, and more, making it easy to get started with your website optimization efforts. Additionally, the platform is highly scalable, so businesses can scale up as their needs grow.
Etihad, Philips, Vodafone, Verizon, and AbinBev are among the users that Mouseflow serves. Josh MA Media Buyer gave an overwhelmingly positive review of the Mouseflow recorder, highlighting the software seamlessly integrated with his preferred landing page building platform (Unbounce).

This intuitive session recording tool is best suited for user experience optimization. With this tool, you can gain insights about user behavior on your website with powerful visual session recordings of their journey and easy-to-interpret heatmaps. Hotjar session recordings let you quickly identify where you should focus your efforts to optimize your website.
Hotjar is a robust, all-in-one analytics and feedback tool that enables you to monitor user behavior on your website. The tool offers heatmaps, session recordings, surveys and polls, trends, engagement, and more.
Hotjar stands out from its competitors with its various features gathered in one platform. The session recording software is also easy to use and set up, and the pricing structure is affordable for any website. Hotjar's goal is to make it easier to understand user behavior at a glance with simple visualizations that help uncover insights quickly.
Panasonic, Techsmith, Microsoft, Nintendo, and Unbounce use Hotjar's services.
Nupur B., Product Manager, highly recommends the Hotjar session recorder due to its ability to provide vivid visuals of user interactions on the website. Using heatmaps is particularly helpful for determining which elements attract users' attention.

Quantum Metric is a nice session recording tool perfect for businesses seeking insights into user behavior. The software provides real-time actionable insights into user journeys, allowing businesses to quickly and efficiently pinpoint areas of opportunity. The tool is highly customizable, enabling users to tailor their data collection process to their specific needs. This software also offers advanced analytics, allowing businesses to identify trends and make data-driven decisions for optimization quickly.
Quantum Metric offers a suite of other features, including A/B testing, user segmentation, and more. The company also has a powerful user experience (UX) platform, which helps businesses improve user journeys and increase customer satisfaction.
One main advantage of Quantum Metric is its ability to surface actionable insights quickly. The company's powerful analytics can reveal user trends in real-time, allowing businesses to make informed decisions and optimize their customer journeys with minimal effort. Additionally, its user segmentation capabilities enable users to gain insights into specific user populations, allowing them to target their marketing efforts more effectively. Finally, its CX platform allows businesses to measure customer satisfaction and make changes to improve usability.
Emirates, Dish, Lenovo, Crate&Barrel, and Western Union are among Quantum Metric's clients. Ryan M., Vice President, Digital Strategy, reviewed Quantum Metric, saying the dashboard, replay feature, and heatmaps in Quantum helped his team avoid looking for data independently.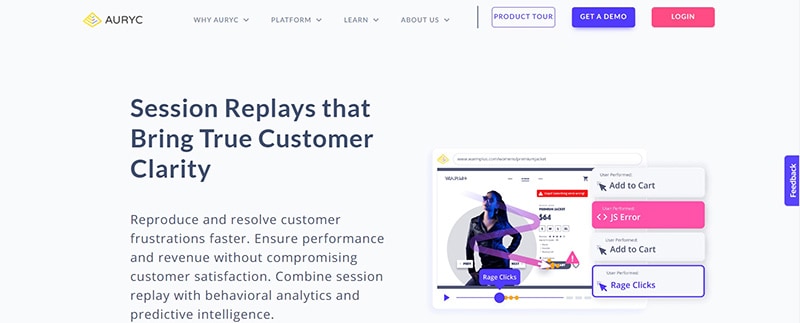 Auryc provides one of the most comprehensive solutions for session recordings available. This software tool offers a range of features, including powerful analytics and access to detailed user session data, allowing businesses to understand user behavior better. The tool also provides comprehensive security features, ensuring that the session recordings are kept secure and private. With its easy-to-use interface, the Auryc tool makes it simple for businesses to start recording sessions and quickly get the data they need.
In addition to the session recording tools, Auryc offers several other services, such as customer segmentation analysis and heatmaps. They give businesses a detailed view of how customers interact with their websites and products.
Auryc stands out from other session recording tools by providing a comprehensive suite of features that give businesses deep insights into customer behavior. Its powerful analytics and security features also keep data secure and private. And its easy-to-use interface makes this software a great choice for businesses looking for a comprehensive solution without spending time learning how to use the tool.
United Vacations, Cole Haan, Partycity, carparts.com, and Secrets utilize Auryc's session recording services. Kartheek V., Chief Product, reviewed the Auryc session recorder and said they are a great team to work with. This software provides great actionable insights and is very easy to implement.

The Lucky Orange software is an incredibly user-friendly and feature-rich session recording tool that enables you to monitor, analyze and optimize visitor behavior on your website. Additionally, Lucky Orange is extremely affordable compared to similar offerings, making this recording tool an ideal solution for businesses on a budget. With this software's intuitive interface, comprehensive feature set, and reasonable pricing structure, Lucky Orange is undeniably one of the best session recording tools.
The software provides features such as heatmaps, form analytics, screen recordings, scroll maps, and more to help you gain valuable insights into your users' experience. This tool also provides real-time analytics to quickly identify potential opportunities and areas for improvement in your website's design, content, and user flow.
The Lucky Orange software's main advantage over competitors is that this session recording tool offers a highly customizable tracking solution. You can select which pages, visitors, and activities to record, tailoring the data collection process to suit your requirements best. This flexibility makes the Lucky Orange recording software ideal for small businesses and industries, as it provides recorded data tailored to their specific needs.
R.a., The Director of Marketing, reviewed the Lucky Orange recorder. He outlined the simple UX of a website, the ability to view in-depth heatmaps and track the conversions of every customer.

The Heap software is one of the market's most popular session recording tools. This tool provides powerful insights into user activity, giving visibility into how visitors interact with a website. By recording and analyzing user behavior, Heap helps you identify opportunities for optimization and improvement. The session recording tool tracks the user journey, giving you a deeper understanding of how your customers flow through your website or application.
The Heap software also offers heatmaps, funnel analysis, and segmentation tools to enhance user experience. Heap is easy to set up and integrate with existing web analytics tools.
The main advantage of Heap is its powerful insights into user behavior. This software provides detailed information about how and where visitors click on your website, giving you an in-depth understanding of the user experience. Heap also offers a range of tools to help you optimize and improve your website or application.
Huel, Oppfi, Pocket suite, Casper, and Freshworks serve as clients of Heap. George H., Product Manager, reviewed Heap's session recordings: "For me, the best feature is being able to see sessions live as they occur, limiting them to see only mine, and building dashboards accordingly."

Cux is a leading session recording tool that provides powerful solutions to help organizations optimize their digital users' experiences. This software enables users to record sessions, analyze, and replay customer sessions, allowing them to identify optimization opportunities and improve their user experience. Cux's powerful analytics feature allows users to drill down into customer behavior, enabling them to make more data-driven decisions.
Cux offers a suite of user experience optimization tools such as A/B testing and real-time segmentation. The company also provides an API that allows users to integrate Cux's session recording & analytics into their pages. Conversion waterfalls, pre-analysis & alert, and auto-capture events are some more of its tools.
Cux provides is its scalability. The platform is designed for organizations of all sizes and can easily adapt to each customer's unique needs. Additionally, Cux has a strong team of experts that can provide personalized support and advice to help customers get the most out of their session recording experience. Furthermore, its advanced analytics feature lets users get an in-depth view of customer behavior.
Ronald D., a Director, gave a review about Cux, saying they like to observe how users interact with the product and navigate through it with the help of this recorder.
VWO Insights is a powerful session recording tool used by top companies worldwide to understand users' behavior on their websites. The recording tool allows businesses to view videos of user sessions and easily generate heatmaps, funnels, and other analytics data to give them a clear picture of how users use their websites. Additionally, VWO Insights allows users to replay customer visits and gain valuable insights into user behavior by zooming in to see every mouse movement, click, and keystroke. This makes it easy to measure user engagement and identify areas of improvement.
VWO Insights also provides VWO Testing, VWO Data360, VWO Plan, VWO Full stack mobile app, VWO Deploy, and VWO personalization tools. VWO Testing is an A/B tool that helps businesses create and run experiments to optimize their websites.
The main advantage of VWO over competitors is its unified platform, which allows customers to integrate session replay and analytics into their websites.
VWO Insights' clients include Hyundai, Chargebee, Britannica, Workzone, and Bcp. Jack L., Product Manager, gave a review about the VWO Insights session recorder, highlighting that having the heatmap scroll and test variation on the same page is nice.

Crazy Egg is one of the top session recording tools, offering a comprehensive suite of solutions that enable users to understand customer behavior and how to improve the user experience. The software provides a analytics to help you understand what users do on your website, including their clicks, scrolls, and cursor movements.
Crazy Egg also offers a suite of additional tools to help improve user experience, including heatmaps, A/B testing, session recording, traffic analysis, an easy-to-use dashboard interface, error tracking, and surveys.
Crazy Egg session recorder is its comprehensive set of features and analytics that enable quick analysis of user behavior. Its intuitive dashboard interface makes this software easy to quickly identify areas of improvement and uncover new insights into customer behavior.
Etsy, Dell, Cnet, Optimizely, and Intuit are some of the users served by Crazy Egg. Tony F., a Digital Director, reviewed the Crazy Egg tool. His favorite part of Crazy Egg is visual heatmaps.
How to Analyze Session Recordings for Online Stores
Are you tired of feeling like your online store is a ghost town? Do you yearn for the days customers lined up outside your virtual doors? Well, have no fear because recording visitor's experience and analyzing their session recordings will save the day!
First, you'll need to set up some recording software to capture all the juicy user interactions on your website. Once you've got that in place, it's time to sit back, grab a bag of KFC, and watch the show.
As you watch the recordings, you'll see patterns emerge. Maybe your customers are getting stuck on a particular page or confused by your navigation. These insights will help you identify areas that need improvement.
But it's not just about usability, oh no. Analyzing session recordings can also help you optimize your website for SEO. By seeing how consumers interact with page elements, you may make adjustments to enhance usability and increase microconversions. And let's be real, who doesn't want to be at the top of Google's list?
And lastly, analyzing session recordings helps understand how customers move through your conversion funnel. By identifying where customers are dropping off, you can make changes to improve the chances of converting them into paying customers. It's like a treasure hunt, but instead of treasure, you're hunting for where your customers are getting lost.
Analyzing session recordings is like having a crystal ball for your website. It allows you to look into the mind of your customers and understand their behavior. So go forth, set up your recording software, and watch the magic unfold. And if you're lucky, you might even get a good laugh or two out of it.
| | | |
| --- | --- | --- |
| Expert's Name | Company they work with | Expert's Opinion/Advice |
| Peep Laja | ConversionXL | Optimizing conversions is like playing a game of inches – every little improvement can add up to big gains. |
| Paul Rouke | PRWD | UX is the new SEO. |
| Talia Wolf | GetUplift | Session replay is a cool tool for learning about user behavior and identifying areas for improvement. |
| Michael Aagard | ContentVerve | By analyzing user sessions, UX & CRO specialists can gain valuable insights into how their website is being used and what areas may need improvement. |
| Joanna Wiebe | Copyhackers | Session replay is an invaluable tool for understanding how visitors are interacting with your website so that you can improve the user experience. |
| Oli Gardner | Unbounce | Session replay can help you deeply understand how users move their mouse on a website and where they get stuck. |
| Brian Massey | Conversion Sciences | Session replay is a way to learn about how users act, and it can be used to improve both micro and macro conversion. |
| Chris Goward | WiderFunnel | Session replay is a great way to see how people use your website and can be used to explore how to improve the user experience. |
| Neil Patel | Neil Patel Digital | Session replay is a great way to learn about how users act, and it can also increase sales. |
| Rand Fishkin | SparkToro | Session replay is software for exploring UX, and it can be used to improve usability and increase revenue. |
Conclusion
These are some of the best tools for recording users' sessions. Each session recording software tool has unique features that can be used depending on your specific needs. Mind them when determining which session recording software tool is best to record specifically your user's behavior. The tools from the Top 14 Best Session Recording Software Tools list make tracking users' experience easier and more efficient. So choose the perfect session recording software for your needs and start to benefit from recording user sessions! Good luck!