The promotion of online resources is a complicated process, which is made step-by-step. Considering the rules of online marketing, plenty of work is required for making good resources. The algorithms of customer involvement and the creation of high-demand products change continuously. Therefore, essential aspects of online marketing are necessary for the development of each web product. To reveal and share knowledge about them in online marketing blogs is an excellent idea for each marketer.
Online marketing blogs will always be an indispensable part of knowledge. It is a section of a website where you can find articles, reviews, and recommendations, which consider essential modern aspects of digital marketing. So, which blogs are considered the most informative and well-structured? Why is blogging necessary nowadays, and how can it help with web promotion for website owners and budding marketers?

Plerdy is a multitool web service with plenty of instruments in its arsenal. It was founded in 2017 by Andrew Chornyy as an innovative project, which helped to optimize target web indicators with easy-to-use tools. After several years of existence, Plerdy has already gained its regular customers. Honda, Kyivstar, KredoBank, and other high-trusted companies use the particular tools.
Plerdy's instruments differ depending on their function and algorithm of use. As a rule, they display the necessary indicators due to the installed period, type of the device, and other custom filters. The practical efficiency of is explained in Plerdy's online marketing blog. The most popular instruments include:
Heatmap tools;
SEO Checker;
Event tracking tools;
Session replay software;
Conversion Funnel analysis;
Net promoter score;
Pop-up software;
Sales performance
The tips suggested by experienced specialists in Plerdy's online marketing blog are reinforced with years of practice and involved development of each tool. The information supplements your digital knowledge and represents the most necessary facts considering online marketing. The list of the latest content:
Business Automation. In the «Business» category of Plerdy's online marketing blog, the articles are dedicated to the most critical aspects of online business's development. The newest one speaks about the importance of juxtaposition between providing an online business and implementing its online functions. The actuality of this aspect is confirmed with the saved time and human energy, which helps formulate the business's goals.
SEO Software for agencies. In the SEO online marketing blog, the use of particular tools is explained. The most important instruments for relevance optimization are provided, which helps to choose the best one for your business.
Heat Mapping Software. Learn about the functionality of particular Heatmap tools in the «Guides» category of the online marketing blog. The algorithm of its use is also explained step-by-step.
143 motivational quotes for work. Become motivated with the numerous reasons to start working on something. The most convincing of them were chosen and pointed out in the articles. There you can find quotes for adults and kids, sportsmen and teachers, teamwork and solo business, etc.
Google Analytics Conversion Rate. The capricious search machine doesn't fall under anybody's rules. But how to optimize your resource to acquire maximum relevance. Learn about it in the article on Plerdy's online marketing blog.
Learn more about the latest digital marketing innovations by surfing the categories of Plerdy's blog.
12 Best Online Marketing Blogs
Blogging is the most popular way to express the marketing experience and share it with the novice. Here you can find the list of the best online marketing blogs, which differ by their specificity of work but are guaranteed to be helpful in most cases.

Content Marketing Institute is a service aimed at the provision of informative content-optimization articles. It was founded in 2007 by Robert Rose to advise young marketers how to create informative and high demanded content. The latest reports are about:
How to look outside your team for excellent content marketing;
Importance of visual storytelling;
Great ideas for writing emails.
The articles of the online marketing blog are written by professional authors from all over the world. Lisa Murton Beets, Ann Gynn, Manick Bhan, Alona Shalieieva, and Alina Benny expressed their experience in the latest works.

A famous SEO-tools development company, Ahrefs, founded in 2010 by Dmitry Herasymenko, also has an informative online marketing blog. The latest articles are dedicated to:
The most essential types of marketing;
8 steps for startup creation with the use of SEO;
Link-building tools.
Tim Soulo, Mateusz Makosiewicz, Michal Pecanek, Rebecca Liew, and Joshua Hardwick implement their practical experience in the most available content.

A popular online journal, which publishes content round-the-clock, was founded by Loren Barker and has existed for more than 15 years. The main topics discussed recently:
How to fix mistakes in creating content;
Most important aspects in SEO freelancing;
Bounce rate calculation.
Himani Kankaria, Kayle Larkin, and Sam Hollingsworth are the authors of the latest relevant content.

A famous web design and development company Orbit Media Studios, founded in 2001 by Andy Crestodina, specializes in creating unique design projects. It's online marketing blog consists of different articles dedicated for:
Biggest design mistakes;
Creation of a perfect B2B website;
Specific algorithms of Google Analytics in the evaluation of web designs.
Laurel Miltner, Andy Crestodina, Amanda Gant, Mark Quadros and others introduce the most important aspects in their articles.

Buffer is a social management media platform. It was founded in 2010 by Joel Gascoigne and aimed to provide publishing and analytics products. The online marketing blog contains various informative articles and reviews. Several of them are following:
Access Dropbox and Google Drive;
Ways to use LinkedIn efficiently;
Tips for generating powerful social medias;
The unique authors Stefan Pallios, Hailley Griffits, Kattie Wilde, and others write high demanded and exciting content.

One more social media management platform was created to share information about communication, content marketing, and customer experience. Its founder, Kenneth Gillett, implemented a lot to place it on the top of informative platforms' ratings. The latest articles in the blog:
Testing of new Facebook user content controls for news feed;
Facebook working on a Universal Translation Engine;
Conducting new research of TikTok into the latest trends.
Andrew Hutchinson, Mark Walker-Ford write the most articles about the innovations in social media.

A popular SEO platform, which creates tools for optimal promotion of web resources. Oleg Shchegolev and Dmitri Melnikov are the founders of the project, who made it in January 2008. The online marketing blog contains the following articles:
The four types of keywords;
The keyword research checklist;
Creation of a competitive matrix.
Luke Harsel, Erika Varagouli, Aoife McIlraith, Shelley Walsh and others are unique content creators.

Backlinko is an SEO company, which has one of the most authoritative blogs. It was created in 2012 by Brian Dean and has been providing training services and activities till nowadays. The latest articles in its online marketing blog:
The library of content marketing resources in 2021;
How to be placed on the top of Google;
How to build efficient backlinks.
Brian Dean, CEO of the company, is one of the most active website content authors.
MarTech is a company specializing in one-to-one marketing and digital imaging. It was founded by Chris Schembri in 1988 and is considered one of the oldest digital marketing companies. The authors write articles about:
Improvement of customer's experience with personalization;
Hitting marketing goals with mapping;
How to prove digital marketing strategy.
Kim Davis, Corey Patterson, Chris Wood have written the latest content for the website.

It is a company founded in 2008 by Jay Baer. The main aim is to provide adequate social media and content marketing strategies. The online marketing blog's latest articles:
How to manage a social media crisis;
Most popular marketing myths in 2021;
Reputation management realities in 2021.
Zontee Hou, Ann Smarty, Mary Nice, Daniel Lemin were the last who placed reviews on the website.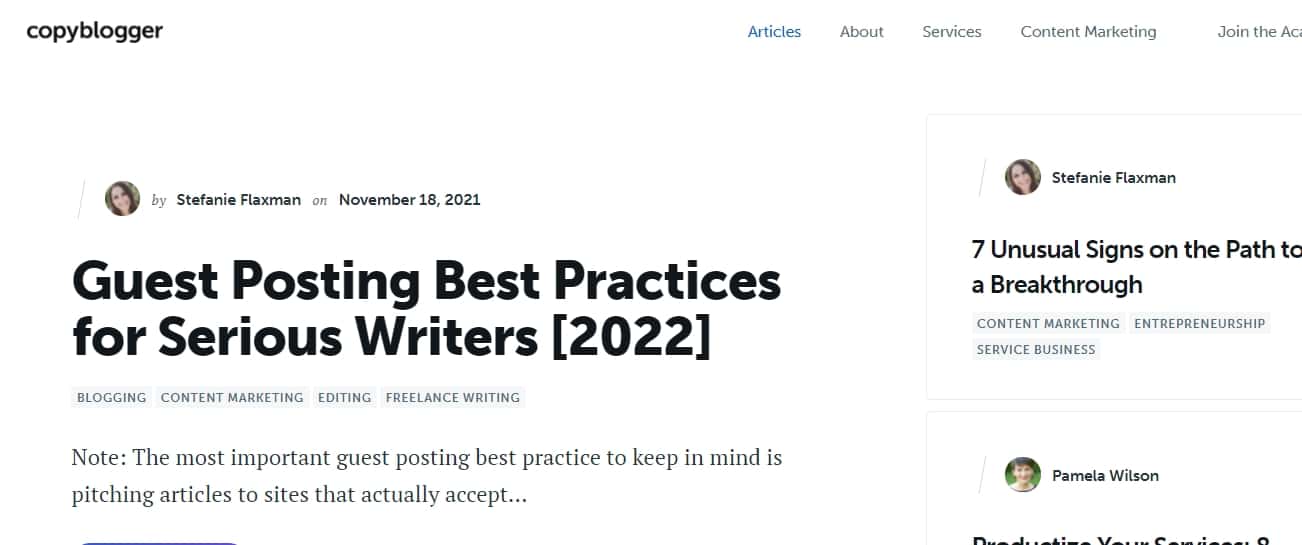 It is a teaching platform that helps people learn how to create powerful and relevant online content. Brian Clark founded it in 2010 – it started as a one-person blog. But nowadays, a lot of important content can be found in the online marketing blog:
7 steps to build a powerful personal brand;
Ways to find time for your business;
«Lazy» content creation.
The latest authors are Pamela Wilson, Tim Stoddart, and Brian Clark.

CoSchedule is a provider of marketing education products. Created by Kris Nelson in 2013, it has become one of the most potentl education platforms. The online marketing blog contains a lot of informative articles:
The necessity in investing more in online reputation;
Ways to create content that converts;
How to create an editorial style.
Melissa King, Masooma Memon, Ann Smarty, and the others place highly demanded content on the website.
To Sum Up
Overall, online marketing blogs are an excellent way to learn and express experience about most essential marketing aspects. To find out the necessary facts, surf through the available blogs and suitably improve your website.