Are you tired of feeling underdressed and out of place in the office? Look no further! Our Business Casual Attire & Dress Code Guide is here to help you master the art of dressing professionally while still showing off your unique style. With tips and tricks on making a perfect impression, this guide is a must-read for anyone looking to land that dream job or climb the corporate ladder. ⚡️ So, whether you're a new employee or a seasoned professional, let us help you make a lasting impression in the workplace through your workwear and showcase your human professionalism.
What Is Business Casual Attire & Dress Code?
The description of casual business style is often misleading. And although business casual does not require the daily wearing of a strict classic suit, this style still does not accept the position of "I will wear whatever I want."
According to the Oxford Dictionary, casual is a less formal dressing style that retains a working, business-like feel. Of course, casual is not sporty and should not look like weekend wear.
It may be tricky to select the appropriate business casual outfit for cold winter months or hot summer days. However, there are basic guidelines that will help you never go wrong.
What will help you retain a polished look on cold workdays? The most popular winter combination for men is a shirt, a sweater or a vest and slacks in warm fabric. You can also opt for an unstructured jacket in wool or corduroy. Select shirts in light colors and match them with knits or jackets in darker shades. Complete the look with a scarf, faired gloves, a peacoat and ankle boots. Women have even a wider choice of possible business casual attire- a long-sleeved dress or tailored trousers with a fine-knit sweater or a dressy jacket will always look just right. There are endless variants of layering various warm pieces. This style allows wearing a coat with just loafers or oxfords. And do not forget a scarf and gloves to polish off your look.
In summer, it may be a challenge to beat the heat and still maintain a respectful look for the office, but there are enough options for summer business casual wear. Choose clothes made from lightweight and breathable materials such as cotton, linen and silk. Men will look stylish in short-sleeved polos and light-colored pants. Summer essentials for men also include unlined jackets, fine sweaters, chinos and loafers. Women can mix and match dresses with light cardigans, skirts and pants with tops and blouses. The ladies' footwear selection is also extensive, from flats to summer boots. Just avoid items that look too informal – open shoes and sleeveless items.
Darlene Price writes well about the importance of the right look and suitability of clothes for the workplace. The author of the book "Well Said! Presentations and Conversations That Get Results" says this is one of the most common obstacles to a successful career. While clothing alone does not demonstrate the actual level of an employee as a professional, it can stunt or even disrupt career progression.
The casual business style may vary depending on the company's type of business. As a rule, the casual style is practically not subject to new and fashionable trends – only models of specific garments can change.
The Impact of Business Casual Attire & Dress Code on Your Career
When building a successful career, your self-presentation is just as important as your qualifications and experience. The Business Casual Attire & Dress Code Guide is essential for anyone looking to make a great first impression at work. Whether you're going for an interview, meeting with clients, or simply working alongside your colleagues, how you dress can seriously impact how others perceive you.
One of the keys to mastering the business casual look is to always err on the side of caution. Regarding shirts, it's best to stick with solid colors like white, blue, or black. They are easy to combine with other pieces and look elegant and professional. Avoid anything too bright or bold, as it can come across as unprofessional. A collared shirt is always a safe choice for men.
Another key to nailing the business casual look is to pay attention to the details. Make sure your clothes are clean and well-maintained, and avoid anything that looks too worn or frayed. A well-tailored blazer or coat can add a touch of sophistication to any outfit. At the same time, a wool sweater or cardigan can be a great way to stay warm in the colder months.
The business casual dress code is generally more relaxed than formal wear, but that doesn't mean you should take it lightly. It's important to remember that you're still representing your company, so you should always aim to look polished and put together. So avoid anything too casual or casual-looking, like jeans, t-shirts, or sneakers. Instead, opt for khaki pants or trousers, and pair them with a button-down shirt or blouse.
For men, a tie is optional, but a well-chosen necktie can add a touch of elegance to any outfit. Avoid anything too flashy or bold, and stick with classic colors like black or navy. And for the ladies, a skirt or dress is always a great choice, as long as it falls at or just below the knee.
In general, avoiding anything too personal or unique regarding business casual attire is a good idea. Instead, stick with classic, timeless pieces that look professional and appropriate. And remember, the way you dress is a reflection of who you are, so always strive to look your best and make a great impression.
The key is to always play it safe, pay attention to the details, avoid anything too casual or personal, and strive to look polished and put together. Following these simple guidelines, everyone can look elegant and professional, regardless of their job and career. And being a gentleman and always looking neat and tidy can only help make a great impression.
Business Casual for Men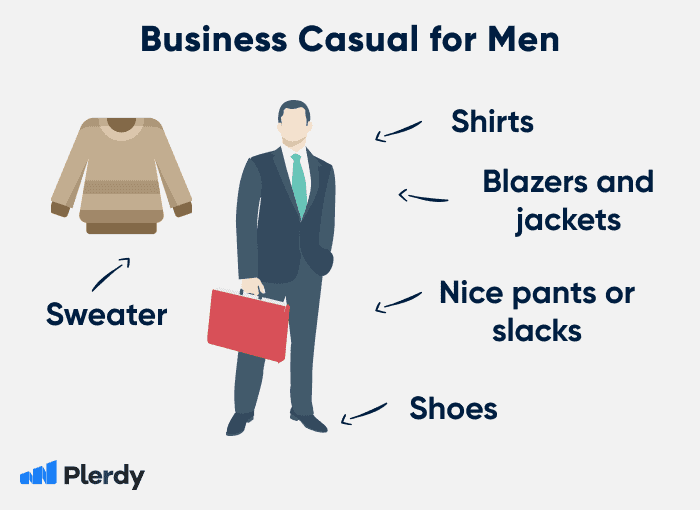 To begin with, let's briefly define the boundaries – what needs to be excluded from the wardrobe of a business everyday style. The following item of clothing will not work:
T-shirts – with prints and slogans or "ripped."
Jeans – although individual companies may list them as approved, you should not choose "ripped" designs.
Sport shoes. Sneakers, trainers – improper footwear for work.
Hoodies. Sweatshirts with a hood are knocked out of the casual style, making the outfit too informal.
Shorts. Regardless of the length, they are not suitable for business attire.
The combination suitable for business casual attire is well illustrated in the picture. Let's take a closer look at what a wardrobe in a casual business style consists of.
Business Casual Shirts
These include classic ones with buttons, a collar, and polo shirts. But keep in mind that short sleeves are rarely welcome. An alternative is buttoned sleeves. The casual business style is also known for lacking a tie, making the shirtless formal and creating a more relaxed look. A selection of ties will not be superfluous in the wardrobe and is not excluded from the business-casual style.
Business Casual Blazers and jackets
A well-tailored jacket or blazer can help when meeting management, clients, or sponsors. This optional wardrobe item can be a stylish addition to your outfit. What is the difference between a jacket and a blazer? The first is more strict and classic, and the second is universal. The blazer goes well with any garment and usually comes with lapels and large, bright buttons.
Business Casual Sweaters
The now-classic sweater and shirt combination is one of the most popular options for a casual business dress code. You can also replace the sweater with a vest. Look for fine-knit sweaters that show the collar of your shirt and leave the bulky, warm, and cozy chunky knit sweaters for vacation or leisure.
Business Casual Nice pants or slacks
Some progressive offices allow jeans, but slacks or chinos will still be more appropriate.A pair of good chinos is a stylish version of dress pants that suits the business charter and the casual style. Choose neutral, non-flashy shades such as blue, brown, and gray. You can also wear khakis, a versatile option that goes excellently with formal and informal shirts.
Business Casual Shoes
Shoes should be discreet – loafers, oxfords, derbies, brogues, or dress shoes. Sports shoes and sandals are not acceptable. As an exception, in some niches, it may be permissible to wear low-key sneakers. Do not underestimate the material your shoes are made of – leather and suede are the two most suitable options.
Business Casual for Women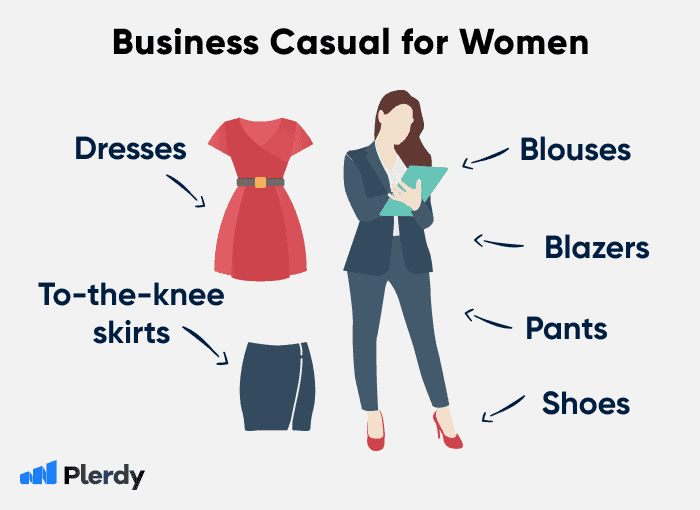 The range of business-casual clothing for women is more flexible and extensive. The country, field of activity, and season have an influential role in your choices. What should you always avoid in a woman's wardrobe for a casual business style? Stay away from the following clothing:
Short skirts: Leave tight, revealing dresses for parties.
Evening dresses: Flowing skirts and open shoulders are for cocktail parties only.
Short shorts: They are worth leaving for the weekend.
Open shoes: This includes sandals.
Sports shoes: Styling in an urban format is allowed.
T-shirts: Especially "torn" or shapeless ones.
Makeup should also be taken into account as a part of the business image for the female half of the population – choose a style with a more natural look. What is appropriate in a woman's casual wardrobe, and what should guide the decision? Find a good example in the image.
To-the-knee skirts and dresses
The classic length is up to the knee or slightly below. As for shades, there are no restrictions, but avoid intricate patterns and designs. When choosing dresses, opt for more restrained styles. It is always a strict rule to avoid extreme lengths and very tight or dressy variants.
Business Casual Pants
Whether it's classic, wide, chinos, or suit trousers, the decision is yours. Fortunately, there is a broader collection of styles for women than men. Companies are increasingly allowing to wear jeans. Carefully approach your choice – take into account the requirements of your office. Sometimes jeans with patterns are pretty acceptable, but holes and "rips" are taboo everywhere.
Business Casual Blouses and button-downs
A looser or more fitted blouse is perfect for a business casual look. Details and patterns are subject to company rules. The sizes of elements, such as ruffles and shuttlecocks, often need to be clarified. Blouses can add variance to your business casual outfit if you stick with neutral colors and keep necklines within conservative limits.
Business Casual Shoes
Pumps, loafers, ballerinas, and open-toed shoes are well-established models of everyday business style. As stated, athletic shoes are not acceptable. It is better to avoid too casual variants as incorrectly chosen models can make you look unprofessionally. Be especially careful with the heels and opt for moderate height.
Conclusion about Business Casual Attire
The casual business style allows for various stylish clothing options, offering variety and introducing fashionable elements. But always remember that your appearance must be professional – you may need to meet with clients at any time. Both men and women can complement their looks with discreet watches, bracelets, chains, earrings, or rings. The main rule is moderation in everything.