Our comprehensive guide unveils the TOP 19 Best BI Tools in 2023 – the cream of the crop for empowering your organization with actionable insights. From small businesses to global enterprises, we've got you covered with the following:
Cutting-edge features
User-friendly interfaces
Exceptional performance
You'll find an in-depth analysis of each tool, leaving no stone unturned. We dive into their unique selling points and everything else. Plus, we've employed Plerdy UX, CX and SEO keywords analysis to ensure you get the most relevant and up-to-date information.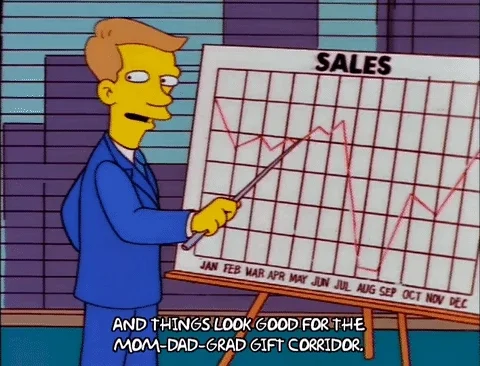 So, buckle up and discover the business intelligence software that'll skyrocket your organization's success. Take advantage of this golden opportunity to harness the power of data analytics and leave your competition in the dust. Happy hunting! ?
Business Intelligence Software Unveiled
Picture this – you're steering a business and want to make informed decisions easily. Enter business intelligence software, the game-changer you need! This dynamic tool empowers you to:
Analyze data efficiently
Uncover actionable insights
Optimize your company's performance
Harnessing the power of analytics, these cutting-edge applications delve into vast pools of raw data, transforming them into meaningful information. With this treasure trove, you can identify trends, pinpoint strengths and weaknesses, and stay ahead of the curve.
But wait, there's more! This business software crunches numbers and presents the results in visually appealing dashboards. So, you can easily spot patterns, make comparisons, and draw conclusions – all with a bird's-eye view!
In a nutshell, business intelligence software is your go-to ally in the quest for success. So say goodbye to shooting in the dark and hello to a data-driven, strategic approach. After all, information is power, and you must stay caught up in today's quick-paced world.
The Benefits of Business Intelligence Software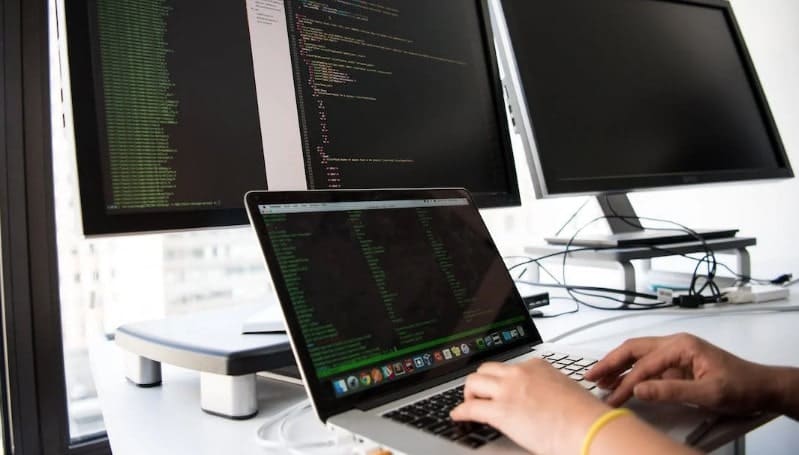 Business intelligence software offers many advantages to companies seeking a competitive edge:
Improved decision-making: By offering a clear picture of your company's performance, this tool enables you to make informed choices based on factual data, not just gut feelings.
Efficiency boost: Streamlining data processing and business analytics, the software eliminates manual, time-consuming tasks, freeing up your team to focus on what truly matters.
Increased revenue: With actionable insights, businesses can optimize their strategies to generate more profits, ensuring they stay ahead.
Moreover, this intelligence powerhouse brings agility to the table. As a result, you'll be able to adapt to market changes and capitalize on emerging opportunities swiftly.
The cherry on top? User-friendly dashboards and visually appealing reports. This feature allows even the most data-averse team members to grasp complex insights, fostering collaboration and a unified vision across the organization.
In conclusion, business intelligence software is the ace up your sleeve for achieving stellar results. By leveraging data analytics, you'll uncover hidden gems, enhance your company's performance, and ultimately leave the competition in the dust. So, don't miss the boat – hop on the business intelligence train and propel your organization to unprecedented heights!
The Business Intelligence Software Spectrum
In business intelligence software, a wide array of options caters to diverse needs. Here's a rundown of the main types to help you choose the perfect fit for your business:
Guided Analytics: These tools lead users through a series of pre-built, customizable reports, offering a structured approach to data analysis. Ideal for businesses that require a more controlled environment, guided analytics is the go-to choice for step-by-step data exploration.
Self-Service Analytics: Empowering users to create business reports and dashboards enables ad-hoc data analysis. This type provides flexibility and autonomy, allowing businesses to dive deep and extract insights on the fly.
Embedded Analytics: Seamlessly integrating into existing applications or processes, embedded analytics ensures data insights are readily available where needed.
Mobile Analytics: Catering to the on-the-go workforce, mobile analytics delivers data insights directly to your smartphone or tablet. With fingertip access, you'll stay informed and responsive no matter where your business takes you.
The right business intelligence software is tailored to your company's unique requirements, ensuring you can make informed decisions. So, weigh your options carefully, and invest in the solution that will propel your organization to new heights.
Plerdy Helps Business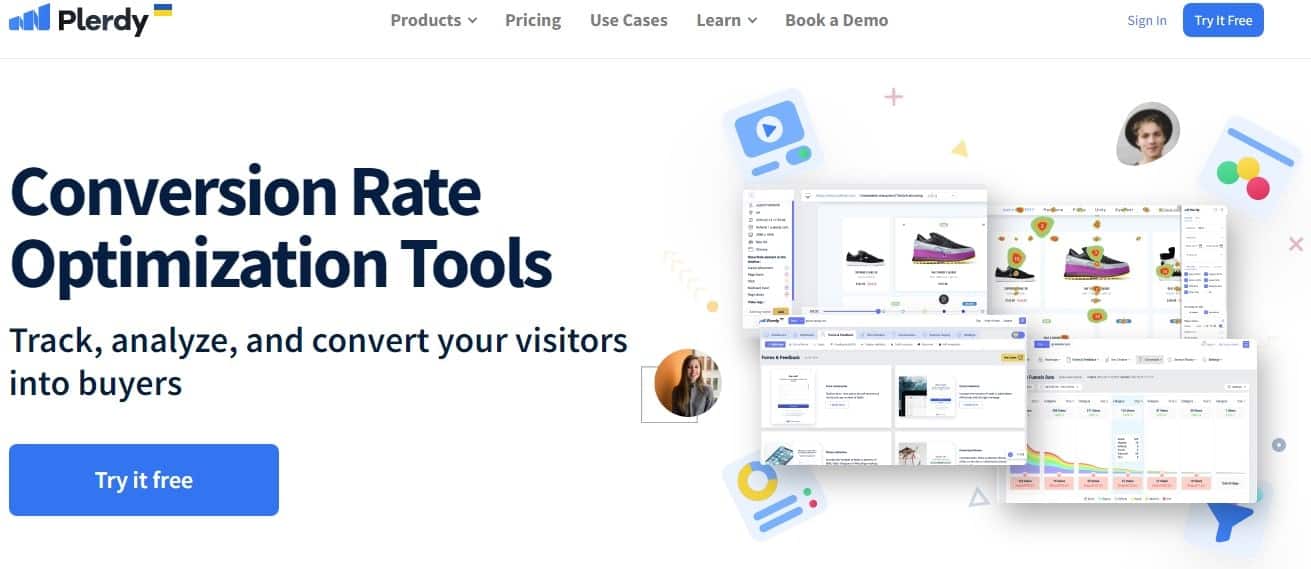 Unleash the power of Plerdy, cutting-edge software for business that transforms your data into actionable insights. Say goodbye to guesswork and hello to data-driven decision-making with this comprehensive suite of tools:
Heatmap: Visualize user clicks and interactions on your website in real time.
SEO Checker: Keep tabs on crucial SEO tags for better search engine performance.
Session Replay: Dive into user behavior by reviewing their browsing sessions.
Event Tracking: Sync all events with Google Analytics effortlessly.
Pop-up Forms: Customize and implement versatile pop-up forms to engage users.
Sales Performance: Assign purchase information to each item on your site.
Conversion Funnel: Identify drop-off points and overlooked pages.
Net Promoter Score: Gather valuable feedback with this widely-recognized metric.
Trusted by leading enterprises, Plerdy delivers exceptional business results. Users praise the software for its accuracy, user behavior insights, and top-notch customer support. To optimize your website and watch your conversions skyrocket with Plerdy!
Embark on a thrilling journey as we unravel the "TOP 19 Best BI Tools (Business Intelligence Software) in 2023." These trailblazing solutions are set to revolutionize data analytics, transforming raw information into a strategic powerhouse for your business. So get ready to unlock unparalleled insights with these top-tier tools and seize the reins of success!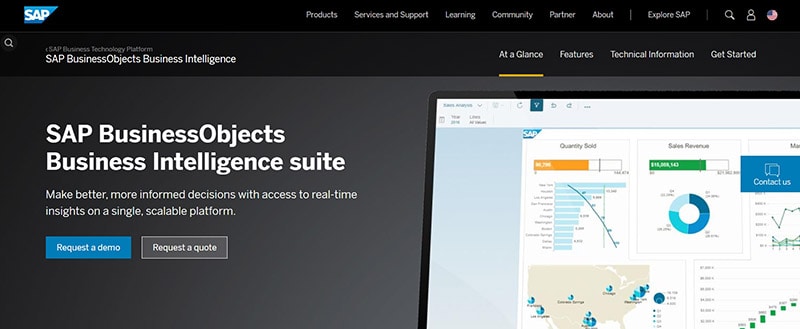 Discover the power of SAP BusinessObjects Business Intelligence (BI) Suite, a game-changer in data reporting, visualization, and sharing. This cutting-edge software offers a multitude of features that can help businesses unlock the full potential of their data:
On-premise deployment for seamless integration
Real-time business intelligence for immediate insights
Increased user autonomy for personalized and dynamic information consumption
With SAP BusinessObjects BI Suite, you can make better, more informed decisions as it supports your growth – from a few users to tens of thousands and from a single tool to multiple tools and interfaces. Just take a look at some of the benefits our customers have experienced:
Up to 92% decrease in time to create monthly reports
Over 80% reduction in IT costs by consolidating reporting solutions
1,000+ organizations that trust us as a training partner
Pricing starts at $14,000/year, but remember, there's no one-size-fits-all business solution. Instead, request a demo or quote, and we'll help you find the right fit for your business.

Unlock the full potential business of your data with Datapine, a modern Business Intelligence (BI) platform designed to empower everyone in your organization with self-service analytics. Boasting interactive BI dashboards, Datapine provides secure access to all relevant company data, enabling data-driven decision-making from anywhere at any time. Key features of Datapine include:
Empowering everyone within the company to generate actionable insights.
Providing a secure, single source of truth for all your data sources in one central place.
Establishing a data culture to develop data-driven workflows and decision-making.
Reducing manual tasks for faster and more accurate answers to urgent business questions.
Offering a scalable SaaS BI solution with reliable access from any device.
Datapine users have praised the platform for its easy-to-use predictive analytics features, fast and easy data connectors, and powerful, interactive BI dashboards. Companies like Customer Alliance have benefited from using Datapine to review customer data in one central place, reacting to trends and opportunities more efficiently. So, prepare to revolutionize your business data analysis process and become a data wizard with Datapine.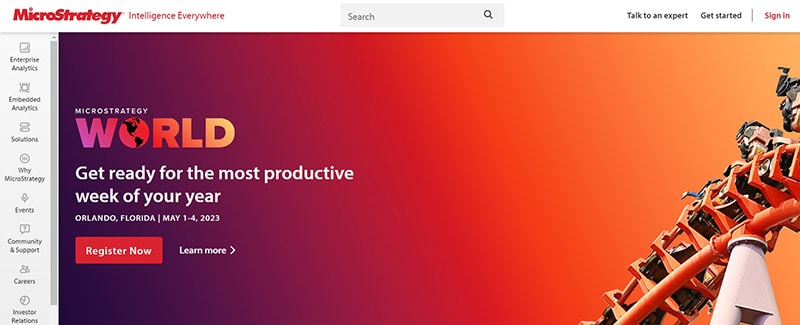 MicroStrategy is the powerhouse platform built for disruption, providing top-notch business intelligence tools beyond a pretty dashboard. Unleash your organization's full potential by harnessing the power of MicroStrategy's cutting-edge features:
No Data Silos: Break down barriers with seamless data integration, providing all users with a single version of the truth.
Unmatched Performance: Scale to new heights with advanced analytics capabilities accessible to everyone.
Data Security: Safeguard your organization with robust, integrated security features.
Get ahead with MicroStrategy business intelligence software, the trusted platform fueling innovation across various industries:
Financial Services: Mitigate risk and maintain regulatory compliance.
Retail: Boost sales through personalized customer experiences.
Healthcare: Enhance services for providers and patients alike.
Public Sector: Ensure mission readiness and respond to new challenges.
Technology: Accelerate growth with powerful, open analytics applications.
Don't just take our word for it; satisfied users rave about MicroStrategy's user-friendly interface, intuitive dashboards, and real-time data analysis capabilities. But it's time to be bold and embrace the platform transforming businesses worldwide. With MicroStrategy business software, you can finally focus on the facts, not instinct, and make every decision count.

Discover Qlik Sense, a modern cloud analytics software that empowers users of all skill levels to make data-driven decisions and take action when it matters most. With over 38,000 customers and top analysts raving about its features, it's no wonder Qlik Sense is the go-to BI tool for businesses.
Key Features:
Visualizations & Dashboards: Qlik Sense's unique Associative technology offers lightning-fast calculations, deeper interactivity, and broader context, setting it apart from competitors.
Active Analytics: Transition from passive to active analytics with Qlik Sense's real-time data pipeline and action-oriented capabilities, including intelligent alerting, powerful collaboration, and embedded analytics.
Augmented Analytics: Qlik Sense harnesses AI to help users understand and use data more effectively, minimizing cognitive bias and elevating data literacy.
Hybrid Cloud Platform: Benefit from unmatched performance and flexibility with Qlik Sense on Qlik Cloud®, supporting any combination of public cloud, private cloud, and on-premises sites.
In addition, Qlik Sense business software offers the following:
Self-service visualization
Interactive dashboards
Search & conversational features
Alerting & action functionality
Reporting tools
Mobility options
Custom & embedded analytics
Advanced analytics
Experience Qlik Sense's best-in-class visualization and discovery tools, AI-generated insight suggestions, and seamless data integration from hundreds of sources. Transform your entire business with data-driven insights using Qlik Sense, the ultimate business intelligence software.

Unleash the power of data-driven decision-making with Zoho Analytics business software, a modern self-service BI and analytics platform that allows you to connect, prepare, and analyze data in minutes. With a suite of powerful tools, you can:
Connect to a multitude of data sources, like files, feeds, popular business apps, and databases
Prepare data for analysis using augmented, self-service data preparation and management modules
Augment your analysis with AI, such as smart AI assistants and automated insights
Visually analyze your data with interactive reports and dashboards using a drag-and-drop interface
Collaborate and share insights with secured sharing and fine-grained permissions
Build embedded BI with low-code, no-code models, and customize analytics to suit your business needs
Some key features of Zoho Analytics include:
Unified Business Analytics for pre-built integrations across business applications
Ease of Use with AI and ML capabilities, such as conversational analytics and automated insights
Flexible Deployment Options, including Zoho's proprietary cloud service, public cloud, and on-premise environments
High Scale, Extensible Platform with robust APIs for customization and integration
Low Total Cost of Ownership (TCO) with transparent pricing policies
Security and Governance with enterprise-grade security features and governance framework
Transform your business data into actionable insights and actions in minutes with Zoho Analytics, a platform trusted by over 14,000 customers, 2 million users, and 50 million reports.

Sisense, the trailblazer in business intelligence software, empowers companies to make informed decisions confidently. Seamlessly infusing analytics into applications and workflows, Sisense offers a comprehensive platform that delivers three powerful business intelligence solutions:
Sisense Fusion Embed: An API-first analytics platform that white-labels analytic experiences in your apps and workflows.
Sisense Infusion Apps: Obtain actionable insights right where you spend most of your time.
Sisense Fusion Analytics: Customize experiences through code-first, low-code, and no-code to create transformational workflows.
What sets Sisense apart?
Seamless and simplified: Connect, analyze, explore, and collaborate with or without code for powerful insights.
Modern cloud solutions: Limitless scale, flexibility, and agility tailored for your business.
Committed to customer success: Sisense partners with top enterprises and cloud tech companies to unlock extraordinary value through embedded analytics capabilities.
Over 2,000 global organizations, including GitLab, Nasdaq, Rolls Royce, Seismic, ZoomInfo, and Philips Healthcare, rely on Sisense to innovate, disrupt markets, and drive meaningful change. With its commitment to no-surprise pricing and customizable solutions, Sisense is your go-to platform for business intelligence.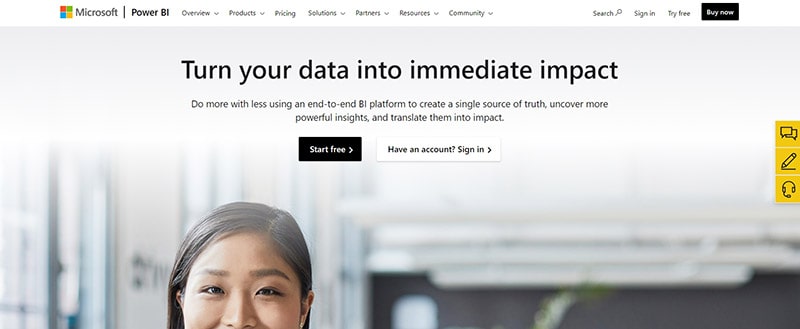 Microsoft Power BI, a cutting-edge business intelligence software, transforms raw data into actionable insights, empowering companies to make data-driven decisions. This all-in-one solution boasts a single source of truth and powerful analytics capabilities.
Key features of Power BI include:
Enterprise-scale analytics: Streamline costs and reduce complexity by consolidating multiple tools into one platform.
Smart tools: Discover and share insights with hundreds of data visualizations, built-in AI capabilities, tight Excel integration, and pre-built or custom data connectors.
Robust data security: Safeguard your data with industry-leading security features like sensitivity labeling, end-to-end encryption, and real-time access monitoring.
Microsoft Power BI helps businesses of all sizes:
Foster a data-driven culture by enabling users at every level to make decisions confidently based on up-to-date analytics.
Unleash the power of self-service analytics, allowing non-experts to create and interpret data visualizations easily.
Securely manage and protect sensitive data while providing users access to powerful insights.
Companies like Swiggy, India's leading food ordering and delivery platform, have leveraged Power BI to track near real-time metrics, paving the way for informed decision-making. With Power BI's vast array of features and capabilities, businesses can unlock their full potential and achieve remarkable results.

Unleash the power of your data with Looker, a cutting-edge Business Intelligence software that drives better outcomes through data-driven experiences. As part of the Google Data Cloud & AI Summit, Looker business intelligence software offers an array of features to help you make informed decisions:
Modern BI & Analytics: Real-time dashboards provide in-depth, consistent analysis, enabling teams to gather fresh insights for reporting.
Integrated Insights: Enhance your existing tools with relevant data from Looker, unifying and empowering your teams for effective decision-making.
Data-Driven Workflows: Revitalize your workflows with reliable data, providing unified access to the answers your teams need for success.
Custom Applications: Create unique data experiences with Looker's embedded analytics solutions, catering to industries like retail and healthcare.
Looker supports multiple data sources and deployment methods, offering flexibility and choice without compromising transparency, security, or privacy. Connect with BigQuery, Redshift, Snowflake, and 50+ supported SQL dialects, maintain multi-cloud data environments, and choose various hosting options.

Introducing Clear Analytics, the game-changing Business Intelligence software that empowers everyone to become a Power Analyst! Seamlessly integrating with Excel, this tool provides quick and easy data analysis without needing migration or training. Here's why Clear Analytics stands out:
Excel Functionality: Create custom dashboards and queries in minutes within your current Excel environment.
Business Freedom: Self Service Analytics lets users access data without waiting on IT, enabling them to add custom queries and collaborate directly in Excel.
Leverage Power BI: Clear Analytics integrates with Microsoft Power BI, allowing businesses to focus on improving data quality and delivery while maintaining governance and security.
Accurate Data for All: Elevate productivity by giving users access to accurate, on-demand data and the ability to collaborate freely.
Data Consolidation: Facilitates sharing between departments, increasing productivity and allowing IT to focus on security and governance.
Users rave about Clear Analytics business software, praising its ability to provide actionable data within a month of purchase and its seamless integration with Excel.

Unleash the power of SAS Business Intelligence and transform your data into actionable insights. This cutting-edge software brings you the following:
Visual Data Exploration: Discover hidden relationships and spot trends with machine learning-backed analysis and interactive visualizations.
Easy Analytics: Foster a data-driven culture with user-friendly analytics that promote collaboration and drive growth.
Interactive Reporting & Dashboards: Empower your team with self-service capabilities for creating and sharing insightful reports without burdening IT.
Collaboration: Improve decision-making by integrating analytics and BI tools within familiar Microsoft Office applications, fostering alignment and consensus building.
Mobile Apps: Access critical insights on the go with native Windows 10, iOS, and Android apps.
With SAS Business Intelligence, you can:
Quickly identify key metrics and predict outcomes for a competitive edge.
Seamlessly blend geospatial context into your BI initiatives for deeper insights.
Overcome barriers to BI and analytics adoption for a data-driven future.
Stay ahead of the curve with SAS Business Intelligence and make smarter, faster, and simpler decisions.
Oracle Business Intelligence (BI) is an all-inclusive suite of tools and applications designed to provide a holistic, end-to-end Enterprise Performance Management System. It offers a robust set of features, including:
An integrated array of tools: Query, reporting, analysis, alerting, mobile analytics, data integration and management, and desktop integration, all in one platform.
High scalability: The BI server optimizes concurrency and parallelism, making BI applications accessible to a wide audience.
Centralized data access: The platform provides a sophisticated calculation and aggregation infrastructure for delivering valuable insights across the enterprise.
Components: Oracle BI boasts components like BI Answers, BI Interactive Dashboards, BI Delivers, BI Publisher, Real-Time Decision Server, Scorecard and Strategy Management, and Data Visualization.
Oracle BI helps organizations unlock their full potential by offering various benefits:
Empowering business users with self-sufficient, intuitive, and interactive access to information.
Streamlining report creation and distribution, with pixel-perfect reports available in multiple formats.
Enhancing operational efficiency through automation and seamless integration with other systems.
Enabling real-time decision-making and monitoring of business activities.
Oracle BI is a powerful toolset that facilitates effective data management, analytics, and enterprise decision-making.

Domo Business Cloud® is a game-changer in business intelligence, offering a low-code data app platform that elevates BI capabilities to new heights. It seamlessly integrates, combines, and transforms data, enabling confident decision-making across your organization. Here's how Domo can help your business:
Data Apps: Equip your team with data-driven applications to tackle business problems and streamline workflows.
Data Integration: Effortlessly connect data from multiple sources, breaking down silos and revealing actionable insights.
Interactive Dashboards: Move beyond static visuals with real-time, customizable dashboards that tell compelling data stories.
Domo's Key Benefits:
Provides remarkable ROI with a risk-adjusted Return on Investment of 345% over three years for reporting and dashboards and 455% over three years for data apps.
Gains recognition from top industry analysts and thought leaders, including Forrester, Gartner, and Dresner Advisory Services.
Trusted by business leaders worldwide who continually discover new ways to empower their teams with data.
Domo's user-friendly interface and extensive features have garnered rave reviews, helping companies save time, simplify reporting, and uncover hidden insights. Businesses looking to maximize their data's potential should use Domo Business Cloud®.

IBM Cognos Analytics with Watson is a game-changing business intelligence (BI) tool that empowers organizations to make confident, data-driven decisions. This powerful software harnesses the prowess of Watson's AI capabilities to deliver:
Clean and connected business data: Simplify data integration, streamline data prep, and enhance data blending with AI-driven automation.
Stunning data visualizations: Create eye-catching, interactive dashboards and reports that make it easy to comprehend complex data.
Accurate predictions and business insights: Utilize advanced analytics to predict outcomes, uncover hidden insights, and anticipate future trends.
Cognos Analytics with Watson's features include:
Accelerated data prep with AI: Speed up and improve data blending and table optimization with built-in AI.
Automated data exploration: Efficiently find patterns, trends, and relationships in your data.
Enhanced visualization and business reporting: Craft interactive, visually appealing dashboards and reports.
Scalability and integration: Seamlessly scale your BI operations and integrate Cognos with other data and analytics services.
Robust data protection: Ensure your data's security with IBM's cutting-edge data protection measures.
With IBM Cognos Analytics with Watson, you can trust that you're working with a top-rated solution backed by G2 and TrustRadius awards. Cognos Analytics with Watson accelerates data journeys and unlocks business value.

Tableau is the world's leading analytics platform, empowering businesses to harness the power of their data and make informed decisions. With its ease of use, unrivaled community, and integrated platform, Tableau enables users to transform complex data into actionable insights. Here's how Tableau stands out:
Analytics for everyone: Tableau's user-friendly interface allows anyone to visualize and understand business data, regardless of their technical expertise.
Integrated platform: Connect seamlessly to various data sources and enjoy a smooth data analysis experience.
Unrivaled community: With over a million members, the Tableau Community provides resources, support, and inspiration.
The top features of Tableau include the following:
Customizable dashboards
Intuitive drag-and-drop interface
Wide range of data visualization options
AI-driven analytics and predictions with Salesforce CRM integration
Strong customer success stories from global brands like Charles Schwab, Dubai Airports, Whole Foods, and Verizon
In a nutshell, Tableau enables businesses to make data-driven decisions by providing a powerful, versatile, and user-friendly analytics platform. Start your journey to success with Tableau today! ?

Dive into the world of Infor Birst, a cutting-edge business intelligence software that democratizes analytics with artificial intelligence. This powerhouse tool makes data-driven decision-making a breeze, with pre-built industry and role-specific content seamlessly embedded wherever you need it most. With Infor Birst, you can expect:
Advanced analytics for industry and role-specific insights
A modern data architecture for a flexible, business-centric approach
Automated data integration with AI-powered automation
Networked BI to support both centralized and decentralized teams
An adaptive user experience for all styles of business analytics
Infor Birst is your go-to solution for unlocking the full potential of BI tools. It's like having an analytics ace, enabling better outcomes. Infor Birst delivers business insights from the boardroom to the shop floor for informed decision-making.

Pentaho, a powerful business intelligence software, offers enterprises an end-to-end data integration and analytics platform. Lumada Data Integration and Analytics, powered by Pentaho, provides a comprehensive solution to prepare, build, deploy, and analyze all your data. Key features of Pentaho include:
Codeless pipeline development
Enterprise-scale load balancing & scheduling
Streaming data support
Easy Kettle to Spark execution
Expanded library of connectors
Data science toolkit
Professional services packages
Pentaho is available in Community and Enterprise editions, each with different features and support options. The Enterprise Edition provides 24/7 support and regular updates, while the Community Edition offers a more limited, open-source alternative for experimentation.
With Pentaho, businesses can accelerate data transformation and gain hands-on experience with enterprise-class data integration and analytics software. The platform caters to various use cases, including big data scaling, multi-cloud migration, and integration with applications and services. It enables users to make data-driven decisions, modernize data operations, and drive business growth.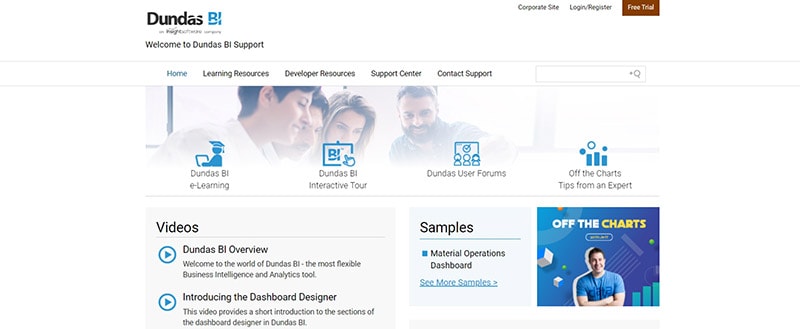 Dundas BI offers a cutting-edge software solution that simplifies the data analytics process for businesses. With its fully customizable, low-code dashboards and data visualizations, Dundas BI enables organizations to harness the power of their business data like never before. By using Dundas BI, companies can avoid the common challenges associated with rigid analytics, high development costs, and insecure data sources.
Dundas BI advantages:
Customizable dashboards: Transform data into actionable insights with ease, thanks to Dundas BI's Logi Composer, which allows seamless integration of visualizations into existing applications.
Enhanced user experience: Cater to varying levels of data literacy by providing a tailored analytics experience that drives adoption and engagement.
Efficient development: Save time and money by streamlining the dashboard creation process while maintaining control over the end-user experience.
Security and connectivity: Dundas BI offers a secure framework that connects to a wide range of data sources, ensuring seamless data access and protection.
Dundas BI is trusted by major industry players such as IBM and MasterControl, making it the go-to solution for businesses seeking to elevate their data analytics game. So, unlock your organization's full potential with Dundas BI today!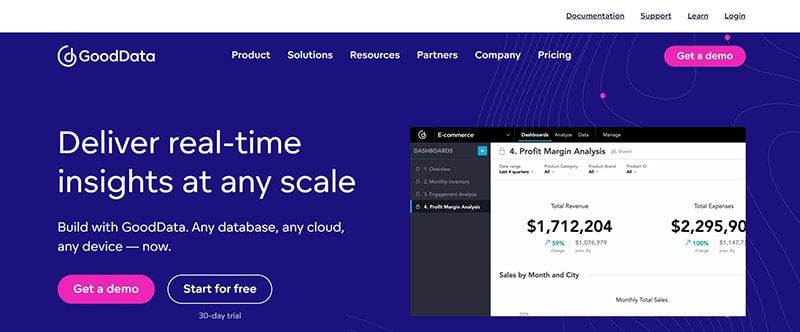 GoodData is a powerful Business Intelligence (BI) software that helps businesses unlock the potential of their data, providing real-time insights for better decision-making. Here's what makes GoodData stand out:
Flexible architecture: GoodData's platform allows you to deploy in any cloud and query any database in real time, making it highly adaptable to your unique needs.
Scalable analytics: Offer interactive visualizations for end users and provide APIs to developers, ensuring seamless integration across the board.
Open integration: Embed analytics into all applications, data tools, and workflows to enhance your existing processes.
Industry solutions: Custom analytics solutions are built to support your enterprise's goals, delivered by either your teams or GoodData's professional services experts.
Customers rave about GoodData's impact on their businesses, such as better understanding and meeting consumer needs (Visa), enriching partners with actionable data (Zalando), and illuminating key metrics for customers (CompareNetworks). GoodData's user-friendly interface, flexible architecture, and comprehensive analytics capabilities make it a top choice for organizations looking to boost their BI capabilities.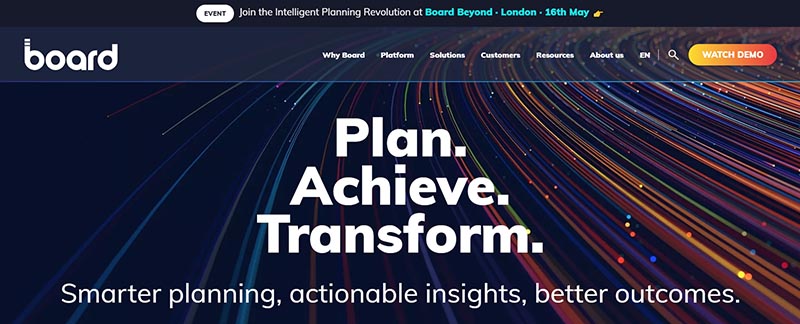 Introducing Board, the ultimate game-changer in the world of business intelligence software. Say goodbye to complex, disjointed planning approaches and hello to a comprehensive platform that empowers smarter planning, actionable insights, and better outcomes. Board is your one-stop shop for seamless financial planning and business data analysis.
Key features that set Board apart:
Efficiency: Ranked highest for Efficiency Use Case in the 2022 Gartner® Critical Capabilities for Financial Planning Software.
Trusted by leading enterprises: Over 2,000 companies across various industries, including Coca-Cola, Toyota, and H&M, rely on Board for its exceptional capabilities.
Intelligent planning: Replace tedious spreadsheets with Board's Intelligent Planning Platform and gain complete control over your data.
Board's remarkable benefits:
Consolidate data from multiple sources for easy analysis.
Enhance decision-making with powerful scenario analysis and collaborative working capabilities.
Facilitate efficient financial forecasting and budgeting processes.
Drive digital finance transformation and integrated financial planning.
Don't miss out on the opportunity to transform your business with Board, the intelligent planning solution for Finance, Supply Chain, and Retail.
Bottom Line
As we wrap up our deep dive into the "TOP 19 Best BI Tools (Business Intelligence Software) in 2023," it's clear that selecting the ideal solution is no small feat. From free trials to pricey subscriptions, a myriad of options spans the market. However, with our expert guidance, you'll be able to chart a course through this maze of choices and pinpoint the software that best aligns with your needs.
Bear in mind that a customized approach is vital for success. Whether you're a small business or a large corporation, selecting a tool that caters to your unique requirements is crucial – from live data analytics to industry-specific functionality. By capitalizing on a top-rated BI tool, you'll empower your employees to derive actionable insights, streamline decision-making, and stay ahead of the curve.
Don't hesitate – to leverage Plerdy's expertise to find the perfect business intelligence software! We've meticulously examined a vast array of products, incorporating ratings from Capterra, G2 Crowd, and SelectHub, to compile a comprehensive list for your convenience. So, why wait? Visit Plerdy today and explore the world of business intelligence software at your fingertips. Let's revolutionize the way you harness the power of data analytics together!