Modern marketing relies on many channels that require continuous management and updates. When unordered, it takes a lot of time and involves many routine operations like doing research for each topic and publication.
Would you like to make content campaigns more efficient? We recommend simplifying them with content calendar templates. By creating a table with all critical information for every social media you use, you will have everything in one place. As a result, your team members, including marketers, SEO specialists, and writers, will share access to the same document for better-coordinated work. It will also provide you with a big picture of your content roadmap.
This page explains what to include in content calendar templates and provides samples to use.
5 Tips to Create the Content Calendar Template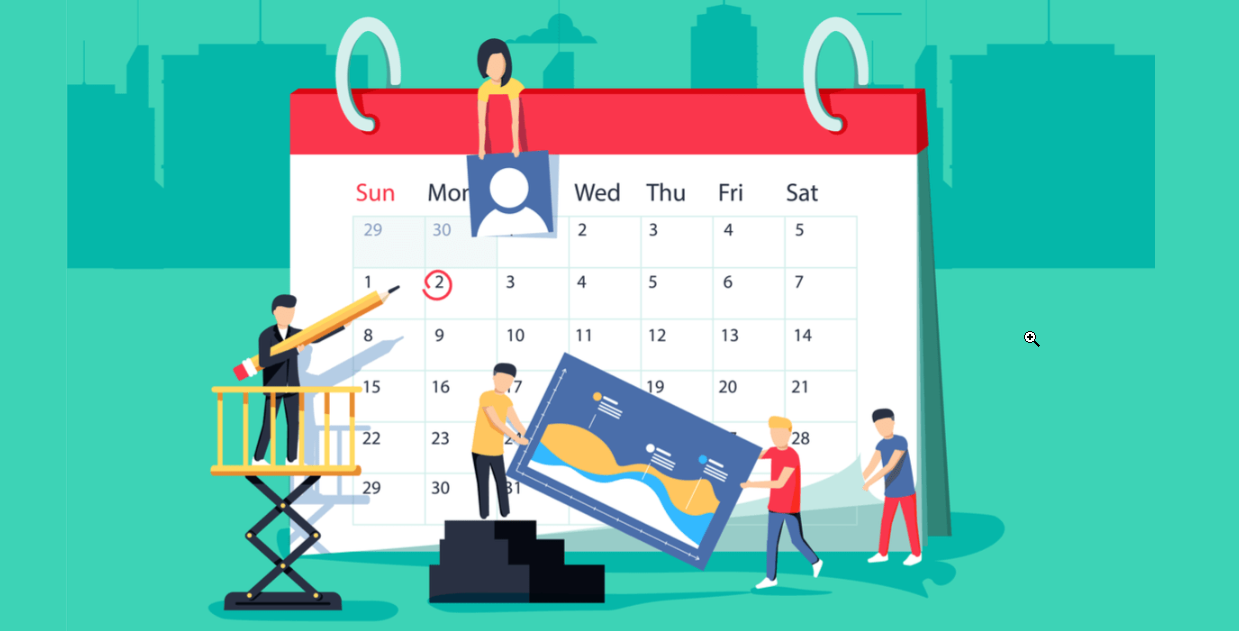 These universal recommendations should help you create a clear and convenient document for content planning. Here are the main points to consider:
Define strategic goals.
Your efforts and every dollar invested must pay off. Hence, you must know what you want to achieve with posts (e.g., increased customer engagement, more subscribers, reposts, etc.)
Select channels.
Narrow down the list of channels you want to focus on. You will have to research the target audience for this and see where they spend the most time.
Use easily shareable document formats for the template.
The most popular tool for creating tables many people can access is Google Sheets. You can choose between the owner, editor, commenter, and viewer modes to customize user rights for everyone. They also have a version history tracking should you need to reverse changes.
Decide on the best publishing frequency.
Your marketers and SEO experts must agree on how often you post for maximum benefits. Two to four times per week are considered an optimum choice for most online businesses.
Regularly update the template.
Since you are likely to change something in your marketing strategy as you go, you must remember to update the calendar template accordingly.
Content Calendar for Instagram Template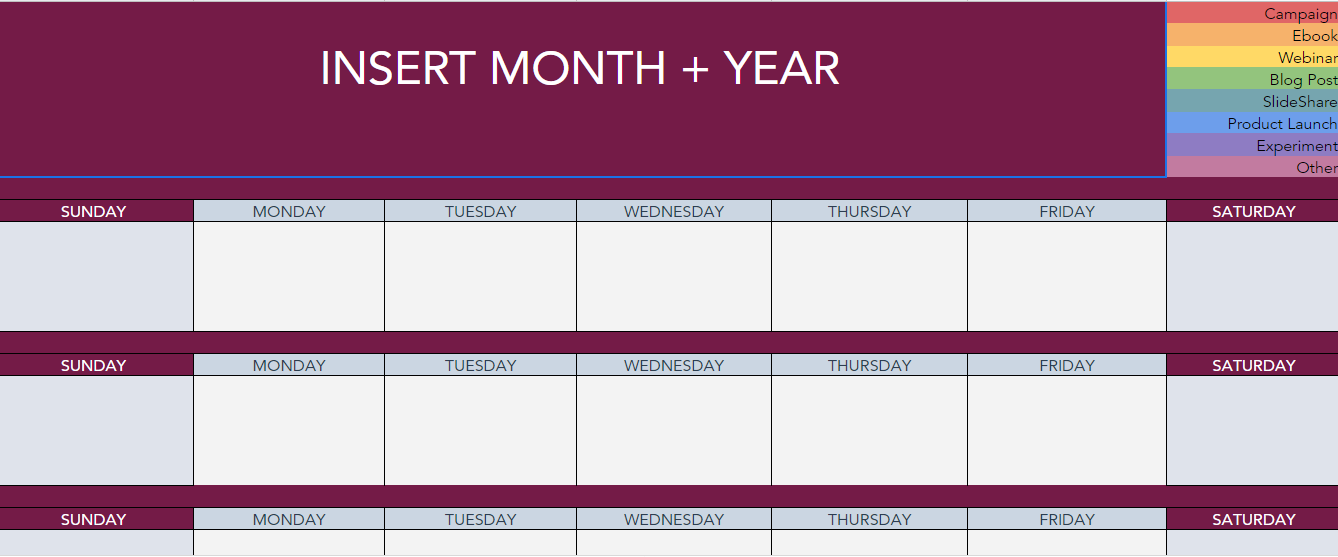 Instagram is one of the core social media modern businesses should use. Even though this resource is preferable for eCommerce, many others, from SaaS tech companies to healthcare providers, use it.
The calendar template for Instagram is pretty simple. It should incorporate the following fields:
Date. Add a publication date and day to follow your plan.
Account. Indicate an Instagram account you plan to post on if you have several accounts.
Visuals. Add an image or photo you'll feature.
Message. Write a call-to-action or other information you will publish.
Link. Add a URL to the content you plan to reference or publish.
Campaign. Indicate which of the advertising campaigns the post belongs to.
Besides the listed fields, you may also mark completion. This way, checking your progress and communicating within the team should be easier.
Get an Instagram Content Calendar Template.
Mind that Instagram campaigns usually involve more frequent publication than other channels. Therefore, you must add regular posts and shoot stories to keep the audience engaged. It's also essential to emphasize visuals and CTAs.
Content Calendar for Blog Template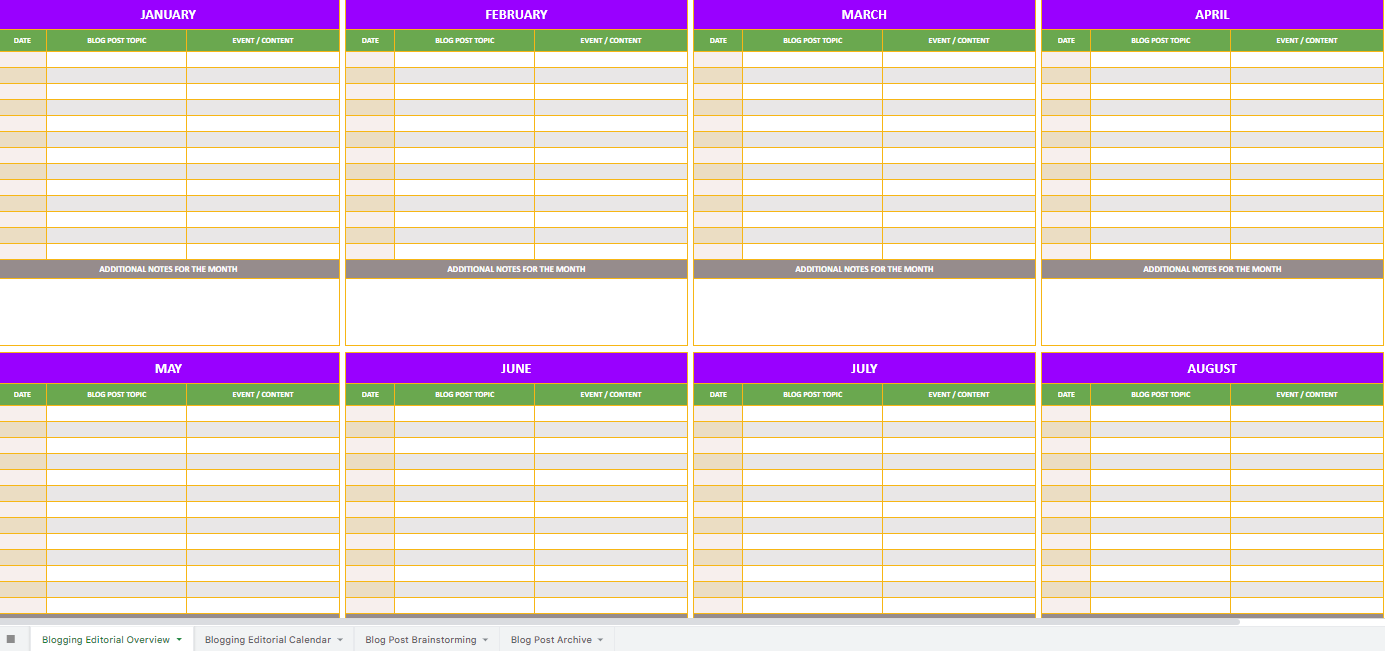 If you have a website, blog articles are the easier way to attract organic traffic and promote your brand on Google. Besides, you can link to these articles from other social media to increase your reach. Therefore, you must plan your blog carefully and synchronize its calendar template with other media.
The calendar template we offer in this article includes:
Date. Enter when the team must publish a specific blog post.
Title. Come up with an approximate header for your upcoming article. When writers work on it, they may change the wording but need to keep the main idea.
Subject. Indicate what topic the blog post belongs to.
Author. Insert the name of the responsible person to distribute assignments.
Status. Indicate whether someone is currently working on the text, editing it, or it's already published.
Call to action. Type one or a few CTAs that can make readers convert.
Category. Indicate the most suitable category for a specific post. Use this column for sites where users can segment content by type.
Comments. Let teammates working on the content strategy leave notes with important information.
Get a Blog Content Calendar Template.
Content Calendar for Facebook Template
The calendar for Facebook is slightly similar to what we offer for Instagram. After all, these apps have a lot in common. The main difference is that Facebook content usually has more text and is less entertaining than what you add to Instagram.
Make sure to have:
Date and time. This is a must-have field in any calendar.
Title. Name future posts.
Content type. Mention what you will publish (e.g., a post, article, etc.)
Status. Enable your peers to indicate the progress of content creation.
Link. Paste a link to the task, completed draft, or published content.
Snippet. Write a summary of what you publish to attract more interest from the target audience.
Image. Add an image that will accompany your Facebook posts to make them more appealing.
Expiration. If the post will be irrelevant after some time, it's worth indicating it in the plan.
Get a Facebook Content Calendar Template.
Conclusion of Content Calendar Templates
Use the templates shared here to create custom calendars for your company. They are easily editable and allow you to add any additional fields you may need. With better planning, your campaigns will become more organized and effective.