To find a good job and become an effective part of a project, you need to demonstrate professional knowledge and skills. But equally important is the ability to present yourself without assistance.
A digital marketing resume is not formalized. It is compiled in a free mode, but it affects the success of the job search and the attitude of potential employers. Next, we'll go over the rules for a successful resume and provide some helpful tips based on experience.
A resume is the sum of all the skills a digital marketer has proudly developed over time. It includes a complete list of important achievements, knowledge, and skills – they allow an employer to assess the level of a marketer fairly. After receiving the document, the potential employer has the basis for the interview. Therefore, special attention should be paid to:
Conciseness – while studying the resume of a potential employee, an HR specialist must be able to quickly navigate its content. This is best done by dividing the material into separate blocks. In addition, we recommend avoiding graphics and fancy formatting – they make it difficult to read.
Numbers easily replace numerical information – many word forms and constructions. They are also more revealing – especially when it comes to achieving specific results.
Thus, a digital marketer shows in their resume all the data necessary for hiring. But remember: never embellish your accomplishments or give false information. A lie can be revealed on the very first day of work.
What are the types of Digital Marketing resumes?
The correct presentation of a digital marketing professional's resume includes certain points that cannot be ignored. Based on the level of competence, CVs of digital marketers also differ.
For example, when describing a newcomer without enough seniority, you should use a specific layout that focuses on existing skills and the quality of education – leave the lack of work experience in the background. So the applicant demonstrates academic preparedness for solving any problems.
In the case of qualified professionals, it is better to write a resume in the form of a chronologically separated story. It allows you to display all of your existing experiences, confirmed by real projects and management reviews.
Junior Digital Marketing Resume
The approximate structure on which a beginner's resume is built is not very different from higher-level specialists. This is because it includes the same set of underlying data. The key points will be as follows:
Education – Usually a resume is drawn up immediately after the end of the educational process in order to find the first job. Indicate educational institution, specialty, awards, and additional courses.
Skills – Since beginners have little or no experience, focus on the knowledge gained. The list is often standard: communication, data optimization for common search robots, content creation and automation, CMS, and much more.
University papers – A digital marketer's resume may include completed studies, thesis topics, and other research findings.
Do not miss important information, including personal data and interests in the professional field – such a list makes it possible to fully assess a potential employee.
✅ Example:

Bachelor in Digital Marketing and Mass Promotion.

Coursework: Aspects of corporate development in the plane of customer focus.

Skills: Conversion rate optimization, CMS management, time management, and setting up advertising campaigns.
Mid-level Digital Marketing Resume
A mid-level specialist has little experience behind them (starting from a year) and knows how to cooperate with a team to solve stream-generated tasks. The features of their resume are as follows:
Experience – Be sure to describe where, how much, and how you worked in previous projects by referring to the recommendations of managers or other persons. Also, provide examples of the work performed.
Qualifications – Add to your description all of the skills and abilities that you gained from work experience. Be sure to check the certificates.
Also, be sure to mention education and personal qualities but do so in a briefer manner than in a beginner's resume – this is not as important for you.
✅ Example:

1 year and 4 months worked at Tred & Red Digital Inc. for the position of an Internet marketer.

He was educated at the University of Berkeley. During his studies, he implemented several personal online projects.

During his work, he improved his qualifications at masterclasses and other courses, having received three professional certificates.
He introduced new SEO tools into the work process, which improved the promotion rates by 40%.
Senior Digital Marketing Resume
This is the highest step that can be indicated in the text describing the merits of the applicant. It is usually assumed that the person will be in a management position, such as a department head. The key points requiring guidance are as follows:
Experience – Indicate what you have achieved at the previous place of work, with a detailed description of the tasks and examples of successful results.
Plans – Be sure to explain your prospects for a new place of work, reflect on your team management skills and methods for optimizing team activities.
Goals – Create a resume with personal goals. For example, to bring a unique project to the market and achieve the industry's best indicators. Motivate the decision to hire you.
The CV of an advanced digital marketer should be supplemented with as much information as possible. Therefore, there are no unnecessary details included.
✅ Example:

He graduated from the Graduate State University of Information Technology of New York with a degree in Applied Marketing.

He worked for Engel Co. from 2012 to 2015 as a novice marketer. From 2015 to 2020, he served as a Digital Marketing Specialist at Lowell Industries.
Goals:
Implement a proprietary CRM.
Optimize SEO with a minimum 20% increase in conversions.
Increase traffic by 50% of the existing values.
He has a certificate for completing the training course in human resource management and recommendations from previous jobs (attached to the resume).
Example Digital Marketing Resume from Plerdy
To get your resume right, check out our examples. First, we analyzed a digital marketer's resume, which consists of the following blocks: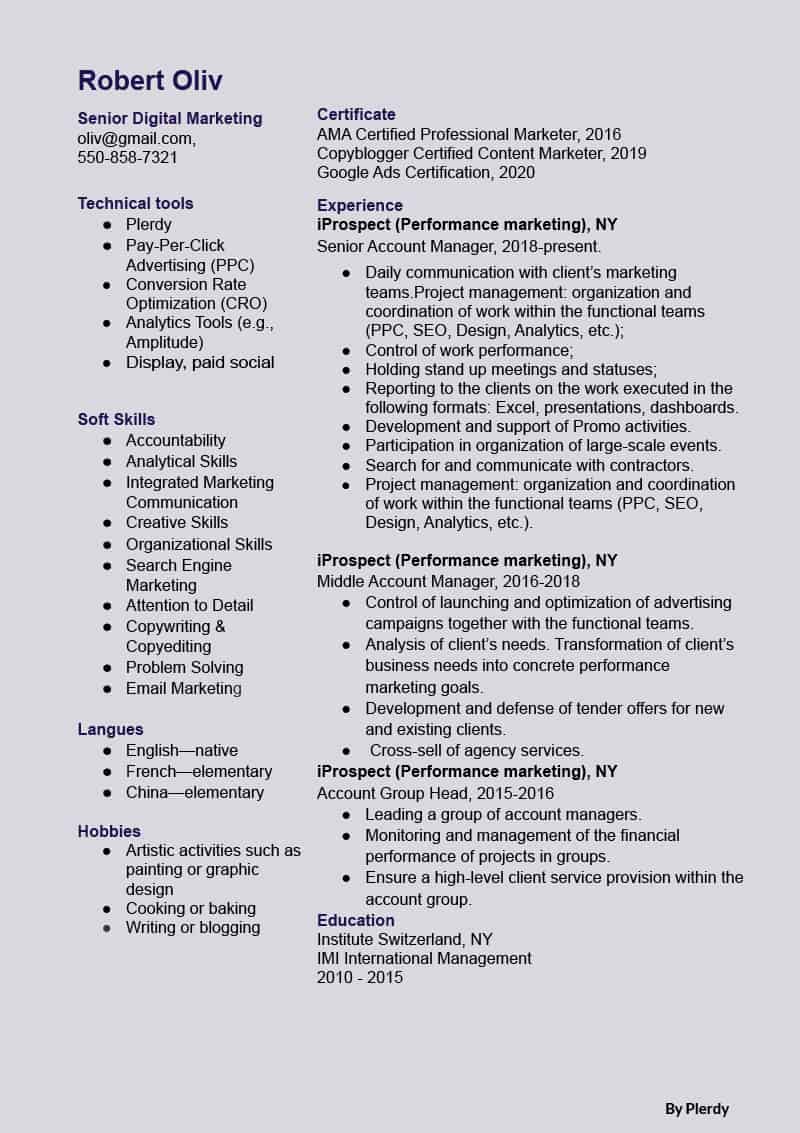 Personal Data – At the top of the resume, indicate in a separate block your name and surname, the name of the profession or the selected vacancy, as well as your email and phone number.
Technical Tools – List all the tools and systems in which you've worked. If possible, detail the information, such as indicating the CMS or analytical service used.
Skills – This block indicates a complete list of the most quoted skills needed in the work environment. This can be analytical ability or good organizational skills.
Languages ​​- They will come in handy for communicating with clients and colleagues. Along with the name of the language, you should indicate your current level of proficiency.
Hobbies – To create a complete portrait of a future employee, hobbies must be included. But choose carefully – some may not work in your favor.
Certificates – In a professional environment it is impossible to rise without advanced training and gaining new knowledge. This is demonstrated through completion documents with the indicated companies and the years of registration.
Experience – In separate blocks, describe previous companies, years of work with them, and positions held. Briefly state the results achieved.
Education – List all institutions, specialties, and years of education.
By analyzing this set of information, the employer's representative will be able to objectively assess the applicant and make an informed decision.
The Best Vacancies for Digital Marketing
There are always dozens of digital marketer jobs available on the job market that have different needs for job placement. Often, employers want someone to advise global promotion teams, maintain a culture of networked safety, and engage in new programs and initiatives, as well as lead an SEO strategy for website development.
Vacancies differ not only in requests to applicants, but also in the level of salaries. We analyzed the market and identified five vacancies:
Disney Media & Entertainment Distribution – Burbank, California, a Project Digital Marketing specialist receives $47,000-$90,000 US dollars a year depending on experience and skills.
VMware has a Starter Job Opening in Palo Alto with a fee range of $66,000 to $153,000.
Nike – Jobs in Beaverton, Orlando, offer up to $91,000.
HP is a technology brand offering a specialist position in Fontaine Valley, California, starting at $51,000.
Tiffany & Co – A Creative Specialist is required in New York and will earn $42,000-$78,000.
At the same time, the market offers about 100 vacancies in different states across the United States. This means that even beginners won't have problems finding a job and a decent level of pay.
Conclusion
When composing a high-quality resume that presents the merits of a marketer, list the achievements, skills, and knowledge you have at the moment. If you have experience, explain it in detail and include any successful results – it will not be superfluous to have a recommendation from a company representative.
A well-written resume increases your chances of getting a good job offer with a high salary. Use our examples and recommendations based on many years of experience – a positive experience with an HR manager or company director is guaranteed.