Modern business is always interested in qualified marketing managers. Soon for ten years (forecast for 2021-2031), the demand for specialists will grow, and marketing areas will develop.
Competition among professionals is fierce – marketing managers should take this into account when writing resumes. The resume should emphasize the benefits of cooperation that the employer will receive. The marketing manager needs to showcase his strengths. Proper self-presentation in your resume is very important – information about your achievements should be at the very top of the document.
For a marketing manager, the fundamental skills are:
Analytic addiction.
Striving to study current trends and tools.
Creative planning.
Management skills.
A marketing specialist should easily acquaint the target audience with the product, build communication with customers and promote the brand on the market. Leadership skills, managing a team of marketing specialists, and taking responsibility will open up career prospects. These abilities and personal qualities are essential to reflect on the resume of a marketing manager. Point out your competencies and stand out from the competition.
What are the types of Marketing Manager Resume?
A marketing manager needs to be proficient in up-to-date marketing tools, knowledge of SEO and SMM principles, and the ability to analyze large amounts of data.
A marketer's job search can be perceived as presenting himself as a valuable, exclusive tool for the employer. Determine which brand representatives are potentially interested in such a specialist? What can you suggest for the development of the company? Depending on your professional level – Junior, Middle, or Senior – the construction of a resume will differ.
Start your story about yourself by describing your strengths – a meaningful self-presentation headline will make the HR specialist want to study the marketing manager's resume in more detail. Everything is important in a resume: chronology of information presentation, correct text formatting, and an attractive structure. It is best to sort the data according to the importance – from strong arguments to less significant ones.
Junior Marketing Manager Resume
A beginner needs to focus on good education and striving for new knowledge, diligence, ease of learning, skill, and willingness to work in a team. Be sure to share your (albeit modest) experience with:
Search engines.
Social media.
Do you have your project? It will indicate your qualifications: if you run a blog or website, include a link to it in your resume. Examples like these can make a good portfolio for you, even if you're a newbie candidate.
Use professional resume templates to help you write and present the information correctly. This will make sure you remember to include any important facts that might influence your decision to hire a Junior Rank Marketing Manager.
Mid-level Marketing Manager Resume
The mid-level specialist is already experienced enough to work independently. But he must be open to new knowledge, strive to build a career, and grow as a professional.
In your resume, tell us about your experience using real numbers from a successful project.
Show growth in website traffic or sales as a percentage.
List the budget for the promotion you worked with.
Share your marketing tool choices.
Justify and comment on your actions. This will show that you have a responsible approach to your marketing strategy and have enough knowledge as a marketing manager to implement certain technologies, depending on the employer's expectations.
Senior Marketing Manager Resume
It's no secret – the main attraction of an advanced manager in marketing is experience. The resume of a Senior Marketing Manager should focus on your most difficult and interesting tasks, as well as their solutions. Working for market leaders in your segment will also emphasize the demand for a specialist – so focus on strong employers with whom you have worked. Stock up on letters of recommendation in advance – this method has been proven to be successful.
A Senior Marketing Manager is often experienced in managing large advertising budgets. Such specialists are characterized by the ability to manage a marketing team, so tell us about this side of their professional activities.
And, of course, in any specialist the employer values ​​personal qualities:
Ability to learn.
Openness to dialogue.
Ability to work as part of a team.
Taking responsibility for the decisions you make.
Be sure to include the best personality traits on your resume.
Example Marketing Manager Resume from Plerdy
HR experts from Plerdy suggest that you familiarize yourself with an example of a well-formed resume for a marketing manager. Both experienced and budding marketers can use this example.
The resume is structured to highlight powerful arguments for collaboration. And it is better to place minor and insignificant ones at the bottom of the text so as not to distract the HR manager's attention from important information. At the same time, the resume includes personal qualities, hobbies, and language skills, emphasizing the candidate's human qualities and ability to work as a team.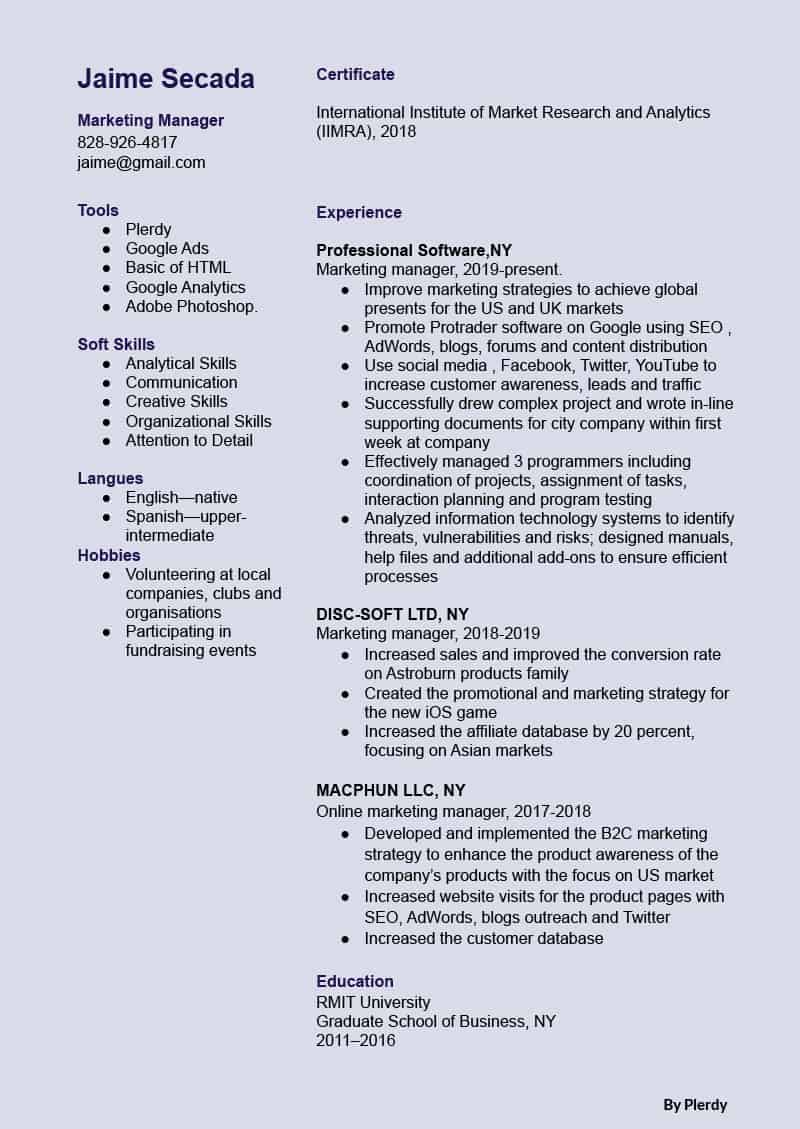 In the top section of the resume, we see the candidate's contact information. If the HR specialist has additional questions, they do not have to look for a number. The certificate of mastering additional skills is a competitive advantage for the applicant; therefore, the candidate focuses on it. The resume is well-structured – even a glance will reveal the applicant's strengths and motivate the HR specialist to read the document to the end.
In the job seeker's tools section, you can see a significant set of programs for solving marketing problems. These are applications for data analytics, imaging, ad setup services, and more. Such a specialist will be able to solve various problems without the need to delegate certain responsibilities.
Among his personal qualities, the applicant includes his analytical skills and creativity, attention to detail and communication skills. These are all skills that a professional Marketing Manager should possess.
In the section on previous experience, the candidate only reports about the companies he worked with. Here he also includes his job responsibilities, as well as the tools that were used to solve problems.
As a final point, the applicant indicates the level of his education. Although having a bachelor's degree or higher is almost a prerequisite for a marketing manager, most candidates will have a degree. So place less emphasis on your degree by adding this information after the practical achievements and skills section.
The best vacancies for Marketing Manager
Companies looking for a marketing manager have different expectations for the level of professionalism of the job seeker. Today it will be easy to find your vacancy in the niche of IT, pharmaceuticals, healthcare, light industry. However, the following are considered uniform requirements from all employers:
Possession of marketing tools.
Education is not lower than a bachelor's degree.
Experience in brand promotion.
There are plenty of open offers on the world labor market – evaluate your strengths and real opportunities.
Clublender offers remote collaboration for a marketing manager with digital marketing campaign skills. The candidate needs to be able to analyze the target audience and develop SEO strategies for website promotion. Advanced organizational skills will also be of benefit to the applicant.
To fill the position of Marketing Manager at Intuit, the applicant must have experience interacting with mobile applications, building a promotion strategy in social networks, and video hosting. In addition, it is vital to understand the setup, management, and testing of advertising campaigns. The employer expects candidates to be inclined towards self-development, developed communication skills, and appropriate education.
Eichleay, Inc. is interested in an experienced marketing manager who can communicate effectively with management and colleagues. A prerequisite is a bachelor's degree in communications and many years of experience in marketing. Candidates also need to have analytical and planning skills.
Google's search for a marketing manager for its projects requires a minimum of five years of experience from the applicant and a relevant bachelor's degree or higher. Employment will also require experience in strategic project management and managerial competence. For the employer, communication skills and the ability to solve non-standard marketing problems are important.
The employer of UF Health Shands Hospital expects applicants to own a suite of Microsoft office applications, skills in interacting with the WordPress CMS, and at least five years of healthcare experience. Another requirement of the employer is education in marketing with a bachelor's degree and above. It is also essential to have a personal car to fill a vacancy.
Depending on their skills and work experience, candidates are offered decent salaries. For example, in the United States, a manager can expect to earn from $40-120k a year.
Conclusion
A professional resume will make the marketing manager's hiring process more successful. Even a candidate can get an attractive position if you have basic skills are willing to develop continuously.
Complete the resume with an understanding of your strengths, indicate additional benefits, provide links to your online profiles. Give as much data as possible from previous experience. But remember: brevity is the sister of talent. The HR manager will assess the correctness of the CV you send.