It can be a real challenge to present a big scope of information in a convenient form that would allow readers to focus on really important things keeping the connection between separate elements and the main idea. On the one hand, we have oceans of data which are constantly generated, on the other – a modern Internet user with weak concentration.
How to get through this chaos to convey an important message to your target audience? There is a solution! Try to create an infographic.
What is an infographic? It's a way to present information visually that is ideal to compile different data into a whole to make them more comprehensible to a final user.
It's a visually appealing mean of communication, which also has a viral effect. The experience of companies actively using infographics shows that these materials are more frequently shared in social media compared to other types of content. Judging by the Google Trends data, during recent years users' interest to this format of information has dramatically increased: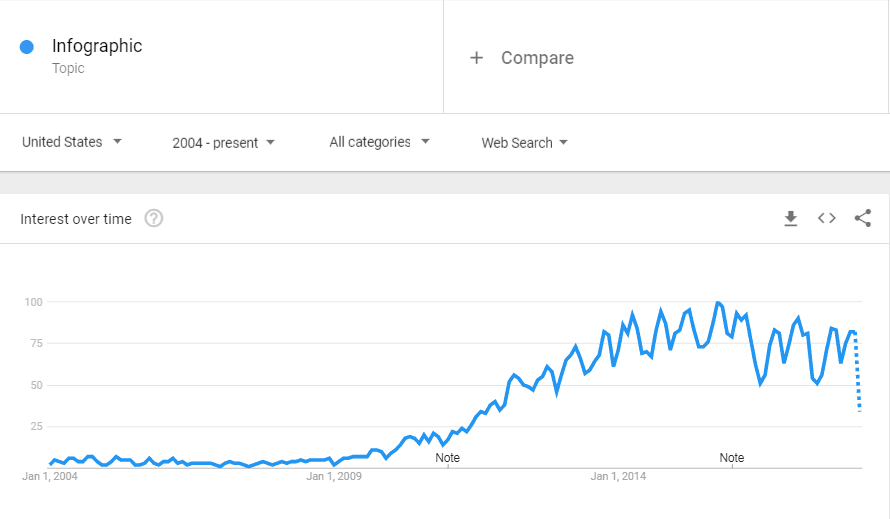 And it's not surprising, as an infographic is an effective way to unify a text, pictures, and elements of design into a whole to present some difficult data in a logical form.
In fact, this technique can be used for any data. You just have to take into account the interests of your potential audience. There is no use in wasting time creating an infographic on fuel consumption of various car models if your website is about healthy eating. Make sure that what you are doing will be really interesting to your readers and customers.
Advantages of Infographics: 5 Reasons to Use It!
Information has always been a powerful tool to attract people's attention. Facts, figures, and an expert analysis have a great power of persuasion. Give your audience an opportunity to learn and see what interests them, and you will get a chance to influence their beliefs and decisions.
Here are 5 reasons why you should consider infographics as a tool for business promotion.
Comprehensibility. People tend to perceive information visually. They love figures, facts, and statistics. Whereas a well-thought-out combination of text, pictures, and other visual elements allows to focus people's attention on the most important things.
Effectiveness. Probably, each of you will agree with the statement that modern Internet users rarely read all content of pages. Visitors of a page try to get the most information for the shortest period of time possible. The structuring of data as a simple infographic is a great way to pack the maximum amount of useful information in a compact form allowing your audience to quickly review it.
A viral potential. This term means that users tend to share certain types of content on their social media pages. Actually, infographics belong to one of them. You can easily share it on Facebook, Twitter, and other social networks.
Brand Awareness. The creation of infographics with the elements of the corporate identity of a company, such as a logo, a website address, and a brand name, is a powerful tool to improve your brand awareness. If you are a newbie in the market, by creating and spreading high-quality infographics you can save a considerable portion of your marketing budget.
A proof of your expertise. The creation of infographics seems to be an easy task until you actually try to do that. Not only do you have to collect a large scope of information in advance, but also process it, exclude unnecessary data, structure everything, and then present the information in an appealing way. This is one of the reasons why many refuse to make an infographic. However, this type of content shows your expertise in a certain field.
If the result of your work will be useful and attractive enough, people will be interested in sharing such content with their friends.
Best Infographic Tools
Appealing, clear, and useful…an infographic inevitably has a lot of advantages. There may be only one obstacle on your way to using it. Namely, if your Adobe Photoshop skills are insufficient, it will be just impossible to create something beautiful and moreover, do this during a reasonable period of time.
Fortunately, this was a global problem, therefore, developers quite quickly created different infographic services that solve it. In this article, we have decided to make the selection of best infographic software, that judging by users' feedback is really good at its task.
One of the most famous infographic tools. After the registration, a user gets a blank canvas and the access to a large library of objects they can combine to get the desired result. You can also choose from 15 ready-made templates and apply any of them just dragging it to the canvas.
In addition to the library of objects, you can upload your own images and adjust the transparency of various elements. Generally, it's a good tool, but developers should work on its further development. For example, expand editing options and add new ready-made templates.
A software for infographics and presentation materials that allows to present even a boring content in an appealing way just in a few clicks. You can choose from 7 templates if you want a free infographic or switch to a paid account ($29) and enjoy 120 themes.
A customizable infographic editor allows to change color schemes and fonts, utilize a library of objects, and upload additional images. Also, you can start working from a blank canvas, create and save your own theme.
Additional editing options are available for almost every element. And though you may need some time to get used to a user interface, the creators of Pictochart promise that after that you will be able to make really great things.
This service is mainly used to create diagrams, but it also has enough tools to work with infographics. It's worth noting that here you will find over 30 types of diagrams and can save the results of your work in a PNG or PDF format (for paid accounts).
After you register and sign in for the first time, you can choose one of 10 simple infographic templates. They are ready-made and appealing. Unfortunately, in this infographic creation service, you cannot start working from a blank canvas. Once you choose a template you can easily edit any of its elements. Another peculiarity of Infogr.am is the opportunity to insert videos from popular YouTube or Vimeo video hostings.
This is a service for those who need advanced tools for professional use. It's more complicated compared to its analogs but has better functionality. On the website, you can view many infographic examples created by the users of this service.
In Visual.ly, there are many paid as well as free templates available. In addition, this tool has a feature that distinguishes it from competitors: you can automatically generate infographics based on your Google Analytics data and user accounts on social networks.
Having appeared just two years ago, this Australian start-up has become a real change in the world of web design, providing all users with a chance to create professional content. An infographic is only one of the numerous options available in Canva. In addition, you can create beautiful graphics for social networks, sites, postcards, etc.
Once you complete a registration, you will be offered to view a short video tutorial about a user interface, after which you can enjoy a full-fledged use of the service. The work in this tool is mainly based on ready-made templates that you can modify as you like. There is a large library of images and fonts available and you can upload your own graphics.
An infographic is a great tool that can be used for marketing purposes. Unfortunately, if ordered from a third party, it can be pretty costly. So if you have a limited budget, take a note of these services that will allow you to create a DIY infographic.
10 Tips on How to Create Infographics
Such data presentation tool as infographics can be both appealing and useful, but only if the work is really properly done. Here are 10 main tips which will help you with that.
Decide upon your goals. The first thing you should do before you start the work is setting goals you are going to achieve. For example, spread the word about your brand, educate your customers, or provide entertainment information to keep the existing audience and increase its loyalty.
Focus on your niche. Don't waste time creating an infographic design which isn't directly related to the subject of your business. You can get an appealing result, but most probably your audience won't be interested in it.
Process information. And it's not only important to collect the required amount of data, but also filter out unnecessary information and then organize the rest. In addition, if you have figures, you need to verify their credibility.
Create a story. The format of presentation should resemble a story, a step by step process united with one plot thread. Even pretty boring data can be presented in an exciting way if you organize them as a story. However, this is one of the most complicated tips.
Look for problems and controversial topics. How-to articles are perfectly suitable as a basis for an infographic, as this way you create a short tutorial on solving a certain problem that will be useful to your readers. Controversial topics produce equally great results. Being actively shared in social networks they can attract a lot of traffic to a website.
Focus on promotion. Even a really good content needs additional promotion to be noticed by as broad target audience as possible. And an infographic isn't an exception. The first thing you should do in this case is pay attention to social networks.
Highlight the key points. After the data is processed, filtered and its logical structure is defined, choose the most interesting facts and highlight them in a way so that readers immediately noticed them.
Choose the right graphics. In a good infographic, the illustration of data makes them easily and quickly comprehensible. For example, depending on the type of data used, you can present them with one of the following types of diagrams:
Circle charts. A clear answer to the question in the form of figures or percentages.
Data maps. More data samples.
Linear graphs (or combinations of them). The change of a tendency over time.
Histograms. Graphs of data distribution.
Simplify sharing. Some people who will like the result of your work will want to share it on social networks. The others may wish to send a link to their friends and colleagues. You must ensure that in both cases they can easily do that. For example, you can add "Copy the link" button and after a user clicks it, the link to a document will be immediately copied to a clipboard.
Be inspired by the best. No one can produce a perfect result from the start. But if you find some inspiring examples and try to reach the level of professional designers' works, gradually you can develop your own style that will distinguish you from others.
And some figures…
After you have read this article, you already understand that an infographic can be a great tool to spread the information about your brand and attract the attention of potential customers. And here is a set of interesting statistical data that prove this:
Around 65% of people perceive visual information better than textual.
A content with visual elements and graphics can generate up to 94% more views.
The level of visitors' interaction with an infographic is around 40% higher than with pages that have only text.
People remember more than 80% of the information they see and less than 20% of what they read.
A brain processes visual information approximately 60,000 faster than text.
Infographics can be efficiently utilized as a digital marketing tool. And you definitely have to use this opportunity.