Any reputable organization carefully selects its employees. If you want to work for the best company, just having professional skills is not enough. It is important to be able to present them.
In the modern digital sphere, there is no time for personal meetings. First, candidates for the position of a product manager are selected online. An experienced recruiter can identify the potential of the applicant within in the first moments of studying a resume. Remember, you won't get a second chance to create a first impression :).
For a product manager job seeker, it is important to demonstrate organizational skills, professional skills, initiative, assertiveness and ability to learn quickly.
How to show your expertise to a product manager:
Write informatively about yourself. Don't give the employer unnecessary information.
Make your resume readable. Use a standard font and bulleted lists. Be sure to check your text for grammar and spelling errors.
Don't overuse color. You are not a designer, you are a product manager; so you don't need extra creativity. When reading a resume, everything should be crystal-clear and easy to read.
Write only the truth so as not to get into an awkward situation. Some companies may verify the information. However, no employer will forgive you for lying.
The main thing – do not doubt your abilities, and everything will work out. Thanks to our instruction, you will create a good resume and demonstrate your specialist ability and skills.
What are the types of Product Manager Resumes?
The employer evaluates you based on the requirements for the product manager position for which you are applying. To appeal to the recruiter, tailor your resume for each job. To get started, an HR specialist may conduct a keyword search on your resume. This way, the company will see how well you know and use professional vocabulary.
Words that should be on a product manager's resume:
SWOT analysis.
UX/UI design.
A/B testing.
Beta testing.
Budgets.
CSS.
Cross-functional teams.
Analysis of customer behavior.
Value of the proposal.
Data analytics.
Product life cycle.
Financial analysis.
Predicting the result.
HTML.
Product design.
JavaScript.
Release management.
User research, etc.
Be sure to include in your resume that you are ready to tackle problems and complex tasks. Support this claim with examples from personal experience. Let the recruiter see that you can develop and implement a crisis strategy within a limited time.
It is the result that determines the value of the product manager's work. Demonstrate your commitment and perseverance; following through is important to every company.
Tell us about your technical skills. The more you know, the more your work is worth. Software experience is especially appreciated, such as Jira, Pendo, ProductPlan, Typeform, Gartner, Trello, Visio, Plerdy and many others. In addition, familiarity with programming languages ​​such as CSS, HTML, or JavaScript is important.
Let's take a closer look at examples of resumes for product managers of different levels.
Junior Product Manager Resume
Interestingly, companies have the most requirements for junior product managers, because these people can take leadership positions in the future.
In such a resume, information content and accuracy are essential. Write only about those projects that may interest the company. Demonstrate with examples that you are a promising executive, organizer, and manager. Emphasize the value of your contribution to development.
Feel free to write even about university projects. The more experience you have, the better.
✅ Right:

Increased corporate monthly profits by $ 15,000.
Reduced company expenses for the quarter by 30%.
Raised the rating from 3.2 to 4.8.
❌ Not right:

Minimized company expenses and raised profits.
Made the project more popular.
In the first option, the candidate demonstrates his achievements using numerical values. That is, it uses undeniable arguments. The employer does not want to see a fictional story on the resume. Only specifics.
Mid-level Product Manager Resume
The most important thing for mid-level product managers is to demonstrate their worth. Therefore, the main focus should be on technical skills.
What software are you familiar with? What working methods have you used before? Describe everything. Management needs to know how quickly you absorb new information and how you take criticism. You need to be able to work in a team – mark this quality. In this case, you must make independent decisions and be responsible for them.
✅ Right:

Surveyed 5 million customers.
Increased the number of sales by 48%, thanks to creating an application for IOS and Android.
Reduced advertising costs by 15%.
❌ Not right:

Made advertising cheaper.
Made the project more popular.
How can an employer understand your expertise without facts? Use numbers as arguments. Show how much the company will earn if it hires you.
It is best to attach examples of finished projects to your resume. Remember that the quality of the work determines the result.
Senior Product Manager Resume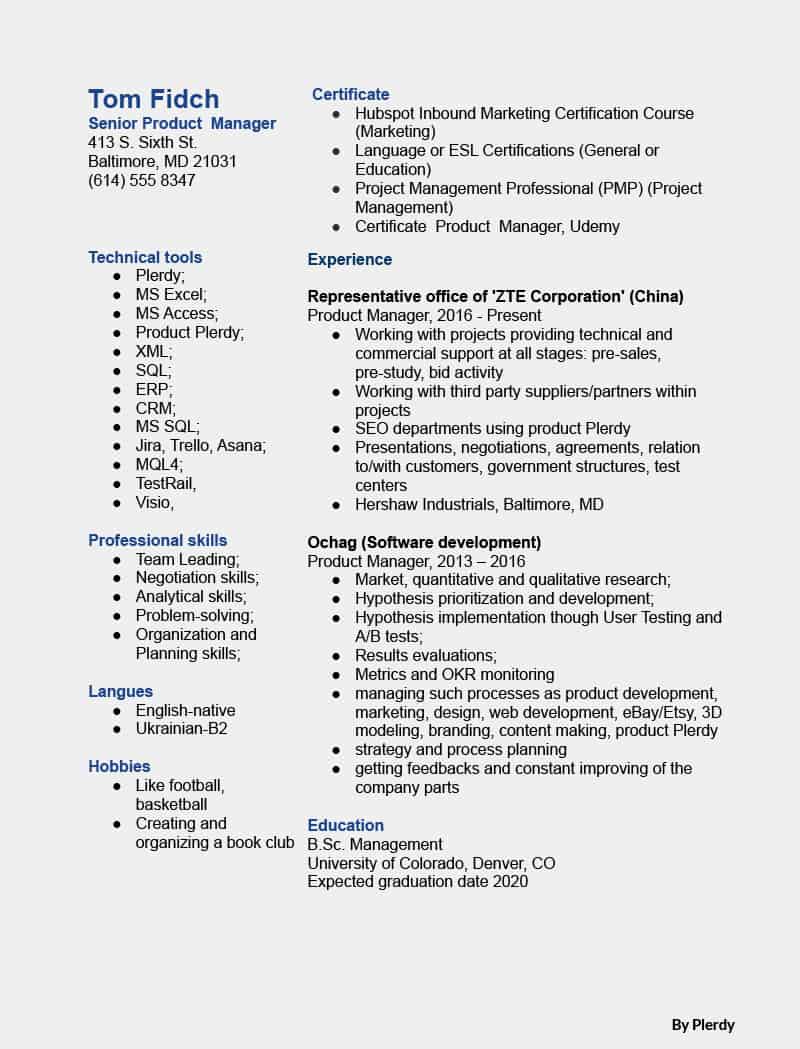 We have provided an example of a Senior Product Manager resume for Plerdy. Senior product managers go through the most demanding selection; you must be both a good boss and a conscientious performer.
Show the company how you can manage people, establish processes and get out of crises. Demonstrate the benefits and potential profits that the company will gain by hiring you.
Be sure to mention your experience in your resume – the level of knowledge is measured by the completed projects. It would be best if you made it clear that you are working exclusively for the result.
Example Product Manager Resume from Plerdy?
Now let's move from theory to practice and consider another example of a product manager resume for Plerdy. What it contains: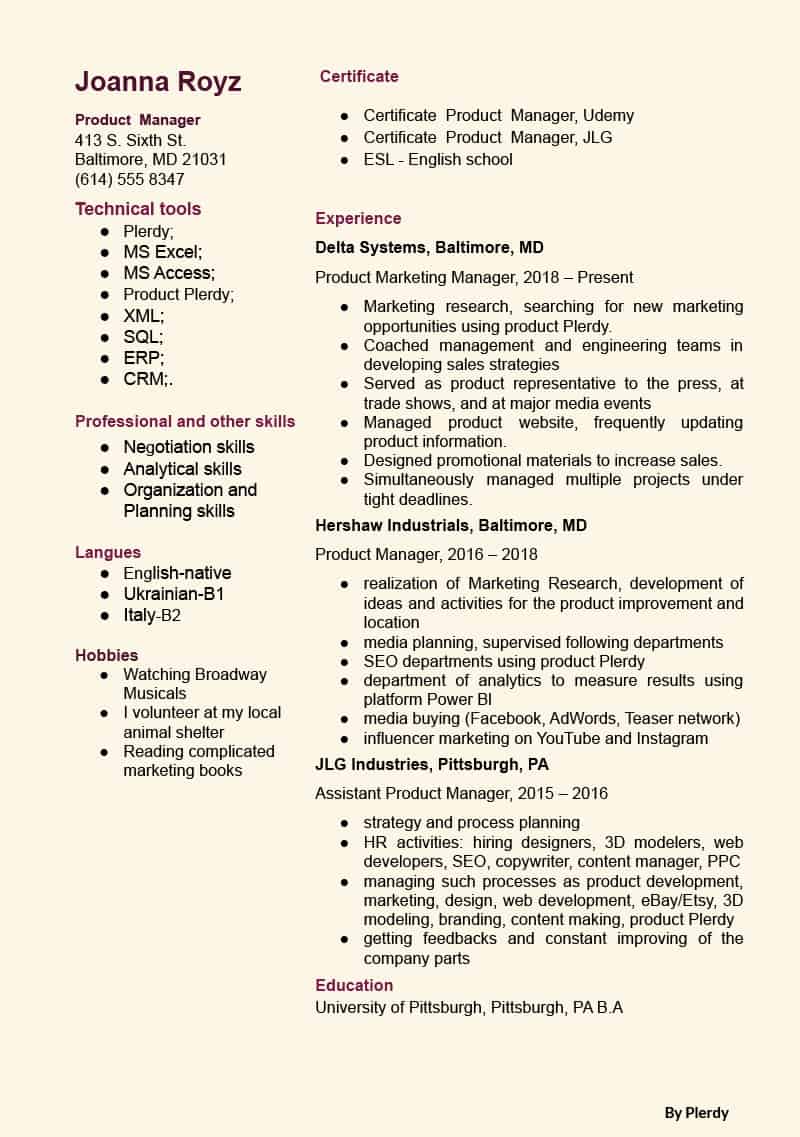 Personal data of the applicant and indication of the desired position.
Technical tools. List of all technical tools that the candidate can work with. It is important to expand the list as much as possible. Feel free to write everything – even what you own at the beginner level.
Professional skills. Qualities that characterize a candidate not as a good person but as a professional.
Langues. The more languages ​​you know, the higher your chances of going international and working for the best companies. English is compulsory for everyone.
Hobbies. Thinking that only your professional qualities are important to the employer is a mistake. What you are passionate about characterizes you as a person. Think about what hobbies you might like? It is best to focus on sports and self-development.
Certificate. Forget about school grades. Enter in this section only diplomas of higher and specialized educational institutions, international certificates. You can also add certificates of professional development to the list.
Experience. Indicate the company you worked for and your position. Describe in detail your assignments in your previous job and the results of your activities.
Education. Where did you get your specialist diploma? An important point, but not paramount.
Select some significant achievements and present them. Think about what might impress the employer. It is best to demonstrate how much profit you can bring and how. Develop a strategy for optimizing the work processes within the company. The corporation must need you! Otherwise, another candidate will be chosen instead of you.
The best vacancies for Product Manager
The requirements of companies for employees vary greatly. A candidate for a product manager position must know the basics of marketing, sort information, and apply it correctly. However, each corporation is unique and independently decides what is the best way for their employees to work.
We analyzed vacancies from Guild, Festen Technology, Google, and other top companies. Here are five must-have requirements for product managers from global corporations:
The ability for cross-functional cooperation and the organization of smooth operation of cross-platform projects. You must communicate with all departments and ensure communication between them. Also, the product manager should check how well the task is completed. If necessary, you should make corrections and send the project for revision. This is why companies require you to improve your knowledge level continuously. Many corporations invite speakers and trainers to train employees.
Ability to read and synthesize technical documentation for internal tools. You should highlight only the most important elements and work exclusively with them. The relevant departments will work on the details.
Deep understanding and empathy for the client. All corporations communicate with their audience. It is the people themselves who can provide ideas for further innovation. The more interested and satisfied your audience is, the higher the profit. Therefore, the companies conduct regular update testing. If the user reaction is positive, then the changes take effect on an ongoing basis.
Maintaining a balance between personal life and work. It is important for the company that you spend time with your friends and family. Experienced professionals know that burnout occurs sooner or later for everyone. Employees should have free time and breaks during the working day. Some corporations build entire recreation complexes for their employees. A tired person simply cannot be productive.
Advance communication of information to stakeholders and creation of detailed documentation. It is a step-by-step plan that will help all of the departments understand their tasks and deadlines clearly.
Finding a good employee is difficult. Companies understand this and, therefore, try to create the best working conditions for their employees.
Conclusion
A properly written resume is the key to success. Remember, first impressions are difficult to correct. The employer should immediately see you as a professional and irreplaceable employee.
Don't be afraid to sound assertive – be confident.
The more skills you have, the more valuable you are – master not only your niche, for example, but also any relevant, associated ones you can.
Knowledge of languages ​​and economics will be a plus.
Our advice is to start small. Junior professionals have the opportunity to learn from highly sought-after professionals. Learn from someone else's experience and analyze your mistakes. There will be no growth without effort.