Quality assurance is necessary to control the efficiency and productivity of the developed sites. In addition, quality assurance allows you to manage website data. From the test results, you will find out how the site meets the quality parameters the needs of consumers and customers. Finally, and most importantly, quality assurance will help you identify flaws.
What is Quality Assurance?
Quality Assurance is a system for determining whether a site meets the stated requirements of a specification or documentation. A quality check identifies errors, improves the workflow and the website itself, and increases the competitiveness and credibility of the company. In addition, quality control assures that requirements will be met. Quality assurance is based on two principles: "fit for purpose" and "right the first time."
Options for usability analysis and site testing:
UX Check. How the user goes along the conversion path, what can interfere with him and what can cause the user to leave the site. Use our tips to improve the situation: https://www.plerdy.com/use-cases/
SEO Check. Checking for the presence of tags necessary for SEO, namely title, description, no-index, no-follow, canonical, h1, h2, h3, and others.
Functionality Check. For example, this will be the work of searching, filters, ordering goods, etc.
It is worth noting that quality assurance and quality control are not the same things. We'll talk more about this later. In the meantime, let's look at why quality assurance is so important when developing and bringing a site to market.
Importance of Quality Assurance
Neither the design of the site nor the concept can smooth out errors in the work or shortcomings in the site's quality. But these are not all the reasons you need to provide quality assurance. We present seven more:
Saving time. Determining requirements checking for QA errors at the start takes much less time than finding and fixing defects after the site is launched on the market or even at the finish line of development. They use recordings of video sessions and Plerdy click maps to do this.
Saving money. Quality assurance is costly initially, but it pays off in the long run. This way, you will avoid losses due to low sales, reputation loss, demand, and bug fixes.
Clients' trust. Getting quality results is a priority for clients. It is in your interest to satisfy their requests – this will bring profit and raise the company's status. And caring about achieving the goals of customers is precisely what they need. So no one will mind if you say that you organize quality assurance.
Improvement of user experience. The slow work of the site page the issuance of erroneous results – in any case, this will lead to user dissatisfaction and refusal to use your site. With quality assurance, you can avoid this.
Quality assurance is the basis of business culture. This is the rule that sets the tone for the business.
Software Quality Assurance
SQA or software quality assurance is a parallel process to development. It is carried out throughout the entire life cycle of the product. SQA ensures software quality following ISO 25010, SPICE, or CMMI standards. To do this, use the tools prescribed in the SRS – software requirements specifications.
Best 6 Quality Assurance Jobs
Several different professionals handle quality assurance. We offer you a selection of top vacancies for positions in this field, and the approximate annual salary is from $70,000 to $90,000.
QA Specialist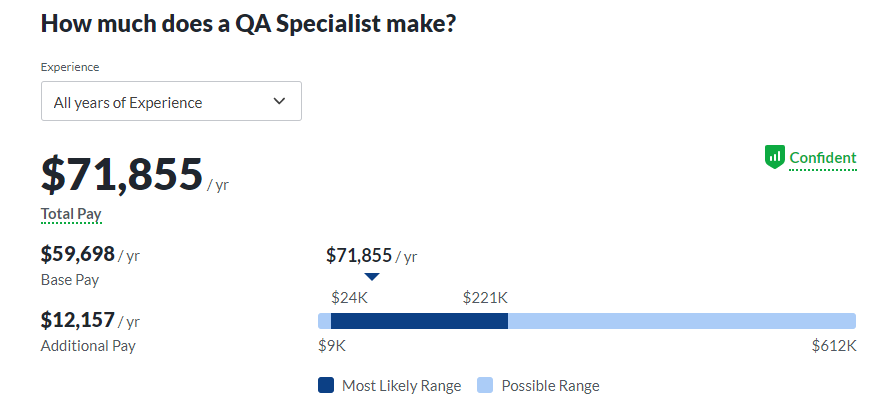 CQL entered the market in 1995. She develops and maintains websites and e-commerce platforms. The company is looking for a specialist who will interact with internal technical and design teams. In his duties:
Responsible for conducting tests before launching the site.
Create plans and test scripts.
Monitor test scores.
Among other requirements – to be engaged in setting up Sandbox / QA.
QA Tester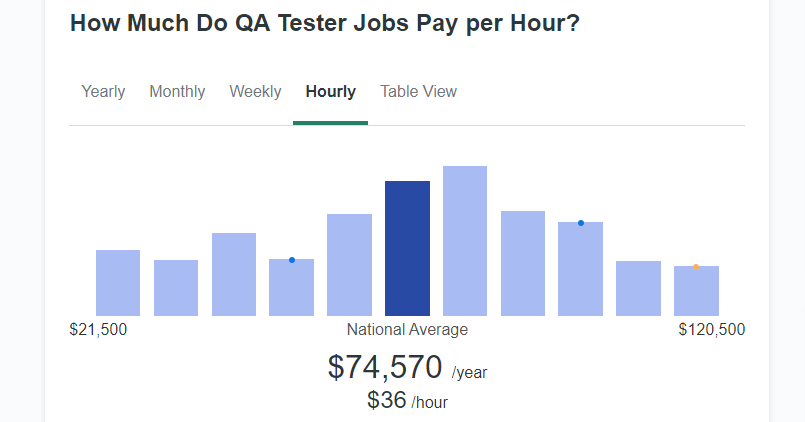 Lockheed Martin specializes in creating innovative technologies in national security and software. The vacancy of the company requires the following skills:
Psychological stability and the ability to solve problems when identifying errors – by default.
Quality Data Entry Clerk

Fresenius Medical Care operates in the field of dialysis medicine. The company's goal is to provide quality care and treatment for people with kidney disease. The job requirements include:
Understanding the work of the laboratory.
Ability to work with professional programs.
Soft skills – organization and strong interpersonal skills.
Junior Quality Assurance Engineer – Remote

Peek is a mobile technology company. She is looking for an employee with at least two years of experience in software testing and operational work. An understanding of quality assurance processes is required. The advantage will be:
Knowledge of Docker, Kubernetes, Jenkins, CI scenarios.
Test automation.
Experience working with startups preferred.
Quality Assurance Manager

SAIC creates defense, space, civil, and intelligence markets in engineering, digital technology, and artificial intelligence. The requirements for the applicant are:
Knowledge of ISO9000 or AS9100.
Ability to collaborate with cross-functional teams.
Desirable skills include engineering and manufacturing development (EMD), low-throughput initial production (LRIP), full-scale production (FRP), and DoD programming experience.
Software QA Engineer

QTC is a subsidiary of Leidos. It works with innovative technologies in national security, engineering, and healthcare. The candidate is required to:
Strong command of SQL.
Knowledge of SDLC and quality assurance methodologies.
Experience in testing multi-tier web applications.
In addition – knowledge in configuration management, knowledge of the configuration of Microsoft Windows Server. Knowledge of automation methods and practice of using Telerik Test Studio is desirable.
Output
The best companies worldwide put quality assurance at all levels into their development plan and budget. And as you can see from the job examples, these companies are doing well in their niche.