What are market surveys for? Some consider them not too important, and it's wrong. They can provide valuable information on the product's strengths and weaknesses and let marketers know how to improve. There are lots of tools that help with surveys. Surveymonkey vs. Qualtrics: what is better for this purpose? Let's find out.
What is Qualtrics?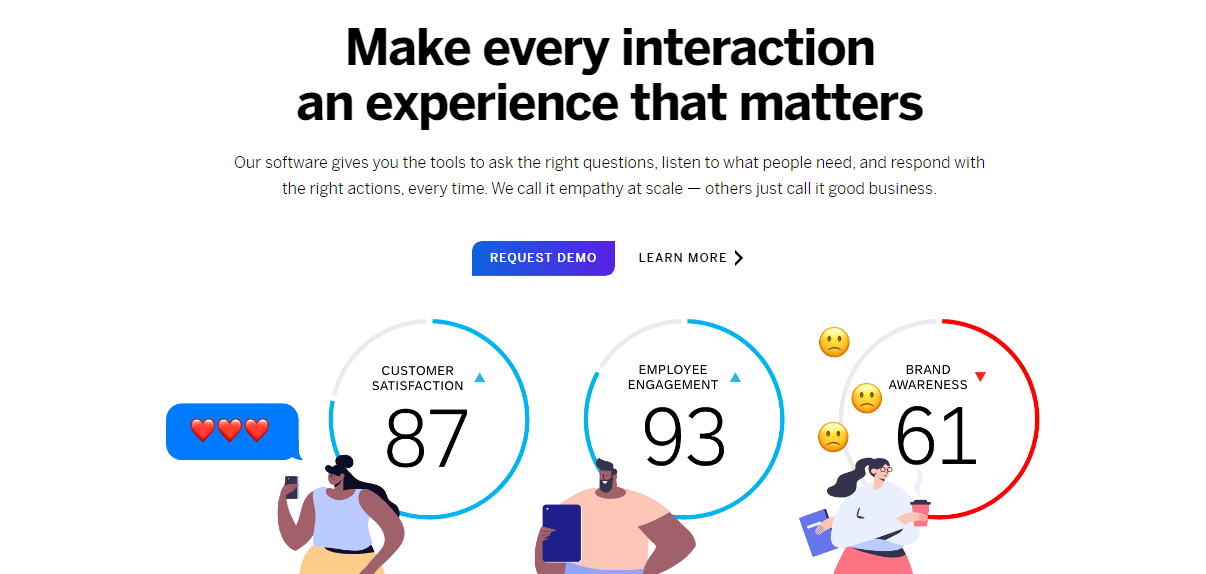 For companies looking for something more detailed and complex than just a tool for compiling surveys, there is Qualtrics. The company provides the most advanced research logic and complex analysis. This software is at a much higher level of analytics – reporting, analysis, and logistics at a completely new level of customization. It will suit even the most demanding companies.
Qualtrics is an online survey solution and a way to conduct research for companies of all sizes. The service is suitable for creating questionnaires and identifying customer satisfaction. In addition, Qualtrics makes it possible to manage employees based on clients' opinions.
Qualtrics comes with a knowledge base, online support, a forum (pretty helpful if you are a beginner), and video tutorials to help you get started easily.
What is SurveyMonkey?
SurveyMonkey offers a huge range of functions for creating and evaluating surveys. Overall, SurveyMonkey is a program for professional use. Nevertheless, the online service is easy to use and requires no programming knowledge.
SurveyMonkey is one of the world's leading solutions for online surveys. It makes it easy to create a survey and send it by email. The tool helps millions of organizations get the information they need to make better decisions.
Compare Qualtrics vs. SurveyMonkey
Qualtrics vs. Surveymonkey: what is better? Let's compare both! It is the best way to choose the right option for your business.
Pricing Qualtrics vs. SurveyMonkey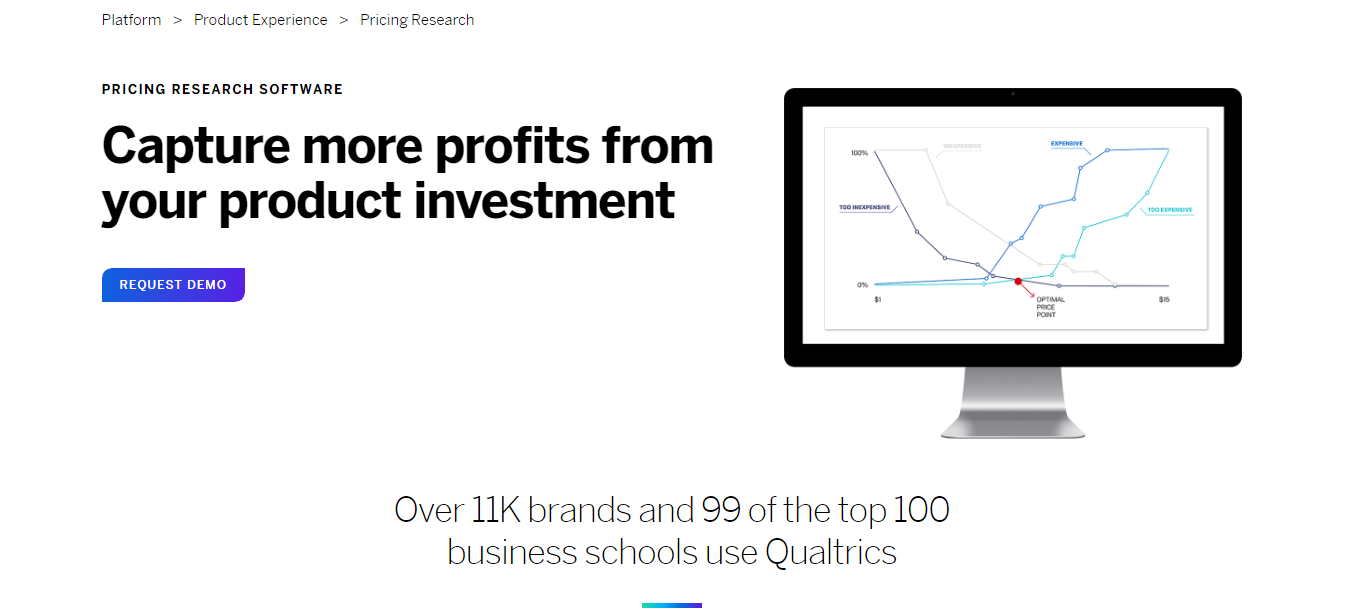 Let's start with SurveyMonkey prices. There are:
As you can see, the prices are not too high, considering the impressive number of features available in each tariff.
What about Qualtrics? First, the good thing is that it has a free plan. Qualtrics pricing works on a subscription-based model that needs annual renewal. Plans start at $1,500 yearly and go up to $5,000 yearly.
The pricing policy may differ depending on the features you will need, how many team members there will be, and the size of your company.
Solution Qualtrics vs. SurveyMonkey
The main features of Qualtrics are as follows:
Here is what SurveyMonkey offers:
Both services are good enough, but SurveyMonkey has more to offer. If you don't need such impressive functionality, it is better to go for Qualtrics.
Customer Review Qualtrics vs. SurveyMonkey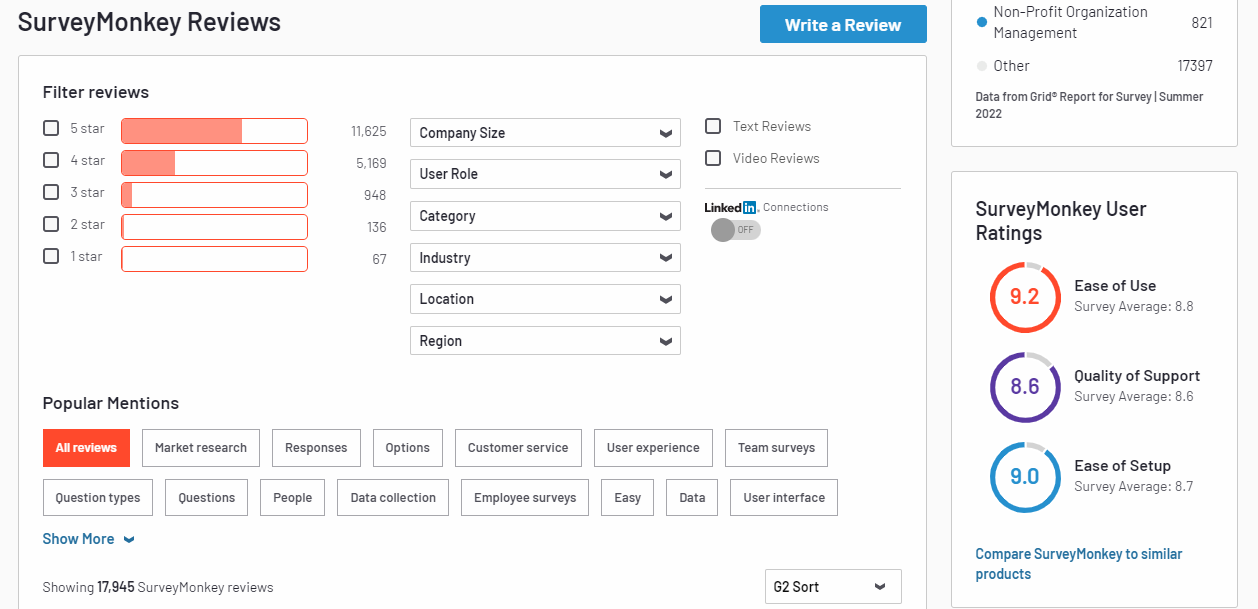 What is needed to create a complete picture of both services? Reviews of people people who have already tried those!
What do you like best?
I like how easy it is to create a quick survey within a few minutes of using the platform. It's a tool you could hand a beginner and have a well-crafted survey in under 30 minutes.
What do you dislike?
The reporting is fine but lacking in robust features. I do not feel comfortable simply delivering the platform-generated reports to management for review. It requires additional data analysis and chart refinement in other tools such as PowerBI or Microsoft Office. It's not a major dislike, but I spend two or three times more effort creating reports than the actual survey.
What problems is the product solving, and how is that benefiting you?
We used SurveyMonkey to poll our employees on all sorts of work-related topics, whether specific to their job responsibilities or general, such as considerations for remote working conditions.
What do you like best?
We can create all kinds of surveys like a poll, survey, NPS, vote, quantitive, and qualitative survey forms, and it helps and provides very good stats, graphs, and numbers as the output.
What do you dislike?
There is nothing I don't like about this tool, Survey monkey is one of the best survey tools available to us in the industry, which can be customized and fits any and almost every type of survey.
Recommendations to others considering the product:
For first-time users and others using other Survey tools, Excel, Ms forms, emails, etc., I would like to suggest they use Survey Monkey at least once and experience how easy it is to use. The demo/trial version is available for free.
What do you like best?
Creating a smart survey is quick and easy. Organizing my questions is simple, and the interface is very user-friendly. I jumped right in without any training or prior experience.
What do you dislike?
The Data and Analysis tab is a little frustrating. It takes a minute to load and tabulate survey responses each time you open it. Then you have to refresh the screen to see the results. Seems like this could be faster, but hardly anything to complain about. Just an inconvenience. I'd also like to see canned reports in the Reports tab. I can create my own, but it would be helpful to have some examples of what I can do with my results.
What problems is the product solving, and how is that benefiting you?
We need feedback on various topics, such as internal programs, pilot initiatives, current and new software evaluations, etc. It was especially helpful in gauging our internal employees during the pandemic when we felt we didn't have a good sense of what our employees felt about returning to work in the office.
What do you like best?
It's really helpful to be able to ask questions to our database and export the data in a bunch of different ways. Also, people seem to trust Qualtrics, so we don't have issues.
What do you dislike?
I don't have any complaints. However, sometimes it's almost too complex – I want to view the simple responses.
What problems is the product solving, and how is that benefiting you?
It allows us to gather information in a much more anonymous fashion, which can inform our decisions.
Benefits Qualtrics
The founder of this tool is Ryan Smith. The company is based in Provo, Utah. Here are the top benefits.
Benefits SurveyMonkey
The headquarters of SurveyMonkey is located in beautiful San Mateo, CA. Ryan Finley and Chris Finley are the founders. Here are the reasons for choosing this option.
Conclusion
When choosing tools for your business, numerous factors must be considered, from your budget to the number of employees. We also recommend looking at reviews to understand what people like and dislike. So, good luck!