Are you looking for an instrument to run website analysis and optimization? Then, Semrush is probably on your shortlist.
This platform combines the basic functionality an SEO specialist, marketer, or website owner needs to enhance a website's online presence. You can obtain valuable data on how your site ranks on Google, analyze content performance, monitor social media, and complete many other routine tasks in a single platform.
This article shows how other people use Semrush to help you understand its potential. Read the listed reviews to decide whether you need this platform and learn more about its benefits.
What Does Semrush Offer to Its Customers?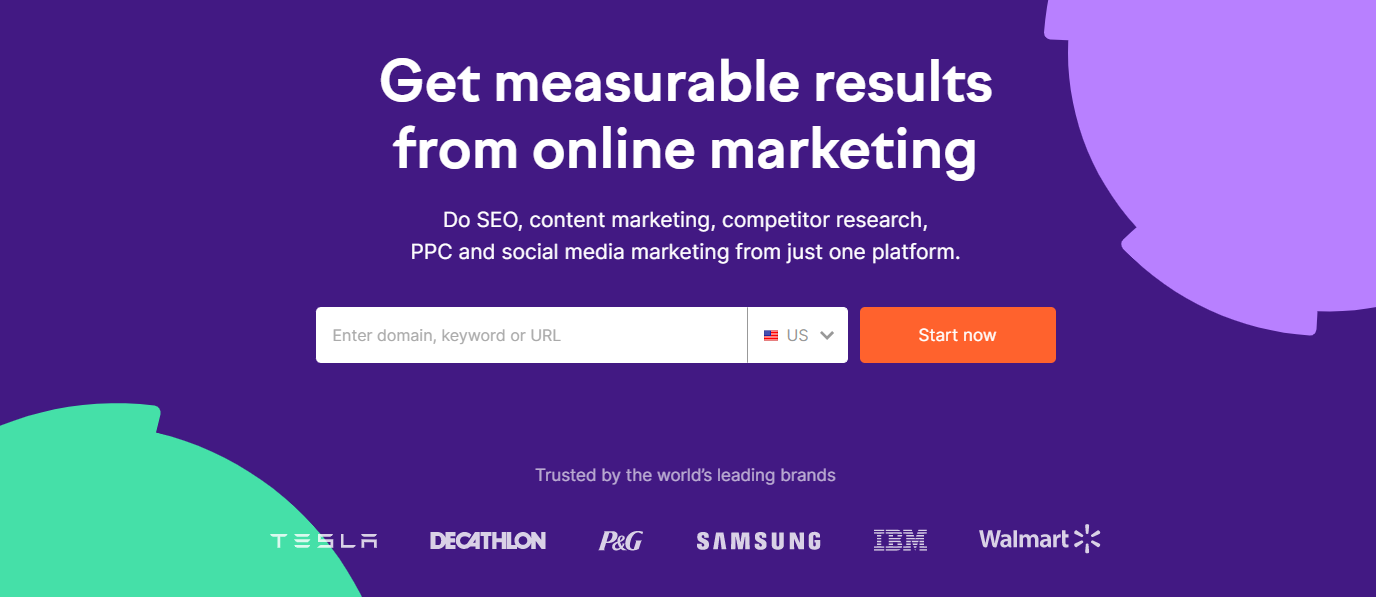 Semrush is convenient for newbies since it divides functionality into several categories. Hence, if you want to focus on a specific problem like advertising, you will have all tools at hand.
Here's what you can get with Semrush:
Search engine optimization
Find the most suitable keywords for your website
Check on-page SEO to improve the website's health
Enhance local SEO to target more customers in your area
Strengthen your link profile with quality backlinks
Advanced content marketing
Receive personalized content recommendations to improve reach
Identify areas for optimization through analytics
Market research
Learn more about competitors to find your niche
Check others' PPC ads to outperform them
Track online mentions of your rivals to know where they fail and win
Advertising
Use keyword research tools to build a successful digital ad campaign
Utilize tools for bloggers, affiliate managers, and ad publishers for monetization
Social media management
Schedule posts on Facebook, Twitter, Instagram, LinkedIn, Pinterest, and Google Business to gain better control over your SMM campaigns
Create, run, and manage social media ads to spread the word about your products or services
Why Should You Use Semrush?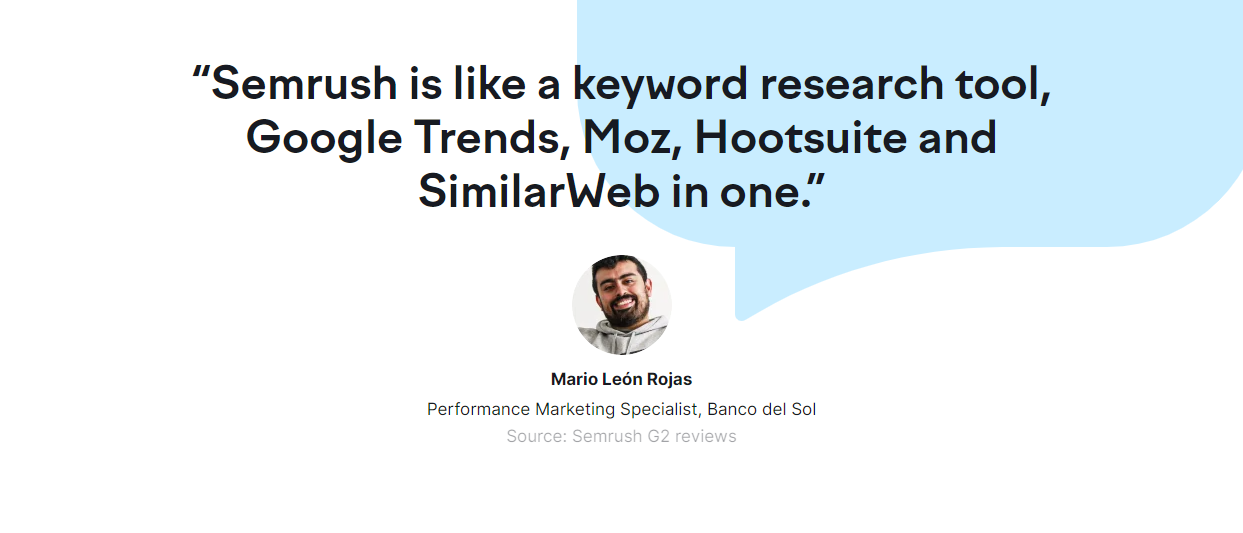 As you can see from the features listed in this Semrush review, the platform covers most of the marketing and analytics needs. But what else makes brands prefer Semrush over other alternatives?
Convenient interface
Mastering Semrush shouldn't be complicated, even if you have no experience. The UI is intuitive and provides convenient graphs, tables, and visualizations.
High level of automation
You won't have to complete complex configurations to start collecting data. Once you add a project, Semrush automatically starts gathering statistics on critical metrics.
Profound competitor analysis
You can track social media, ads, traffic, and other marketing achievements of other businesses in your industry.
Rich reporting
Reports include lots of valuable information, and you can easily share them with other stakeholders. There are also report scheduling, white labeling, and branding options available.
Many add-ons
After starting a Semrush plan, you can purchase access to additional features. These include Semrush Trends for traffic analytics, Agency Growth Kit for further workflow automation, and ImpactHero, which generates tips on reinforcing your content marketing efforts.
Would you like to discover what existing users think about Semrush? Read Semrush reviews in the following section for some insight.
Semrush Reviews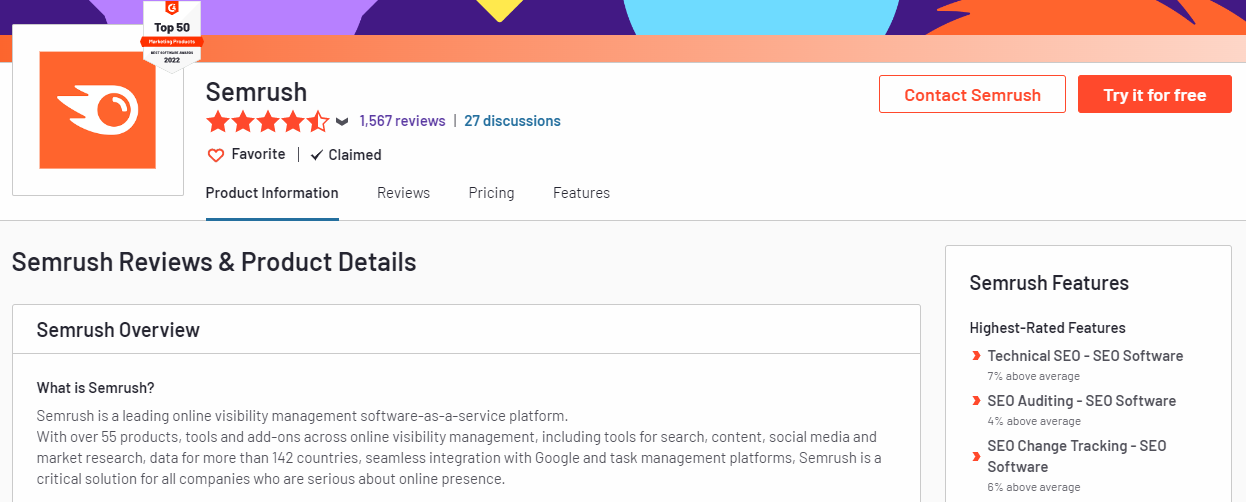 If you cannot make up your mind about Semrush, independent reviews may help. These professionals and newbies have already tested the tools and know when it's the most beneficial and what needs improvement.
We have browsed the web to pick the most relevant Semrush reviews and share them below.
"Since I work with SEO, I like backlink auditing & backlink gap features most of all. Semrush speeds up the research process and helps find relevant links much faster. I used it to reverse engineer websites and learn new backlink strategies for my own. Still, when it comes to UI, I would go with Ahrefs (Freelancer's Semrush Review)."
"I wish I could hire someone from Semrush to directly assist me with some things I don't understand how to fix on my own (Business Owner's Semrush Review)."
"I don't like how expensive Semrush is. You would need the Guru plan to access most of the necessary features. To get the full functionality, be ready to spend close to 1000. That's a lot for a small business (Business Owner's Semrush Review)."
"It's undeniably the top tool for SEO tasks. Semrush is more convenient and reasonable than its competitors. It runs in-depth keyword analysis to show you the frequency of keyword searches or whether competitors are ranking for the same keywords. You can also check the difficulty of ranking on those keywords and view the recommendations to use less competitive options. For Google Ads PPC campaigns, we often use the Keyword Magic feature, and it has greatly improved our conversion rates (Customer Retention Manager's Semrush Review)."
"So far, I have nothing to dislike. Compared to other solutions of this caliber, Semrush is more powerful. It can even be overwhelming at first. But if you spend some time learning its features, it will pay off quickly. After a quick setup, I could generate reports and use them as a baseline for my campaign (Marketing Director's Semrush Review)."
"It's an advanced web application packed with features for keyword discovery, on-page auditing, and rank tracking. It has everything to help you rank in search engines. I particularly like its detailed reporting dashboard since it highlights all necessary details about the project. Besides, the free plan for starters is rather generous with all basic features, including competitor analysis (CEO's Semrush Review)."
"There's a lot of noise on this platform. Some features I would never use, and they just clog my dashboard (Marketing Manager's Semrush Review)."
Conclusion of SEMRush Review
We hope our Semrush review will help you decide whether you need this solution. If you still have doubts, you may contact their team to participate in one of the free training courses or join a trial. Once you have more practical skills, you will know what web analytics functionality you need.