2020 was harsh and severely affected the work approaches of most companies. As a result, businesses started to digitize and restructure.
But how did the SEO market change compared to 2019? To find that out, the Plerdy team ran marketing research of SEO trends and changes. Then, at the beginning of 2021, we surveyed leading SEO agencies to draw the balance and are now ready to share the results (Survey 2022).
Aggregated results:
The survey covered 125 top Eastern European agencies, including Arken Marketing, WAZ Marketing, AAM Consultants,  SEOdigital, One Click SEO, Thatware, Digimark, SEO Agency Serpact.
Most of the surveyed SEO agencies (67,2%) state that existing customers use their SEO promotion and contextual advertising services. Quite a large share (34.8%) of agencies have implemented the performance-marketing approach. This model means that customers pay based on specific metrics and achievements. Significantly fewer (26%) SEO agencies work directly on conversion optimization, website development (8%), and SMM (8%).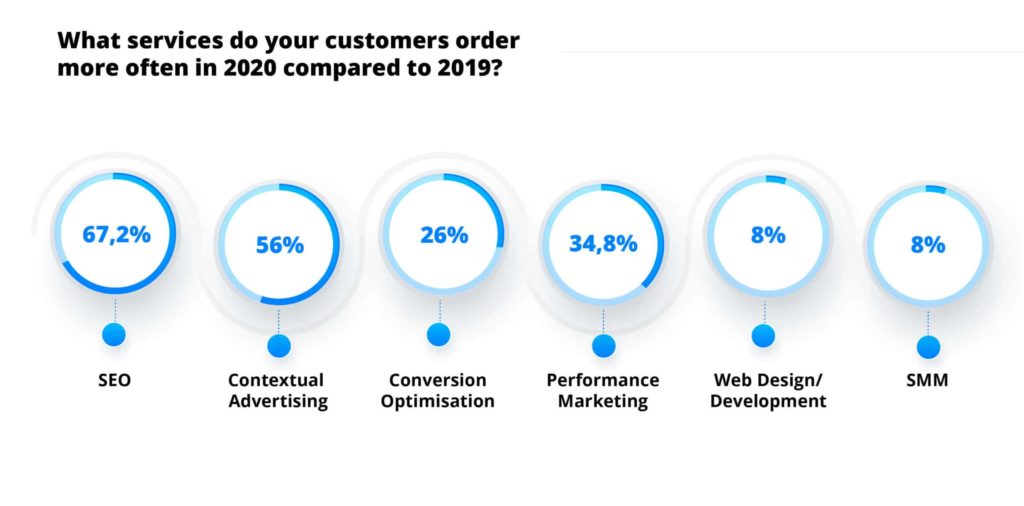 The survey showed that online stores (78%), service websites (78%), and corporate sites (64%) are the most frequent customers of SEO agencies. Surprisingly, only 2% of the surveyed SEO agencies work with forums.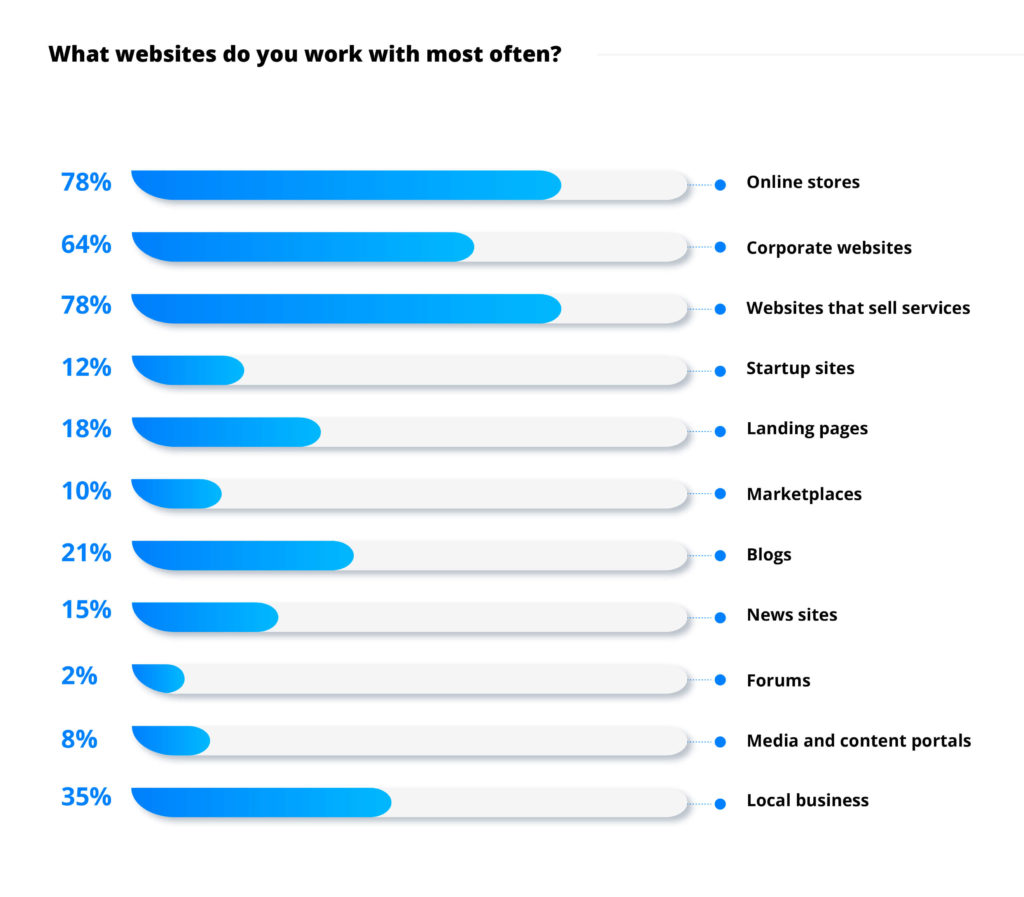 As to SEO budgets, around a third (30.4%) of SEO agencies get from $500 to $1000 monthly per project. Approximately the same percentage of the surveyed SEO agencies state that their monthly budgets exceed $500 and $2000. Many get from $2000 to $4000.
Now, let's talk about what metrics are key for customers when they hire an SEO agency. The graph shows that 78% of the surveyed agencies focus on traffic growth. The second most demanded metric is CR or conversion rate increase. Brand promotion and increased reach share the third place. Slightly less than a third choose website load speed organic click-through rate as top metrics to work on.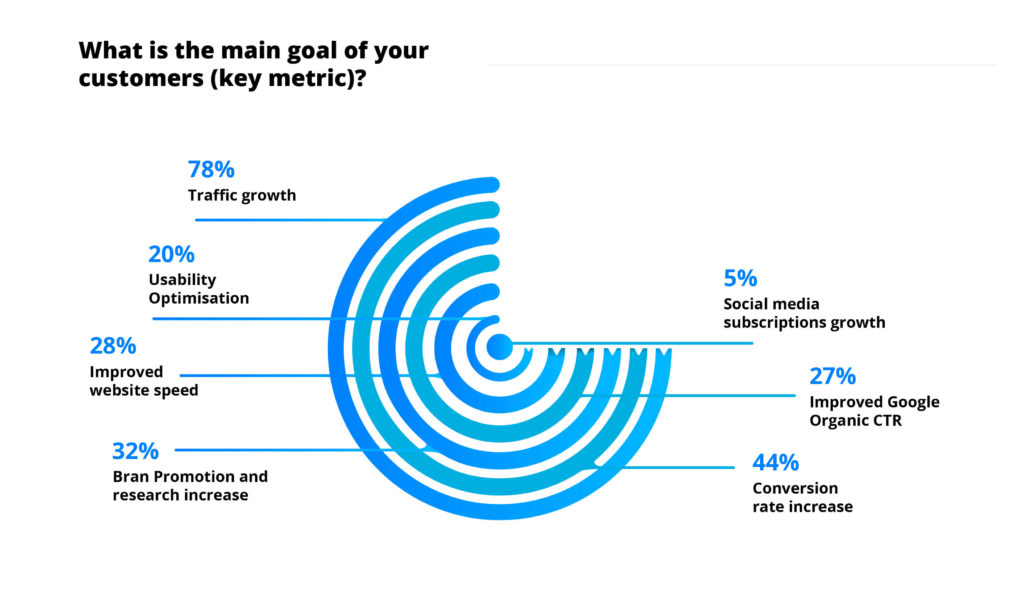 SEO generates the best results when combined with other traffic channels. Therefore, businesses often use additional channels to grow their revenue. Interestingly, 95% of SEO agencies stated that their customers rely on paid traffic (contextual advertising) to promote their brand. The second place goes to SMM and email marketing.
Despite the popularity of the multi-channel approach, some customers still don't use any traffic channels but SEO.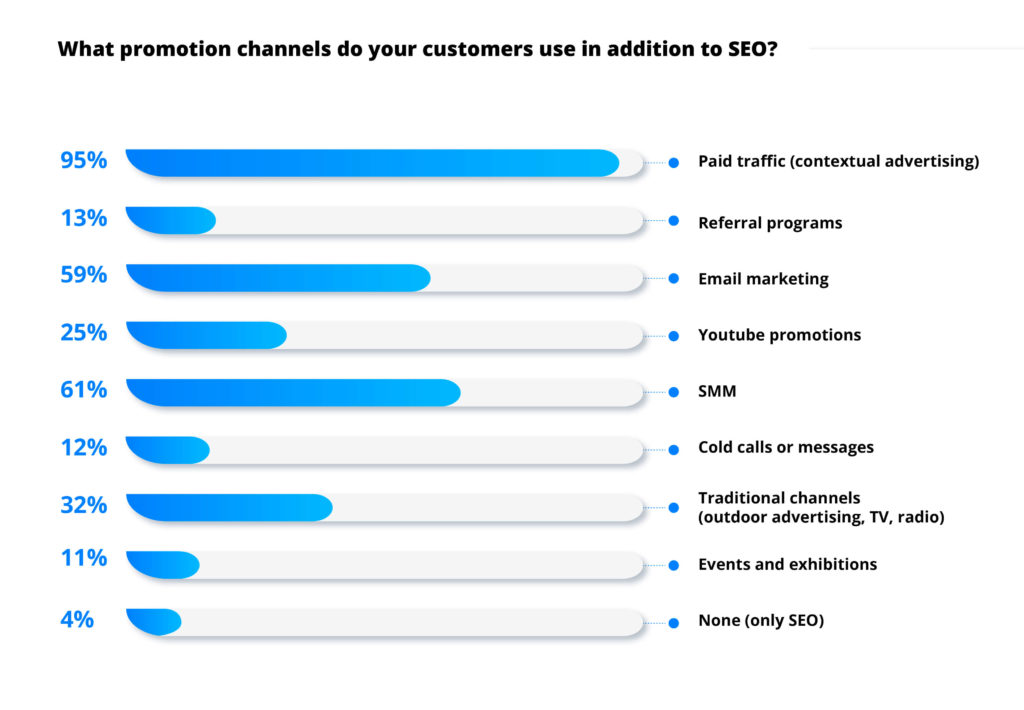 80% of SEO agencies note that the average duration of a project increased compared to 2019. Even though the working approaches remain the same, teams spend from 1 to 5 months more depending on the complexity and scope of the project. Here are the possible reasons:
Pandemic
Increased competition online
Advancements of search algorithms
Nevertheless, 15.2% of SEO agencies claim that the average time decreased by about 1-2 months. It isn't easy to reason these findings. Most likely, these are web resources with the low competition or unique products that are just entering the market.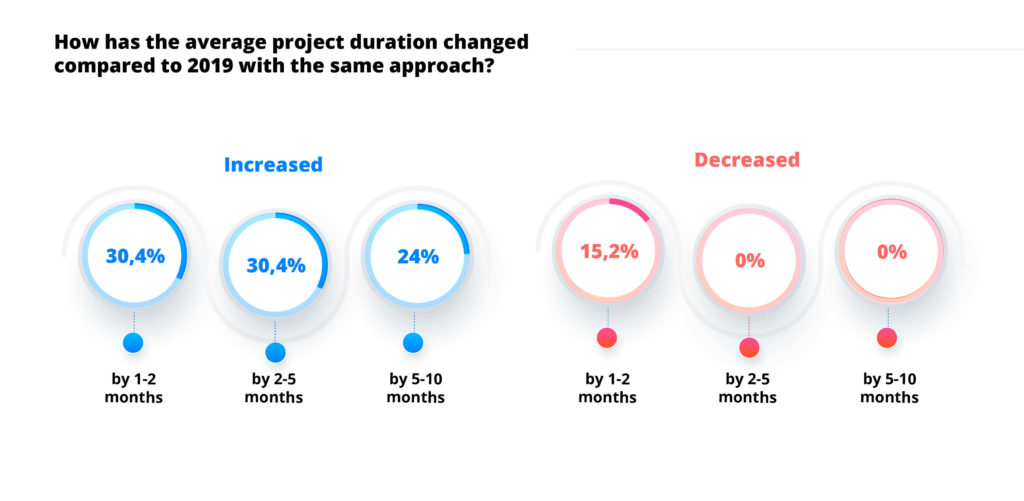 Over the past 2 years, with the growing demand for online marketing, the cost of SEO services has started to increase. 30.4% of SEO agencies have raised their rates by 10-30%. 26.1% charge from 30% to 50% more. Some SEO agencies (13%) have had to lower their prices by 5-10%. For 4.3% of agencies, the cost of their services has considerably plummeted.

Apart from helping customers, 60.9% of the surveyed SEO agencies have pet projects. Unfortunately, we didn't collect information on the type of projects. These probably test web resources, where SEO specialists can test various hypotheses and digital innovations or continuous upgrades of their websites.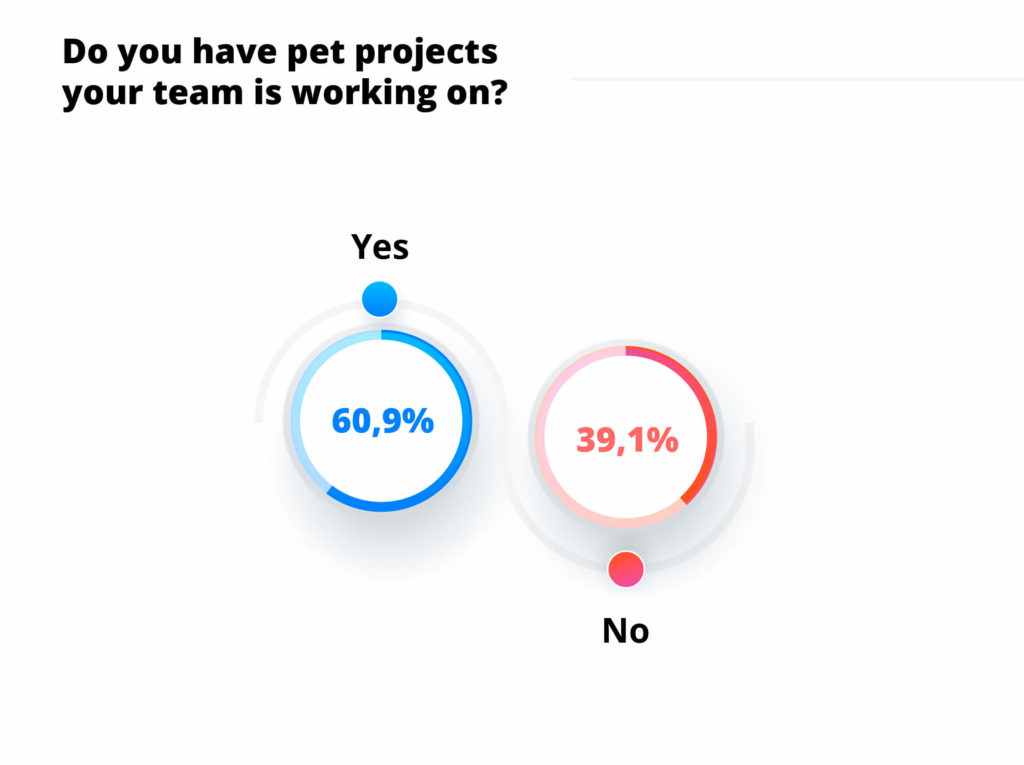 Despite the growing cost of their services, 8.7% of the surveyed SEO agencies intend to cut pay or have already reduced salaries. We hope it's temporary.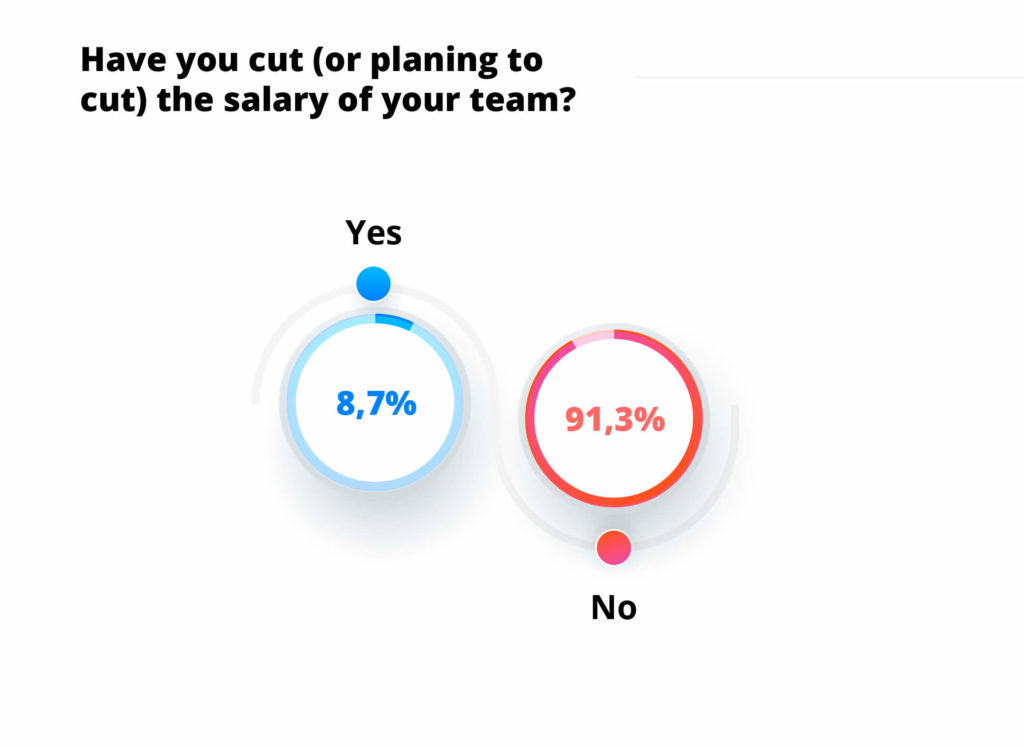 At the same time, 82,6% plan to grow their team in the next 6-12 months.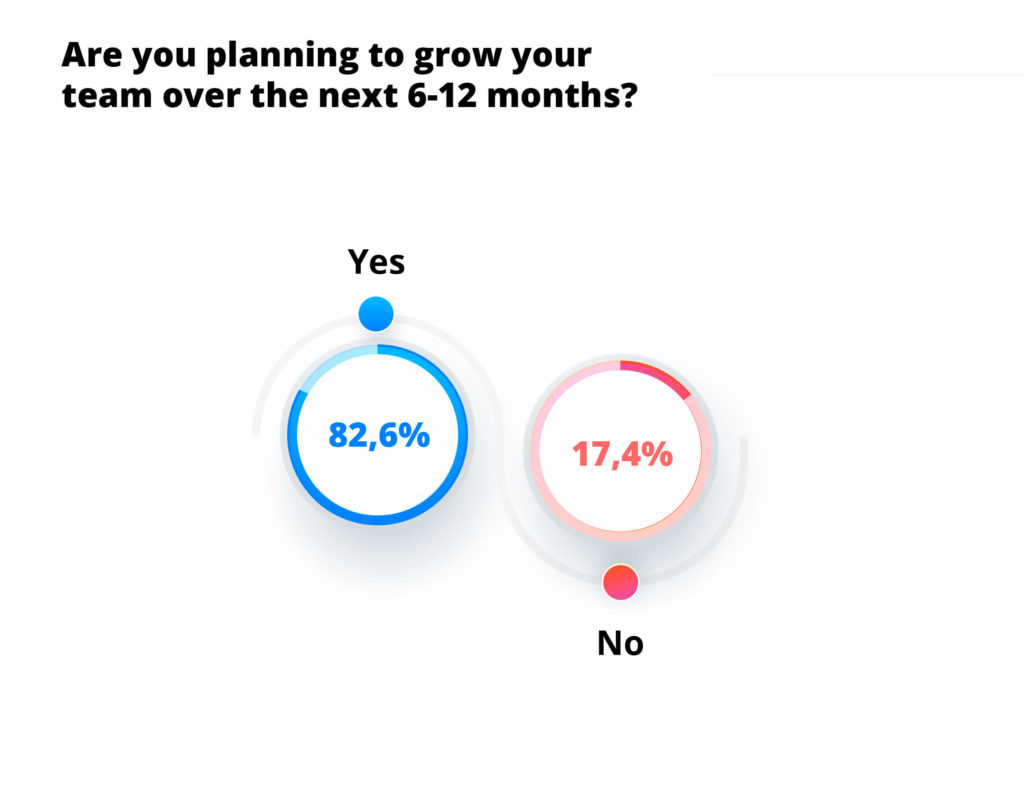 Also, despite the increasing cost of SEO services, 21.7% of agencies have witnessed a 10-60% growth in projects/revenue. Moreover, 17.4% have almost doubled their results, which is a huge leap. On the other hand, in 8.9% of agencies, the growth has slowed down by 30-60%.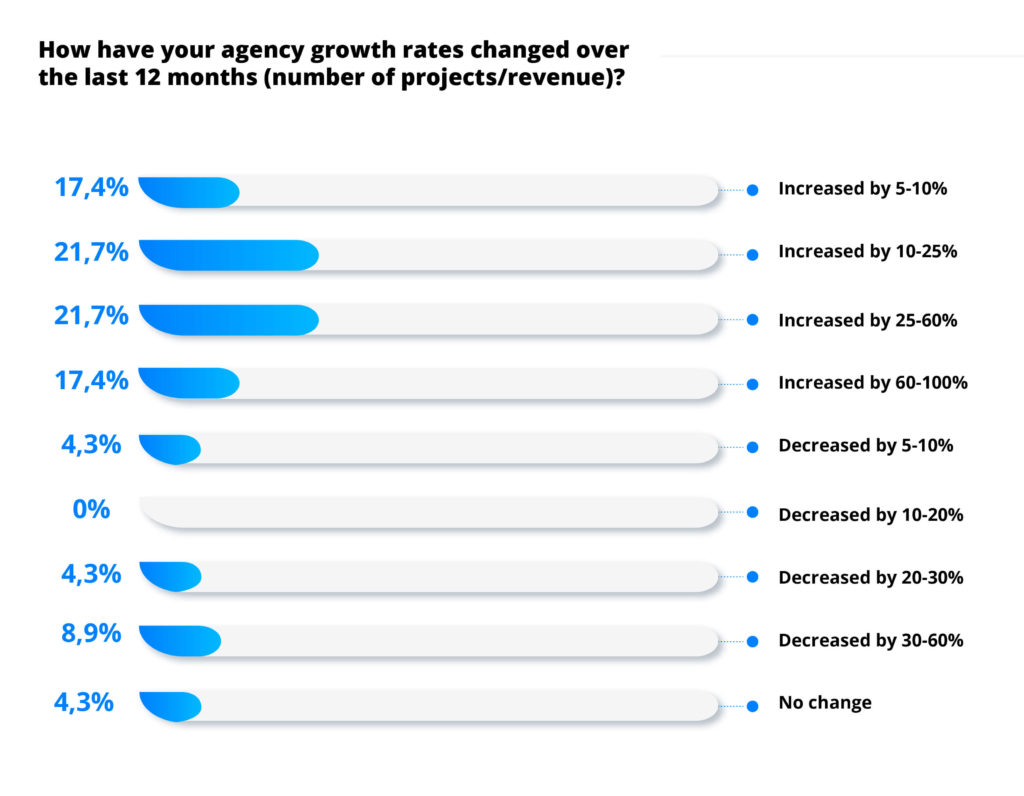 Some SEO agencies delegate services to third parties. 40% of our respondents do everything on their own without outsourcing. 32% contract web and graphic design out to outside specialists. Less often, companies outsource social media marketing. There are also SEO agencies that delegate some SEO-related tasks.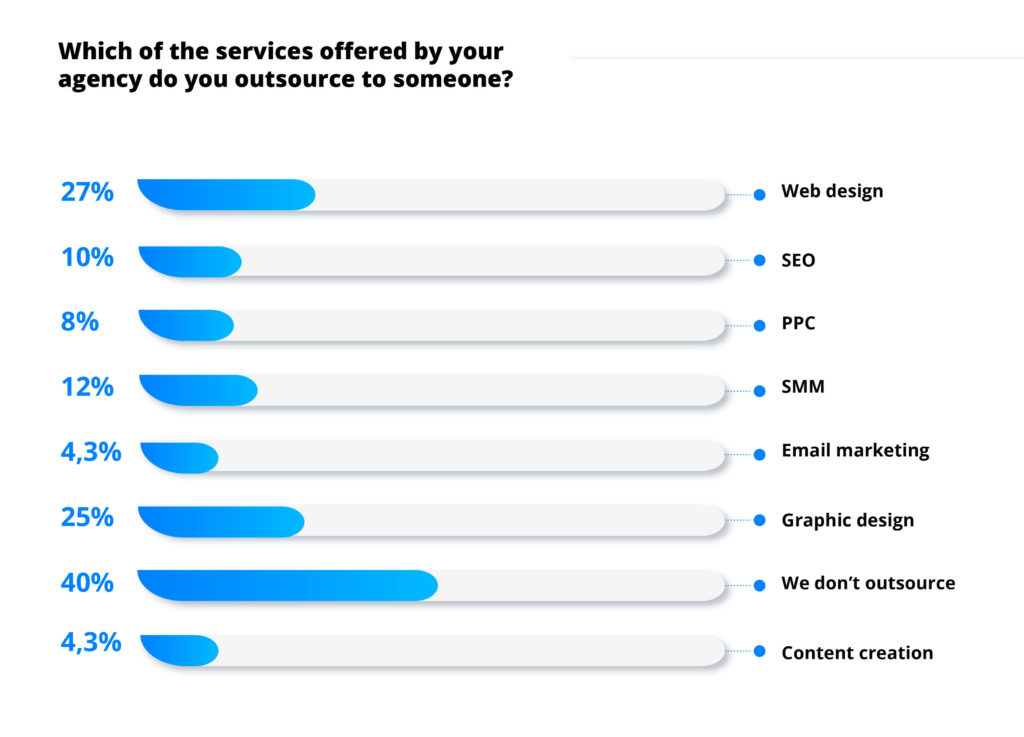 Most of the surveyed SEO agencies use the following top 5 tools:
Google Analytics / Yandex.Metrika
Search Console
Ahrefs
Semrush / Serpstat / SE Ranking / Screaming Frog
Plerdy
The majority believe that SEO promotion will remain in demand for the next 10 years. However, others predict that it will lose relevance and disappear in 2-7 years.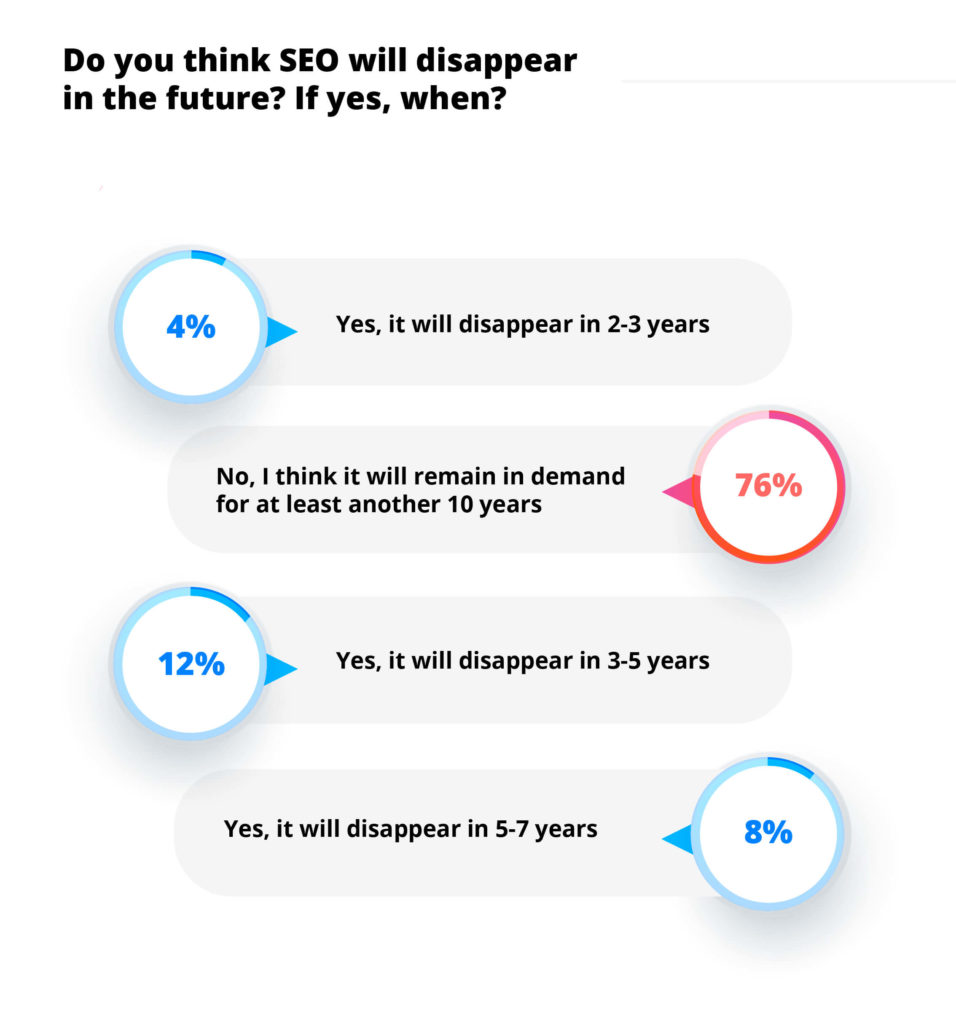 Most SEO agencies would switch to contextual advertising and website development if SEO promotion were no longer relevant. A third would offer SMM/email marketing or web design.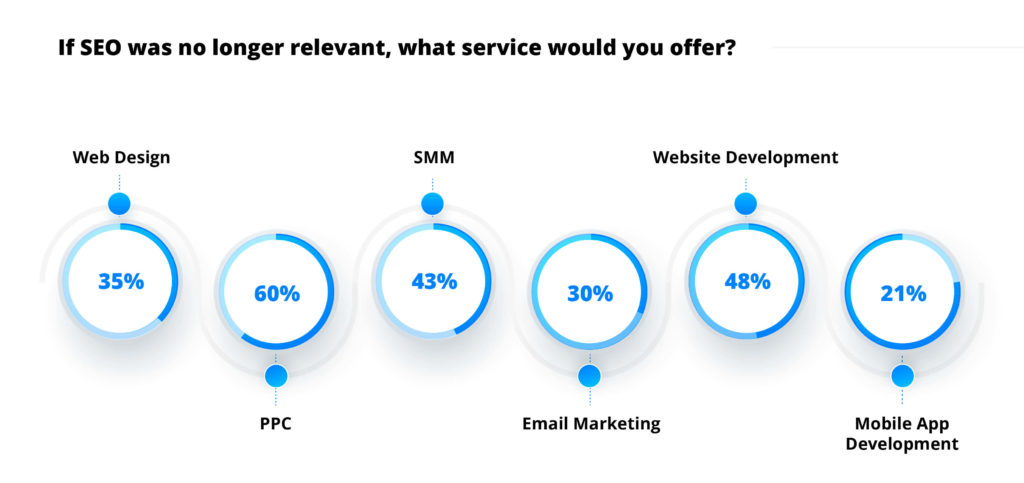 Conclusion
Our team has collected unique statistics that can help you understand what is happening in the SEO market. The research results show that SEO promotion has become more challenging and, hence, the project duration has also increased. And the more time is needed to get the first results, the more expensive SEO becomes.
Therefore, many SEO agencies have increased the cost of their services over the past 2 years by 30 to 50% on average. At the same time, 64% of them boast a 5-60% growth. But, of course, there have been minor losses. A third of the agencies have experienced a growth slowdown by up to 30%, and some of them have even cut salaries.