69.80% of online shoppers abandon their shopping carts. This average is calculated from 44 e-commerce studies using statistics from Adobe, Freshrelevance, SaleCycle, IBM, and others.
$260 billion per year – online stores in the US and the EU lost this huge source of revenue due to visitors abandoning their shopping carts. Employees at the Baymard Institute concluded that the fault rested with the complexities of online ordering. They also found that the second most common reason for customer rejection was how difficult it could be to register for an online account. Sometimes a potential customer might look at a product without having the intention to buy it, which needs to be changed while they are still on your website. If this decision cannot be influenced, the complexity of the order can be reduced to avoid having them leave the website. Optimizing the process can increase conversion by up to 35.26%.
What is Shopping Cart Abandonment?
Cart abandonment is when a visitor at an online store adds an item to the cart but does not complete the action with payment. Any such product is considered "abandoned."
UX and e-commerce marketers pay close attention to abandoned carts. They track the bounce rate – an important metric that indicates a broken sales funnel or awkward user experience. Reducing the bounce rate will increase the number of sales.
What is the average Shopping Cart Abandonment rate?
The bounce rate is calculated by dividing the number of completed purchases by the number of transactions initiated. As a result, the bounce rate differs in different areas of commerce.
Data taken from salecycle.com shows the average basket abandonment rate across six business lines is 75.62%.
Top 10 Reasons for Shopping Cart Abandonment
The reasons for abandoning a shopping cart can be different. However, here are the most common ones:
Complex registration process. If the registration procedure is long and confusing, the buyer may not have the patience to complete it. For example, a website visitor wants to buy a book, which requires filling out ten forms. They are unlikely to waste time on this and will go to a different seller, from whom they can buy the edition in two clicks. To reduce the likelihood of shopping cart abandonment, simplify the checkout process.
The need to create an account. The obligation to register on the site before buying is a factor that repels many consumers. Especially if they are purchasing in this online store for the first time, this complicates the checkout process and possibly forces the person to do something they didn't intend. It is easier for the visitor to leave without buying the item – even more so if the product can be bought in a competing store that doesn't require registration. Don't force users to register on your site!
Unexpected expenses. The customer almost completed the order but saw the shocking cost of shipping the goods – and refused. Take care to avoid such surprises. Delivery costs and commissions must be known to the client in advance. Try to minimize additional customer spending.
Security of the deal. If the payment method or the site itself does not inspire confidence, there is a good chance that the buyer will abandon the shopping cart. Work only with reliable payment intermediaries! Post information on the personal data processing policy of the site – the buyer should know how their personal information will be used. Improve the interface of the site – a well-made online store inspires more confidence.
Cost comparison. It is easy to compare the cost of a product in different online stores today. Sometimes, a customer might start placing an order, but a better offer is provided elsewhere and "abandon" the cart. Partner with a supplier and sell products at their recommended prices. Neither you nor your competitors will be able to charge a price higher than the vendor's allowance. This helps to display how convenient your ordering process is and ensures that the goods are bought from you. If you are not limited in your pricing policy, regularly study the offers of other stores – the price you offer should always be competitive.
Lack of desired payment methods. Some buyers don't care how they will pay; however, this moment is important for others. Unfortunately, not everyone can transfer a prepayment for the product or pay for the purchase in cash. Offer as many options as possible to avoid shopping cart abandonment due to a lack of customer-friendly payment methods.
Limitation on the number of purchased goods. Lacking the number of products needed by the client will guarantee an "abandoned" basket. Inform your visitors in advance about the availability of the goods and their presence in the warehouse, so they are not met with an unpleasant surprise at the end of ordering.
Long delivery time. Not every customer is ready to wait for a product for a long time – especially if it can be delivered faster when buying in another online store. The timing should be reasonable. If, for some reason, it is not possible to deliver the purchase quickly, notify the customer in advance. Try to minimize the time between purchasing and delivering to attract more customers.
Return policy. Customers might abandon the cart if they don't like the possible return policy. Visitors to an online store must understand how to receive their money back if the purchase does not suit them. Provide a loyal refund policy – this will keep buyers interested.
Poor site performance. A slow or incorrectly working site annoys users, making them want to close it as soon as possible. The site will not inspire trust. If it freezes, customers will likely have to fill out the order form several times. Remember, their biggest concern is that their card will be charged a double or triple due to an outage. Improve the speed of your website to avoid this issue.
Plerdy digital tools can help you analyze the reasons for shopping cart abandonment and reduce the number of abandoned carts on your site.
How can you reduce Shopping Cart Abandonment with Plerdy?
Plerdy is an online platform that allows businesses and marketers to promote a website in search rankings and increase conversion rates. With simple and effective tools, you can track the number of carts abandoned and why they were abandoned so that it can be avoided in the future.

With the Plerdy Event Goal Tracking tool, you can:
Get detailed data on user behavior on the site.
Track the customer's checkout process.
You can understand why users abandon their shopping cart by setting up tracking for the Checkout button. Eliminating these reasons for abandonment will increase your conversions.
The first step in converting visitors to buyers is to set a goal for your shopping cart. This can be done in several stages:
In the Plerdy admin panel, open the "Conversions" – "Goal / Event Settings" tab.
Add a CSS class or shopping cart ID to the event field (right box in the tab). You can find its class or ID by right-clicking on the shopping cart and selecting "View Code."
In the left window, write the name of the event and click "Save."
Now, by clicking the "Goals / Events" button, you can view information about clicks on the cart.

This tool allows you to see users' clicks before and after adding a product. It's easy to set up the tool – in the Plerdy admin panel, in the Dashboard tab, click on the first block to see a report on user clicks. You can also go to the UX Analysis tab and click the Heatmap button.
The map provides information about clicks in two forms: a graph and a table. The graph is on the right in the tab, while the table is at the bottom. By clicking on the links in the table, you can view clicks on specific elements on the site. In addition to the number of clicks, the heatmap shows the following:
Clicks as a percentage.
Scrolling depth.
Dwell the time of the mouse cursor on the element.
"Hot" segments of web pages.
All this gives a detailed understanding of the behavior of users on the online store's website. Analyzing what influences those behaviors is an effective way to increase conversion rates. The data can also be automatically added to Google Analytics.

The User Session Replay tool helps you see how a visitor behaves on a site page. Video replays of movements – mouse clicks, scrolls, touches – provide a basis for understanding why the customer didn't complete the purchase. As a result, eliminating the reason for their reluctance will have a positive impact on sales.
To enable session recording, go to the "Video sessions" – "Recording settings" tab in the Plerdy admin panel and add the cart URL. After that, the tool will automatically record the behavior of users on the shopping cart page. It is possible to record the behavior on the selected page and throughout the purchase process. This will allow you to understand what prevents visitors from making a purchase, find anomalies on the site, and figure out how to fix the situation.

Pop-ups from Plerdy will increase the chances that the user will complete the purchase before leaving the site. If a potential customer "abandons" the cart, set up a pop-up form with a notification about a discount or special offer that can motivate them to place the order.
Plerdy allows you to customize pop-ups without involving programmers or designers quickly. You can enable them in the service's admin panel by selecting the "Promotion" form or creating your own using the appropriate constructor.
The best methods to recover from Shopping Cart Abandonment
Fewer users abandoning their shopping carts equals higher revenue for the business and a better reputation. A low percentage of abandoned carts testifies to the excellent quality of the site and the ease of placing an order in the online store. Several methods can be used to reduce the number of bounces.
Sending emails about Shopping Cart Abandonment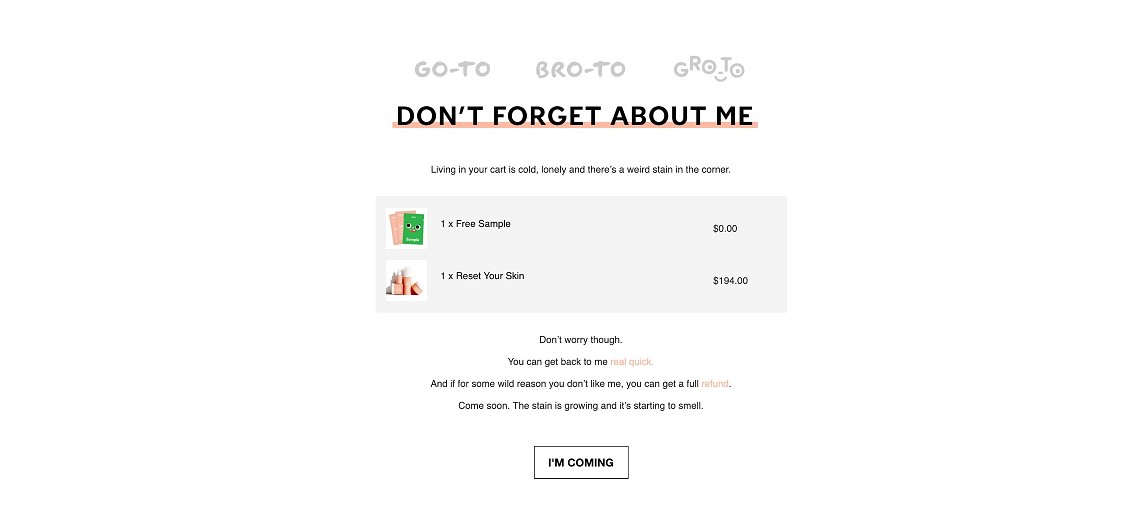 This method can help you return a customer if you know their email address. For example, you can send them a friendly email reminding them that they forgot to finish a purchase.
The most prominent example letters are from these companies:
Casper. The subject of the letter is: "You forgot something." In the text, the company reminds the user that they forgot to complete an action on the site.
Rudy's. Topic: "Don't let free shipping go to waste." The company informs customers about the lost benefits if they abandon the purchase.
Whiskey Loot. Topic: "Your basket will sober up." A letter with a humorous nature. Its main task is to cheer up the client and remind them of the "abandoned" cart.
Nomad. Topic: "Nomad equipment is selling fast." The purpose of the email is to cause the user to fear that they might miss out on a personalized offer and a good product.
Dollar Shave Club. Topic: "Where did you go?" The letter lists the main benefits a customer gains from a purchase in a particular store.
You can use one of these examples or come up with your own – all genres are good as long as they are not boring.
Remarketing with Google Ads to resolve Shopping Cart Abandonment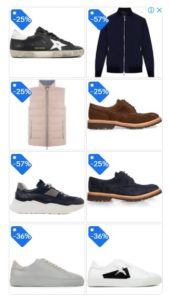 Google Ads will help bring users back to the site to complete the purchase. To do this, you need to set up remarketing. There are several ways to do it:
Display ads to cart abandoners browsing other sites or using apps.
Use contextual advertising to demonstrate goods that could be of interest to the potential customer.
Present ads for products that might interest your site visitor if they research them on Google.
Show ads to cart abandoners when they watch YouTube.
Upload the list of customer contact information they provided when they visited your site to Google Ads. This will allow Google to show them particular ads when they use Google products.
Web Push Notifications about Shopping Cart Abandonment
Push Notifications can help users return to the site to complete their purchase. However, for a notification to be productive, it must be:
Personalized.
Short.
Emotional.
Clearly define the benefits of buying a product from your online store.
A notification can inform customers about a price cut or that a discount on an item will not last forever. The message should be written with an expression of feelings and may contain a compliment. For example, if a woman added a dress to her basket but left it, the notification might be as follows:
"Dear Jessica! You have an amazing sense of style. This item will make you irresistible. Hurry up! There are only two days left to purchase it at a special price.
With love, your online store."
Offer Guest Checkout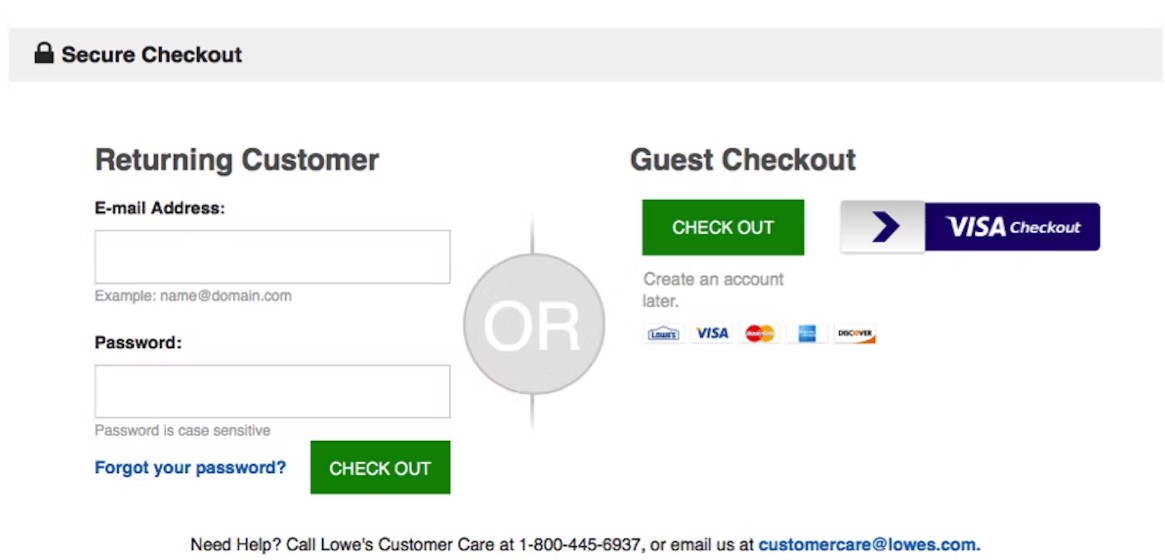 A great way to fight shopping cart abandonment is to offer guest checkouts. Many users consider the need to create an account extremely irritating during online shopping. They choose online because they look for rapidity, which is impossible if the checkout process is too long and complicated. As a result, people are forced to put effort and invest their time in creating an account, which often leads to abandonment.
There is an easy way to reduce shopping cart abandonment caused by this reason: a guest checkout will help! You can offer users to create an account after the transaction is made: users who seek quickness in online shopping will appreciate it.
Discount Coupons
Another traditional abandonment recovery strategy is offering customers discount coupons and exit-intent pop-ups. All online shoppers like discounts, right? So, try offering them to your online customers by email or any other way. A person will be interested in using a discount, and you will avoid abandonment.
Save Cart for Later Option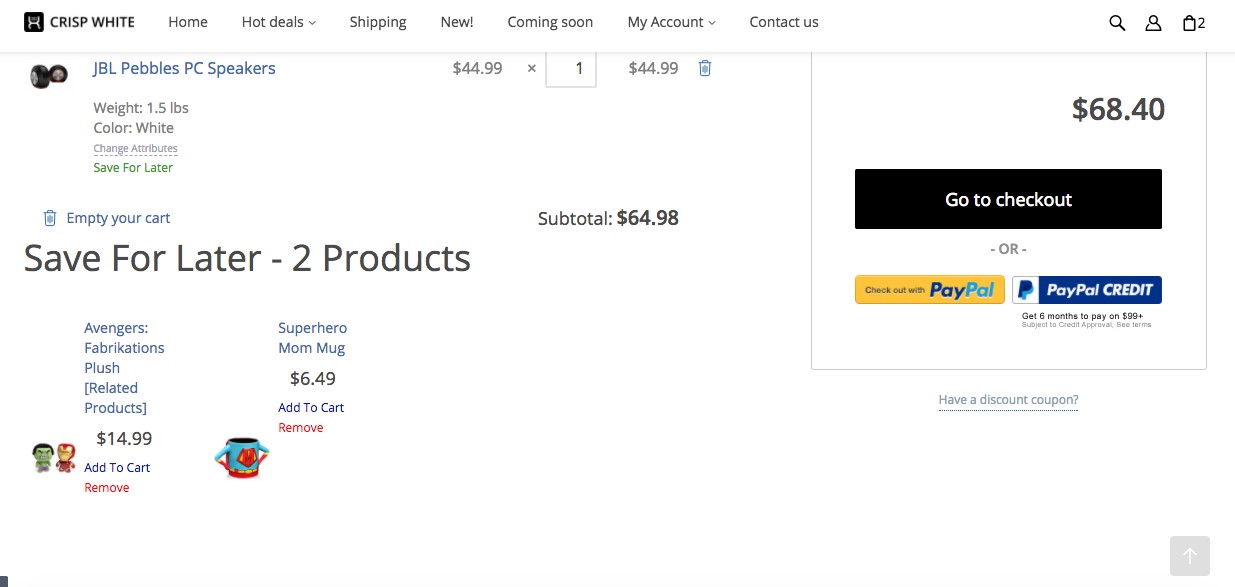 Most online shoppers browse diverse platforms and compare prices: all of us behave like this. Many people simply add products to their shopping carts and leave to look at other options without losing what is already found. A much more convenient option to fight abandonment is via providing Save for Later option. It can be done with the help of a WooCommerce addon. Such an online tool allows registered users and guests to save their products for some time. You can also send email reminders, which will help to reduce abandonment greatly.
Create Urgency
Urgency is the key if you want to increase conversions quickly while reducing cart abandonment. If a person knows that it is possible to buy this product during a specific (and pretty short) period, the probability of purchase is much higher. Urgency motivates people to do something: it's rooted in our behavior. Countdown timers are a great solution in this case.
Conclusion
Shopping cart abandonment has a noticeable impact on online business success. We have presented the most effective ways to reduce the failure rate and raise your conversion rate. But first, you must analyze and summarize the answer to this question: What exactly makes your visitors "abandon" their cart? Understanding these reasons is the first step on the road to sales growth.