UserTesting is a user research platform that gives marketers a variety of methods to test website performance and marketing campaigns.
UserTesting will help make your website, mobile apps, games, and prototypes more user-friendly. The platform will allow you to experiment with alternatives and see real users' reactions. Furthermore, you will be able to track the activities of your users through video. In addition, the platform offers some easy DIY tools to use and provides results in a very short time that you can share with your team.
All the features offered by UserTesting are designed to make your marketing channels more effective than ever. This is done through several tools, each with the sole purpose of collecting user information to improve conversion rates and ultimately increase revenue.
Best 10 UserTesting Alternative
The market is impressive nowadays; understandably, UserTesting is not the only solution. Therefore, we have gathered top-10 UserTesting alternatives: all of them are worth your attention.
#1. Lookback Alternative to UserTesting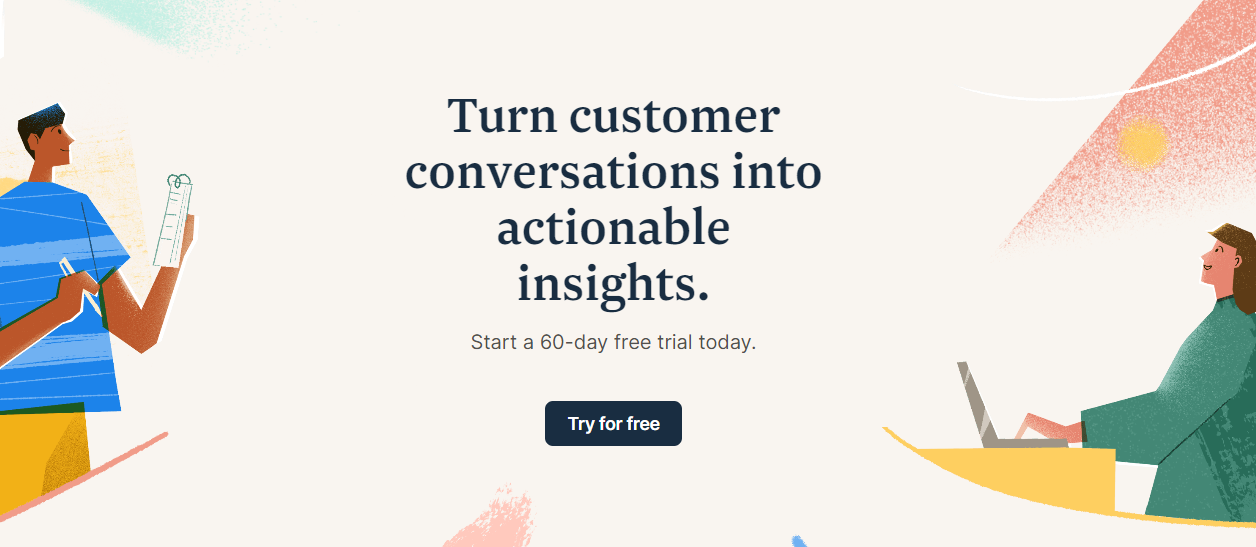 Lookback is a UserTesting alternative for testing websites and mobile applications. Testing is done by real users who can be anywhere since Lookback is a web service. The user starts working with the site using a video camera and a microphone, so the designer can immediately understand what is wrong with the product – he can observe the tester's emotions in real-time. All errors made while interacting with the site are recorded, which makes it possible to analyze the user's actions after the end of the test. A very convenient service that can help in the work. Most importantly, Lookback allows you to get immediate feedback and eliminates the need for testers to write detailed reports.
Nate Champion is the founder of the solution. The company is headquartered in California, United States. The clients of this UserTesting alternative are impressive: Lego, Square, Klarna, Facebook, and Figma.
#2. Maze Alternative to UserTesting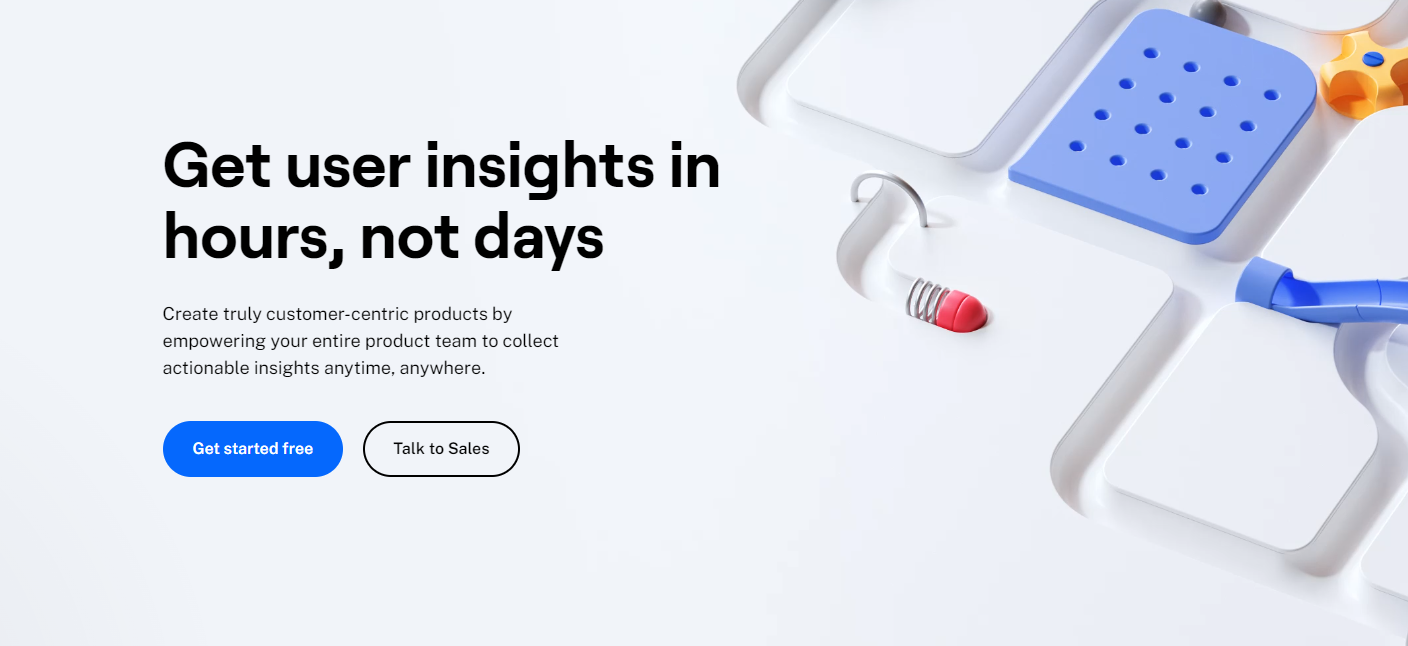 Maze is a rapid test platform that enables agile teams to test, learn and act quickly. Product and marketing teams can test user-oriented experiences remotely and collaboratively – and see how their results turn into meaningful, quantifiable data within hours, but not days. With this UserTesting alternative, teams can test prototypes, concepts, and text, among other things, and democratize testing company-wide. The functions include:
Third-party integrations.
Reporting/analysis.
Prototype creation.
Risk cards.
Video recording.
Jonathan Widawski is the founder. This UserTesting alternative is headquartered in Paris, Île-de-France. The customers include Uber, Glovo, Overstock, FairMoney, and Telenor. It is one of the best UserTesting com alternatives.
#3. Usability Hub Alternative to UserTesting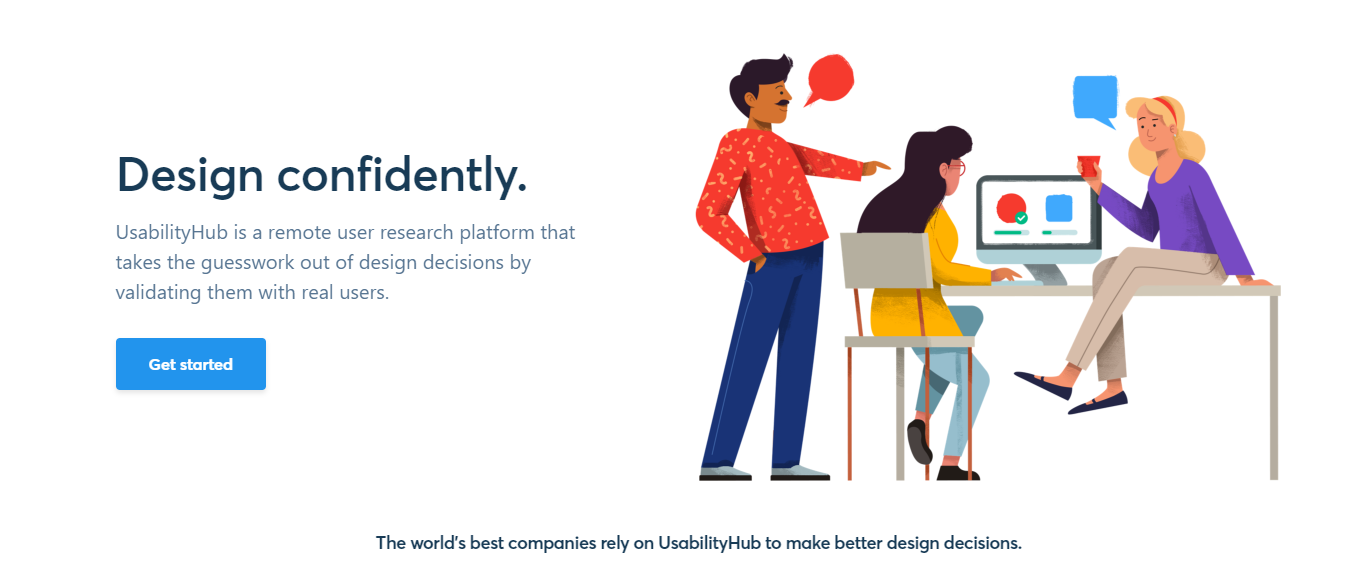 The usability tool UsabilityHub is perfect for comprehensive usability analyses. This UserTesting alternative is particularly interesting for IT, shops, banks, and other industries. With the tool, texts can be analyzed, a heat map on the popularity of areas of a website, and CSV files with the collected information can be exported. It is suitable for clouds, Saas, or the Web.
Mateja Milosavljevic is the founder of the solution. The company is headquartered in Melbourne, Victoria, Australia. The clients include Amazon, TaskRabbit, Airtable, GoDaddy, and Asana.
#4. Survicate Alternative to UserTesting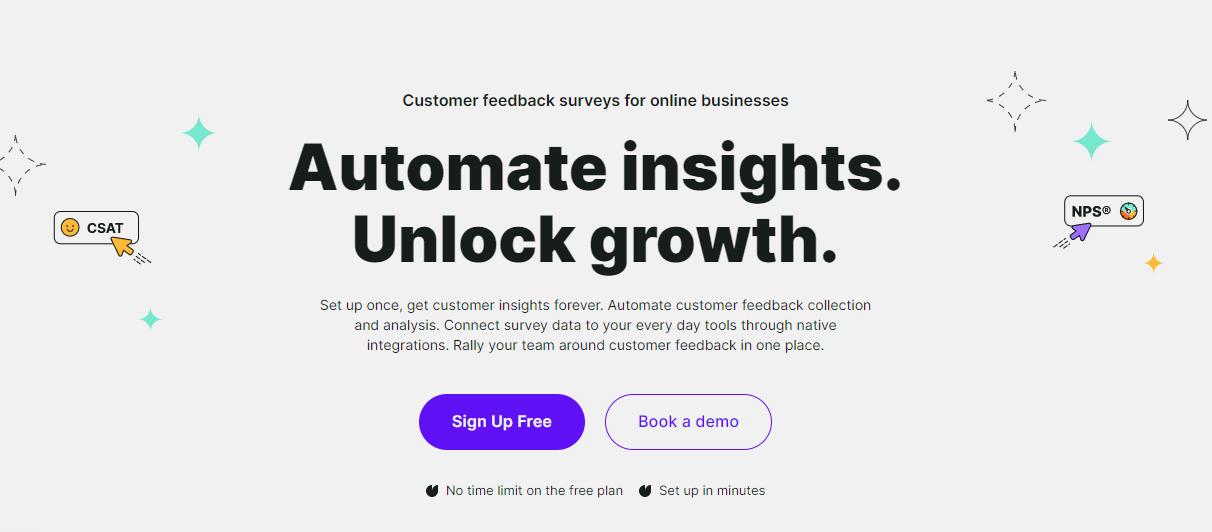 Survicate is a powerful management software for surveys, NPS (Net Promoter Score), and feedback that allows you to collect more customer feedback and achieve a better customer experience. Here are what is offered:
Web app and in-product (in-app) surveys.
Email and link surveys.
Mobile app surveys for Android and iOS.
The clients include Packhelp, BPS, Carwale, Agendor. The founder of this SurveyMonkey alternative is Kamil Rejent. The company is headquartered in Warsaw, Mazowieckie, Poland.
#5. Wynter Alternative to UserTesting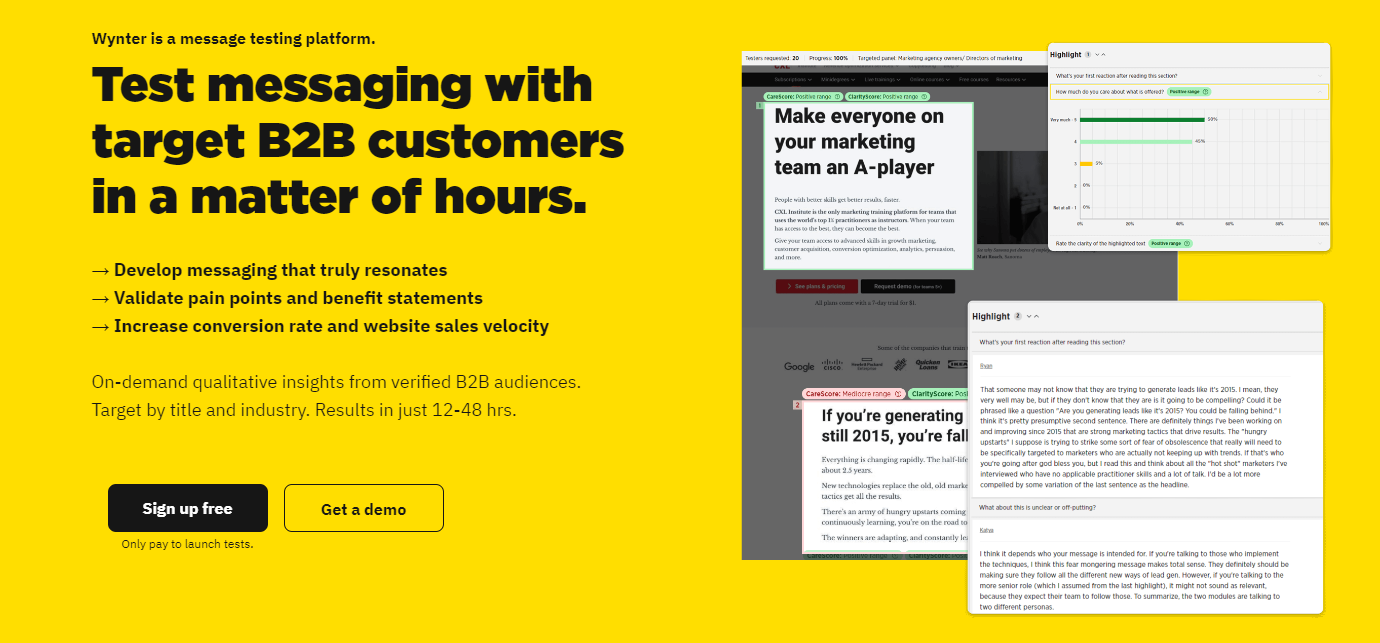 This UserTesting alternative offers test messaging with target B2B customers in hours. Here is the offer:
B2B message testing.
B2B user testing.
B2B buyer intelligence surveys.
Outbound email testing.
Preference testing and more.
The clients of the UserTesting alternative include HubSpot, LastPass, RingCentral, DigitalOcean, and Shopify. Peep Laja is the founder. The company is headquartered in Austin, TX.
#6. Discuss Alternative to UserTesting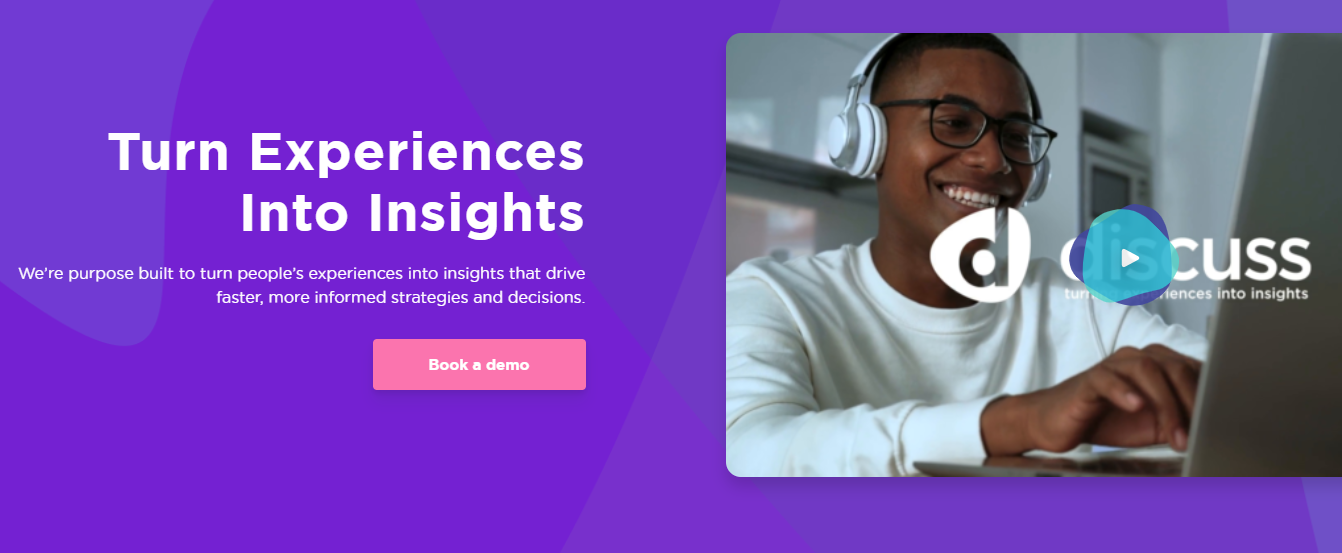 Discuss is a UserTesting alternative that gives voice to people's experiences to drive insights and outcomes for CX, UX, and MRX. Many huge companies partner with the company, as it helps to bring in-depth insights to life in real-time and transform customer relationships. The services offered include:
Project management.
Screener writing.
Moderation services.
Discussion guide.
Translation services and more.
The company's customers include HawkPartners, Mastercard, Ford, EggStrategy, and HP. The founder is Zach Simmons. This UserTesting alternative is headquartered in
#7. UserZoom Alternative to UserTesting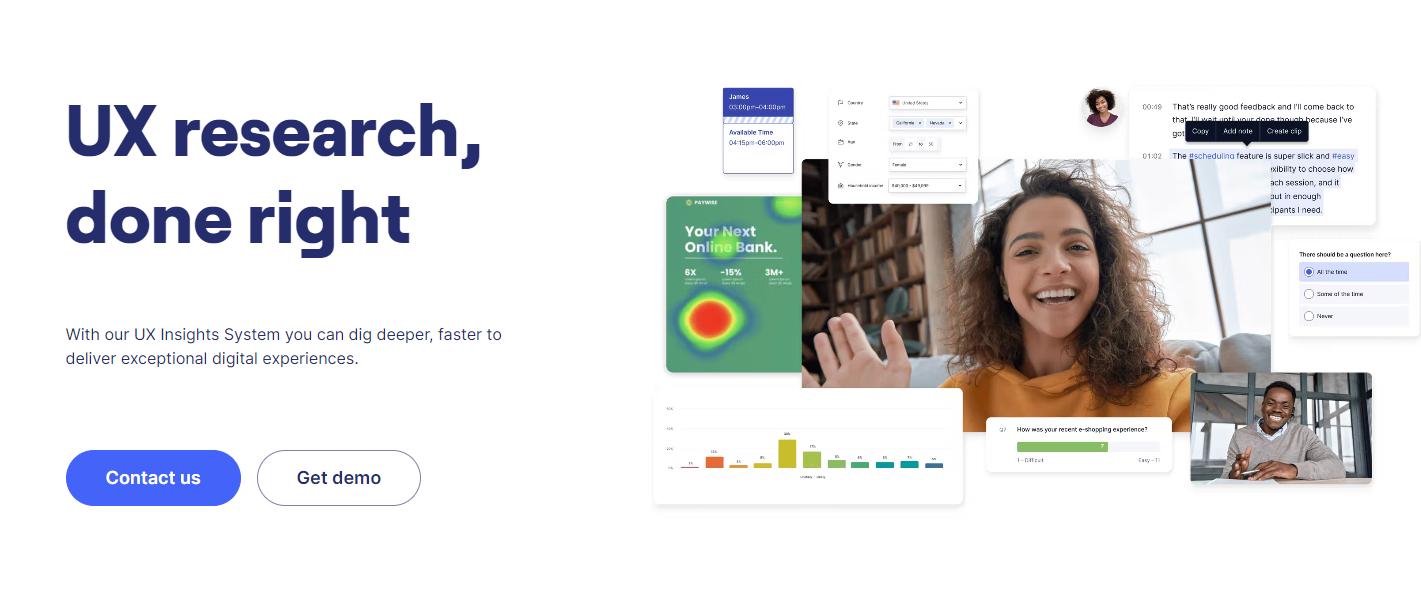 UserZoom is an online user experience (UX) platform that provides valuable information for people who design and create digital products to provide a better experience for their users. The UserZoom process begins with the creation of the desired research. Then the data is collected, and several options for finding participants are available. Finally, the data is analyzed and displayed using automated dashboards and reports.
According to a Total Economic Impact (TEI) study conducted by Forrester Research to determine the potential return on investment (ROI) when deploying UserZoom, organizations can expect 537% ROI, $2.3 million in total benefit for three years, and a shorter payback period than six months.
The founder is David Murphy. The company is headquartered in San Jose, California. It is one of the top alternatives to UserTesting com, and many clients prove it: Aetna, Mayo Clinic, The Clorox Company, PayPal, and Microsoft.
#8. Userfeel Alternative to UserTesting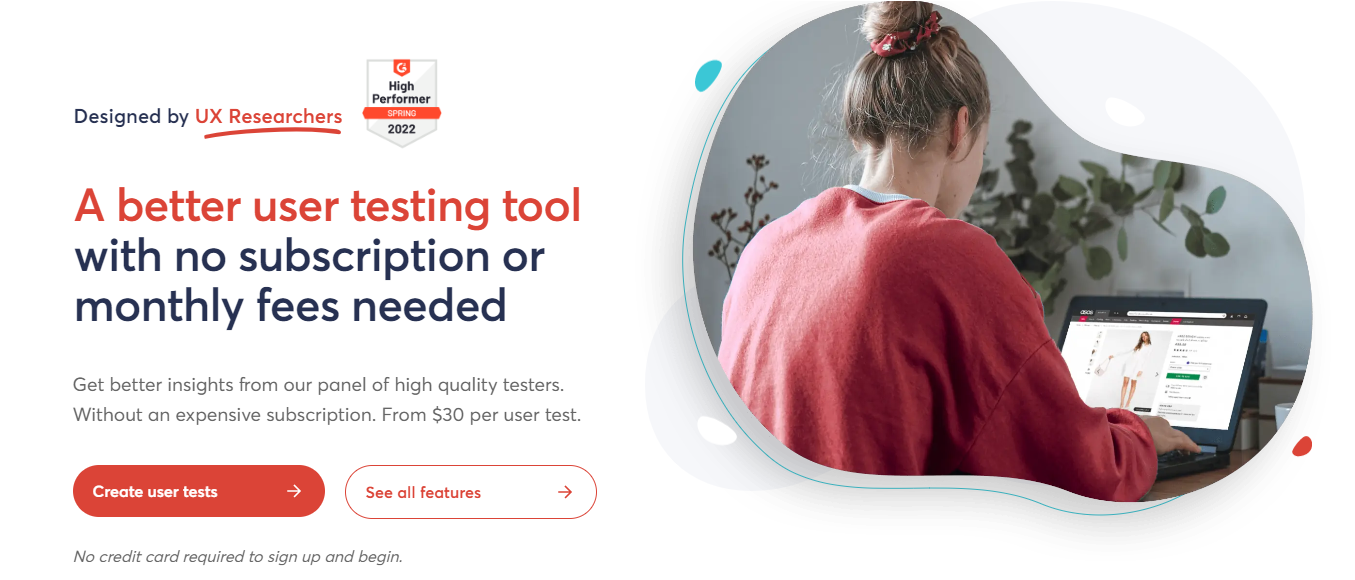 Userfeel is a crowd-testing service with extensive experience in usability testing. A company's usability testing service can quickly show you what's bothering your site visitors and stop them from doing what they're coming to your site for.
It provides web and mobile application testing using any operating system. It is possible to test any site in any language. There is a team of over 110,000 testers speaking 40 languages. You can filter testers by demographic criteria such as age, gender, country, language, and internet experience level.
Yannis Karampelas is the founder. The company is headquartered in Athens, Attiki, Greece. It is rightfully considered one of the top alternatives to UserTesting: users include Asos, Hertz, Mimi Hearing Technologies, Unbound Merino, DH Marketing, and Viaplay.
#9. Usersnap Alternative to UserTesting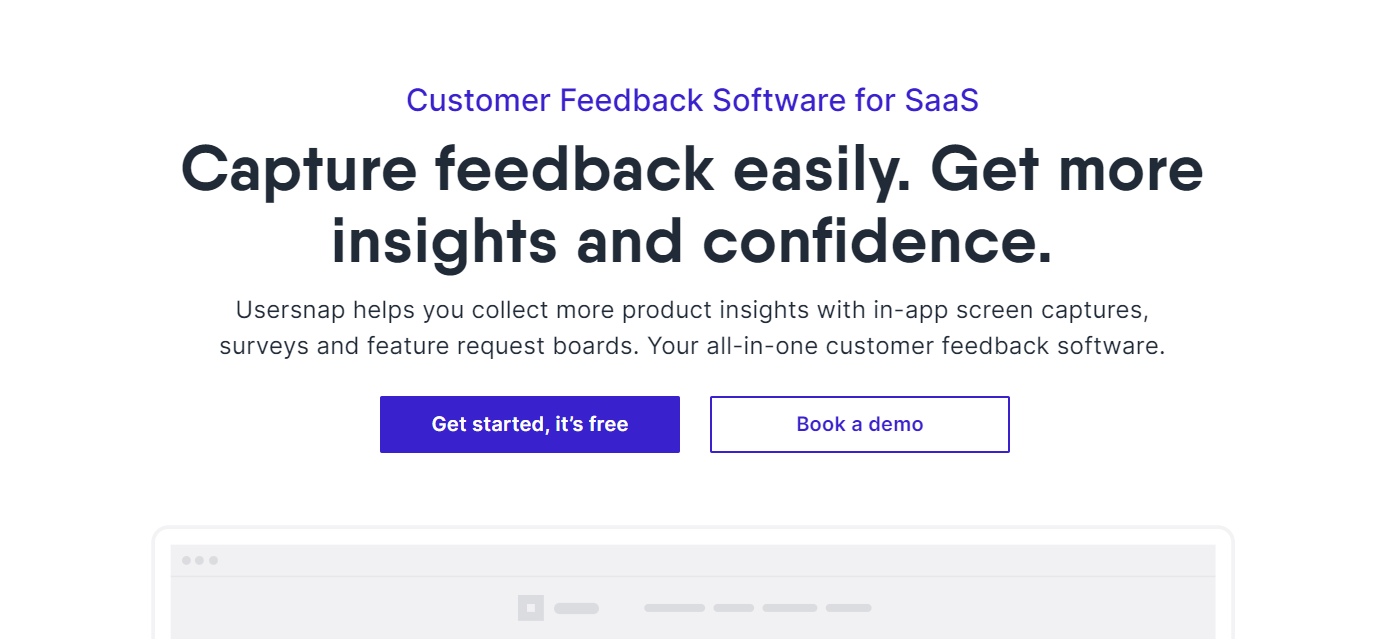 Usersnap is a customer feedback software for SaaS companies to collect product insights and scale outstanding customer experiences. It is a popular customer feedback software for collecting visual feedback executed via a JavaScript tag on your website. Your customers can leave comments, notes, and circle elements on the website to illustrate impressions. Screenshots can also be created with the user snap, and captured images can thus enrich idea management. The functions include:
Task management.
Alarm function.
Feedback management and more.
Josef Trauner is the founder. The company is headquartered in Linz, Austria. Customers of this UserTesting alternative include Microsoft, Airbus, Canva, Hawaiian Airlines, and Instacart.
#10. Qualaroo Alternative to UserTesting
This UserTesting alternative is an on-site feedback and survey platform for capturing in-context user feedback. With the help of surveys, it is very easy to get user feedback. The functions include:
A/B testing.
Survey templates.
AI sentiment analysis.
Confirmation page surveys.
Question branching.
The founder of this UserTesting alternative is Sean Ellis. The clients include Nitro, Palgrave Macmillan Ltd., Enterprise Fleet Management, Inc., and The Wall Street Journal, Inc. It is headquartered in Texas, United States.
Pros and Cons of using UserTesting
Let's now look at several UserTesting reviews to get the full picture.
What do you like best about UserTesting?
If you want insights and get those fast, this tool can help you with that. The tool can do that if you want unmoderated and moderated options. Finally, if you want something you can combine with your existing tooling, this tool can also do that.
It's a one-stop shop in the best possible way. Is it cheap? Not at all! But you get what you pay for, so the game is worth the candle.
What do you dislike about UserTesting?
No matter how hard you try, you'll occasionally get a bad egg. Is that the fault of the solution? No, but it's still frustrating! I suppose I could be that guy and say that I would like a dark mode, maybe there is one, and I just haven't seen it.
"Easy way to earn pocket money with your basic english knowledge"
What do you like best about UserTesting?
I have been a user for two years. Initially, I believed it was just like all other fraud websites. But gradually, I got several websites and mobile application tests from the tool. Now I earn a decent amount of money by giving decent reviews or opinions for websites or mobile applications.
What do you dislike about the tool?
The only thing I dislike is the price. Also, I had some problems due to my geographical location.
Conclusion
All in all, we have presented the best solutions that are available nowadays. Moreover, they all provide decent services so you can choose any. Good luck!