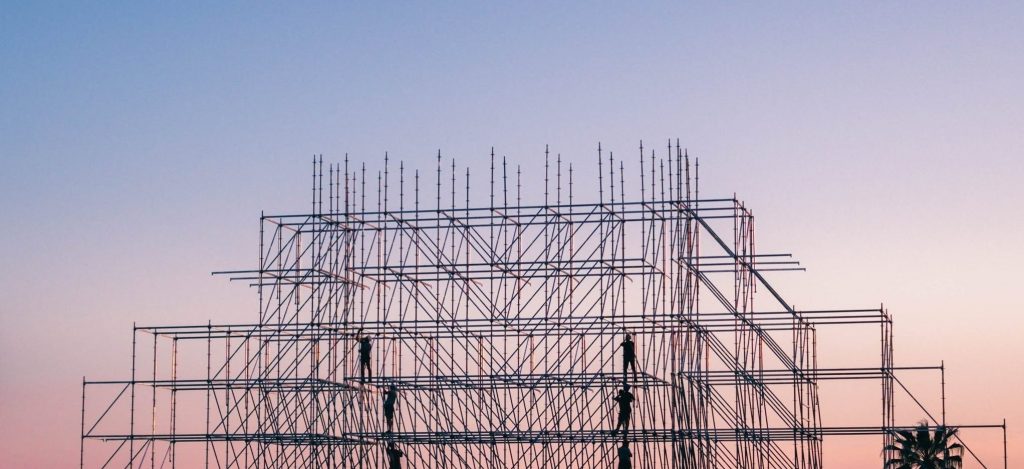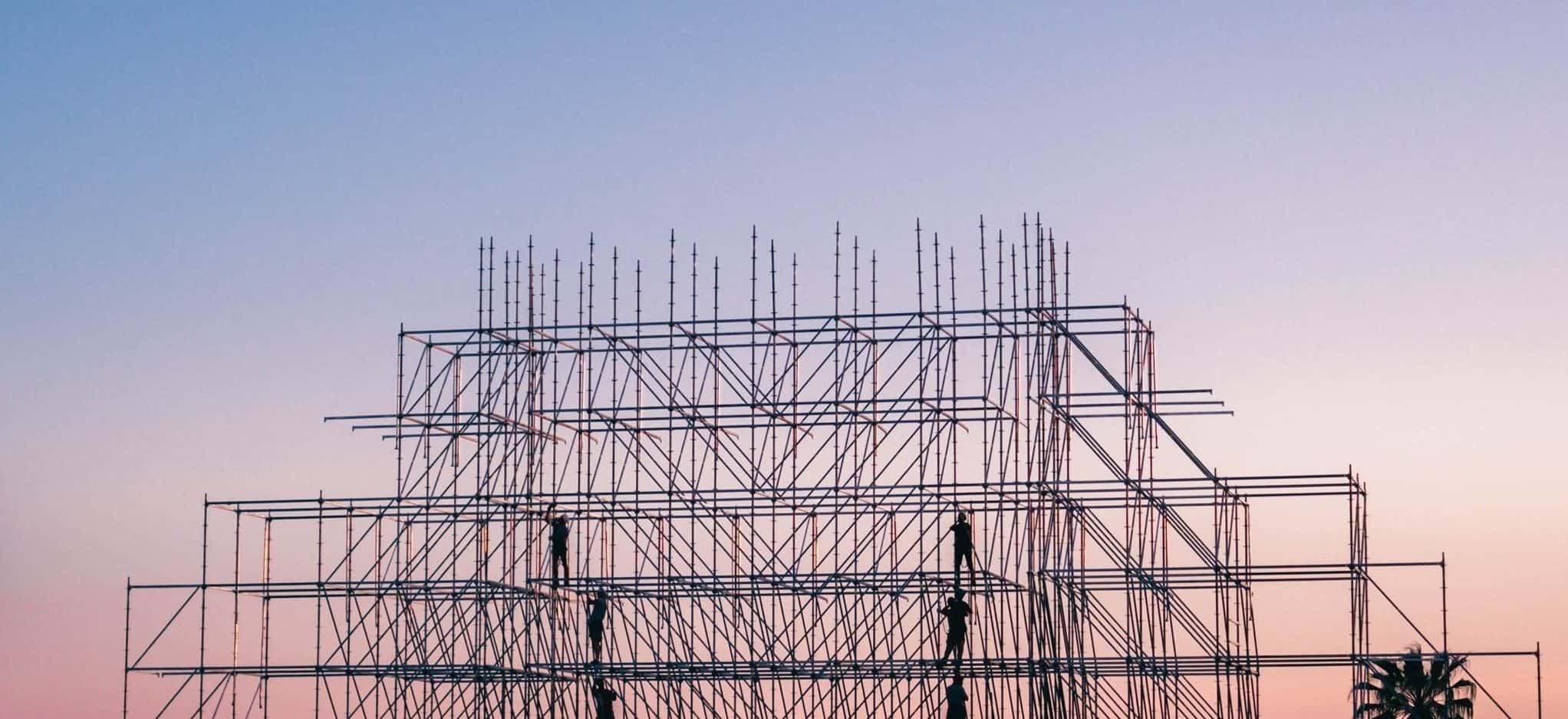 The opportunity to create business websites with a minimum budget has opened numerous prospects for the appearance of website builders. Using them you can build a website from typical template blocks in a visual editor without any fundamental knowledge in programming. In such tools, usually, you will maximum have to register and pay for hosting. Some of them provide their services absolutely for free in exchange for showing their ads on the customer's page.
With the development of this tool and the increasing demand, its functionality and capabilities became richer. Various resources compete in the available options and the assortment of plugins and extensions offered to customers. This has raised an important question: Which of the website builders is most suitable for every particular case?
We decided to help users and prepared an extensive overview of the most popular website builders for building your own web page.
About Website Builders
The primary idea of website builders is to allow people without technical expertise in layout, design, and administration of web resources to create professional websites. They aim to ensure that website creation is as simple as publishing a post in social media: you just edit text and media elements by dragging them in a user-friendly visual editor.
Modern website builders have reached the level when they already look like mini CMSs that allow you to edit design and text separately. This means that you don't have to worry that a part of the layout will slide or a customer will want to change the text, add a new slogan to the main page, or expand the customer reviews section.
This technical separation was also met with an approving nod from search engines. It simplifies the indexing process, and hence, the page will get to the top faster.
Types of Website Builders
There are online website builders and website builder software.
The first type works solely in browsers and the data is stored on its own server. In most cases, you have to pay for the storage and are strongly limited in terms of the available data plans.
Website builder software is installed on computers, like a program. Offline website builders are similar to a graphic editor. The only difference is that as the output you get an archive with the pages of your future website. You can upload it to any host, buy a domain name, and, this way, publish online.
ADVANTAGES OF ONLINE WEBSITE BUILDERS
You work in a browser and need nothing but a stable Internet connection;
You aren't limited to one computer and can simultaneously work from several places (This is super convenient if a website is created by several people);
Hosting issues are usually solved by an online service provider;
Most builders are available for a free test trial or you can even work without any investment while the project is being developed.
ADVANTAGES OF OFFLINE WEBSITE BUILDERS
You can work even without access to the Internet;
The data can be stored on a computer or external drive. No need to immediately pay for hosting;
You have more options and freedom in terms of the future use of your website (You aren't bound by a subscription unlike in online applications)
Popular Website Builder Software
We have slowly come to the overview of the functionality of modern website builders. Below, you will find general information about the most renowned website builder software. These tools aren't ranked. We did this intentionally to let you choose the most suitable app on your own, based on your needs and not our rating.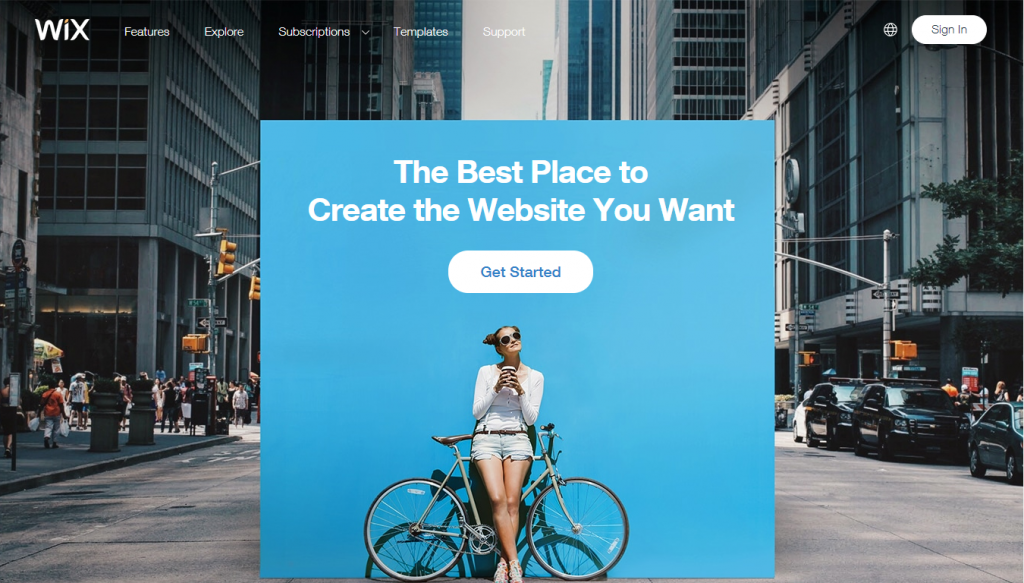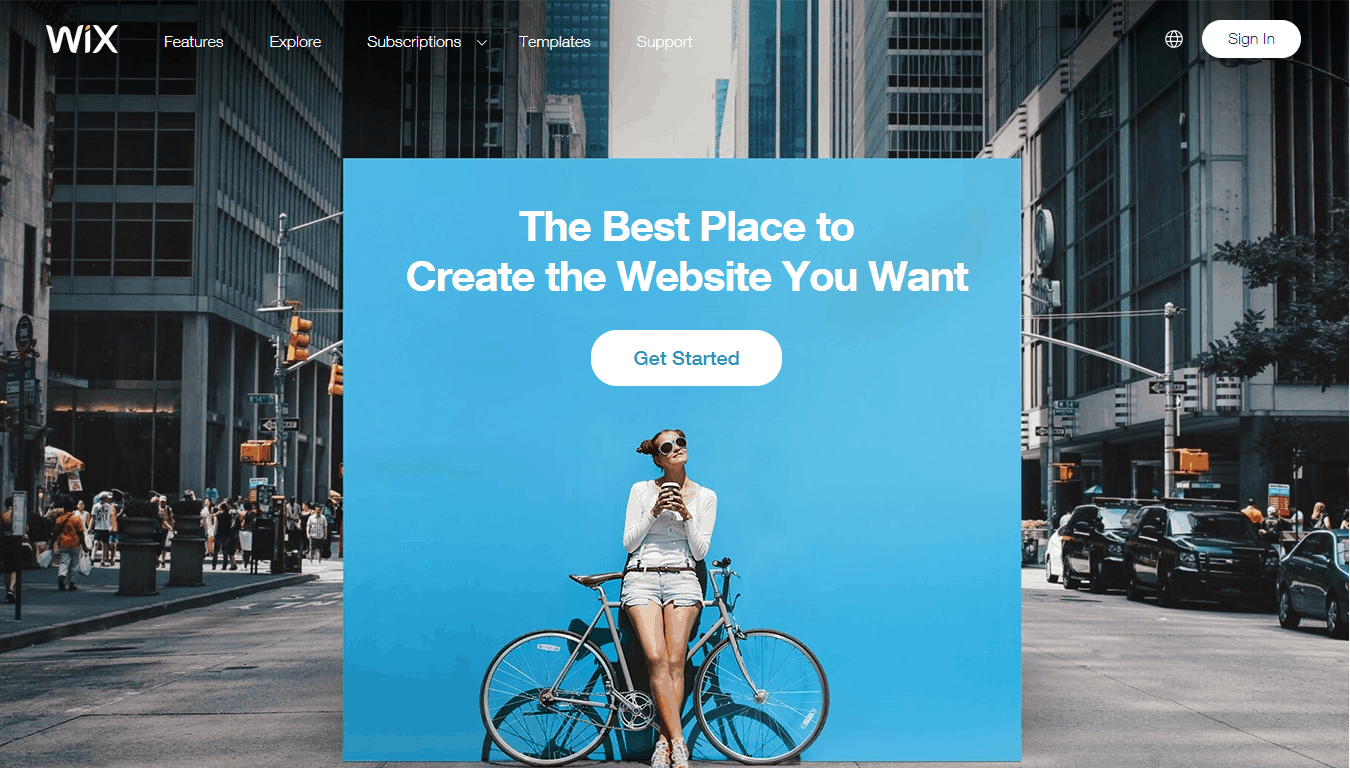 Among the online services for independent website creation WIX is one of the leaders. The tool was developed in 2006 and is mainly chosen to build online stores, blogs, and portfolios. This service was used to launch over 175 million websites.
In the app, users can choose a design with ready-made functionality from over 500 website builder templates. The website builder works based on drag&drop technology. Its basic website templates automatically adapt to the size of a display on different types of devices, including desktops, tablets, and smartphones. For deeper customization of the mobile version of a website, WIX has some built-in automated features. One of them is tap-to-call: users just have to tap a phone number on the screen to make a call.
Experienced users use WixCode to build WIX based websites from scratch. Also, instead of a manual HTML website builder, you can go for WixADI. This AI tool can create a website only using a form filled in by a customer.
In addition, there is a great selection of marketing options. Like in Google Analytics, you can track from which type of device a visitor browses your website, which pages are popular and which need some improvement.
The main page of the app includes the description of new functions and the Support section provides detailed guides on how to use WIX.
Along with the free version with broad functionality, there are also premium plans. The most basic one will cost you €4.5 ($5.1). For €16.5 per month ($18.7) you'll get a chance to create an online store, whereas the €24.5 plan ($27.8) will give you access to the VIP services, including priority response and marketing tools.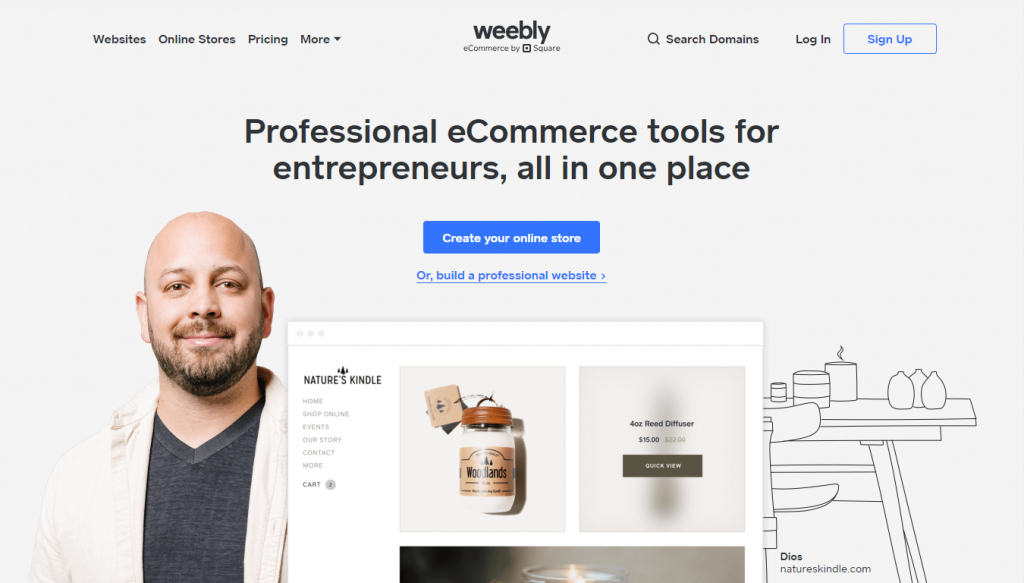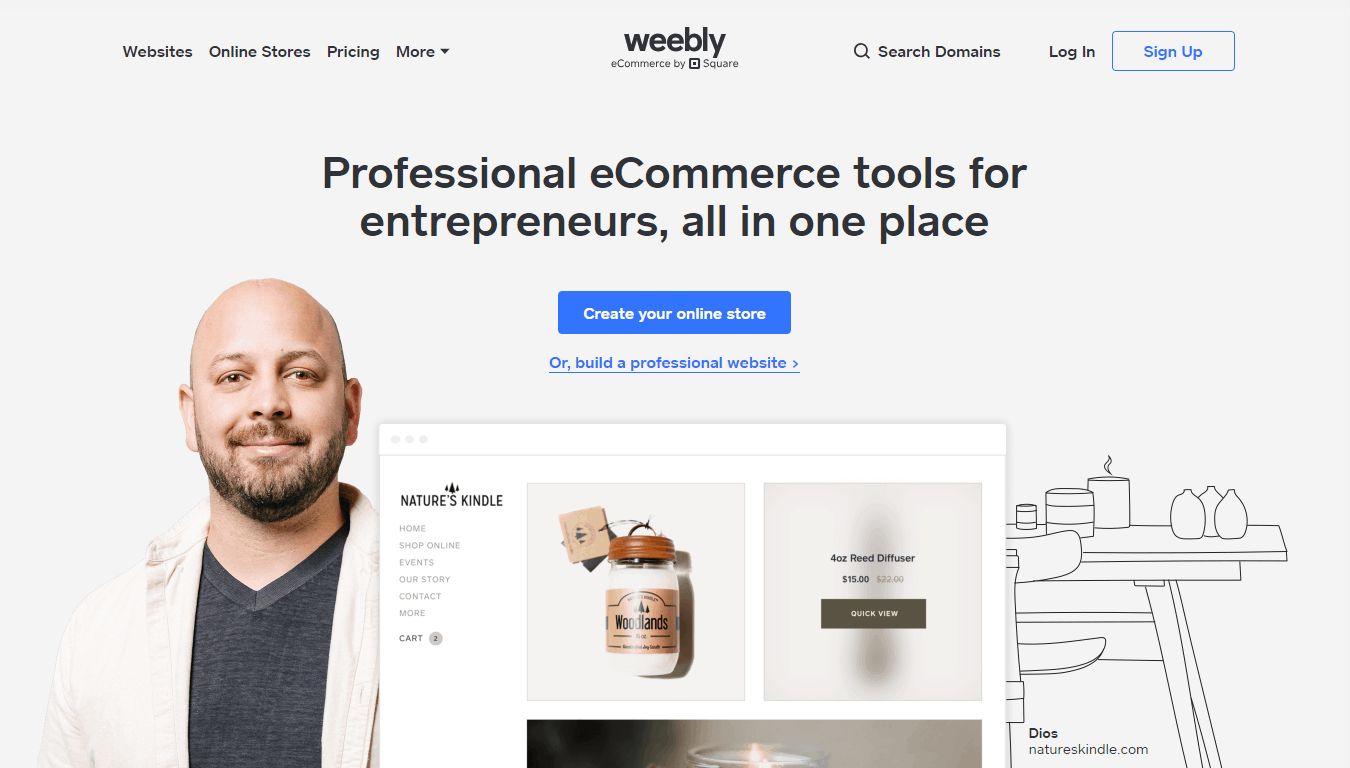 Weebly has been used to create over 40 million websites. It is the second most popular website builder after WIX.
The Weebly's team positions its app as the best website builder for small business since it has everything necessary to create a functional business page.
The template collection offered by Weebly can boast a wide range of useful widgets, including an event planner. You can also set a timer of promo offers, and the system will automatically publish them.
Weebly is the best website builder app for a blog, website, or online store. Unlike in WIX, here you can switch between themes directly in the editor. Another peculiar advantage of Weebly is a drag&drop interface, which sets it apart from its older and more experienced competitor.
Thanks to the SquareSuite utility, you can build a professional online store on your own. Moreover, you get a chance to manage the launched business on-the-go just with your mobile phone. For such purposes, Weebly offers an app which is freely available in AppStore and Play Market.
In the Support center, you'll find useful tips on SEO optimization.
Speaking of the disadvantages of this service, it's worth mentioning the pricing of the paid plans. The displayed prices are calculated on an annual basis. For example, the cheapest plan starts from $5 when paid annually. If you choose this option, you'll get unlimited storage, which is obviously great. For corporate projects, there is a $12 plan and small businesses & stores are offered a $25 package.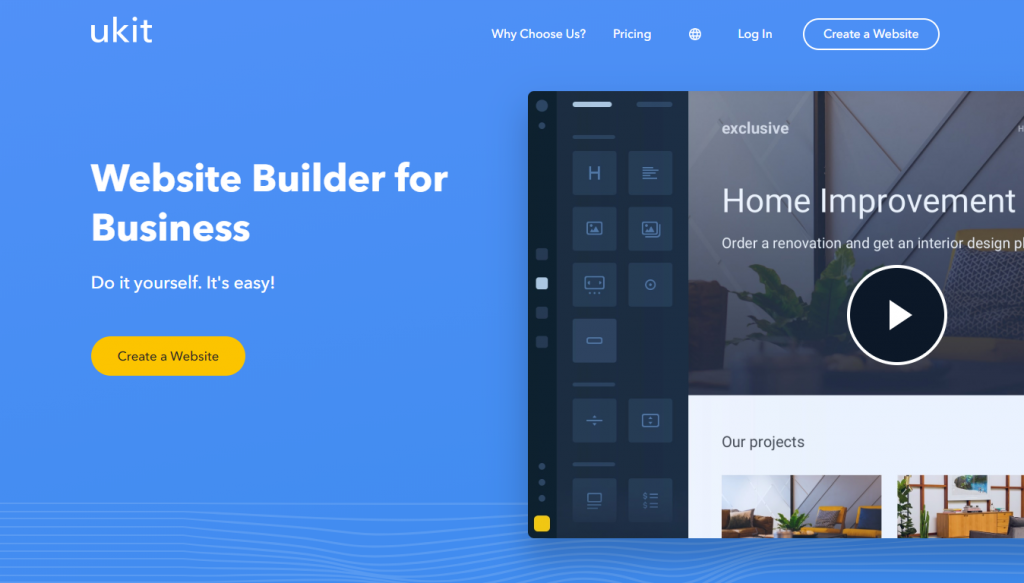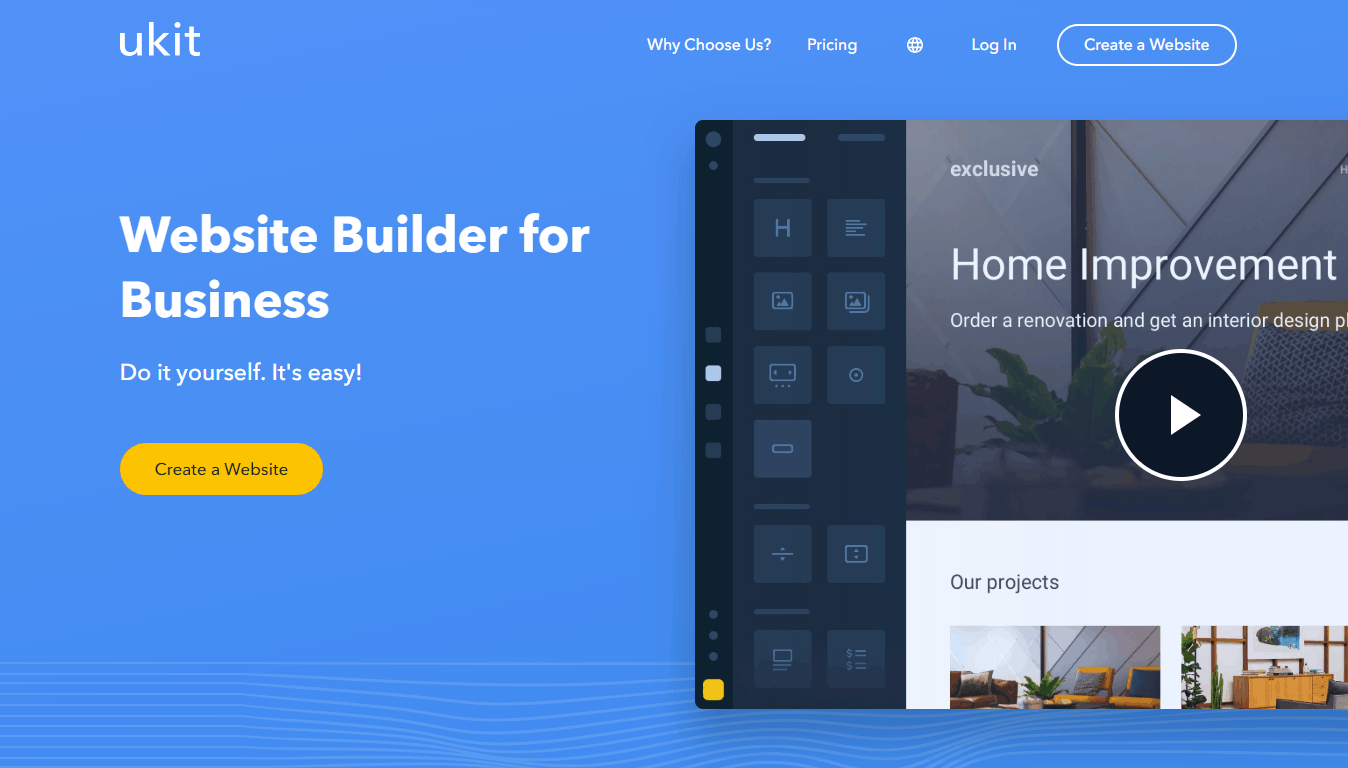 The UKIT system is a heavyweight of easy web builders. Starting from the creation of a simple CMS in 2005, now its team works in two directions: uKit for small and medium businesses and uLanding for landing pages creation. The initial reason for such a solution is a broad functionality of uCoz CMS and extensive documentation.
If a customer doesn't get lost in numerous instructions and tutorials available within the uKit's community and doesn't become a dashing developer as a result, they are going to work with uKit drag&drop builder based on the WYSIWYG technology («What You See Is What You Get»). A bunch of widgets and apps will help you to create a website you want. Thanks to the convenient Bootstrap grid and smart data optimizer, the website will look like it was created by a professional developer.
You can start from the capabilities of a simple free website builder, which is only suitable for basic development. After that, you'll need to switch to one of the paid plans with a monthly fee starting from $4.
The extra advantage of this service is additional protection with Avast Antivirus.
The key drawback is that an online store and shopping cart only become available in the eCommerce plan ($9.60/month) and the customization opens in the Pro subscription ($12/month).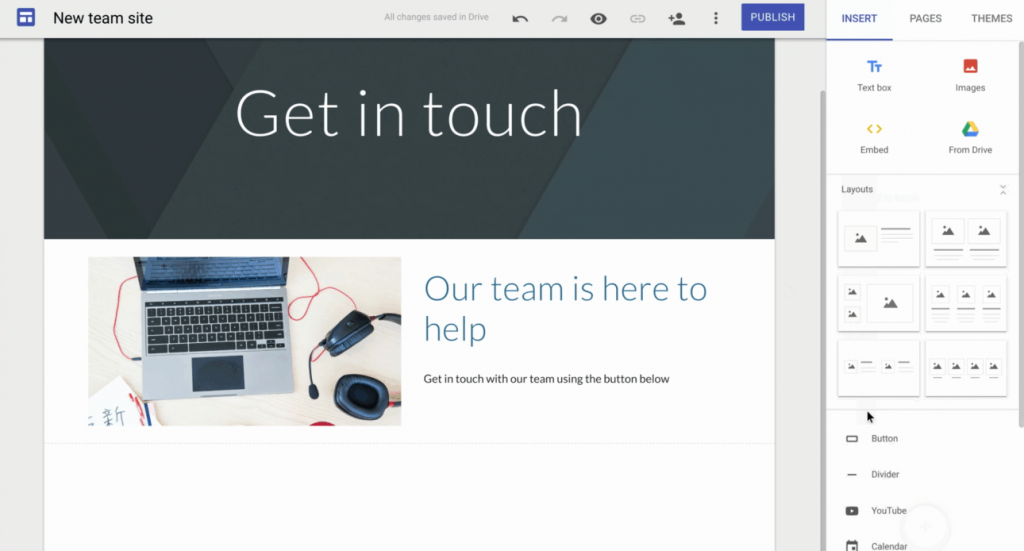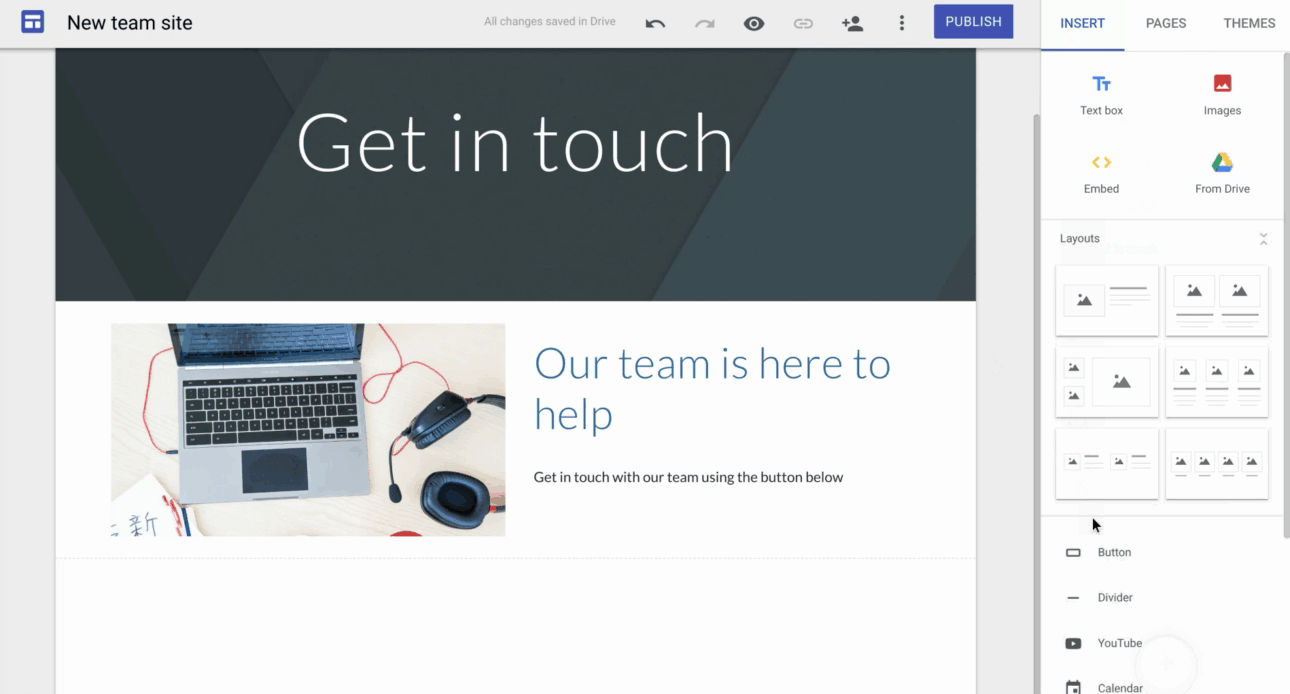 On some PCs, Google's gigantic functionality has already substituted half of the standard software used in Windows. What's next? "Well, let's create our own website builder" – they said, and the famous search engine got its Google Sites app.
The custom website builder offers 6 templates designed in the spirit of minimalism in their every pixel. Despite an extremely basic and plain design, the templates are responsive and adapt to mobile screens. You can edit them on your mobile like Google Docs. By the way, let's mention other Google products. Thanks to its origin, the web page builder can boast seamless integration with all the apps of the Google family. Need to add a map? Create a form? Or maybe upload a presentation or connect a calendar? – Google Sites readily cooperates with its mates.
The interface of the web builder allows working in the drag&drop mode and creates the same impression as other Google services.
If you decide to use this basic functionality, you'll have to sacrifice the opportunity to customize the settings related to SEO optimization (even the change of a title or description). Due to such minor details that may lead to great troubles, Google Sites is more suitable for building event pages, and landing pages that will have sufficient advertising support from external sources, like social media. They say you could email create newsletters like you would with MailChimp (e.g., internal corporate newsletters). But we'd advise to look at other software for that.
There are specific things going into email code which are different than web and you want you mails to have maximum deliverability. There are more specialized and cheap email marketing tools for that (which sometimes also have a pagebuilder).
The created website can theoretically be linked to a custom domain through Google myBusiness, but you need to be an existing organization with a business address.
The only and key advantage is the fact that Google Sites is a completely free website builder. This compensates the unacceptable minimalism of the settings, functionality, and design.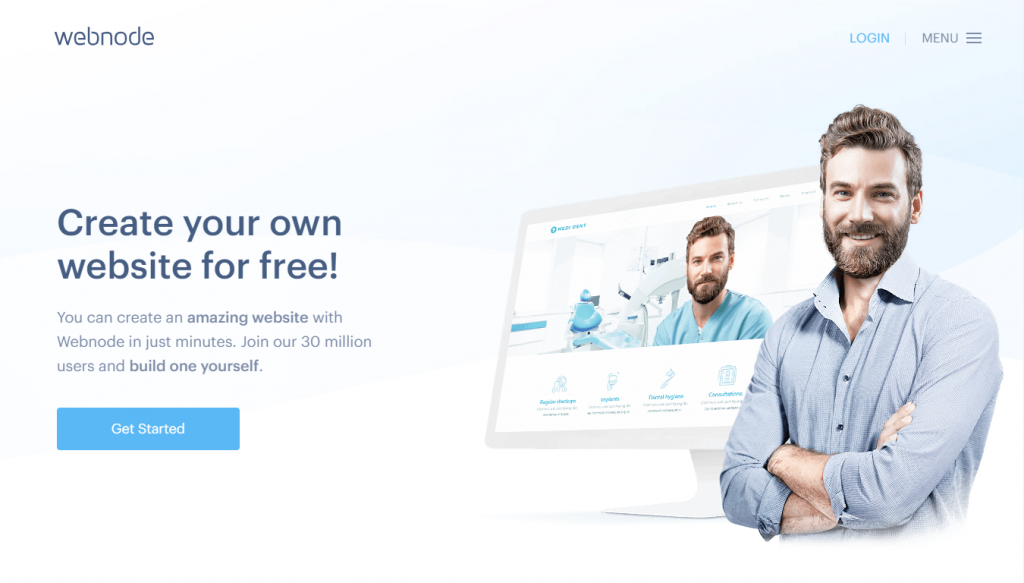 Users would like to build websites as easily as they create documents in Word. That has probably inspired the Webnode's team to make the interface of their website builder similar to Microsoft Office.
In addition to a user-friendly dashboard, there are several other capabilities and functions that are worth highlighting, including the automatic creation of a mobile version. A user creates a version for desktops, and the system simultaneously generates the version for mobile devices.
By 2020, Webnode has won over 30 million users. They have a great bonus: The familiar toolbar is complemented with a fully-featured drag & drop editor. If you have basic programming skills, you can switch the free website builder to the HTML code mode. This makes sense since the excessive minimalism and standard look of the basic website builder templates are one of the Webnode's drawbacks.
Webnode offers 4 paid packages. The pricing starts from $3.95/month (with 100 MB on hosting, limited traffic, and the need to connect an already existing domain) whereas the most advanced plan costs $19.95/month.
The main reason to buy the expensive package is the access to the backup function, the opportunity to add multiple language versions, and unlimited bandwidth. These are the bonuses that partially justify the relatively high prices.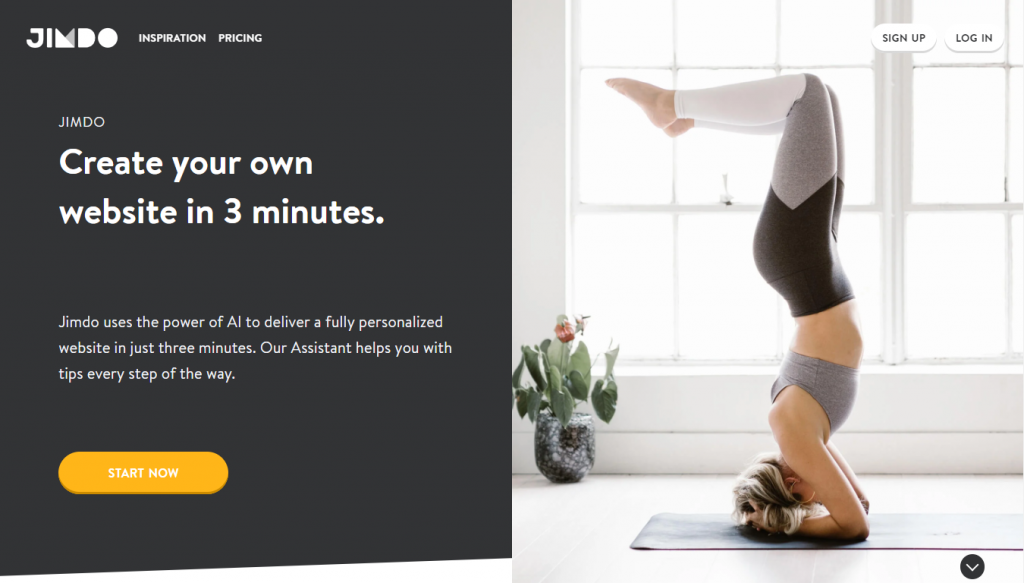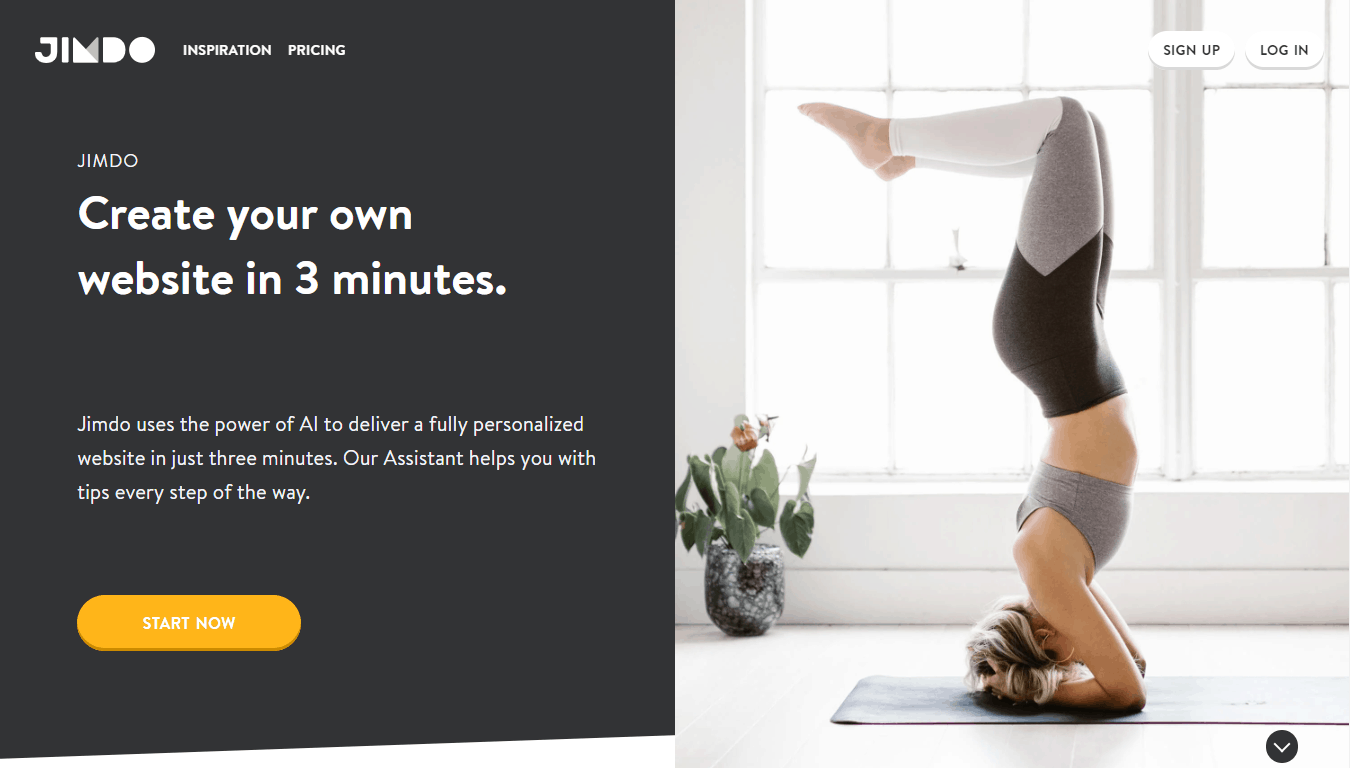 Let's take a look at Jimdo, the website builder that has already helped 20 million users to create their own website.
It's absolutely simple and clear. Every key step is described on the main page. If you want to assess the ease-of-use of the tool, you can try a free version. Even in this partially limited option, you are offered to choose from the Creator (the Lego-Like principle, a website is created from separate blocks) or Dolphin modes (the WYSIWYG interface).
The newbies are offered the help of AI: just fill in the form, and get the options of the perfect website for your business. As a result, the customer receives an editable website which is by default optimized for search engines.
The app has its mobile website builder which allows you to manage and edit the content on-the-go, right from your smartphone.
Speaking of drawbacks, we should mention relatively high pricing of the paid packages. Here are the current annual subscriptions (cost per month):
Start – $9 (domain for 1 year);
Grow – $15 (a bestseller plan);
eCommerce – $19 (fully adapted for online stores);
Unlimited – $39.
Those who want to create an online store based on the Jimdo platform should take into account the fact that the payment is processed in euro.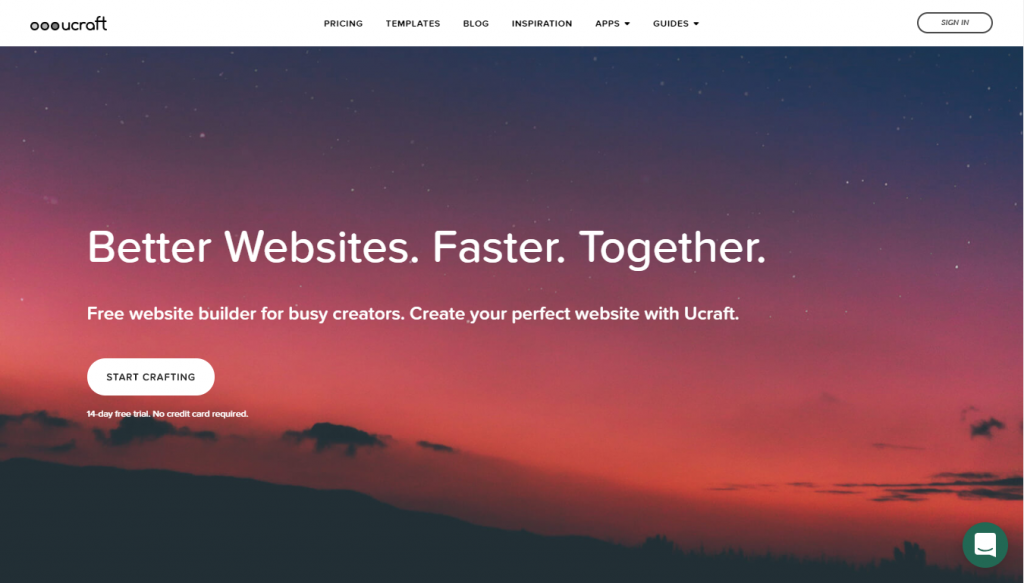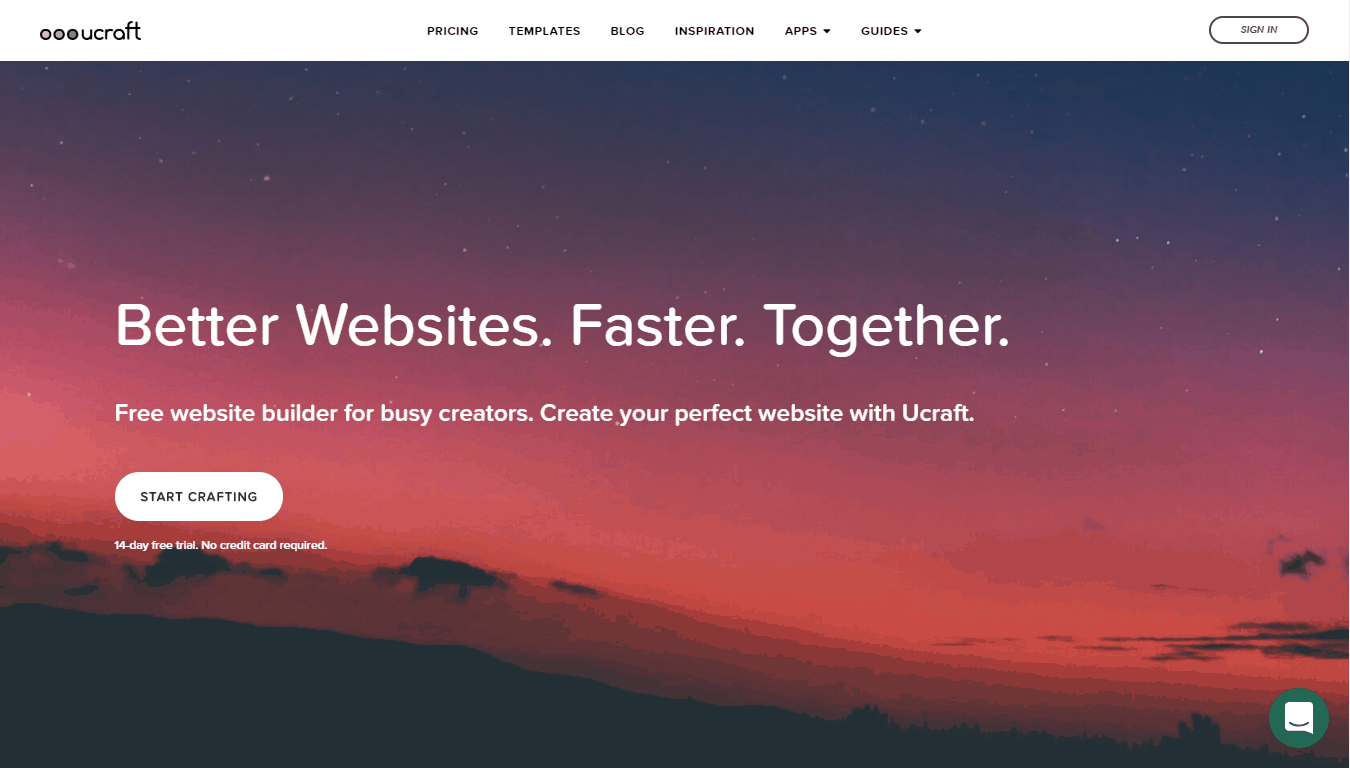 This is a simple website builder offering a broad functionality to launch your own landing page and keep developing and improving it in the future.
uCraft is a great tool for small business owners, freelancers, fashion bloggers, street artists, and small independent brands. In other words, for those who have neither layout design/ programming skills nor a large budget but want their own website.
From the beginning of 2020, the builder has updated its pricing and expanded the functionality of the free mode. This has probably turned uCraft into the best free website builder. Using the free plan, you can:
Connect your own domain;
Configure an SSL certificate for the website;
Work with tools for SEO promotion.
Note that in this mode, you can only use a basic template but have an unlimited number of pages.
The users of the paid plans get access to a logo maker, 65 customizable responsive templates, and selected layouts for personal blogs. The paid access gives numerous opportunities for ecommerce business with annual plans charged on a monthly basis.
Pro Website – $10 (no builder branding, 24/7 support, sale of up to 50 products without a commission);
Pro Shop – $21 (up to 1000 products, simplified interface for managing sales);
BigCommerce – $39 (unlimited products, eBay, Facebook, and Yandex integration).
When you switch to the BigCommerce subscription, allowing to create your own online store, there is no way back. Well, you probably wouldn't even want to go back.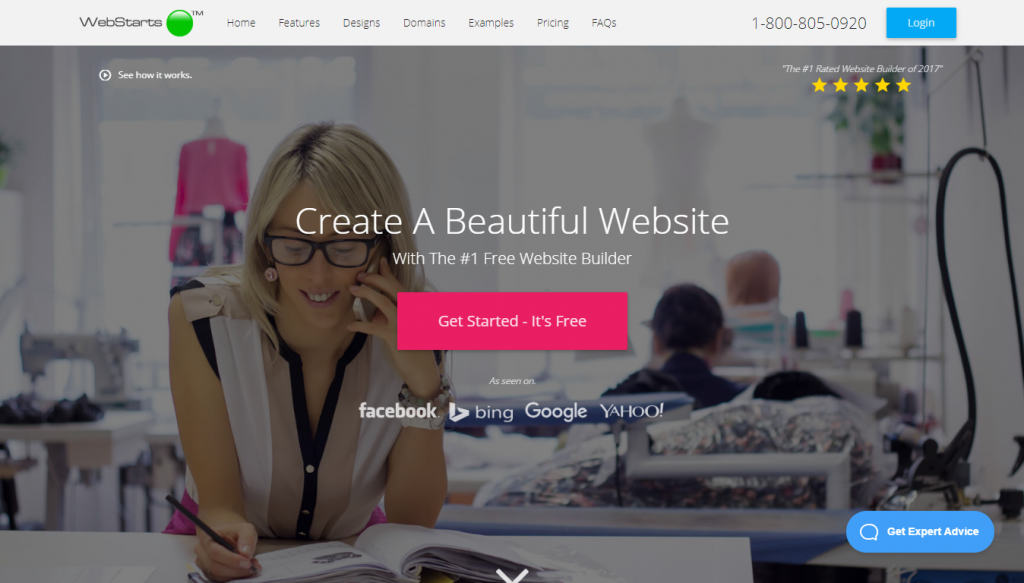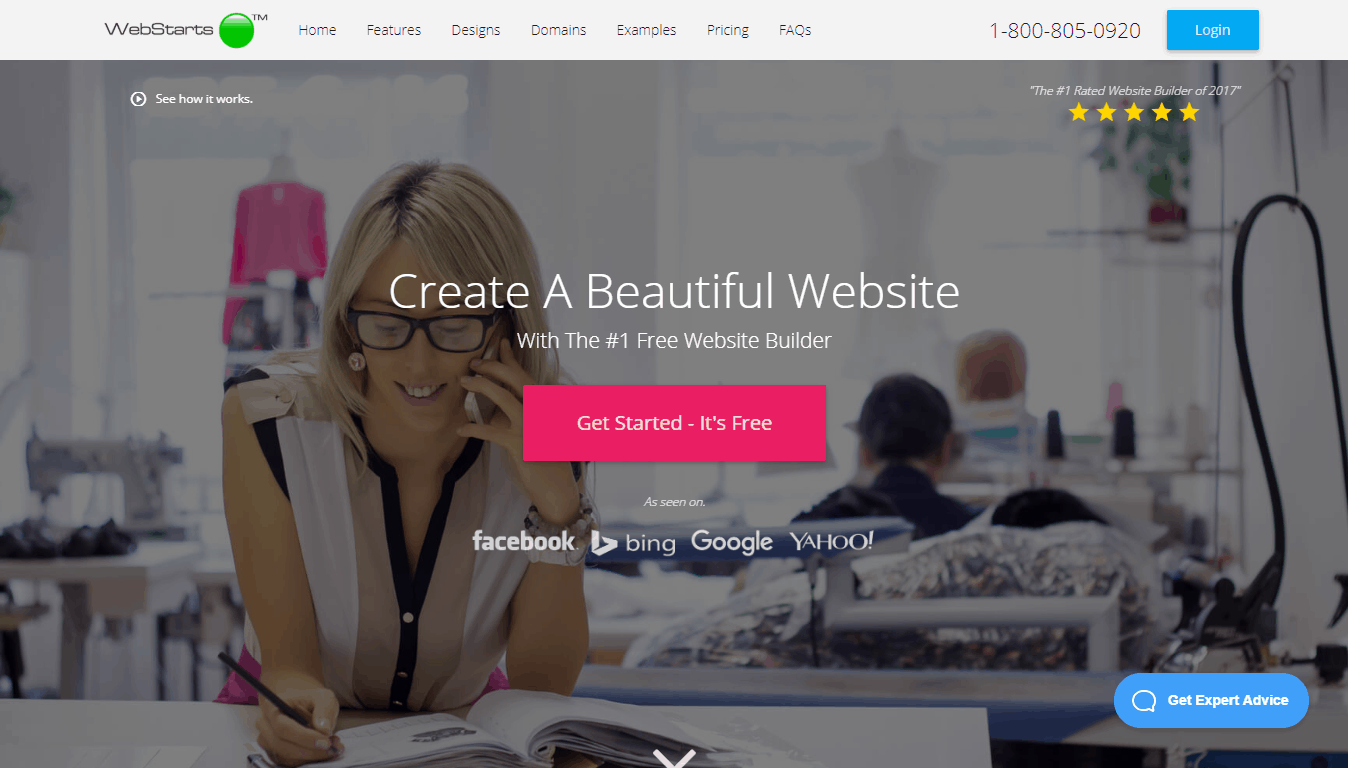 To create your personal website, you can use a free app offered by WebStarts. No need to hire a layout designer or developer. The application is suitable for newbies, small communities, and hobby clubs. People often jokingly call WebStarts a younger brother of WIX.
On the main page of WebStarts, there is a detailed step-by-step guide on how to create a website. As an alternative, you can just fill in a user form, and entrust the website creation process to AI. The free version allows you to build a fully working website with an unlimited number of pages and 1 GB of cloud storage. The website can be managed from a mobile app.
Those who opt for the paid WebStarts' plans get access to business emails, can connect contact forms, use tools for the integration with search engines, and optimize their website for mobile. Yet to have all these functions, you will need to use the most expensive $19.99/month plan.
WebStarts is definitely the best website builder for newbies. It's not suitable to create complex full-functional services. Generally, in case you don't represent a large organization, the only reason to switch to the most costly plan is free $500 for advertising in Google AdWords.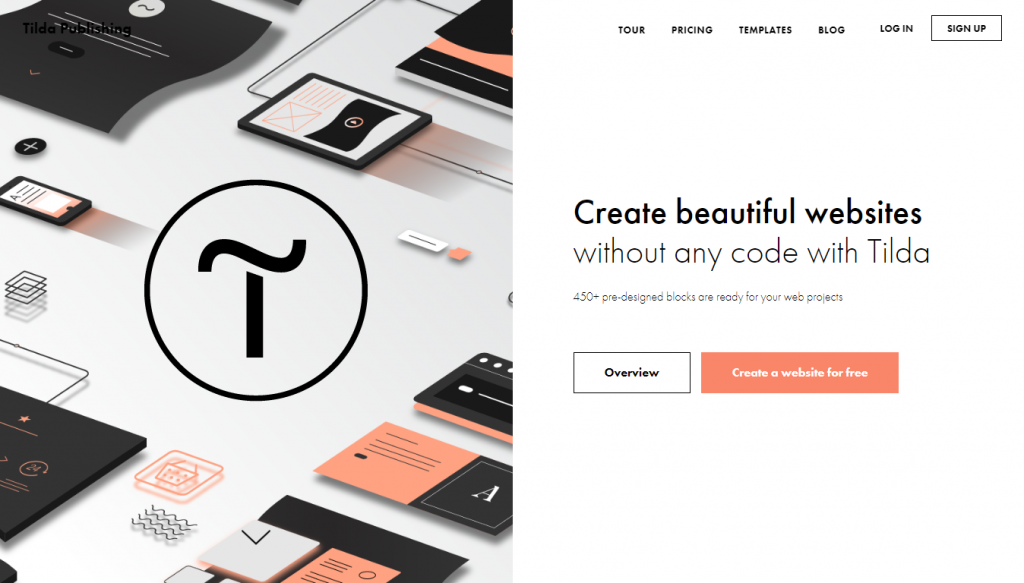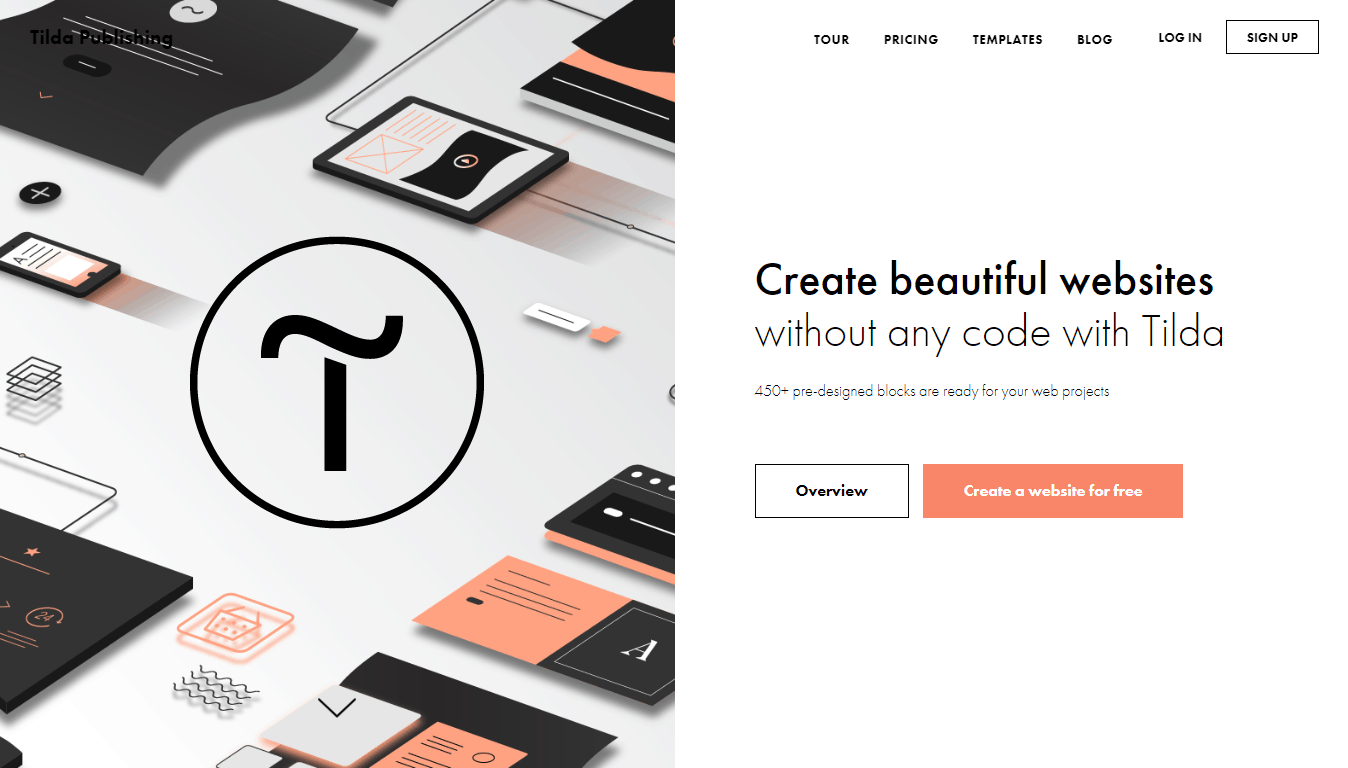 In Tilda, you can create a website from over 450 separate blocks. Inserting and moving them, a user gets an original and functional website. The tool can come in handy to the owners of selling pages, online stores, and news portals.
Tilda has the built-in Zero Block app which serves as a professional graphic editor in which, if needed, you can draw a website from scratch using the best design and typography practices.
The block-based model simplifies the process of website creation and allows you to make a page for any taste and purposes. In addition, the blocks are already adapted for mobile. The drag&drop functionality makes the service more convenient for newbies.
Thanks to the mobile app, you can manage your website directly from your smartphone.
If you use this app simply as a free website builder, you'll have 1 free website created from the basic set of modules.
Buying the paid Personal plan for $10/month, you get your custom domain and the access to all blocks.
In the Business plan for $20/month, there are already 5 available websites and the export of source code (for example, to transfer a website to another host).
In case you have any questions, you can consult the support. However, the interface pop-up tips will definitely simplify your work.
Moreover, they have developed the whole educational platform Tilda Education with customized courses.
Yet Tilda has one noticeable disadvantage. Unfortunately, there are some limitations if you decide to switch to another resource after the end of the subscription. In case you hesitate for more than 6 months, the website data will be permanently deleted from the storage, and you won't be able to restore them.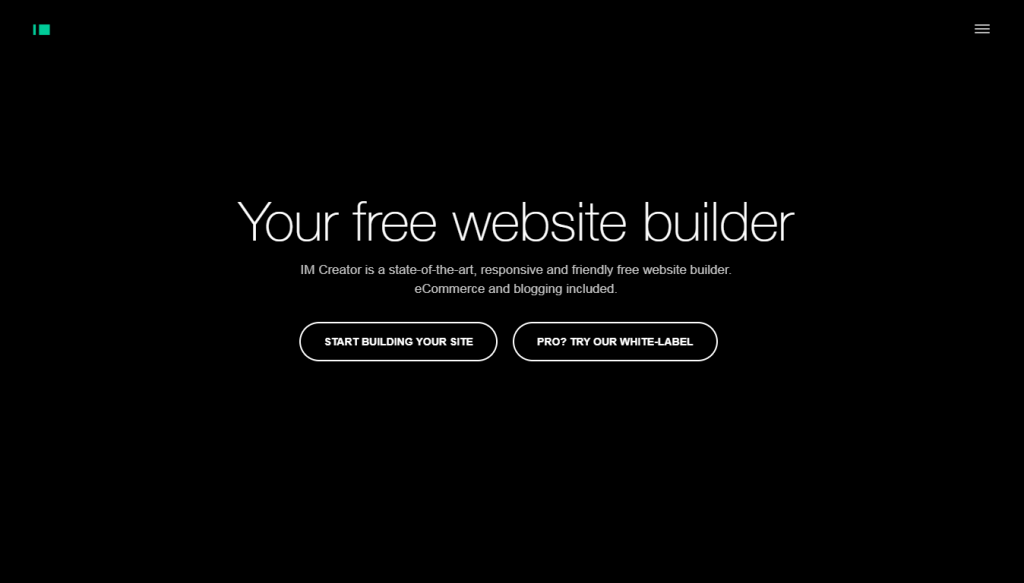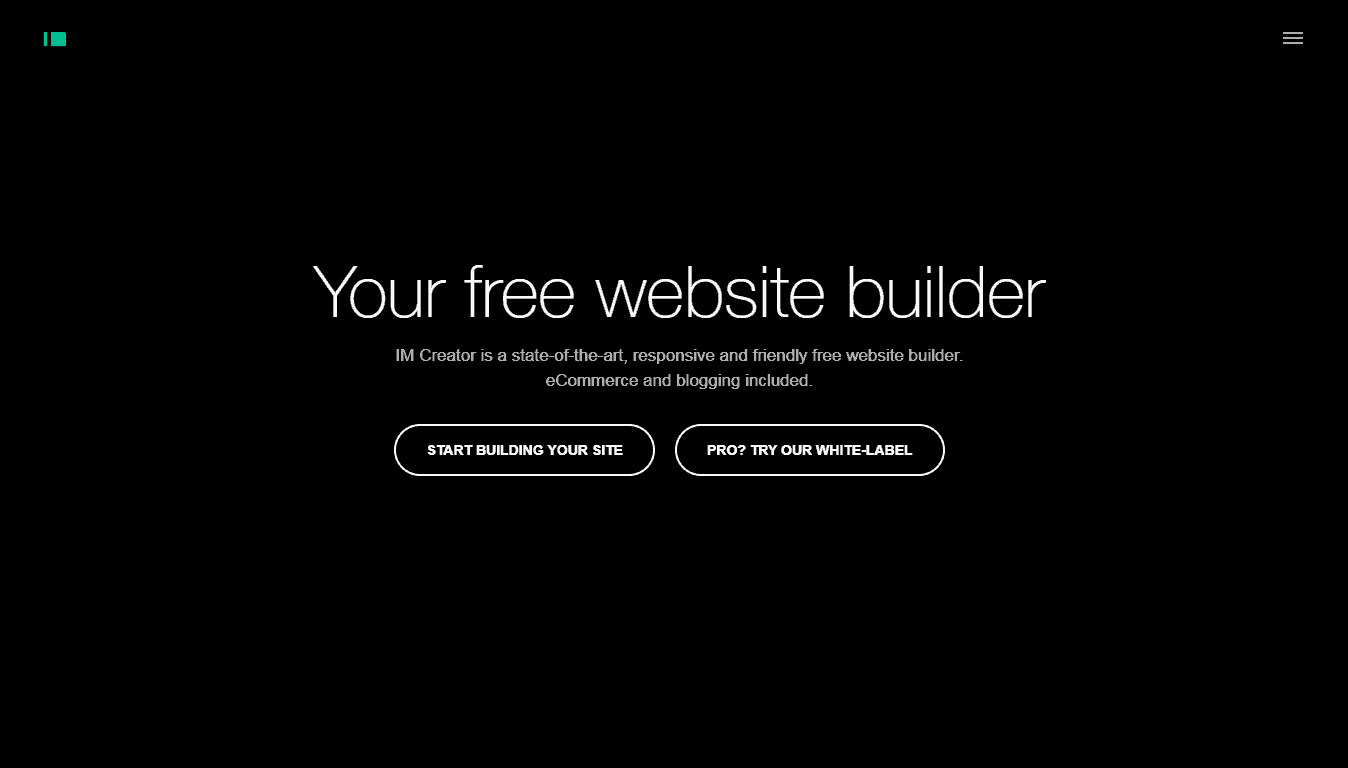 IM Creator has already been used to build over 17 million websites. The service specializes in big and complex websites suitable for both large information portals and online stores (for the latter it has a convenient interface and a set of useful extensions).
Most importantly, you won't need any special knowledge. Just choose a ready-made template from dozens of options, combine them using Lego-Like technology or do everything manually through the drag&drop platform. For all the options they have prepared detailed text descriptions and video instructions.
The application is equipped with the best mobile website builder which can be used to edit data and manage website functionality right from a smartphone. Actually, not only manage – in this mobile app, you can directly create your website, instantly conducting on-site testing of its mobile version. IM Creator offers two paid subscription plans:
$7.95/month – custom domain and premium support
$350/year – unlimited package
IM Creator can become a great free website builder for students, artists, and any average user. Upon an email request, its developers are ready to provide you a free plan for small non-commercial projects. Good news! Even free websites won't include the branding of the service. It's already a fair reason to love IM Creator, isn't it?
The developers of IM Creator put their heart into the Lego-Like platform. Yet they warn that the websites built on it aren't responsive. This was a reason to ensure that the tool is really convenient to use on mobile devices.
An additional disadvantage is an unreadable and long subdomain in the free package. However, online geniuses already publish master classes on how to make an address more user-friendly, so there is still a huge hope for IM Creator.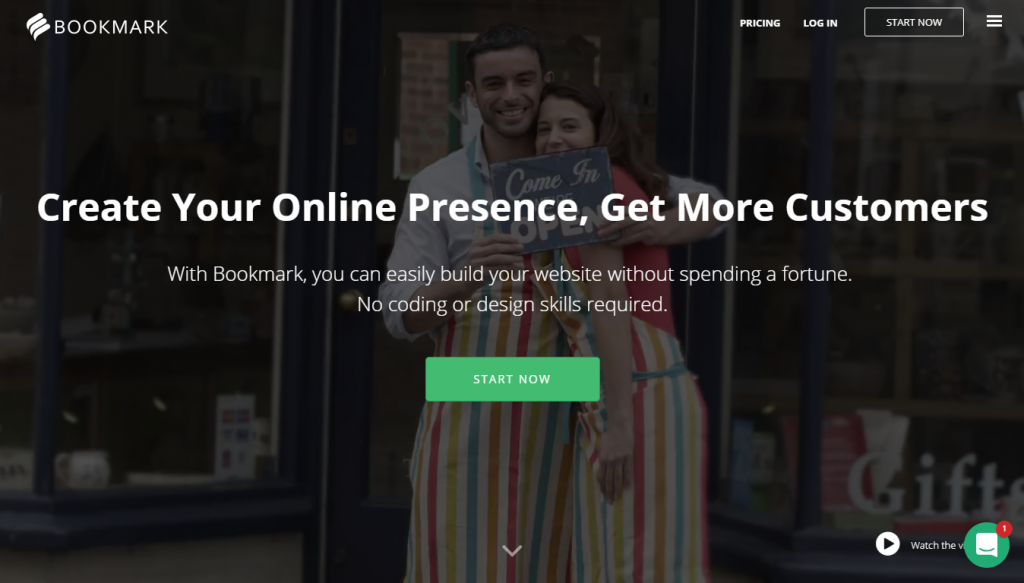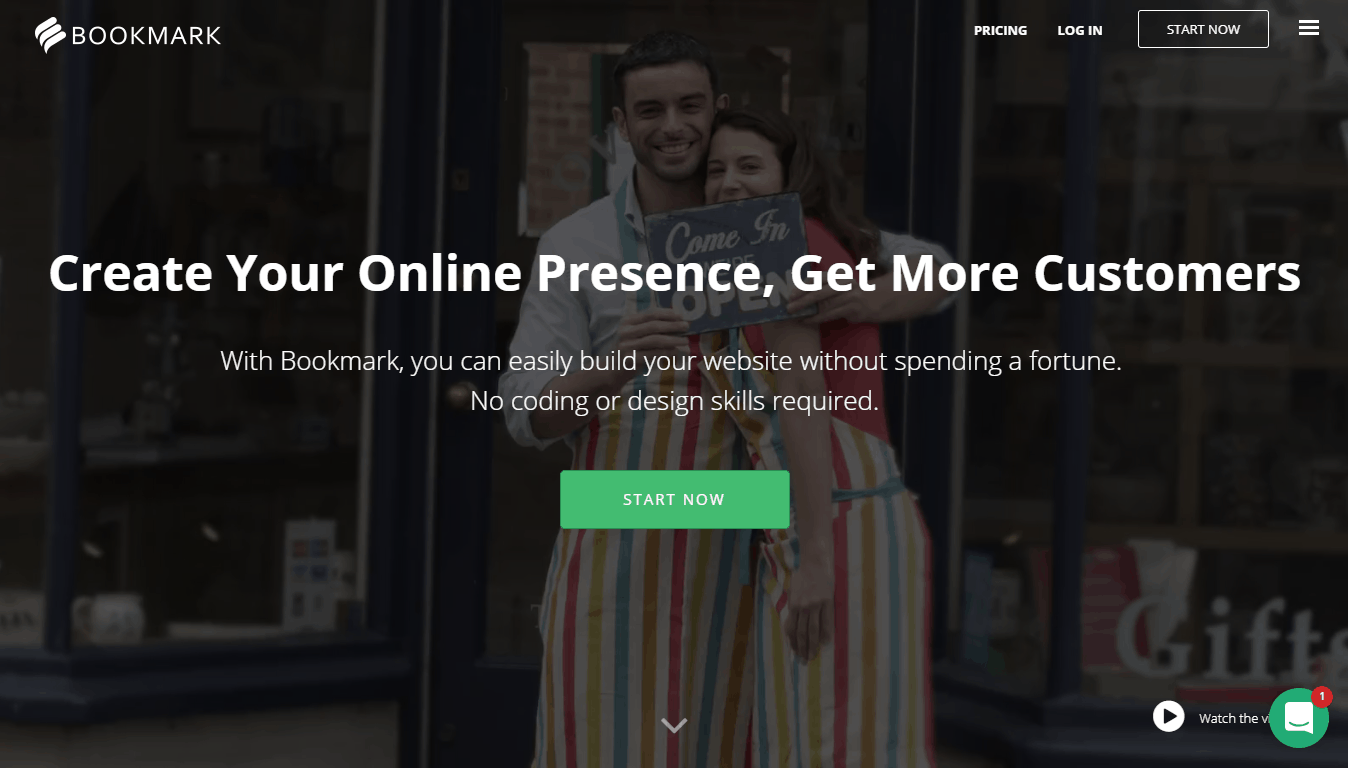 Bookmark is a humble but functional website builder app in which users can create a professional website without any extra effort. The app keeps up with the times and has brought the use of AIDA artificial intelligence capabilities to perfection.
Bookmark's developers advocate a 100% individual approach to the structure and design of every project. It's enough to fill in a form, and the algorithm will independently define the most appropriate structure for the website and offer some themes. Users just have to choose what they need.
Bookmark is great to create a multilingual website or online store. This platform supports translation into 50 languages. For those who prefer to keep their finger on the pulse, the interface has built-in tools for analytics. By the way, you can also check the indicators of your website on-the-go since the website builder app has a mobile version.
You may start from a free plugin since all the basic functions are freely available.
To provide detailed training on the capabilities of this app, they have created a whole educational center, where users can complete the full-fledged training on all necessary directions of ecommerce business. However, first, you'll need to buy a paid package:
$11.99/month ‒ for small business and entrepreneurs
$24.99/month ‒ for online stores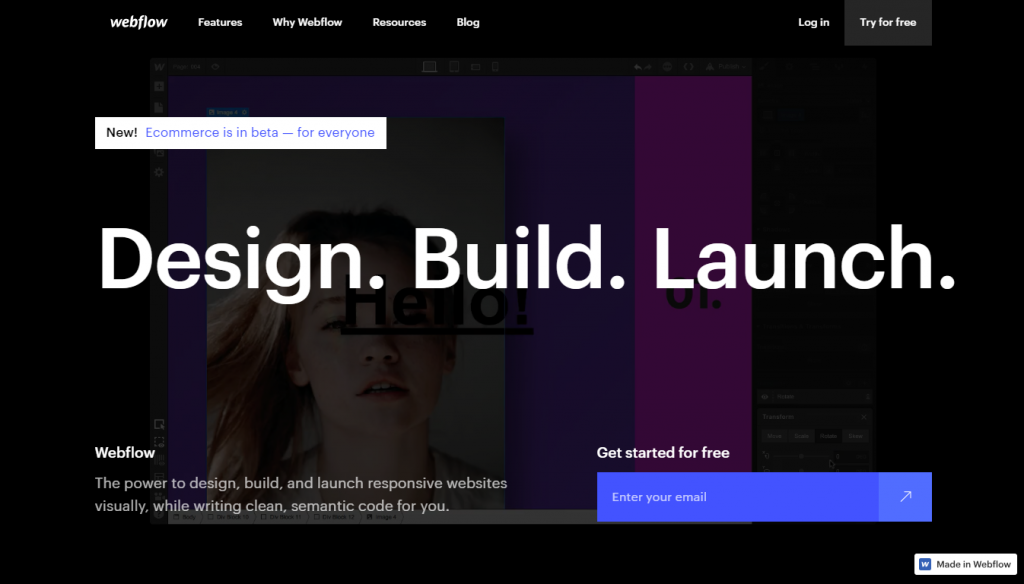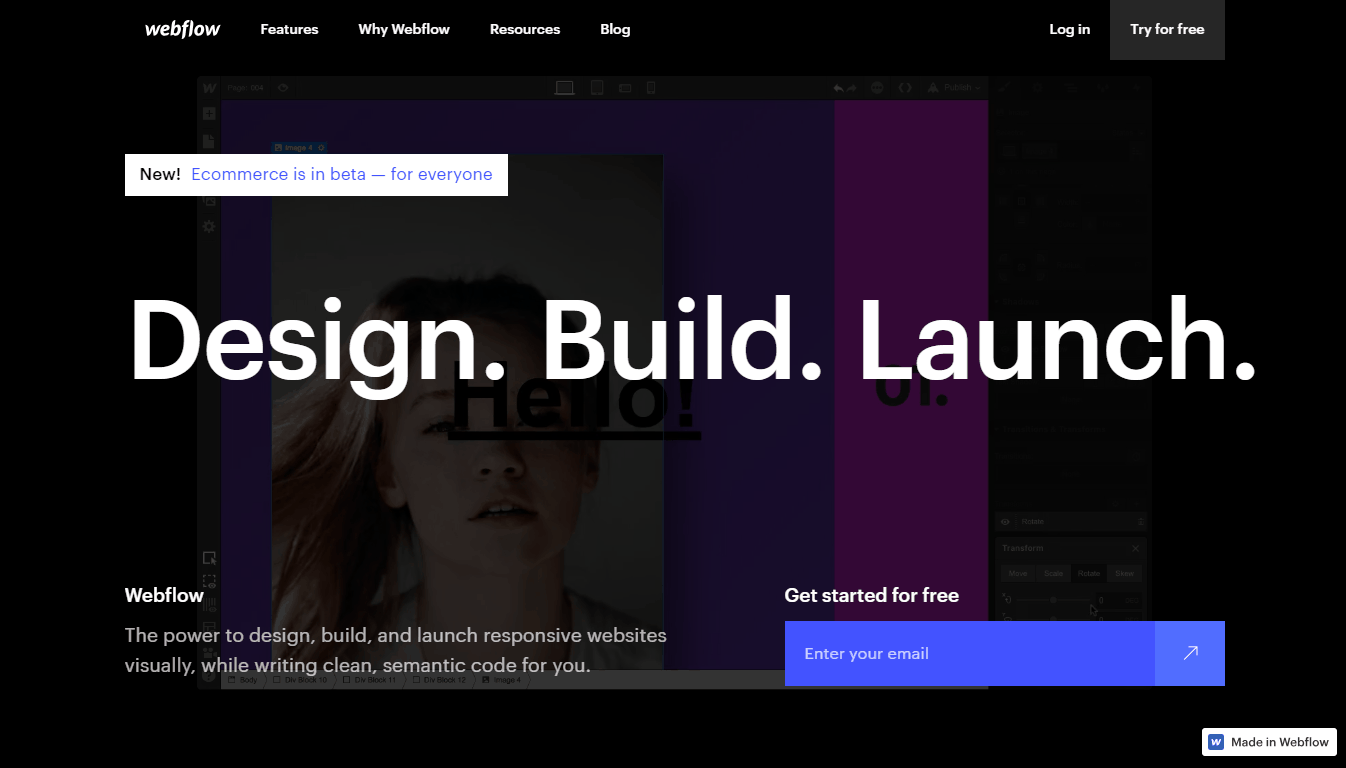 If everything you can do online is being an average user, but you crave to have your own website without too much effort and investment, Webflow is just what you need. No, you won't find a ready web page there. Yet you will be able to easily create it with an extremely simple website builder. A free subscription allows you to launch two simple functional services.
Of course, they won't have fancy solutions or a mobile version, and you will only be able to upload up to 50 elements, but the very website will exist.
In this drag and drop website builder, you can customize the look and content of a page with few simple actions.
In addition, Webflow offers:
A convenient design grid that preserves the template when you add new elements;
Fully visual customization, even without the use of short codes;
An extensive animation library;
100 hours of video instructions on the setup process.
The service also offers more advanced subscriptions – the paid ones. For $12/month, you will get rid of the 50 element limit. For $16/month, you'll get access to the CMS of a website, and paying $36/month you can start making your own portal or online store. Currently, Webflow is running an open beta-test of the eCommerce app.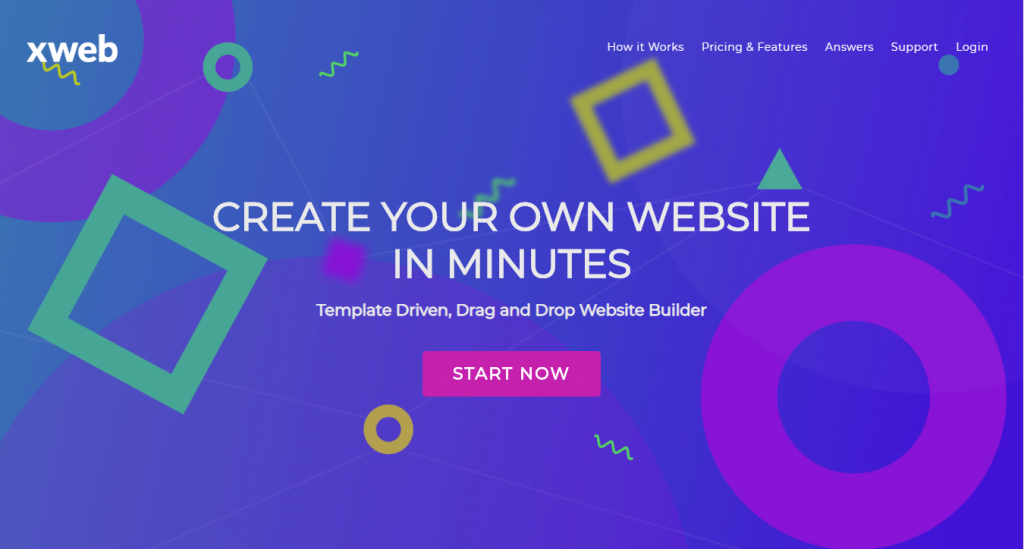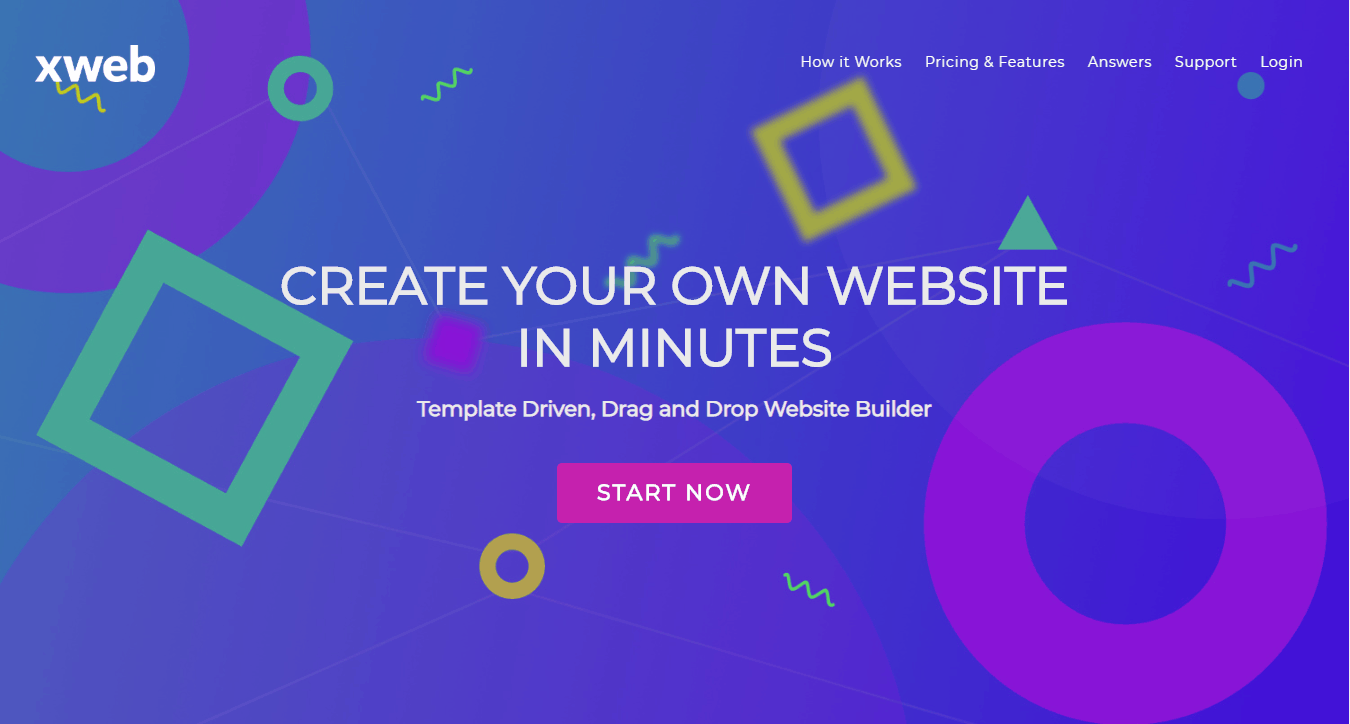 If you start thinking about which free website builder is best on the web, Xweb will definitely be a leader or one of the leaders. Users get access to flexible responsive templates, unlimited hosting, free ecommerce tools, contact and registration forms, advertising tools, and even a live chat.
In case of any questions, you can download a PDF guide, use step-by-step instructions on the main page, or contact online support. Also, there is a mobile app you can install not only to manage your website and its content but also to edit website elements or create a page from scratch.
Online pages are created with the help of a drag and drop website builder which is already available in a free subscription.
The free package limits you to using the Xweb Domain, yet all other features match the paid plan. By paying $7.95/month and activating the Premium subscription, users get access to the paid content and a customized domain name for their website (the first year is free, then charges apply). The paid plan of this service is really cheap, which is great. On the other hand, this raises the question: "How do their developers earn?"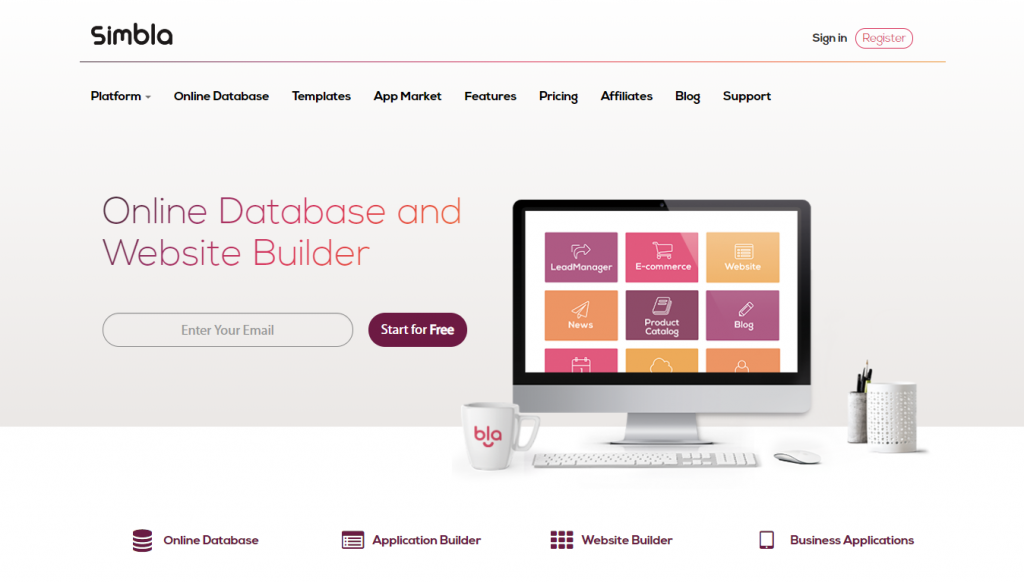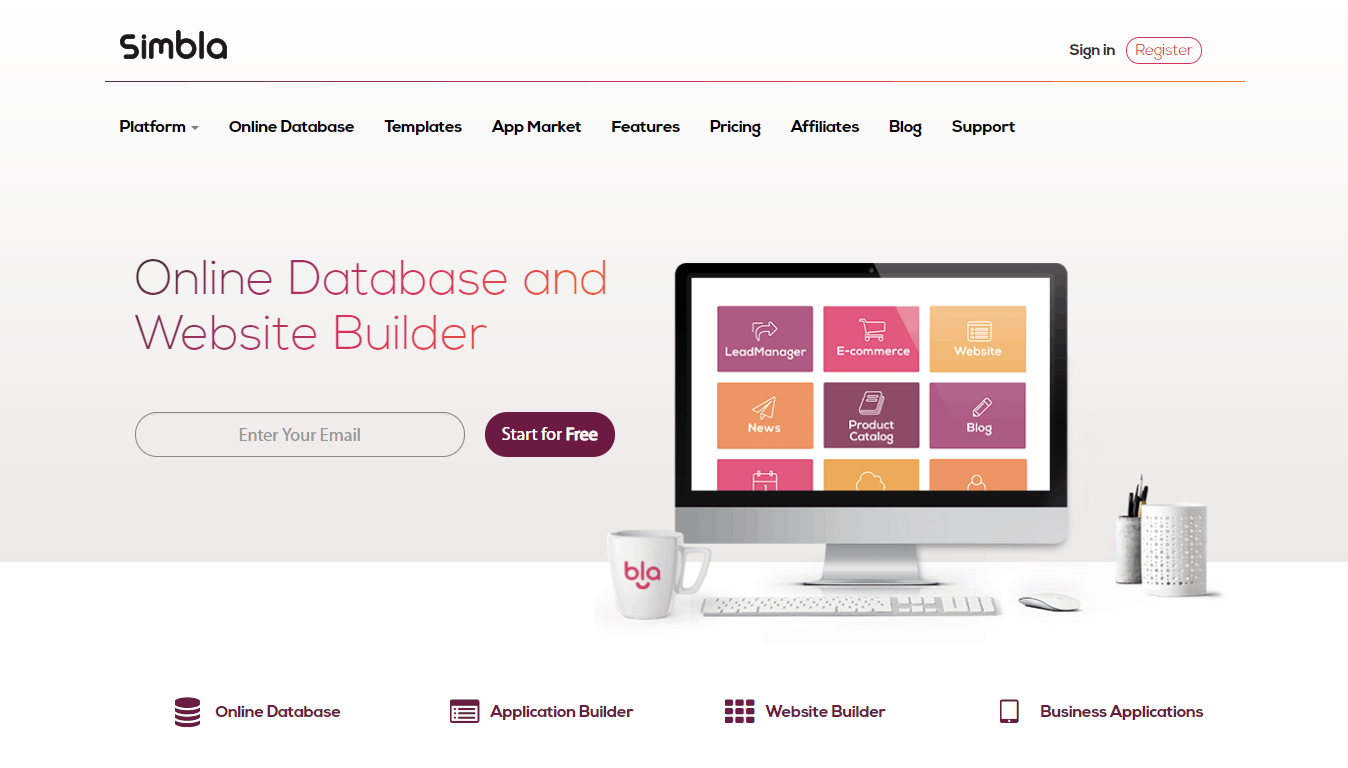 Simbla is a professional service providing a fully-functional CRM system for managing your online enterprise. There are apps to run a store, delivery service, taxi, etc. Simbla has all tools for SEO promotion and offers a functional widget to connect to an enterprise database, and the functionality to transfer the database to cloud storage. There is also a drag and drop website builder and a web app for creating, editing, and managing a website. By the way, its design elements are based on the renowned among developers Bootstrap layout library.
The software offered by Simbla is a full-fledged CRM, in which you can both easily create the first version of your business website and continue developing it with the professional help. Depending on the chosen plan, the price varies from $6 to $48 per month. Generally, there are 4 paid plans: Starter, Basic, Advanced, and Pro. Each of them opens certain additional functions. Also, you can activate a 30-day free version, but it doesn't allow connecting an SSL certificate, which is risky for database protection and nullifies all promotion efforts.
Simbla has been chosen by over 100,00 users mainly because it has the best online website builder for businesses. For those who want to create a website on their own, the app offers free online support, blog with a bunch of useful information, and step-by-step video instructions.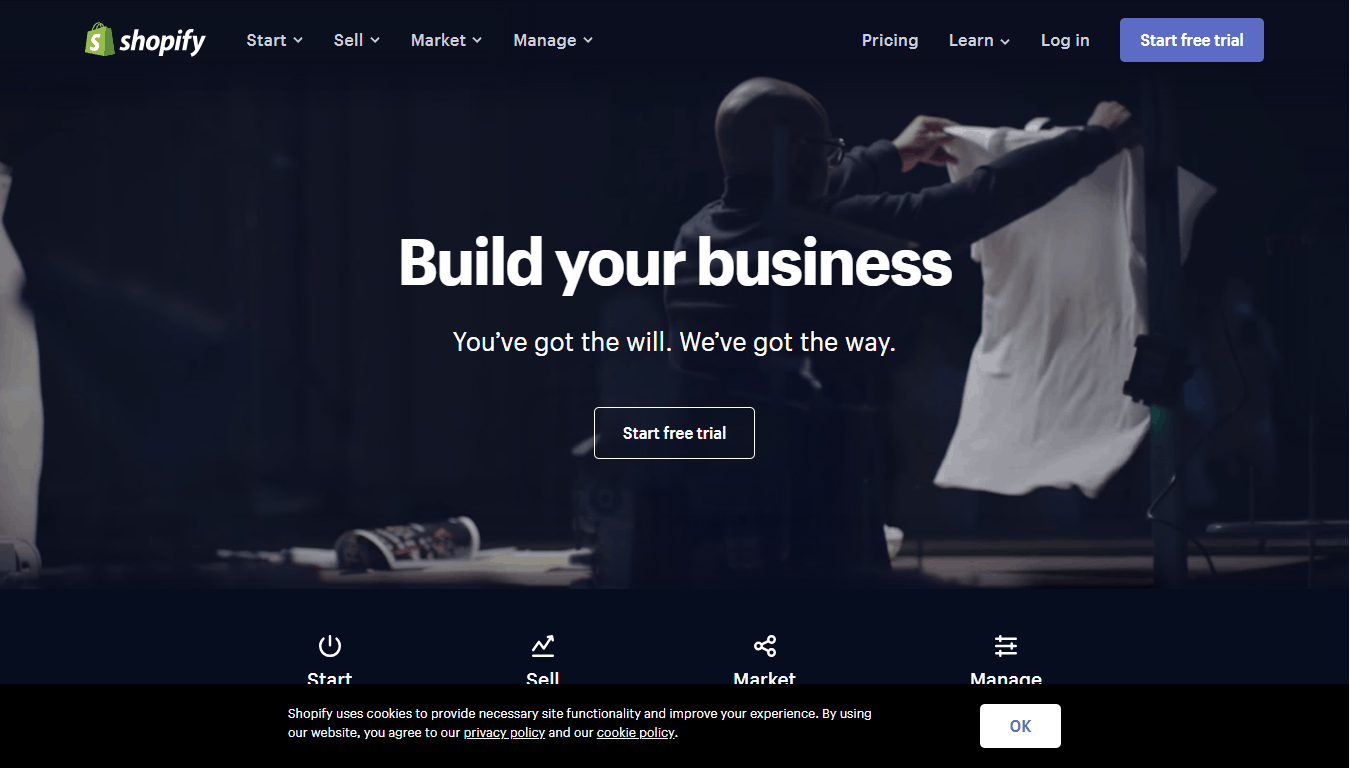 If you have been looking for an online website builder for a web store, Shopify is just what you need. Shopify is considered a leader in this field since the system has all the extensions and widgets necessary for ecommerce. Using the app with drag&drop technology, you can customize the look of a website and quickly connect the necessary functionality in one day. The built-in SEO tools make the website promotion really convenient.
For users who have decided to build an Internet store with an online website builder, Shopify has over a hundred of ready-made appealing themes that can be fine-tuned in a WYSIWYG editor («What You See Is What You Get»). The built-in templates adapt to all types of screens.
The access to the capabilities of this app isn't the cheapest one. A trial period only lasts for 14 days, and after that, depending on your needs, you'll have to switch to the Basic ($29/month) or Grow ($79/month) plan. Please note that every transaction on these plans is additionally charged by the service. To avoid this, you can subscribe to the Advanced Shopify for  $299/month, which is a relatively costly option.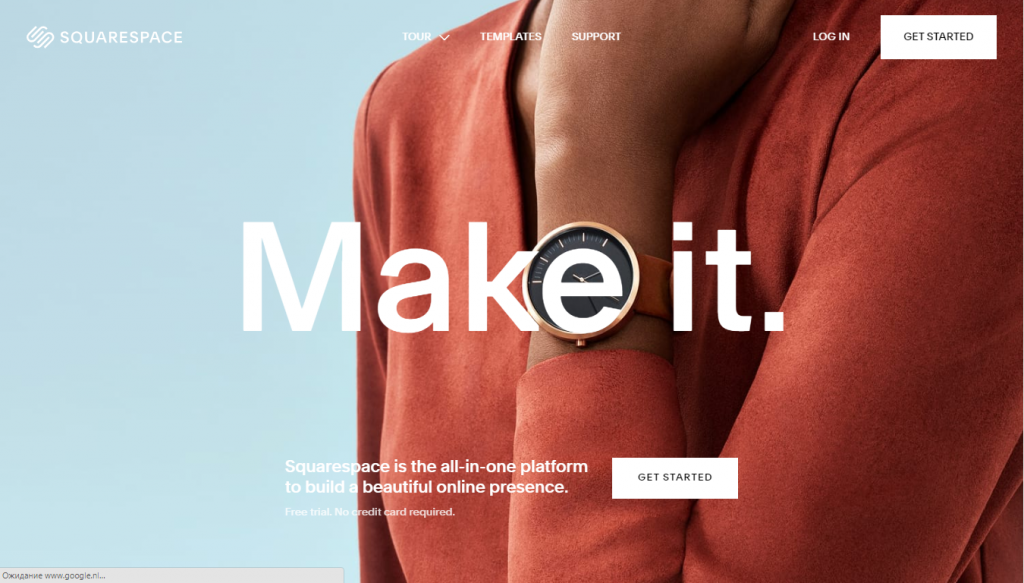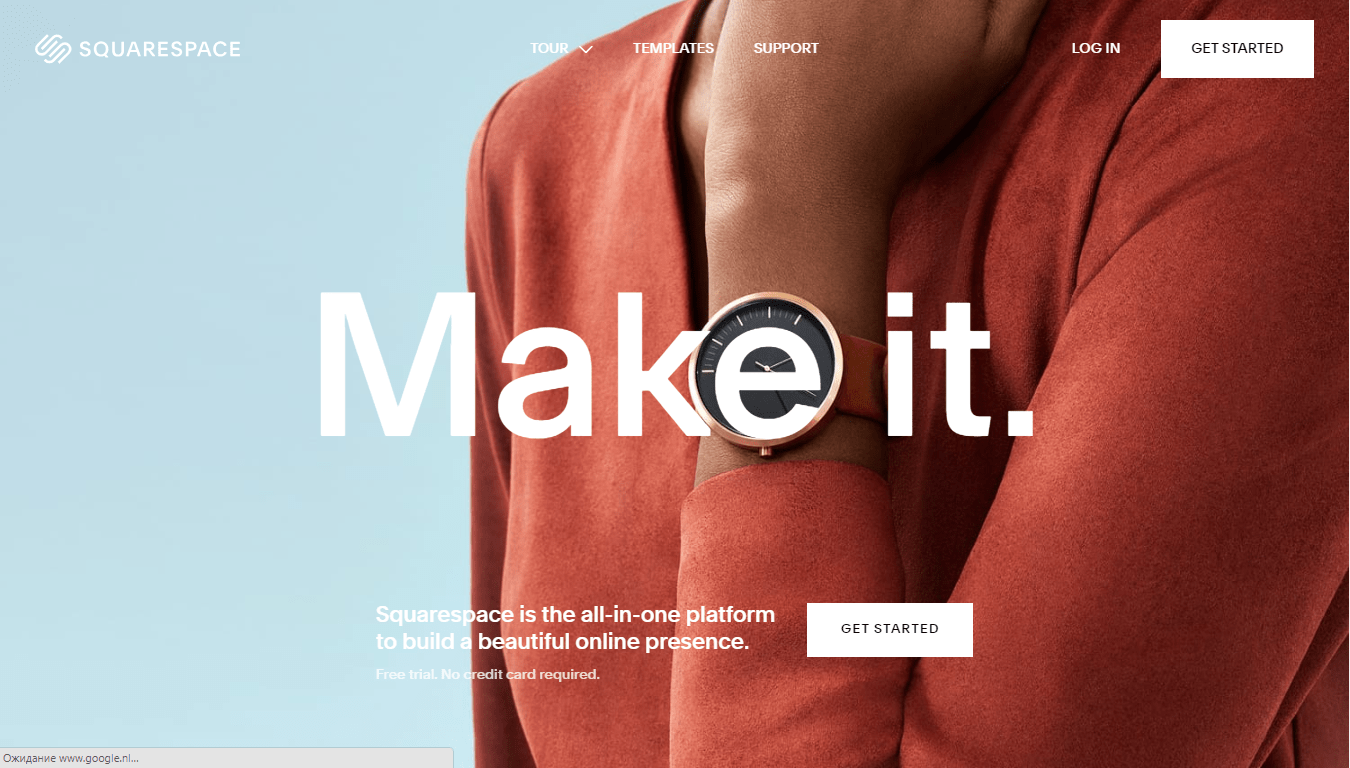 This app could be called the best online website builder to create your own web resource for several reasons:
The most beautiful and convenient built-in templates;
Intuitive navigation on the created websites;
Free domain registration;
Advanced tools for uploading images and photos;
Easy website transfer to your own host.
The website builder is absolutely free for 14 days after the registration. After that, you can switch to one of four plans:
$12/month ‒ for a personal page;
$18/month ‒ for a commercial website;
$26/month ‒ for an online store;
$40/month‒ for an online store with advanced functionality.
Yet nothing can be perfect so the service also has some flaws:
Drag&drop failures. Sometimes it is easier to fix a layout manually than to waste time trying to fix the bugs of the visual editor.
The twenty-four-hour support only receives requests 24/7. The replies are sent with a big delay, several questions at a time.
The app has difficulty with the translation into other languages.
Regardless of the drawbacks, over a million users have created websites based on SquareSpace, which is the best assessment of this service.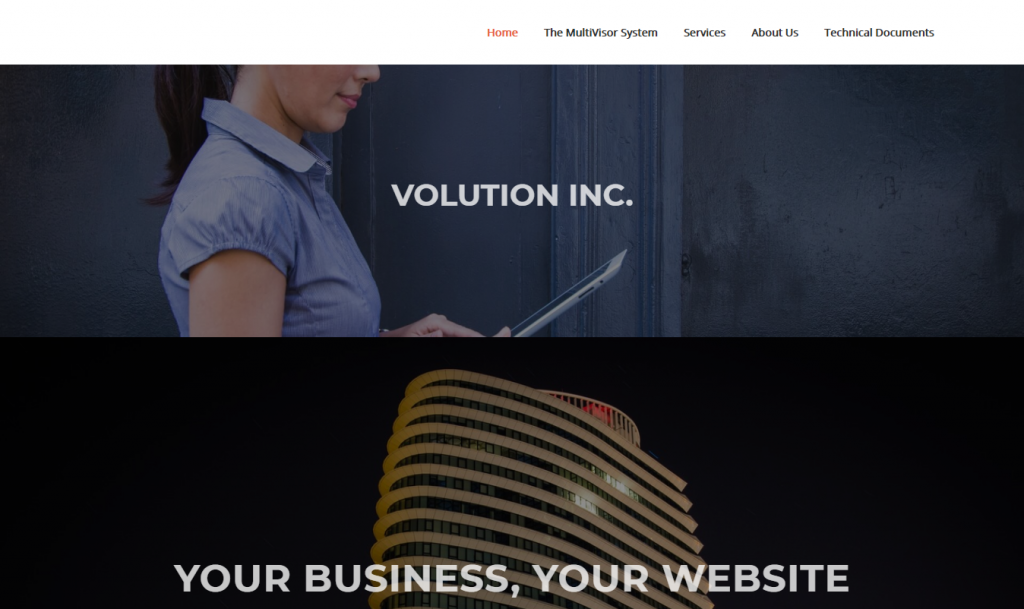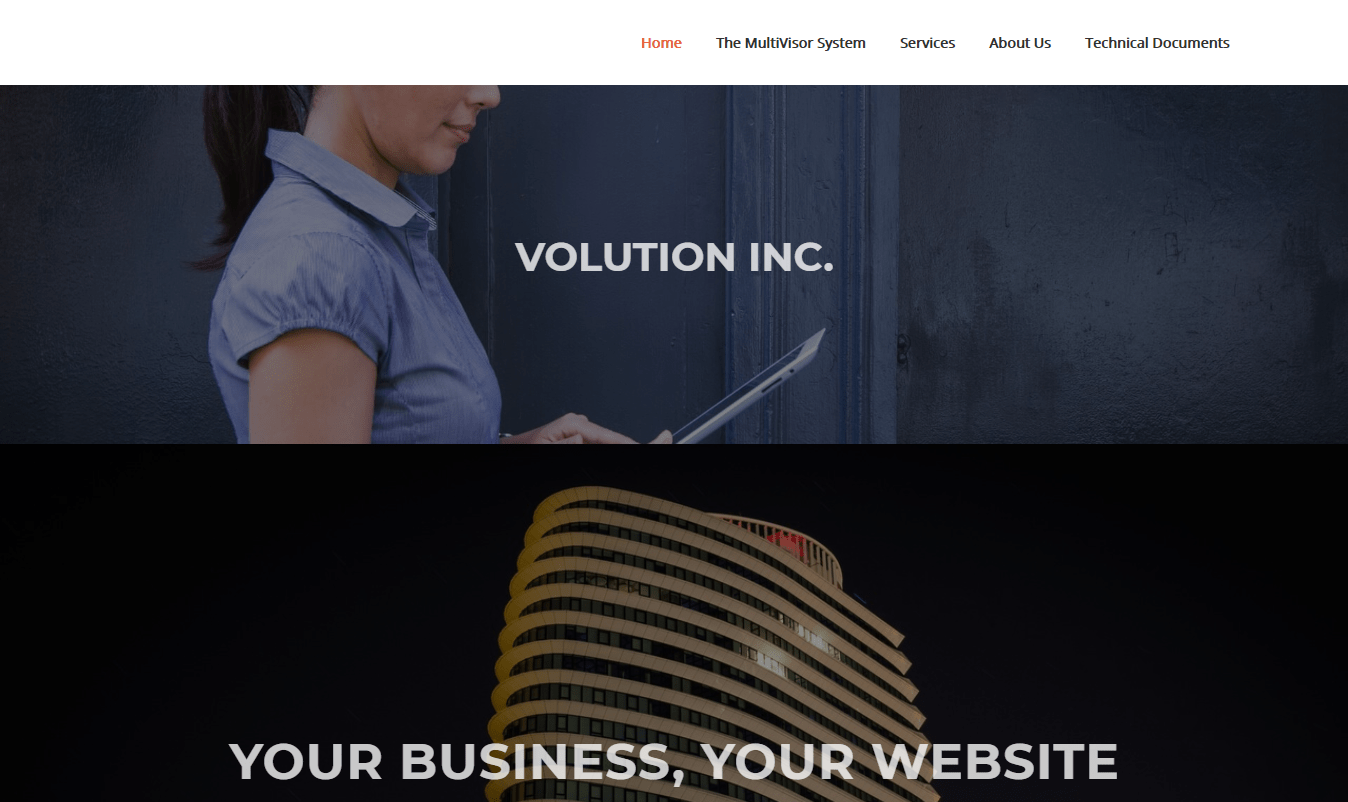 This app with such an elegant name is recognized as a professional website builder for online stores. The whole functionality of Volusion focuses on ecommerce. Over 130 thousand users have chosen it for such purposes.
For those who are going to use the app to create an online store, there is a blog with useful information, technical support, a set of ready-made appealing themes with responsive design, and 14 days of a trial period.
The users of Volusion can enjoy reliable data protection, powerful analytics and SEO promotion tools, a wide choice of add-ons for an online store, the best website builder supporting drag & drop technology, and a mobile application for viewing and managing website content.
However, like in most ecommerce-oriented apps, Volusion's paid plans are pricey, which is a great disadvantage for small businesses. The cheapest monthly subscription (if paid annually) with the price of $29 limits the number of products in an online store to 100. Volusion's developers believe that these products can generate $50,000 online sales per year, which is another limitation of this plan. For $72 you can already upload up to 5,000 products and reach $100,000 online sales. In the third plan (costs $299), the number of products is unlimited, but the annual turnover mustn't exceed $500,000.
If a user isn't satisfied with these terms, they can form a custom prime plan discussing everything by phone.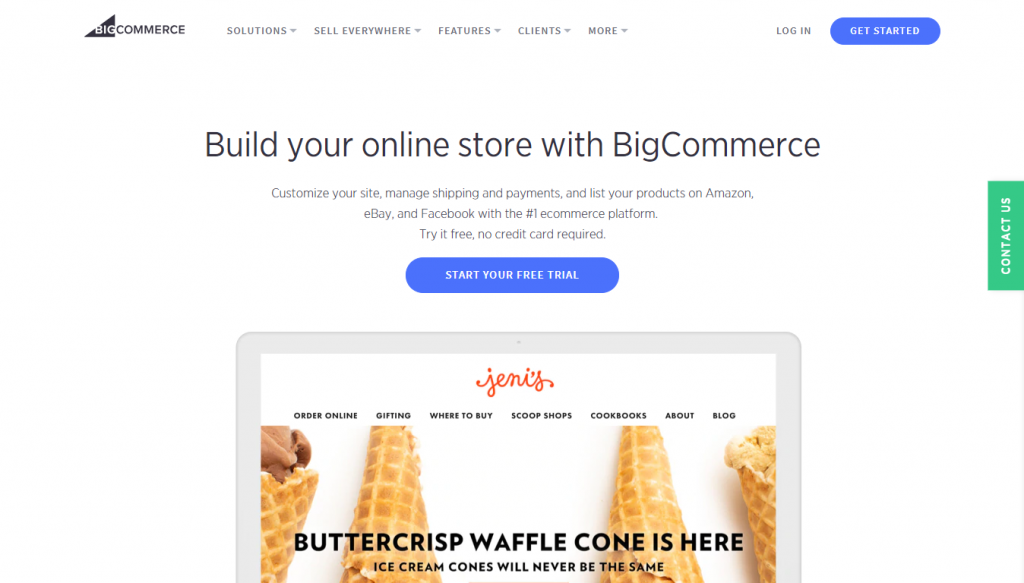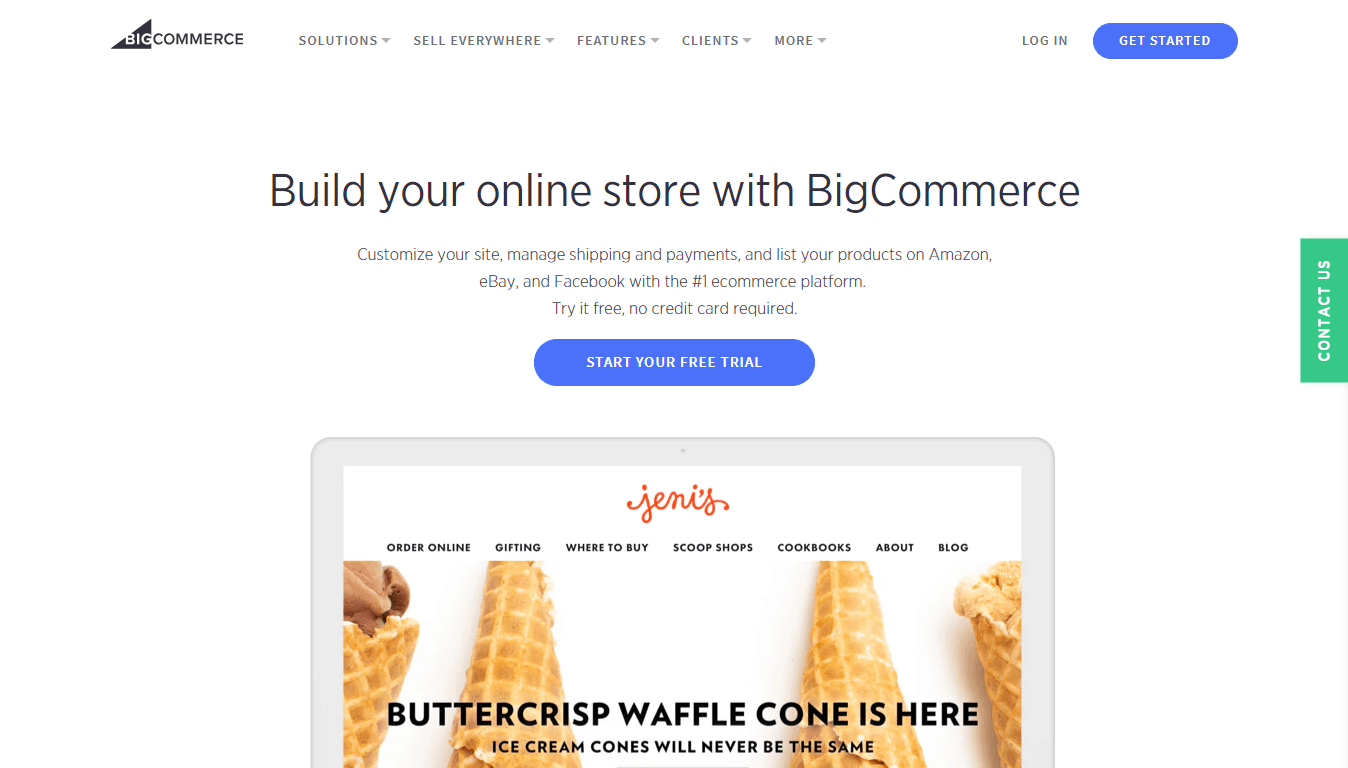 In this service, you can integrate your website with marketplaces (such as Amazon and eBay) through an online app and website builder for online stores. This is the most renowned brand offering services for small businesses and ecommerce projects. To register in BigCommerce, you won't have to enter your credit card data. You can just get a 15-day free trial.
For its customers, BigCommerce opens a wide range of ecommerce tools, detailed documentation on the setup process, video presentations, access to webinars, the best app for SEO optimization, and a drag and drop website builder. They also have 24/7 support. SEO capabilities of this service deserve your special attention since even an average BigCommerce website quickly reaches top positions in search results.
As to the drawbacks, the ready website builder templates are uneditable and, as always, the prices are high. Generally, there are three pricing plans:
Standard ($29.95);
Plus ($79.95);
Professional ($249.95).
Also, you can separately agree on individual conditions. The key difference between the paid plans in terms of functionality is an annual turnover: from the simplest plan with a $50,000 limit on annual sales to a $400,000 limit in the Professional plan.
As you switch to more advanced plans, you get access to the abandoned cart function, segmentation by user group, improved search by product characteristic, and opportunity to configure your own SSL certificate. Such add-ons make the pricing quite justified.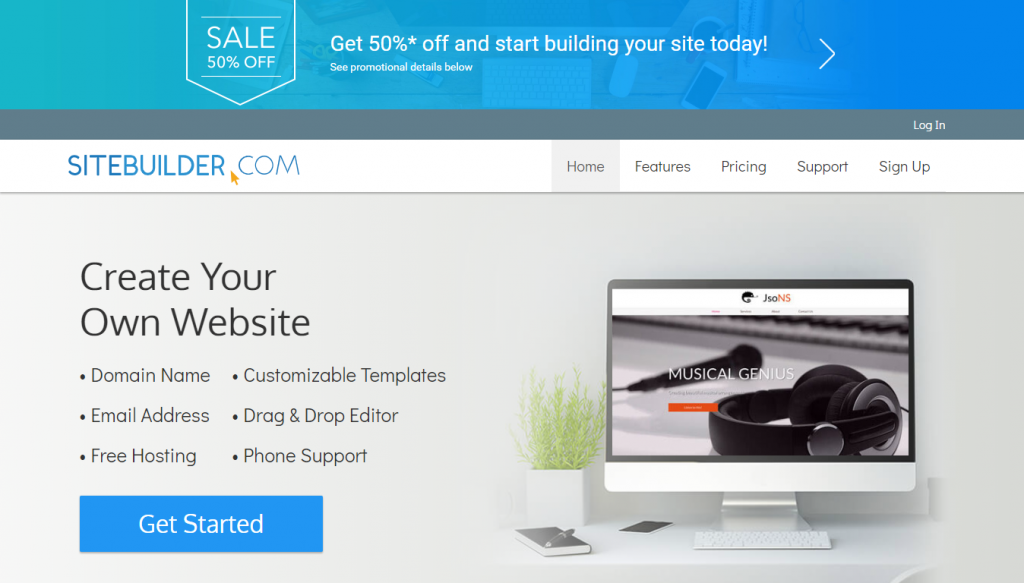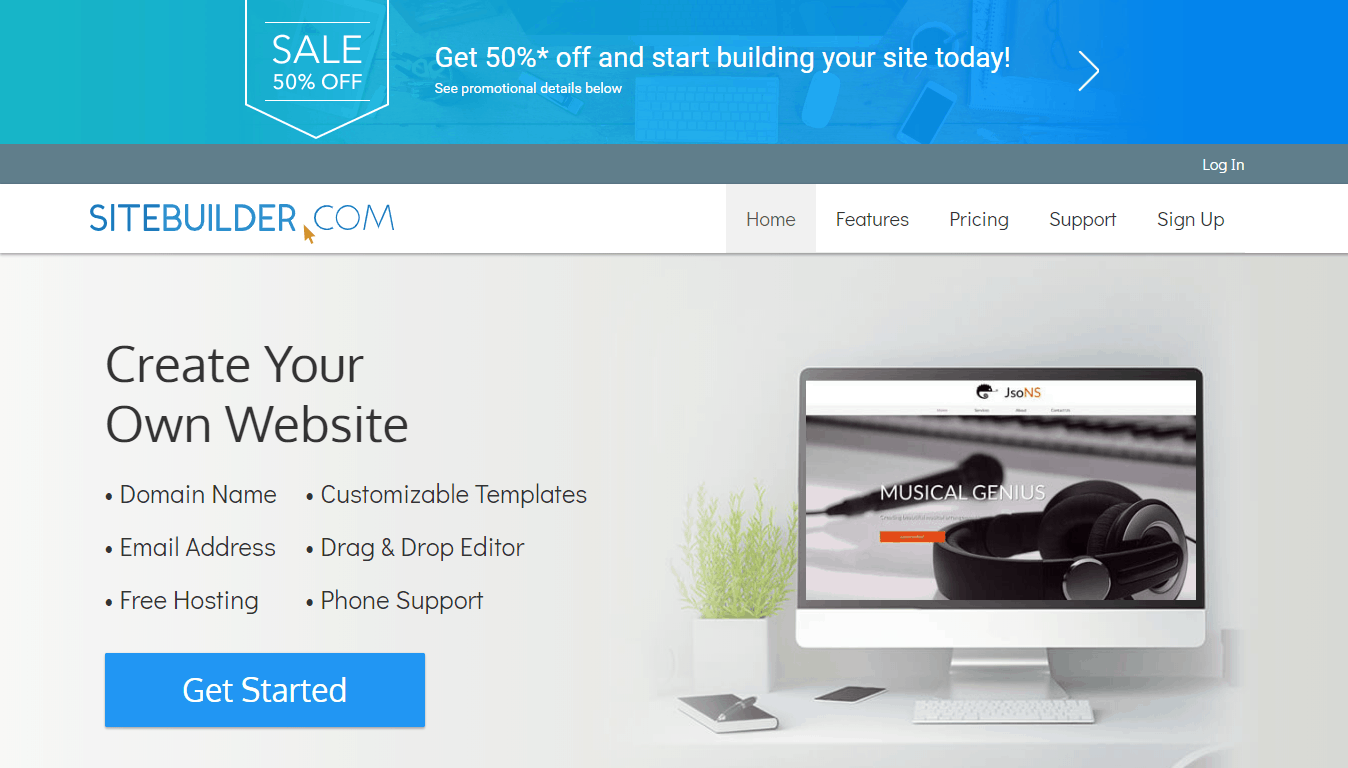 SiteBuilder cannot boast a free plan but the pricing is so affordable that, actually, this doesn't matter.
Generally, it has 3 packages:
$3.84 ‒ Pro ‒ for personal use;
$5.99 ‒ Premium ‒ for a commercial website;
$9.22 ‒ eCommerce ‒ for an online store.
Starting from the Premium plan, the basic functions are expanded with priority support.
Using this web page builder for a blog, portfolio, or online store, you get a free domain registration for one year. In case you decide to refuse from the hosting services, you will be charged $16 as an annual domain fee. Free hosting and a business email are a nice bonus of this service.
In total, SiteBuilder has 1000 adaptive templates that can be customized through the drag and drop website builder. They are divided into categories, such as Travel, Music, Photos, Cafe&Restaurants, Services, etc.
Site Builder supports automatic integration with Google Analytics and offers a range of SEO tools.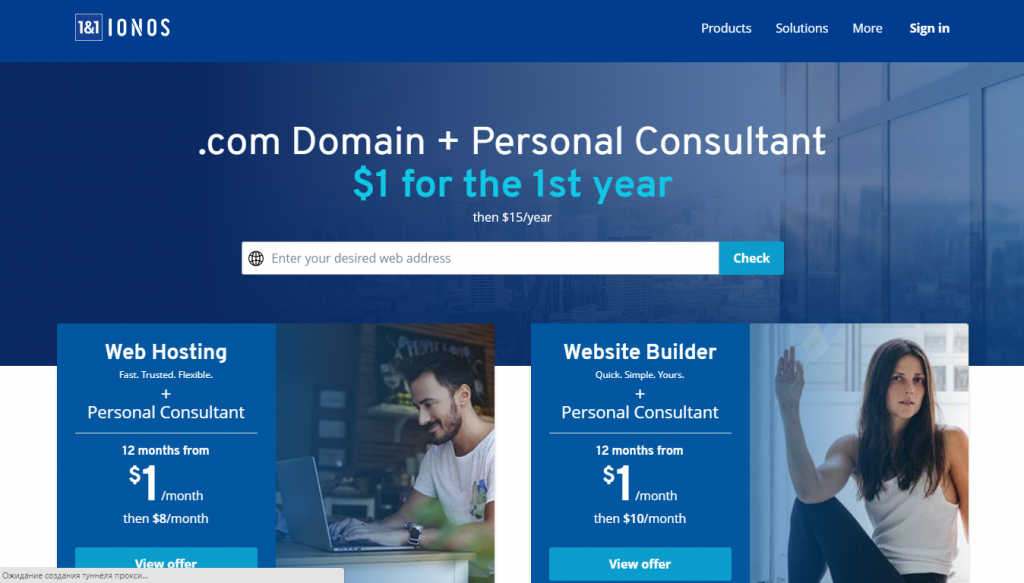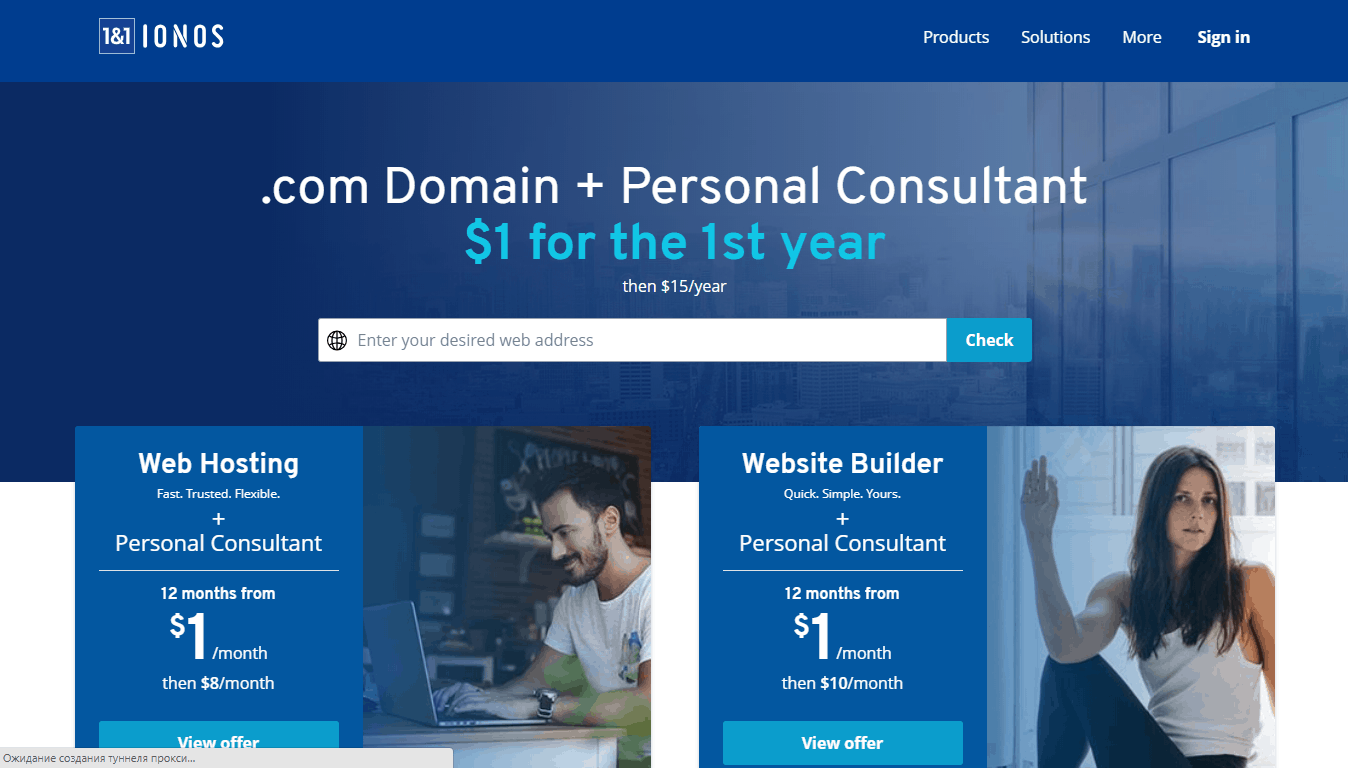 By choosing Ionos, users will get one of the best website builders for those who know nothing about building websites. This is a perfect option to create personal/landing pages and email newsletters.
Among its peculiar features:
Easy creation of multilingual websites in 50 languages thanks to the integration with Google Translate;
10 thousand templates and a huge database of images for unique designs;
Drag&drop editor which allows you to do most actions just with your mouse;
Data backup;
A broad selection of SEO tools.
Ionos has its native mobile app. The website builder synchronizes the changes made on a smartphone and a desktop in real-time. To show how it works, the main page includes a step-by-step animated guide on using the app. Unfortunately, the manual doesn't have information on setting up the website structure, but, in case of any questions, there is phone support.
The price of the paid monthly packages varies from $7 to $20 (if paid annually). The more expensive plans open access to newsletter and marketing tools.
There is no free or trial plan, which is bad. Yet the service has a special offer: during the first year, you can use the app for only $1/month (if paid annually), and later – for $10. As a bonus, you get personal consultations with an expert from Ionos.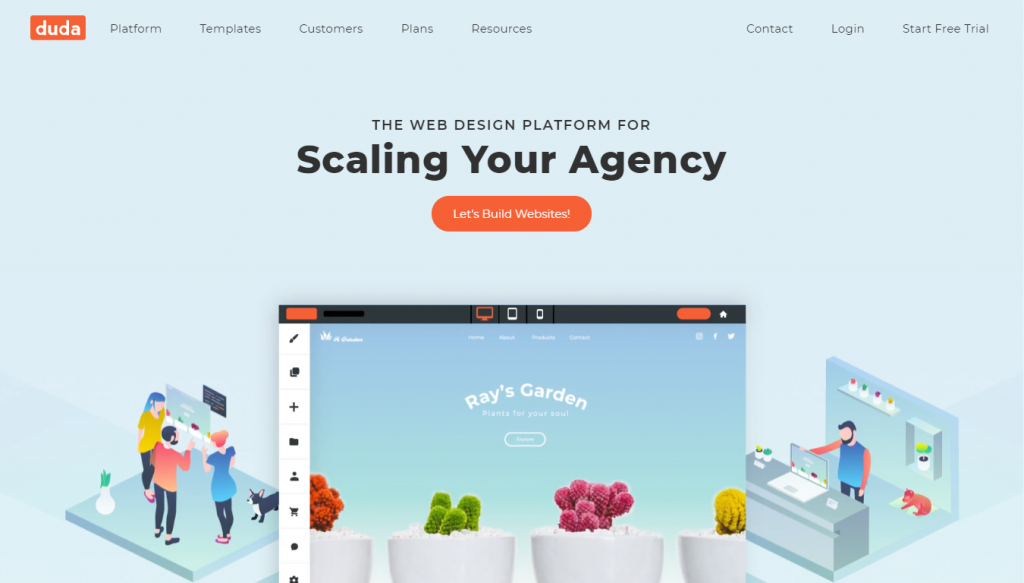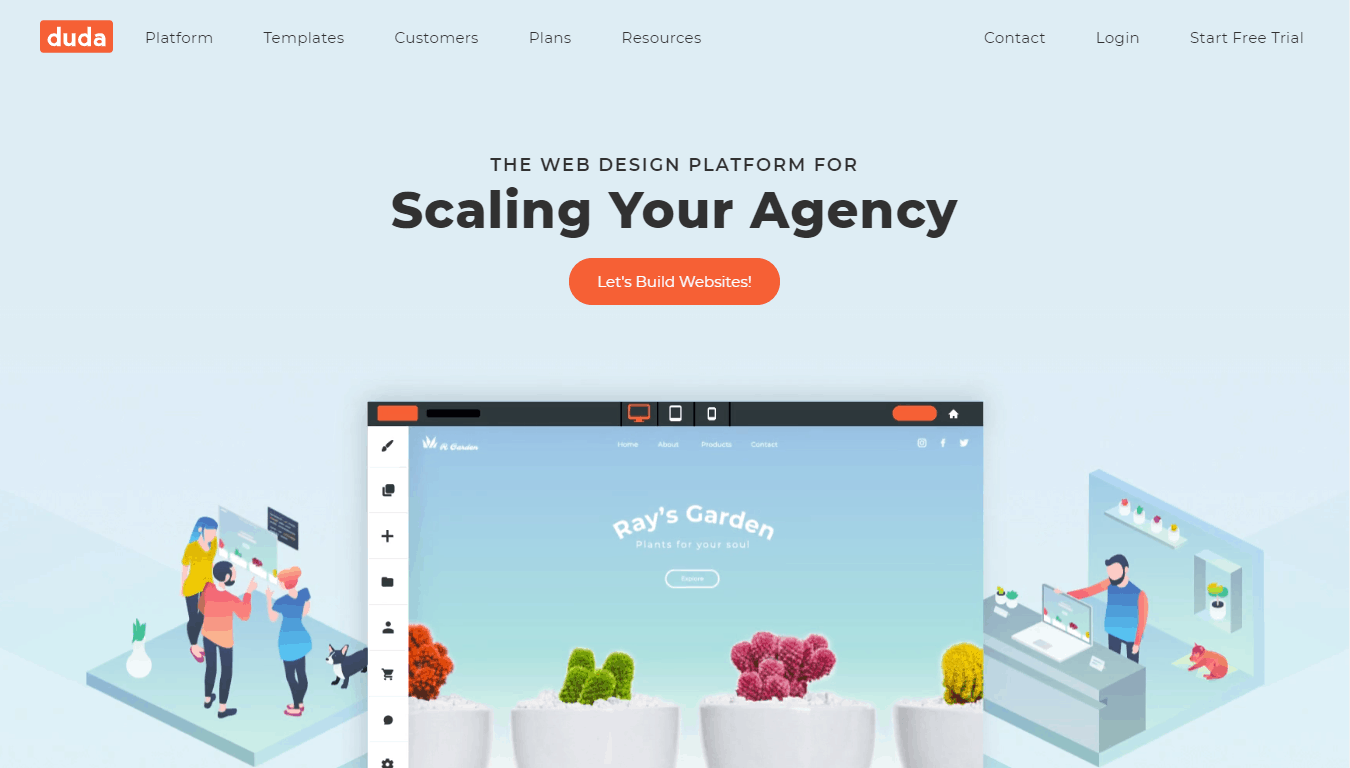 For those who are looking for the best website builder to create a multilingual website, Duda is a perfect choice. Their target audience is a representative of small businesses, communities, and international web projects.
The simplicity and intuitivity of Duda's interface attract beginners. At the same time, the high website speed, built-in tools for collecting statistics and analyzing SEO, no limits on the number of websites and size of pages turn it into an ideal option for small businesses.
Also, you can manually manage graphics without using a keyword thanks to a drag&drop editor. Everything can be done through a mobile app: You create projects and edit them directly from your smartphone.
Instructions on setting up and using the app are available on blogs or you can ask a question on a developer forum. In addition, there are regular webinars and meetings organized for users.
Despite the benefits of the service, users can be repelled by the absence of widgets. The paid plans are also not the cheapest ones. However, you can use a free 30-day trial version. It includes the same functions as the Team plan (the second in terms of pricing).
The Basic plan for simple websites will cost you $14 per month.
In case you need a website builder for small business, consider the Team and Agency plans with a monthly fee of $22 and $74 respectively. Large customers can try to ask for individual conditions.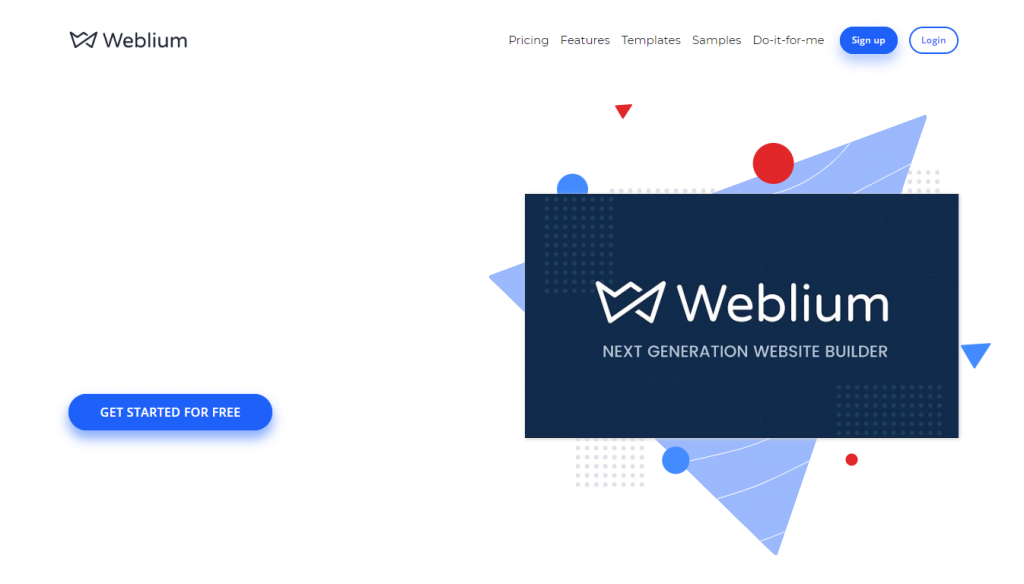 If you are looking for the easiest website builder, you should definitely try Weblium. The page editor built into the app is so convenient, that website creation will be a matter of minutes. At the same time, all the templates are designed to make the mobile version of a website really appealing – Weblium's developers are the biggest admirers of the mobile-first movement. In this respect, the app offered by Weblium outpaces even the well-renowned giants, like WIX, Weebly, and Webnode. Weblium has drag&drop technology and wants to implement AI to suggest design ideas during website creation.
It looks like the best free website builder for small businesses, agencies, and personal pages, doesn't it? The only paid subscription that will cost you $10.5/month allows you to connect your own domain and use an updated SEO optimization plugin which fully meets all Google's demands. Large potential customers can request a quote or directly contact the app developers to ask for an individual plan.
For users' convenience, the website of Weblium includes a video guide and a blog with useful information.
The service is focused on the immediate switching to the paid plan (if it's not a personal page) since business websites need both SEO optimization and a customized domain, whereas they also usually want to get rid of the app branding.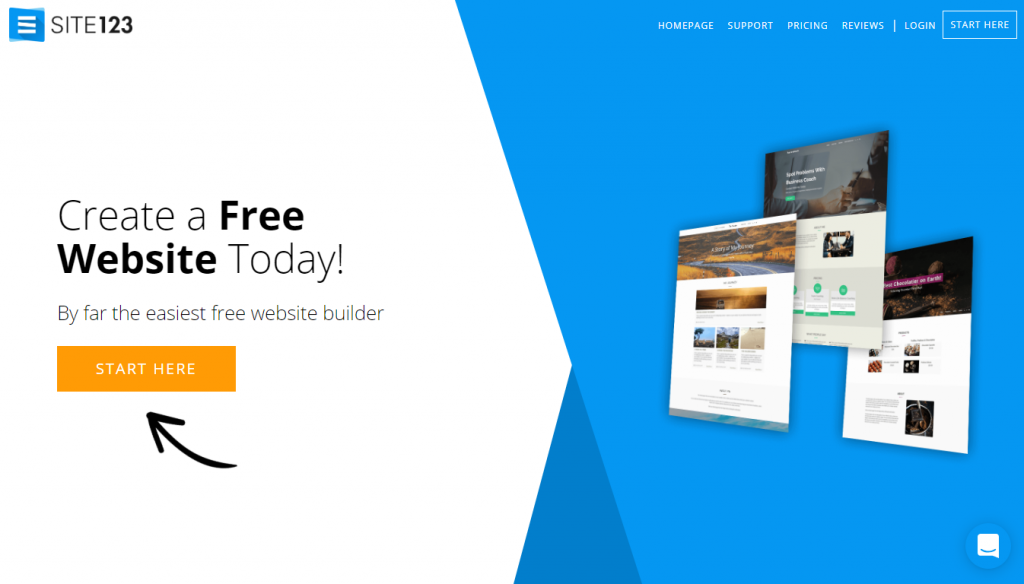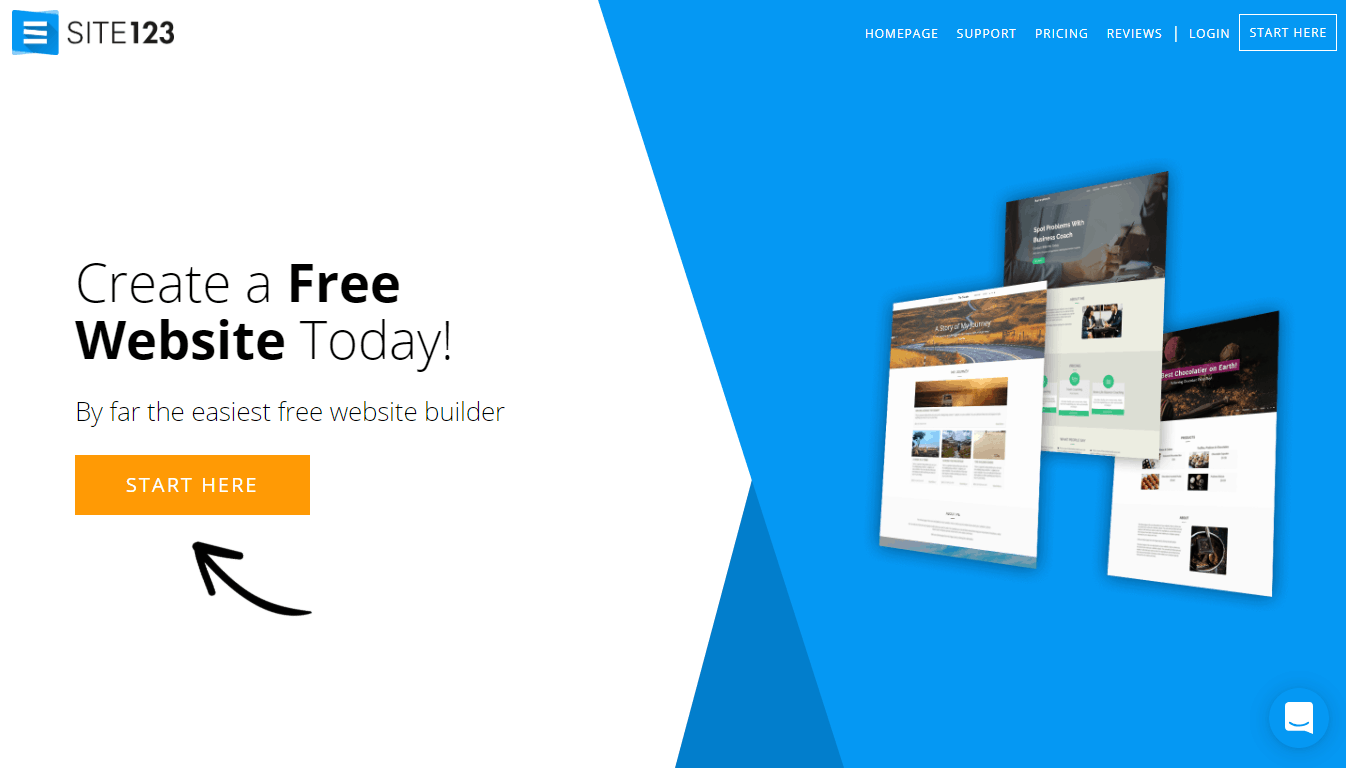 If there is something simpler than the name Site123, it's the simplest free website builder offered by these guys. All the templates are mobile-friendly, there is a plugin for SEO promotion in search engines, a video guide on the main page, and 24/7 support.
The service is also equipped with a drag&drop editor. As for the rest, Site123 exactly corresponds to the image promoted by its developed – it's really simple. It takes just three steps to create a website:
Select a website type (portfolio, blog, online store, etc.)
Choose a theme.
Register.
All these steps will take approximately a minute of your time. As a result, you'll get a ready website. Of course, there are lots of perfectionists who will improve their pages and make their design more unique, but the very created resource is ready to work in a minute, which is a great achievement of Site123.
Site123 offers two plans: free and paid ($10.8/month). The paid domain adds the SEO plugin and removes ads. This service can probably be called the best cheap website builder. The app creators take special pride in the support of high-quality translation into more than two dozen languages.
Here you can create a website for a middle-sized ecommerce project, company, or for yourself. The service has all the necessary extensions.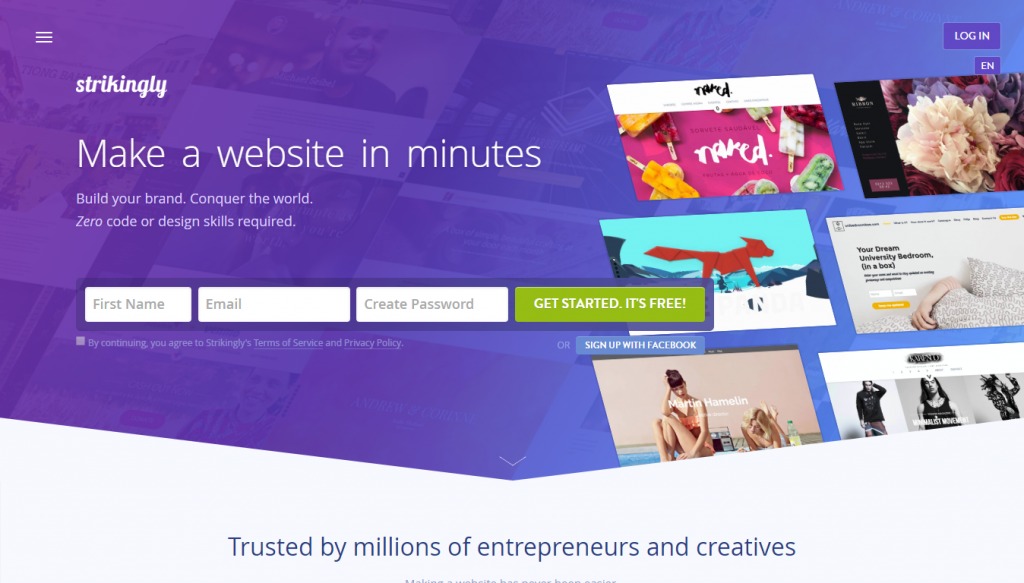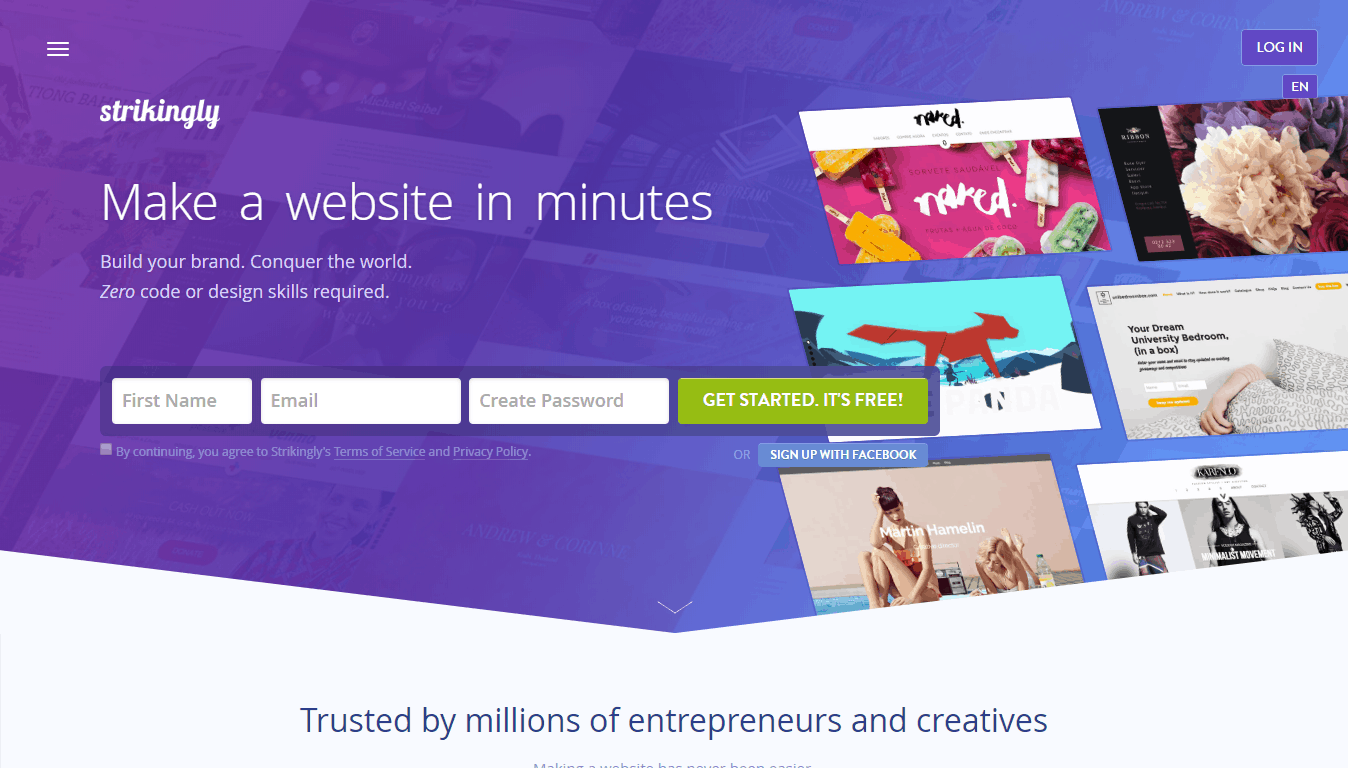 You should consider using Strikingly if you need a simple website. However, the developers position this app as a website builder for online stores, which is reflected even in their current monthly rates:
Limited – $8/month: you can place up to 5 products, create 2 websites with limited functionality, and get a free domain name for 1 year;
PRO – $16/month: you can place up to 300 products, create 3 websites with advanced functionality, and – Attention! – add multiple pages;
VIP – $49/month: you can create 5 websites with advanced functionality and add 500 products.
We have stressed the opportunity to add multiple pages for a reason. The free version of Strikingly is a simple web page builder. Such a service is suitable to add your personal page, corporate landing, or portfolio. For serious projects, there are other offers with suitable functionality and pricing.
The users can also benefit from a blog with useful information, 24/7 technical support, a simple and easy-to-use editor, and a set of responsive templates.
To be fair, it's hard to call Strikingly the best offer, but you can use it to build a nice longread with navigation.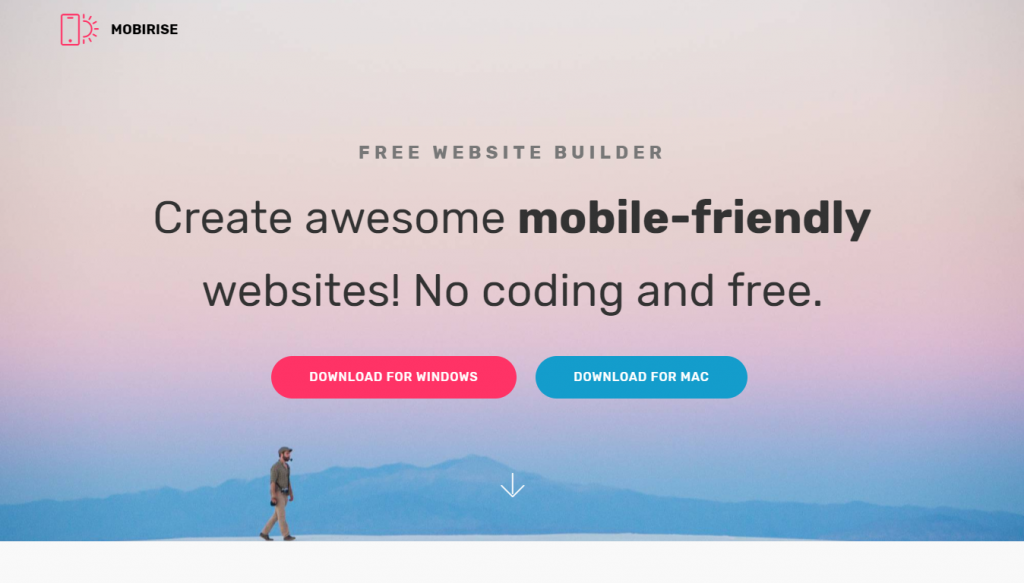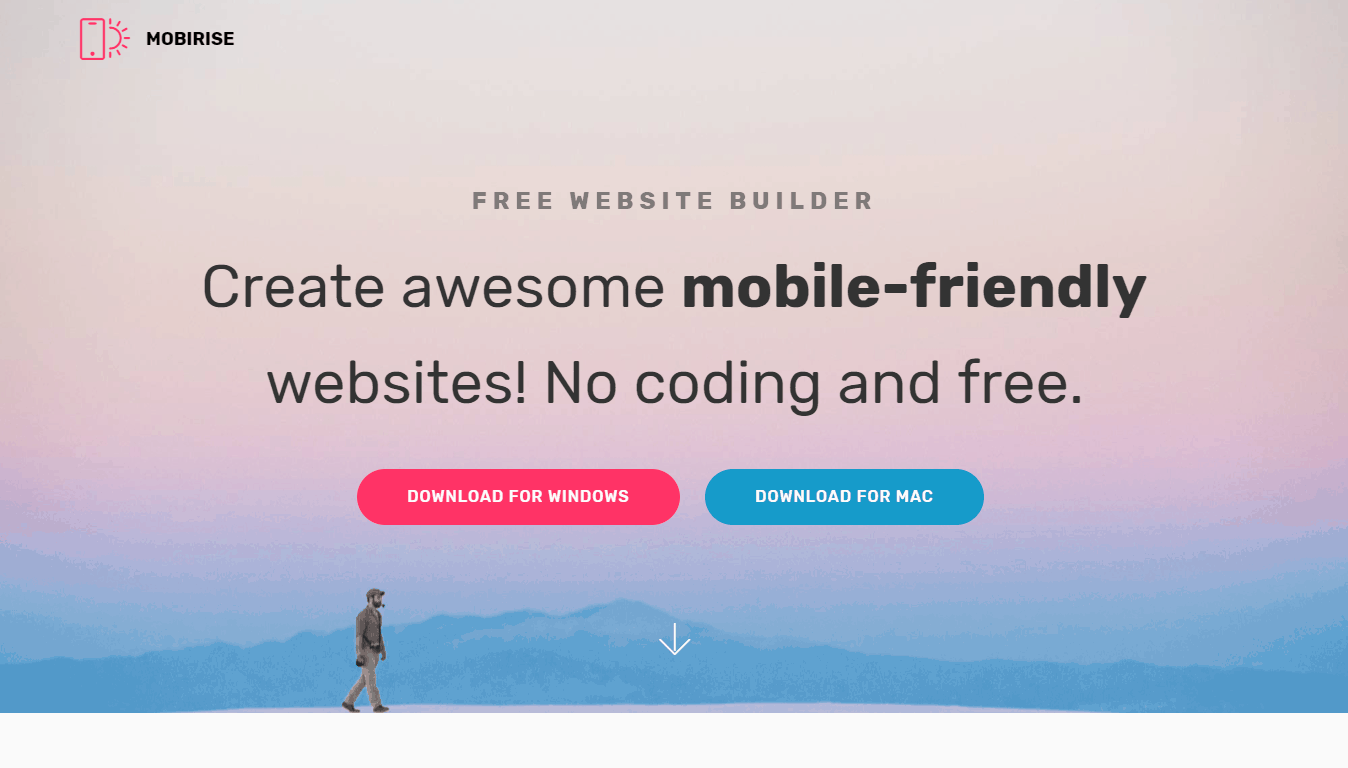 Mobirise is a free offline program for website creation. It doesn't offer hosting or domain registration services. You can just download the software compatible with Windows and MacOS, and build a website using its visual editor.
The users get access to a large collection of templates with over 1500 functional and useful blocks. In a convenient and extremely easy-to-use drag&drop editor, they can experiment with typography, icons, mobile menu, and gallery module. They can even add a background video, which is missing even in some top online builders. The design is based on the Bootstrap framework, therefore, the pages are expensive-looking and have high-quality.
Mobirise is great for small and medium pages, landings, blogs, and event pages. Anyone can use this offline website builder, regardless of having layout design or design skills. The interface is simple and understandable. If you decide to transfer your masterpiece to your own hosting, no problem. There are detailed instructions to help customers with different tasks.
Mobirise isn't suitable for large projects. It just doesn't have the functionality to create informational portals with several thousands of pages and large online stores.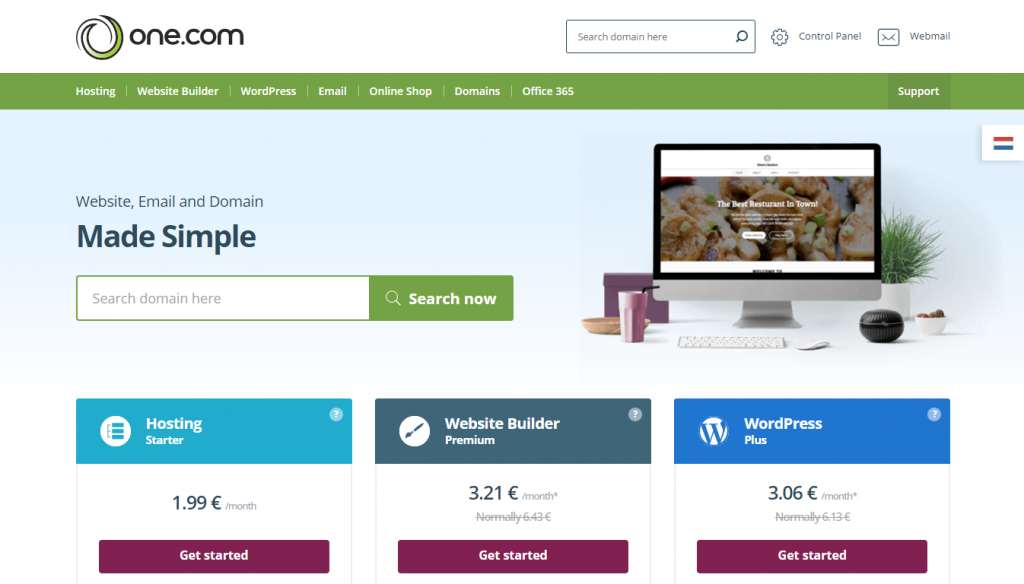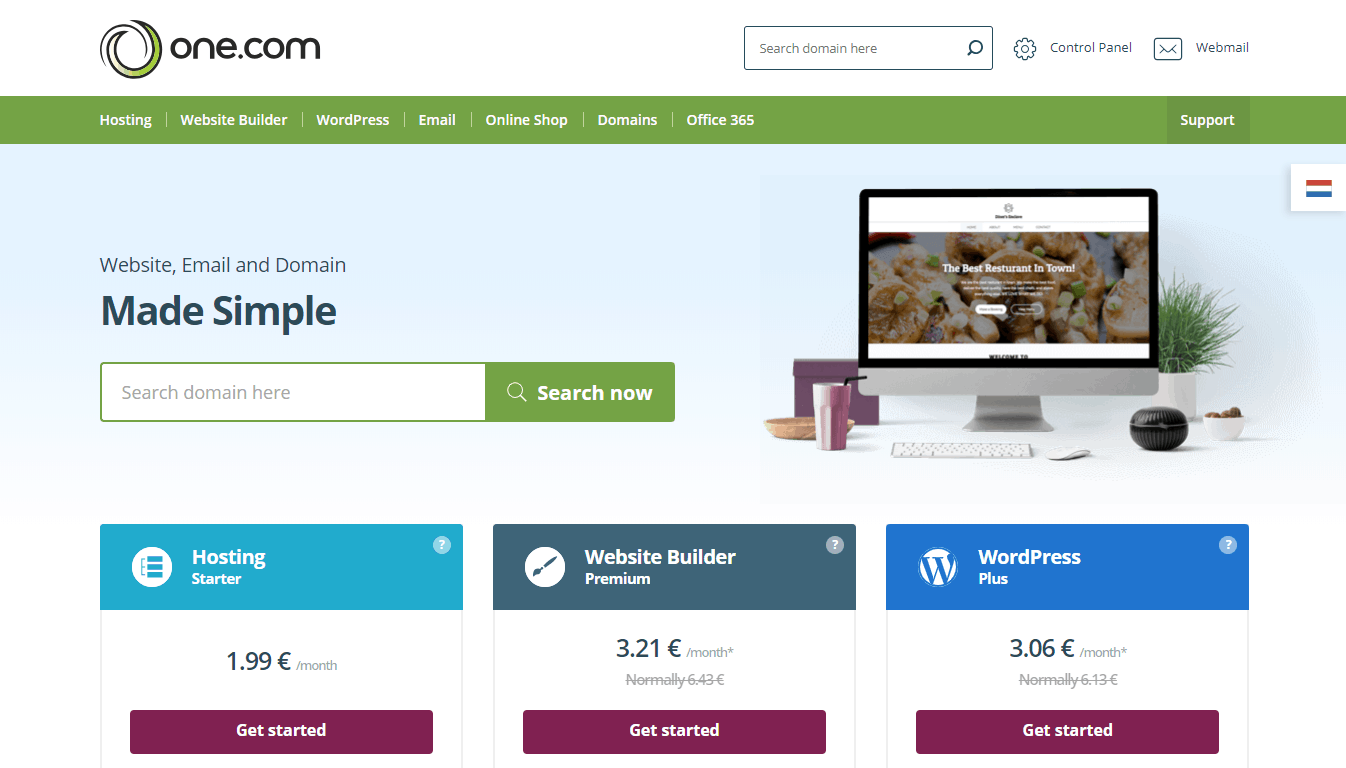 Everyone knows about WordPress CMS, but what if there is a way to create your own WordPress website without the expertise in layout design? Designed in the best traditions of hygge, the Danish One.com service can help you with that. The app provides its customers with modern responsive templates, a drag & drop editor, and 24/7 support by chat and email.
The main advantage of One.com is its close connection with WordPress. This service allows you to order hosting for your website and use a program to develop your own WordPress-based online store. Even buying the cheapest plan, you get an SSL certificate installed on your domain.
The main disadvantage is the absence of free plans. The functionality provided in the cheapest Starter subscription will cost you €1.99/month ($2.26). Actually, the pricing is really affordable so One.com can be considered a very cheap website builder. Yet on the Starter plan, you can create up to 5 pages. The next plan called Premium eliminates these limitations but costs €3.21/month ($3.64), which is already the level of the Wix or Weebly's prices.
Nevertheless, One.com seems to have found its niche. It was used by over 1.5 million people for a reason.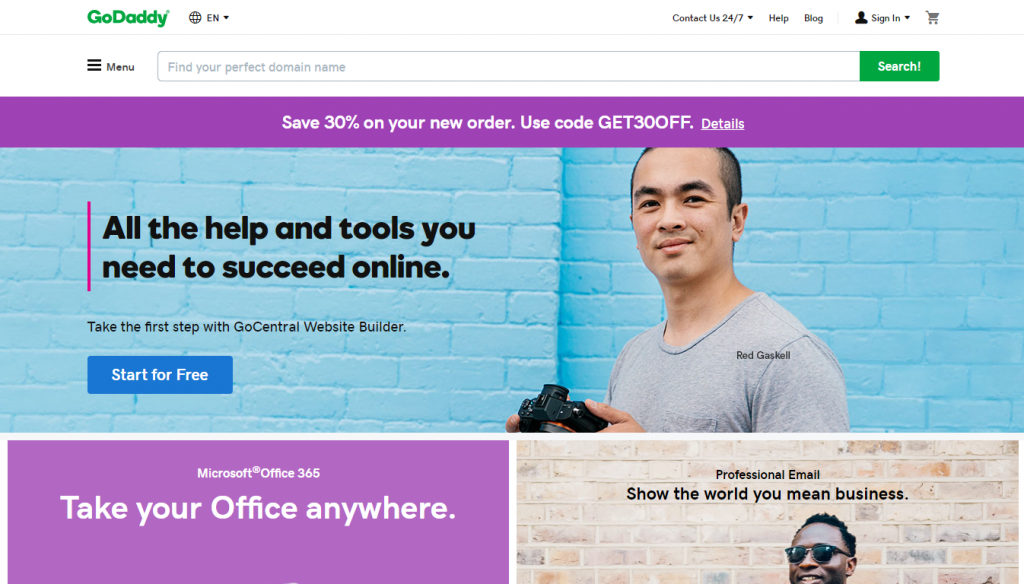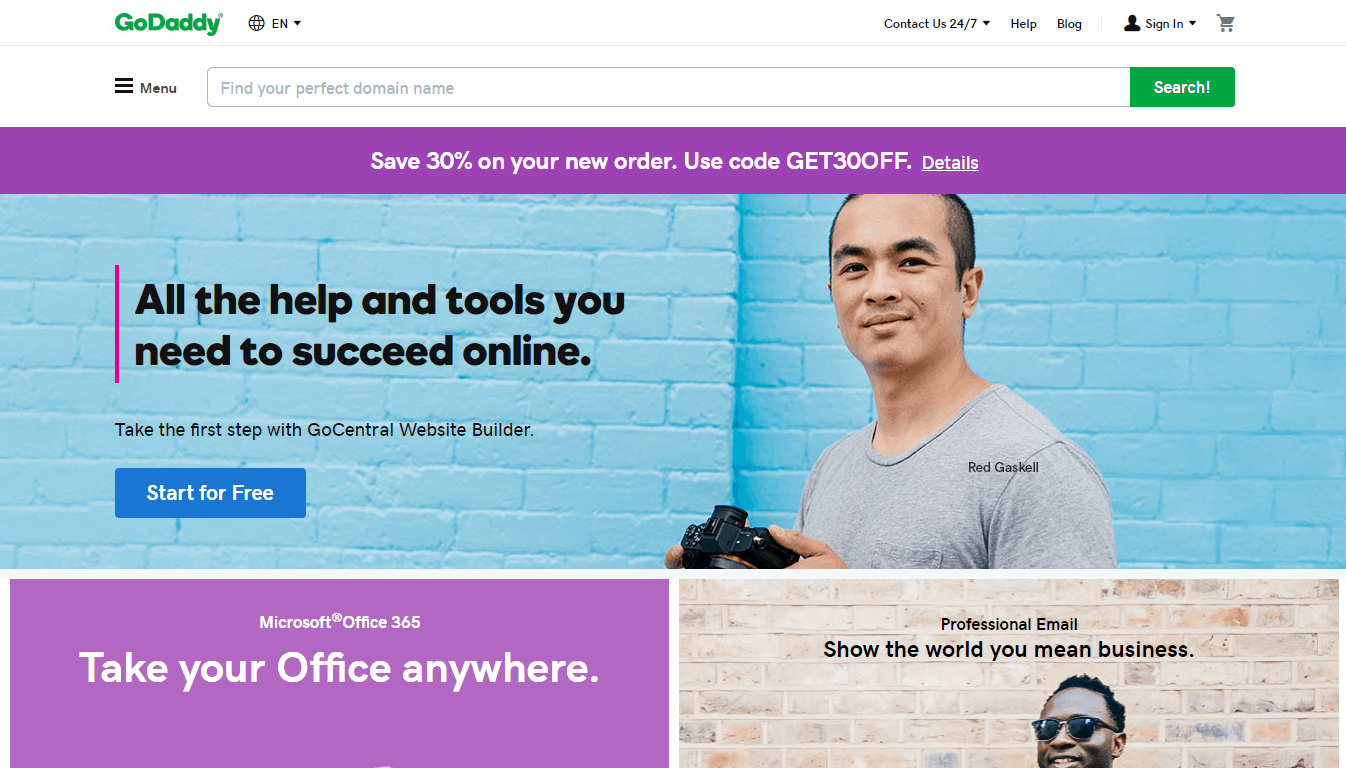 GoDaddy is a simple website builder used to create small web pages and blogs. This tool is one of the oldest and most renowned apps in its market segment. For its users, GoDaddy provides detailed video instructions and even phone technical support, which, unfortunately, isn't always able to answer customers' questions. There is also a community and a knowledge base, so in case you don't find the necessary technical information, at least, somebody will cheer you up.
According to its developers, the editor is very simple. A full-fledged website can be created approximately in an hour. There is a trial version of the app, but GoDaddy is a reasonably priced website builder so you can get access to the full version for only $5.99/month in the Basic plan. Of course, there are also other, more expensive plans.
The builder works based on a drag & drop platform, but the number of ready-made templates is very limited, and it's difficult to change them.
GoDaddy pays a lot of attention to additional services: email hosting and storage, SSL certificate, web design services, WordPress-based builder, and online store websites. By the way, these services are not cheap, for each of them you'll have to make one-time or regular payments.
A website created with the help of GoDaddy supports over 50 languages. Just choose any option you need.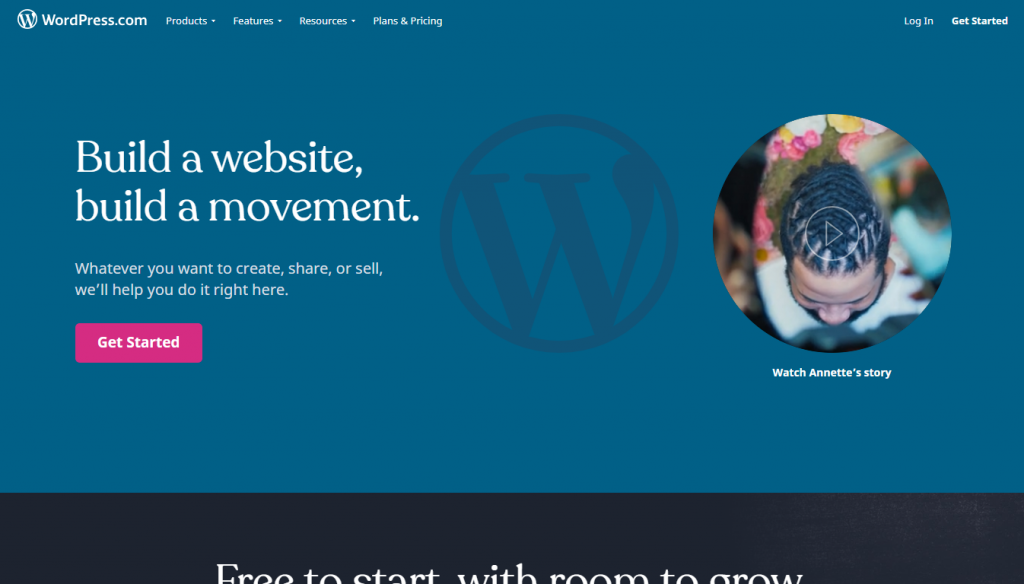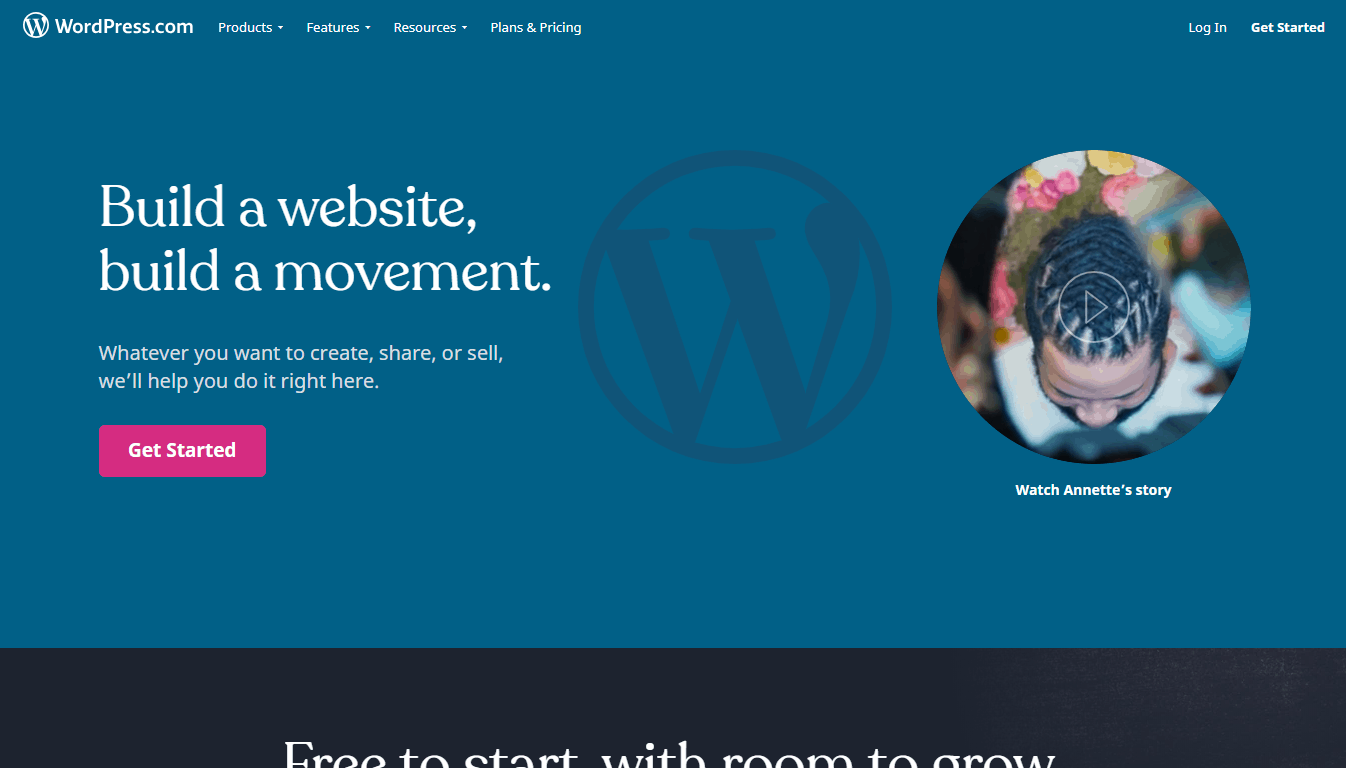 It would be a crime to forget about this veteran of the Internet. According to the statistics, 33% of websites are created on WordPress: if not based on its powerful CMS, then at least using the online WordPress.com builder. We have mentioned both resources for a reason since these are different things. You can learn more about the WordPress CMS on the wordpress.org portal, but here we will talk about the service for website creation.
Over the years of its existence, the WordPress brand has gathered a huge community of fans. As a result, its users can find plenty of templates, themes, and instructions on how to create a personal page, website, or portfolio in free access.
Do you want to connect an online store or transfer your resource to a stable CMS framework? No problem. If the forums or YouTube don`t have the necessary tutorial, the support service will help you.
You can start with a free subscription plan. After understanding the principles of its work and functionality, you can switch to one of the paid monthly plans:
Personal ‒ $5
Premium ‒ $8
Business ‒ $25
All the three plans allow you to change a subdomain and turn off the advertising of WordPress.com. Starting from the first paid packages, users are already offered some extra hosting space and priority email support. Once you switch to the Premium plan, you can contact support in the chat. The Business plan opens the advanced tools for a website design editor, space to upload media content, and the opportunity to monetize the resource.
The users of the free package will have to accept WordPress advertising, which will pop-up in different places. You cannot track how it appears, so all the efforts to somehow hide it are useless.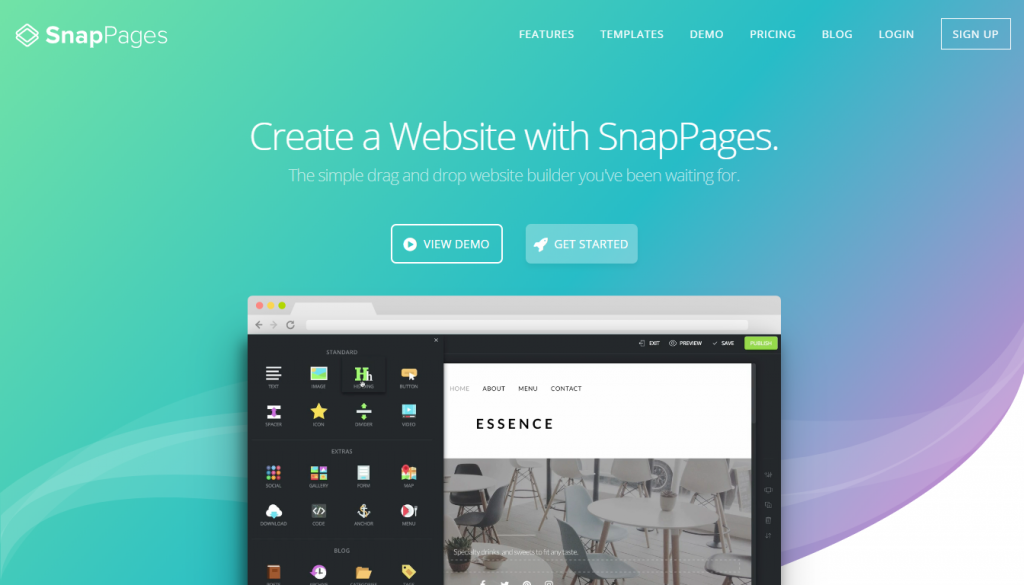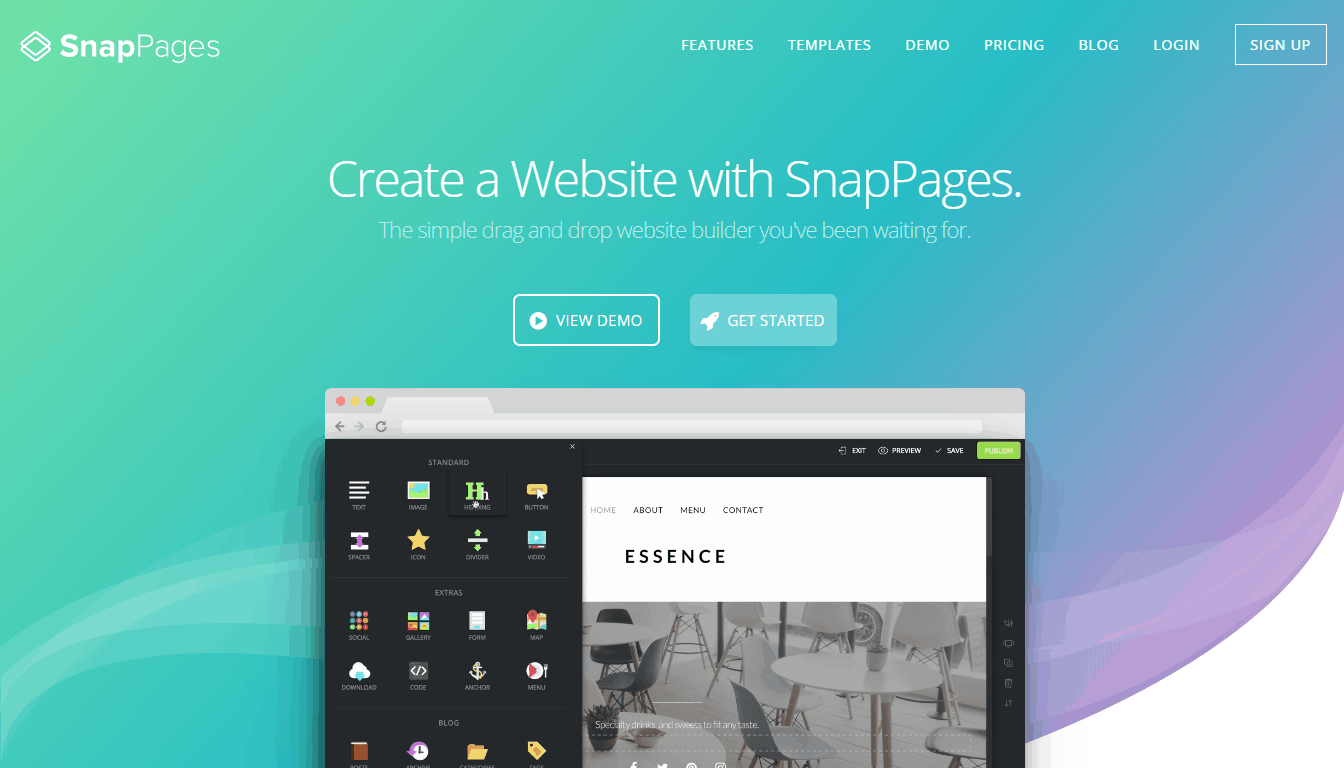 SnapPages has decided to stand out with the flexibility of its working interface. You can fully customize it according to your needs and use the most convenient mode. Websites are built from blocks: initially, a user has 21 templates and 12 interesting responsive themes. This selection falls short compared to the average offer on the market, but what do you expect from the resource that is little more than a year old?
The key functionality for website development is available in a drag&drop editor. During the development, you can freely switch between themes, which is not always available even in the top builders. The functionality of SnapPages is enough to create an impressive blog, beautiful form, or cafe/restaurant menu, but an online store would need something more serious.
Users have 14 days to test this online website builder. After that, they will be asked to activate one of these two plans:
Basic ‒ $12;
Advanced ‒ $18.
Both plans are paid on an annual basis. The key difference is the level of access to design tools and themes.
Speaking of the primary disadvantage, it's quite difficult to stop using this tool. What do we mean? You won't be able to close your account through a personal dashboard, and will have to contact the support. Based on the reviews, they are quite slow to answer.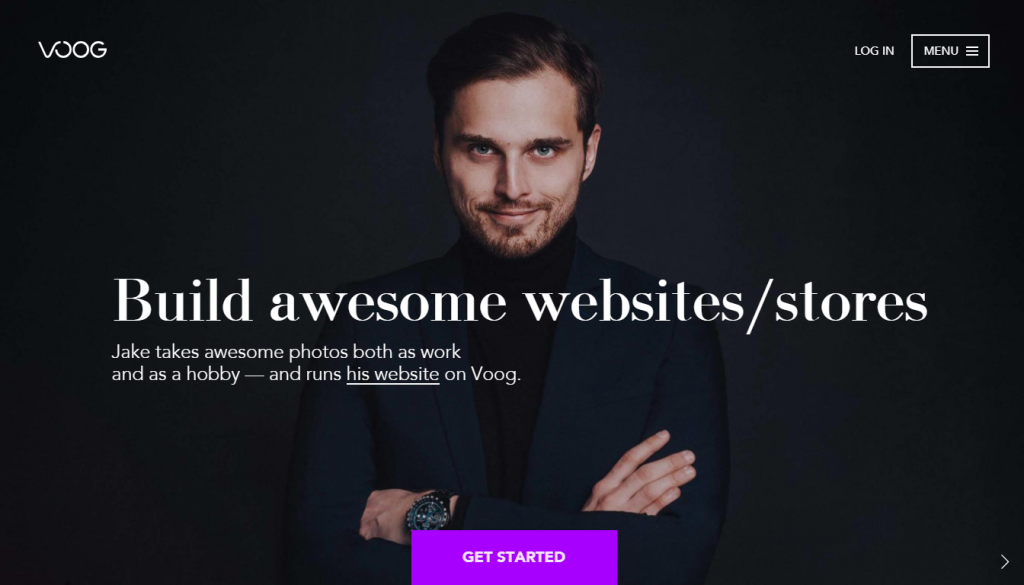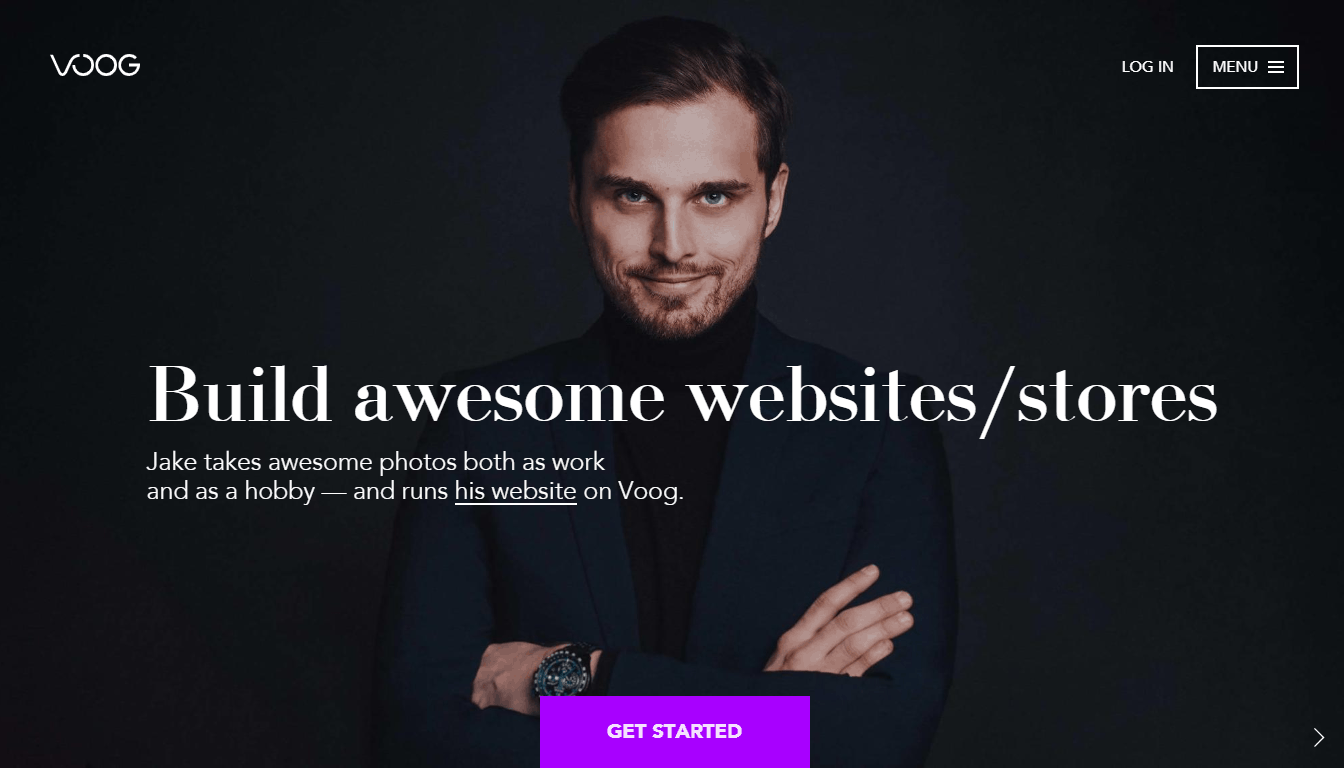 Here is another relatively new service for building websites, blogs, and online stores. If to take a quick look, it seems like the tool has a standard set of functions and a standard drag & drop editor. Without paying closer attention, you could even pass by and opt for something more well-known.
However, Voog has a phenomenal multilanguage platform, which, for some reason, the developers have forgotten to mention. Just click the flag icon in the footer to select a language. Of course, you will have to provide your own translation, but the users who are purposefully looking for the best website builder for a multilingual business project must be extremely satisfied with Voog. 16 fresh responsive themes, appealing typography, and a user-friendly interface for deep customization will be a nice bonus for them.
You can start using this service from a trial period, and after that, switch to one of the monthly packages (paid annually):
€6 ($6.81) ‒ Standard: Users can create a website with up to 30 pages, translate it into 3 languages, and connect a small online store;
€10 ($11.34) ‒ Plus: Cancels all the limitations, opens access to a database tool, and provides a free .com domain;
€39 ($44.24) ‒ Premium: Gives unlimited opportunities, priority support, and eliminates a 3% transaction fee.
As to the drawbacks, the resource has a pretty inflexible visual editor (you can face problems with grids and layers). The bugs can be fixed only through the code.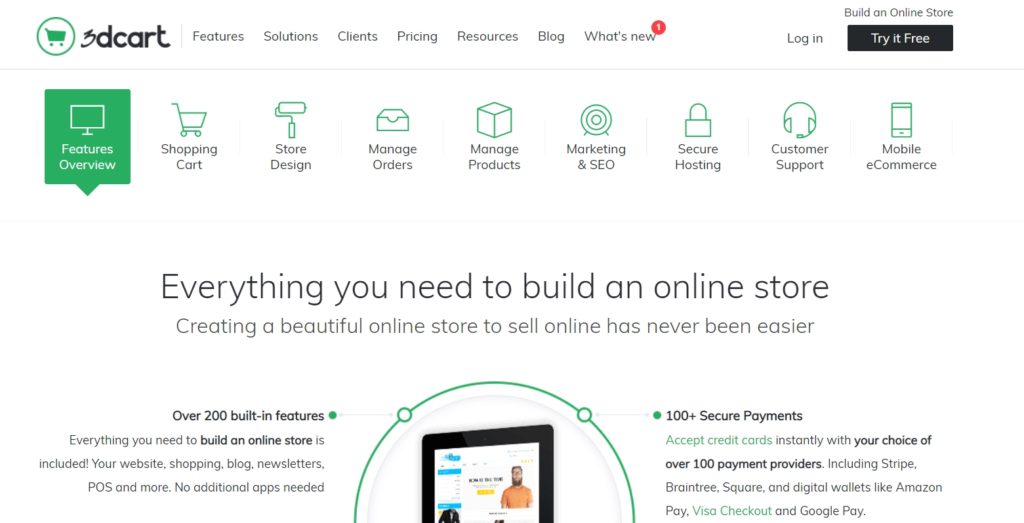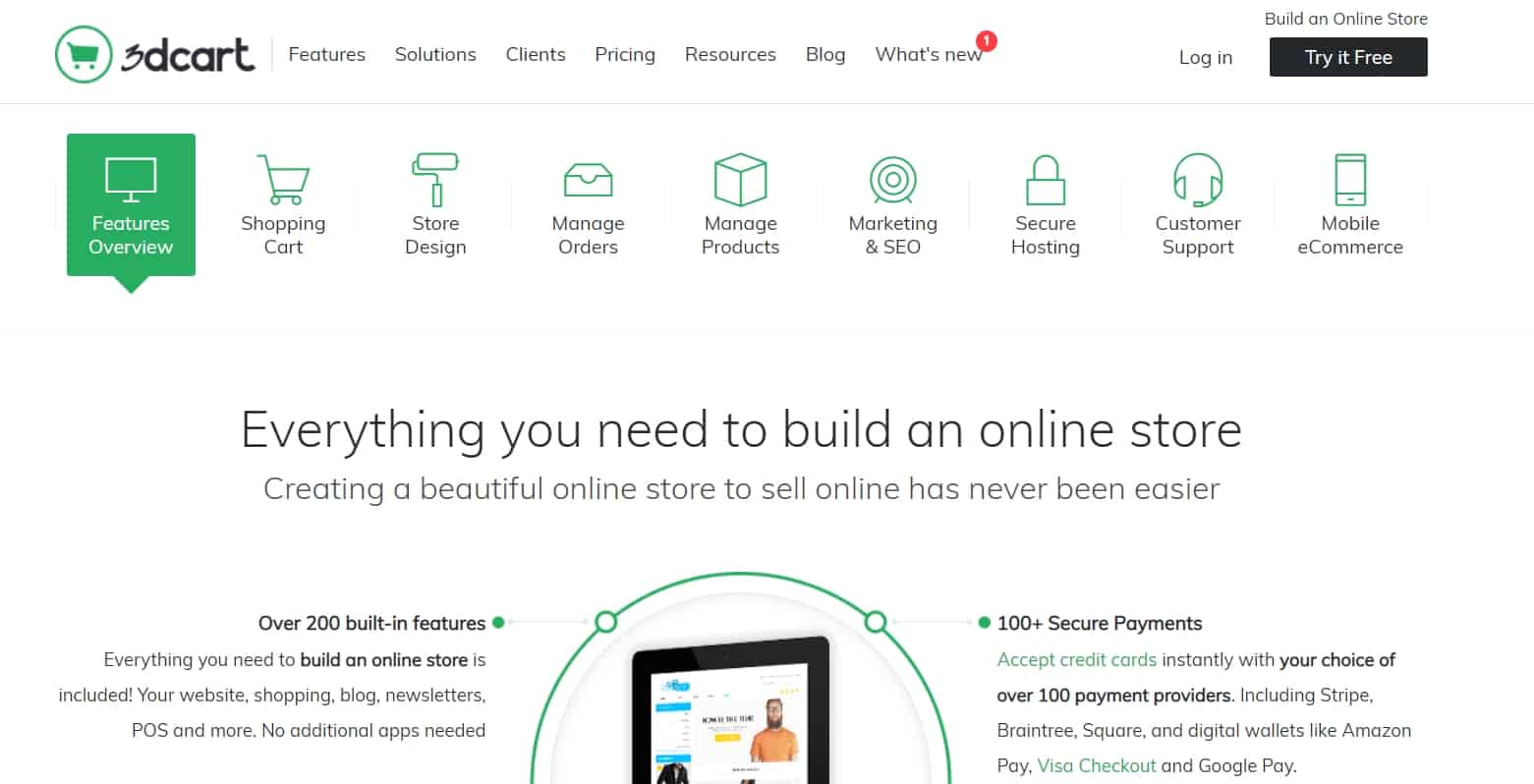 3dcart, founded in 1997, may be one of the oldest ecommerce website builders out there, but its age is hardly a handicap. The company's platform continues to flourish, backed by two-plus decades of experience and an insatiable hunger for innovation.
Due to that very drive, users will find an extraordinary amount of built-in features available on even the lowest price plan. These include real-time shipping rates, cart savers, access to more payment processors than any other platform, and unlimited categories. Also unlimited across all plans are the number of products you can offer and the bandwidth your store can use.
Flexibility is a priority for 3dcart, and that applies to more than the tools they offer. All kinds of stores can operate on the platform, from simple dropshippers to massive enterprises. Their themes are designed to be highly customizable while retaining their modern looks and mobile responsiveness. Returning to the features once more, site owners can apply as many as they want, test them out, and receive analytics. All these qualities and more are part of the company's mission to provide entrepreneurs with everything they need to create the store they want.
Anyone can create their own store through a 14-day free trial. If they like how 3dcart feels, they can create an account under the following price plans:
Dropshipping (a package designed specifically for dropshipping entrepreneurs) – $10/month
Startup – $17.10/month
Basic – $26.10/month
Plus – $71.10/month
Pro – $206.10/month
Enterprise – Starts at $499/month
Website Builders for Small Businesses and Online Stores
For small entrepreneurs and companies, an informative online presentation is often the primary way to tell potential customers about their business and services. The thing is, that modern users find it easier to ask Google than to ask their friends.
Here are the main reasons why a small business needs a website:
Online presence increases the level of user trust. Such companies look more open compared to those that don't have a website;
A website works 24/7. Thus, potential customers can receive information about a company any time they need;
A website saves the time of entrepreneurs. Instead of sitting in an office and waiting for customers, they can focus on developing their business and product.
THE BENEFITS OF BUILDERS FOR SMALL BUSINESS
When the entrepreneurs, ready to invest in a large portal from the very beginning, decide to develop a website, they go to professional web agencies.
For those who want to create an online page on their own, website builders are a perfect solution.
The primary advantage of such apps is that initially, you will spend much less than in case of hiring a developer team. To start, you just need to create an appealing and informative web page of your company.
THE LIST OF APPS FOR BUSINESS WEBSITES
The capabilities of modern apps allow you to deal with the task of website creation on your own. You don't have to hire specialists or be an expert in programming.
Here is a short list of the resources from our overview that will come in handy for small business owners who want to create a full-fledged commercial website of an online store:
WIX: 100% visual and user-friendly, free themes for any needs, a mobile version to manage your website on-the-go;
Weblium: focus on the mobile-first approach, meets Google's instructions that will quickly raise the page to the top search results;
Shopify: rich toolkit for online stores and SEO optimization, mobile version for order management;
uKit: initially focused on small business, one of the most affordable (and at the same time functional) in the web development field;
Site123: the most simple and cheap option supporting 20 languages for multilingual project creation;
Bookmark: AI creates websites exactly based on the customers' demands, reasonable pricing;
SquareSpace: well-renowned simple editor with the most beautiful templates for any business.
Choosing the right tool for your business is a responsible task, but this isn't the reason to refuse from using it. To make the final decision, you should carefully examine the capabilities of the services listed in this overview. The tool that will help you to create a website that meets all the needs of your business is the best one.
OVERVIEW OF WEBSITE BUILDERS FOR BLOGS
Since blogging has stopped to be limited to text notes and photo sharing, bloggers have started to look for a convenient platform for their resources. They needed a system that would have two mutually exclusive parameters: it had to be simple and functional at the same time.
Website builders effectively cope with such a complex task. Most services even intentionally select a certain niche. For example, they build a convenient platform for creating blogs and continue perfecting it. The reason is that a blog is a website with a very simple structure. The main requirements are the easy publication of news, ability to set the timing of publications, and monetization of the created resource.
THE LIST OF APPS FOR BLOGS
When it comes to choosing the best platform for a blog, it quickly becomes clear that there is no universal formula for success. The developers of website builders offer different sets of tools which can cover the requirements of a disparate public of bloggers. Every group of users will find its perfect service.
We have selected several platforms from our overview that may be of interest to the owners of personal pages and blogs:
WordPress.Com: the oldest, simplest, and most importantly free platform for blogs. It integrates with social media and allows users to import commentaries and surveys even without the installation of an additional plugin. The opportunity to transfer a website to a fully-fledged WordPress CMS makes this resource the most popular in the world;
SquareSpace: a fully customizable and easy-to-use platform where you can start from a blog and then easily grow to a large online store.
Weebly: another platform where you can start from a blog and then expand to a business website. Additionally, it has a more flexible editor with a larger set of functions than SquareSpace;
WIX: covers all types of websites, including blogs. It also has an additional feature – a convenient mobile assistant to manage a website on-the-go;
Weblium: an innovator among all the services for website creation. This is a great option for those who love browsing and pay attention to the seamless convenience of websites on mobile devices;
SiteBuilder: simple and clear. It has one of the cheapest plans and automatic integration with Google Analytics (in case you strive to become the leading blog in your niche);
uKit: the unique function of conversion of Facebook pages into blog pages using the uKit Alt function. This is a perfect option for bloggers who are also active users of social media.
Conclusion
Website builders have gained their popularity because more and more people needed to quickly create online services with a minimum initial budget. The main users of such apps are blogs owners, creative specialists, entrepreneurs, agencies, and even large organizations.
For every group of the target audience, there are different types of website builders: free, paid, installable offline tools, and online apps working in browsers.
Among the popular apps, Google Sites remains a fully free website builder appreciated for its basic functionality. It is more suitable to design the layout of newsletters or corporate pages than to create a full-fledged resource.
The Danish One.Com service is the cheapest option offering the lowest prices to develop your own small website.
SiteBuilder, uKit, and partially WIX (the basic plan) also boast affordable prices. All of them can be used as a basis to create a small website that can be further developed to a large online store. The necessary tools are already available in the package or can be purchased additionally.
Mobirise, a website builder in the form of an online app, has won users over with its broad functionality and a rich selection of appealing templates which are fully customizable for different needs. Moreover, all these benefits are absolutely free.
When you choose a website builder the first questions you should ask are related to the tasks of your resource:
What functions will it have?
What are the short- and long-term goals?
Will it be just an informational page or a potentially monetized website?
The majority of website owners gradually come to the idea to connect an online store. That's why you should initially consider some universal tools which provide the opportunity for extension and further development. Yet be prepared that the pricing of such services will be comparatively high.
Regardless of the type of an online service, sooner or later a website owner will want to transfer the data to a separate host and a full-fledged CMS. Hence, you should check if the service has data backup, recovery, and archiving in case of the possible change of hosting.
The last checkpoint is freedom of choice. Compare website builders to find out if you can freely stop using them, and close your account. Some apps lure customers with attractive subscription offers leaving them with very few options if they decide to quit. You may face problems with copying or transferring your data and closing your account (especially for paid accounts).
The key to success is fulfilling the tasks that website owners set for their resource. They will define which website builder is most suitable in a particular case.