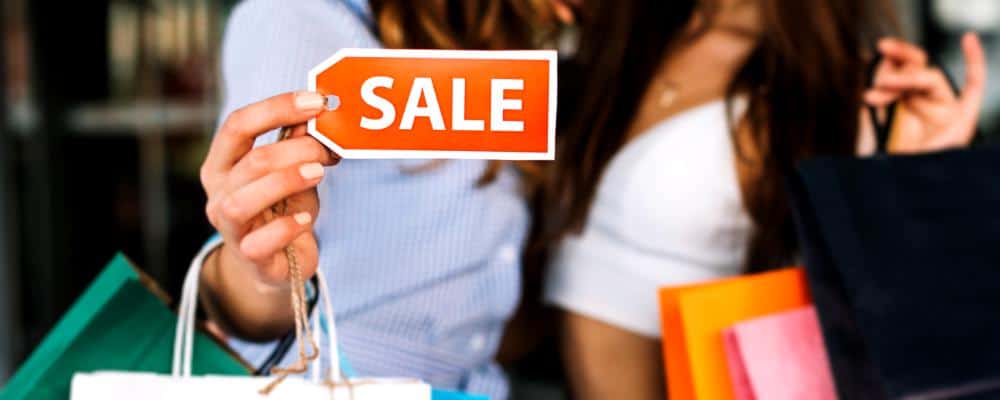 Different promotions and special offers are first of all viewed as a way to increase sales. However, this marketing tool, in fact, is much more useful for a business in a variety of directions. For example, a proper work with promotions allows to substitute a portion of customers that is lost in course of time and makes existing customers buy again.
However, you have to remember that it isn't enough to create and organize a promotion, you must convey the information about it to the maximum of your target audience. You can spread the information through such channels as posts and banners on the website, social media, banners in the Display Network, and also utilize email marketing.
Here are 25 ideas you can use for your online store to attract new buyers, increase sales, and spread the information about your brand.
Random prize. This option aims to involve existing customers rather than attract new ones. The rules are simple: Buyers who placed orders during a certain period of time can win a prize in the form of a product or a monetary reward and the winner is picked with the help of a random number generator. View the example of a tool with a similar functionality random.org.
Package offer. A trusted way to nudge customers towards spending more than they initially planned is to combine several products in a package offer and sell it cheaper than if the items were purchased separately. For example, the combination of camera + bag + SD card.
Create the feeling of deficiency. Indicate that the special offer is valid only for a limited time, for example, during this week or the next three days. Make people feel that they lose their money if they don't do something right now. Such limits stimulate additional demand.
Opportunity to be the first. We are talking about such a buying scheme as a preorder. Yet this type of promotion will pay off only in case the product is really popular, for example, a new model of iPhone.
Weekend offer. Usually, on weekends online buyers are less active so you can encourage your subscribers to purchase by sending them offers with the selection of products that are discounted if ordered on Saturday or Sunday.
Personal selections. Divide your customers into groups and offer each of them a set of products that might potentially interest them based on the analysis of the viewed products or previous orders as this can well pay off with repeat purchases.
The more, the cheaper. This kind of offers looks appealing to customers as they give the buyers the feeling of gained benefit despite the fact that the average check becomes higher. You shouldn't give big discounts, just make sure that they are attractive enough to encourage potential customers to take some action.
A small gift. Let's be honest: Everybody loves freebies. It's enough to present just a nice trifle, preferably reminding a person of your brand. It can be a mug, a key chain, a phone case, etc. This seems to be a small bonus but many people will really appreciate it.
Loyalty points. Every time customers buy something they receive bonus points that can be exchanged for a monetary discount during the next purchase. You can first test this special offer for a certain period of time and if it shows good results make a permanent loyalty program that will work as long as the online store operates.
Find cheaper. This is one of the most widespread ways of brand promotion that is particularly actual for new niches and product categories with low competition.  The key rule is to cover the price difference if the buyer finds a similar product in another online store at a lower cost. It is worth emphasizing again that this scheme is not applicable to highly competitive niches, characterized by a low product margin.
Bring your friend. You may offer some bonus points or a monetary discount to your registered customers if one of their friends signs up through a referral link. This method can perfectly work for popular niches such as clothing, for instance. Thus, you may grow the client base with the help of your existing customers who, to some extent, play the role of a marketer in your business.
Birthday present. If your customers provide you with enough details to track this kind of personal information, you can set up an automated mailout of special offers to clients whose birthdays are coming. Everyone will be happy to get such attention from the online store.
For subscribers only. Probably the name of this idea isn't that clear as the first association that usually comes to mind is something similar to mailout. However, it is connected with the creation of a unique promotion for a certain channel. For example, this way you can increase the activity in social media by introducing a time-limited special offer for all subscribers of your page.
Give old, take new. This method is called trade-in, and the opportunity to exchange an old iPhone for a new model in Apple stores is the brightest example of its usage in retail. You can offer your regular customers to get a new item instead of an old one asking them to cover a slight difference in the price.
Gift voucher. This type of promotion can be best used within high demand niches such as clothing, accessories, jewellery, digital technology, books, etc. It often happens that we want to make a present to someone special but we still don't know what to choose whereas giving money seems like a bad idea. For such occasions, a gift voucher with a certain nominal value will be very much to the point.
Ask to tell a story. Most probably, among your social media and newsletter subscribers are those, who are ready to show their creativity if you offer them something valuable in return. Arrange a contest in which everyone will be able to send their story related to the topic of your online store or the usage of a certain product category that you offer. Basically, the story should not necessarily be about your product. It may be simply related to a particular event.
Family buying. To those who buy products not only for themselves but also for their kids, for example, you can offer a discount or a free gift. Thus when customers simultaneously order clothes for adults and kids, you can make them a discount, offer free shipping, or even give one outfit for free.
Bonus services. Of course, a wide range of products doesn't belong to the category "buy and enjoy". Some of them require installation, adjustment, and another sort of actions made by the future user. Online stores can take the situation into their own hands offering free assistance in solving the issue. This can help businesses to gain loyal customers.
Workshop. If the goods you sell are used for art or any other creative process you can offer your online store visitors and social media subscribers to send a workshop in the format of an article (with photo) or video.This is particularly the case of online stores that specialize in products for hobbies and handmade.
Guess the result. As a certain important event is approaching and people are intrigued to know how it will end you can offer your visitors to guess that. It doesn't necessarily have to be connected only with your niche, as there are some events that are equally adored by everybody. For example, a football championship or other sports competitions. A person who will guess the final score will receive a prize!
Bonus for a review. If you have already implemented a system of cumulative discounts, bonus points, or something similar in your online store you can continue experimenting and develop it. Offer your customers a bonus when they review a product after the purchase. Later they can use it to get a discount on the next order.
Hurry up to be the first. This promotional option should be considered when you promote a new product or a category of goods. Offer a discount, gift or free shipping to the first 10 buyers. Of course, you can choose any number of buyers.
Gift for a subscription. It's a great way to grow the email subscriber base in a short period of time. Just announce that everyone who subscribes to your email newsletters will receive a gift coupon that guarantees a certain discount for any product from the catalog.
Special days. It's hard to find someone who hasn't heard about the famous Black Friday. Actually, initially, it became popular in the USA and other countries. However, there is only one such Friday in a year whereas you can experiment and make a regular special offer day. Unlike the Black Friday, your customers will be able to get discounts every week. Free shipping, a small gift, special bonuses – there are many ways to stimulate buyers to purchase. As the result, this only day can give you a great revenue.
Two plus one. This is an option for online stores that work in niches with good margins. Or if you need to promote your business at all costs. Create special offer sets of several products and sell one of these items for free. Buyers will be really happy while you in return will earn from the increased average cheque.
What Else Should be Taken into Account?
You don't organize a promotion for nothing, do you? You want to achieve certain goals. Therefore, every time you are planning something carefully think whether it will match the interests of your target audience. This will prevent you from accidental mistakes such as offering a free set of car tires on a cycling website. Of course, we are exaggerating but sometimes similar cases do happen.
And another important thing – Don't overdo with discounts. You'd better strive to organize promotions that encourage users to return to your online store and buy again. Work to grow the base of loyal customers, not occasional ones.
We hope that the ideas from this article will come you in handy to increase sales in your online store and will help you achieve success on the difficult path of developing your own business.Today any activity that can help you to increase customer loyalty is worth your time and money spent on it.