Online marketing is a complicated process requiring various strategies to achieve an efficient result. Modern brands primarily aim at reaching better visibility and attracting targeted customers. It's mainly done by specific approaches like link building, social media marketing, content management, SEO, alternative strategies' review, etc. The critical aspect is that the required data for marketing is hard to gather manually, so using specific automated instruments is needed. Ahrefs is a highly efficient tool millions use to develop advanced marketing strategies and improve particular site qualities.
The Ahrefs review shows that it is used multiple times every day. The statistics represent the following facts about the tool's usage:
Discovering 30m+ pages.
Updating parameters for 420m+ pages.
Content index size is 10b+ pages.
Efficient use for more than 230+ countries worldwide.
The tool gathers data through various search engines and is supported by Google, Yahoo, YouTube, etc. So, let's do an Ahrefs review, discover its advantages and determine if it's efficient for use in 2022.
What Does Ahrefs Offer to Its Customers?
First, Ahrefs was one of a kind in 2010, the year of its appearance. After that, however, many instruments with similar functions became actual competitors for Ahrefs, fighting for better function performance with each update. But everyone who tried using Ahrefs once does it more often. So it's time to explain why the instrument can be unconditionally called unique. The instruments used for Ahrefs review are the following:
Site Explorer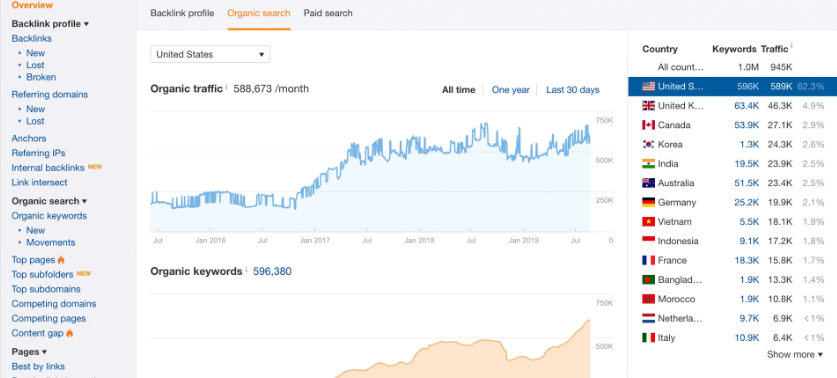 It's the most comprehensive toolset with multiple functions representing all essential performance indicators at one screen place. In addition, the Explorer has the inserted features:
Dashboard. The benefit is a quick competitor review when it's necessary to instantly determine what brought the traffic to a similar website and introduce such a function in yours. It represents the parameters like the number of backlinks, the speed for link growth if connecting pages with domains, CTLD distribution map, an anchor text cloud in %, top 5 outgoing links, etc.
The "Top pages" tool represents the search leading pages and the top keywords used for ranking in the top 100 on SERP.
The "Top content" instrument helps provide competitor's reviews by analyzing the top pages on a specific domain considering the backlinks and social metrics.
"Best by Links" reviews web pages considering the number of domains linked.
PPC Reporting. The tool helps know the best keywords for using in paid advertising on Google.
"Link Profile" reviews the existing links and provides data about their efficiency or futility.
Content Gap. The instrument shows the keywords for the competitor's high ranking absent on your site pages.
Site Explorer is one of the most widely used tools that help acquire essential information for optimizing web promotion strategies.
Content Explorer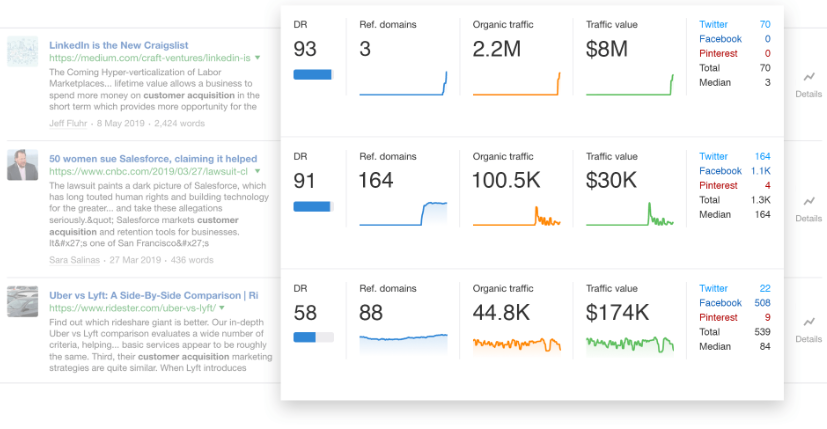 It helps find the most relevant keywords for high positions and defines the efficient sharers and influencers for promoting the specific content. The primary functions are standard and advanced search, filtering, and content analysis. The tool's efficient performance provided a wonderful experience during the Ahrefs review.
Keyword Explorer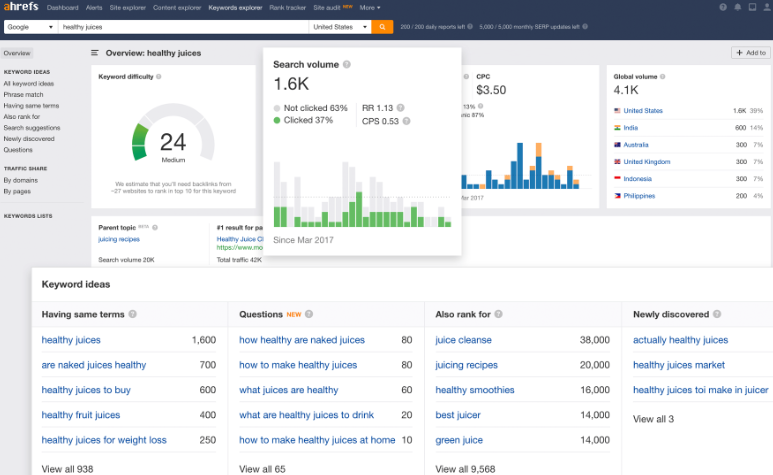 The instrument functions are based on providing suitable phrases for the specific topic based on the following aspects:
Phrase matches.
Same terms.
Similar words with high ranking.
People also search for.
Questions.
Another indicator, the keyword difficulty index, shows if the word is suitable for a high ranking for the specific content.
Rank Tracker

It represents the keywords that make web pages rank high and measures the essential indicators such as CPC, KD, CPS, etc.
Site Audit
The instrument provides a detailed review of the website's performance and determines all the flaws that may violate its online presence and reduce traffic.
Extra instruments
Domain comparison, API access, SEO toolbar, and other efficient instruments are also present on Ahrefs for specific marketing goals.
Should You Use Ahrefs?
Ahrefs review helps understand if it suits your specific aims and if it's necessary to regard it as the priority tool for digital marketing. Overall, the primary purposes for using the toolsets are the following:
Review the competitors' marketing strategies and use the information to improve yours.
Creating engaging and modern content.
Providing the best link-building process.
Cooperate with influencers that may enhance awareness of your brand.
So, with the Ahrefs review, it becomes evident that Ahrefs doesn't suit bloggers, novice and low-budget marketers (the price for toolkits is high), and website owners that update content rarely. Also, it's essential to know about several Ahrefs disadvantages:
Poor integration with Google Analytics.
Lack of SERP analytics for mobile devices.
Absence of SMM tools.
Only paid tariffs without free trials.
High prices for each plan.
Overall, proficient marketers know how to use Ahrefs efficiently and turn a blind eye to such imperfections.
Customers Ahrefs Reviews
And now, let's analyze the customers' Ahrefs reviews and understand if people choose it to improve their digital marketing strategies:
"The Ahrefs database helped me provide the best analysis and keyword research. However, its Organic Keywords v2 is worse than older versions," – Saif Ali, Assistant Director at Web Techne.
"It's the most efficient keyword planning and link tracking tool. But I dislike its URL rating distribution," – Katie Goh, Digital Marketing Manager at Healthgrades.
"Ahrefs provides the best backlink data, but its price is high" – Alex Chaidaroglou, Co-Founder of Altosight.
"We permanently use Ahrefs for developing efficient SEO strategies," – Michael Glover, Content Marketer at ConvertFlow.
"Every part of our content is created and analyzed with Ahrefs. But I must say that their customer service is slow for solving problems," – Andrew Davison, Founder of Luhhu.
"It helps me generate the content ideas and analyze the essential SEO metrics," – Alex Panagiotopoulos, Co-Founder of Kingston Creative.
"Our SEM department uses Ahrefs to find the most efficient organic keywords," – Lauren Ericksen, SEM Analyst at Vizergy.
Summary of the Ahrefs review
Overall, Ahrefs's review revealed the advantages and disadvantages of the famous tool that people may consider when choosing the preferable instrument for improving marketing strategies. But in general, it's indispensable for proficient web marketers that know how to implement each function efficiently and purposefully use all Ahrefs opportunities.