In 2023, fine-tuning your customer experience is no longer optional—it's imperative. To zero in on what really matters to your customer base, NPS (Net Promoter Score) surveys offer invaluable insights. At the intersection of technology and customer feedback, you'll find a plethora of NPS survey tools designed to gather, analyze, and act on customer sentiments. We've sifted through the myriad of options to bring you the "17 Best NPS Survey Tools in 2023."
👉 Highlights include:
Platforms that effortlessly integrate with your CRM
Tools that provide real-time data dashboards
Solutions offering automated feedback loops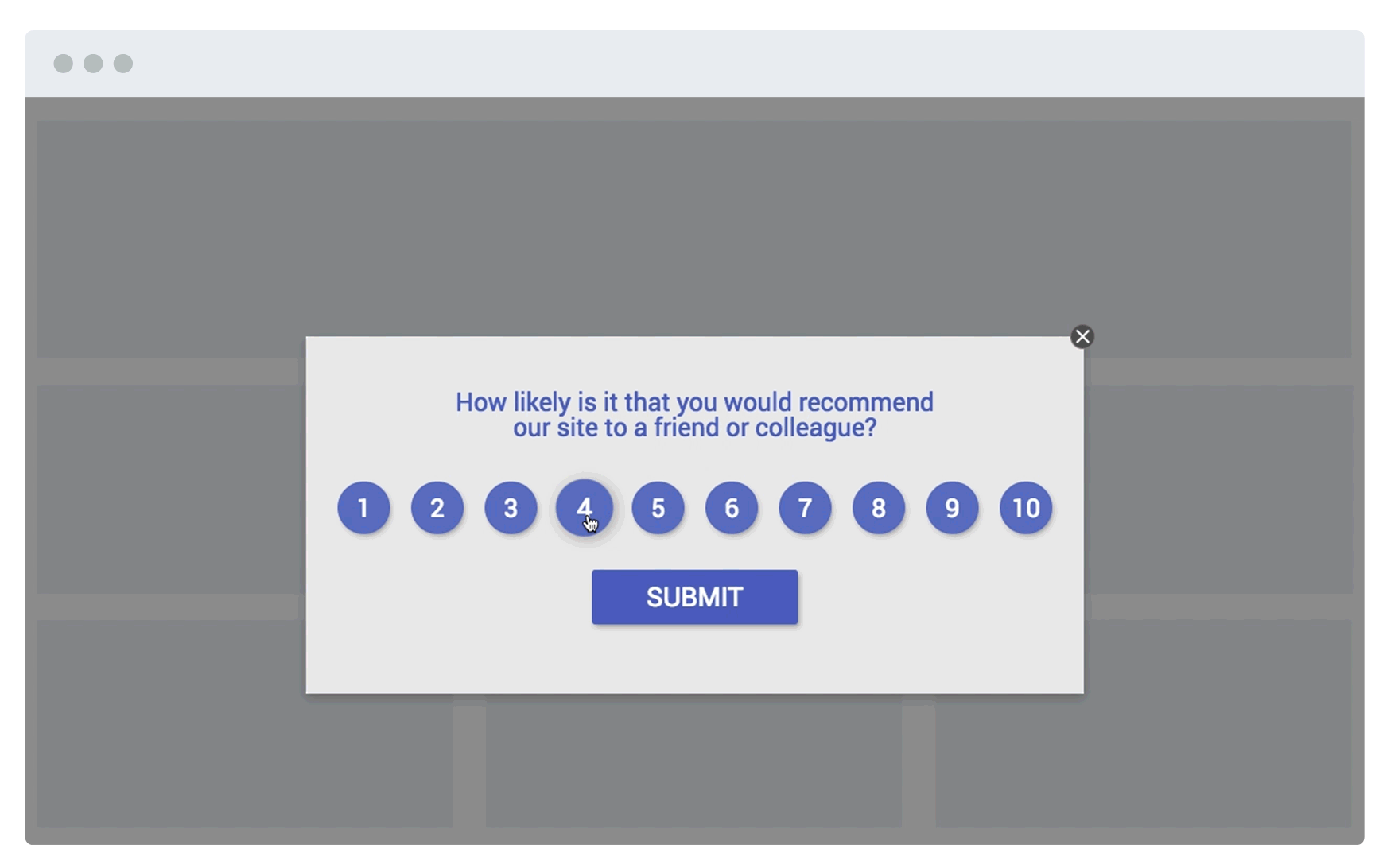 Don't settle for mediocrity. Elevate your customer experience strategy by selecting a tool that aligns with your specific business needs. Speaking of alignment, if you're also interested in boosting your website's conversion rates and user experience, consider incorporating Plerdy into your toolbox. This robust CRO & UX solution complements any NPS strategy, making your customer-centric approach truly comprehensive.
Jump into the article to unlock the full potential of your NPS initiatives today! 🚀✨
What is NPS, and Why is it Important?
NPS, or Net Promoter Score, serves as the barometer of customer satisfaction and loyalty in today's competitive business landscape. Unlike other metrics that might drown you in data but offer scant actionable insights, NPS distills customer sentiment down to a single number. It's a tool that paints a picture of not just your current customer happiness, but also your company's growth prospects. Operating on a scale of -100 to 100, the simplicity of NPS belies its impact—higher scores correlate with stronger customer loyalty, more referrals, and ultimately, increased revenue.
Key Niches Leveraging NPS:
SaaS platforms use NPS to fine-tune their software offerings.
E-commerce sites deploy NPS surveys post-purchase to gauge satisfaction and identify potential brand ambassadors.
Hospitality services, such as hotels and airlines, employ NPS to capture real-time feedback and improve their services.
To calculate NPS, customers answer a single, straightforward survey question: "On a scale of 0-10, how likely are you to recommend our company/product/service to a friend or colleague?" Results are then categorized as Promoters (9-10), Passives (7-8), and Detractors (0-6). The NPS is computed by subtracting the percentage of Detractors from the percentage of Promoters. That's it—you now have a snapshot of customer sentiment that you can leverage to make informed business decisions. From marketing strategies to product enhancements, NPS informs every aspect of your operations, acting as the linchpin for customer-centric business strategies. So, if you're not yet harnessing the power of this indispensable survey tool, it's high time you started dialing into what your customers are really telling you.
Factors to Consider When Choosing an NPS Survey Tool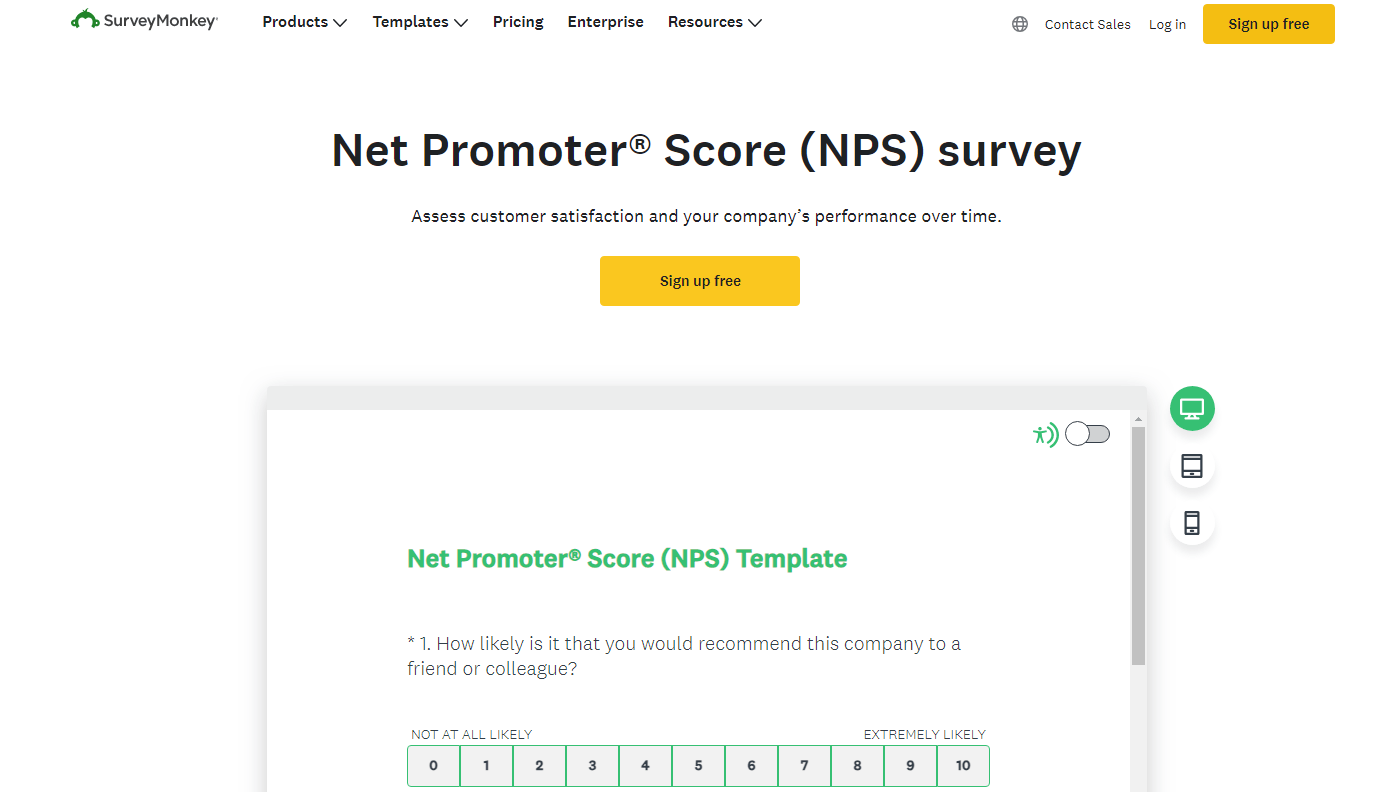 Choosing the appropriate NPS survey tool is like winning the customer experience lottery. With the stakes this high, you can't afford to skim over the details. Let's break down the essentials you need to consider.
Scoping out the features isn't enough. Dig into user reviews, grab a free trial when possible, and size up the tool's ability to meet your specific needs. Be discerning—your choice of an NPS survey tool plays a pivotal role in sharpening your competitive edge and fine-tuning your approach to customer satisfaction.
List of Best 17 NPS Survey Tools
Navigating the labyrinth of NPS survey tools can feel like wading through a swamp of options, each claiming to be the golden ticket for customer engagement. This meticulously curated list peels back the layers, revealing the crème de la crème in the NPS landscape, each designed to make your customer survey endeavors a breeze. From nimble start-ups to seasoned enterprises, this comprehensive roundup offers something for everyone, slicing through the noise to deliver the ultimate guide to NPS excellence.
NPS Survey Tool #1: Plerdy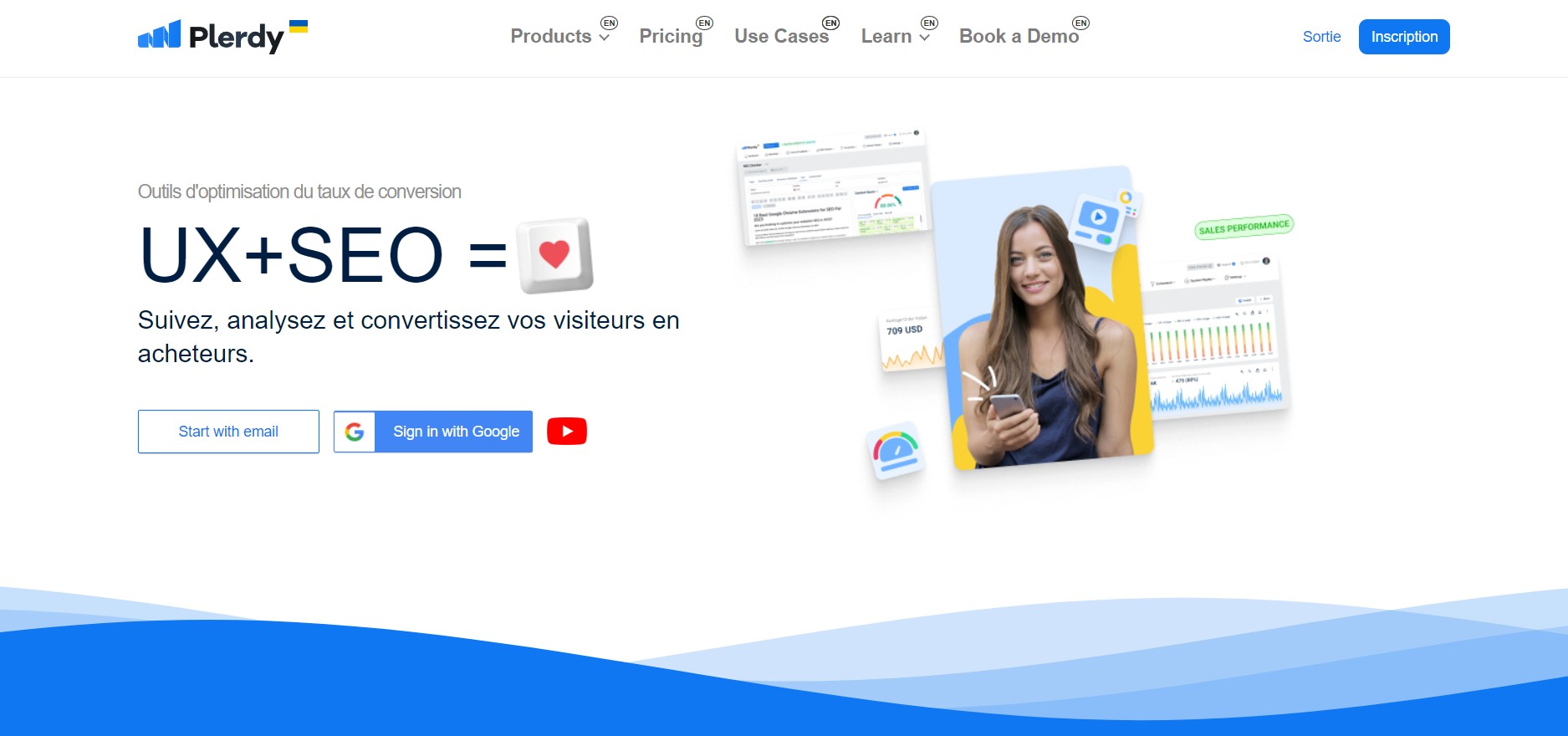 Plerdy breaks the mold when it comes to NPS survey tools, setting itself apart with an arsenal of features designed to supercharge your customer satisfaction efforts. Forget one-size-fits-all; this is a tool built for a custom fit, offering advanced analytics that make reading your customers' minds almost a breeze.
Heatmaps: Plerdy's cutting-edge heatmaps give you a front-row seat to customer behavior. Imagine you're in the business of online fitness programs; these heatmaps let you see which workout plans get the most clicks, helping you zero in on your audience's favorites.
SEO Checker: Elevate your search engine rankings without breaking a sweat. With Plerdy, you'll uncover those elusive golden nuggets that pump up your visibility.
Event Tracking: Never miss a beat with Plerdy's event tracking. Say you're running a limited-time promotion on a skincare line; real-time tracking gives you an instant read on how well the offer is resonating.
User Path Reporting: Navigating the customer journey is like following a treasure map, and Plerdy's user path reporting is your compass. Track every twist and turn to fine-tune the user experience.
Plerdy integrates seamlessly into your tech stack without much effort. From savvy startups to long-standing enterprises, Plerdy is the go-to NPS survey tool that delivers on all fronts. Its robust platform is the Swiss Army knife you didn't know you needed, making it the ace up your sleeve in mastering customer satisfaction. So, if you're ready to put your finger on the pulse of what your customers crave, Plerdy is the tool to beat.
NPS Survey Tool #2: Qualtrics

When it comes to NPS survey tools that do more than just scratch the surface, Qualtrics rises to the top. Think of it as your command center for everything related to customer experience. This isn't your run-of-the-mill survey tool; it's a comprehensive suite designed to elevate your customer engagement strategy to a whole new level.
Advanced Analytics: Qualtrics excels in delivering deep-dive analytics. If you're a SaaS company, you can segment data by account type, giving you unparalleled insights into how different tiers of service affect customer satisfaction.
Multi-Channel Support: From SMS to email, Qualtrics supports an array of channels. To get instant client feedback, retailers might use in-store kiosk polls.
Intuitive Dashboard: Navigation is a cinch with an interface that's user-friendly, even for those who break into a cold sweat at the thought of complicated software.
Custom Branding: Personalize every element of your surveys to align with your brand ethos. Luxury car dealerships can infuse their upscale aesthetic right into the survey layout and questions.
But where Qualtrics truly shines is its adaptability. With an API that's a breeze to integrate, you can hook Qualtrics into virtually any system—be it CRM or your custom software. Companies with a strong focus on customer-centricity find Qualtrics to be an invaluable asset. With robust features and unmatched flexibility, Qualtrics is the linchpin for businesses striving to nail customer satisfaction every single time.

When you're in the market for an NPS survey tool that's both powerful and user-friendly, SurveyMonkey sits at the pinnacle. This isn't just another cookie-cutter solution; it's a tool that fits like a glove, molding itself to your unique customer engagement needs.
Templates Galore: SurveyMonkey offers a rich assortment of templates that serve various sectors. For instance, if you're in boutique hospitality, opt for high-end designs that echo the sophistication of your guest experience.
Skip Logic: This feature lets you step up your survey game by personalizing questions based on previous answers. Let's say you operate a streaming service; if a customer picks "comedy" as their favorite genre, the subsequent questions can drill down into specific comedy shows or movies.
Collaborative Tools: Your entire team can jump in and refine the survey. No more sending drafts back and forth—just streamline your workflow.
Real-Time Analytics: Catch insights as they roll in. Anyone in the quick-service restaurant business can relate to the need for fast, actionable data, and SurveyMonkey delivers just that.
The tool integrates easily with many other tools, making it easy to use. SurveyMonkey has carved out a reputation as the go-to for organizations big and small. From whipping up a quick poll to diving into granular customer data, SurveyMonkey serves it all up on a platter. It's a comprehensive platform that you can count on to propel your customer satisfaction metrics sky-high.
NPS Survey Tool #4: Medallia

When it comes to measuring the heartbeat of your customer's experience, Medallia offers more than just a stethoscope—it offers an entire diagnostic suite. With a focus on NPS, this tool is the powerhouse you never knew you needed.
Real-Time Feedback: No more waiting around. The instant a survey wraps up, you've got your data. Imagine you're an airline; this feature lets you tap into traveler sentiments before they even disembark.
Text Analytics: Unlock the treasure within open-ended responses. If you're a healthcare provider, sift through patient feedback to discern common themes—be it the wait time or the bedside manner.
Customer Journeys: Medallia maps out your customer's entire journey, allowing you to pinpoint where you're hitting home runs and where you're striking out.
Benchmarking: Line up your stats against industry norms to see where you stand. For hotel chains, this could mean sizing up your amenities or check-in experience against competitors.
Where Medallia outpaces the crowd is in its ability to knit various data streams into a cohesive tapestry of customer sentiments. The tool seamlessly dovetails with your existing tech stack, enabling a free flow of data between different platforms. From the get-go, Medallia offers a tailor-made experience designed to amplify your customer-centric strategies. It's the Swiss Army knife of NPS tools, rolled into one robust, intuitive platform. Businesses hungry for rich, actionable insights find Medallia to be an indispensable ally in the never-ending quest for customer satisfaction.
NPS Survey Tool #5: Delighted

When you're fishing for customer opinions, Delighted is the net you'll want to cast. Designed for simplicity yet packing a wallop in terms of functionality, this NPS tool is a marketer's daydream come to life.
One-Click Surveys: In the fast-food industry, speed matters. Delighted delivers with quick, one-click surveys that even the busiest diner can respond to while munching on a burger.
Automated Follow-Ups: For retailers, this is gold. Automate your follow-up emails to catch customers at the peak of their post-purchase glow.
Custom Branding: Real estate agencies, listen up. With Delighted, you can tailor the survey's appearance to seamlessly blend with your established brand image.
Integrations Galore: Got a tech stack taller than a skyscraper? Fear not. Delighted slots right in, syncing data effortlessly.
Its API flexibility is truly where Delighted shines brightest—enabling a seamless mash-up with your existing operational tools. Say you're a fitness center; this feature allows you to splice survey results directly into your member management software. Delighted also flexes its muscles when it comes to feedback collection channels—be it email, web, SMS, or even a kiosk setup at your physical location. It's like having a customer feedback Swiss army knife but without the bulky pocket bulge. Businesses aiming to snag top-notch insights without diving into a sea of complexity find Delighted to be their go-to solution. So, get on board and navigate your customer experience to smooth waters.
NPS Survey Tool #6: Wootric

Wootric dominates NPS tools for customer voice. Imagine you're a cloud services provider; every touchpoint with your clients holds the potential to be a golden nugget of insight. That's where Wootric steps in, fine-tuning the feedback process to a science.
Real-Time Analysis: Instantly tap into customer sentiment, catching red flags before they turn into full-blown fires. Perfect for SaaS companies that need to pivot on a dime.
Multi-Channel Outreach: Whether it's email, in-app, or even SMS, Wootric ensures you can reach your customers wherever they hang out most online. Ideal for e-commerce businesses looking to tighten the customer loop.
CX Metrics: Wootric doesn't stop at NPS. Add in Customer Satisfaction (CSAT) and Net Promoter Effort Score (NPES) to get a 360-degree view. Useful for consulting firms that deal in complexities and require nuanced data.
AI-Powered Insights: This is the gold standard for tech startups. The tool's AI digs deep into textual feedback, shedding light on the why behind the score.
Wootric melds perfectly with your CRM system, effortlessly importing valuable feedback into a dashboard that even a layman could navigate. And speaking of dashboards, Wootric's visual interface is a masterpiece of UX design. Not only does it provide you with raw numbers but it also breaks them down into actionable insights. Wootric is a complete command center for your customer experience strategy, not just a tool.
NPS Survey Tool #7: AskNicely

Welcome to the age of AskNicely, a pinnacle in the universe of NPS tools that revolutionizes customer feedback into actionable insights. Let's say you're in the hospitality business – the ever-elusive, highly coveted 5-star review starts to feel more like a rule than an exception. AskNicely empowers you to break down the barriers between you and customer satisfaction.
Daily Surveys: Move past the bulk survey paradigm and send out daily, targeted queries to specific customer segments.
One-Click Feedback: With just a single click, customers can voice their thoughts, making it exceedingly convenient and boosting participation rates.
Automated Responses: Follow up instantaneously with tailored messages based on feedback. Perfect for retail businesses eager to capitalize on fresh data.
Advanced Analytics: Benefit from data-driven visuals that translate complicated numbers into simple, straightforward conclusions.
AskNicely effortlessly syncs with your sales and customer service software, amassing all key metrics in one central hub. The tool's natural language processing (NLP) sifts through open-ended responses, detecting patterns and moods that might otherwise slip through the cracks. Better yet, AskNicely integrates directly into your staff's daily workflow. The real kicker? This tool does more than simply gauge customer happiness; it creates an operational culture around constantly improving customer experience.
In a world swamped with data, AskNicely stands out by turning raw feedback into an orchestrated roadmap for lifting customer satisfaction to unprecedented levels. It's not just a tool—it's your next step in mastering the art of customer-centricity.

Enter Satismeter—the all-encompassing solution designed to redefine your customer experience through unparalleled NPS integration. Imagine being an eCommerce store owner with cart abandonment difficulties. Satismeter swoops in and provides the metrics you've been yearning for.
Feature Highlights:
Hyper-Personalized Surveys: Tailor questions to each customer, enhancing relevancy and boosting response rates.
Real-Time Data: Capture NPS scores in the moment, providing a snapshot of sentiment at any touchpoint.
Advanced Filtering: Segment NPS data by attributes like location or transaction history, narrowing your focus for maximum impact.
Smart Notifications: Set alerts that sync with low scores, allowing immediate action.
With Satismeter, you don't just collect data; you bring it to life. The tool takes your raw NPS numbers and infuses them with layers of insights, turning statistics into customer narratives. This elevates your customer understanding from vague awareness to concrete comprehension.
Satismeter doesn't shy away from the heavy lifting. Its powerful analytics dashboard presents data in digestible formats, ensuring that your marketing team can glean actionable insights swiftly. Say a frequent shopper suddenly scores you low. Immediate notifications spark timely interventions, like tailored discounts or personalized follow-ups, swinging sentiment back in your favor before it spirals. All this while offering seamless API integrations to become a natural extension of your existing toolkit.
If you're seeking to anchor your business decisions in data that matters, Satismeter is your go-to tool—turning your NPS efforts into a robust customer retention strategy.
NPS Survey Tool #9: Retently

Retently will take you deep into the rich, undiscovered depths of NPS data, not simply the surface of customer feedback. Picture yourself as a subscription-based business owner puzzled by a rising churn rate. Retently steps in, offering laser-focused insights that directly lead to better retention strategies.
Key Features:
Omni-Channel Survey Delivery: Deploy NPS surveys via email, SMS, or in-app prompts to reach your customers where they're most comfortable.
Powerful Automation: Schedule surveys to go out after specific triggers, like a completed transaction.
Advanced Analytics: Dissect your NPS data with a plethora of customizable graphs, charts, and breakdowns.
CX Metrics: Go beyond NPS to understand customer effort score (CES) and customer satisfaction (CSAT).
Retently doesn't just give you numbers; it gives you narratives. The tool knits together individual responses, creating a comprehensive story of your customer journey. This allows you to make data-driven modifications to your product, user experience, and customer service initiatives.
Retently's API integrates smoothly with your current tools, making the transition to a more data-centric operation a breeze. For instance, if a long-time subscriber's NPS suddenly dips, Retently's smart alerts bring it to your attention. Immediate remedial steps like a personalized follow-up email or a curated content suggestion can then be enacted to win back their loyalty.
It's not just about knowing your customer; it's about taking that knowledge and turning it into tangible action. Retently enables you to do just that, bolstering customer relations and minimizing attrition.
NPS Survey Tool #10: Typeform

Typeform takes NPS, customer surveys, and data collection to an elevated plane of interaction and user engagement. Imagine you're a small business owner struggling to grasp what your clientele truly craves. Typeform doesn't just step up to the plate—it knocks it out of the park with conversational forms that encourage authentic responses.
Pivotal Features:
Intuitive Design: Offers slick, customizable templates that hold attention and elevate the survey experience.
Branching Logic: Employs conditional logic to create adaptive, personalized question paths for each user.
Multi-Platform Compatibility: Whether on desktop or mobile, the responsive design ensures optimal usability.
Robust Analytics: Get a rich, multi-dimensional view of gathered data, from pie charts to geographic mappings.
With Typeform, you seize the power to convert typical NPS numbers into actionable insights. You can revamp a product, fine-tune a service, or even overhaul a faltering customer relations strategy—all based on first-hand data.
Consider a scenario where Typeform's high-response surveys reveal that your customers desire a live chat feature on your website. You quickly roll it out, and boom—the subsequent NPS survey shows a noteworthy uptick in customer satisfaction.
Typeform's seamless integration with popular tools like Zapier and Slack ensures that you'll weave it into your workflow without a hitch. Real-time notifications alert you the moment a survey gets filled out, giving you the capacity to act instantaneously.
This tool transcends mere data collection; it serves as your all-access pass to unlocking the potential of customer intelligence, enriching not only your metrics but also your business acumen.

Feedbackify transforms the way businesses tap into customer sentiment with its top-tier NPS and survey tools. Picture yourself as a retailer who's been grappling with cart abandonment issues. You don't just want data; you crave actionable insights. Enter Feedbackify, a tool that dives deep to fish out the crux of your business challenges.
Why Choose Feedbackify:
User-Friendly Interface: Unfussy, clean dashboards that get you straight to the metrics that matter.
Customizable Forms: Tailor your surveys with a range of question types—multiple-choice, scales, open-ended—to capture the info you need.
Real-Time Feedback: Immediate notifications sync right into your workflow, ensuring no customer insight slips through the cracks.
Data Filters: Segment your data based on demographics, purchase history, or other crucial factors, giving you a nuanced view of customer sentiment.
Take this example to heart: your online store has stellar products but lagging sales. You roll out a Feedbackify survey to sniff out the disconnect. You discover that customers find your checkout process tedious. Prompted by these revelations, you streamline the payment procedure. Your cart abandonment rate plummets and sales soar.
Feedbackify integrates smoothly with CRM and data analytics solutions. The technology turns client feedback into a strategic roadmap for tangible change. Tracking metrics with Feedbackify is like setting up for unstoppable growth.
NPS Survey Tool #12: Hotjar

Hotjar goes beyond conventional NPS and survey tools, offering an expansive suite of features that puts you in the driver's seat of customer experience. Imagine you're a hotel owner, puzzled by fewer return visits despite top-notch amenities. With Hotjar, you dig right in to unravel the mystery.
Key Features of Hotjar:
Heatmaps: Unearth where your users click, scroll, and hover.
Session Recording: Play back user activity for an "over-the-shoulder" viewpoint.
Conversion Funnels: Pinpoint exactly where you're losing potential customers and why.
Survey Customization: Craft surveys that drill down to the essentials, catching the nuances of customer opinion.
Let's flesh out an example. You deploy Hotjar's heatmaps and discover that guests drop off at the "Booking" page. You then use session recordings to realize that a confusing layout causes guests to second-guess their bookings. With this invaluable insight, you revamp the layout, boosting your conversions and, in turn, your revenue.
Hotjar's versatility positions it as a one-stop shop for customer data collection and interpretation. Seamlessly integrate it into your existing tech environment, whether you're running e-commerce, SaaS, or a service-oriented business. Hotjar cuts through the noise, translating customer behaviors and feedback into a finely-tuned strategy for growth and enhancement. It empowers you not just to collect data, but to act on it—turning raw numbers into real-world success stories.

When it comes to tuning into the pulse of your customer base, CustomerGauge serves up an unparalleled mix of tools to capture the essence of NPS, surveys, and feedback metrics. Imagine running a pet grooming service. Your clientele seems satisfied, but you can't pinpoint why some never return. Enter CustomerGauge—a multifaceted platform designed to unearth the subtleties of customer sentiment.
CustomerGauge Features:
Dynamic Surveys: Customize surveys down to the tiniest detail.
Automated Workflows: Send the right message at the perfect time, without lifting a finger.
Retention Heatmaps: Uncover areas with high churn potential.
In-depth Reporting: Dive into rich data layers, excavating the treasures buried in customer feedback.
Using the platform, you quickly find out that customers love your grooming services but detest the long wait times. Leveraging CustomerGauge's automated workflows, you instantly follow up with a personalized discount on a faster service. Result? You've ramped up customer satisfaction, fortified loyalty, and beefed up repeat business.
This powerhouse tool melds well with any business ecosystem, be it B2B or B2C. With CustomerGauge, you're not merely scraping the surface of customer feelings; you're digging deep to excavate actionable insights. Employ it to decipher the code of customer loyalty, molding your strategies to snuggly fit the ever-changing nuances of consumer behavior. It's not just data collection; it's your roadmap to unassailable customer relationships.

When striving for customer satisfaction, GetFeedback stands out as a must-have tool in your arsenal. Let's say you run a hip coffee shop. You've got artisanal brews and vegan pastries, but you notice the weekend foot traffic has been dwindling. You need more than just an educated guess to make improvements—you need hard data. This is where GetFeedback steps in, merging NPS, customer feedback, and agile surveys into a harmonious flow of actionable insights.
Features to Boast About:
Seamless Integrations: One-click connects with popular CRM software.
Real-time Analytics: Dashboards update in a blink, keeping you in the loop.
Survey Versatility: Go beyond NPS; set up targeted or periodic surveys with ease.
Advanced Customization: Make surveys feel like an extension of your brand.
With GetFeedback, you effortlessly pinpoint that your weekend customers are frustrated with the slow service. You swiftly rework your staffing schedule and introduce a "Quick Brew" option. Within weeks, the weekend crowd swells, thanks to your data-backed strategies.
GetFeedback doesn't just hand you raw numbers; it equips you with the tools to break down complex data, chew through customer opinions, and transform feedback into tailored experiences. In a market bursting with options, GetFeedback is more than a survey tool—it's your navigator in the complex landscape of customer relationships. You're not just taking notes—you're improving your business to fulfill client expectations.
NPS Survey Tool #15: Nicereply

In the bustling landscape of customer feedback, Nicereply shines as an invaluable tool. Picture running a boutique digital marketing agency where client communication is your lifeblood. Your inbox is a whirlpool of inquiries, project updates, and feedback. Nicereply swoops in to streamline your NPS and customer survey needs into a one-stop solution.
Here's the Scoop on Features:
In-Email Surveys: Customers can rate your service without exiting their email.
Tailor-Made Forms: Customizable to the core, ensuring alignment with your brand.
Comprehensive Reports: Breaks down analytics for deep dives into customer sentiment.
Multi-Platform Sync: Integrates with your existing customer service software in a snap.
For example, you send out a campaign about your latest SEO package. With Nicereply's in-email surveys, you instantly gather client reactions. The feedback points to the need for more educational content in your offer. You revamp the package, include a downloadable PDF guide, and presto—the conversion rate spikes.
Nicereply isn't just a skim-the-surface kind of tool. It plunges deep into analytics, sifting through raw data to deliver actionable insights. The result? You're digging deep into consumer feedback to find brand-boosting nuggets. Nicereply is the compass you never knew you needed, directing your business decisions with precision and clarity. In the labyrinth of customer opinion, consider this your perfect guide to navigate through the twists and turns.
NPS Survey Tool #16: Thermostat

Welcome to the future of customer feedback—meet Thermostat. This tool seamlessly integrates NPS, customer surveys, and more into a single, robust platform that cuts through the noise and delivers actionable insights. Imagine owning a subscription-based meal delivery service. You're wrestling with retention rates and are desperate to find out why customers churn.
Standout Features of Thermostat:
Frictionless Set-Up: Go from zero to live survey in minutes.
Customizable Templates: Tailor your surveys to perfectly reflect your brand ethos.
Automated Scheduling: Set it and forget it; your surveys go out like clockwork.
Multi-Channel Support: Reel in feedback from emails, social media, and even your website.
Let's dive into our example. You send out a custom-designed NPS survey via Thermostat and the data starts rolling in. The standout feedback pinpoints meal variety as a sticking point for customers. You immediately revamp the menu, toss in a limited-time spice option, and revenue per user jumps.
The brilliance of Thermostat lies in its knack for simplifying complex data streams. It snags raw numbers, processes them with speed, and churns out data visualizations that light your way. No more muddling through spreadsheets; Thermostat turns data into your most lucrative asset. You don't just collect customer sentiment—you dissect it, analyze it, and act on it. Thermostat redefines the metrics of success, churning insight into action, and turning browsers into die-hard brand loyalists.
NPS Survey Tool #17: Zenloop

Introducing Zenloop—your end-to-end solution for decoding customer feedback and transforming it into strategies that boost your bottom line. Imagine running a fitness app. You need to track user engagement, satisfaction, and possible areas for improvement. Here's where Zenloop's prowess comes into play.
Why Zenloop Shines:
Dynamic NPS Scoring: Don't just collect scores; understand them.
User-Friendly Dashboards: Glance at your metrics, and know exactly what action to take.
Trigger-Based Surveys: Deploy the right survey to the right customer at the perfect moment.
Open-Ended Analytics: Deep-dive into customer comments, capturing the nuance that numbers alone can't.
In our example, Zenloop uncovers that your fitness app users are unhappy with the user interface. Promptly, you tap into the tool's smart labeling feature which auto-sorts feedback into categories. You identify the main pain points, fix the user interface issues, and voila—your NPS score skyrockets, and so does your user retention rate.
What sets Zenloop apart is its ability to automate the collection and analysis of customer feedback while facilitating quick iterations based on those insights. It streamlines data so effectively that interpreting customer behavior becomes second nature. But it doesn't stop there; Zenloop also integrates effortlessly with other CRM and marketing platforms, consolidating all customer-centric data into a unified view. This is not just another tool; it's your command center for customer satisfaction, operational excellence, and revenue growth. With Zenloop, you don't just keep up with customer expectations—you set the gold standard.
Conclusion
Navigating through the jargon and bells and whistles of numerous NPS survey tools can make your head spin. However, our definitive list for 2023 boils it down to the essentials—functionality, user experience, and cost-effectiveness. These tools aren't just placeholders; they are robust systems that truly grasp your customers' sentiments and allow you to monitor trends over the course of months or even years.
Whether you're a small business or an enterprise-level organization, you've got options. Some tools, like SurveySensum, target mid-sized businesses with limited budgets but high ambitions. Others, like Salesforce, cater to the enterprise's complex needs with a plethora of customization capabilities. Pros and downsides are clearly stated, making it easier to choose the proper tool.
Pricing varies widely, but many tools offer a free version or a demo so you can try before you fully commit. But wait—don't sign up for the first tool that catches your eye. Test out several, compare their functionalities, and evaluate them based on your own needs and commitments.
Looking for more than just the standard fare? Dive into our ebooks and webinars for a deeper understanding. Learn from case studies and customer testimonials that share success stories and valuable tips.
And for those who need something that's a cut above—consider Plerdy tools. Not only does Plerdy offer versatile survey options, but it also helps you gather aggregated data across multiple touchpoints. Their employee training webinars are top-notch, and they even offer additional perks like affiliate marketing options to boost your ROI.
So, what are you waiting for? Dive in, start testing, and find the tool that amplifies your customer listening capabilities. Happy surveying!