Online sales are an essential part of business activities, and their popularity and importance grow each day. The eCommerce business value reached more than $4 trillion, making it the most commercially successful activity. Due to the statistics, 80% of the USA citizens shopped on the Internet during the last two years. Therefore, many novice and proficient marketers start online shops with the help of various eCommerce platforms.
The eCommerce platform is a specific CMS with the software for creating online stores. When starting a new business online, choosing suitable software is essential to avoid technical mistakes and have competitive performance. Nowadays, the most popular types of platforms are the following:
Open source: provides company's development with the open programming code.
Headless commerce: the front-end and back-end website elements are separated, making it easy to customize the company's parameters.
SaaS: the software is provided for customers as a ready-made custom solution.
The new store's size isn't usually decisive because customers mainly consider the quality and reliability of the services. Therefore, when building up a new online business, it is essential to consider scalability opportunities, financing marketing processes, and expanding the targeted client base. And now, let's discover the best eCommerce platforms to implement the listed characteristics, and develop an efficient online business.
Top 20 eCommerce Platforms 2022
The list of eCommerce platforms represents those who collaborate with worldwide brands and help create highly efficient and competitive businesses. Let's discover their peculiarities and describe their unique features.

The popular eCommerce platform was created by Magnus Jepson, Mark Forrester, and Adii Peenar in 2007. WooCommerce primarily provided offline activities but lately emphasized their services of developing plugins. The platform includes the following solutions for the customers:
AutomateWoo: it makes it possible to maintain the online store's automation to optimize the conversion rate.
Payments: you may get the ready-made software for the financial operations on the website.
Subscription: the customers provide regular payments depending on their subscription type (once a week, month, year, etc.).
There are paid (with the typical annual payment of $49-299 for one solution) free WooCommerce products. Airstream, Weber, and Good Dye Young are famous brands working with the eCommerce platform.

It is a PHP-based B2B and B2C eCommerce platform, which now belongs to Adobe Commerce. More than 100,000 shops were created with the help of Magento. The company provides customized solutions depending on the niche, including healthcare, retail, finances, etc. The primary products are:
Analytics helps analyze the customer's behavior, detect the most popular website elements and products to improve UX/UI characteristics.
Real-time CDP provides data for personalized services.
Advertising: combining different methods to get the targeted traffic into a single strategy.
There is a free trial for each Adobe product, and after that, the annual paid subscription is offered. The efficiency of services is confirmed by working with Japan Airlines, The Home Depot, Allianz Australia, and other organizations.
<h

3>Shopify
The top SaaS eCommerce platform founded by Tobias Lutke, Scott Lake, and Daniel Weinland provided software for 16 years. The number of the platform's active clients worldwide reaches 2,000,000. Everybody values unique possibilities to start an online shop, such as the following:
Store builder: there are more than 70 themes to customize the shop's design.
Buy button allows adding the products for sale at any website with quick maintenance.
eCommerce automation: automatically provides inventory management, user segmentation, and scamming defense.
The customers can test Shopify free for two weeks. After that, three subscription variants (from $29 to $299 per month) should be purchased. However, getting started with Shopify is worth it, confirmed by its work with Mozilla, Wikipedia, Google, etc.

It is an enterprise-level eCommerce platform founded by Brent Bellm in 2009. The company has more than 1,000 employees worldwide and 2,800 technology partners implementing a client-oriented approach to their projects. The primary services are the following:
B2B eCommerce: get improved order and pricing properties for your company.
Omnichannel marketing: BigCommerce helps optimize brands for performance on various channels except for the primary website (marketplaces, search engines, etc.).
Wholesale management: improve customer service by implementing various front-end and back-end parameters.
Everybody can know the service pricing after providing specific data about the planned project. The company has experience in cooperation with Skullcandy, Victoria Health, etc.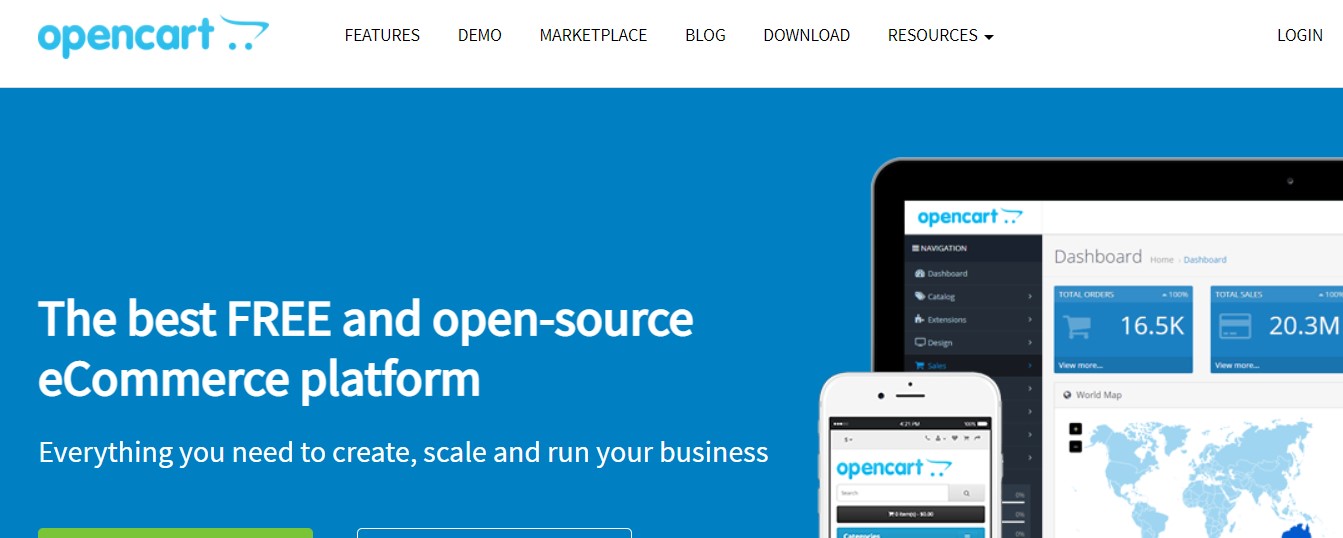 The open-source eCommerce platform was established in 1998 by Christopher G. Mann. Everything required to start is choosing the suitable template and theme, adding the products list, and purchasing function. OpenCart has more than 15,000 extensions for the customer's access and provides the following services:
Marketplace solutions (review images, discounts order, menu and form builders, etc.).
Language optimization (single language or a kit with 3 or more).
Shipping (free or based on the specific formulas).
The regular price for the OpenCart products is $20-25. The company provides services for such high-trusted brands as Wholesale, Street Level Shop, Leisure, and others.
The CEO of the famous corporation is Marc Benioff. He implemented unique features such as AI-based customer support with detailed analytics, cross-functional technical management, and an inclusion-first approach to sales. The services of Salesforce include:
Customer 360: it is a client-oriented software making the visitors better perceive your platform (by non-stop data collection).
Service cloud improves customer support function by adding innovative interaction elements.
Commerce: the creation of unique and scalable eCommerce platforms.
The product price is provided in % of the gross merchandise value or $ per order. IBM, American Water, and Priority Health succeeded with the help of Salesforce solutions.

Harald Ponce de Leon founded the eCommerce website platform in 2000. The unique features are:
An unlimited amount of goods.
Multi-language support.
A convenient database for quick and proper search.
Its software is compatible with PHP and MySQL, and the full package of products (theme switcher, advertising banners, payment gateways) can be downloaded for free. PayPal, Braintree, Sagepay are the reliable partners of OsCommerce.

The eCommerce platform was founded in 2006 by Avishai Abrahami, Nadav Abrahami, and Giora Kaplan. It offers essential solutions such as:
Business management with a single maintenance panel.
API options to implement modern properties.
Proficient dropshipping services.
Commission-free payment integrations.
There are several monthly tariffs from $12 to $17 with different opportunities and data storage. However, there are also beautiful free-to-download templates. The brand's efficiency is confirmed by working with Calvin Pausania, Helen Kruger, Copper Bay Candles, and others.

CEO of the company, Alexandre Eruimy, helped more than 300,000 websites appear on the global market and generated 20 billion euros in online sales. The top eCommerce platform's mission is to make the sales entirely digital. There are several packs of PrestaShop, including the software for novice and proficient users. Antadis, Soledis, ITIS Commerce, and others cooperate with the brand greatly.

Anthony Casalena founded the company in 2003. Since then, it has acquired various templates, text, and design elements for newly created online stores. Today, it's products include:
templates for blogging;
appointment schedules;
checkout and payment software.
The subscription is divided into three types (from personal to advanced), and their price is from $14 to $49 per month. Architecture+Information, Studio Bramble, Bembien, and other organizations prefer the services of Squarespace.

Gonzalo Gil is an indispensable leader of the eCommerce platform, who gathered a professional team of marketers, web designers, developers to help 200,000 customers build their brands from scratch. The company's unique services include:
Solutions for cart abandonment reduction.
Omnichannel eCommerce for mobile apps and social media.
Real-time shipping.
There are free and paid subscriptions, and the price for the last is $229/month, including the entire package for the online store. The UPS Store, Hickory Farms, CAA, and others got the 3dcart services.

Its eCommerce solutions are famous worldwide and valued for simple functionality, innovative features, and high efficiency. Kevin Sproles, the founder, has a motto of accepting any challenges, corresponding to the customer's needs, and never stopping after making a new product. The service list includes the following possibilities for novice and advanced online stores:
Category pages (subcategories, display elements, product categories, etc.).
HTML editor access.
Mobile-friendly templates.
Different tool packages cost $29-$299/month. Such brands as WebFX, Brand Labs, and Cart Consultant got the efficient services of Volusion.

It is an eCommerce platform for small and big businesses founded by David Rusenko. The company provides software for online store creation, which doesn't require HTML knowledge. It allows you to launch a new website with a ready-made template to add extra widgets and applications. The most demanded services are:
Choosing the domain name with free hosting.
Coupon constructor.
International smart shipping.
There are 3 tariffs $12 to $38 per month. Douksnow, Busch, Wall-In, and others trust Weebly.

The brand was founded by Ruslan Fazlyev and is considered the best eCommerce platform for small businesses. The software helps operate each online store on any channel, from Instagram to mobile applications. The platform provides point-of-sale solutions, custom payment options, automated taxes, etc., for online shops. There are free trial periods, monthly subscriptions ($12.50-29.70), and unlimited packages for $82.50. Plenty of stores were created with Ecwid, including The Mocktail Club, Fig & Honey, Corktown Soap, and others.

The company's founder, Matt Wigham, gathered a creative team of designers, illustrators, web developers to help businesses improve. There are 3 packages with different numbers of products, including:
Free: 1 image per product, custom themes, offer discounts, etc.
$9.99/month: Google Analytics, inventory tracking, and others.
$19.99/month: 500 different products, including bulk editing, products options, etc.
The Feebles Shop, Matter Matters, and Delish Condish are websites built with the software of the eCommerce platform.

It is one of the most popular eCommerce platforms founded by Diego Isola. The company works with more than 29,000 customers from 215 countries worldwide. The platform's efficient services include:
Shop's internationalization.
Performance monitoring.
CRM, B2B, and B2C commerce.
Both paid and free products help start a competitive online store. The efficiency is confirmed by working with AAE Travel, Action Health, zSpace Inc., etc.

Ecommerce platform provides payment solutions, such as CorePayments, shopping cart optimization, commission maintenance, etc. The educational base also includes tips for building eCommerce websites, increasing B2B leads, content generation, etc. The pricing is from $0 to $299 for different development packages. Internet Retailer, The Wall Street Journal, and Practical eCommerce tell about exciting experiences working with the platform.
Antone Chesworth founded the top eCommerce platform as an innovative method to create an online shop with simple product maintenance functions and more than 70 custom themes. It provides Google Ads services, email marketing, SEO optimization, etc., with the basic package (£34.99) and the advanced (£209.99). Bathcenter, Craggi, Redemption Vape are the shops created with EKM.

The company has provided services since 2001, and now it reaches more than $3 billion in merchandise volume for more than 40k+ online stores. The CEO is Brandon Checketts, who built up an experienced team of more than 200 employees. The services include:
Google Analytics and Yandex.Metrica analytics.
More than 120+ gateways for payments.
Mobile-first eCommerce platforms.
Before purchasing products, everybody can try a demo version. Standout, Kitchen & Bath, and The Pajama Company trust the X-Cart services.

The company was founded by Michael Auger and Craig Fox, who built up an efficient algorithm for traffic involvement and increasing sales. Nowadays, PinnacleCart is an entirely customizable eCommerce platform providing the following services:
3rd party app integration;
custom landing pages for online stores;
VPS hosting options.
The standard package is $79.95, and the advanced costs $199.95 per month. The brand's efficiency is confirmed by providing services to Joe Filter, Vet Med-Plus, Las Vegas Weddings, and others.
To Sum Up
As we see, many eCommerce platforms are helping develop efficient and competitive online stores from scratch or providing ready-made solutions. If you want to build up a new website for a shop, choose the most convenient services and products to become a marketing leader.