In this article, you will learn what heatmaps are, how they help to make correct and effective changes in website usability, increase website conversion, and achieve success in eCommerce.
Frequently asked questions from marketers and business owners:
Where should the website focus efforts to increase the conversion rate?
What is a good conversion rate for a retail website?
How to calculate the conversion rate for a retail website?
An online business cannot succeed without a high website conversion rate, whereas customer interaction is crucial to improving usability and conversion. A website heatmap gives a uniquely efficient opportunity for website click tracking. You will get precious information on visitors' behavior. Almost no other method of analysis can compete with heatmaps in terms of credibility and visibility. Hence this analytics will become a basis for target changes in usability.
We offer you a simple analogy. Let's imagine your washing machine has broken, what will you do? Will you blow off steam by kicking it a few times, hoping that it will work again? There's hardly a chance this will work. More likely, you will worsen the problem. Or maybe you can try removing the worktop and act at random: play with the control panel, take out the thermostat, pull the drain hose, dismantle the engine. Are you sure that you will find out the real breakdown and won't ruin the machine? So why don't you call a service center and ask a repairman to check everything and clarify the real cause of this trouble?
This is how absurd marketers' attempts to change website usability look like. They strive to do something with a poor understanding of what should be changed and how their hasty actions impact website conversion.
Why is Proper Website Usability So Important for Potential Customers?
Usability, or in other words, website user-friendliness, is a critical website characteristic for one obvious reason: if customers don't understand how a website works, cannot find the Buy button or do other actions, they will leave the website without making an order and conversion will appear to be insufficient. Thus, bad usability equals low conversion, client and income losses.
Laboratory mice will run in complex labyrinths to find an inviting piece of cheese until they are worn to a frazzle, however, your customer is not a hungry mouse. Customers are choosy, fickle, and impatient. So either you offer them the shortest way to "the cheese" and light the road with bright spotlights, or you may forget about them forever.
This absolutely obvious fact is proven by the Hubspot researches.Replying to a question "What is the most important factor in the design of a website?", 76% of respondents stated that the most important is immediately understanding where to find what they want. Therefore, to increase the conversion rate, one must inevitably improve usability.
A Heatmap is the Fastest Way to Improve Website Conversion
When website owners develop usability, they quite often rely on the experience of their competitors and market leaders. This makes some sense, but every experience is absolutely individual, every consumer audience is unique, and the website heatmap is the best way to see this.
If in a successful eCommerce store with products similar to yours, the Buy button is located in the top left corner, this still doesn't mean that you should blindly copy your competitor's approach. Instead, the website heatmap will clearly show where you place important buttons and calls to action.
Random changes on the website can have some negative consequences:
Lower website conversion
Increased bounce rate
Loss of customers
Waste of resources (time and money) spent on changes.
You have what to lose. Therefore, you shouldn't recklessly change the place of buttons, a color scheme, and the location of blocks on the page. Your own users must be the only wise advisor on this question. Only their opinion is your priority. Only their requirements you should try to meet.
How do we know what visitors want?
This is easy to find out with the help of heatmaps.
What is a Heatmap?
A website heatmap is one of the most relevant methods to test usability. It is built based on user activity tracking. The heatmap gathers the information about the website areas where users click and colors these areas accordingly. The word "heat" in this type of map corresponds only to the activity rate. The places with minimum or no clicks are blue. The areas with the highest website visitor activity are highlighted in red. The warmer the color (red, orange, and their shades) is, the more users did. And vice versa, the colder the color, the lower the user activity in this area. It's easy! You don't need a Ph.D. to work with heatmaps.

Heatmaps present motives, needs, and desires of your audience. It seems like you can peep into thoughts of your customers. There are two types of heatmaps:
Click heatmap.
Scroll heatmap.
With the help of these two data sources, you will understand what is really important to your website visitors, what they glimpse at, and what skip at all. This is the most detailed usability analysis you could ever dream of.
What is a Click Heatmap and Why Does Your Website Need It?
When users click to do anything on your website, the script records these clicks and shows them on the heatmap. Any click in any place on your page is marked and registered. The more clicks on a certain area you have, the warmer its color will be. It is impossible to overestimate how important such a website heatmap is to have great usability. Let's take a look at a few examples.
On a page, the same color is set for links and the title. The website owner doesn't see anything wrong with that. However, the click heatmap shows that users repeatedly click on the title, mistaking it for a link and trying to go to another page.
Links in the text are not underlined and almost don't differ from the rest. The website heatmap clearly shows that users ignore them.
The block's list of features (goods, accessories, services) is highlighted in blue font. The click heatmap shows that users perceive the list as an interactive element. Such pseudo-clickable items can confuse website visitors.
The Buy button on the product page is not really popular. The heatmap can explain the reason. It will show which elements on the page "steal" clicks by distracting users from the main goal and, therefore, adversely affect usability.
You may find the things we are talking about absolutely obvious. The primitively simple usability principles are known to each designer and marketer. So why do we so often deal with inconvenient eCommerce websites and complaints about low website conversion? Why do website checks (audit) and usability analysis almost every time detect the same mistakes? It turns out that "know," "understand," and "apply practically" don't mean the same. So we may assume that click heatmaps will become the best motivation for all webmasters to take some actions.
Scroll Heatmap. The Principles of Work and How to Read a Heatmap?
A scroll heatmap provides statistics on page scrolling, which allows to find out what spot on the screen potential customers reach and where they interrupt the visual contact. The optimal length of the scroll is a stumbling block for the majority of usability developers. Do you want to know if your website users scroll the page to the very bottom and how often it happens? Do you want to see where they usually stop and why? Then, the scroll heatmap is just what you need!
When your designers and copywriters work to create and fill the website, for sure, they do their best to achieve the specific goal: make a cooperation with the customer as effective as possible. Still, to increase online store conversion, successfully attract website visitors and keep their attention, make sure you can give positive answers to a few main questions:
Do the page headlines attract attention? Is the content interesting and action-provoking?
Are the images decent and motivating? Are they relevant to the text on the pages? Do they complement and illustrate it?
Does the layout of the page allow users to focus on its main elements? Will users understand how to get where they need to?
If your website has all these elements, the scroll map will show how effectively they are combined. Most of your website visitors won't overwork to get to the bottom of the page if you haven't managed to hook them. In other words, you haven't ensured a positive interaction experience.
Note that according to the statistics, over half of users won't spend even 15 seconds of their time on a web page, whereas 80% of visitors will not get to the bottom of the article. Yet you have already involved yourself in this difficult battle for a high conversion rate, so to win it, you should define the point of bounce.
The scroll heatmap will show you how visitors' attention is distributed among different areas of the page. It has horizontal color stripes that merge. A smooth or abrupt color change from warm to cold shades indicates a gradual or sudden decrease in the number of page visitors correspondingly.
How to Read a Scroll Heatmap?
Broad stripes of red, orange and yellow mean that you have great interaction with the audience. The users don't leave your page and see all the intended information. Congratulations, you have reached the set goal.
An abrupt change of colors means that a certain area needs to be corrected as this is where the users lose interest and leave the page. Maybe you should switch sections or change the content.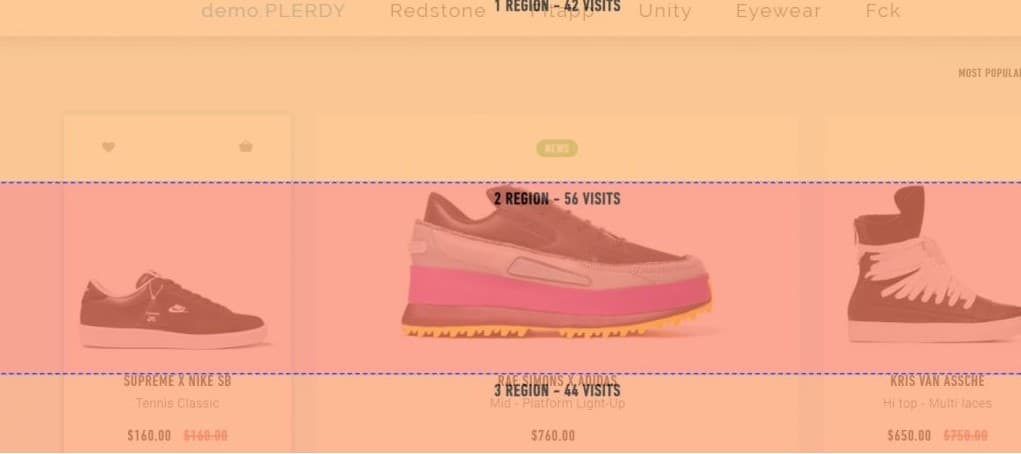 You understand that it's wrong to randomly place the main call-to-action elements (CTA buttons) wherever you want and expect people to purposefully and persistently search for them. That's why they work of professional designers is so highly valued. Yet even the best designers in the world aren't worth their salt if they don't consider the customers' opinions.
A Heatmap is a Simple and Easy Tool to Increase Website Conversion
Heatmap technology gives you direct and clear instructions on placing the CTA buttons and important content and increasing conversion. We offer you 10 facts about heatmaps based on nearly 800 tests conducted by the ConversionXL team.
The first screen takes 80,3% of all viewing time. This fact means that if you want to increase the conversion rate, it's better to place all call-to-action elements above the scroll.
The left side of the page attracts more attention. Namely, the left part of the content takes 69% of viewing time. Therefore, it is recommended to place bullets on this side of the page.
Usually, people scan text in a certain way. If you connect the heat points of their clicks, they will form the F letter. Headlines, subheadings, and the first words in lines get the most attention. The first two paragraphs are considered to give the best conversion. Users won't probably read a continuous text with no bulleted or numbered lists.
A banner blindness effect leads to lower conversion. The human brain has perfectly adapted to ignore aggressive ads, so we'd recommend you avoid styles similar to advertising style.
There is a marketing method when the character on the image looks at a certain object (a product, a lead form, etc.). This attracts visitors' attention and indirectly contributes to conversion growth.
Automatic sliders as a means of visualization are ineffective. Users subconsciously ignore them for the same reason as the content with banner ads.
Design with contrasting colors can lead to lower conversion. If a non-clickable area greatly contrasts with other colors on the website, it can get the whole attention of the website visitors. In this case, you should change the usability to distribute the users' attention among all-important target elements.
Stock photos are useless. Users learned to ignore even those photos that look like the stock ones.
The conversion of post releases is higher than the conversion of the full text. Inviting previews look more appealing to users than never-ending text. Hence they have more chances to hook the visitors and keep them on the page.
Small print also shouldn't be underestimated. Strange as it may seem, people attentively read the text written in small letters, whereas big text is carelessly scanned diagonally. Yet use smaller font size in moderation, for example, for separate important notes.
The heatmap is a unique opportunity to improve usability for your visitors significantly. Combined with other analytics tools (split testing and more), it is absolutely irreplaceable if you strive to increase conversion.
Having installed heatmaps on the website pages, you will be able to "ask" every visitor of your website why they have left it.