The selection of instruments for marketers is impressive nowadays. They offer surveys, sending emails, landing pages, and more. Mailmunch and Mailchimp are great helpers, so let's compare both.
What is Mailmunch?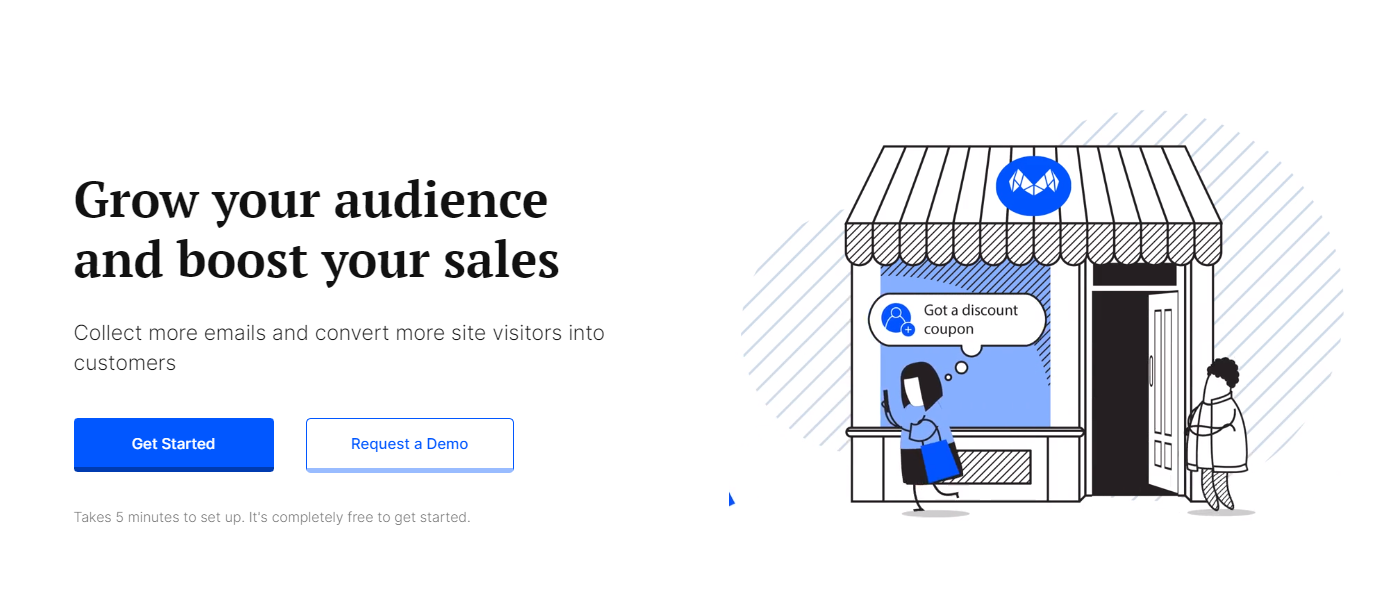 Every online business must maintain a constant stream of loyal traffic and thrive. Therefore, an email list is the best friend of an online marketer. With this list, you will receive news, promotional offers, and offers for your customers in no time. It is well known that the larger the list, the larger the conversions and thus also the income!
But the real question comes when you wonder how to build a strong email list. This is what MailMunch helps with. It offers a variety of great features and tools that allow users to create strong lists and run smooth and successful online marketing campaigns.
What is Mailchimp?

Mailchimp is one of the best-known tools for email-based online marketing. The dashboard convinces its ease of use and offers all important functions for companies of all sizes. In addition to the many possibilities connected with creating newsletters, Mailchimp offers many other interesting marketing features such as landing pages, surveys, and even printed postcards. Everything is at a fair price and very beginner-friendly.
Compare Mailmunch vs. Mailchimp
Now, it is high time to compare these tools. Mailmunch vs. Mailchimp: take a look at the differences.
Pricing Mailmunch vs. Mailchimp
Mailchimp subscribe form vs. Mailmunch: what to choose? Pricing is one of the most crucial factors users always pay attention to.
Mailchimp
Mailchimp offers a total of four pricing models with different ranges of functions, the exact price of which depends on the scope of the contact list. The following examples refer to an email list with up to 2,000 addresses, as there is still a free version. This is also one of the great advantages, especially for beginners. So, here are the four tariffs offered.
Mailmunch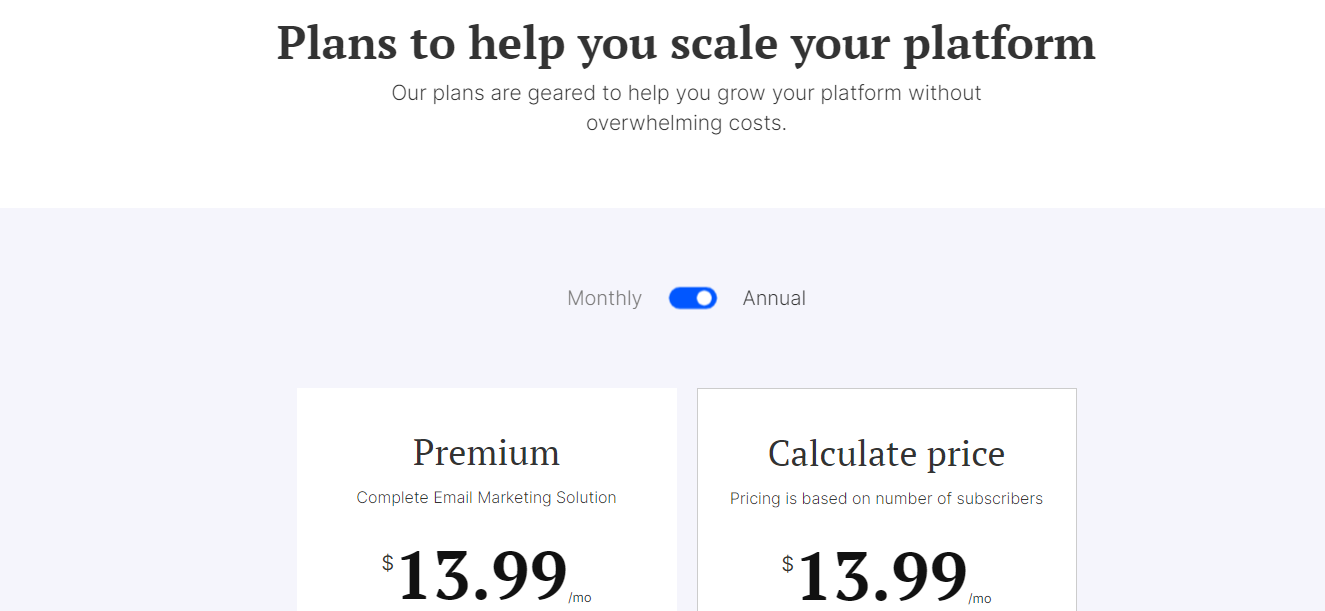 Unlike Mailchimp, Mailmunch does not offer several tariffs. There are only two of them: a premium and a free trial. If you choose premium, be ready to pay $19.99 per month if you go for a monthly subscription or $13.99 per month if you choose an annual one. Here are the options you will get for your money:
1,000 contacts.
Campaigns are unlimited.
Abandoned cart emails.
Premium templates.
Analytics and reporting.
Email automation.
Custom domains, drip emails, and more.
Mailchimp vs. constant contact Mailmunch: what is better? To make the right decision, we need to look at each feature in more detail.
Solution Mailmunch vs Mailchimp
Here is the list of the main features & characteristics of Mailmunch:
Data analysis.
Reporting.
Tracking.
A-B testing.
Personalization.
Several types of forms.
Pop-ups, headers, footers.
Lightbox to retain outgoing visitors.
Customizable themes (colors, fonts, etc.).
A/B testing with analysis and reporting.
Mobile optimization.
Online support (forum, tutorials, etc.).
Technical support (phone, email, chat, etc.).
The solutions offered by Mailchimp are pretty good as well.
Contact management.
Newsletter and email dispatch.
Registration forms and thank you pages.
Polls.
Ads on social media & Google.
Social media management.
Postcards.
Landing pages.
Integrations.
As you can see, both solutions have decent sets of options. The choice depends on your business needs and budget. If you are looking for several tariffs available, Mailchimp will be a decent solution. On the other hand, if you are eager to try Mailmunch, you can do it free of charge to understand whether it is suitable.
Customer Review Mailchimp vs. Mailmunch

What should one do before using this or that software solution? Take a look at user reviews, of course. We have selected several of them for you to have a better understanding of what to expect.
What do you like best about Mailmunch?
The first thing I love is that this tool is free. It provides excellent options for getting many new subscribers to an email list. No other tool provided such an excellent result. The format is easy to use and understandable; even a beginner will cope with it.
What do you dislike about Mailmunch?
I love it all! I have no complaints.
Recommendations to others considering Mailmunch:
Try it, it's Free, easy to use, and it works! We have been building our email list 1-2 a week for over two years. We started mail munch pop-up and are getting 5-6 new subscribers weekly. It's a No Brainer!
What do you like best about the tool?
The templates are pretty attractive; the tool itself is really simple. Moreover, it can be used free of charge, which is rare nowadays.
Is there something you dislike?
I wish there were more templates.
What problems is Mailmunch solving, and how is that benefiting you?
Mostly email pop up on my website, but also collecting and importing to send in blue.
What do you like best about Intuit Mailchimp?
The ease in setting up, the free version is amazing for starting companies or clubs that don't have a budget. The paid version can be made as complicated as one wants. Because it's a well-known program, it integrates with many other software platforms.
I like that it's easy to set up and that you can design an email template with several customs merge tags automatically filling in as you upload an excel file with the contact information. The fact that it does that makes it compatible with almost any CRM.
What do you dislike about Intuit Mailchimp?
Signing to an email list via API doesn't do the email confirmation, which is a shame. In addition, it makes some lists very vulnerable to bots submitting spam email addresses.
Also, it's impossible to export a list of contacts that are bounced or cleaned, at least, I have been able to find them.
An improvement would be to make it easier to couple with certain CRM systems without technical knowledge.
What do you like best about Intuit Mailchimp?
The best part I like about Mailchimp is its free plan because whenever I come to digital space only, I find MailChimp, which provides quality service in their free plan.
What do you dislike about Intuit Mailchimp?
I notice nothing much I include in the dislike section, but a few things are Mailchimp daily reducing their support system, replaying help emails are taking too much time to replay to the user. So yea, this is one thing I dislike about MailChimp.
Recommendations to others considering Intuit Mailchimp:
Yes! I strongly recommend Mailchimp to others, especially if you are new in the digital space and need an email marketing tool. MailChimp is the best tool for you because Mailchimp free plan, you get lots of advanced features.
Benefits Mailmunch
Adeel Raza is the founder of Mailmunch. The company is headquartered in San Francisco, California. Here are the most obvious benefits of this solution:
It allows you to embed lead capture forms into your website easily.
The basic email marketing module is more affordable than standalone email marketing systems.
The selection of feature types is impressive – lead generation, landing pages, and email marketing.
It is pretty easy to use – you won't have to spend hours learning.
The price is affordable; moreover, one can try it for free.
As you can see, this solution is worth your attention. Mailmunch vs. Mailchimp embed: what's better? First, take a look at some benefits of the second solution.
Benefits Mailchimp
Dan Kurzius co-founded Mailchimp with Ben Chestnut. It is headquartered in Atlanta with additional offices in Brooklyn, Oakland, and Vancouver. Here are the top benefits:
Generous (but feature-limited) "free forever" plan.
Easy-to-use editor.
Creating campaigns is easy.
Tons of integrations, so there's something for everyone.
Tariffs will satisfy everyone.
Conclusion Mailchimp vs Mailmunch Comparison
You should not limit yourself to these two options if you want to try something else. The market is full of diverse offers. So, choose what suits you better and bring your business to a new level!