Years ago, it was easier to promote products or services. A business just did something well, and it was enough to attract customers. The times have changed. Now brands have to compete in an oversaturated market and win consumers' attention in many sophisticated ways. To find the best approach to grow customer engagement, acquisition, and loyalty, they hire marketers.
Marketers are trained professionals who can develop a marketing strategy to show the brand to its best advantage. It involves promoting products or services through online and offline channels. Hence, to design a strategic approach that works, marketers need to know a lot. They must master digital marketing fundamentals, web analytics tools, sales and presentation techniques, target audience analysis, design, and more. To be a successful marketer, a person must also have specific skills, like creative thinking, adaptability, sales leadership, or problem-solving.
Once you gain the necessary knowledge and enhance your skills, you are ready to become a marker. Professional marketers who run great marketing campaigns are highly paid and enjoy a flashing career. Would you like to become one? Learn what you need for it here.
4 Steps to Become a Marketing Professional

The marketing position requires a lot of training in different fields. Nevertheless, there are some core things every person must go through to become a marketer and find the first job.
#1. Learn digital marketing fundamentals
With the growth of the e-commerce industry, online marketing channels have started to dominate in marketing strategies. That's why a beginner marketer should develop online marketing skills. Search engine optimization, SEM, social media marketing, email marketing are the primary domains to cover. It's also essential to be proficient in digital analytics services and approaches. You need to collect and process marketing data to measure the effectiveness of your efforts. Besides, analytics helps to prove that your marketing approach works.
#2. Build a portfolio of digital marketing projects
Put together a nice portfolio to show potential customers and employers your professionalism. Instead of the final result, focus on demonstrating the process and choices. Explain how you organized the teamwork, planned everything, and used strategic thinking to achieve the outcomes. Ideally, you should also include samples of content and branding, such as newsletters, logos, social media posts, content marketing articles, etc. Make sure to explain how you participated in the creation of these materials.
#3. Develop a digital marketing resume
Create a professional resume listing your marketing (e.g., web analytics), transferable (e.g., content creation), and adaptable skills (e.g., problem-solving). Don't include extra details since no one usually reads them. It's important to stay concise.
#4. Find the job
If you have finished the previous steps, you are ready to find a job. Pick several companies you'd like to join, slightly adapt your resume if necessary, and get in touch. Send with the resume your marketing portfolio to increase the chances of getting an offer.
9 Top Professional Marketer Skills to Develop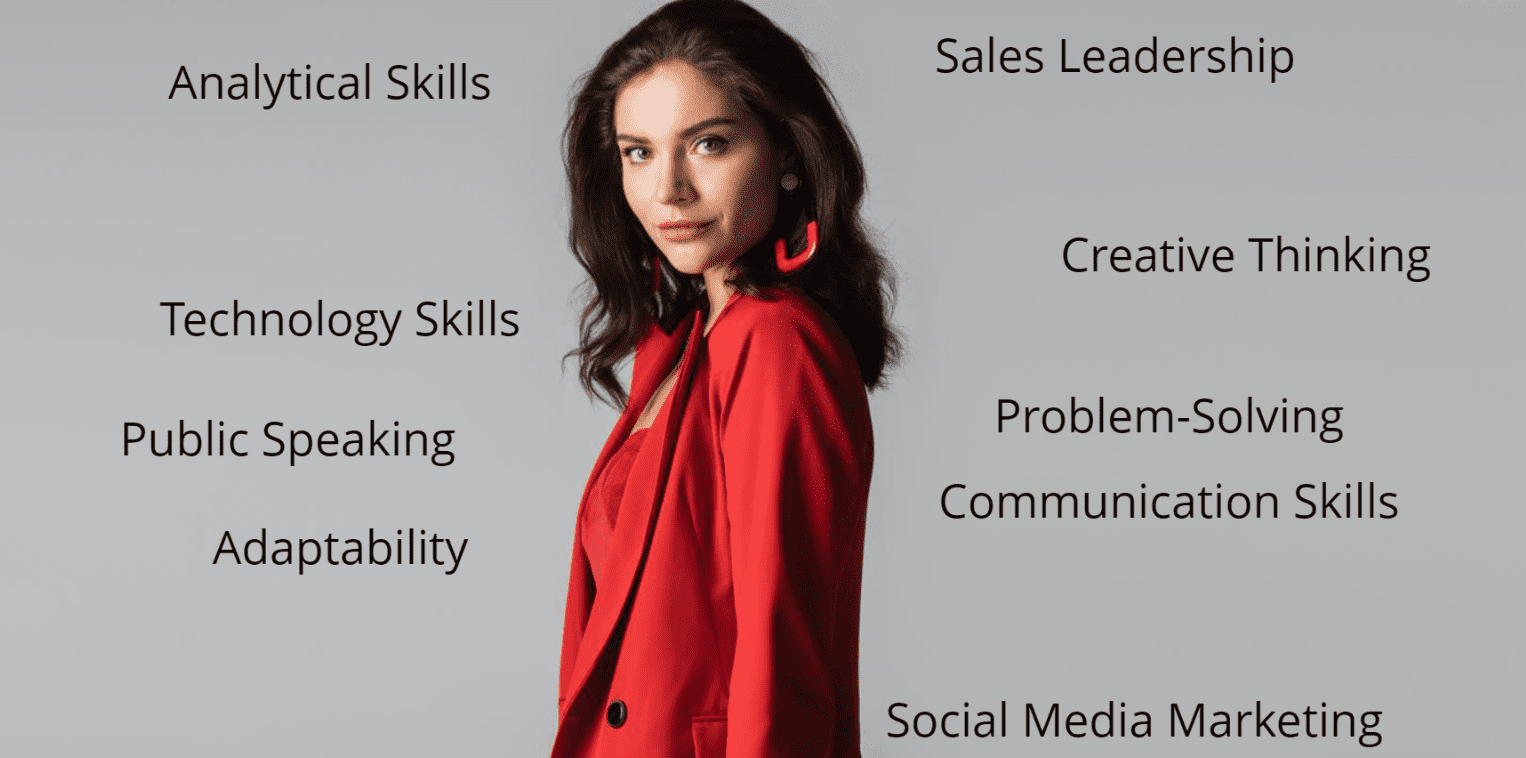 To guide you on how to excel yourself, we've compiled a list of must-have skills for every professional marketer.
Analytical Skills
You should be able to segment large volumes of information into smaller and more meaningful units. It helps to make sense of big data and make data-driven marketing decisions. Analytics is also necessary to forecast how a marketing activity will affect conversion (e.g., grow sales, increase subscriptions, etc.).
Creative Thinking
You will need to come up with unusual stories, create unique content, formulate CTAs and marketing messages. It requires an ability to generate many creative ideas that make a brand stand out from the crowd.
Adaptability
Modern marketing evolves extremely fast. Hence, prepare to constantly catch up with new trends, marketing software, and approaches. The marketing job requires lifelong learning and quickly adapting the approach if it doesn't work quickly.
Communication Skills
Working as a marketer, you will need to communicate with lots of people. These are potential business partners, brands you want to cooperate with, or influencers. Communication skills are also necessary to create written materials, like press releases or scripts for TV advertising.
Technology Skills
You should be ready to master new marketing, sales, and analytics tools. Some basic HTML and CSS skills are also helpful. HTML code is responsible for the look of website pages. It allows adding headlines, text, video content, and images. That's why if you know how to edit it, you can make minor website changes without help.
Public Speaking
While you don't have to give public speeches, marketers often need to pitch their strategies to clients, team members, and employers. That's why speaking is a valuable skill. It also matters if you want to participate in conferences or other industry events.
Sales Leadership
Marketing efforts are always about profit in the long run. Therefore, you should sell the brand you promote and develop a custom sales strategy for the entire team.
Problem-Solving
You must learn to analyze the situation for possible problems, offer several ways to eliminate them and pick the best one.
Social Media Marketing
SMM is critical. You must know how to write engaging posts, what social media channels to use for a specific product, and how to communicate with users. Since consumers spend hours browsing social media every day, it's one of the most effective channels.
Conclusion
The marketing career is exciting. It allows completing creative tasks while using lots of analytics and strategic planning. The salary is high, and the job opportunities are super-rich. Besides, you can see the result of your effort in KPIs and witness how a business grows with your help.