The growth of modern online businesses becomes possible only with properly chosen promotion algorithms and the work of experienced specialists. New brands grow daily, increasing competition in specific marketing niches. So, marketers, analysts, and business owners select only straightforward and fast approaches to become leaders quickly. Therefore, SEO is essential because most users look for necessary services or products through the search engines like Google, Yahoo!, Yandex, etc. And nowadays, SEO has become simple with particular automated instruments such as Moz.
Moz pricing may seem high and unaffordable for somebody, but the price-quality ratio for its tools is good. Furthermore, the opportunities the users acquire by using Moz are the following:
A better understanding of the audience. The Keyword Research instrument determines what users aim for when using search engines for their particular goals.
Rank tracking. The function helps see the keywords that rank pages higher in SERP depending on geographic aspects and bring traffic to the site.
Site audit. Moz tools search for Search Engine Optimization issues that may result in poor site attendance and suggest efficient solutions.
Improve SEO metrics. The recommendations by Moz help optimize the website to acquire more traffic, increasing the conversion rate and other essential parameters.
Moz provides free instruments users can use, including paid tariffs for comprehensive Search Engine Optimization. So, let's discover Moz pricing and understand if users consider it affordable for primary optimization procedures.
Moz Pricing for Toolsets

There is a free period for using several instruments. Moz Pro allows a 30-day free use, and STAT provides a demo version. However, after testing, the purchase of one of the plans is required for further use of the instrument. There is a specific Moz pricing for each toolset; the customers can purchase them for the following cost:
Moz Pro Pricing
Feature Pricing
Standard
Medium
Large
Premium
Price/Month
$99
$179
$299
$599
Campaigns (1 website + 3 competitors)
3
10
25
50
Pages to Crawl/Week
100,000
500,000
1,250,000
2,000,000
Keyword Lists for Explorer
5
30
60
100
Backlink Lists
1
30
60
100
Reports (weekly/monthly)
Unlimited
Unlimited
Unlimited
Unlimited
User Seats
1
2
3
5
Moz Pro pricing may be higher: increasing the number of pages is available for $15/month per 50,000 pages, and adding 5 lists of keywords and links costs $25/month. The tool provides round-the-clock support and lets users get a personal walkthrough of its functionality.
Moz Local Pricing
Feature Pricing
Standard
Medium
Large
Price/Month
$14
$20
$33
Listing Management
+
+
+
Local Data Distribution
+
+
+
Data Cleansing Process
+
+
+
Google and Facebook Integration
+
+
+
Review Monitoring
+
+
+
Social Posting
–
+
+
Additional Directories Submission
_
_
+
Moz Local pricing is more affordable than other tools; the instrument suits those who create marketing strategies for local digital promotion. The feature users mostly like in the product is review management.
Mozscape API Pricing
Feature Pricing
Entry Level
Low Volume
Mid Volume
Enterprise
Price/Month
$250
$500
$2,000
$10,000
Rows per Month
120,000
500,000
4,000,000
40,000,000
Cost for +10k rows
$20
$10
$5
$3.50
URL Metrics
+
+
+
+
Linking Root Domains
+
+
+
+
Link Status
+
+
+
+
Anchor Text
+
+
+
+
Top Pages
+
+
+
+
The price for another instrument SERP analytics, STAT, starts from $720 for research of 6,000 keywords. It's an efficient tool that analyzes millions of unique words daily depending on the essential SEO parameters.
Moz Pricing Reviews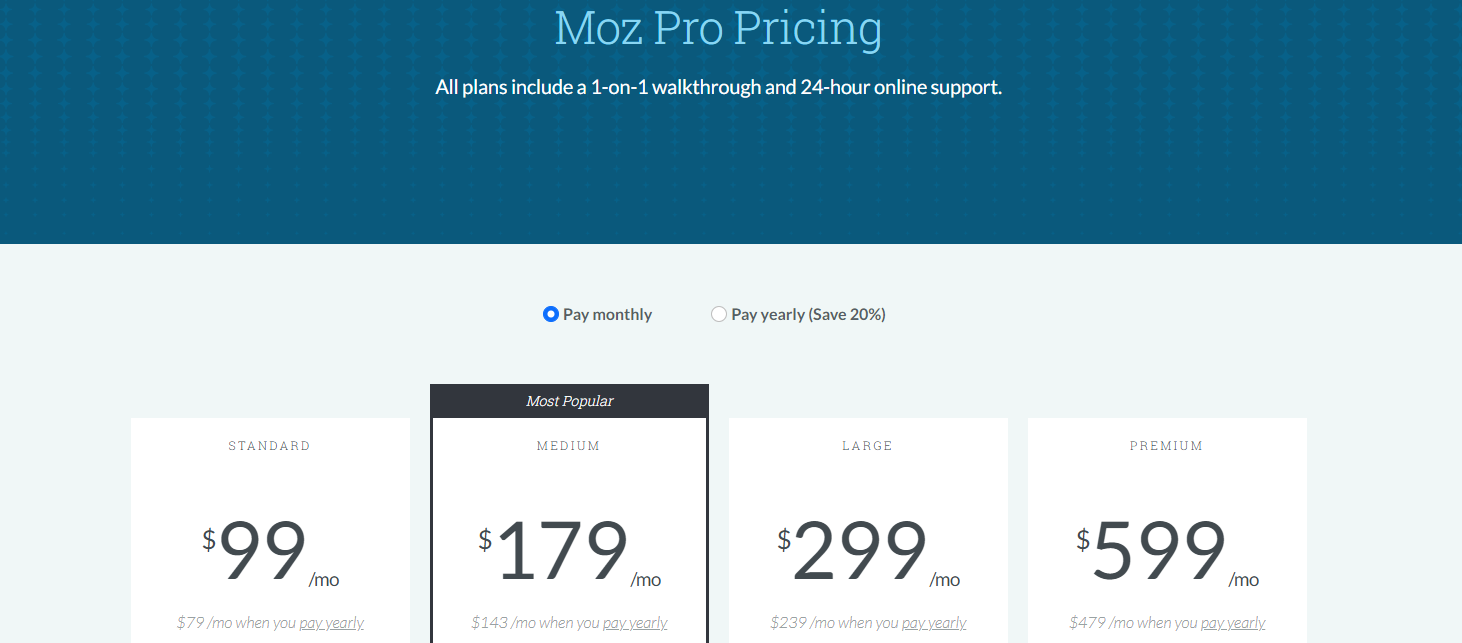 And now, let's understand if the clients regard the Moz pricing as affordable and determine the toolsets as the priority for Search Engine Optimization by analyzing the TrustRadius and G2 reviews:
"Our marketing department regularly uses Moz Pro to audit the operated properties and determine possible SEO issues. However, it's not the cheapest instrument – its price is higher than average," – Phil Parrish, Co-Founder of PrograMetrix.
"Moz perfectly suits anybody who wants to improve Search Engine Optimization and helps understand what exactly search engine optimization is. But its price is high for a common user or novice self-employed marketing specialist," – Unidentified User, Employee at Internet Company.
"I enjoy Moz's Keyword Explorer and Domain Analytics, and I've been using Moz Pro for 3 years. The instrument is efficient, but I think it should include more functions and be updated," – Jordan Comstock, Digital Marketing Specialist at Busybusy.
"It's a great instrument for tracking and analyzing the backlinks, and the biggest benefit is reporting about the keyword difficulty. There are many cheaper instruments on the market, but I think Moz is the most cost-effective," –  Pawan, Digital Marketing Specialist at Small Business.
"Moz is a wonderful product at a great price point, efficient for content marketing and the entire site's optimization. Backlink and Competitive Analysis is what I like the most," – Kevin Gamache, Senior Web Analyst at Truckstop.com.
"It is suitable for different SEO purposes and has been around in the business for years. It's easy to onboard for new clients and has a great price cheaper than the competitors'," – Robin Moody, Social Media Director at Octane Agency.
"Moz has cost-effective digital marketing instruments – we use it for site crawling, audits, and outreach targeting," – Unidentified User, Marketing Director at Management Consulting Company.
"Its website ranking, SEO, and analytics are great, but small businesses may find it more expensive than necessary for marketing," – Joe Cross, Co-Founder of Matter of Pact.
"I am a paid subscriber of Moz and mostly enjoy its Keyword Explorer and Rank Tracker. The tools perfectly suit my requirements and help create new content and optimize old," – Unidentified User, Marketing Director at Education Management Company.
"Moz is a fantastic investment of your time and money, and is one of the best instruments to use for Search Engine Optimization insights," – Unidentified User, Consultant at Marketing and Advertising Company.
"Its Open Site Explorer and Crawl Tools work well and help grow a digital-based business. However, if comparing the price with the similar tools, Moz lags behind a lot of times," – Nathan Sichilongo, Copperbelt Manager at Dotcom Zambia.
To Sum Up Moz Pro Pricing
Users claim the Moz pricing for toolsets is higher than for similar instruments. But usually, the Search Engine Optimization opportunities acquired with various instruments are regarded as cost-effective, and that's why many marketing specialists choose Moz.