People who look for a web testing and conversion optimization solution often choose between Optimizely and VWO. These platforms have a lot in common but differ in some functions. This article will help you figure out which solution is best for you.
What is Optimizely?

Optimizely is a US company that supplies software for A/B testing and multivariate testing, website customization, web content management, and digital commerce. Dan Siroker and Pete Koomen founded it in 2010, getting 1.2 million in funding from investors.
Now, Optimizely has five core products, including tools for marketing planning, content management, A/B website testing, e-commerce, and feature management. In addition, it allows developers to run experiments on websites to validate their conversion rate optimization efforts. This way, they predict how implementing changes will affect the site performance.
What is VWO?

VWO is an Indian company run by Paras Chopra and Sparsh Gupta and launched in 2009, a year earlier than Optimizely. Having started as a marketing optimization suite with 1,000 visitors, it has grown to a company with 2500+ customers in 90+ countries globally.
The current version of the VWO user experience optimization and growth platform consists of eight products. In addition, it has website and mobile app testing features, visitor tracking, website editing, and personalization. With this tool, you can run detailed research of your web resource and instantly fix any issues without the help of developers.
Optimizely vs. VWO Compared
This section describes the main characteristics of the compared tools to make choosing the best option simpler.
Features of Optimizely vs. VWO
Overall, VWO has more features for user tracking, while Optimizely focuses on website testing approaches. Let's talk about the characteristics of these tools in more detail below.
Optimizely

As mentioned, Optimizely has five subproducts designed to make customer digital journeys smoother:
VWO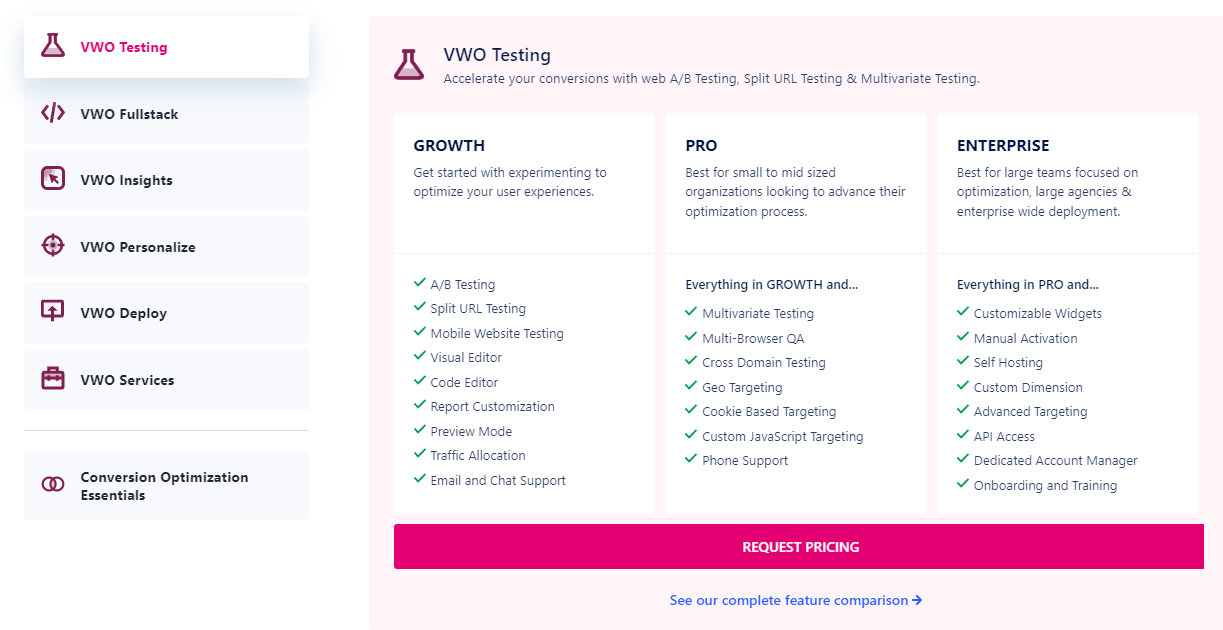 The VWO platform unites even more versatile tools than Optimizely. You can pick any of the following products:
Pricing of Optimizely vs. VWO
VWO and Opimizely don't publish information about the pricing of their products on their websites. Instead, you must provide your contact details and request pricing for a particular tool. It's pretty inconvenient but makes these two tools even more similar.
Based on the online public information, we may assume that both VWO and Optimizely cost thousands of dollars annually. It's enterprise-level software that brings considerable benefits but requires high investments.
Benefits of Optimizely vs. VWO
Both tools have campaign targeting, report segmentation, API support, single-page app support, advanced user permissions, an editor, and many other features. So how to choose one of them? The review of benefits can help.
Benefits of Optimizely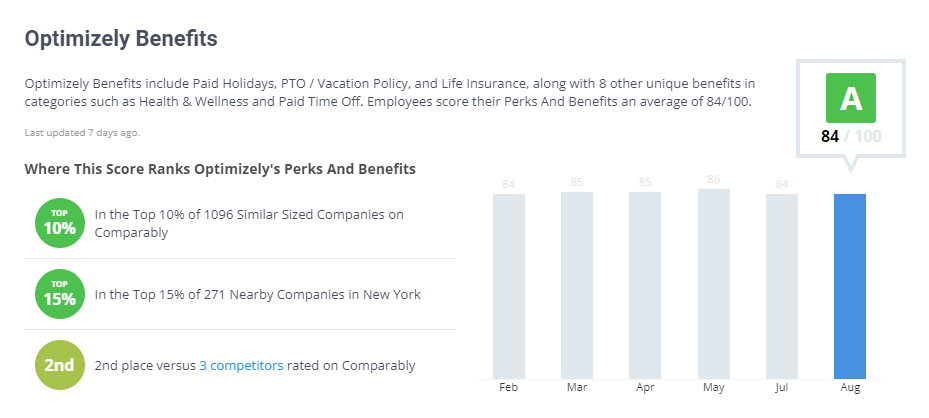 Benefits of VWO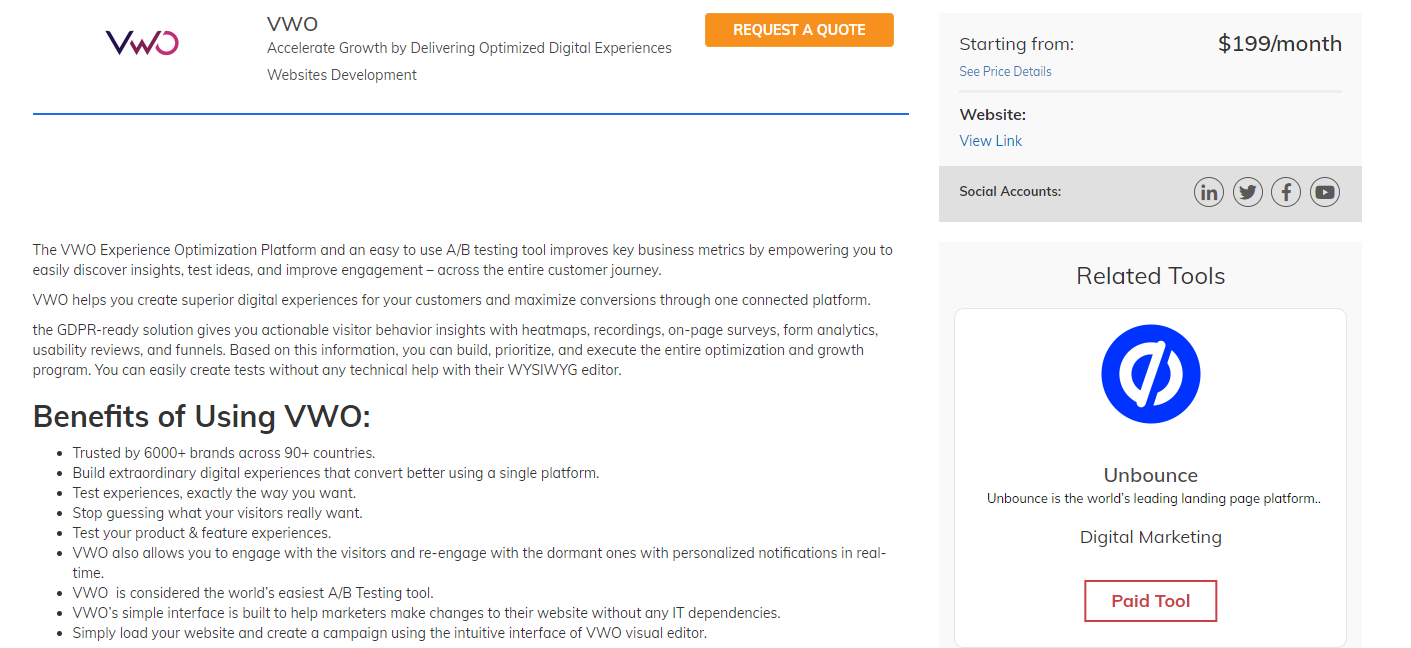 Customer Reviews Optimizely vs. VWO
Now that you know much about Optimizely vs. VWO, it's time to find out what other professionals think. Check out several reviews:
"Generally, we enjoy using VWO more than other testing platforms (Katie R)."
"Optimizely is the most advanced A/B testing tool I've ever seen. It's solid, has a large knowledge base, and is surprisingly easy to configure (Antoaneta Y.)."
"The main drawback is that Optimizely ran a test that was more complex than the visual editor would allow us to handle. As a result, we needed development resources we didn't have (Alex B.)."
"With VWO, you can run a variety of tests. Heatmaps showing clicks and scrolls are my favorite features. My team can see which pages have the highest activity and where guests drop off (Alex V.)."
Conclusion Optimizely vs VWO Testing Comparison
The final choice will largely depend on whether you need a CRO platform or a tool with advanced testing capabilities. In the first case, you should prefer VWO, whereas Optimizely may be better in the latter case.