VWO belongs to the top-ranked platforms for website analytics. This platform allows you to learn what your visitors want and detect areas for improvement through tracking and testing your website. If you notice any issues, you can apply VWO's Point-and-Click Visual Editor to tweak page elements or add visual content. Besides website optimization, this solution is also suitable for mobile app and product owners.
But what if VWO doesn't meet your needs, or you want something different for any other reason? Fortunately, there are dozens of VWO alternatives available. Our article discusses some of these alternatives to assist you with picking the one.
10 Best VWO Alternatives
VWO alternatives offer slightly different functions than the VWO platform. Still, they have a lot in common and may even provide something more suitable for you.
#1. Plerdy Alternative to VWO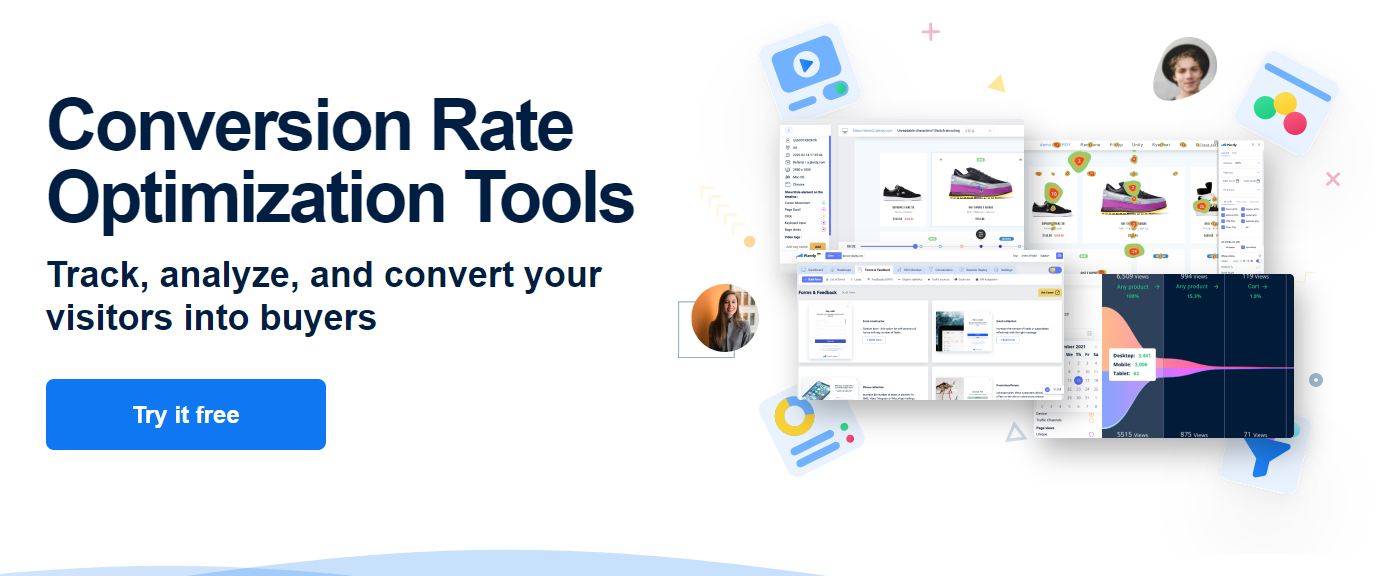 Plerdy is a conversion rate optimization service that helps you convert more people. This relatively new tool, launched in 2017, has already become one of the top VWO alternatives. It unites eight core products: real-time heatmaps, event tracking, pop-up software, sales performance, SEO checker, conversion funnel analysis, session replay, and NPS forms.
With Plerdy, you can see how people navigate your site on a large scale or track separate elements. It also allows you to add surveys, collect feedback, and obtain other valuable statistics to evaluate your web marketing success.
This VWO alternative impressed me greatly! I tested a variety of solutions, and they were all full of bugs! This alternative to VWO surprised me with brilliant heatmaps.

Convert is a company offering advanced A/B testing alternatives with environmentally friendly work approaches. You can use this platform to run all kinds of tests (e.g., A/B, split, multivariate, and multipage). This way, you can see how design updates affect customer behavior to pick the most suitable options.
Convert integrates with over 90+ tools you can connect for additional website optimization features. Active Campaign, Adobe Analytics, Customer.io, and Google Analytics are among the options.
This outstanding VWO alternative is an excellent example of a company that is truly client-focused. I would not alter a thing about this solution.
#3. Instapage Alternative to VWO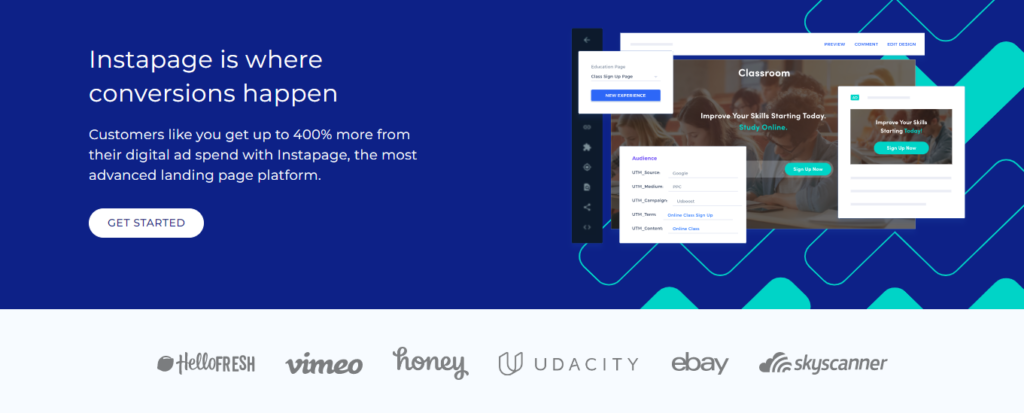 Even though Instapage primarily has website analytics features, this is a great tool for easy landing page creation. You can build relevant mobile-friendly landings without the help of a professional. It makes the tool suitable for small businesses that have only started to develop brand awareness online.
Once you have a landing page, you can keep using Instapage to personalize it, run experiments, and start social media ad campaigns. This platform provides solutions for search, Facebook, and display ads.
I internalized that I had the desire to test the tool when my partner recommended it to me. This VWO alternative surprised me pleasantly: the selection of instruments is really nice.
#4. Optimizely Alternative to VWO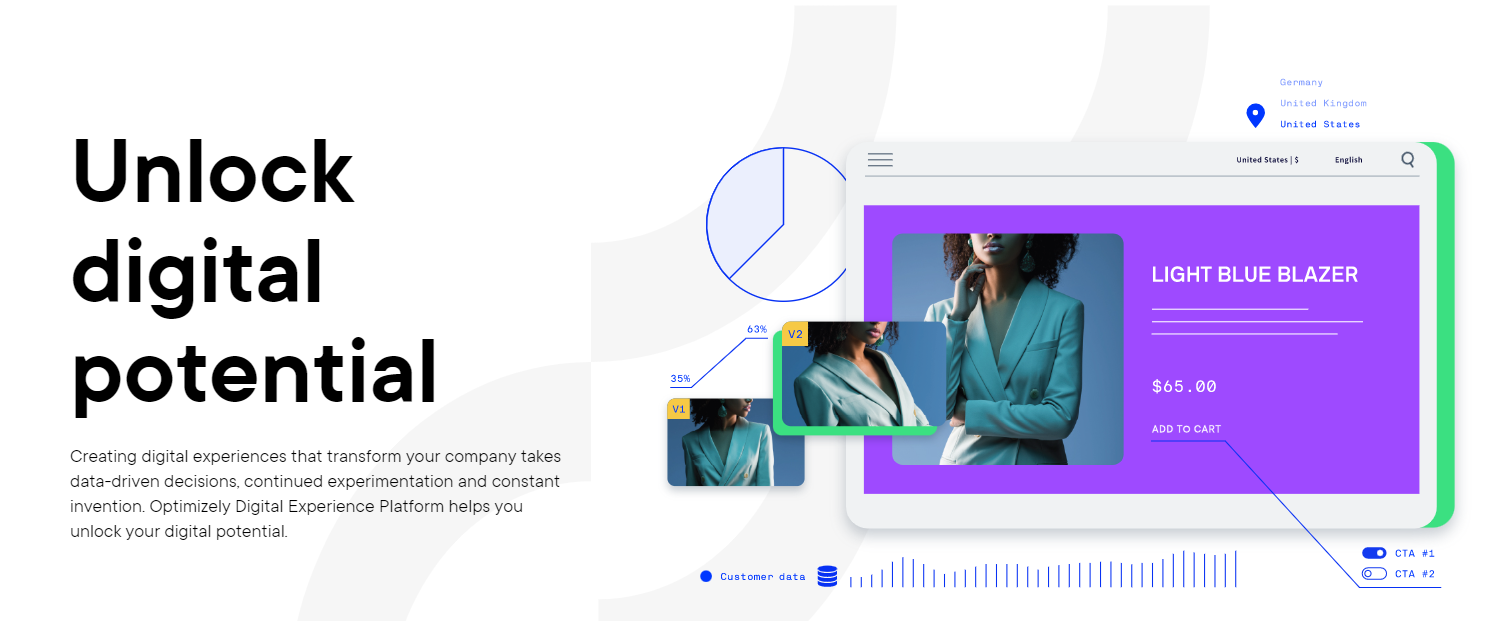 Optimizely is a digital experience platform (DXP) that helps websites and applications personalize customer experiences. It has been in the market for over a decade and is among the main VWO alternatives nowadays.
You can use Optimizely to manage campaigns, tasks, and content across your teams for smooth collaboration. It allows for organizing large teams and planning workflows for more effective marketing. Optimizely also has convenient features for app development. For example, you can flag specific features to measure the impact of updates and alternatives.
What I like best about this VWO alternative is the ease of editing the variations to test in the visual editor. It makes it possible to run tests for those of us who do not have extensive coding knowledge. The support team was also very helpful in providing updates and answers to any questions about setting up experiences.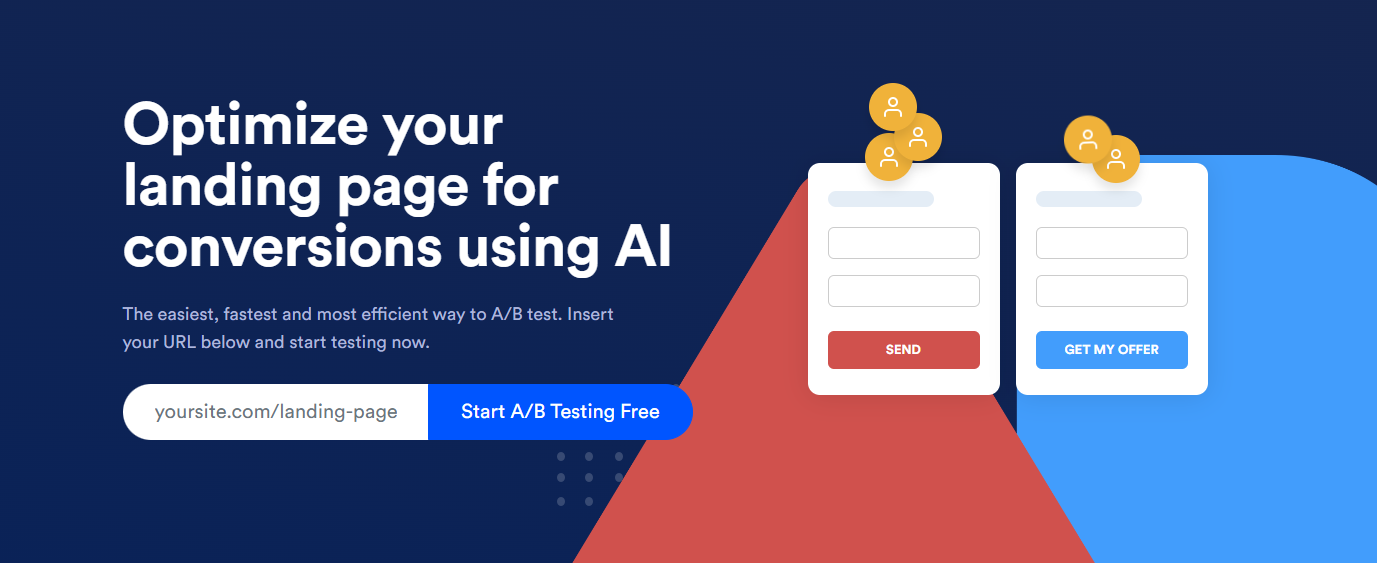 ABTesting.AI is another tool for landing page optimization to consider as a VWO alternative. They leverage artificial intelligence as a way to improve sites. Thanks to innovative technology, you need minimum actions to start an analysis. Just enter the URL of the page you want to check, and hit the Start button. It will automatically generate recommendations on what to improve and show several options to speed up the process.
Since ABTesting.AI has a free version and friendly interface, it's one of VWO's alternatives for basic research. Note that a more detailed analysis may require another platform.
This VWO alternative has been a huge lifesaver for me. It generates ideas for experiments, and suggests great copy to test, both for headlines and buttons.
#6. Kameleoon Alternative to VWO

Kameleon positions itself as an engagement and conversion growth platform for marketers, product teams, and developers. Founded in 2012, it has helped dozens of companies in healthcare, e-commerce, automotive, media, travel, and financial services.
Kameleon consists of three solutions. While A/B testing enables companies to optimize UX, Full Stack is excellent for running real-time experiments in mobile applications. The third tool, Personalization, allows you to custom-tailor the experience of every customer with relevant messaging and product alternatives.
The solution made it possible for us to run a lot of A/B tests on our own but also with the help of the Kameleoon teams. These tests help us increase our conversation rate and generate additional revenues. I give this VWO alternative thumbs up!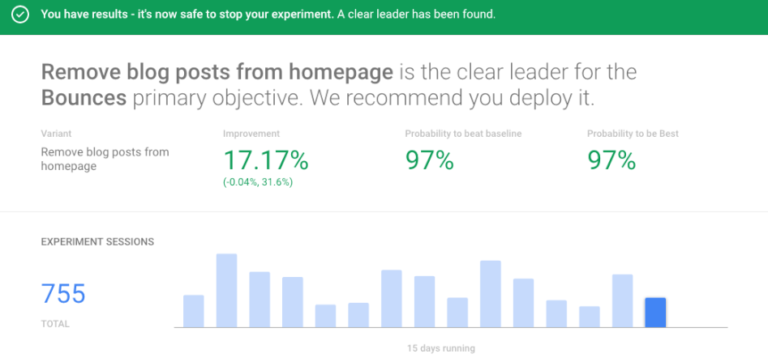 Google Optimize is a freemium web analytics tool developed by Google. It utilizes Bayesian statistical methods to model the realistic performance of experiments for highly accurate results. Markets and web admins can run tests using Google Analytics data and identify what to improve. This platform has a narrower functionality than other VWO alternatives, but it's 100% free.
Google Optimize is a free platform that can replace VWO and can be a decent choice for beginners. Integration possibilities are also an added advantage that makes it possible to find actionable insights easily. I adore it!
#8. Unbounce Alternative to VWO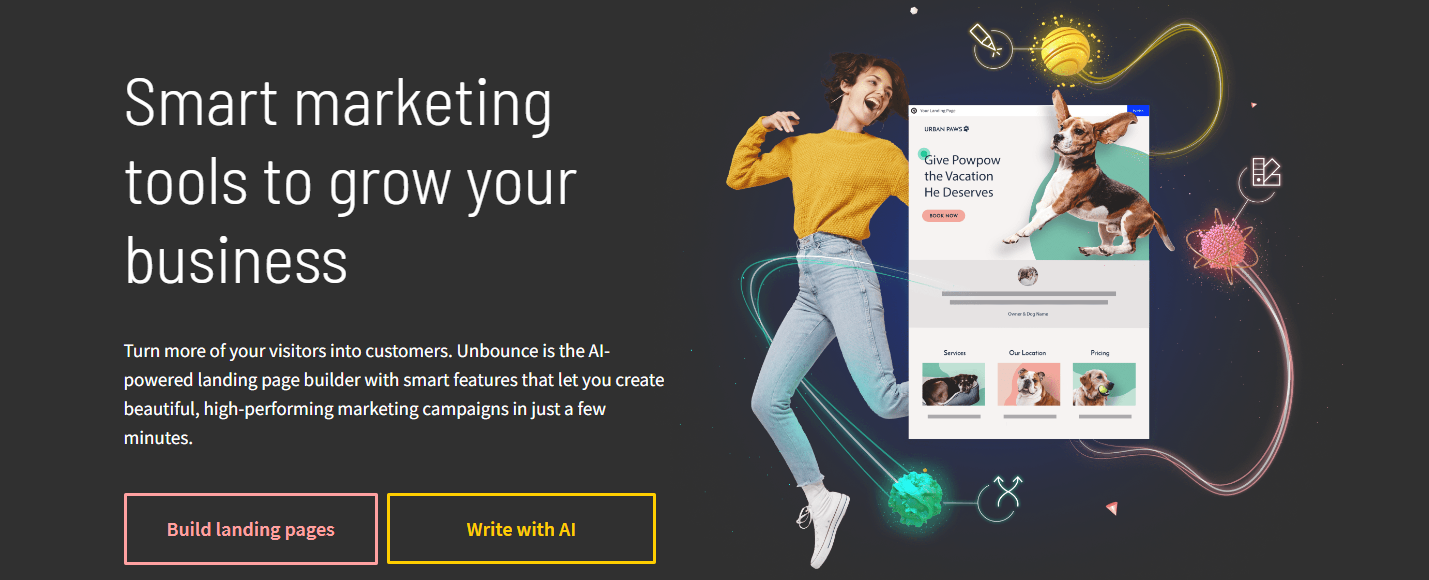 Unbounce is a Canadian platform with robust website building and customization capabilities. You can customize every pixel of your site, build pages 50% faster, and link features from brands like PayPal, Stripe, and Shopify without coding skills and more.
Unbounce includes two core tools: an original drag-and-drop landing page builder and an AI-powered landing page builder. Hence, you can do everything independently or rely on automatic recommendations.
This miraculous VWO replacement shocked me with its convenience! The drag-and-drop is the most useful. You can easily copy and paste elements from different landing pages to other ones. It is also effortless to share templates across different pages.
#9. Crazy Egg Alternative to VWO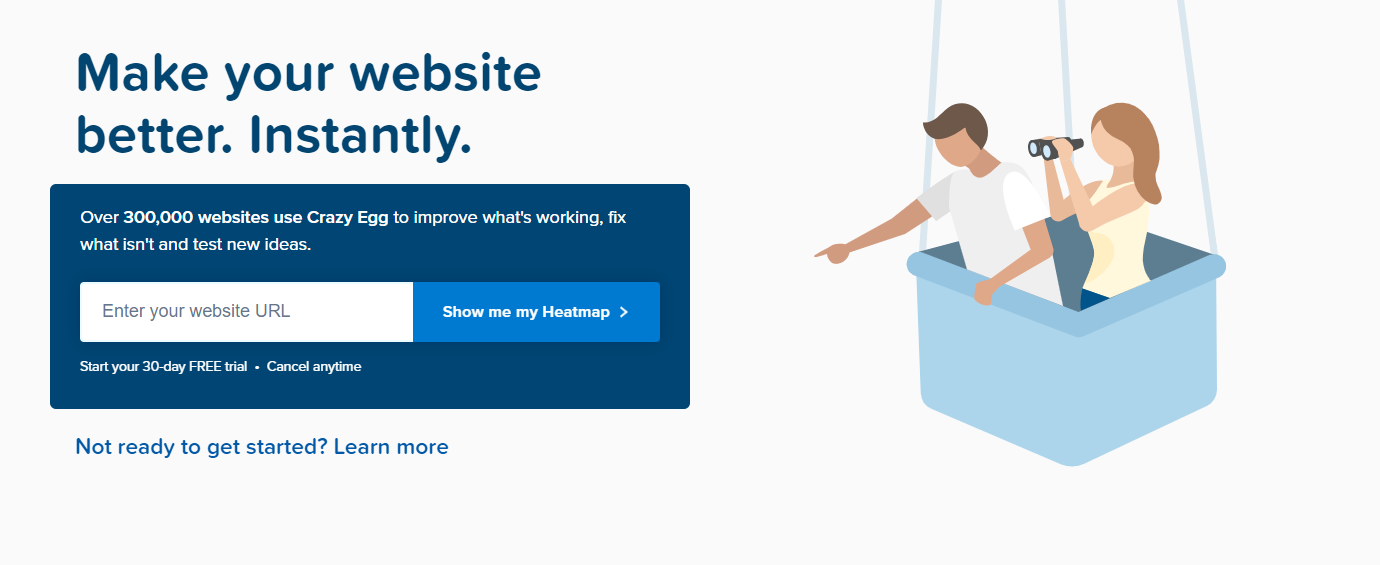 Crazy Egg is another solution on the list of website optimization alternatives. Use it to monitor visitor behavior on your pages through maps and recordings. It also has a traffic analysis to highlight the most popular digital channels.
The Error Tracking feature shows JavaScript errors preventing your customers from placing an order. Crazy Egg provides detailed information about every error, including device and browser details.
Crazy Egg thoroughly offers all the necessary opportunities to experiment and analyze the data. They have the best support that is always responsive & helpful. It is one of the best services I have ever tried.
#10. AB Tasty Alternative to VWO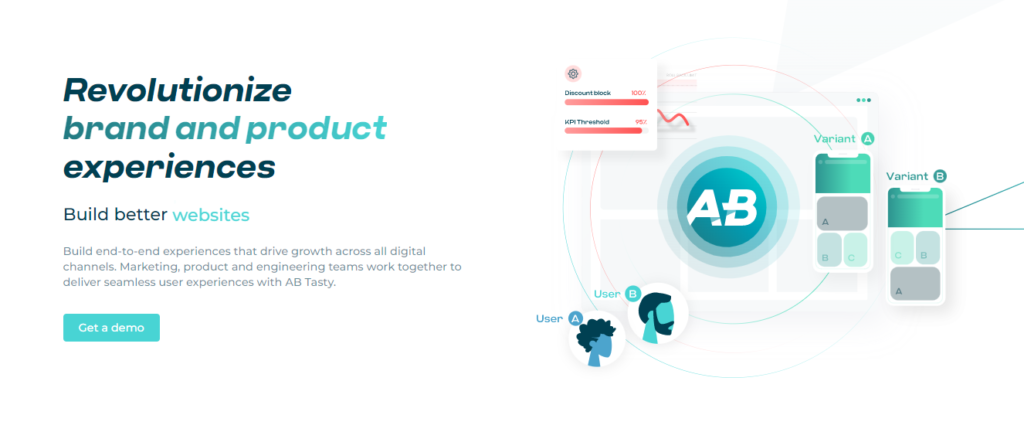 AB Tasty is a tool that unites marketing, product, and engineering teams. While marketers can boost conversions, CTR, AOV, and revenue, PMs improve engagement and user loyalty. For engineers, AB Tasty enables progressive deployment and allows forecasting infrastructure costs. Like many other VWO alternatives, this solution has testing and AI capabilities.
Utilizing this masterpiece is a pure pleasure! Functionality is incredible, check-ups are regular. What else can one desire?
Pros and Cons of Using VWO
Online reviews can guide you if you doubt whether to integrate VWO and its alternatives. Here, we've shared a few comments that users have left after trying out VWO:
VWO plans are tiered, which means users need to pay extra for additional features. Still, it has a much better value than similar CRO alternatives. The solution does more than most other solutions, so I definitely recommend trying it (Growth Marketing Manager).
I would advise people considering VWO testing to develop a testing strategy outside the solution. This solution has almost everything you may need, but if you don't know what you want to achieve within your organization, you won't gain maximum advantage from VWO (Small Business).
I've switched to VWO from Crazy Egg and used it for various tests, from image styles to replacing sections and our product display. It has resulted in huge business growth and given us much traction (Senior UX/UI Designer).
It offers many enterprise features you usually expect in a larger tool at a more affordable cost. Being a user of Adore Target and Optimizely, I've been pleasantly surprised by the functionality of VWO. Its recent reporting update is particularly useful for data analysis (Product Owner).
I would never use anything else since this platform is just awesome. They regularly launch new features and offer many features for A/B, split URL, and multivariate testing. If you need a split test platform, don't look elsewhere (CRO).
VWO supports a visual editor that doesn't require any coding skills. To set it up, you only need to paste the code on your resource and start testing. You can set up a hypothesis and evaluate the results (Digital Marketing Manager).
There are several issues with VMO. The main one is that we couldn't match the findings when comparing Google Analytics Data with VWO. During my last test, I had to use three various sources to measure the results (Director of Analytics).
Conclusion
We hope that now you will have an easier time choosing between the various VWO alternatives. There is no right tool for every case, so you must decide what you need and then make the final decision. We recommend a tool that can analyze your website and offer some ways to boost its performance.