Building a successful eCommerce website from the ground up is no mean feat. Besides managing inventory, payments, and data security, you must juggle sales and marketing functions.
Thankfully there are AI content creation tools that can make at least the marketing and sales aspect of the job easier.
With AI technology becoming more accessible and advanced, AI content creation tools are gaining popularity in eCommerce. Do a quick Google search for AI content creation software, and you'll find that the options are endless. While some tools can help with content analysis and research, others can help you optimize your content for SEO, readability, and grammar. There are as many tools as there are use cases of Artificial Intelligence. And new AI tools for eCommerce applications are being developed every day.
Looking for AI content creation tools to aid the content strategy of your eCommerce business? We have you covered. In the following sections, we'll take you through the features of some of the best AI content creation tools in the market today.
Let's get straight to them.
Top 6 AI Content Creation Tools
The scope of AI in content creation goes beyond just generating text. Today, for every step of your content creation process, there is probably an AI tool to make your job easier. From automating your content workflow to generating SEO briefs, almost everything can go smoother with AI's help. Here, we've listed the 6 AI content creation tools to help you with all this and more.
1. Narrato – All-in-One AI Content Creation Tool

If you're looking for an AI content workspace that can practically take care of your entire content creation process, Narrato is your answer. Whether generating AI content, creating AI images with text descriptions, or optimizing the content for readability and grammar, Narrato is a content workflow tool that can handle all your content requirements. Let's take a deeper look into the features of this AI content creation tool:
AI Writer: Narrato has a robust AI writing tool that makes creating SEO-friendly content for your eCommerce website easier. It can auto-generate content for various use cases like Product Description, Short Ad Copy, AIDA, PAS, BAB Copy, SEO Meta Description, Blog post intro, conclusion, outline, Video script outlines, and more. You can also define your content's tone, target audience, and other factors to get more pinpointed outputs.
AI Content Assistant: Narrato's powerful content assistant provides you with grammar, readability, and content optimization suggestions even as you write. There is also an option to check your content for plagiarism.
SEO Content Briefs: All the content for your eCommerce website needs to be optimized for SEO, and Narrato's SEO Content Brief does that for you. When you enter a search term in the SEO brief generator, it goes through the top-performing content on the web to provide you with relevant keywords and questions to include, competitor and reference links, ideal word count, and more. It also shows a Content SEO Score for tracking how well your content is optimized.
AI Images with textual descriptions: This latest AI feature on the platform lets you create different styles of images from text descriptions.
Pricing: Narrato provides four plans – Free, Pro, Business, and Custom, and the AI features are available in all these plans (even the Free one). The paid plans with advanced features start from $9 per user monthly.
2. Diib – AI-Powered SEO Analysis and Reporting Tool

Want to ensure that the content efforts for your eCommerce website are on the right track? Diib provides variable AI SEO features to improve your business' discoverability. This tool can give you a reliable estimate of your content performance and website growth. And all of this is done in a matter of seconds.
If you opt for Diib's 'Growth Plan', you'll be able to get specific scoring for all your content, including:
Web copies
Social media content
SEO and keywords, and more
The tool also provides detailed insights about how your website measures up against similar eCommerce websites. But since we're specifically talking about AI content creation, let's look at some ways it can help with SEO for your eCommerce business:
It allows you to monitor the top-performing backlinks and keywords
Helps you with new keyword opportunities
Provides content ideas
You can find out what's working for your competitors
Pricing: Diib provides two plans – Free and Pro ($7.99 per month)
3. Acrolinx – AI-Based Linguistic Analysis Engine

This AI content creation tool essentially improves the quality of your existing content, ensuring that it meets the brand parameters. Acrolinx is an AI-based linguistics analytics engine that offers step-by-step guidance for improving your content. Be careful not to confuse it with your basic grammar and readability checker. The job of this AI-powered content creation tool is to check repetitive content, prevent multiple review cycles, and align your content with your brand guidelines. You can set the tone, style, and grammar and even include company-specific wording that you want to be included in your content.
Acrolinx comes with several great features:
Content grader
Content analyzer
Overall content analytics
It can integrate with your content workflow: Command Line Interface (CLI) and Acrolinc API. Here's how it works:
Step 1: Filters text from noise. Acrolinx focuses on analyzing the important content, not the noises (metadata, formatting information, tracked changes, comments) that come with it.
Step 2: Breaks content into units. The tool breaks content into units to better examine word, sentence, and paragraph structure.
Step 3: Applies linguistic data. Next, the tool tags the words with linguistic data.
Step 4: Applies other knowledge. In the final step, the engine analyzes your content to ensure it is not deviating from your brand's preferred writing style.
Pricing: For price details, you can contact Acrolinx.
4. Mobile Monkey – AI-Powered Advanced Chatbot Builder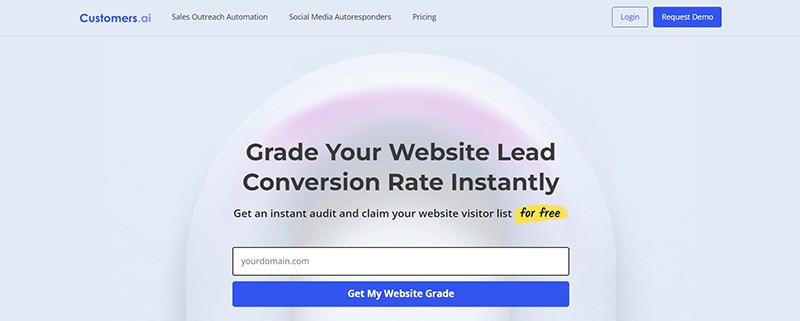 Managing your marketing chat content becomes easier with Mobile Monkey's multi-platform chatbot builder. This AI content creation tool is designed to create and manage customer interactions on your eCommerce website. The advanced AI chatbot builder on Mobile Monkey makes it easier to:
Create guided conversations
Design Q&A triggers to program responses
Match chatbot dialogues to customer questions using NLP
Add images, videos, GIFs, buttons, and other rich-media content widgets
MobileMonkey's natural language processing technology analyzes the customers' questions and matches them to chatbot dialogues. If you want to create a chatbot for your Instagram-based eCommerce business, Mobile Monkey also provides a tool for that – InstaChamp.
Pricing: The Advanced Chatbot Builder from Mobile Monkey is available with Pro, Pro Unicorn, and Team plans. There is also a 14-day free trial to test the tool.
5. Outranking – AI Content Strategy Platform

Outranking is an all-in-one content strategy and planning tool that combines AI and data to help you dominate your niche. With this tool, you can ensure a seamless experience for your audience from start to finish. Besides helping you with content strategy and planning, Outranking also tracks the performance of previous content.
Here are some of the standout features of this tool:
Topic clustering automation: This feature makes reaching your audience easier in less time. Understand user intent and build an organic presence on the web with related keywords and semantic terms provided through advanced topic clustering.
AI-powered keyword strategy: Use AI to calculate your website's perceived topical authority. With this, you can identify which keywords can help reduce ad spend and improve your content ROI.
SEO content strategy guide: Outranking makes bringing qualified traffic to your website easier. It lets you optimize existing content for SEO while also prioritizing new content opportunities.
Pricing: Outranking provides 3 plans – Solo, Pro, and Company. The base plan (Solo) is priced at $7 for the first month and $79 thereafter.
6. ChatGPT – AI Answer Engine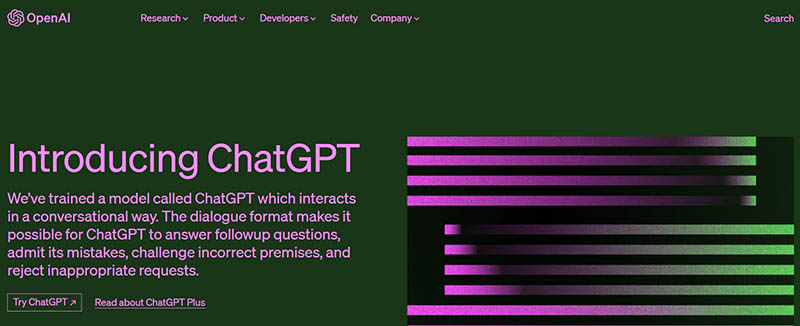 When talking about AI content creation tools, how could we not mention ChatGPT? This OpenAI chatbot has taken the content marketing industry by storm over the past few months, and I'm sure you have heard of it, too. ChatGPT is an interactive AI-powered content generator that offers answers to your queries in a conversational format.
Using this tool is simple – just type in your query or describe what you're looking for, and the algorithm will scan through all the data it is being trained on to give you the most comprehensive answer. Content creators and marketers use ChatGPT for their content research, competitor analysis, keyword research, content generation, and more.
The best aspects of ChatGPT are:
Easy user interface
Efficient AI content generation and paraphrasing capabilities
Ability to summarize market/content research within minutes, cutting down on content creation time
However, it is important to note that the tool is still being trained. As with any other AI content creation tool, it is best to proofread and double-check the content that ChatGPT generates to ensure there are no inaccuracies. Also, as there are no dedicated fields to define your tone, target audience, etc., you must ensure the query/input you're providing includes all the necessary details to get an accurate AI content output.
Pricing: ChatGPT is currently free for all. But OpenAI has introduced a subscription model at $20 per month too.
Try these AI content creation tools to see what difference they make to your content team's productivity. We're sure you will witness a noticeable boost in content production efficiency and quality. Most of these tools have little to no learning curve, and your team should be able to navigate them quickly and easily.
AI Content Creation Tools – Frequently Asked Questions
If you're new to the content creation and marketing industry, there may be a lot of questions running through your mind. Here are some frequently asked questions and their answers to help you better understand the world of AI content creation.
What is AI content creation?
AI content creation is a practical application of AI and natural language processing (NLP) technology in which AI-powered software creates written, visual and spoken content for you. It can be used for blog posts, landing pages, e-books, social media copy, emails, or anything else. Some AI content creation tools can also help produce video and audio content. Even though the content produced is not identical to that created by a human, it comes very close, especially in terms of tone and style. AI content creation finds application in many industries, like news writing, social media management, entertainment, and eCommerce.
How do AI content creation tools work?
Different AI content creation tools work differently, as evident from the list of tools above. While some use AI technology to optimize content automatically, others need a prompt from a human. For instance, with AI content generation tools, you need to input the descriptions, tone, style, and any other key elements that will help produce accurate content. After the initial input, the AI tool will do its magic and create topic-specific content in seconds.
AI content creation tools essentially work on the models of machine learning, natural language processing (NLP), and natural language generation (NLG). The AI system is trained on a large dataset of the already available content on the web (whether text, video, or audio content). After learning the structures, patterns, and genetic makeup of human language in the existing content, these tools can create their unique versions of content. So, the more you use these tools, the more accurate they become.
What type of content do AI content creation tools work best for?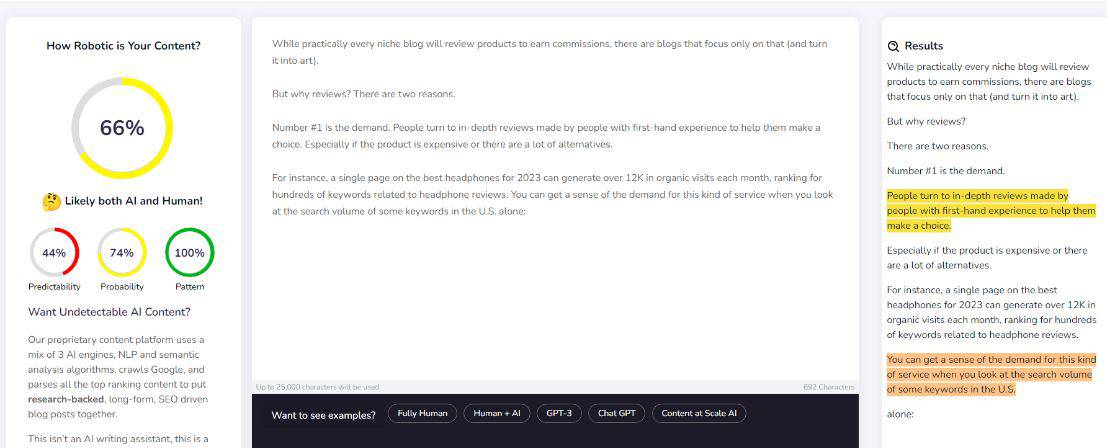 AI content creation tools can help create different content, but they are most effective for textual content, like blogs, social media content, product descriptions, etc. But even though the primary application of AI content creation tools is still in written content, there is certainly a move towards audio and video content automation, too. As audiovisual mediums are becoming more important for audience engagement, many companies realize the importance of automating some aspects of audio and video creation – which can also be done with text-to-speech software. The AI video creation platform Synthesia is an excellent example of this tool. It can help marketers in creating quality video content at scale.
What is the future of AI technology in eCommerce?
The global eCommerce industry is growing exponentially and is expected to reach almost $58.74 trillion by 2028. And AI technology is certainly playing an important role in its growth. Besides helping with content creation, AI tech has proved useful in data collection, sales prediction/management, and providing better customer experience, among other things. It changes how eCommerce businesses target and sell their products to customers and helps them achieve their marketing and sales goals. In the future, we can expect to see further improvements in AI tech for eCommerce, especially in the areas of product recommendations, customer service, personalization, etc.,
Will AI content creation take over manual content creation?
To answer it simply – No. AI content creation tools replacing human writers is a common concern among many in marketing. But this concern is largely misplaced because content creation is an inherently creative pursuit. Even after an AI content creation tool becomes well-versed with your requirements, human intervention is needed to edit, format, and refine the text to match your brand voice. If anything, AI content creation tools are here to aid writers and marketers in creating and publishing high-quality content faster.
With these answers, We hope you have more clarity on how AI content creation works, especially in the eCommerce sector. With this knowledge and our AI content creation tools recommendations, you can start building a content strategy to drive significant traffic to your site and boost sales for your business.
Wrapping Up
If you want to meet the needs of the modern-day user with your eCommerce website, it's important to have some AI-powered tools in your tech stack. The 6 tools in the article can be very useful for creating stellar website content that helps you stay competitive in the current eCommerce market. When choosing these tools, consider the resources you have at hand. It would be much more useful to pick an AI content creation tool that reduces your dependency on several tools. Also, determine the needs and goals of your business to pick an AI tool that matches it best.
And that's a wrap. Let us know which AI content creation tools you found useful in the comments below.