It will be no news to anyone that online marketing is closely associated with Google Ads. After all, most people turn to the Google search engine when searching for products, services, restaurants, or anything else. And this is when Google Ads comes into action. A potential customer receives relevant ads for the product or service they need in the search results.
Frequently asked questions from business leaders and from various levels of Google Ads specialists:
How much does Google Ads account management cost?
What is the average property management companies spend on Google Ads?
How to opt out of Google auto management of ads?
How to add Google Ads management to other email accounts?
What is an average property management companies pay on Google Ads?
How do Google Ads for the management of homeowners associations benchmarks?
Google Ads how to accept an invite from a management account?
How to convert a personal account to a management account for Google Ads?
Why shouldn't you miss the opportunity but rather use Google Ads?
This is a place where you don't have to make large investments at once. This is especially important for small businesses that are just developing and have a circumscribed budget. However, prosperous businesses don't mind such a condition. Google Ads does not have a minimum rate or monthly expenditures for ads, meaning that the risk is much lower compared to other advertising options;
You pay solely for the result, which is another reason to choose Google Ads. The pay-per-click system works very well. So, if your campaign is set up correctly and you have selected the appropriate keywords, then most of the clicks you will need to pay for will be promising for your business.
Google Ads uses remarketing, thus helping you stay visible to people who are interested in your ads but haven't placed an order;
Google ads are shown at the perfect time since a person is looking for what they need and gets the result;
Ads appear in the appropriate area, which is no less important than at the right time. You must choose a geographical location for the ad impression, ensuring that only potential customers view it. For example, a massage parlor does not need advertising in another city, so it is appropriate to set up an ad impression exclusively in the city where it's located and within a radius of several kilometers around it;
Google Ads attracts targeted customers. Long ago, marketers noticed that people were more likely to buy products or services after viewing video reviews, and advertising on YouTube was managed through Google Ads. This means that its usage allows businesses to get their ads on YouTube videos related to their product or service;
Google Ads helps you create an appropriate SEO strategy. Everything is quite simple here. SEO is very effective and necessary for your business, but you need a lot of time and effort to work out this method of promotion. Showing up on the first page of Google is very difficult, but with Google Ads, you can do it right away, though you will have to pay for each click. However, there is an advantage also — you can see by the number of clicks which keywords work and which do not, taking this into account while developing an SEO strategy;
You can immediately see whether your ads are working or not because Google Ads has built-in features tracking and reporting your return on investment (ROI). By simple setting, you can track web form submissions, e-Commerce sales, phone calls, and even offline sales closed over the phone or in person. Moreover, reports will show which keywords and ads generate the most sales.
As you have already understood, there are many reasons for using Google Ads. Now, we'll tell you how to configure such ads correctly to turn out successful.
On the basis of the following frequently asked questions, we've worked out the instructions on configuring Google Ads:
How to collect semantics properly?
What match keyword types are distinguished?
How does scheduling ad impressions affect my daily budget?
How to distribute my daily budget reasonably in Google Ads?
What is a average property management companies pay on Google Ads?
Instructions on configuring ads in Google Ads
1) Contextual advertising enables you to display ads to the audience interested in the subject of these ads. For instance, you want to display ads for your website based on the keywords "buy an iPhone." With the correct configuration, you can easily do this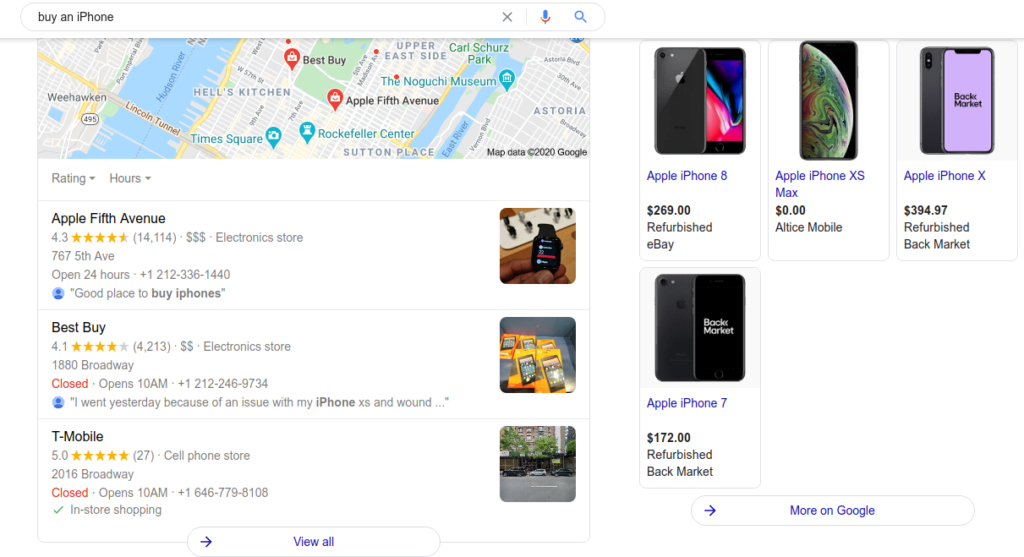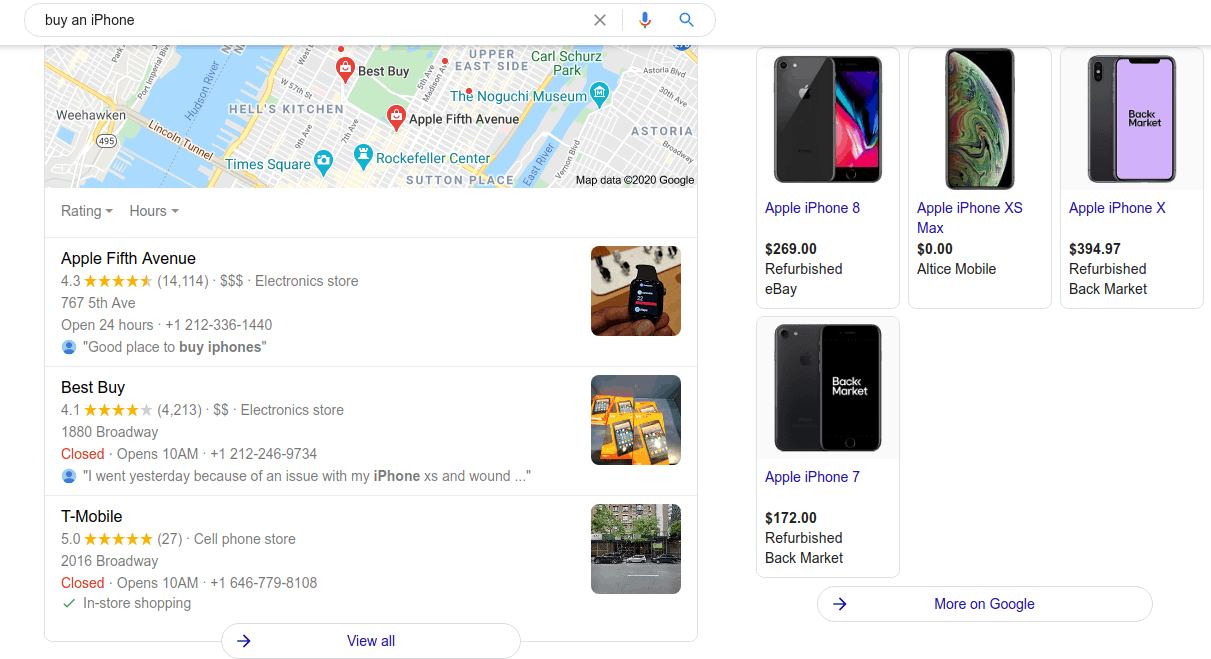 2) Log in or register an account on Google Mail. This is necessary to create an advertising account in Google Ads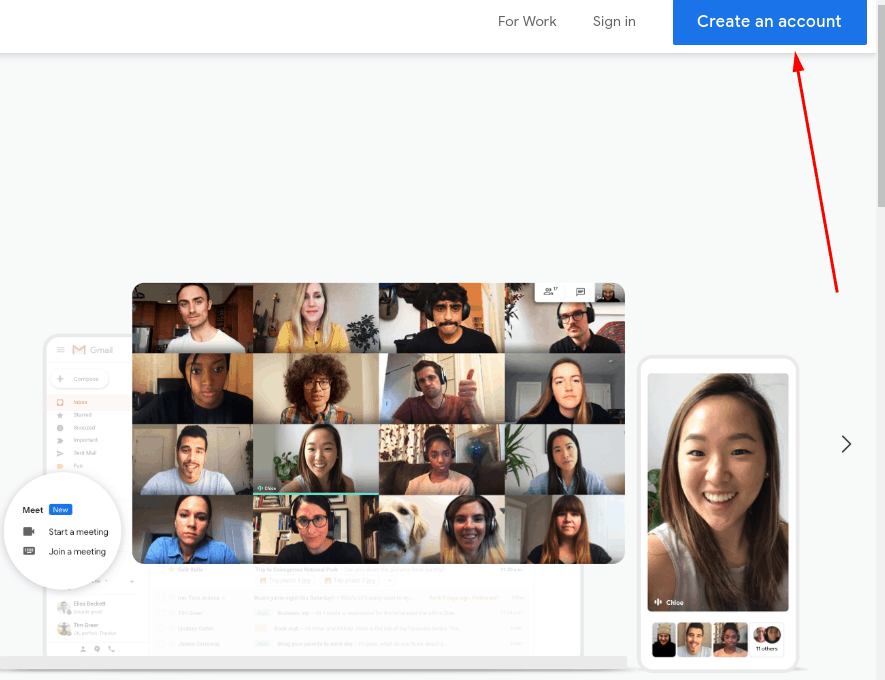 3) Log in to the Google Ads service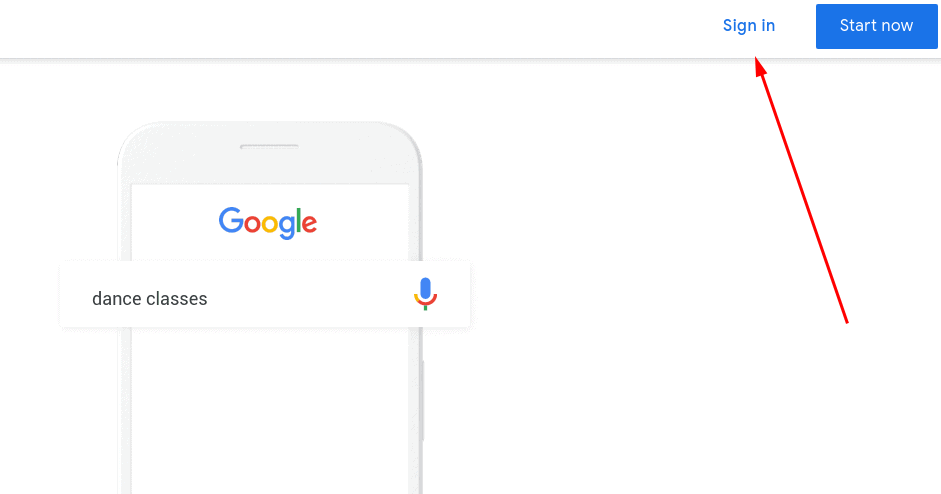 Setting up an advertising campaign
4) When creating a new campaign, you'll need to specify an advertising goal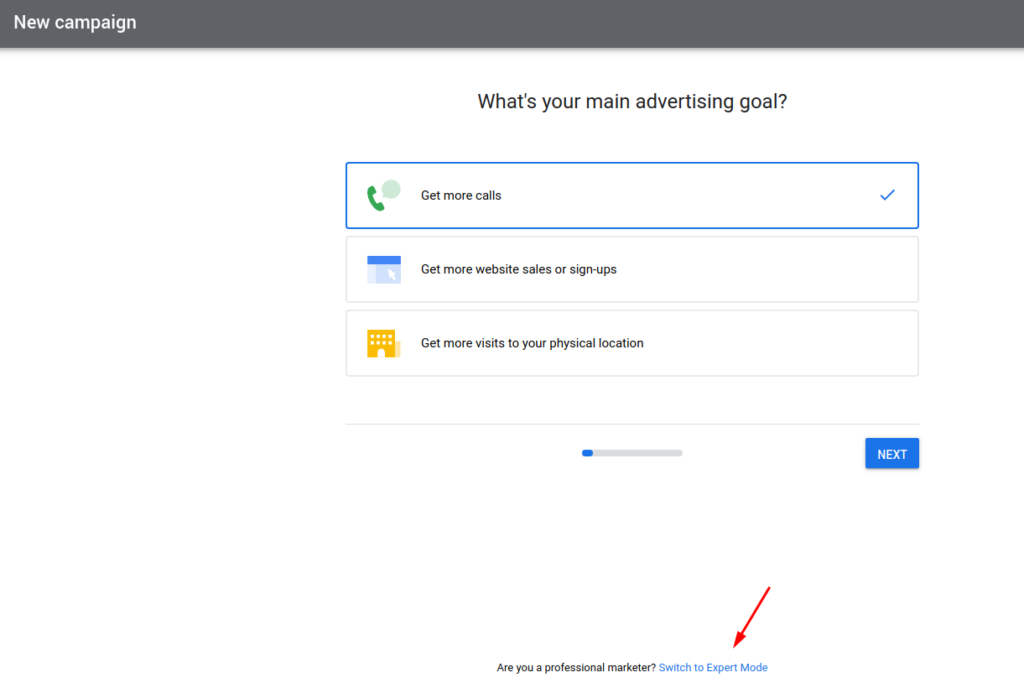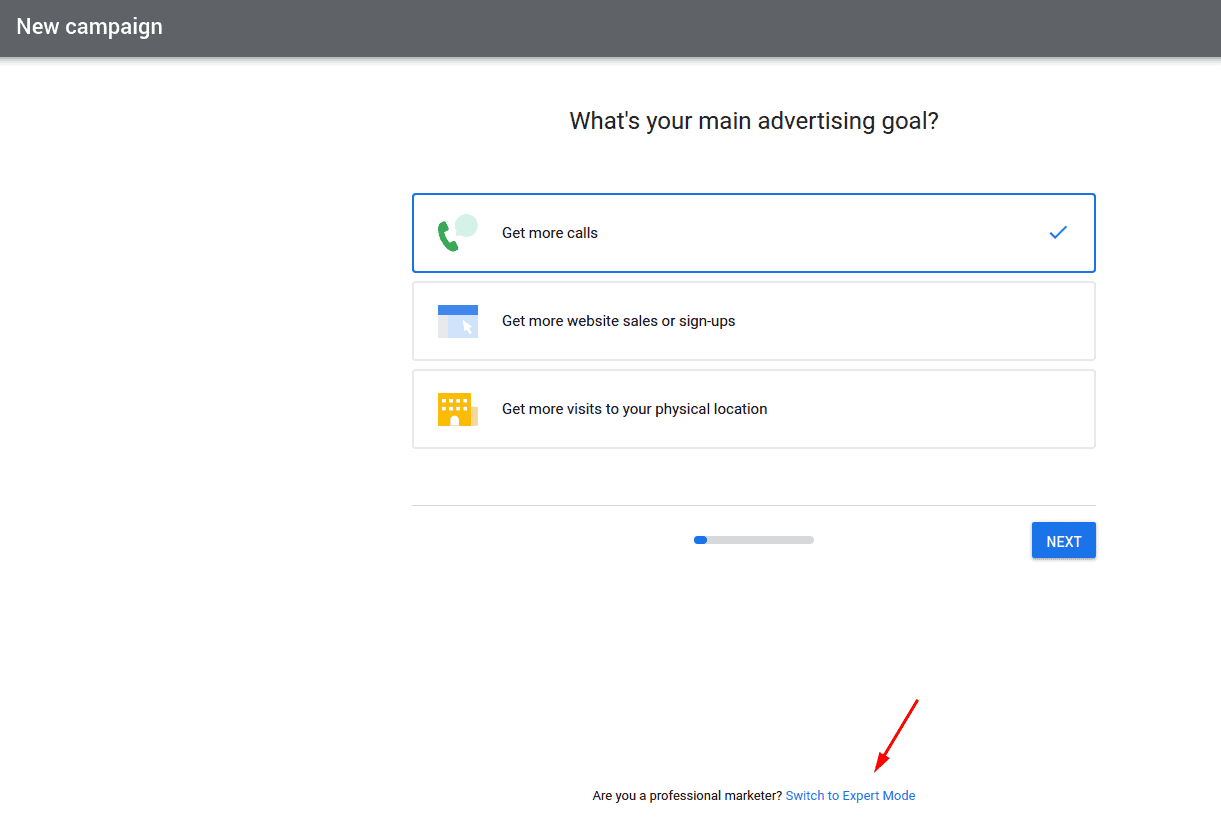 5) In expert mode, you will have access to a larger number of goals described in the image below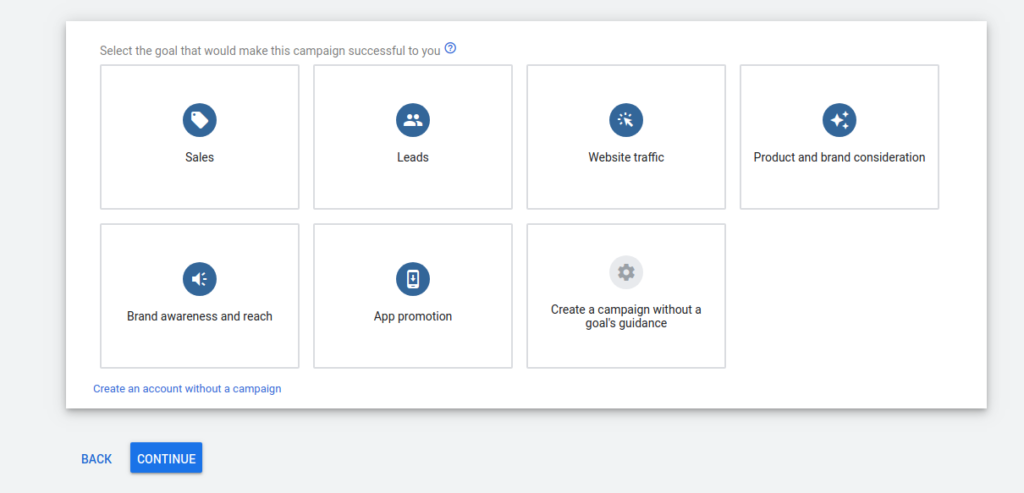 Read more about the goals of Google Ads campaigns in their official documentation
6) You can create an account without campaigns. Select the type of ad "Search network"
Read more

7) Select the type of results you want to achieve. We select "Site Sessions" and specify the desired URL in the field.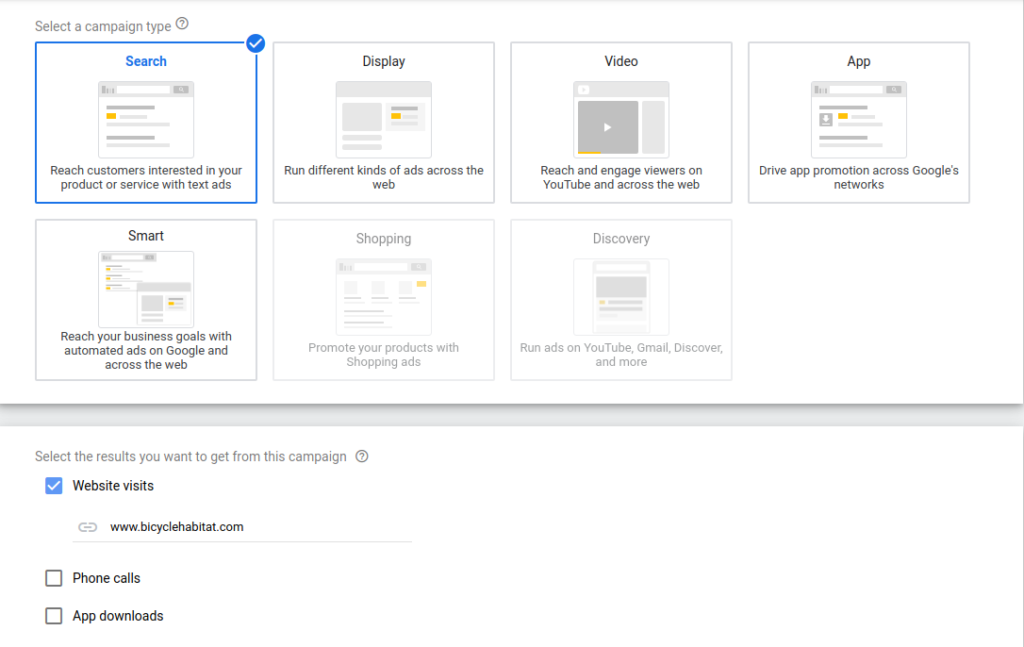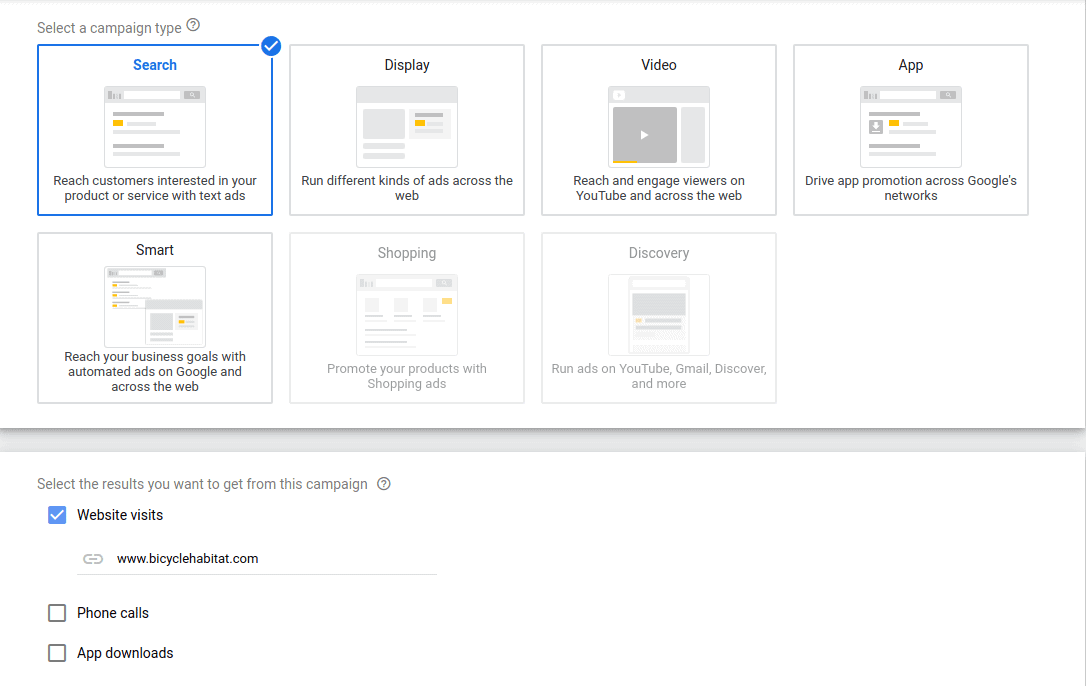 8) Next, specify the name of our advertising campaign. You create it by yourself. It is better to choose the most understandable names:
disabling the Display Network checkbox.  When you get started, you'd better separate your search campaigns from those in the Display Network. This is a practical recommendation;
it is preferable to use the product name, geography. This makes it easier to administer ad account.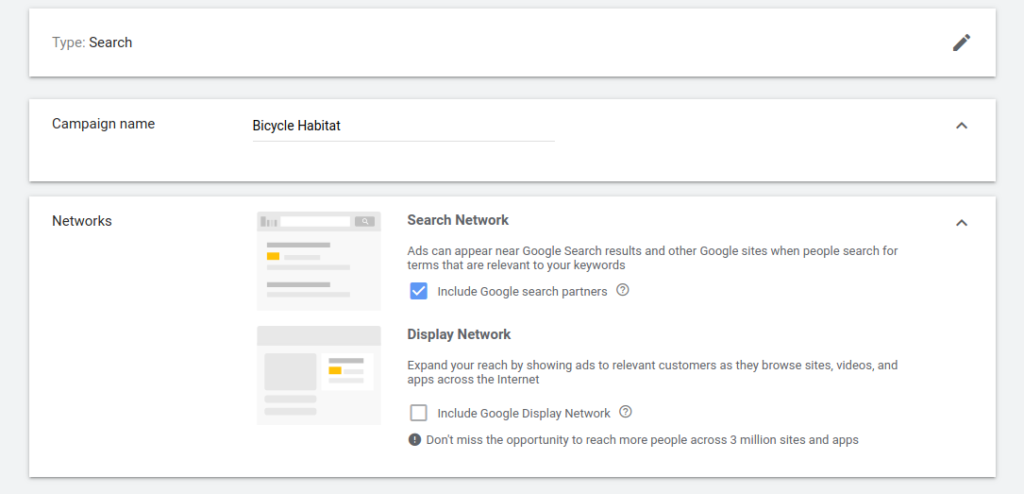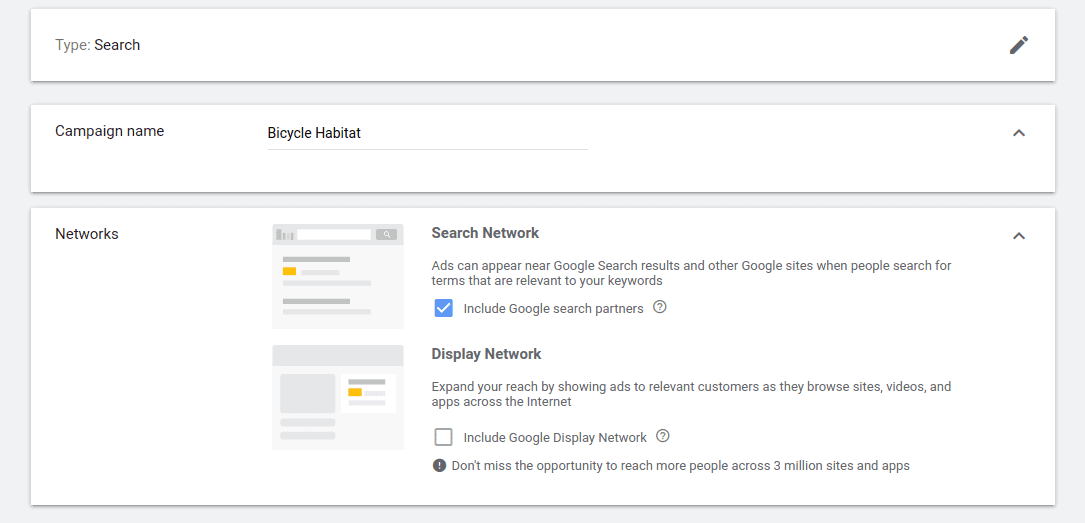 9) You can set the timing for the advertising campaign, that is, "when to start and when to finish." If the ad is needed only for a holiday or weekend, or while a promotional sale is still in progress


10) The next step is to select the region, the ad will be displayed in, and specify the language;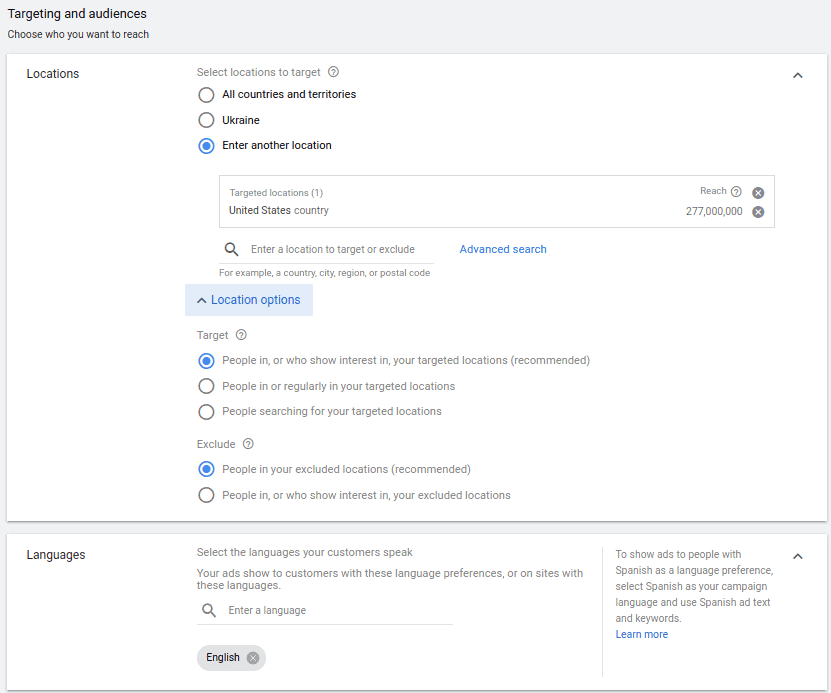 Detailed information on language targeting.
11) Specify geotargeting.


12) Location options and advanced geotargeting settings

ads will be viewed by users from the geographical location where they are located and from other regions;
when you need an audience only from a specific region;
everyone who added the name of the geographical region to the search query will see the ad.
Learn more about advanced geotargeting settings.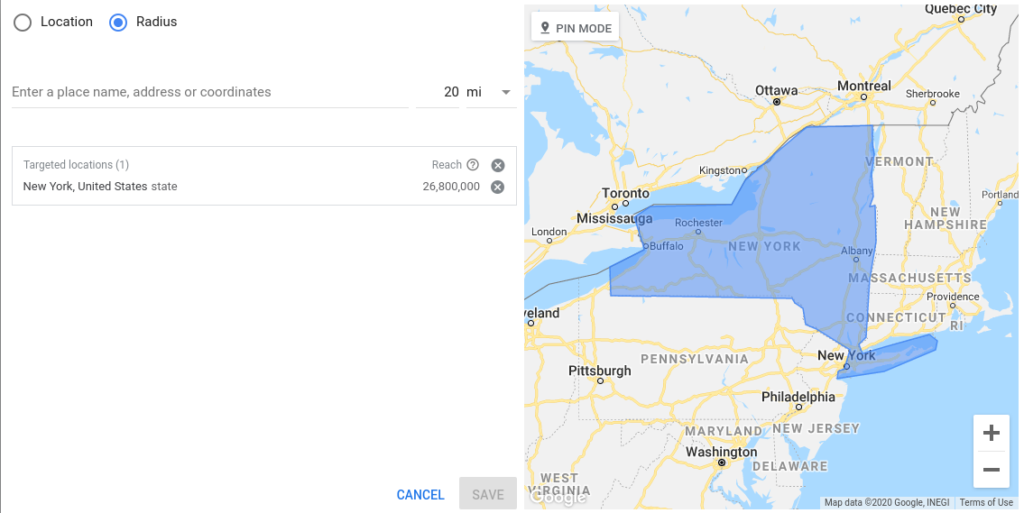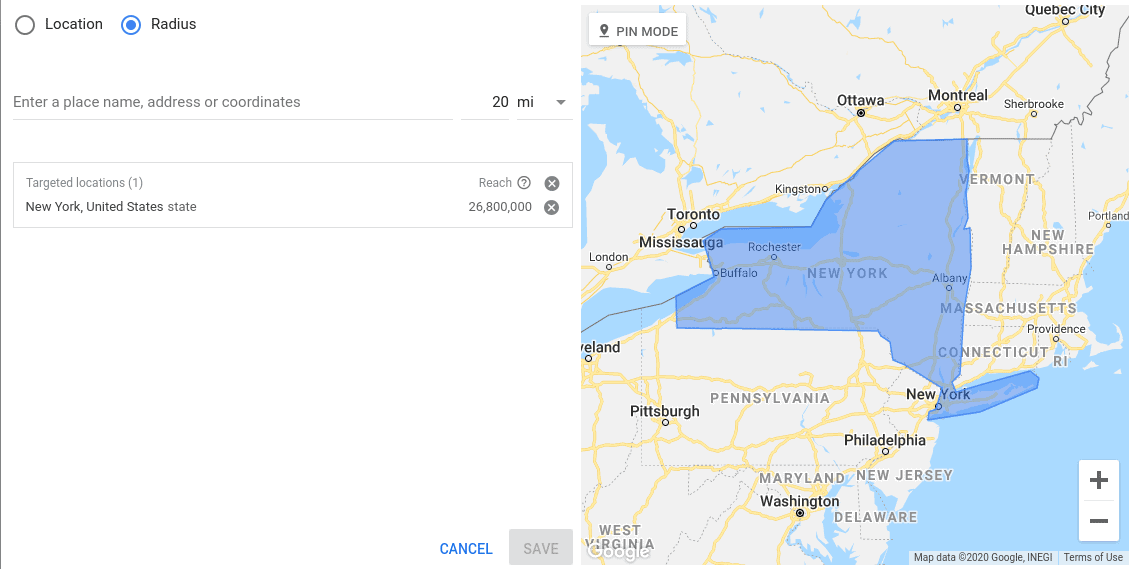 13) We need to indicate the daily budget amount and the pay-per-click rate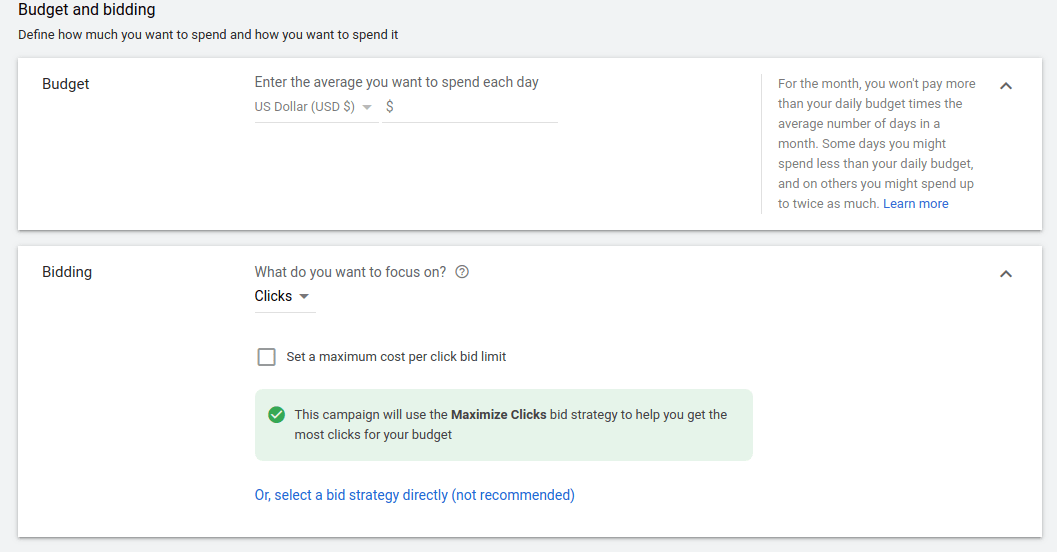 Google Ads uses an automatic "Maximum number of clicks" strategy by default. The algorithm tries to get more clicks within the budget;
you can select rate settings manually since automated strategies do not allow you to manage rates per click at the keyword level.
About smart rate-setting strategies.



In the field "Increasing the number of conversions using the CPA optimizer," clear a tick box because the correct operating of this option requires the system to analyze a sufficient number of conversions over a certain period.
14) Configure ad rotation. The system sets the first option — you create several ads for each group, selecting the most effective one for a particular auction. The second option will work out so that the ads are displayed at the same frequency.


15) Ad display schedule: the activity of the target audience needs to be taken into account here. For example, the audience of B2B is online from 9 a.m. to 5 p.m., but if the ad is intended for a wide audience, then leave it for the whole day.

Setting up ad groups
16) Combine thematically similar ads and related keywords into ad groups.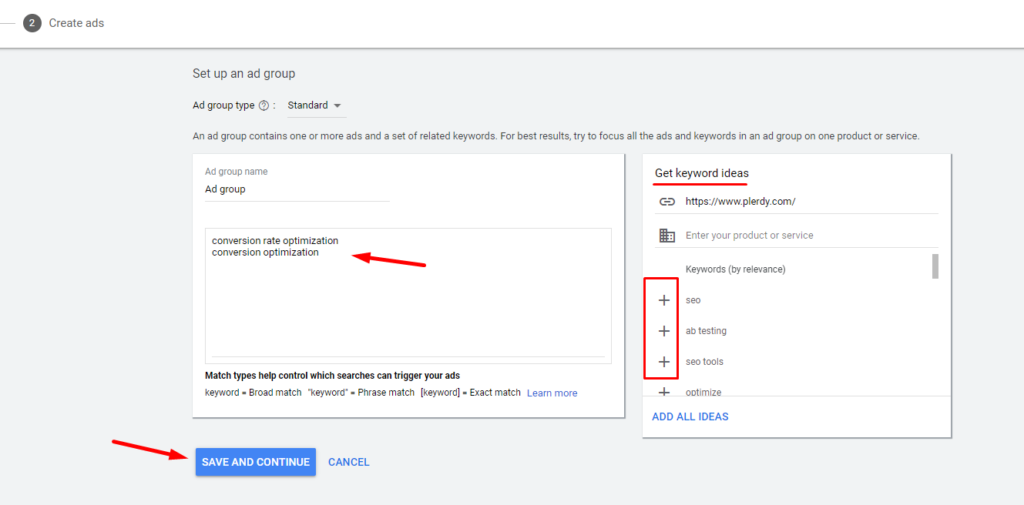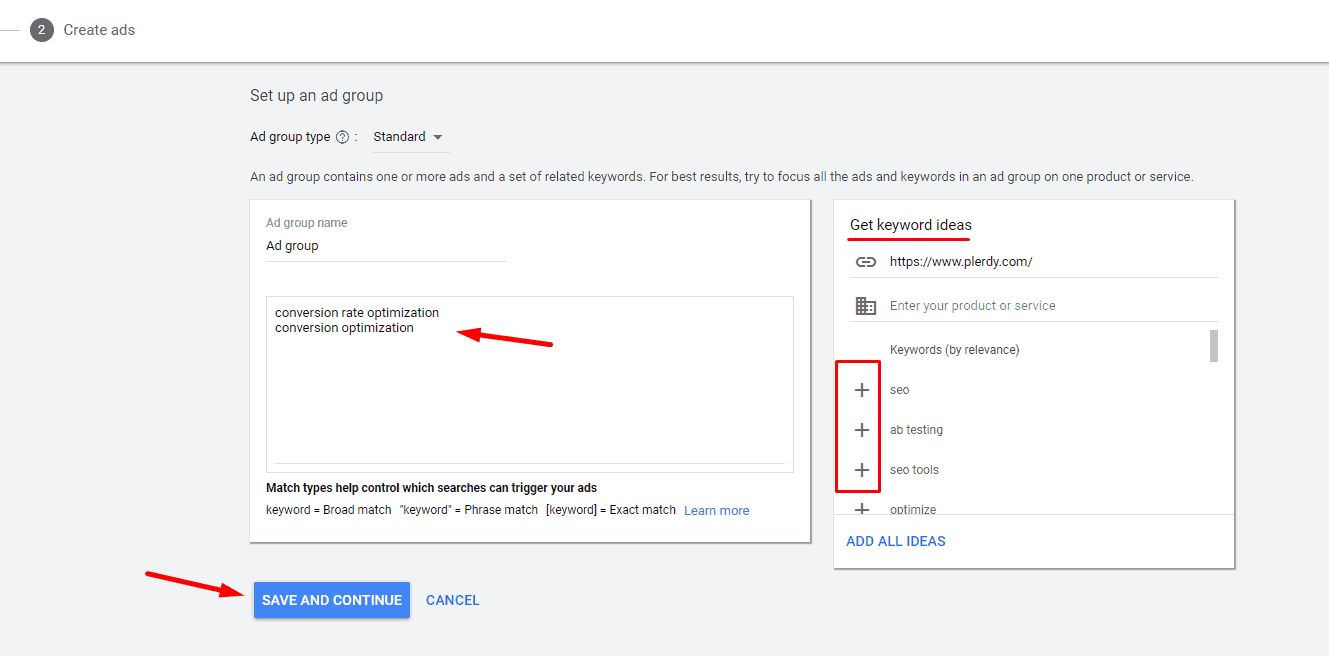 More about organizing ad groups.
17) Specify the rate per click. Rate will be automatically used for all keywords.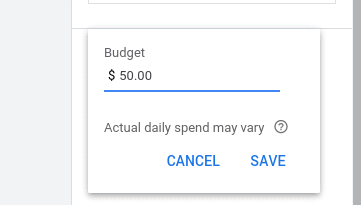 18) Add keywords to the group: you can use the "Get keyword options" system. For this, indicate your website's URL or product name in the right column, and the tool will automatically provide semantics options.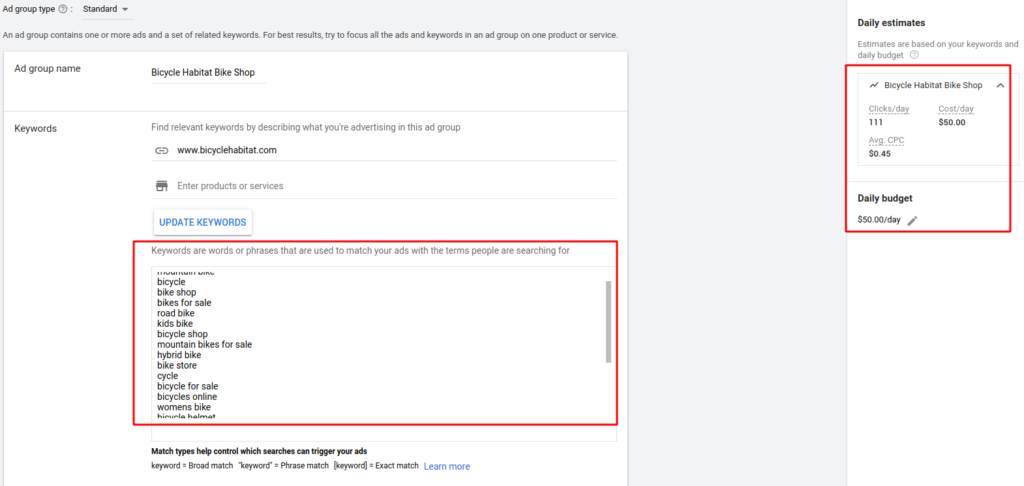 Read more about the types of keyword matches
19) For keyword selection, use the Keyword Planner


Add variants of the desired keywords or paste the website's URL in the field.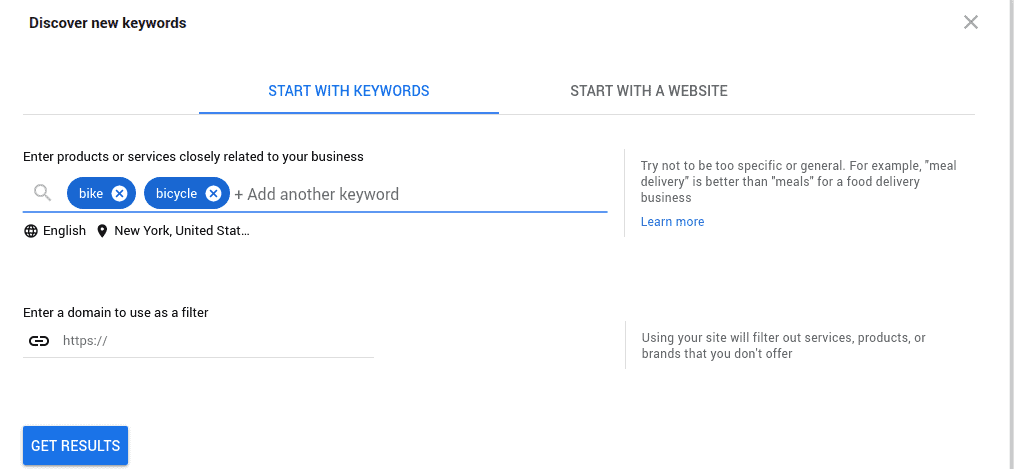 20) A list of negative keywords must be created, and they should necessarily be added to the ad group. This list will help you filter out irrelevant search queries


More information about negative keywords.
21) Create ads in each group


22) Ideally, the group should contain 2-3 ads. According to current Google recommendations, two text ads + 1 adaptive ad are needed in the search network.


Read more about effective ads
23) Fill in the required fields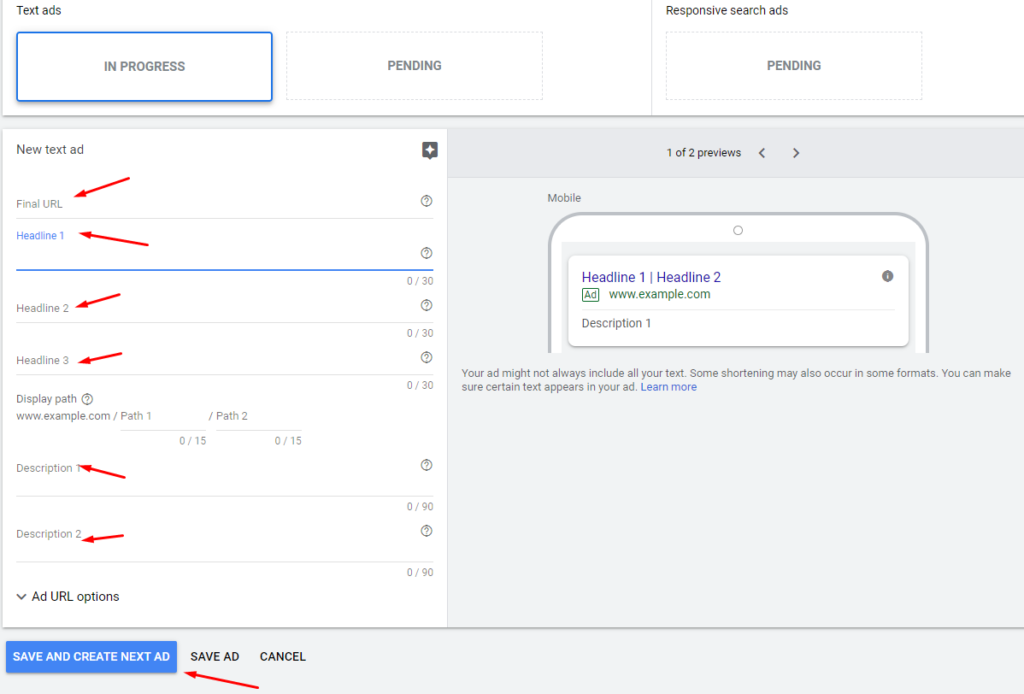 Destination URL: the web page we direct users to after they click on the ad.
Headline 1 should repeat the keyphrase, ideally. Use dynamic keyword insertion into the headline.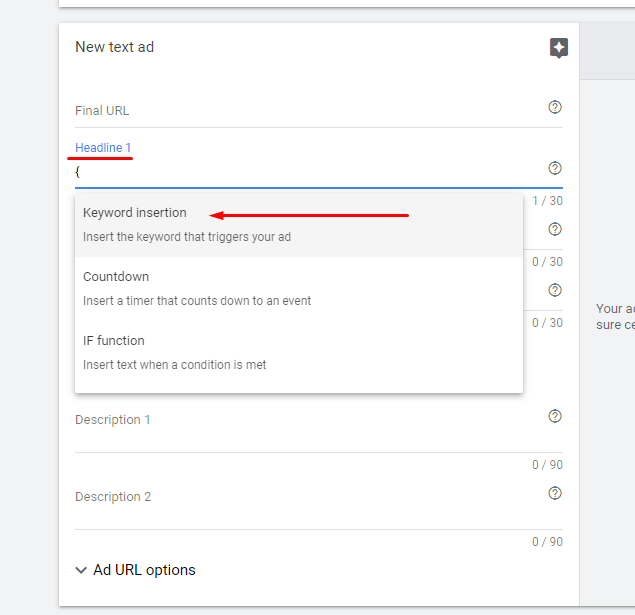 More about inserting keys
Adding extra extensions for ads
Additional extensions in Google Ads enable you to get a higher CTR (clickability).
24) Ad extensions can be added to the account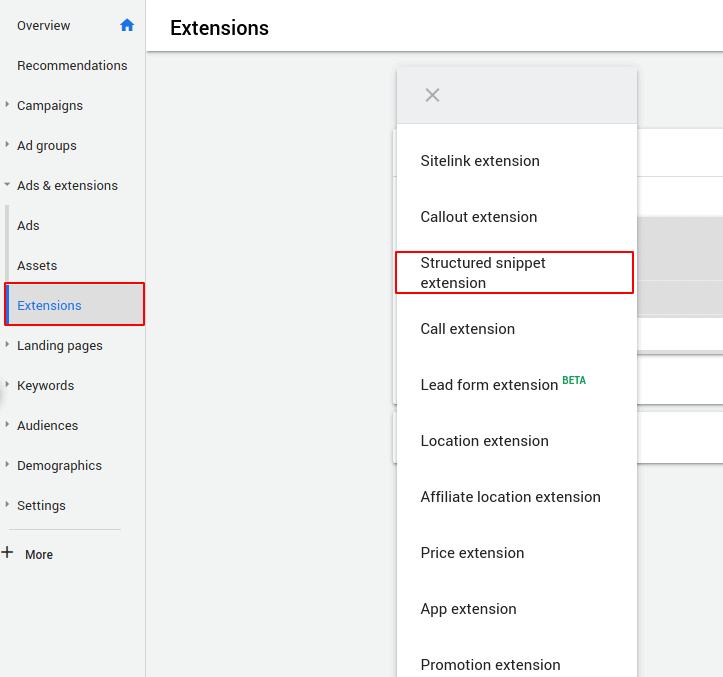 Let's take a closer look at the main types of ad extensions:
Use additional links
They allow a potential user to go to separate web pages. Then, depending on the device and adposition, the system will show the user links.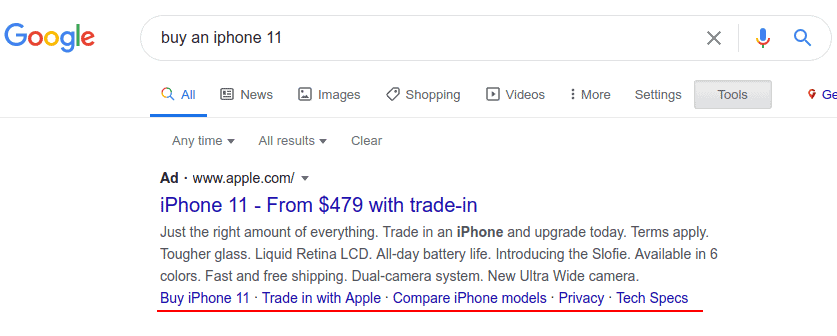 Click the Sitelink extension button.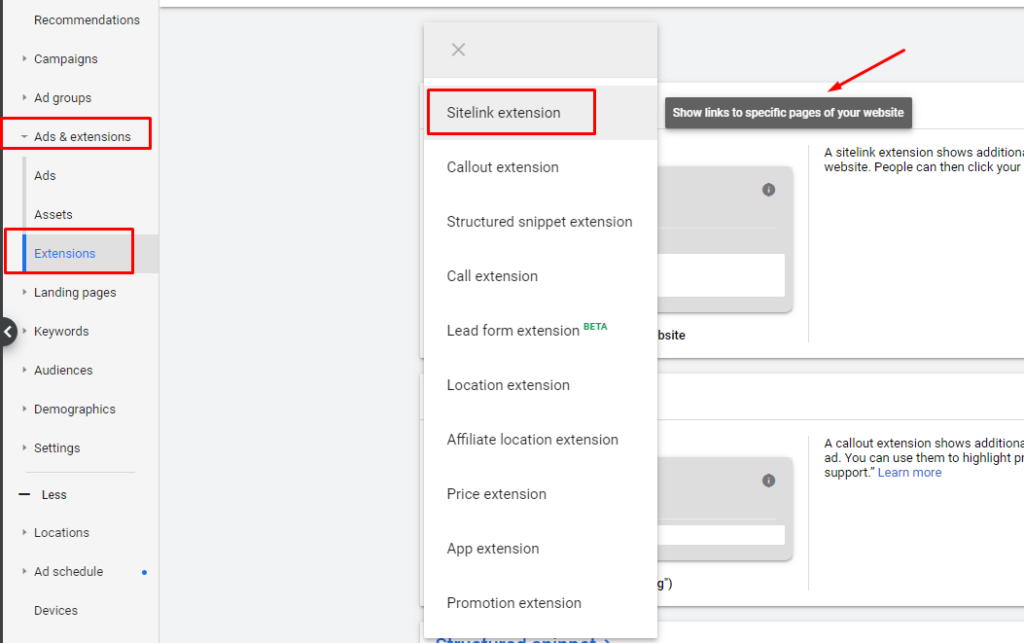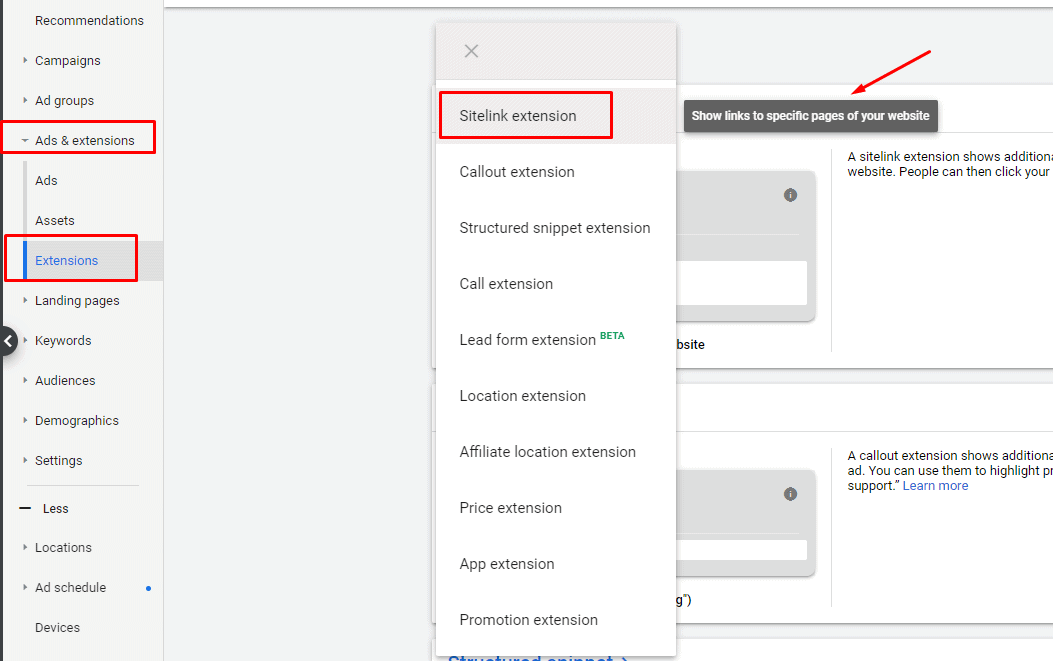 Add a short description and the website's URL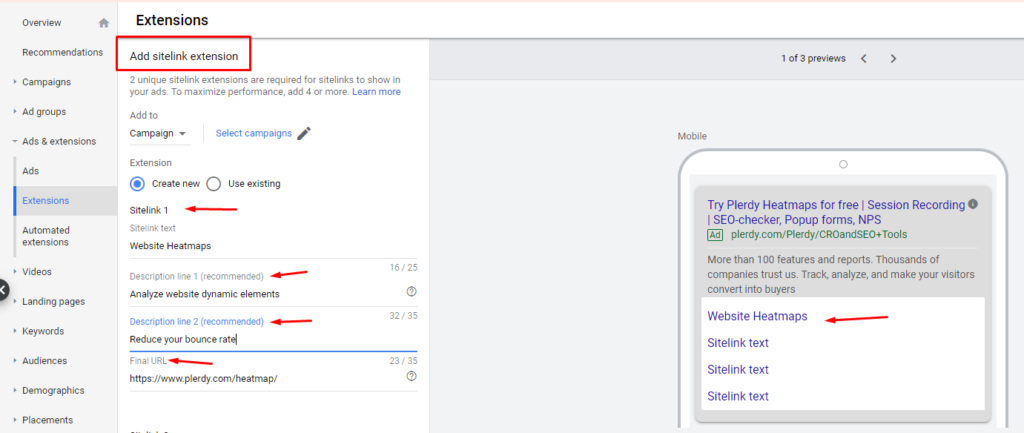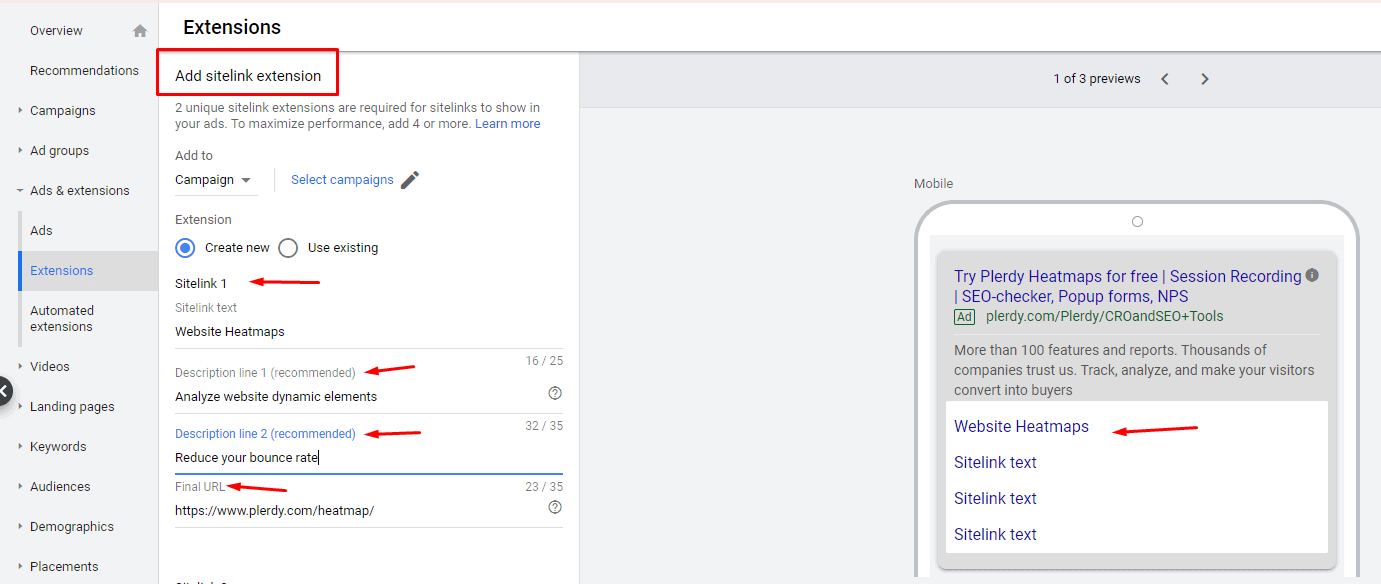 Use previously configured additional links.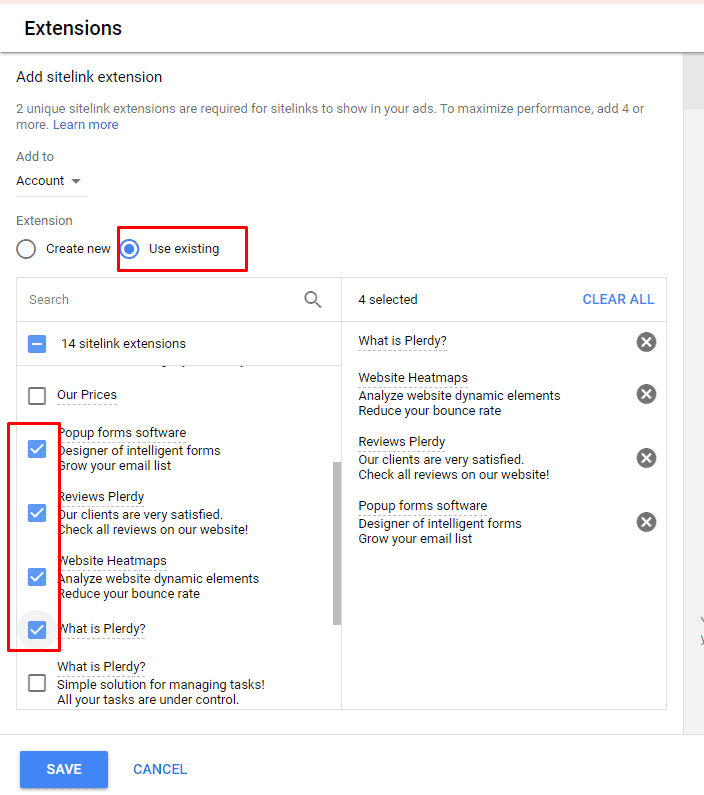 Save adjustments
These are additional non-clickable information about products and terms of service. Adjustments focus attention on the offer's details, product features, and other perks.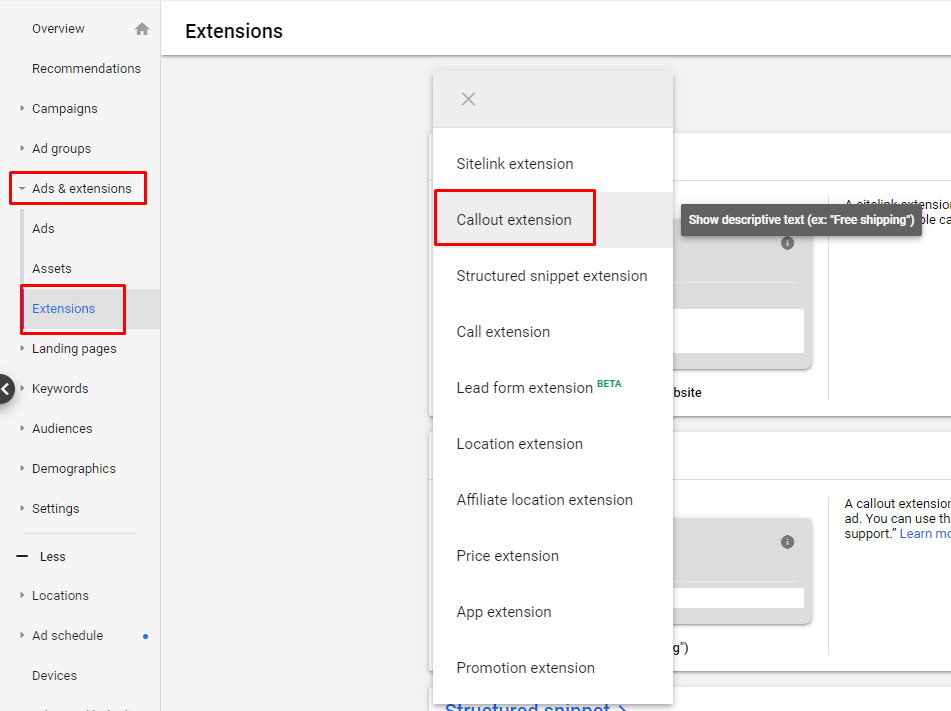 Add phone numbers
The additional extension "Phone Numbers" allows you to add phone numbers to ads, thus contributing to a significant increase in CTR.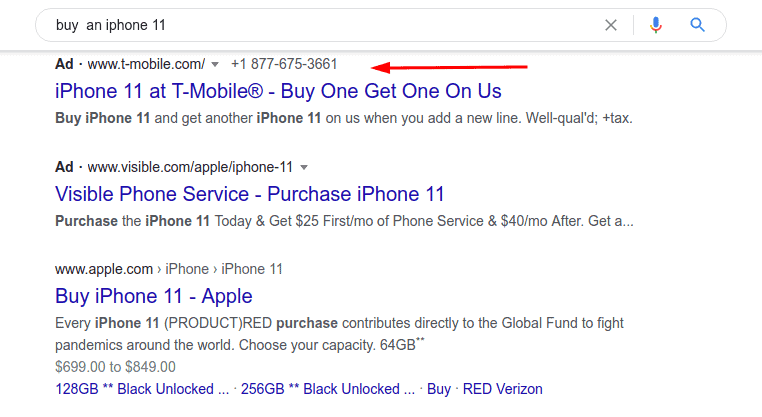 Fill in the corresponding field with your phone number.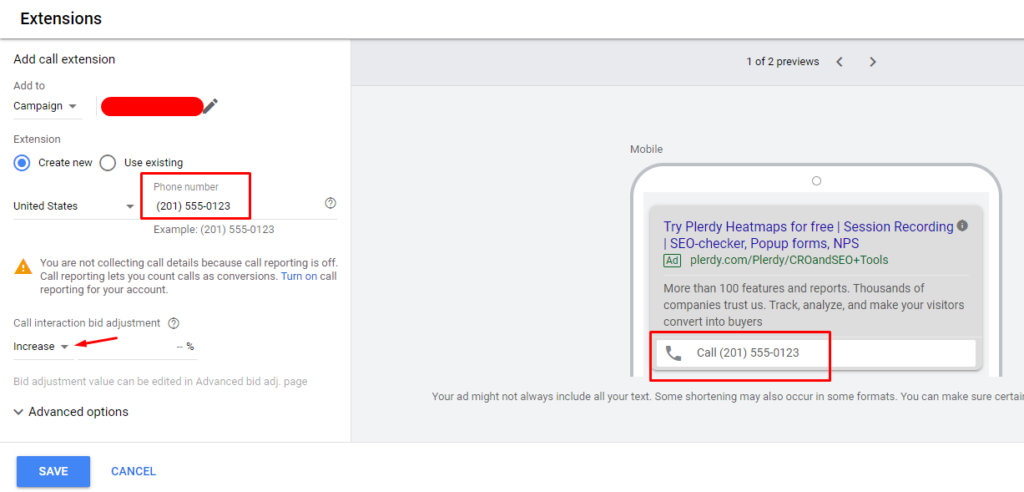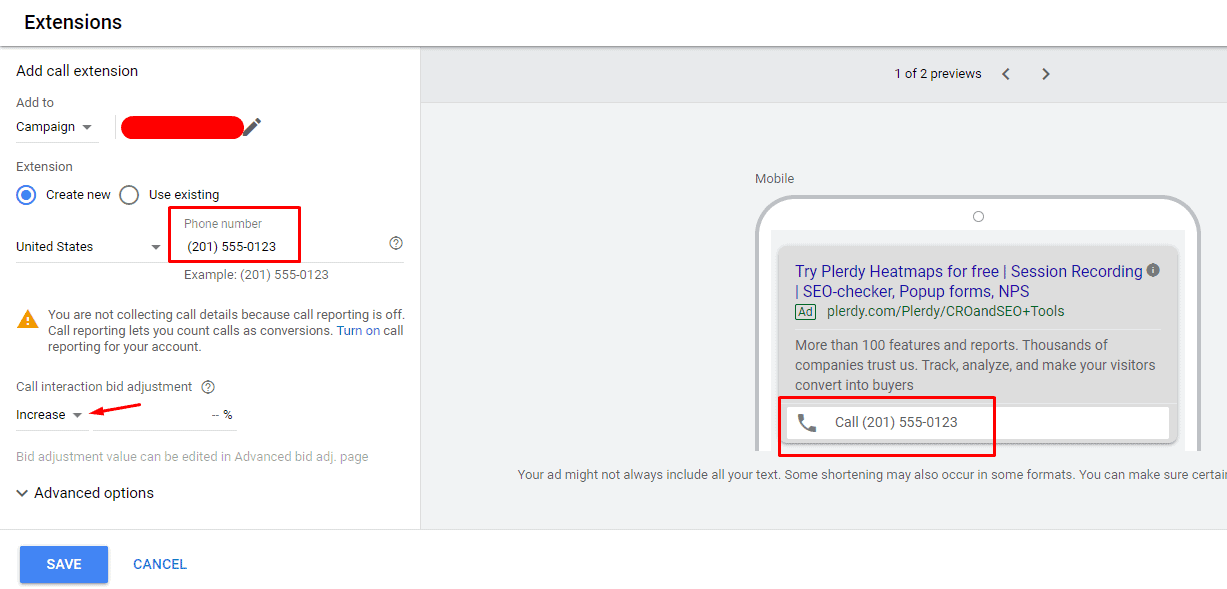 Add structured descriptions
They automatically show additional information about your website in ads, helping people learn more about your company. The ad displays this information, informing customers about your business and product.

Select "Structured descriptions" in the drop-down menu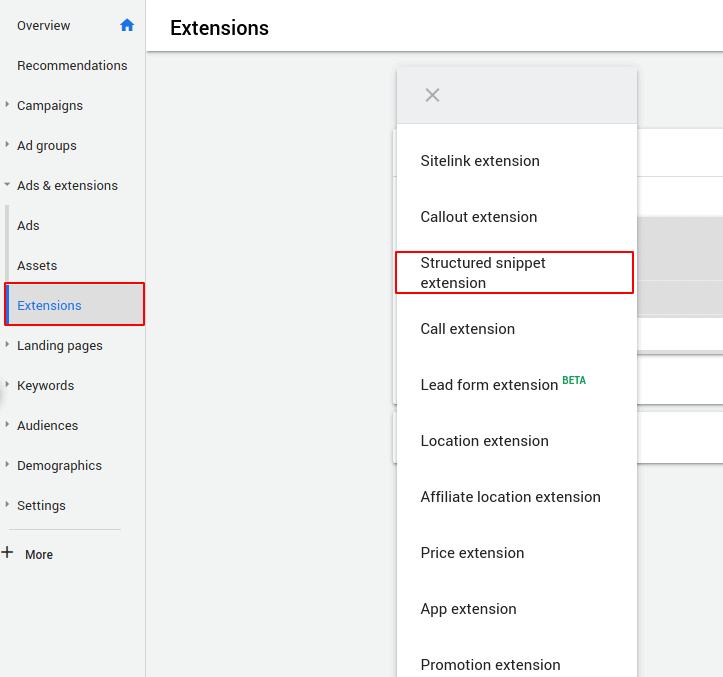 Select the language used and the header type, and fill in the fields with the values.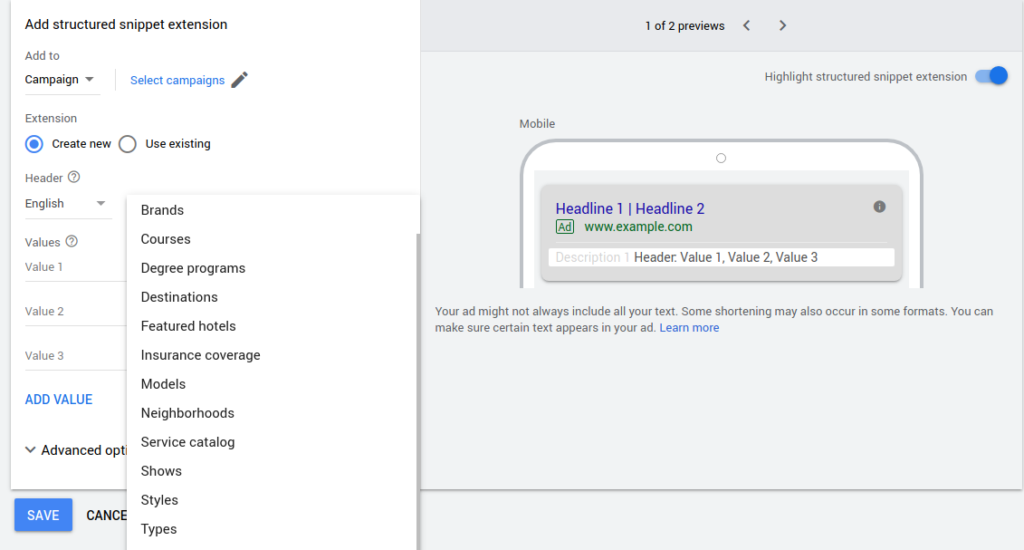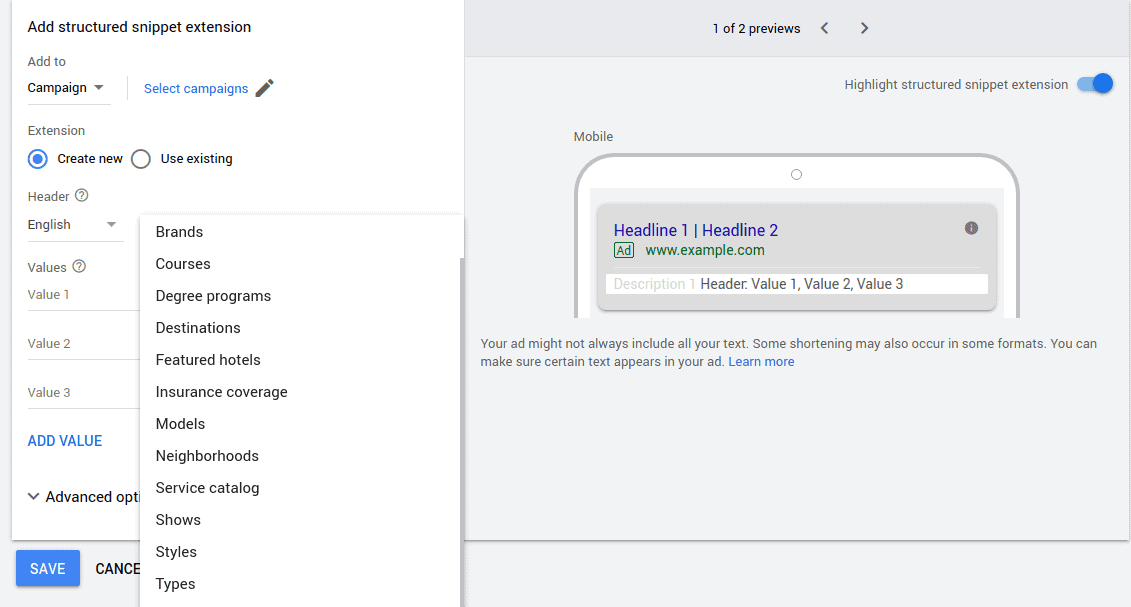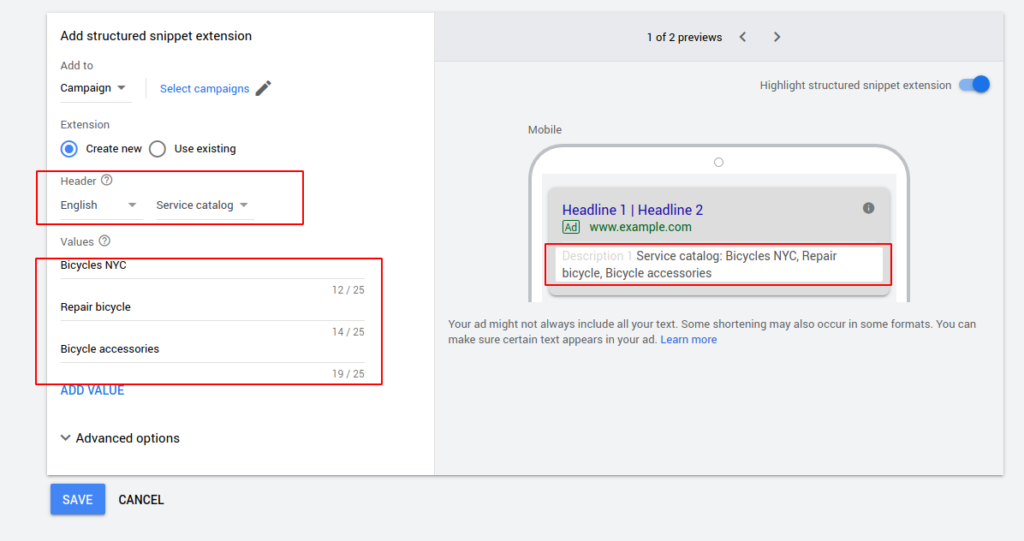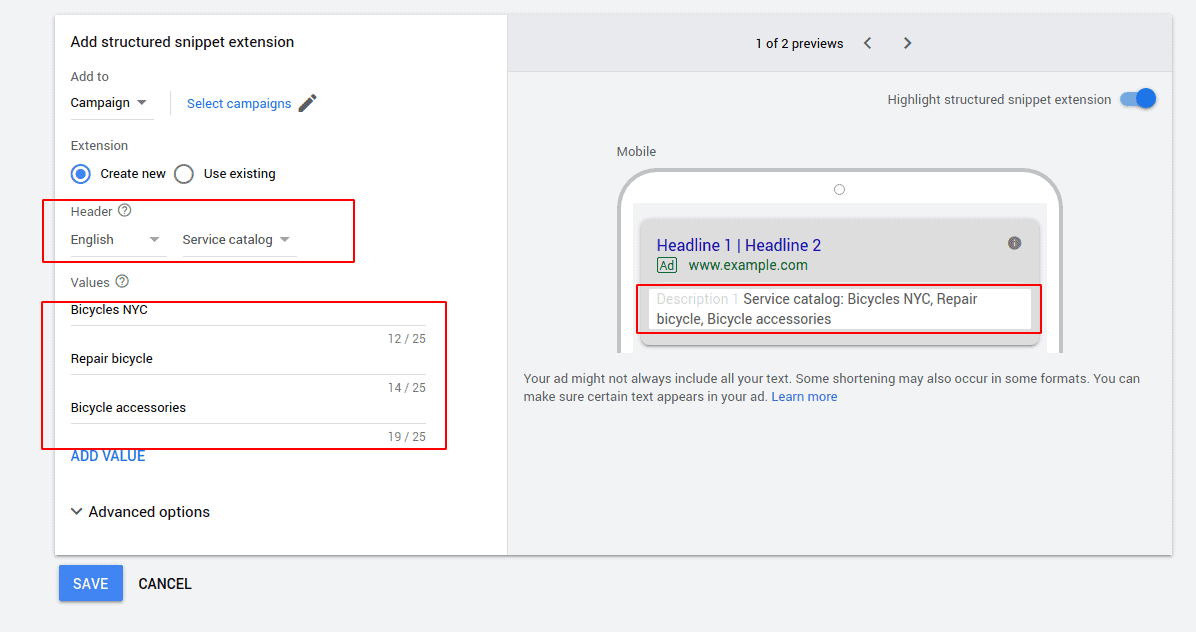 Add an address
The purpose of an address in an ad is to motivate users to visit the store. Such an ad demonstrates the distance to the store and its opening hours.

About Google My Business
Select your Google My Business account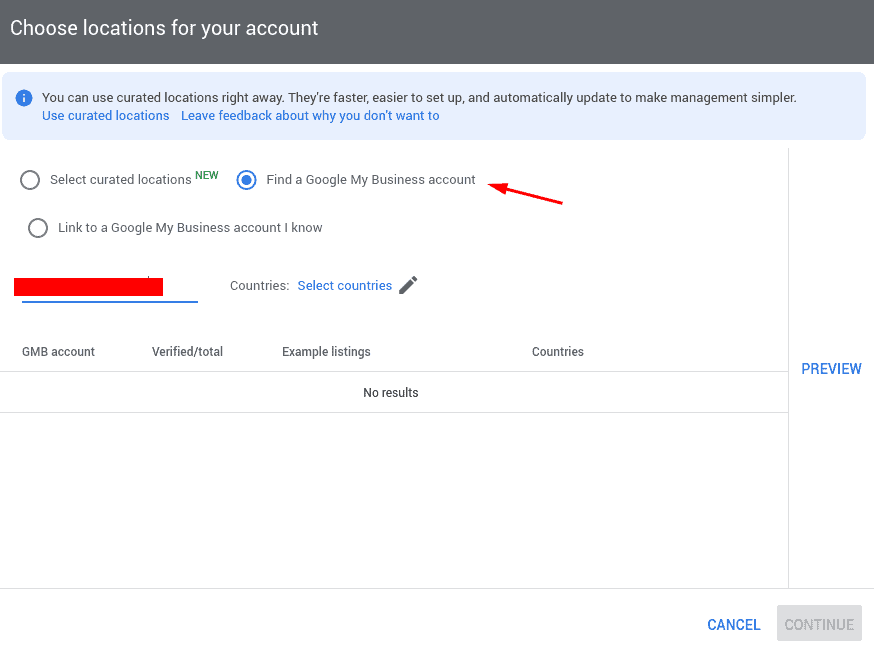 Add prices
Price tags will accompany ads. Therefore, it is suitable for companies with a wide range of products. Besides, this makes it possible to show the most attractive prices in ads.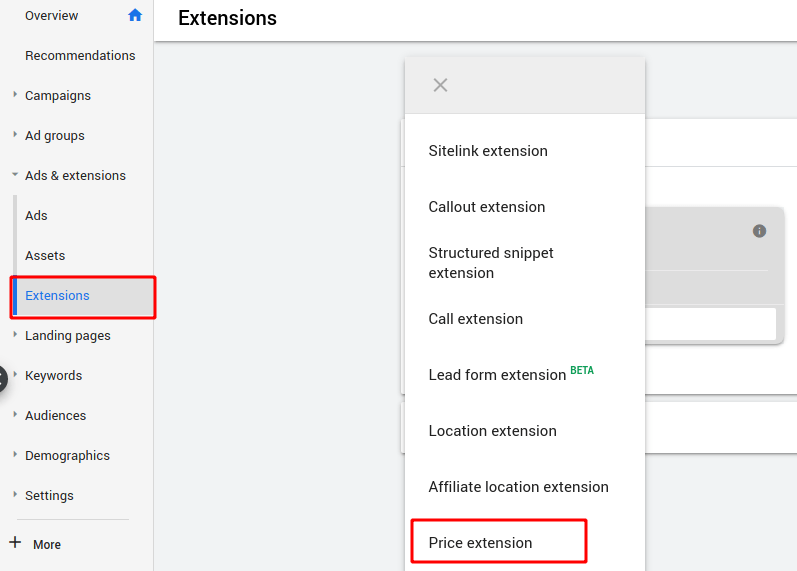 If necessary, select the price classifier "from" and "to," "average price."
Setting up payment data
25) Proceed to setting up payment data.

Indicate the replenishment amount. Change the payment method, select "Add bank card."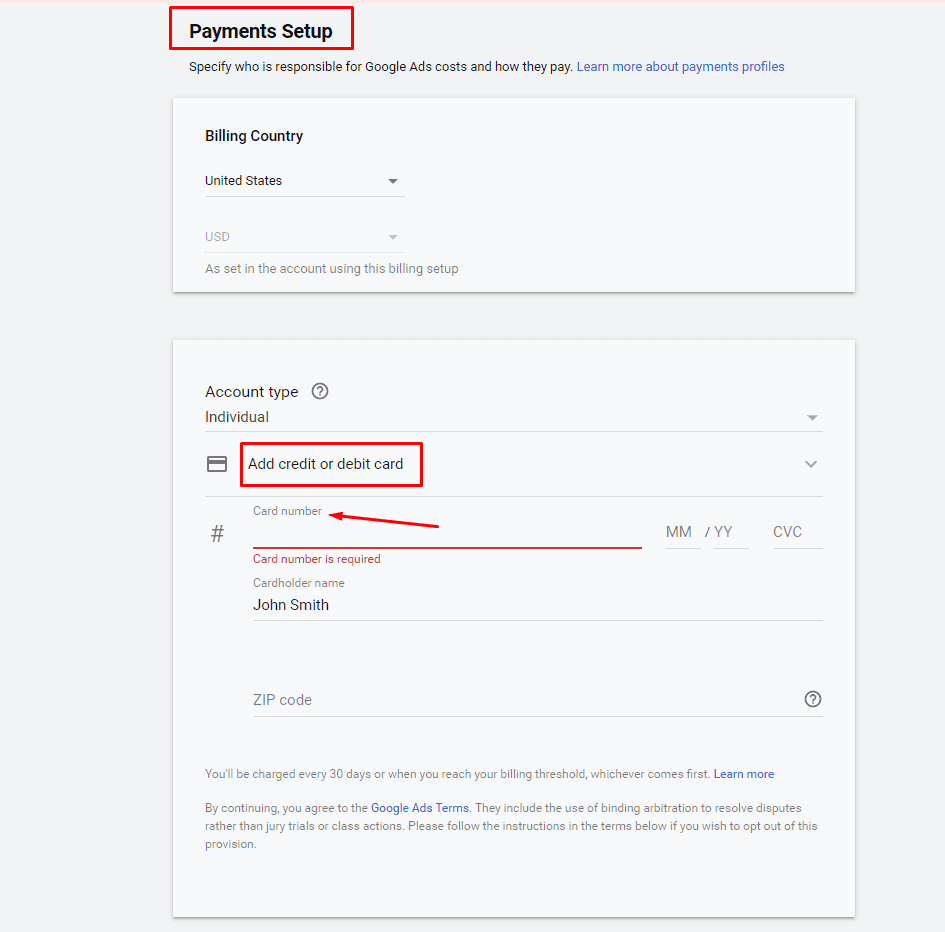 Google Analytics
26) Create Google Analytics account
When you pay per click, you need to analyze user behavior in detail and get statistical data to improve your ads further.
Authorization is executed via a Google account.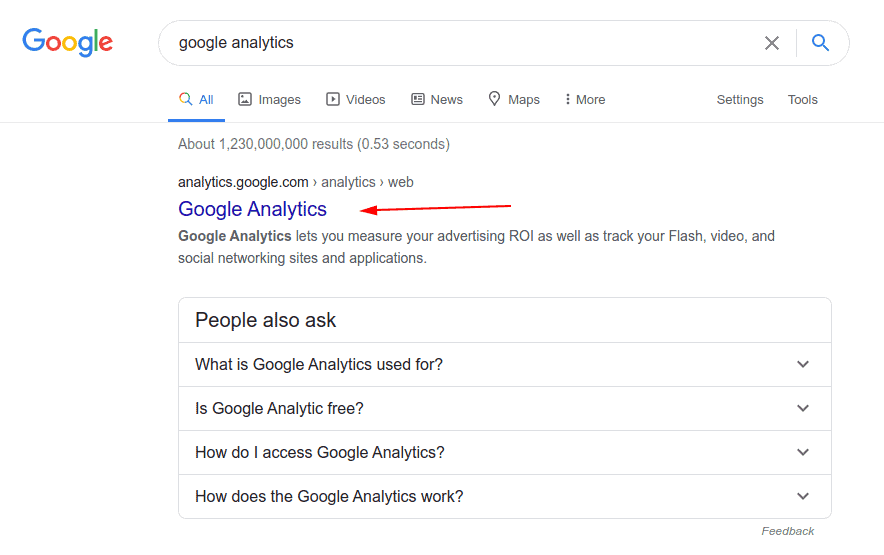 Specify the resource name add the website's URL.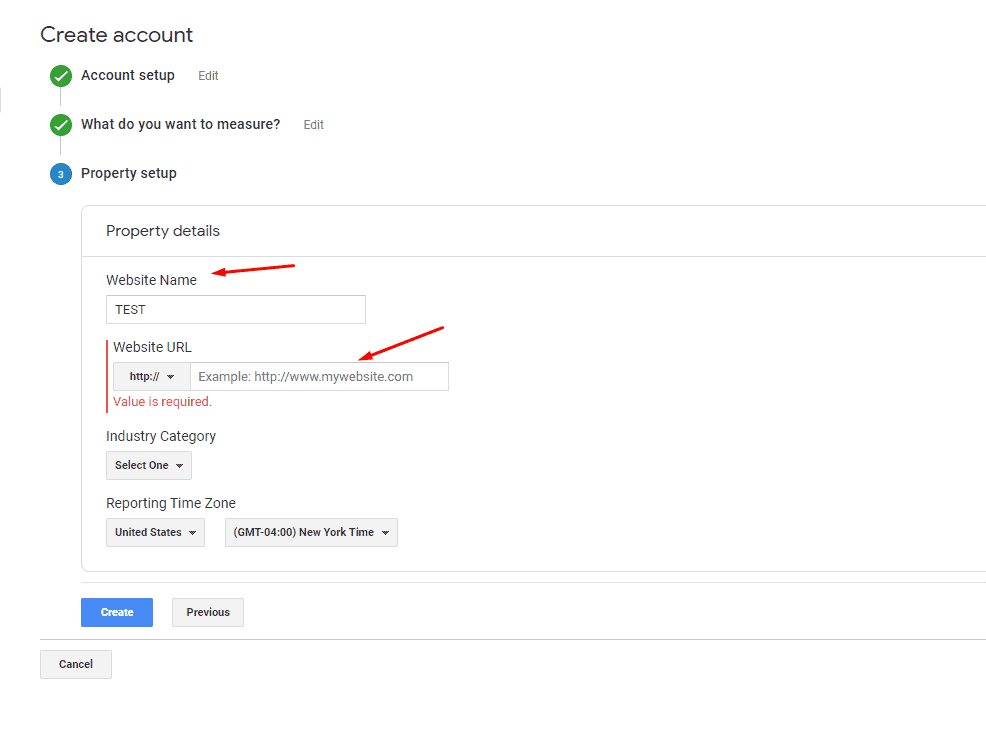 Add the tracking code to a website.
You should install a special tracking code on the website so that Google Analytics records all the site visitors.


Go to the "Administrator" tab and then to the "Tracking Code" sub-item.
27) Link Google Ads and Analytics
It would help if you established a connection between Google Ads and Analytics.
By doing this, you will be able to:
28) In Google Analytics, go to the Admin tab -> Resource -> Link with Google Ads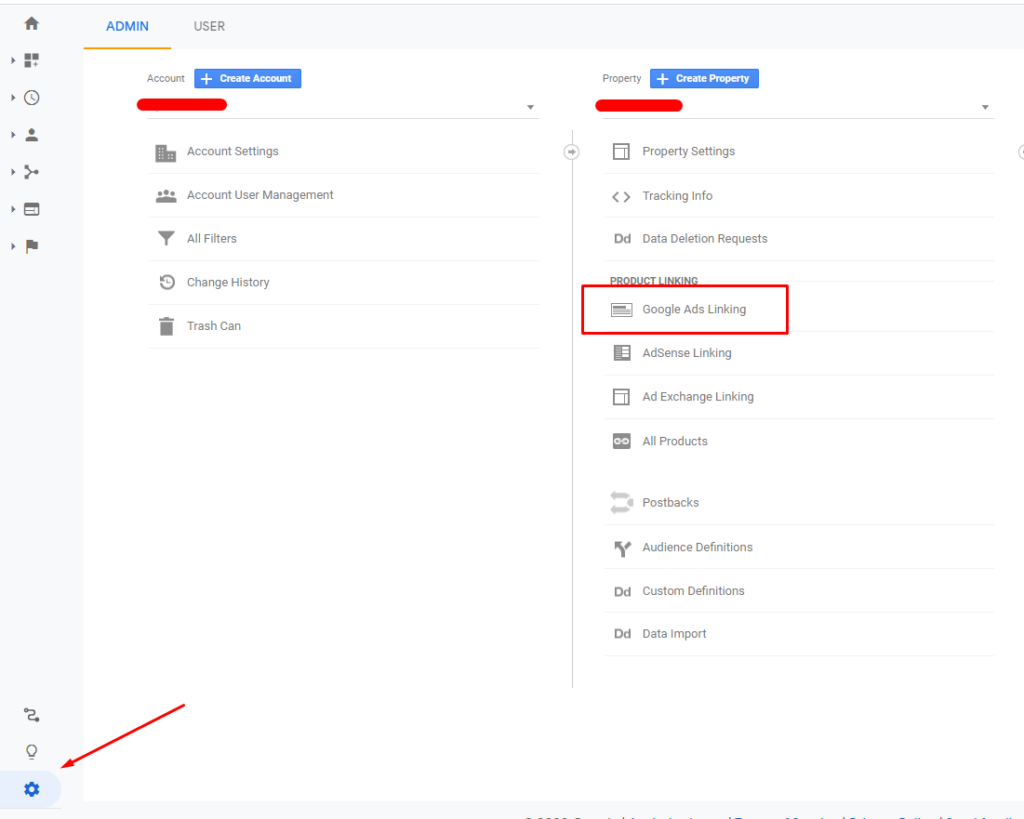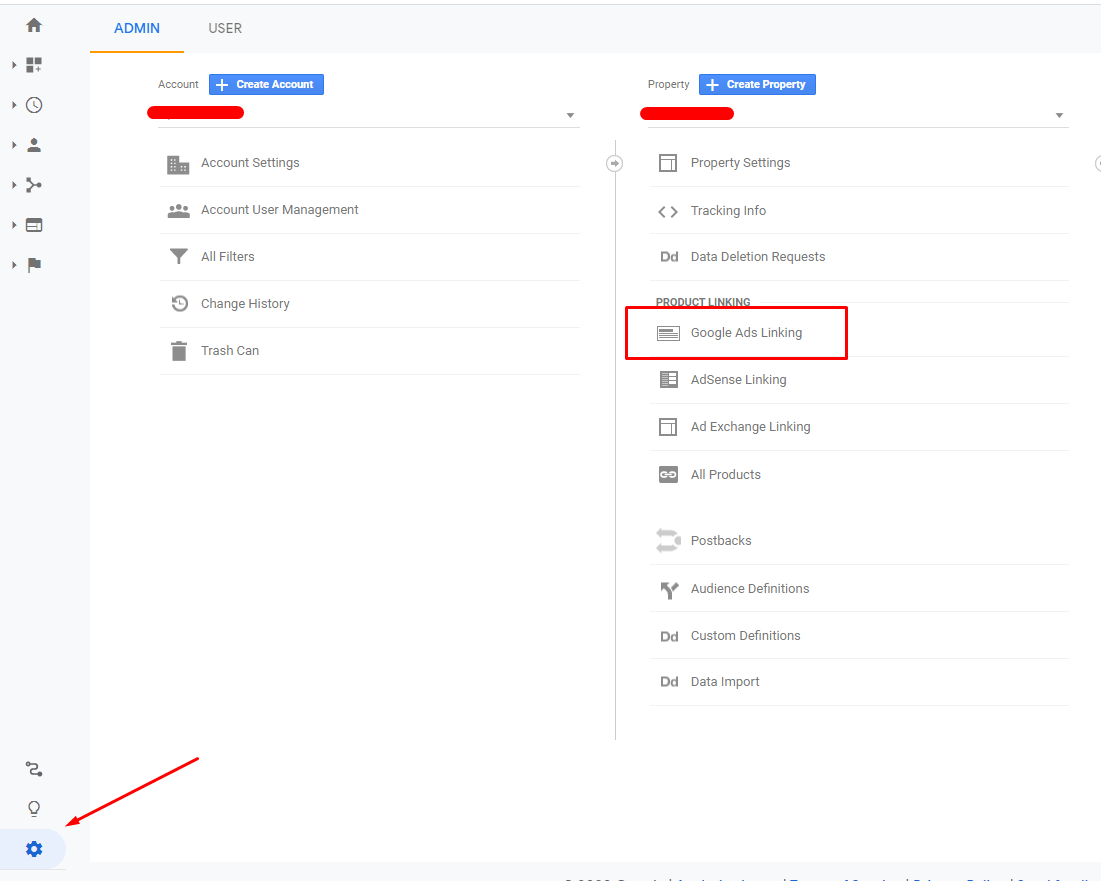 29) Create a new group of linked accounts by selecting your Google Ads account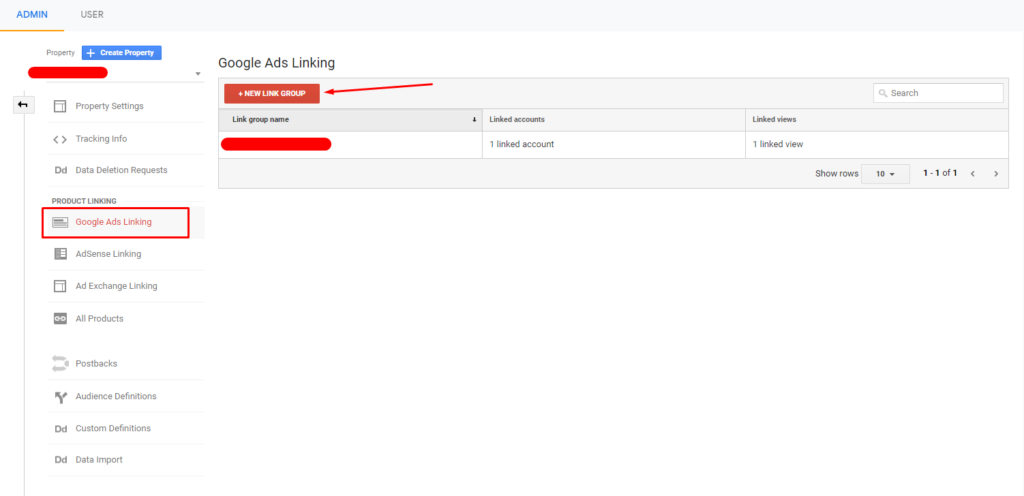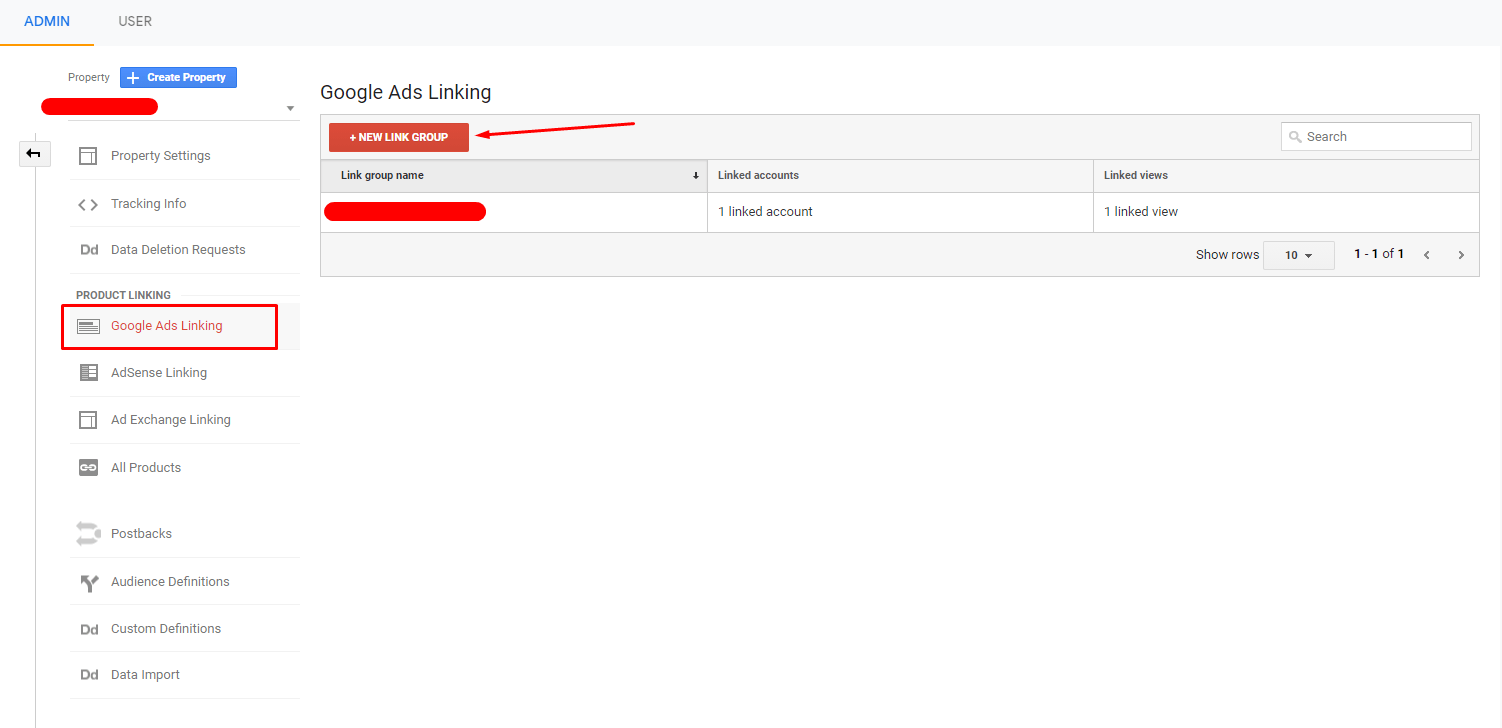 Google Ads Tag
30) To track conversions and create remarketing lists, set up a Google Ad tag in Google Ads account
Go to the Audience Manager: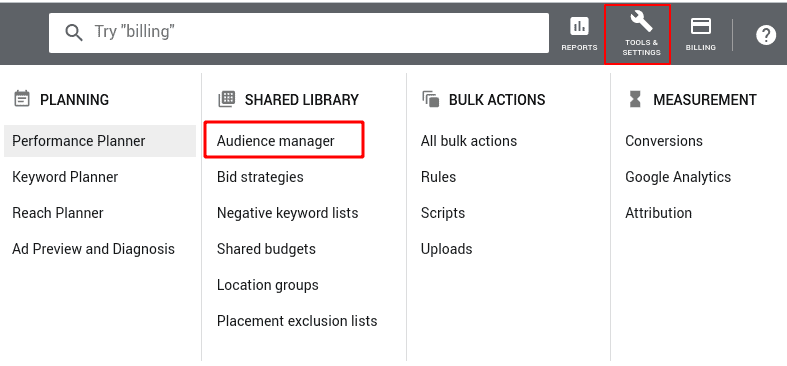 Go to Audience Sources and select to configure the Google Ad tag.


Select the data type collected using the tracking code and transmit it to the account.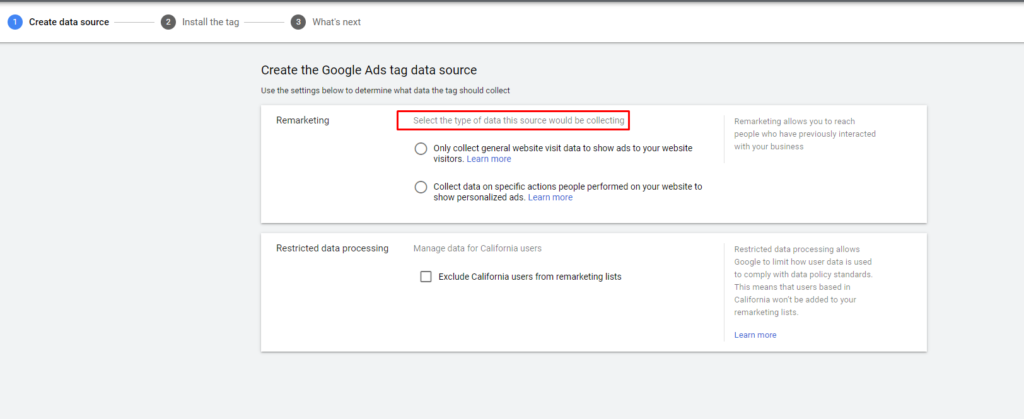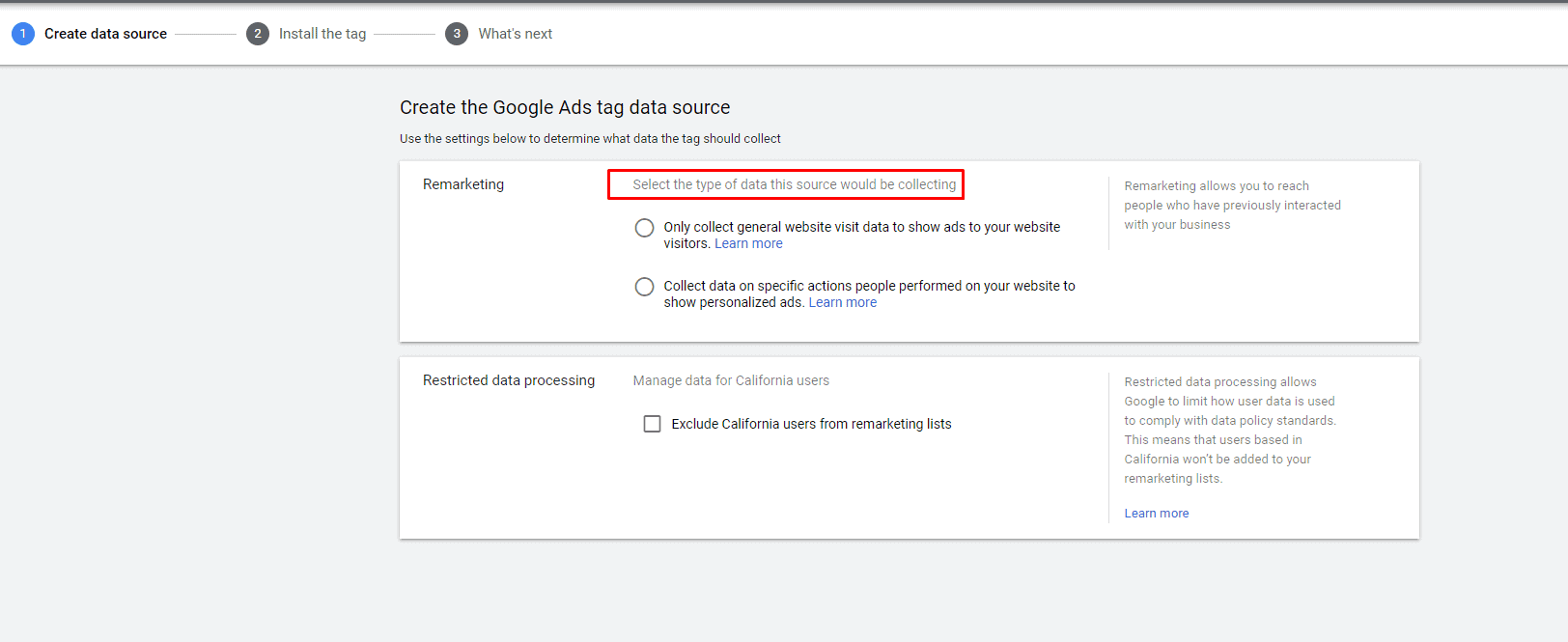 Install the tracking code.

Google Ads is one of the best ways to attract your potential customer and increase traffic and sales, ultimately leading to business growth. However, it should be used wisely, having studied all the settings described and clearly defined the scope of your work. Sometimes, it is better to appeal to experienced specialists to create the most attractive Ads campaign.