Software development lifecycle is an interesting process to watch. It consists of many autonomous steps that, being put together, form a software solution. These steps consist of planning, analysis, design, implementation, testing, and maintenance. As you can probably see, one of these steps belongs to web design. It falls in third place but is initiated earlier. Like QAs, designers are involved in the process starting from the planning stage. This is done to ensure they understand what has to be built and define the ultimate requirements.
So, what do you know about web design services? What is this process like? What makes web design a significant impact on the software product? Find out this and more from Inoxoft's expert talk.
What's a web design and why do we need it?
Web design is the process of building digital websites. This process requires creating a smooth and seamless user experience. What is primarily included in a user experience? The website's appearance, layout, and content.
Website appearance is formed using various colors, fonts, and images to enhance the idea of the web resource;
The layout of a website shows categorized and structured information. So, it answers the main question of "how is this info should be placed on a webpage?";
Content is the information itself that a website transmits. It should be simple, precise, and in the right place.
The main creator of the web design on the website is a web designer. He or she is responsible for analyzing requirements and identifying the goals of a webpage. This process should not be underestimated as it needs organizational skills with regard to content and images on a series of pages, application integration, and numerous other interactive elements.
Why do you need web design? Well, it is sort of a business card for any company. And, the better customers feel using your website the more positive feedback you will get. If the end-users like what they see, use and their overall experience, that means you did a great job. These users will continue using the website and bring you more new leads. Whenever there are leads, there's profit. Your ROI can increase and meet all the expectations as well. But, wait, what can impact your profit in a web design?
10 ways web design can make you rich
In the previous paragraph, we have discussed what is web design and why you need it. Now, it's time to describe ten ways this web design will impact your future business growth. So, keep up reading to know more!
Despite being a creative work that also needs attention to detail, web design can either skyrocket or take down all your possibilities. With the appropriate design you genuinely can:
1. Receive more mobile traffic
In 2021, Statista reported that mobile devices generated 54.8% of the website traffic in the entire world. With these numbers at stake it became essential to adjust websites to mobile devices. At least, certain business growth and an increase in revenue suggested that this was the right direction to pursue. But, there are also some questions to consider before getting mobile traffic. I.e.
Does your business need a mobile-adjusted web page?
Would it be convenient for your users to browse your website via a smartphone?
Approximately 32% of small businesses have developed a mobile app already. About 42% of companies would like to have one in the nearest future. What's more, users are searching for convenience all the way long. E.g. 50% of them would rather use a brand's mobile site to shop via their smartphones. All due to the fact that downloading an app from the app store is time consuming and irritating.
2. Lower costs significantly
With the "right" web design from the start you don't risk to re-do anything in the process. Or, after the first feedback coming your way. To cover end-user needs, companies release a 10-minute surveys to get as many information on consumer needs as possible. And, also, you can:
Make a template of a web design and use it
Use free stock-based images
Create less website pages for users' convenience and easier navigation
Keep the content as simple as possible
You can find even more ways to reduce expenses. One of them requires outsourcing a professional team of web designers. With the right team you can get everything right from the start.
3. Get lower maintenance
Website maintenance is directly based on web design. And, as 94% of user impressions are formed due to the web design, it is important to have your website updated, with responsive functionality, etc.
87% of people search for things they need online. This requires websites to work as perfect as they can to attract potential users. But, GoodFirms claim that 73.1% of web designers say that a non-responsive design makes visitors leave a web page at once. So, with the right web design, all you have to do is to keep up with the latest trends. Give users the best load time. Deloiette has studied the impact of loading web pages and if you want an increase in the conversion rate, your website has to be fast, easy to use, aesthetic, and meet user goals.
4. Make your web pages faster
This is not just a part of a web design, but a front end maintenance as well. So, to optimize your website it is possible to provide:
Fast web hosting
CDNs
Use a clean code
Caching
Minification
Image optimization
And, of course, there are web page design tools to consider. But, every team has their own preferred tools to use. So, ask your team about theirs.
5. Try to lower the websites bounce rate
First impressions count, as we already know. But what can be done to make these as good as possible? Mainly, work harder from the beginning. Areas that need better engagement and more effort include:
Design itself (trends, aesthetics, good visibility)
Usability (navigation, convenience of use, simple content, no errors)
Page load time (the faster the better)
Content has to evoke clicks (CTA format sentences)
Content quality and readability (never use the info that is not reliable)
Relevance (the info should be relevant to the website topic)
Less inconvenient pop-up ads (users are annoyed with ads)
When a consumer accesses the website in search of something, he/she needs to fulfil the goal of this search or he/she will abandon the website and proceed with the search. That's why it is important to set up everything on a web page, make it consistent and seamless to use. Here is when web designer has to work more than ever.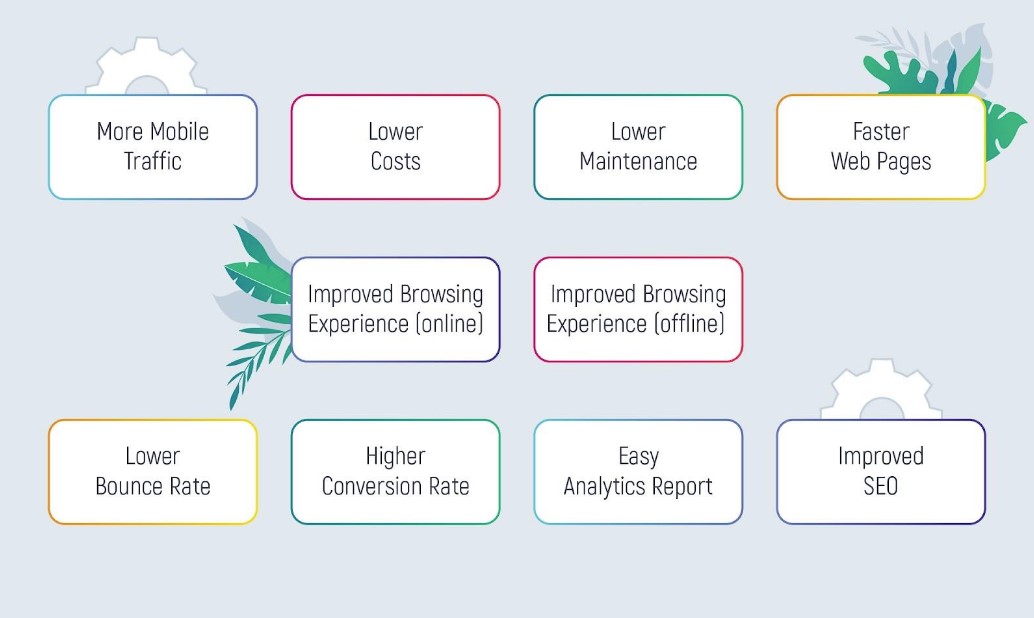 6. Opt for higher conversion rate
According to Stanford university, more than 45% of people say that web design shows company's credibility to the end-users. So,
Have you ever heard about the Hick's Law? It's main rule states that the timeframes of choice are equal to the number of propositions. To boost conversion and lower this time, make less decision-based offers on a web page. Lots of choices on the website creates a larger navigation bar, and more architecture to support its logic. It makes users scatter their attention and forget their main search goal.
Do you know what's the Rule of Thirds? This is a photography division rule. According to it, the four middle intersections on the web pageevoke the main interest of users. Objects placed there are most impactful to the websites image and design.
Do you know that every second a page loads count? The Aberdeen Group study reveals that a 1 second of non-delay can add another 7% of website conversion potential. Sounds great. So, again, work on the functionality and website optimization.
7. Make analytics reports easier
Adjust Google Analytics to do the work. Things to look out for in the report are:
Bounce rate
Exit rate
Conversion rate
User engagement
Site speed
With Google Analytics it is easier to uncover browsing problems and to concentrate on the factors that give low results. But, your concrete company will needs its list of metrics to track.
8. Improve website's SEO
To improve search engine optimization, try to add Google Analytics too each web page. Using keywords and analytics reports it will be easier to find out what your users like on the webpage. Then it might be vital to reduce excessive code lines. Exhaustive code makes web page load harder and does not allow to improve the SEO. Also, it is up to you to make the webpage as unique as possible. Why? For users are eager to see something special and valuable.
Another thing is to use meta description tags and remove repetitive words. Add footer links to every page. What else can you do? Maybe, create a separate page for each keyword or phrase. And, use keyword rich title tags on each page. These tips will let you make a significant boost in website's SEO.
9. Improve website's browsing for online users
First and utmost here is to have a clear and easy to use browsing logic. Users will never get lost if the navigation is smooth. Also, use hyperlinks, bullet points, great CTA headlines, not too many images on one page, catch all the 404s. And, maybe, make a cross-platform solution, so users could access your website on the smaller screen, like mobile. Also, as everything depends on the internet connection, don't forget the speed and image optimization. Here, it is a must.
10. Improve website's browsing for offline users
Use a progressive web application (PWA) technology! User experience will seem like native, but the app will be with a quick loading, reliable and fast web interface. What's about a PWA the other app types don't have? Simple as that. It pre-caches information and uploads it from the cache in case there is no internet connection. Great and super user-friendly.
Conclusion
To conclude, the following ten points can make your web design great. And, as you know, great web designs attract great audiences. The more users like your website's design, the more they tend to visit it and bring friends. This boosts website conversion rate and boosts your business growth. You can be rich if you adhere to these tips and make smart decisions accordingly.