Welcome to the definitive guide on the 16 best customer experience (CX) software tools in 2023! These innovative solutions will elevate your business by:
Among these game-changing tools, Plerdy stands out as a key player in CX website analysis. With its advanced heatmap technology, conversion tracking, and SEO capabilities, Plerdy empowers businesses to fine-tune their customer experience strategies, ensuring a seamless journey for every visitor.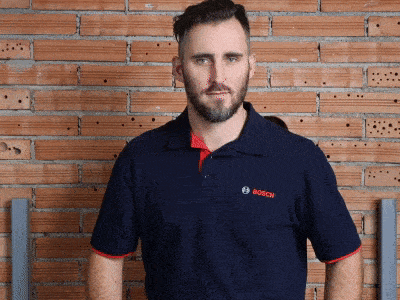 So, buckle up and prepare to unlock the full potential of your customer interactions. Our expertly curated list of CX tools will guide you toward the perfect solution for your unique needs. Don't settle for anything less than the best – explore the leading CX software tools of 2023 and watch your business soar to new heights!
Picking the Perfect CX Tool: A Guide to Success
Boost your customer experience (CX) game by selecting the right software tool tailored to your business needs. These tips will help you streamline the process:
Identify Your Objectives: Clearly outline the goals you want to achieve with a CX tool.
Assess Integration Capabilities: Ensure the software seamlessly integrates with your existing systems.
Analyze Features: Scrutinize the features to guarantee it caters to your unique requirements.
Examine User-Friendliness: Opt for a tool that offers an intuitive interface for hassle-free navigation.
Remember, a top-notch CX tool empowers your team to monitor and elevate customer interactions effortlessly. So, dive in headfirst and harness the power of CX software to propel your business to a new summit!
Customer Experience Tools: Unleashing Their Power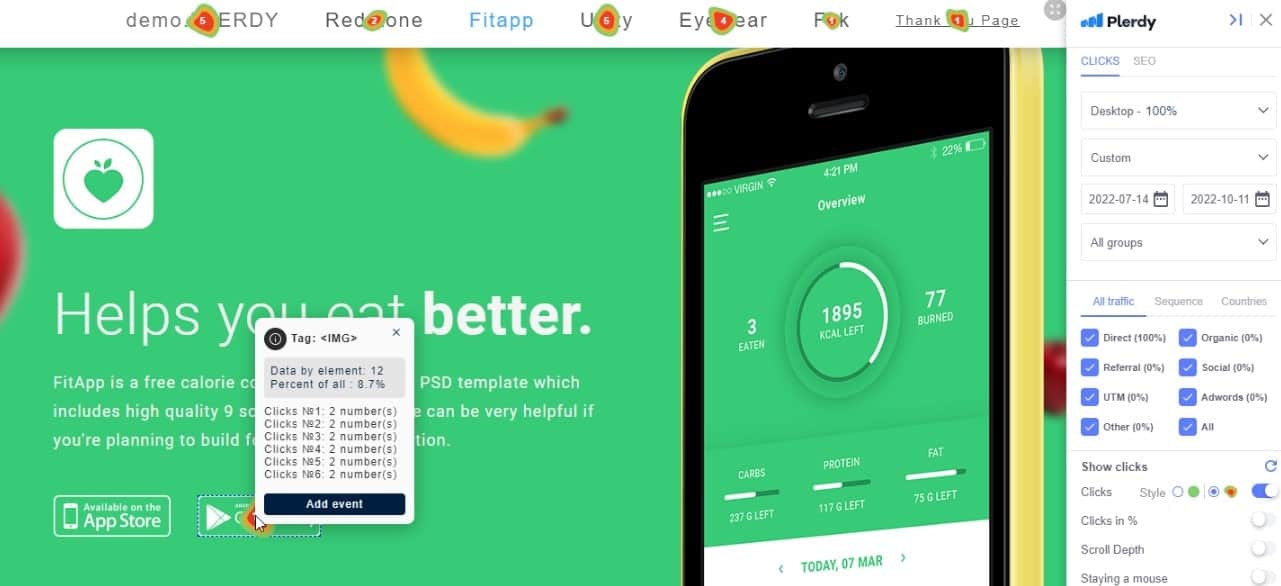 Customer experience (CX) tools are vital in businesses aiming to stay ahead of the curve. They offer a multitude of benefits, streamlining your customer interactions and ensuring satisfaction:
Gathering Feedback: CX software collects invaluable data from various touchpoints, allowing you to understand customer preferences.
Analyzing Data: Advanced analytics provide actionable insights, helping you identify patterns and trends in customer behavior.
Personalizing Interactions: CX tools enable tailored communication, fostering strong customer relationships.
Monitoring Performance: Keep track of key performance indicators (KPIs) to ensure continuous improvement in customer experience.
In a nutshell, CX tools pave the way for an unparalleled customer journey, driving loyalty and boosting your bottom line. So equip your business with the right software and see your customer satisfaction levels skyrocket!
Plerdy: Your Key to a Stellar Customer Experience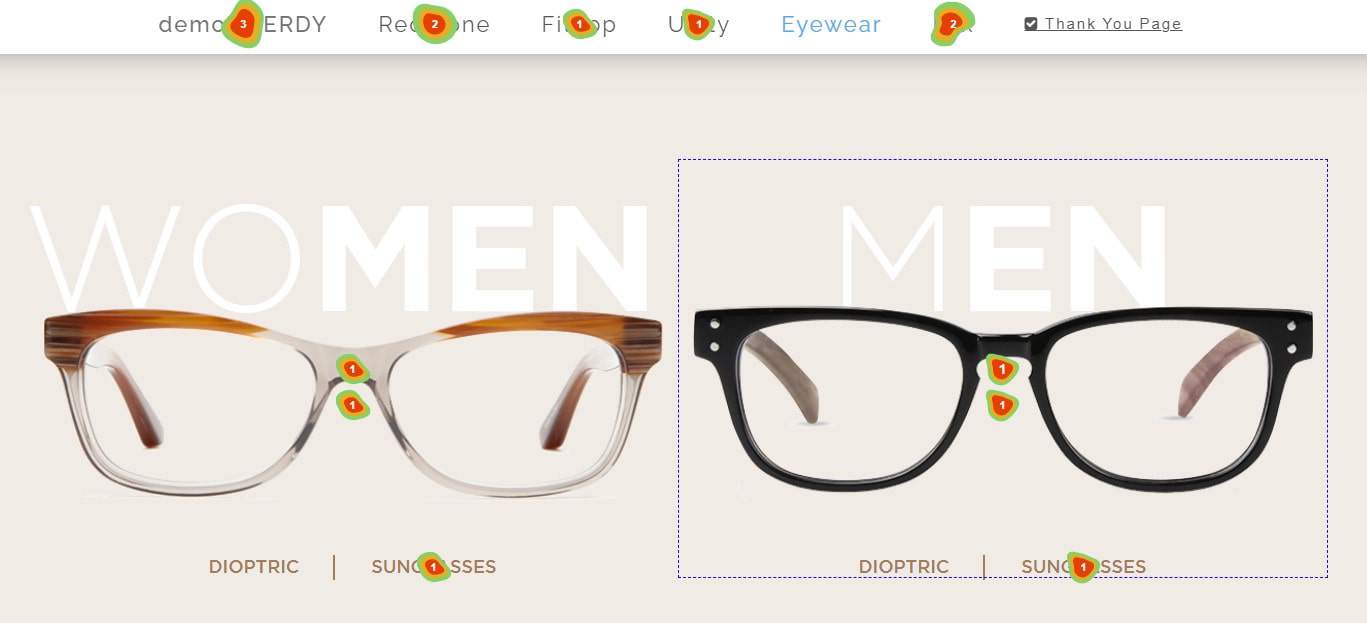 Unlock the potential of your customer experience (CX) strategy with Plerdy, a powerful tool that delivers seamless interactions. By leveraging Plerdy, you'll reap the benefits of the following:
Plerdy's comprehensive feature set empowers businesses to gain a competitive edge by fine-tuning their CX approach. So don't let opportunities slip through the cracks – harness the power of Plerdy and watch your customer satisfaction soar!
See our hand-picked list of the 16 top customer experience (CX) software tools for 2023 to take your company to new heights. Navigate the ever-changing CX landscape with ease and confidence, armed with the most cutting-edge tools in the industry. Discover unparalleled customer engagement opportunities, and leave no stone unturned in your quest for the perfect CX solution.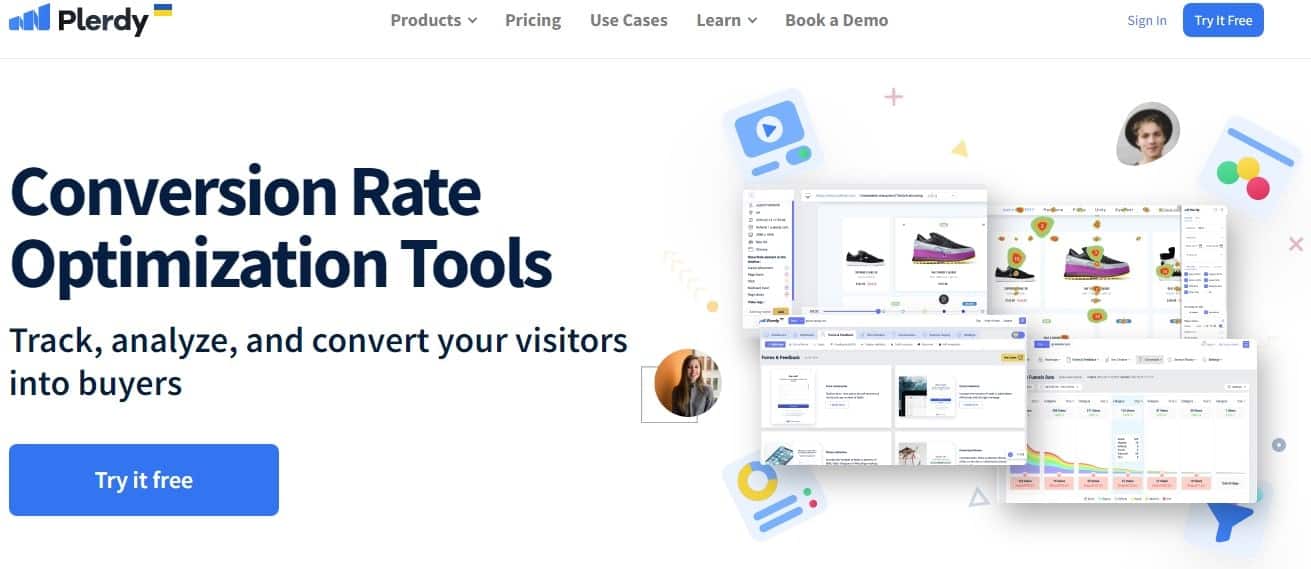 Unleash the power of Plerdy, a cutting-edge suite of conversion rate optimization and customer experience tools that help you transform your visitors into buyers. With Plerdy, you can:
Keep an eye on user behavior with real-time heatmaps, capturing every click on your website.
Stay ahead in the SEO game with continuous monitoring of essential tags.
Dive deep into visitor interactions through session replays.
Streamline event tracking with seamless Google Analytics synchronization.
Create and customize eye-catching pop-up forms with ease.
Track sales performance by assigning purchase information to each site element.
Identify and analyze conversion funnels to optimize user journeys.
Collect invaluable feedback using the Net Promoter Score.
Plerdy is trusted by some of the world's largest enterprises, helping them increase sales by 1.5x. Take advantage of the opportunity to turbocharge your conversions, customer experience and organic traffic with Plerdy's all-in-one UX, CRO, and SEO tools.

Zendesk, a versatile customer experience tool, empowers businesses to deliver top-notch support by combining ticketing, messaging, help center, voice, and AI capabilities. Sunshine, the foundation beneath Zendesk, enables quick configuration with apps, tools, and pre-built capabilities to meet your business needs.
Key features of Zendesk include:
Swift Implementation: Get up and running in just weeks with a highly adaptable platform.
Open and Flexible: Built on open standards and common languages, making it simple to create the perfect support platform for your business.
Customization: Enhance agent productivity with powerful customization, no-code tools, and streamlined workflows.
Integrations: With 1200+ apps in the Zendesk marketplace, connect with partners like Slack, Salesforce, and Hubspot to boost productivity.
Unified Customer View: Integrate your systems to provide personalized customer experiences, offer agents a complete view, and align your business for improved support.
Scalable Security: Sunshine ensures compliance, data security, and privacy, supporting business growth with flexible data hosting models.
Zendesk's versatility, including its Knowledge Base and Community features, helps reduce support inquiries by providing customers with easy access to information. The platform's seamless integration capabilities with popular social media networks and email providers allow real-time customer support, improving customer satisfaction.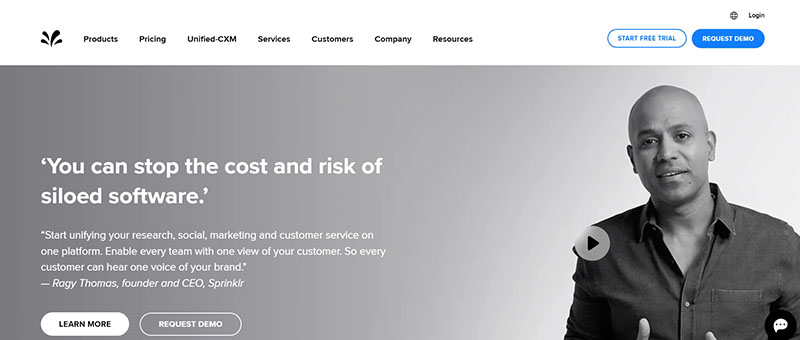 Ditch the hassle of juggling siloed software and level up your customer experience (CX) game with Sprinklr. This all-in-one platform is trusted by 9 out of the top 10 most valuable brands, streamlining research, social, marketing, and customer service with a unified view of your customers. Let your brand speak with one voice as you:
Turn AI-powered listening into a competitive edge.
Leverage real-time customer insights to fuel collaboration and innovation.
Reduce risk and protect your brand with proactive decision-making.
Sprinklr empowers your CX team with industry-leading products like Sprinklr Insights, Sprinklr Service, Sprinklr Marketing, and Sprinklr Social, all integrated seamlessly on the only Unified-CXM platform. So say goodbye to point solution chaos and embrace the future of customer experience management with Sprinklr.

Experience cutting-edge customer experience tools with Adobe Experience Cloud, the powerhouse combo that supercharges your content and digital asset management. Here's what sets it apart:
Content Management System: Adobe Experience Manager Sites ensures personalized and consistent content for every customer, automating the scaling process across all channels.
Digital Asset Management: With Adobe Experience Manager Assets, you'll find, adapt, and deliver your assets faster, thanks to automation and smart tools.
Digital Enrollment and Forms: Adobe Experience Manager Forms creates responsive forms for a seamless customer journey, from acquisition to retention.
Cloud Service: Eliminate costly upgrades by utilizing Adobe's cloud-native enterprise-grade content management system, offering optimal performance and security.
Learning Manager: Adobe Learning Manager enables customer engagement, increased sales, partner training, and employee skill development.
Digital Guides: Efficiently scale content creation, manage it effectively, and publish faster with Adobe's cloud-native component content management system (CCMS).

Elevate your customer experience game with HubSpot Service Hub™, a comprehensive customer service software designed to meet the growing demands of modern customers. This robust platform brings the following benefits:
Unified Customer Service Data: Keep all your customer service channels and data on one CRM platform, making managing and delighting customers throughout their journey easier.
Deepen Customer Relationships: Utilize tools like Customer Portal, Knowledge Base, and Omni-Channel Messaging to provide personalized, 24/7 support that empowers customers and resolves issues faster.
Efficient Team Coordination: Streamline your support team's efforts with inbound calling, live chat, and VoIP calling, all integrated within the HubSpot platform.
Scalability: Start with free tools and upgrade as you grow, or choose from premium editions tailored to your business needs.
Service Hub™ is trusted by reputable brands such as GoFundMe Charity, LegalZoom, Kahoot, Rakuten Advertising, Ocean Spray, SoundCloud, and Reseller Ratings. Don't miss the opportunity to improve your customer service management and provide exceptional experiences with HubSpot Service Hub™.

Introducing Clarabridge, the gold standard in customer experience management, now with the world's most powerful conversational analytics. With its acquisition by Qualtrics, the XM platform takes understanding customer emotions, efforts, and intents to new heights. Key features include:
Real-time insights from iQ™ and conversational analytics help you understand everything happening and why.
150+ industry-specific natural language understanding (NLU) models for detecting emotion, intent, and effort.
Automated actions to improve customer experiences at scale through xFlow.
Hyper-personalized experiences with enriched Experience ID profiles for customers and employees.
By using Clarabridge, you can:
Identify emotions and sentiments in text support to better serve customers.
Monitor effort and emotion intensity in product reviews, triggering targeted actions such as a Hubspot nurture campaign.
Integrate support chat to understand customer interactions, emotions, and intensity, allowing for tailored solutions.
Leverage conversational analytics to drive revenue, reduce churn, and identify product issues early.
Discover the power of Clarabridge and transform your customer experience today.

Contentsquare: Your Secret Weapon for a Stellar Customer Experience
A cutting-edge customer experience tool that offers real-time insights to drive growth and customer happiness. Contentsquare empowers your team with the following:
Actionable data: Uncover UX issues before they cost you revenue, and prioritize what matters most for your online customers.
Automated insights: Get a smarter to-do list with Contentsquare's automatic surfacing of opportunities and issues.
Easy-to-understand metrics: Visual reporting makes it simple to grasp how customers interact with your site or app.
Some noteworthy features include:
CS Find & Fix: Locate errors before they hurt your bottom line.
AI Insights: Be aware of an anomaly, issue, or opportunity with powerful artificial intelligence technologies.
Cookieless analytics: Provide an accessible, secure, and private experience for your customers.
Join over 850 brands that have harnessed Contentsquare's capabilities to optimize their digital experience. With real-time data, in-depth analytics, and an intuitive interface, Contentsquare is the ultimate solution for delivering a more human experience to your customers.

Elevate your customer experience with Gemius Prism – the ultimate data-driven tool for enhancing user interaction with digital products. This powerful tool empowers businesses to:
Attract the most valuable users by optimizing campaigns, SEO/SEM efforts, social media presence, and affiliate partnerships.
Optimize your product with informed decisions based on user behavior and its impact on your bottom line.
Engage users by developing your product using behavioral data to ensure satisfaction and repeat visits.
A few standout features of Gemius Prism include:
In-depth analytics for optimizing campaigns and managing your product
Insightful applications to increase revenues and lower costs
Device parameter data for tailoring the user experience
Support for A/B or multivariate testing with bounce and conversion measurements
As a trusted partner since 1999, Gemius boasts an impressive portfolio of 30+ markets, 2500+ satisfied customers, and 450,000+ measured websites. So make every interaction count – choose Gemius Prism for a seamless customer experience.

Unleash the power of exceptional customer experiences with Genesys, a cutting-edge platform designed to elevate satisfaction, boost employee retention, and drive better business outcomes. Genesys is a game-changer for organizations of all sizes, providing:
AI-powered personalization, optimizing every interaction across multiple channels
Tailored solutions for enterprise, small business, and midsize business needs
Significant performance improvements, such as a 400% increase in digital sales and a 25% boost in agent productivity
Quick ROI, with some customers achieving 100% ROI in under three months
Genesys offers an extensive range of features, including:
Industry-leading security, deployment options, and communication channels
Seamless digital channels and remote work options for growing businesses
Scalable CX solutions for midsize businesses with diverse demands
Join the ranks of the best brands relying on Genesys for customer experience needs. With this innovative platform, you can connect with customers empathetically, deliver amazing experiences, and drive true ROI.

Introducing Medallia, the #1 Enterprise Experience Platform, designed to give you mission-critical insights and drive impactful action. Top brands around the globe trust Medallia for its comprehensive approach to customer experience. Here's what makes Medallia stand out:
A 360-degree customer view: Medallia integrates social media, transcripts, speech analytics, ticketing systems, and digital behavior to provide a rich understanding of your customers.
AI-powered insights: Medallia's AI and machine-learning engine are tailor-made for experience data, enabling you to analyze structured and unstructured data, uncover priorities, and predict customer behavior.
Real-time employee mobilization: Influence customer experiences as they happen by providing real-time insights to the right people in your organization.
Additionally, Medallia offers:
Seamless integrations: Unlock flexibility with integrations for common systems, robust APIs, and ETLs, allowing you to work how you want, take action, and transform experiences.
Industry recognition: Medallia was named a leader in The Forrester Wave™ for People-Oriented Text Analytics Platforms and Journey Orchestration Platforms in Q2 2022.
Simple pricing: Medallia's Experience Data Record pricing model encourages the democratization of insights across the organization without penalizing you for collecting more data.

Improve your customer experience with Oracle Maxymiser Testing and Optimization, a cutting-edge tool to enhance the website and mobile app performance. Oracle Maxymiser boosts B2C and B2B marketing campaigns by leveraging advanced testing techniques and real-time personalization. Key features include:
Testing and targeting: Run A/B or complex, multipage funnel testing easily, thanks to seamless collaboration between nontechnical and technical users.
Data-driven insights: Oracle Infinity Behavioral Intelligence-powered Heatmaps provide valuable insights into customer behavior, helping you target your audience more effectively.
Real-time personalization and recommendations: Create tailored experiences based on data from in-session activity, CRM, and DMPs, increasing customer engagement and reducing bounce rates.
Mobile app optimization: Oracle Maxymiser's intuitive visual editor enables you to build and deliver tests across various platforms, ensuring a consistent and engaging customer experience.
With Oracle Maxymiser, you can transform your marketing strategy and accelerate positive business outcomes using actionable, data-driven insights. Optimize your digital experience and drive revenue with this powerful customer experience tool.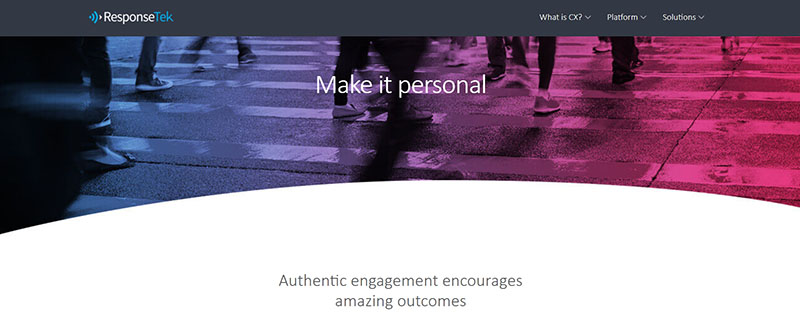 Elevate your customer experience with Responsetek, the cloud-based CX Intelligence tool that caters to your every need. This powerhouse offers four core modules to help you listen, learn, act, and engage:
Listen: Capture customer feedback at every touchpoint, regardless of device or language. Benefit from up to 48% survey response rates with quick, personalized surveys, and utilize advanced text analytics and sentiment analysis for a comprehensive view of your customer experience.
Learn: Harness real-time analytics and insights to optimize customer experiences and make data-driven decisions. Discover trends, and delve into reports, dashboards, and scorecards to put customer feedback front and center.
Act: Boost brand loyalty with performance management tools and integrated action management. Empower employees to exceed expectations and foster a customer-centric culture with direct access to customer feedback.
Engage: Forge long-lasting relationships with your customers through continuous two-way dialogue. Save at-risk customers and reward loyalty with highly personalized targeting.
The risk-free SpringBoard option lets you implement a best-practice Voice of the Customer program in 7 days! With a personal success manager and ongoing support, you'll be on the fast track to success. So dive into the Responsetek experience and watch your business thrive!

NICE Satmetrix is an all-in-one Voice of the Customer (VOC) solution that drives performance outcomes from the contact center and beyond. As a leader in the 2021 SPARK Matrix™ for Voice of the Customer, it offers a dynamic omnichannel experience, utilizing AI and analytics to optimize customer interactions. Here's how NICE Satmetrix can help:
Uncover Blind Spots: With AI-infused feedback, NICE Satmetrix helps prevent customer churn and expands the reach of closed-loop efforts.
Elevate Your VOC Strategy: Empower customer service to act on feedback, prevent churn, and reduce repeat calls.
Personalize Service with Text and Speech Analytics: Enhance service through sentiment analysis, providing conversation context.
Boost Customer Satisfaction: Combine direct, indirect, and operational feedback to improve agent performance and eliminate friction.
Key features of NICE Satmetrix include:
Comprehensive VOC feedback analysis
AI and analytics applied to customer interactions
Real-time agent workflow optimization
Seamless integration with customer success stories
Companies seeking a competitive advantage in customer experience should consider NICE Satmetrix as a powerful tool to accelerate actions that optimize outcomes across their business.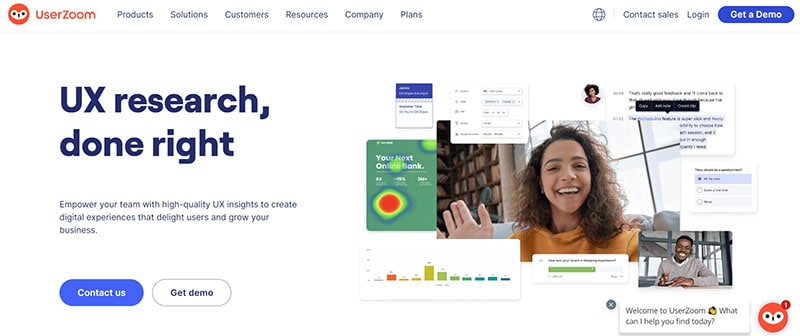 Introducing UserZoom, the game-changing customer experience that empowers your team to deliver outstanding digital experiences. As the world's first UX Insights System, UserZoom offers:
Mixed-method research for accurate and actionable insights
Fast and flexible access to over 120 million vetted participants
Measurement tools to demonstrate UX impact over time or against competitors
Expert global UX research consultancy support
The customer experience tool features multi-method testing options, global scale insights, and industry-leading security. Key benefits include:
Streamlined participant recruitment for usability studies
Quick decision-making with automated reporting
Easy access to qualitative and quantitative data on user behavior
Trusted by over 2,000 digital innovators worldwide, UserZoom is your go-to solution for creating exceptional user experiences that drive measurable ROI. With its comprehensive features and unparalleled support, UserZoom takes your UX research practice to new heights. So don't miss the opportunity to elevate your digital experiences – UserZoom has your back!
Elevate your customer experience with Netomi, the market leader in AI-first customer experiences. Netomi offers a versatile suite of tools that supercharge your support team, including:
Conversational AI: Resolve 80% of routine inquiries, decrease resolution time, and boost customer satisfaction.
Omnichannel support: Integrate seamlessly across email, chat, messaging, voice, and SMS.
Contextual goal-driven deep learning: Train AI with unique customer intents and sentiments for higher CSAT.
Auto-pilot and co-pilot modes: Choose between fully automatic AI agents or AI-assisted human agents.
End-to-end deep conversational channel integration: Sync effortlessly with customer communications software and backend business systems.
Proactive intelligence and predictive emotional sentiment: Foster engagement, drive revenue, and address issues before they occur.
Experience the Netomi difference with these impressive stats:
5X boost in a support team capacity
90% ticket resolution rate
100+ languages supported
Don't miss the opportunity to transform your customer support operations and elevate your brand.

Discover the power of Delighted, a top-notch experience management platform designed to collect and analyze invaluable customer, employee, and product feedback. Get up and running in a snap, with no technical expertise required. With Delighted, you can:
Choose from 8 ready-made survey templates and five survey delivery methods
Effortlessly customize surveys to match your brand
Personalize survey questions for recipients
Enjoy a quick and simple survey setup across multiple devices and channels
Dive deeper into feedback with additional questions
Delighted offers numerous CX benefits:
Real-time dashboard for instant feedback analysis
Automated surveying to keep response rates high
Multi-language support to accommodate a global audience
Over-surveying prevention to protect your brand
Seamlessly integrate with platforms like Slack, Shopify, and Salesforce. Enhance your customer experience and drive growth with Delighted's powerful suite of tools. Don't miss out on the chance to gather actionable insights for your business.
Conclusions: Elevating Your CX Game with the Best Tools of 2023
You've reached the end of our comprehensive coverage, covering the cream of the crop regarding customer experience (CX) software tools in 2023.
You should now know how tools can improve customer interactions. With a solid plan and the correct tools, you can delight customers (CX).
In this article, we've shared our verdict on the best CX tools in the market, including Freshdesk, Hotjar, Intercom, Userpilot, and many more. Each tool has unique strengths and capabilities, catering to retail, education, healthcare, and commerce industries. We've also highlighted the value of Plerdy, a powerful tool that provides in-depth website analysis to maximize your customer experience.
Now that you're armed with this knowledge, it's time to take action and focus on what matters most – your CX on the website. Don't let this valuable information gather dust – put it to good use and watch your business thrive! Ready to get started? Give Plerdy a try today and join the ranks of successful businesses that've taken their CX to the next level. 🚀💡