Do you want to know what your website visitors are doing behind closed doors? Do you want to know where they came from and which pages they visited? There is no need to look any further! We scoured the web and compiled a list of the top 21 web analytics tools for you to choose from. This list has something for everyone, whether you're just starting out or a seasoned pro. So grab a cup of coffee ☕ and settle in as we delve into the world of web analytics to discover what secrets your website has been hiding from you.
What are web analytics tools?
Any business that wants to be successful needs to understand and use analytics data in the right way. Web analytics allows experts to gather information and draw conclusions about how well decisions work.
Based on the analysis, hypotheses for further progress are developed. Marketing strategies are based on web analytics recommendations and metrics. What online analytics tools are there? Further, regarding the indisputable advantages of web analytics:
Using web analytics, you can search and assess weaknesses in marketing campaigns.
Web analytics tools make it easier to track bounce rates.
Professionals can measure the online traffic of a website.
Web analytical tools enable you to search for and capitalize on the product's target audience.
Web analytics makes it easy to optimize conversion rates.
Web analytics allows you to track ways to achieve business goals.
Online analytics tools improve PPC and social media advertising results.
The use of web analytics helps the site become better and more attractive. By analyzing the collected data, marketers recognize which types of advertising campaigns bring the most profit to the enterprise.
List of 6 Web Analytics Tools
Web analytics is crucial to understanding and improving a website in general. Many web analytics tools are available, each with unique features, capabilities, and benefits. This list will look at some of the most popular web analytics tools on the market and the opportunities that set them apart.
Plerdy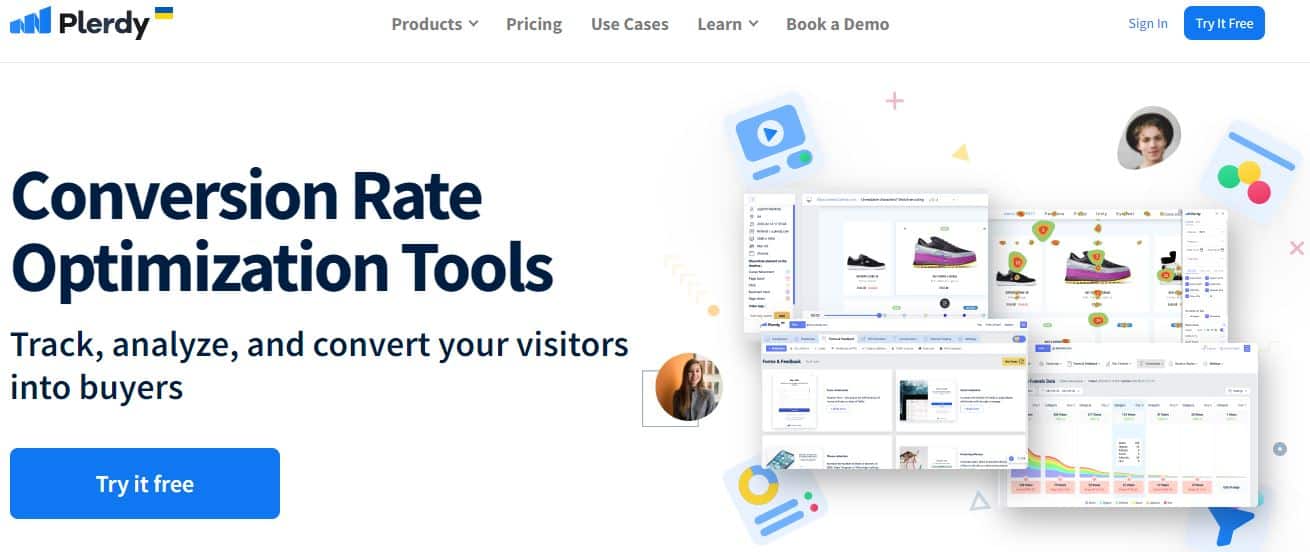 To create a working hypothesis, you need to have as much data as possible. Plerdy tools are great for collecting and analyzing the required web metrics.
According to G2.com, Plerdy's web analytics tool helped a website named "The Tech Academy" to increase their conversion rates by providing detailed information about user behavior on the site. The CEO of The Tech Academy, Jack Stanley, stated that Plerdy was "an essential tool" for their website's success.
The exact numbers help to influence the strengthening of the site's position. Plerdy is one of the best web analytics tools that will increase the amount of data for web marketers.

This Google service is a popular data collection tool. Analytics reports help professionals in a wide variety of niches.
Google Analytics works great with other products of the company and has several variations.
Google Analytics is a free service with many restrictions. The specialist only has 20 indicators available, and the data update time varies from 24 to 48 hours.
Analytics 360 is an individual paid subscription service. It provides access to 200 indicators, and the update time is 4 hours. This service has no restrictions on the amount of data.
Google Analytics cannot provide all the details needed to create a coherent picture. This is why marketers often resort to third-party products.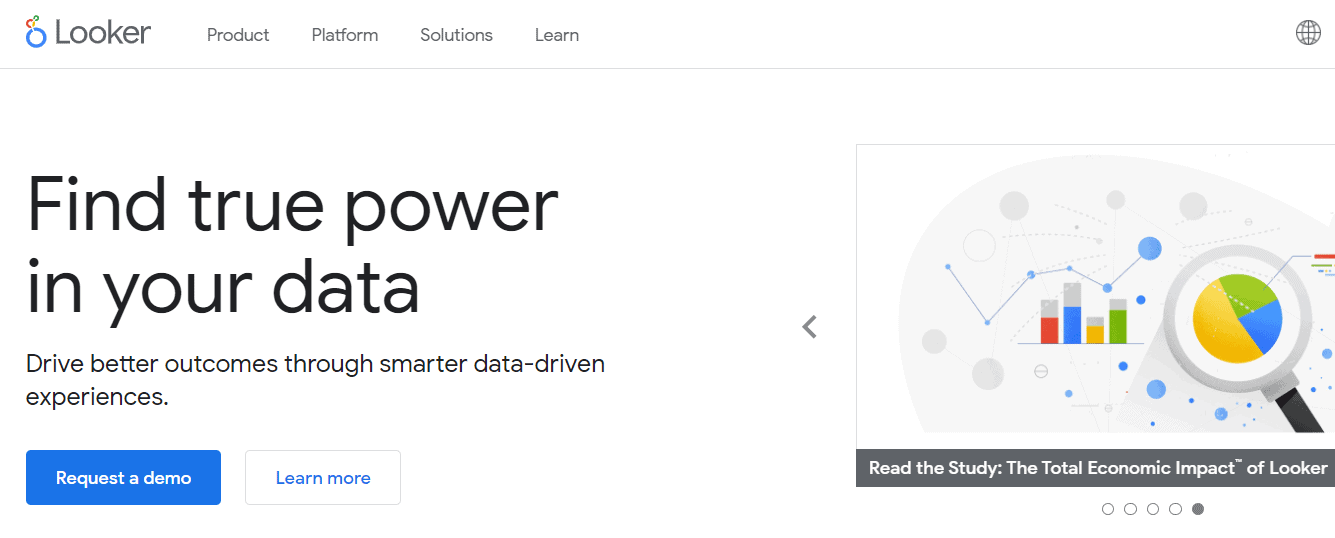 Web analytics tool Looker business intelligence platform is popular among marketers. It allows you to connect the most popular databases and integrates comfortably with various products, making it a versatile tool.
The demo version is free.
Access to service tools on an ongoing basis upon request for cost on the Looker website.
Most users appreciate the large number of indicators and the ease with which data can be collected. At the same time, marketers chastise Looker for having to request the cost. This is perplexing for specialists who have not yet used the platform.
Looker's clients include Twilio, Avant, and Moderna.

This is one of the best analyzers on the market. The data provided to them allows specialists to make changes to the product and implement new solutions.
Amplitude Analytics offers three different packages:
Starter – a free package to get started. There are no limits on data storage. With the basic analytics package, you can track up to 10 million actions per month.
Growth – almost all features are free, including behavioral response analysis, predictive analytics, and an advanced toolkit for professionals.
Enterprise – access to all service metrics: data monitoring, automatic analytics, and advanced management.
Please get in touch with the sales department for the costs of the Growth and Enterprise packages.
Web analytics tool Amplitude Analytics' clients include Walmart, Ford, and Atlassian.

One of the main benefits of this analyzer is the ability to track mobile traffic in multiple applications at the same time. It enables the identification and visualization of trends by segment, the automatic collection of data, and the tracking of customer movement through workflows.
Pendo provides package specialists. Contact Pendo representatives or the sales department to purchase paid packages. Experts highlight the effectiveness of analytics as well as the accuracy of the data collected.
Pendo's clients include OpenTable, ADB, and Zendesk.

Mixpanel helps you understand how users use your product, where they go, and which target audience segments are best retained.
Three cases are offered for work:
Free – free package for beginners.
Growth – from $25 per month to get the most of your data.
Enterprise – full package. Contact the marketing department for a quote.
Mixpanel is a web analytics tool that helps companies track user engagement and behavior on their websites and mobile apps. It provides real-time data, user segmentation, and funnels to help companies understand how their customers interact with their websites or online stores. Mixpanel has a wide range of case studies across industries, including e-commerce, gaming, and SaaS. The CEO of Mixpanel is Suhail Doshi. Among the well-known companies that use Mixpanel are Uber, Shopify, and Instacart.

The platform does not use cookies or require code injection. You can increase your website conversions, optimize your marketing, and measure your progress.
Provides a choice of 4 packages depending on your needs:
Free Forever – baseline data and limits of 1000 page views per month.
Startup to 10,000 pages per month, data history for the last 6 months is available. The price is $25.
Accelerate – Provides a history of user actions, up to 100,000 tracked page views over the past year. The price is $59 for one domain.
Boost – access to all features. The threshold for tracked page views is 350,000. The price is $249.
Marketers note that the platform is more effective than Google Analytics. HockeyStack's clients include Nightingale, FormulaDesk, Heroes of Digital.

Collects data from various sources for further study – the analyzer works with the most popular data storage platforms.
It offers clients three different packages:
Studio – starter package, free.
Business – designed for experienced marketers. Please get in touch with Mode representatives to obtain.
Enterprise – access to all features. Request a demo – a representative will notify you of the cost.
Marketers mention that the dynamics of their products' development are improved, thanks to the analysis of indicators in Mode.
Web analytics tool Clients include Twitch, Zillow, Shopify.

The platform allows you to prevent click fraud, optimize CR, and track events based on impressions, clicks, and conversions.
Offers clients 2 packages:
Scale – basic, cost $499 per month.
Custom – with an expanded range of tools. You can choose the data you plan to analyze yourself. The price will be quoted upon request from an Affise representative.
Marketers praise how well the work is done. 97 percent of customers are happy with the service, according to statistics. Wargaming, Xapads, and Inmobi are all clients of the company.

This online analyzer differs from the rest in unique metrics – there are more than 30 of them. Parse.ly helps developers and marketers collect and segment data depending on the region, providing these data from multiple channels – iOS, Android, AMP, Facebook Instant, Tweets, and Apple News. You can track how users interact with your content.
Web analytics tool Parse.ly has 3 packages:
To find out their cost – leave a request on the site. Parse.ly's clients are SKY, Bloomberg, Gusto.

The platform is one of the most popular among marketers around the world. Semrush provides three packages:
Pro – $119.95 per month;
Guru – $229.95 per month;
Business – $449.95 per month.
Semrush is a web analytics tool that assists companies in improving their Google visibility and online performance. It includes a variety of features such as keyword research, SEO analysis, and competitor tracking in addition to PPC. The tool is used by companies of all sizes, from small startups to large enterprises, although the price can be high for some. Semrush has several case studies that demonstrate how companies have used the tool to improve SEO. The current CEO of Semrush is Oleg Shchegolev. Some companies that use Semrush are Amazon, IBM, and Samsung. In addition, many digital marketing agencies, as partners, SEO consultants, and internet companies, use Semrush for their clients.

The tool includes automatic reports, the ability to monitor the results of a marketing campaign and analyze the results by dozens of different parameters.
There are 3 tariff plans:
Freelancer – $49 per month;
Agency – $149 per month;
Enterprise – $399 per month.
The main difference between the packages is the number of marketing campaigns you can analyze. Experts note the possibility of integration with a variety of marketing channels and accurate metrics.
AgencyAnalytics clients include EDGE, Clix, Bonfire.
The platform provides marketers with the ability to collect raw data. Thanks to the patented JENTIS technology, the tool can save you up to 30% of your advertising budget. Your marketer can evaluate site performance in real time at any time.
Clients have the option of two different packages:
trial version – free;
extended complex – on request.
To get acquainted with the possibilities of JENTIS, contact a company representative – he will tell you more about pricing.
Web analytics tool JENTIS has a team of developers, mathematicians, and marketers who are revolutionizing online data processing.

The analyzer can provide your company with the most detailed fundamental data. A marketer can use Ziggma to customize financial ratios for real estate, banking, and insurance. Gather financial information or examine industry key performance indicators. The different tariffs are:
Free – a basic set of online analytics.
Premium – $9.90 per month or $89 per year. Includes all the free features + bonus services.
Please note: Ziggma is a remote-working company with employees and clients based in the US and Europe.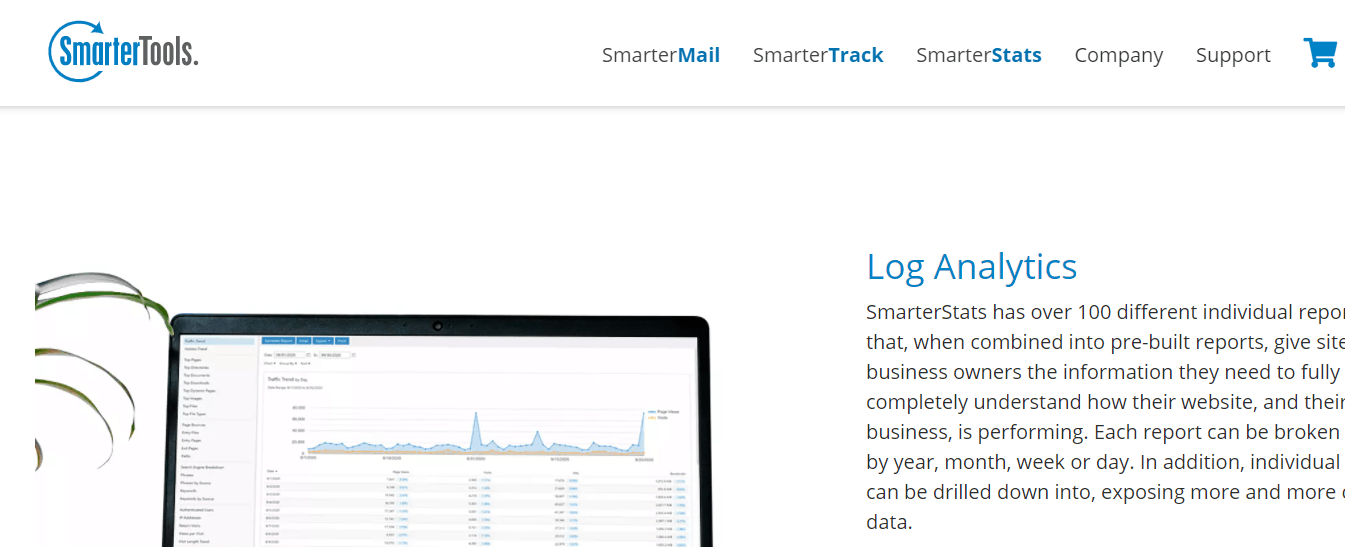 SmarterStats can generate over 100 different reports, each segmented based on year, month, and day. Fragmentation allows marketers to see changes in metrics after launching a marketing campaign. You can try out the features of the service for free. SmarterStats offers its customers two different subscriptions:
Professional – from $399. Suitable for small companies or individuals who need complex web analytics.
Enterprise – from $599. For businesses, large companies, and ISPs.
The analyzer offers smart tools for solving various urgent tasks. This is evidenced by 15 million users who trust SmarterStats with their business analytics.

Crazy Egg is a web analytics tool that provides website owners with visual data on user behavior, including heat maps, scroll maps, and A/B testing capabilities. The tool shows website owners where their visitors are clicking, scrolling, and spending the most time on their site, providing valuable insights into how to improve the user experience. Crazy Egg's website includes case studies highlighting the success that businesses have had using their tool. Hiten Shah and Neil Patel founded the company in 2006. The advantages of using Crazy Egg for a website include increased user engagement, higher conversion rates, and a better understanding of user behavior. Some companies that use Crazy Egg include Microsoft, Zillow, and Zappos.

Hotjar is a powerful web analytics tool that provides an in-depth look into the mind of your website and eCommerce store. It's like having a crystal ball that helps you see how users interact with your website. With features like heatmaps, session recordings, and surveys (NPS), Engage — Hotjar gives you the tools you need to optimize your website for maximum CR and a better UX. Some of the biggest companies in the world, such as Shopify, Hubspot, Unbounce, and Leadpages, already use Hotjar to gain a competitive edge. The founder of Hotjar is David Darmanin, who saw a need for a more user-friendly web analytics tool. With Hotjar, you can access all the data you need to make data-driven decisions, even on the free plan for small websites.

Google Search Console is a game-changing web analytics tool for any website owner or SEO expert. It's like having a secret weapon to boost your website's visibility and performance on Google (only) search engines. With features like search analytics (clicks, impressions, CTR, and average positions), XML sitemaps, and crawl errors (like 503), you can gain valuable insights into how Google sees and interacts with your website. Google Search Console case studies have shown that it can significantly improve search engine rankings and drive more traffic to your website. It's a must-have tool for anyone looking to take their SEO efforts to the next level. One unique feature of Google Search Console is that it offers alerts for security issues, so you can stay ahead of any potential threats to your website. With Google Search Console, you can easily monitor and optimize your website's performance, making it a powerful ally in the ongoing battle for Google SERPs dominance.

Hubspot is a one-stop shop for all your digital marketing needs. It's a powerful web analytics tool that helps digital marketers to optimize their marketing efforts and drive more conversions. With features like website analytics, email marketing, and social media management, Hubspot gives you the tools you need to understand your audience and create targeted campaigns that drive results. Case studies have shown that Hubspot can have a significant impact on increasing website traffic, lead generation, and revenue. The founders of Hubspot are Brian Halligan and Dharmesh Shah, who started the company in 2006 in Cambridge, Massachusetts. The company has grown exponentially and now has offices in Dublin, Sydney, Singapore, and many more cities all around the world. One of the unique selling points of Hubspot is that it offers an all-in-one marketing, sales, and service platform, which allows businesses to better align their sales and marketing teams.
Microsoft Clarity is a cutting-edge web analytics tool that helps digital marketers to understand user behavior on their websites. It's like having a digital spyglass that lets you see how users interact with your site. With features like session recordings, heatmaps, and user session data, Microsoft Clarity provides valuable insights into improving website UX. Case studies have shown that it can significantly impact increasing conversions and reducing bounce rates. The Microsoft team founded Microsoft Clarity; It offers a free plan for small websites and paid plans for larger businesses with more advanced features. Microsoft Clarity is available globally and is available to use as a standalone analytics tool or as a part of the Microsoft Dynamics 365 family of products. One unique feature of Microsoft Clarity is that it offers automatic insights that automatically detect and highlight user behavior patterns and issues.
Conclusion about Best Web Analytics Tools
This list of the 21 best web analytics tools has something for everyone, whether you're a small business owner, marketer, or just curious about your website traffic. Remember that finding the tool that best suits your needs is the key to getting the most out of them. So don't be afraid to try a few different options and experiment. And suppose you're looking for an easy-to-use tool with many features. In that case, I highly recommend you install the tracking code for the free trial version of Plerdy. Plerdy allows you to track UX, improve CR and SEO, and increase ROI. So, try Plerdy out today and see what a difference it can make for your website better!