Marketers, take note! Are you prepared for the most cutting-edge marketing and promotional tools of 2023? ? This article will review six innovative solutions to help you improve your marketing efforts. Keeping up with the most recent trends and practices is more crucial than ever as the landscape of online companies continues to change. You can swiftly obtain the marketing information you need to stay on top of the game with Plerdy's data-driven approach to competitor and website SEO analysis. These tools are required for your marketing campaigns to stay on track with your objectives. So let's get started with the six marketing and promotion strategies that will position you for success ? in 2023.
How Do Marketing Promotion Tools Help Businesses?
Online businesses must have marketing and promotional tools to survive in the fiercely competitive market. They support local and e-commerce businesses by assisting with consumer engagement, reputation building and maintenance, and the development of client connections. Moreover, promotional tools increase sales, maintain relevancy, and aid decision-making.
Using various strategies, marketing promotional tools engage consumers by telling them what they don't know and producing quality content (SEO) about the goods and services they use. Every company needs to establish a good reputation, and online marketing may help by exceeding customer expectations in creating brand equity. Also, fostering long-lasting relationships with clients is essential for the expansion of any company, and marketing offers information on client preferences.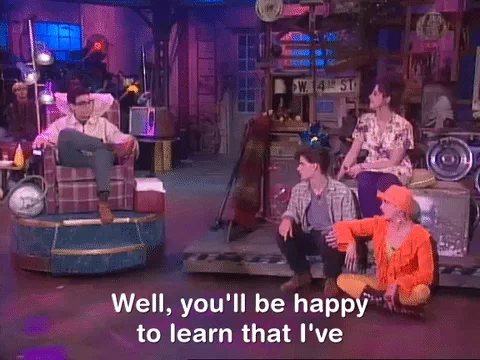 The company can make wise selections with marketing promotional tools, which offer data and insights to develop a more effective marketing strategy. Many companies require assistance in developing an effective marketing strategy, despite having highly skilled marketers and sizable marketing departments. Using data and insights to make wise judgments, digital marketing tools greatly simplify duties and increase their impact.
What is Marketing Promotional Tool?
Tools for marketing and promotion are crucial for every online business wanting to boost revenue and promote expansion. These techniques, approaches, or tools are used to persuade customers to purchase products or services. These methods might be long-term, all-encompassing plans or quick-hit tactics to promote fresh products. A company's promotional tool depends on several variables, including accessibility, effectiveness, and profitability.
E-commerce companies (using Shopify or Magento) can also improve their content strategy, generate leads, increase sales, and build brand awareness using marketing tools and tactics. These promotional tools come in a variety; most companies combine them to meet their marketing objectives. Among the marketing tools accessible are direct mail, advertising tools, and social media management. The particular marketing aim and corporate objectives determine the appropriate marketing tool. You can choose the ideal tool to increase your marketing efforts' effectiveness and support your business expansion once you or your digital specialist know your marketing objectives.
List of The Best 6 Marketing Promotional Tools
Insights into marketing gold can be mined from the "6 Marketing Promotional Tools in 2023" list. This compilation highlights some of the most cutting-edge and efficient promotional techniques available to businesses today. These resources can help your marketing efforts across the board, from social media advertising to email campaigns, reach the widest possible audience.

Do you need help with optimizing your website for maximum conversions? Do you need help tracking, analyzing, and converting visitors into buyers? The Plerdy all-in-one marketing promotional tool saves your team up to 30hrs. per month on SEO, 20hrs. per month on UX design, 10hrs. per month on digital marketing, and 10hrs. per month on analysis. With Plerdy, you can optimize your website funnel, increase your average revenue per user, lower your cart abandonment rate, decrease your bounce rate, and increase your customer lifetime value.
Plerdy offers a variety of features that help you achieve all of these results, including:
Heatmaps tool shows your visitors' click patterns and allows you to filter clicks by device type and traffic channel
Visitors' session recordings that let you analyze user behavior separately and launch A/B tests with Google Optimize integration
Pop-up forms, custom banners, feedback forms, and form constructors that help you generate leads from your website pages and decrease your eCommerce cart abandonment rate
SEO audit tool with content analysis, relevance, duplicates, and an SEO health score that lets you analyze your site health and HTML code and export your data to Google Spreadsheets
The event/goal tracking tool helps you track specific user actions and analyze all of your Plerdy data from day one of installation
The conversion funnel tool helps you identify which stage of the funnel most customers exit, analyze the number of unique pageviews at every stage.
The E-commerce tracking tool lets you analyze the key eCommerce indicators for the selected period, determine what elements buyers interact with before purchasing, and analyze the impact of website elements on the traffic channel and device sales.
But what sets Plerdy apart from other promotional tools? For one, Plerdy doesn't slow down your website during data collection, thanks to its gradual data collection process and Defer attribute. Plus, Plerdy ensures the highest level of data security with SSL and TLS 1.3 encrypted protocol and GDPR compliance.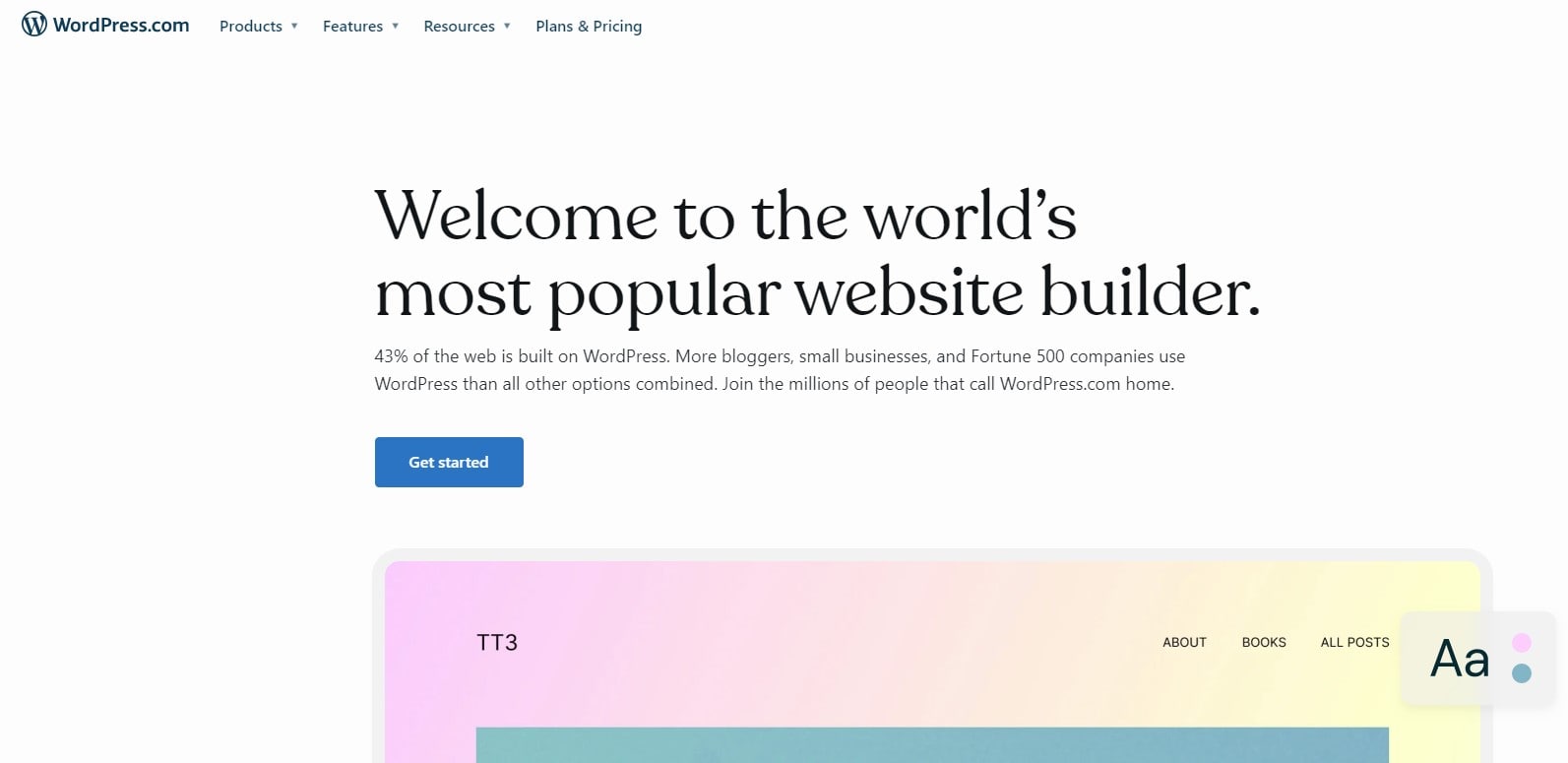 Digital publishing uses WordPress as a tool for content promotion. Around the world, millions of individuals use this open-source platform. With the help of versatile design tools and simple editing options, customers have the chance to build unique websites. Users can completely personalize their websites using WordPress' extensive selection of themes and design styles. WordPress additionally allows users to upload and edit material in real time, allowing them to see exactly how their website will appear as changes are made. The platform provides several powerful features for users to administer their sites easily.
WordPress may be expanded by plugins, one of its distinctive features. Users may get started with WordPress by using resources and learning tools. The platform has a community of ardent contributors dedicated to keeping WordPress stable and safe.
WordPress can be used to develop websites for professionals, specialists, companies, and others. Sony Music, Vogue Magazine, and Disney are a few of the most well-known companies in the world. With free and paid alternatives, WordPress.com plans to fit any user. Personal, premium and corporate plans are available.
WordPress is a great platform for content optimization that makes it simple for users to develop bespoke websites. Users can create websites using the platform's extensive selection of features, themes, and plugins. WordPress assures users that their data, content, and design are their own. The WordPress community is constantly ready to provide support and exchange resources, and the platform has limitless potential. See what has been occurring with WordPress and what lies ahead by watching State of the Word 2022, which Matt Mullenweg co-founded.

The best email marketing and promotional automation tool, Mailchimp, can assist companies of all sizes to convert email traffic into sales. Mailchimp offers a robust platform with a variety of plans, features, and connections that aids companies of all sizes in connecting with customers and expanding their brands.
Automations are one of Mailchimp's most useful features. For example, businesses may design automated workflows that deliver tailored emails based on customer activity using the Customer Journey Builder. This automation can assist organizations in forging deeper connections with clients, from post-purchase feedback requests to cart abandonment reminders.
This promotion marketing tool offers an analysis of email performance, such as the volume of opens and clicks, and suggestions for enhancing interaction. The Content Optimizer tool evaluates your email messages against the best-performing ones in your sector. It offers data-driven recommendations for enhancing copy, images, and style.
Businesses can target the appropriate clients at the right time with the help of Mailchimp's segmentation features.
Last but not least, Mailchimp's integrations make it simple to link with other tools and websites. To help businesses save time and make smarter decisions, Mailchimp interacts with more than 200 tools and platforms, ranging from Shopify to Salesforce.

SocialPilot is a promotional marketing tool that helps businesses optimize their social media presence. With powerful publishing, insightful analytics, and seamless collaboration, this tool offers everything you need to hit your social media marketing goals at an amazing price. SocialPilot's dashboard allows you to easily schedule and publish posts on all major social media platforms from one single place. You can customize your posts with images, videos, gifs, tags, etc., for each social media platform and get a bird's eye view of your social media strategy and execution through the Social Calendar, which gives you both a macro and micro view. With SocialPilot's analytics and reports, you can receive and download all the data you need to make the right decisions for your social media strategy. Gain insights into your audience with easy-to-read charts/graphs of critical metrics.
With the promotion marketing tool, you can generate and share white-label reports, customize your social media reports with your branding, and get customized ready-to-download PDFs for all your clients and stakeholders via email. SocialPilot also helps keep the conversation flowing by actively engaging with your audience using the Social Inbox. The Social Inbox brings all your conversations under one roof for easy management. You can reply to conversations in real-time and focus on conversations that matter.
Be it team members, agencies, or clients, SocialPilot makes sure coordination remains seamless. You can enhance your team's efficiency by inviting members and clients to collaborate on specific accounts. You can assign specific roles and access to your team members and identify and highlight priorities to ensure a streamlined workflow. Personalize SocialPilot to match your brand identity. From a branded dashboard to branded analytics reports, SocialPilot will truly be your own.
SocialPilot marketing tool caters to different types of businesses, including brand SMBs, agencies, and multi-location brands. Users love the tool because it is practical and customized to their needs. Try SocialPilot for free and see how it can help optimize your social media presence.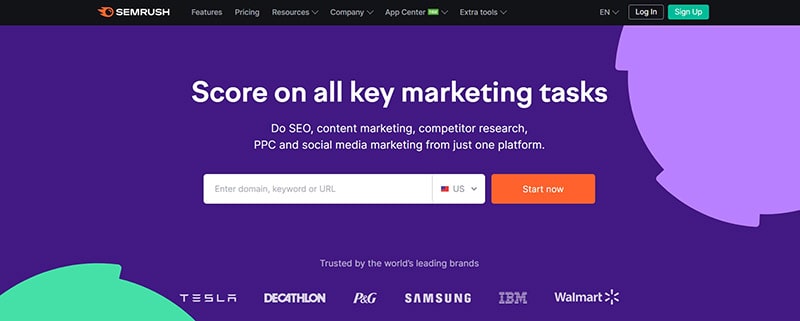 The marketing tool provides a comprehensive and easy SEO promotion workflow that helps you grow organic traffic and improve your search engine rankings. Semrush offers more than 55 tools and reports to help you get measurable results from online marketing.
Semrush is not just a keyword research tool; it offers much more than that. It provides insights into your competitors' marketing strategies and tactics, including their promotion strategies. You can analyze any website's traffic, unveil competitor promotion strategies and get ideas for growing your market share. It even shows you the best keywords for every PPC campaign. It lets you monitor your competitor's ad copies and landing pages.
Semrush got you covered! It helps you get quality leads regularly, automate client reporting and pitching, create white-label client portals, and share project progress details. You can even manage the entire client workflow with the CRM.
With the Semrush marketing tool, you can create content that ranks without requiring expert knowledge. You can find topics that resonate with your audience and get actionable tips to create SEO-friendly content. You can audit and improve your content based on real-time metrics and track brand mentions and reach.
Semrush promotion tool offers 23 billion keywords, 43T backlinks, 808M domain profiles, and 140 geo databases to help you get more data and insights. Semrush is trusted by award-winning companies, including 30% of Fortune 500 companies, as their go-to marketing tool. It has won 21 international awards as the best SEO software suite. Semrush has been used by 10 million marketing professionals worldwide.
Semrush is the promotion tool to grow your business and attract organic traffic.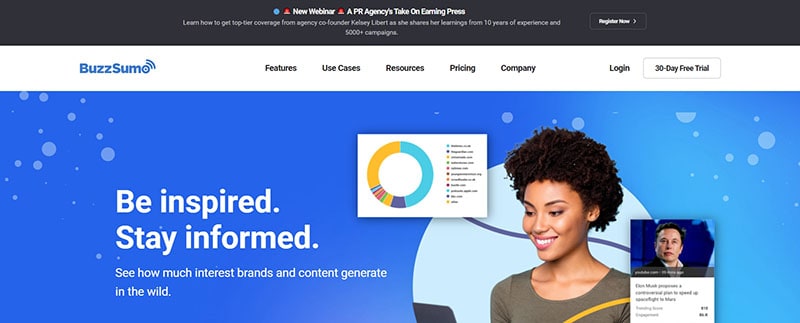 BuzzSumo is a content optimization tool that can help businesses and professionals with marketing and promotion. It has features like Discovery, Research, Monitoring, Chrome Extension, Influencers, API, and Tab discovery, making it an all-in-one tool for content marketing. With BuzzSumo, you can stay informed about real-time trends and engaging topics, tap into viral stories or revamp classics, generate content ideas and briefs with just a click of a button, and analyze data from 15 minutes up to five years. You can also access their archive of eight billion articles worldwide.
Many promotion experts, like Hubspot's Digital Marketing Expert Matthew Barby, SparkToro's Founder & CEO Rand Fishkin, and Rolling Stone's Marissa O'Hare, highly recommend BuzzSumo for content marketing campaigns. It is a versatile tool that provides quality data, essential for knowing what works best for your content and increasing efficiency, originality, brilliance, and creativity.
BuzzSumo promotion tool offers a wide range of payment options that can fit any budget, and you can save up to 20% on annual plans. They have different pricing plans that cater to different types of users. The Basic plan costs $119 per month. It includes essential BuzzSumo tools and data for solo users, such as Content Ideas Generator, Monitoring, Chrome Extension, and Content Creation. The Pro plan, priced at $249 per month, includes everything in the Basic plan plus additional features like Content Analyzer, Question Analyzer, Backlink Analyzer, and PR & Comms.
BuzzSumo's promotion tool has a lot of satisfied customers. They even have case studies from Rise at Seven, theCLIKK, and Connective3, showcasing how their tool has helped these companies improve their content marketing strategies. With BuzzSumo's 30-day free trial, you can access all their features without any commitment or credit card requirement. BuzzSumo is a tool for content optimization that can help businesses, specialists, experts, and marketers improve their content marketing and promotion.
Bottom Line
The marketing world is constantly evolving, and staying on top of the latest tools and techniques is crucial for any business looking to stay competitive. By implementing the six promotional tools outlined in this article, enterprises can build strong public relations, drive growth, and communicate their message effectively. It's important to understand that only some tools or strategies will work for some businesses. A mix of activities is often necessary to achieve success. Trying Plerdy's Shopify app or studying influencer marketing may be a good next step for those looking to take their marketing to the next level. Remember, strategic decision-making and implementation are key factors in any marketing program.