Nowadays, almost no business can thrive without an online presence. People spend great loads of time surfing on the Internet, and it would be unwise to ignore the opportunity to promote products and services via online campaigns. However, high quality alone will not suffice when it comes to achieving consistent sales performance; without well-tuned marketing, the chances for success go down indefinitely. We have compiled a list of interesting websites and blogs to help you develop an effective marketing strategy and save your time. Pick any of the web-based marketing portals to learn new skills and become a better professional.
How the websites were selected
The websites listed below have been chosen based on their usefulness. Each of them can come in handy for product promotion purposes: some are better suited as tools for specific operations, while others provide ready-made instructions so that you can make use of the authors' experience.
For your convenience, we have divided the top 50 websites into categories:
SEO
This category lists websites connected with SEO promotion. These resources describe promotion methods and useful tools as well as highlight the factors influencing the website's position in the SERP.
Plerdy.com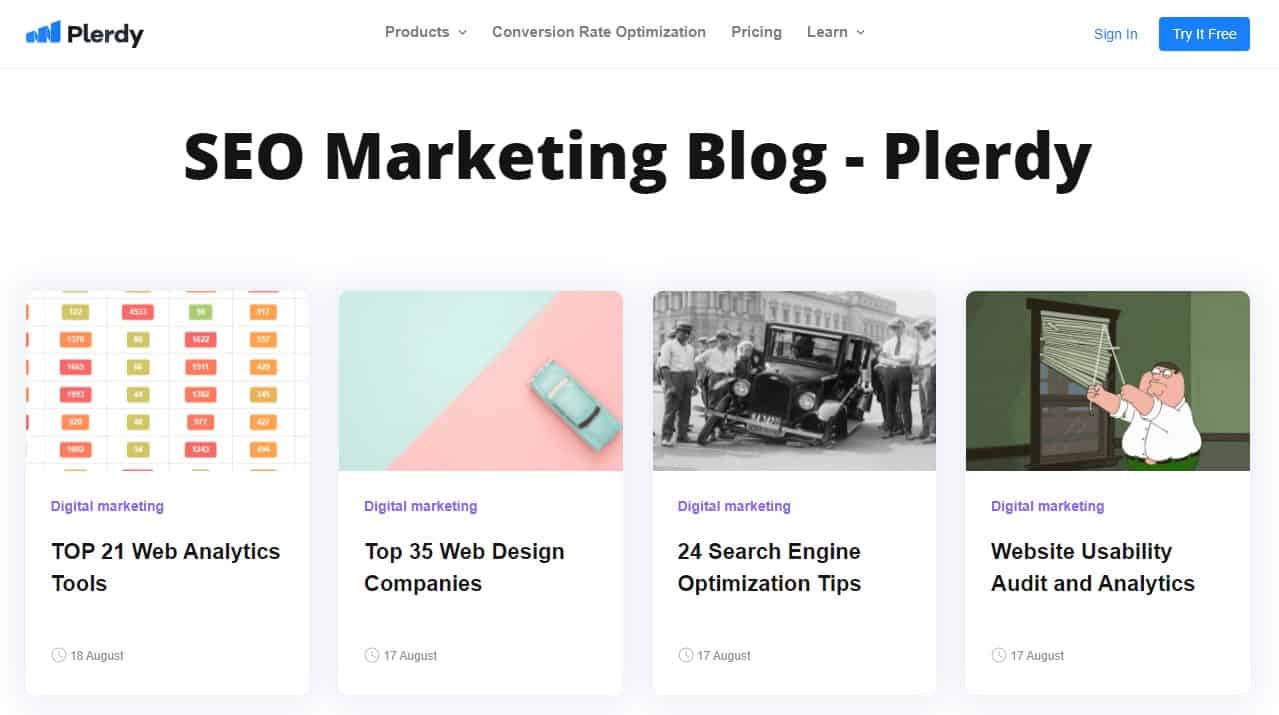 The website has been operating since June 2017. Its main focus areas include not only SEO but also website usability, e-marketing, and e-sales. New articles on SEO are published every day, turning Plerdy into one of the best marketing websites to follow.
The blog offers examples of SEO-audit and analyzes websites. Making plerdy.com an interesting website, which can be used as a step-by-step guide for UX&SEO audit.
Wonderful and exciting UX game, fears of SEO specialist and usability checklist.
Ahrefs.com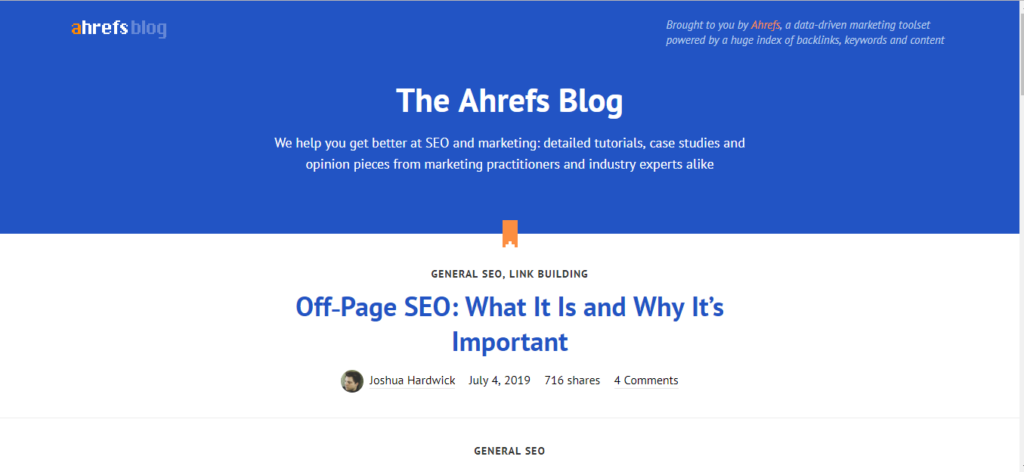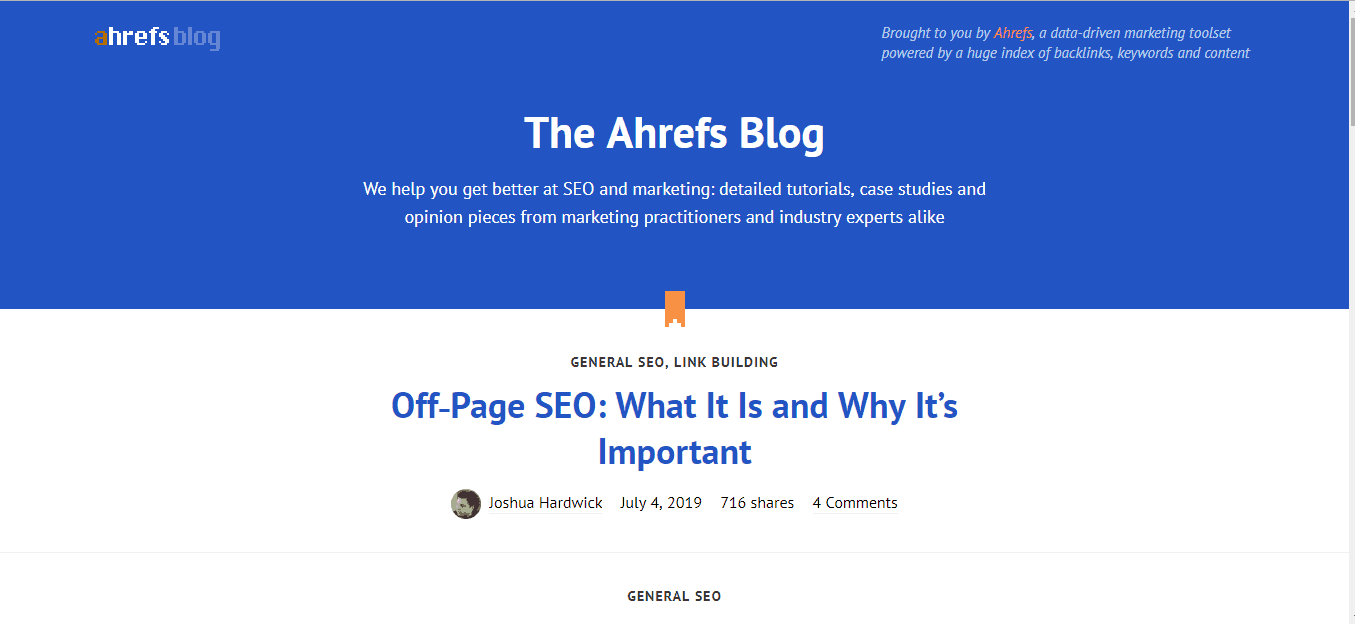 Tim Soulo and Joshua Hardwick created the blog, and Rebekah Bek has contributed to some of the blog's materials. Though new articles do not appear daily, new posts are published every four or seven days.
The resource offers articles covering key phrases research, basics of SEO promotion, traffic generation, and rules of link building. With this marketer website, you will know how to derive the maximum benefit from the Ahrefs tool.
Moz.com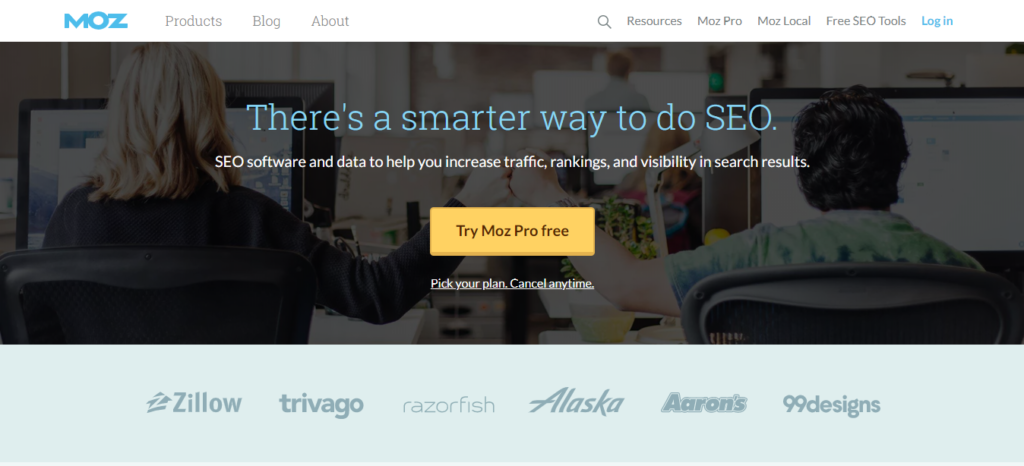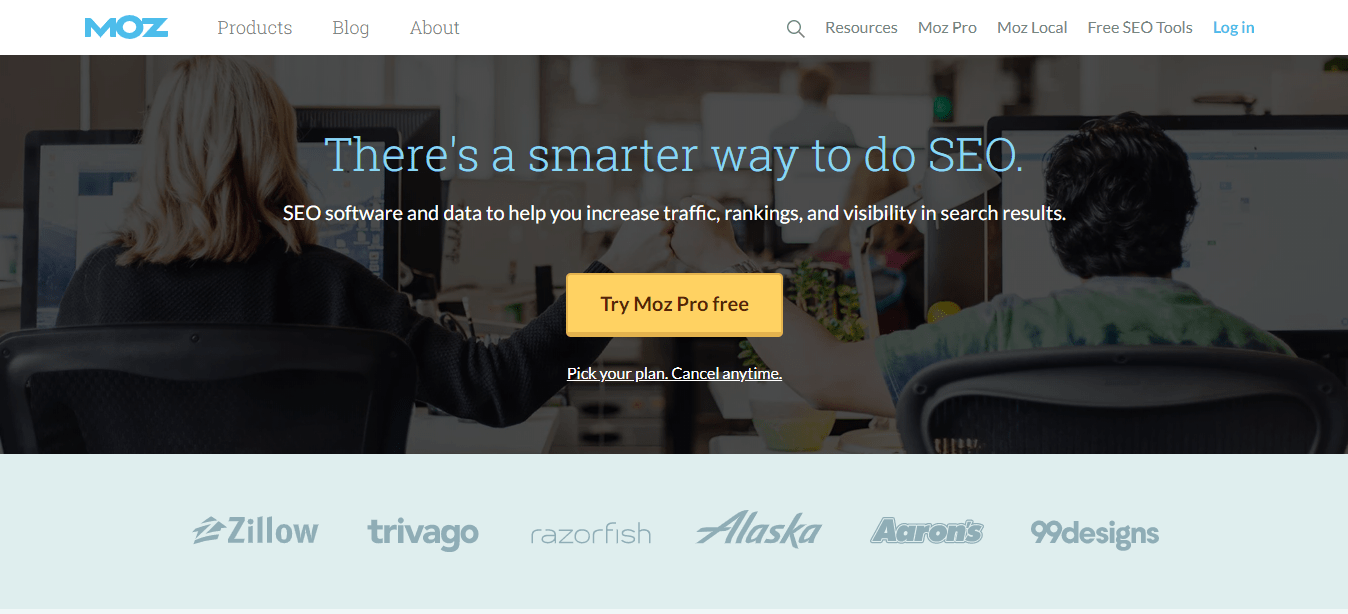 One of the oldest websites dedicated to SEO, Moz.com, was founded by Gillian Muessig and Rand Fishkin in 2004. Despite its long history, the website can boast of new posts being published every day. This is a really interesting website, whose reputation of 'Grandpa SEO blog' did not affect the quality of the content: it's always relevant and up-to-date.
The website offers paid subscription content and its own metrics (Spam Score, Keywords difficulty, Page & Domain Authority). The blog will definitely come in handy to junior SEO specialists as it offers a lot of interesting posts.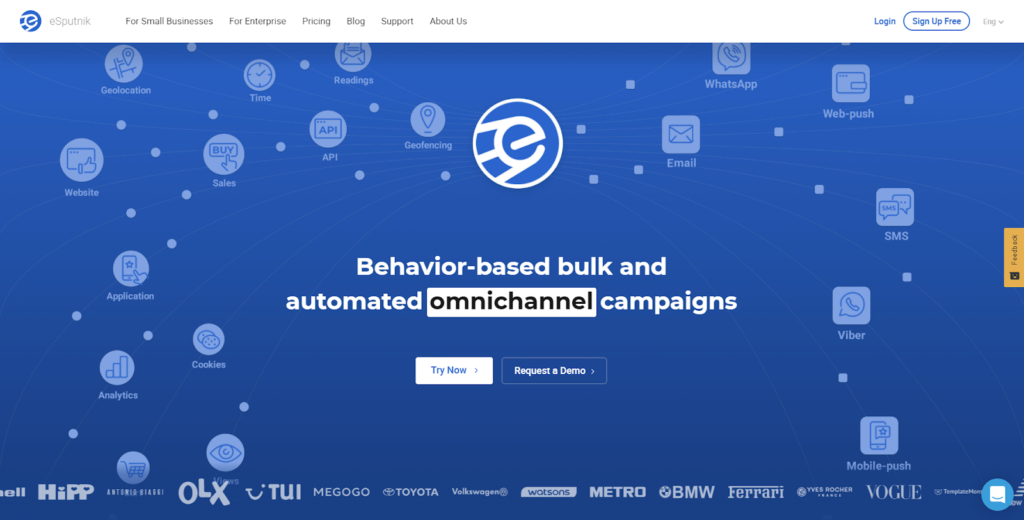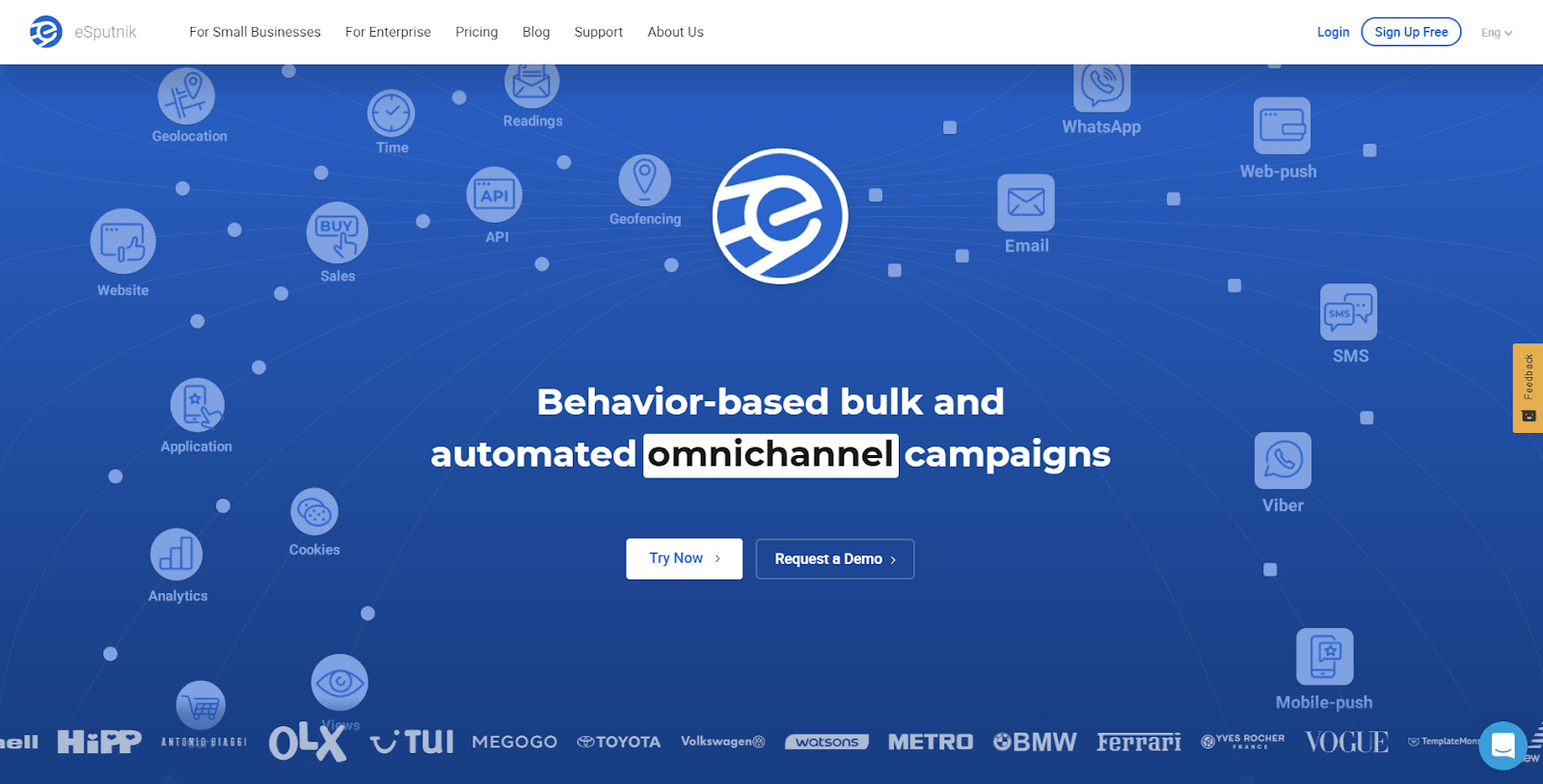 eSputnik Blog is a platform dedicated to extensive material on omnichannel marketing: Email, Web Push, Mobile Push, SMS, Artificial Intelligence, automation, personalization, segmentation, and case studies. The blog articles are grouped into categories which simplifies search and navigation.
The blog contains digital marketing resources useful for beginners and professionals: marketers, marketing agencies, business owners, analysts, and email template designers. In addition, numerous guidelines, how-to articles, lists of tools and services, interviews, cases, updates on international marketing policies, trend overviews, and event calendars will help you develop the right marketing strategy and improve the current results enhance your campaign design.
eSputnik Blog also features the sections with the email glossary and email examples that are constantly updated. The articles are published twice a week, meaning you'll always be up to date with all the latest tendencies of the marketing world.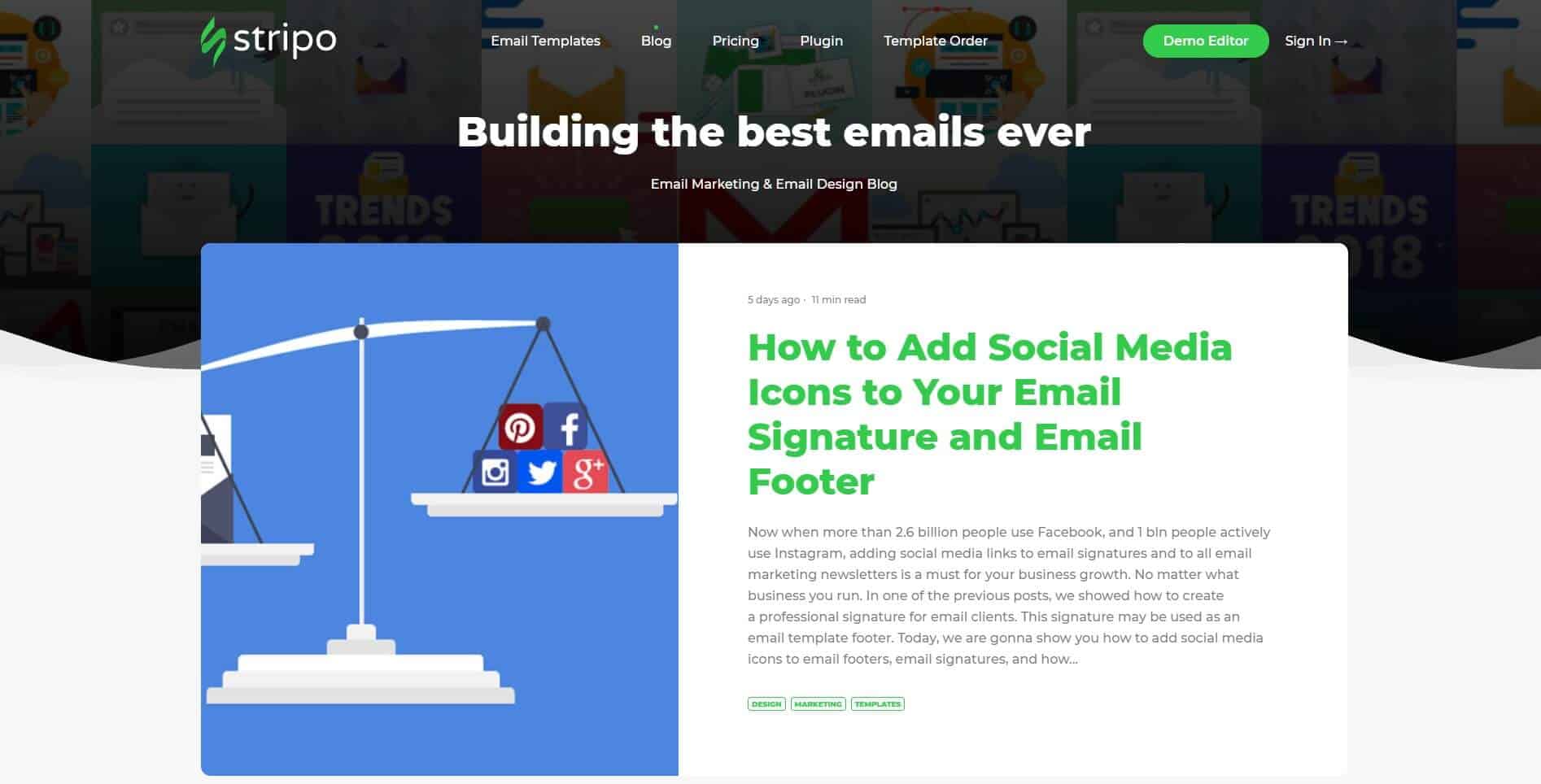 Stripo, an email template builder, was founded back in 2017. It now is an all-in-one platform that allows creating fully responsive, interactive, and even AMP emails with little to no coding skills. Its site comprises over 350 ready-to-use email templates.
The Strip blog covers such topics as email design trends, tips and ways to improve conversion, a large number of how-to posts, and, more importantly, case studies — they test new technics and trends and honestly share their experience with readers. One of their case studies was published on Google's blog. This resource deserves the title 'website best for online marketing email campaigns'.
Stripo offers editor and plugin, its white label solution. Both have free and paid subscriptions.
Backlinko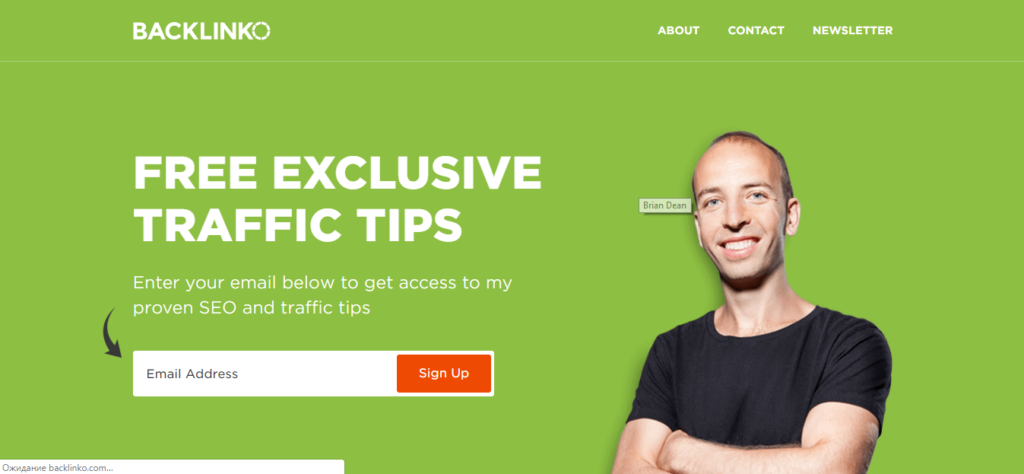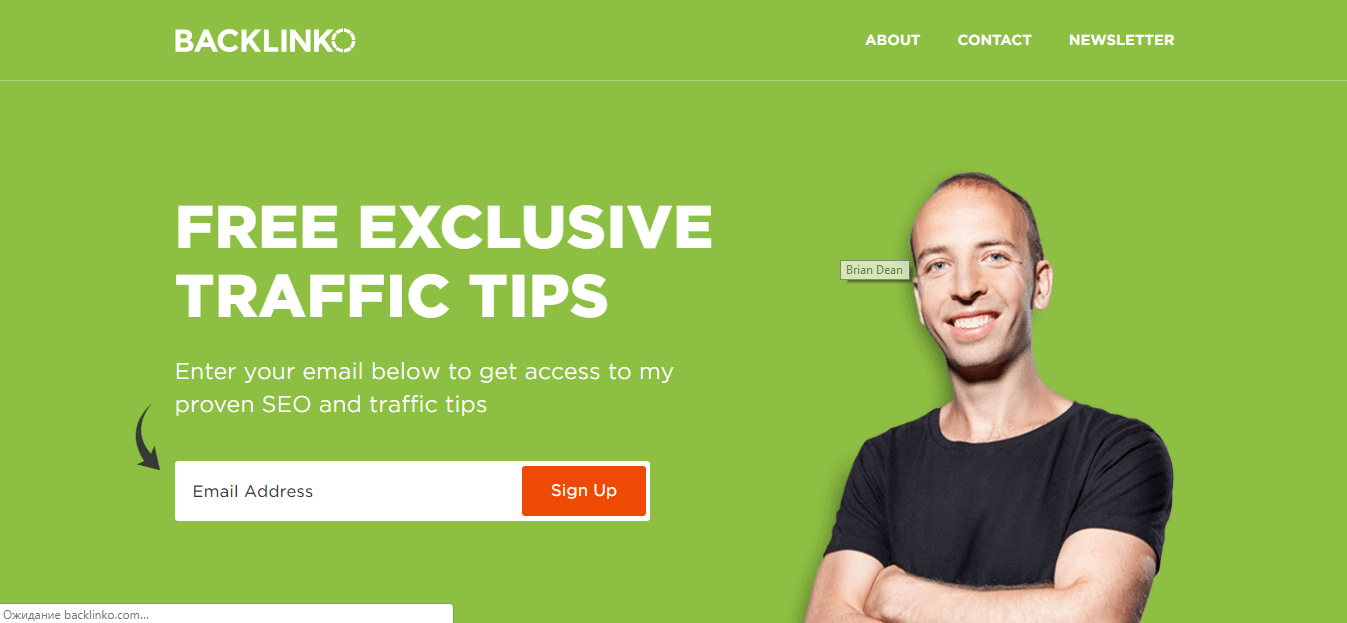 Brian Dean is considered to be one of the world's best SEO experts and the owner of a great marketing webpage. The website is interesting because of its research-like articles.
The publications address such burning issues as traffic generation, writing content that boost conversion rates, and other life hacks for SEO specialists. Posts are not frequent, but each of them is of high quality and value.
Webris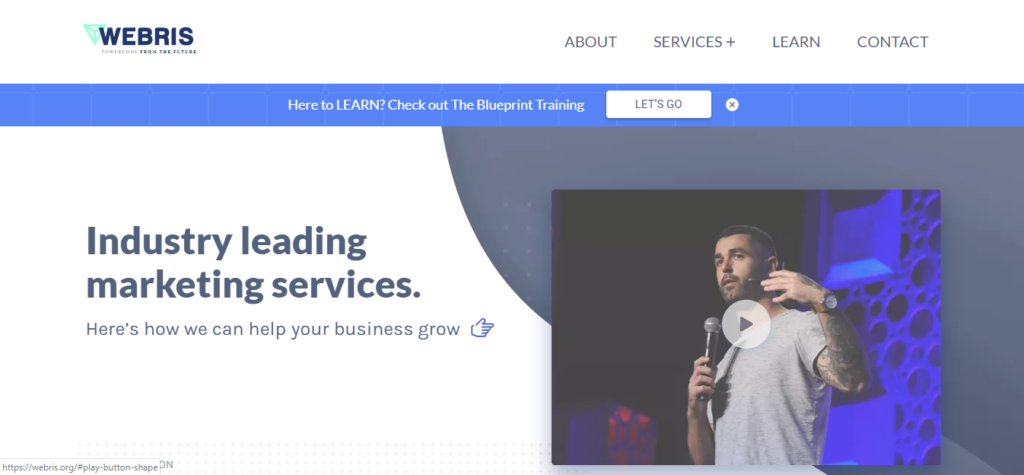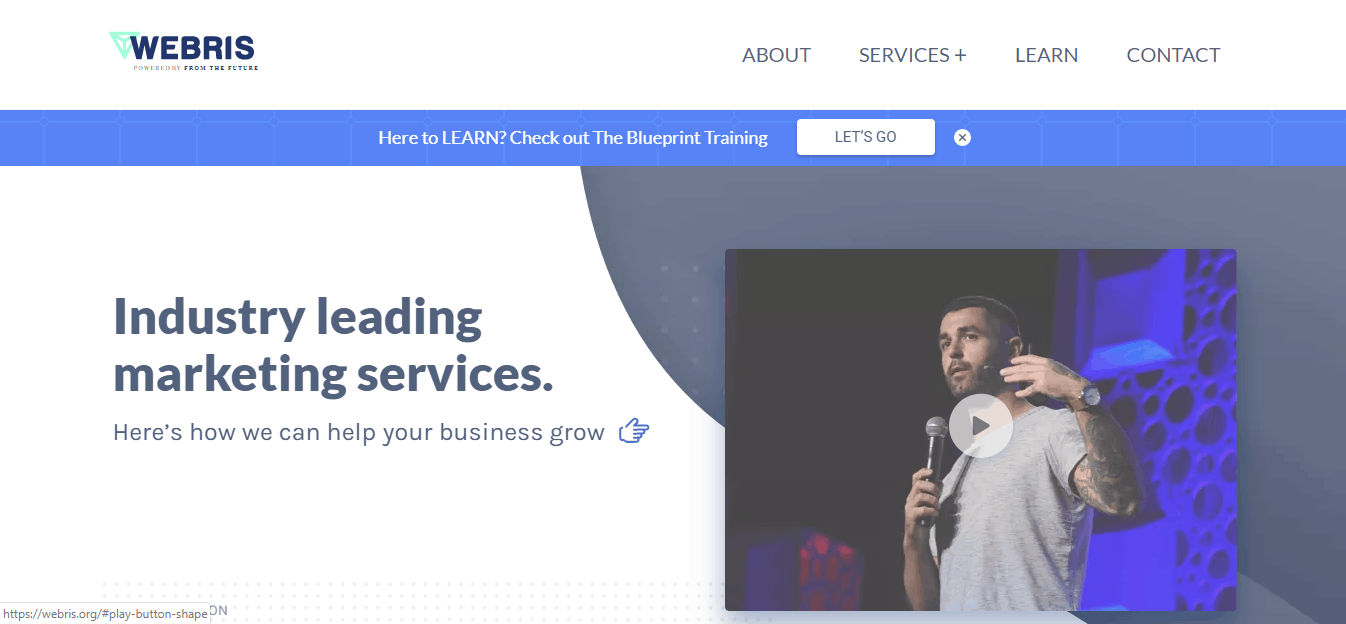 One more representative of the top SEO companies and emarketing websites, Webris, was founded by Ryan Stewart. Later it was bought by I'm from the future, but it still specializes in SEO.
Here you can order website audits and find loads of free content. Apart from SEO, the company offers services in analytics, consulting, web design, etc.
SEObook.com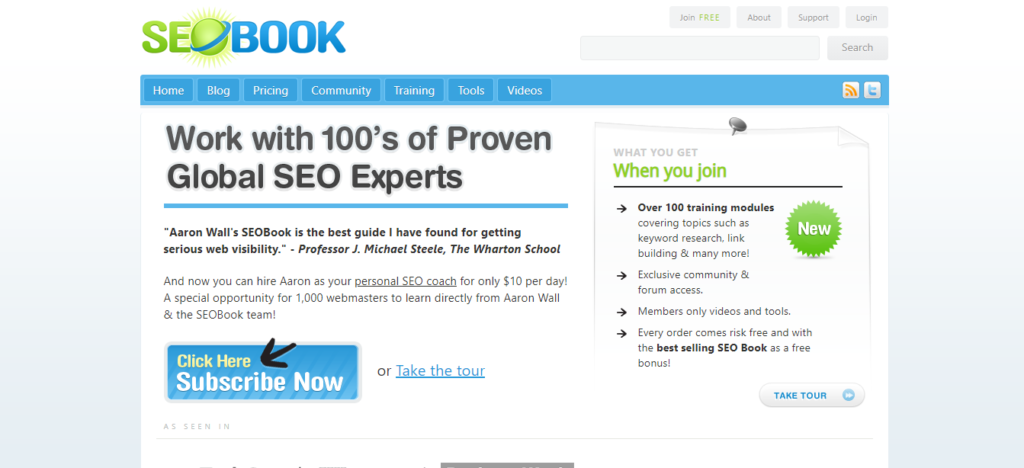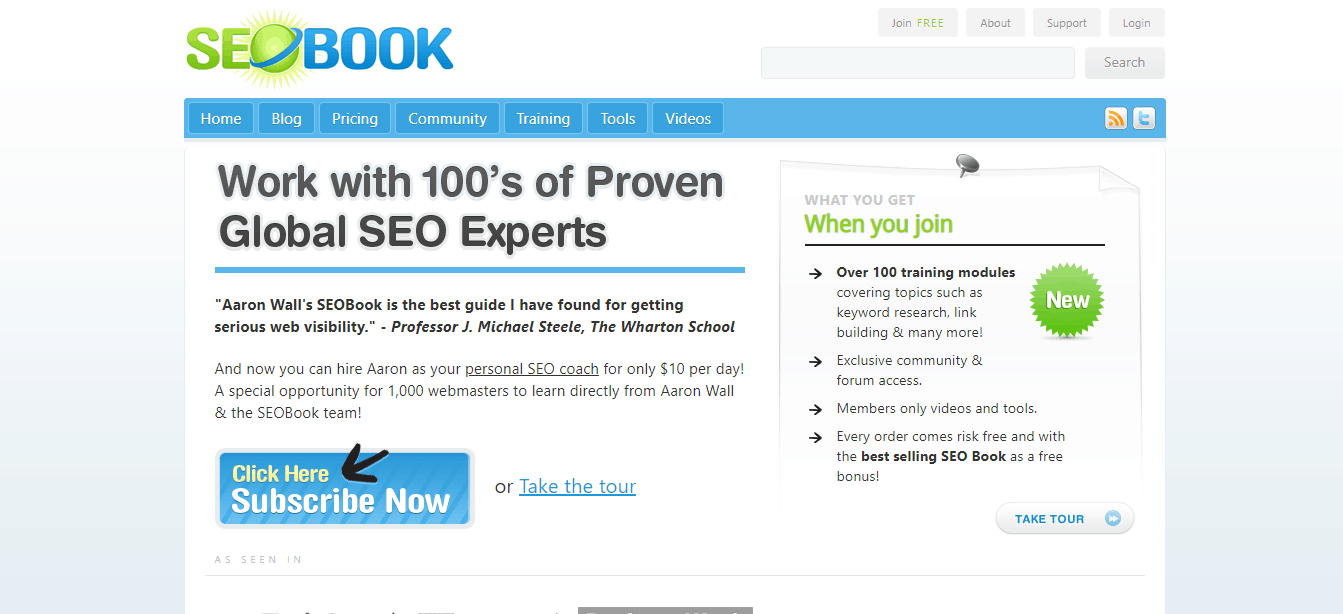 The website was created in 2003, and Aaron Wall and his team have been working on SEO methods ever since.
Right now, the website blog contains hundreds of SEO research cases. The company offers free SEO tools, some of which can be built in your browser. New posts do not appear on the daily basis, but the website is still worth bookmarking.
Searchengineland.com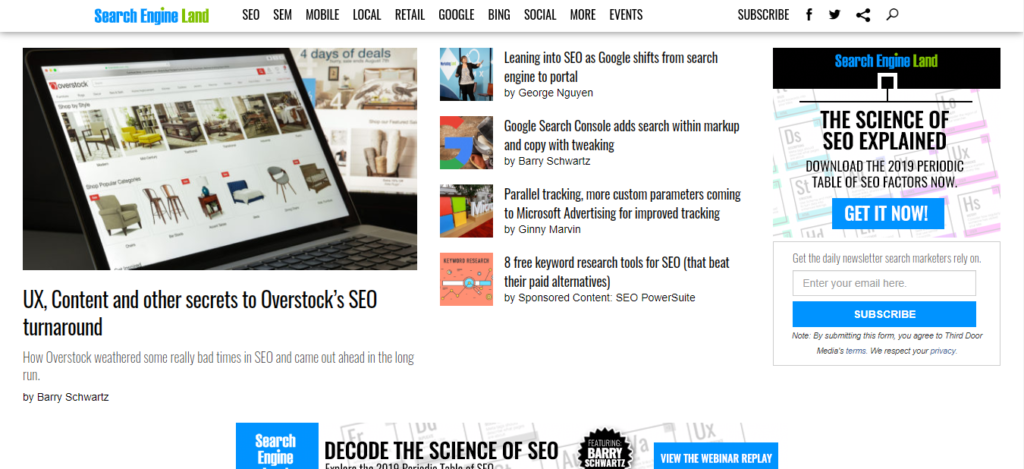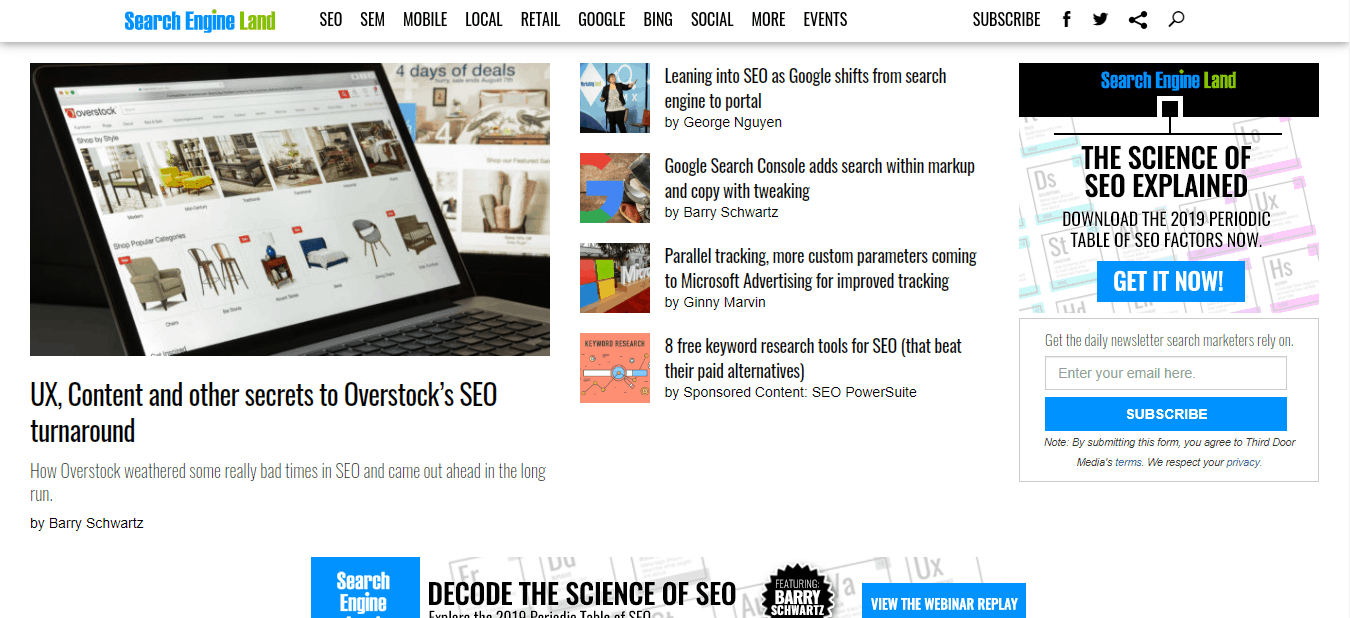 This website can become a good source of news and also help you embark on an SEO career. The resource devotes a lot of attention to Google algorithms, describes its regular updates, expounds on the ways its search robots operate and explains how websites are ranked in the search results. In addition, mobile SEO is addressed in a separate section, which is very important, given its role in the final website ranking.
User-friendly design and intuitive navigation contribute to Searchengineland.com ease of use, while the articles written in simple language without unnecessary buzz words make the website interesting.
Searchenginejournal.com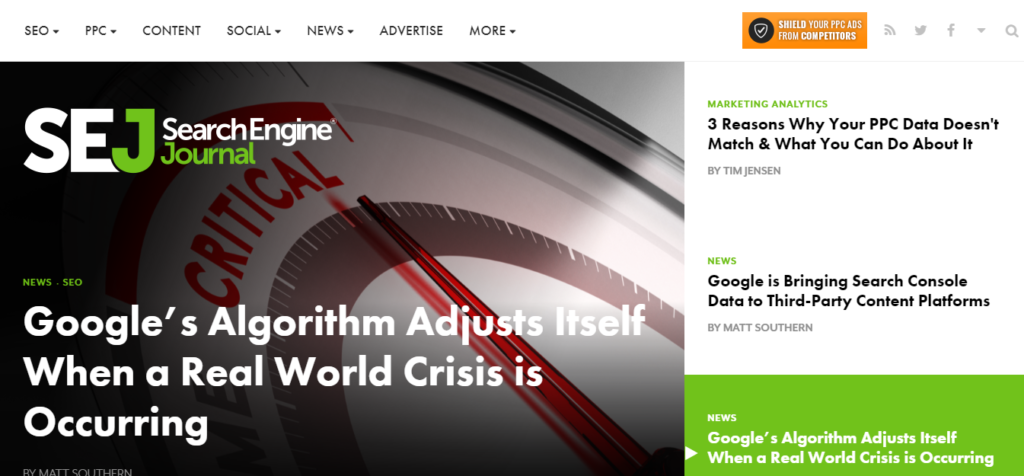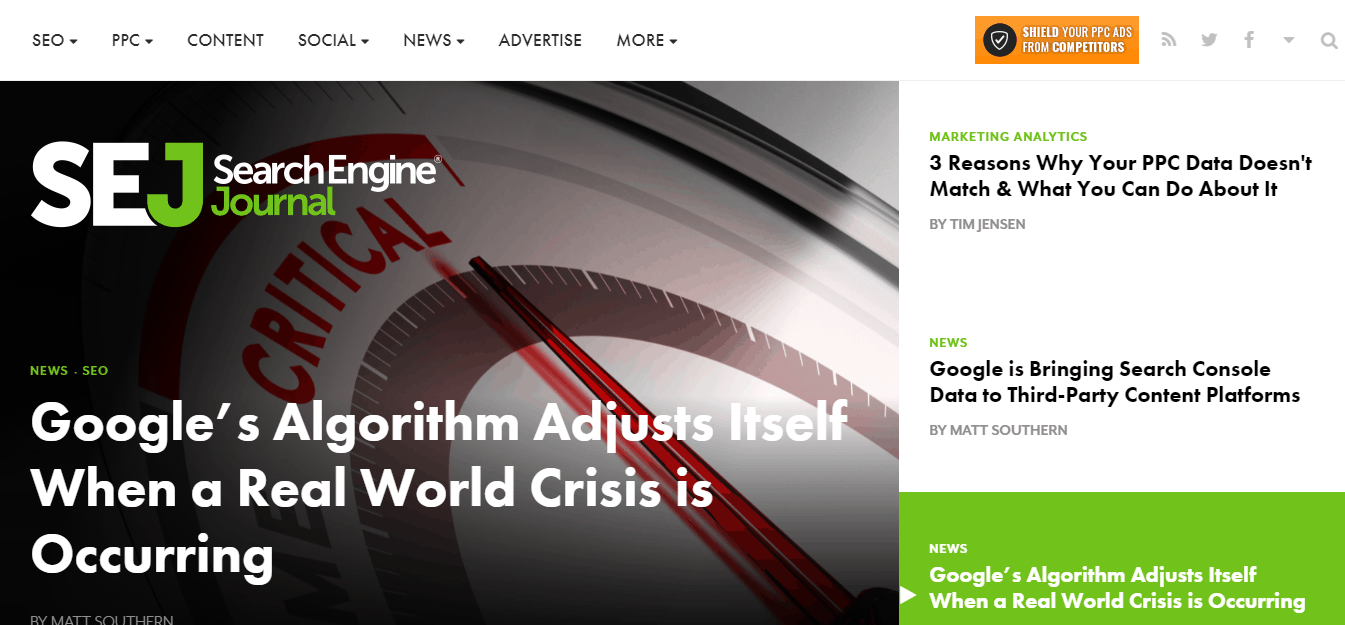 Another "oldies but goldies," SEJ, owned by Jenise Henrikson, has been functioning since 2003. This website posts all the latest news about the industry, has a separate section devoted to work with social media and offers a brief guide for those who only start working with SEO. This website allows you to keep up with market leaders and follow top inbound marketing blogs.
Seobythesea.com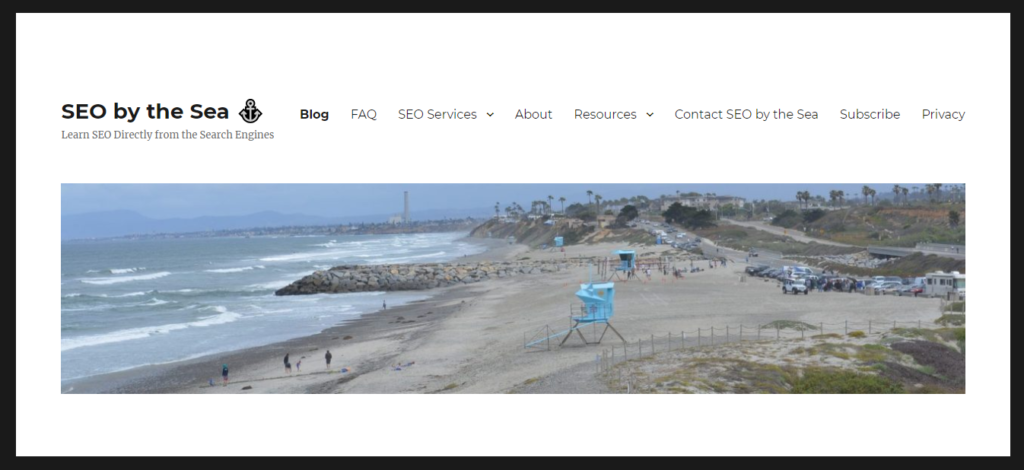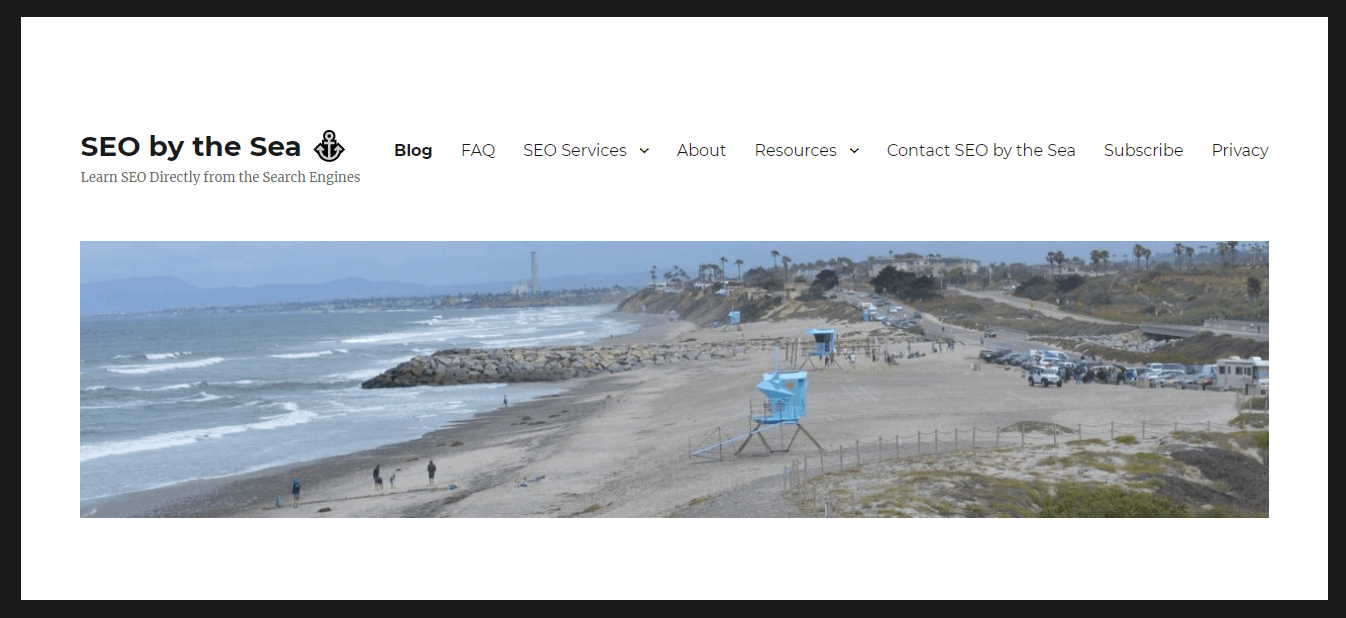 This website was founded in 2005 by Bill Slawski, who has been working in marketing since 1996 and knew exactly what a digital marketing blogger should do.
New materials are published rarely: approximately 1-3 research articles per month, but each of them is definitely worth reading. Bill shares his ideas concerning the work of search engines and website ranking principles, pays attention to the not so evident details, and makes predictions about the future of the industry.
Localseoguide.com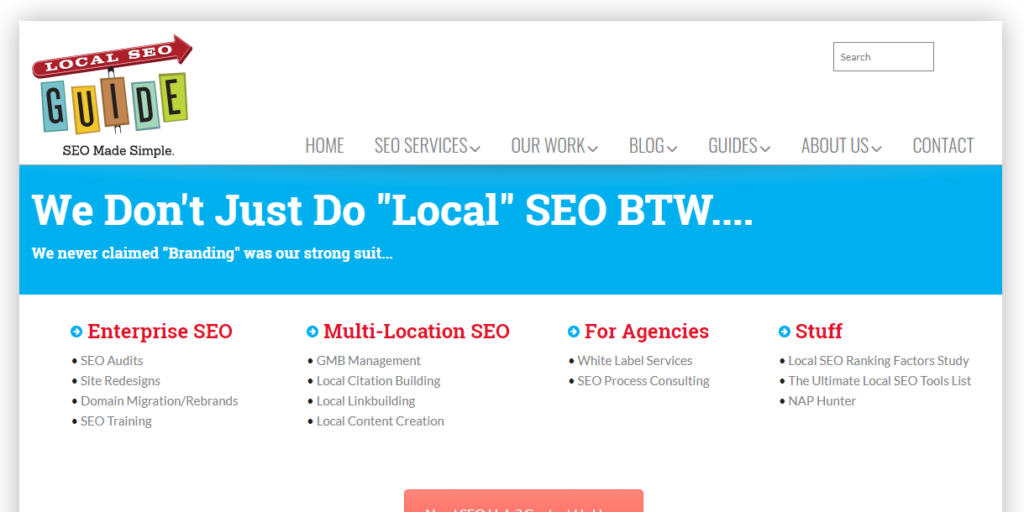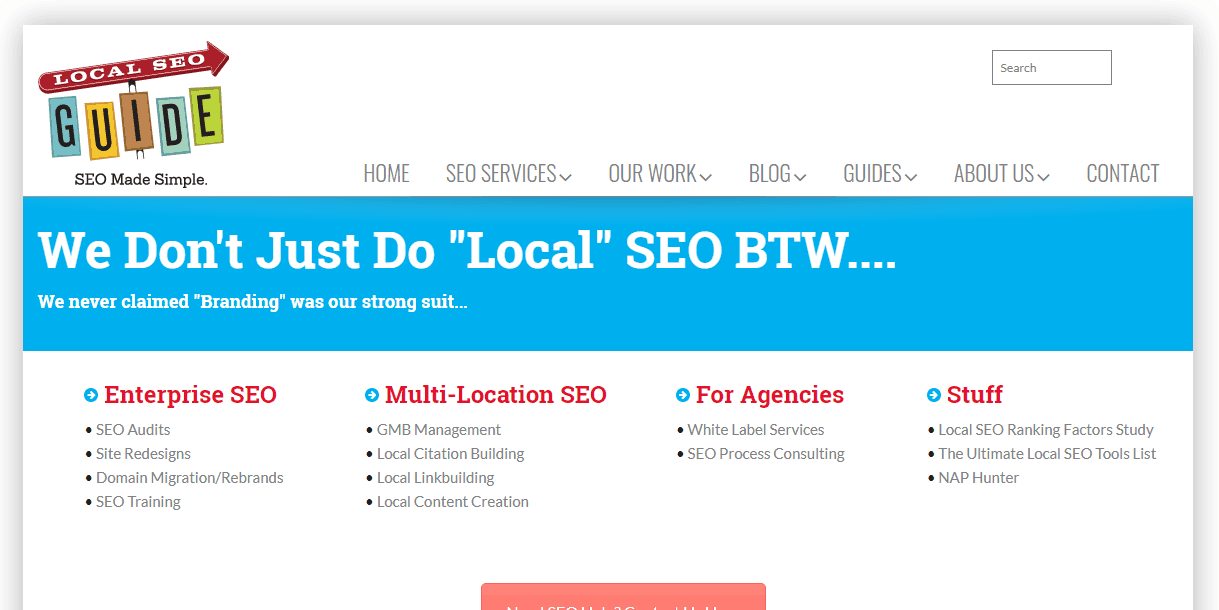 The project was founded by Andrew Shotland, who has been working in marketing since 1994.
The articles appear in the blog approximately once a month. Still, the website is interesting for its profound research in SEO and the list of useful SEO tools it suggests, and an SEO guide for beginners. Due to a comparatively low posting frequency, we recommend checking the website for updates from time to time.
Content Marketing
The main aim of a marketing specialist is to create content that would urge the client to perform a certain target action, for example, to buy a product or register on a website. The main trick is to do it subtly so that the reader does not feel any pressure. Since it's not as easy as it might seem, you should read professional advice on marketing sites for content writers.
Groovehq.com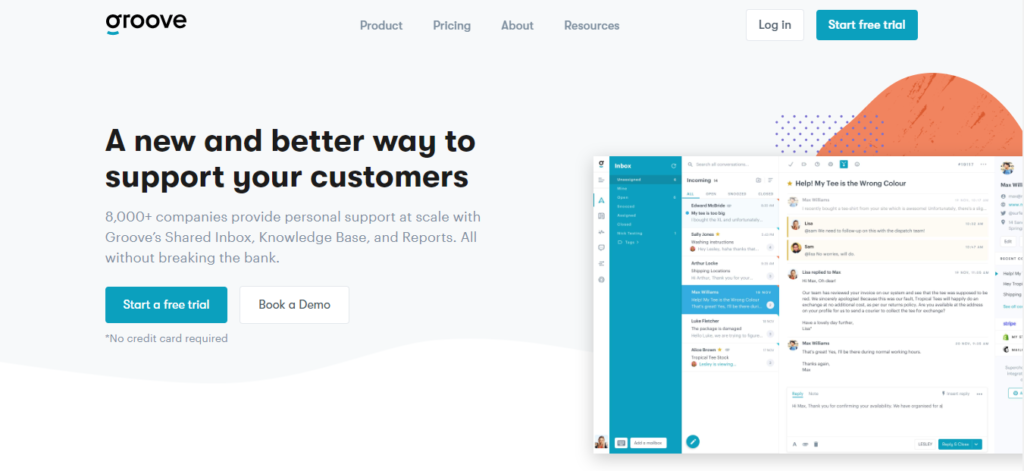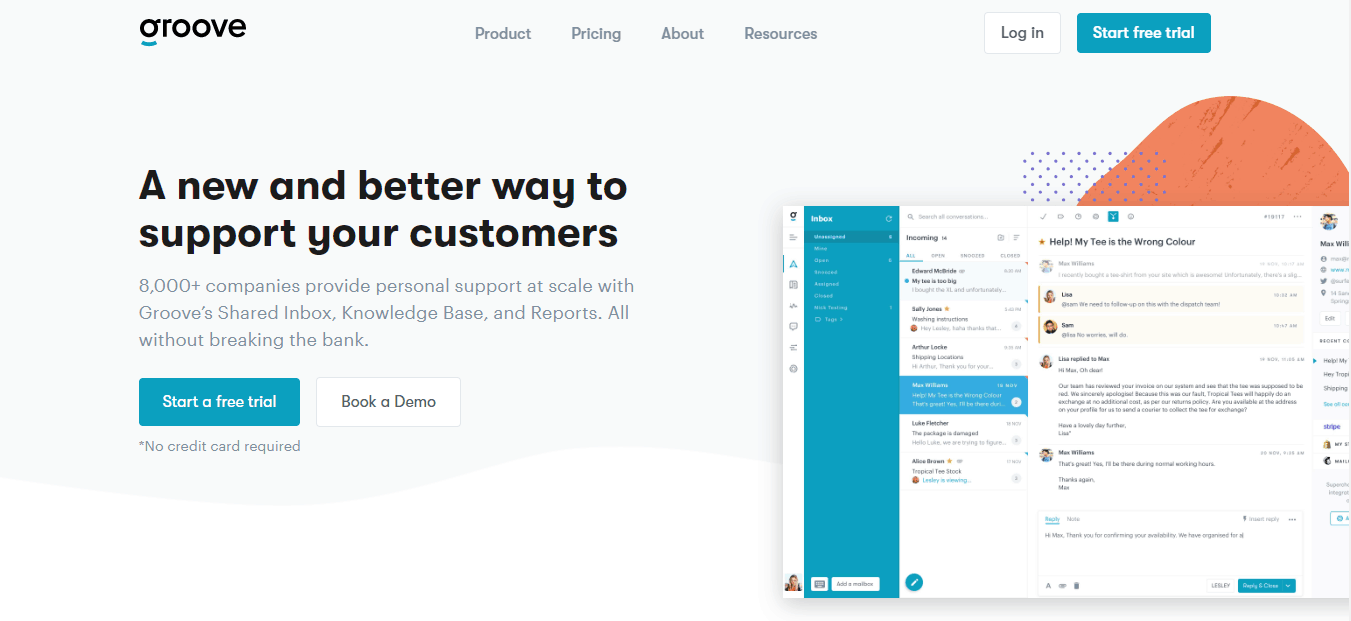 This cool website and a marketing webpageis is an inspirational success story of Alex Turnbull. While managing his small business, he realized the ineffectiveness of regular email in business operations and came up with Groove as a better solution.
Growandconvert.com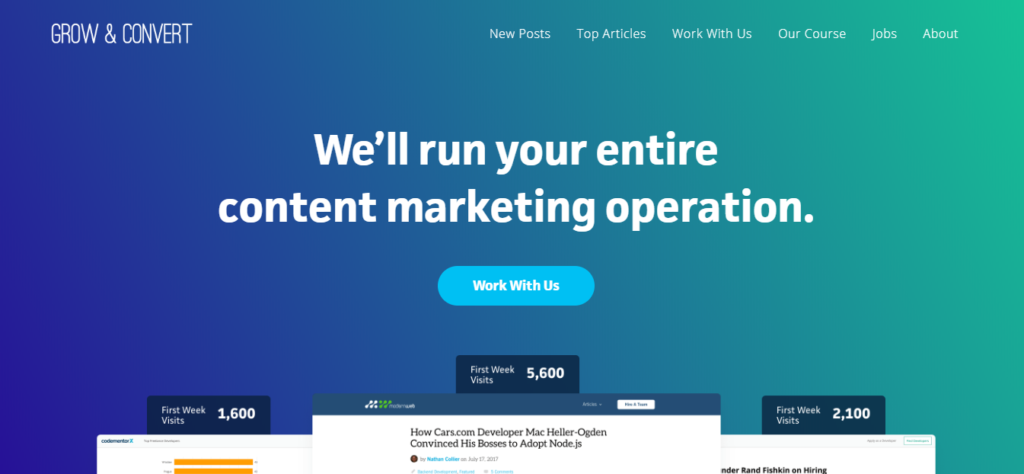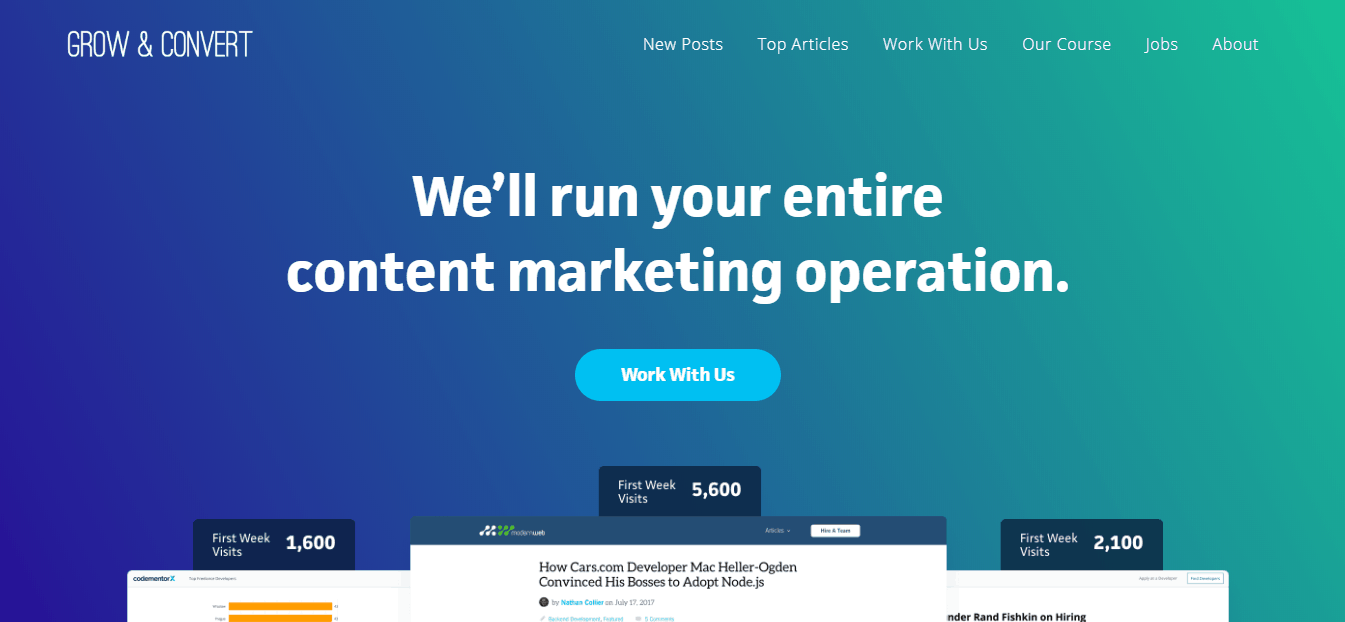 Benji Hyam and Devesh Khanal founded this project. The title itself reveals what the company is all about: creating content, generating traffic, and maximizing the conversion rates.
Contentmarketinginstitute.com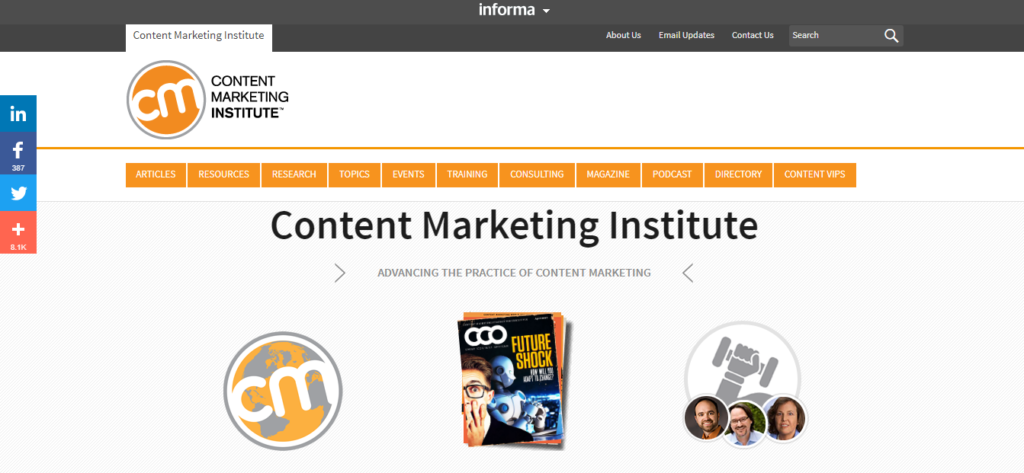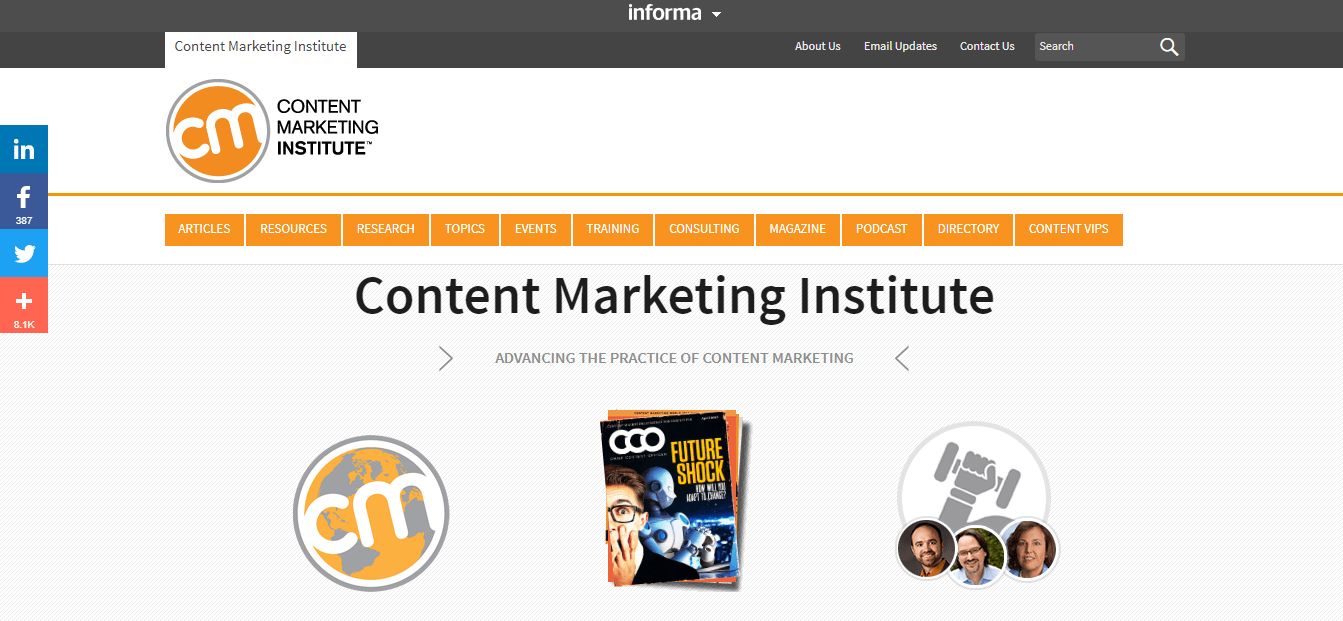 This is one of the most interesting websites dedicated to content marketing. Founded in 2011 by Joe Pulizzi, this website publishes new materials every day without compromising the quality of the research.
There is a great variety of free materials on how to make content attract new clients. The authors also post research articles throwing light onto the current trends in various areas, conduct webinars, and even publish their own magazine for CCOs (Chief Content Officers).
Newscred.com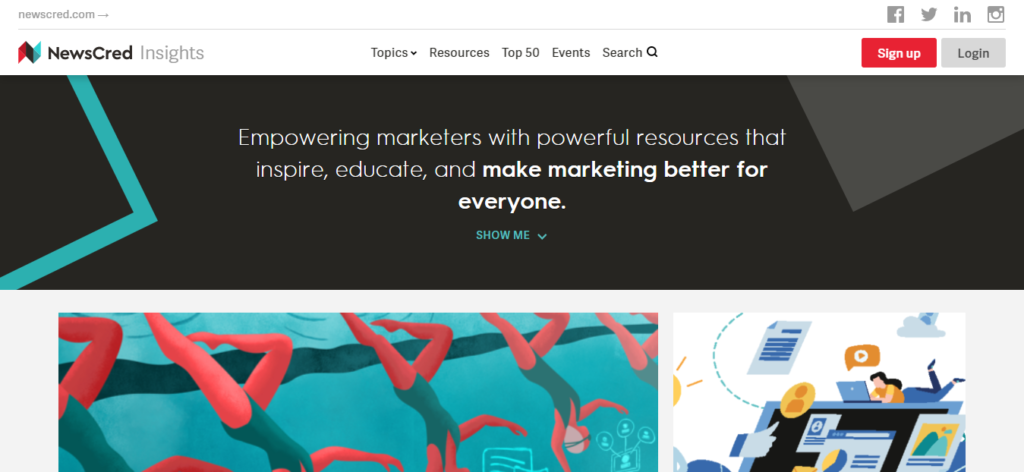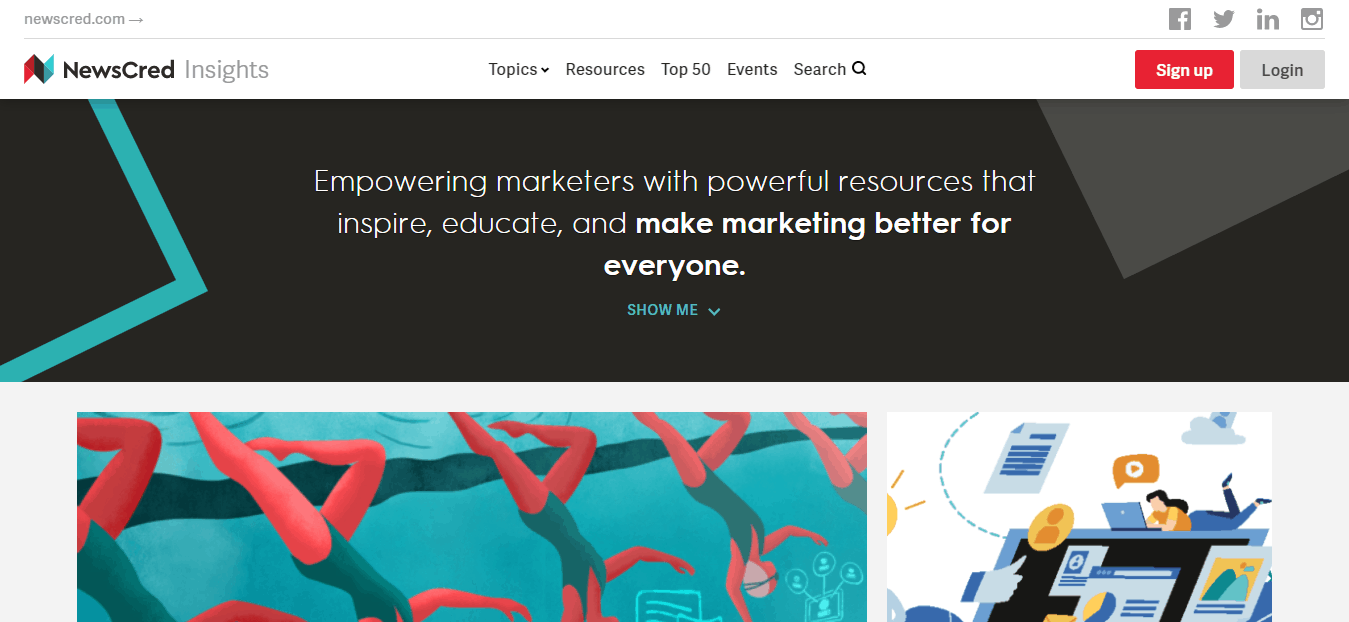 The website has been online since 2008, and it is all about content marketing. Shafkat Islam and Charles Hough founded the project.
Newscred.com can be viewed as some sort of an educational project. The theoretical aspects of content marketing are described here along with practical cases and promotion strategies. Materials are published often – the blog posts appear every 1-2 days.
Scoop.it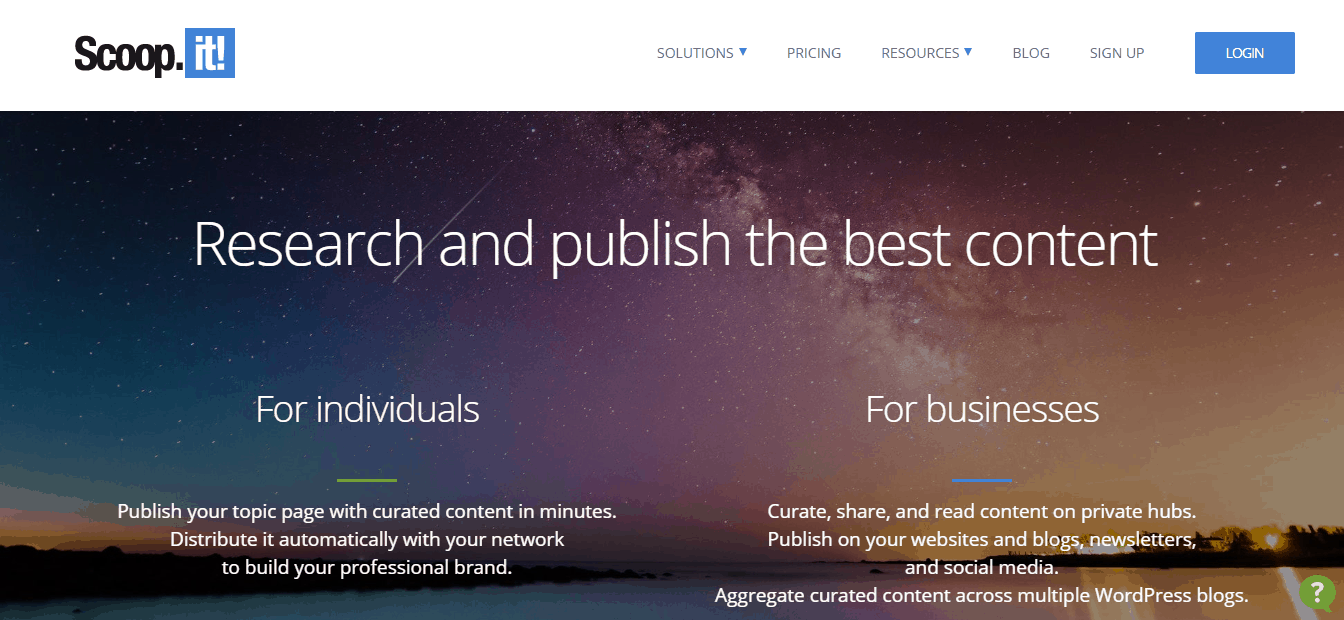 This platform for business was created by Guillaume Decugis and Marc Rougier in 2011, and their audience has grown up to more than 4 mln people since then.
The main principle followed by the authors can be termed as "cost-effective content marketing," whereby the main focus is placed on the maximum ROI. In the case of a free subscription, case studies and blog posts become available. New articles are published 3-4 times per month. The website is interesting for its hands-on approach, evidenced by the numerous case studies published on it.
Conversationagent.com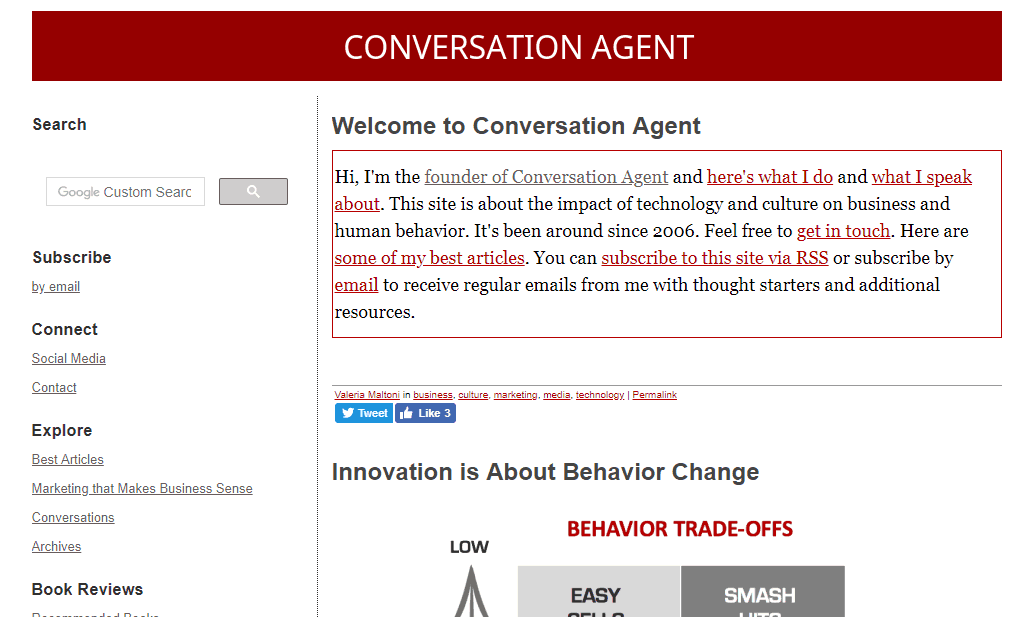 This blog by Valeria Maltoni has been online since 2006. Advertising Age has included it into the list of TOP 30 best blogs three times.
This is a traditional blog managed by one author. It addresses general issues in marketing but does not offer ready-made case studies. It will mainly be useful for the new professionals in the industry. The materials are published with average frequency.
Davidmeermanscott.com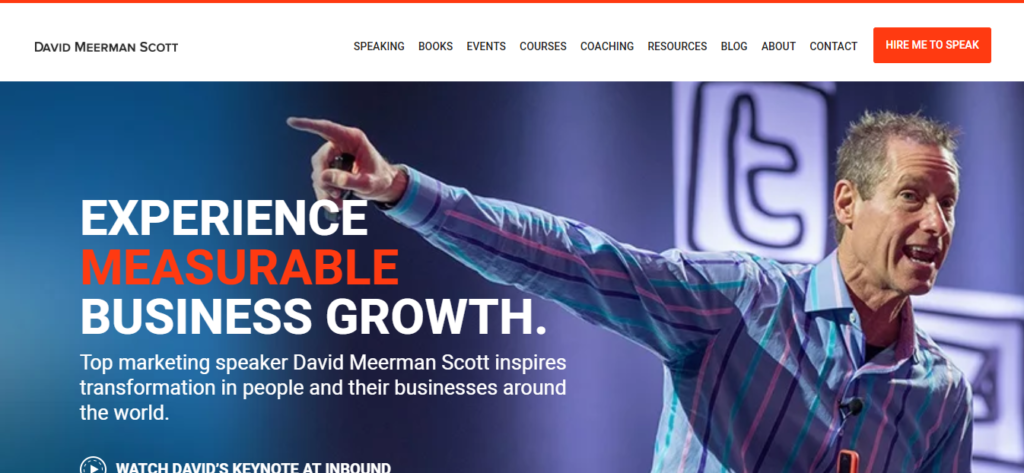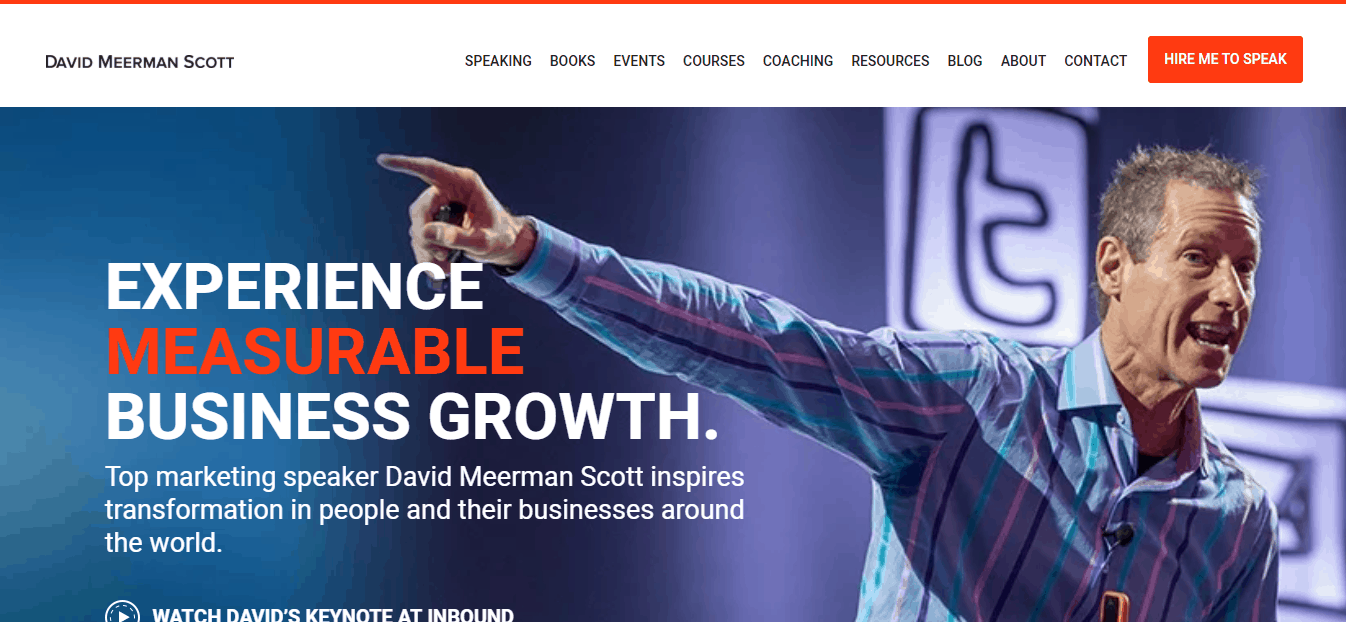 David Meerman Scott develops marketing strategies, provides consultancy services to developing projects. In addition to that, he has published 10 books dedicated to these questions. On his website, he mainly shares his observations in the sphere of marketing.
Buzzsumo.com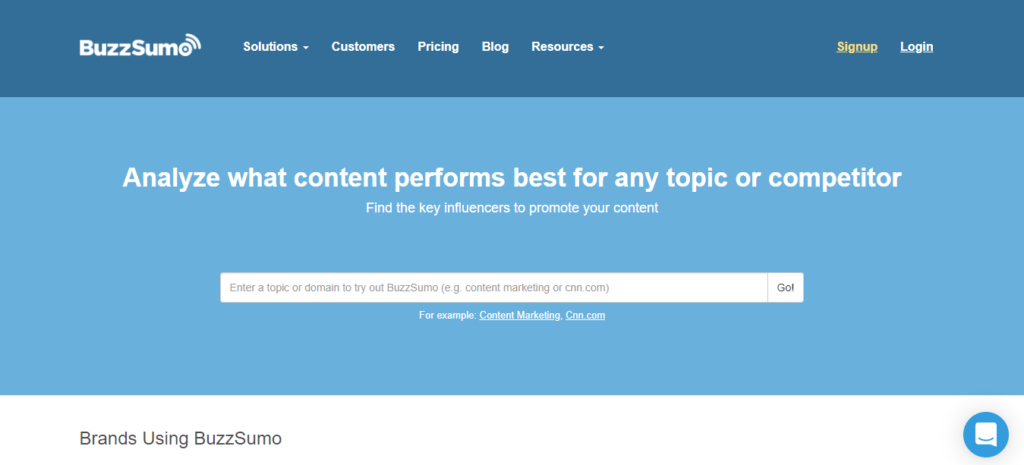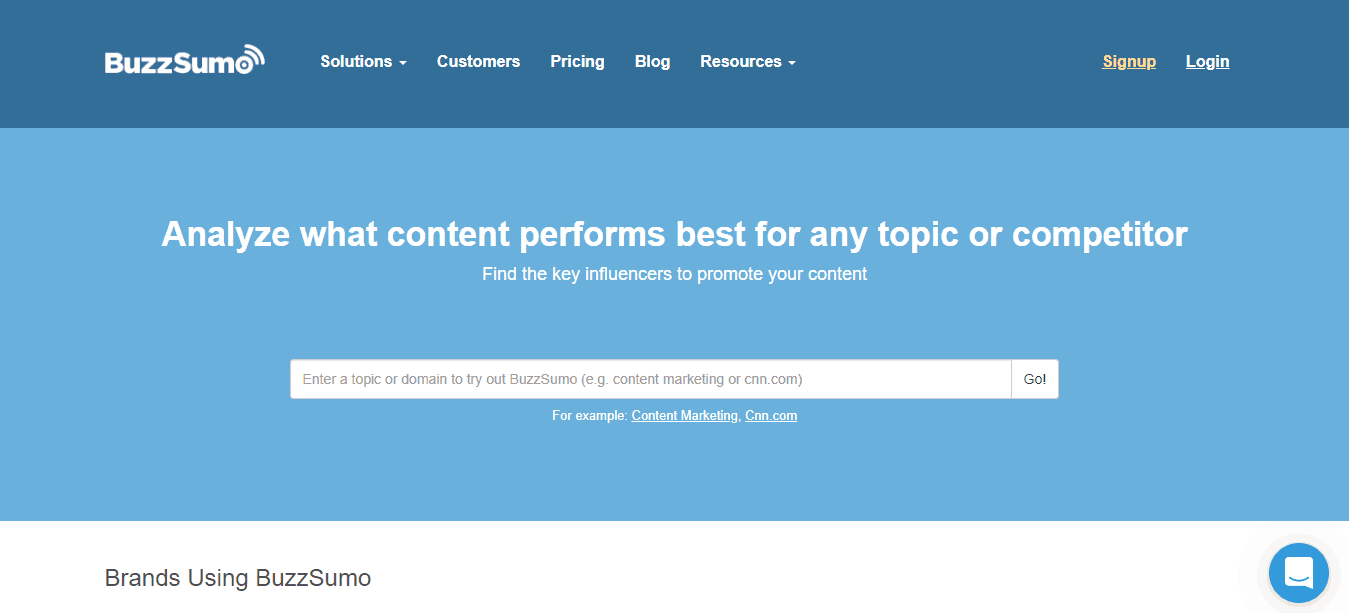 The website is dedicated to the creation of quality content, search inquiry analysis, and content planning. New articles are published weekly.
Apart from recommendations regarding content creation, the website throws light on some aspects of audit, traffic generation, and work with social media.
Smartinsights.com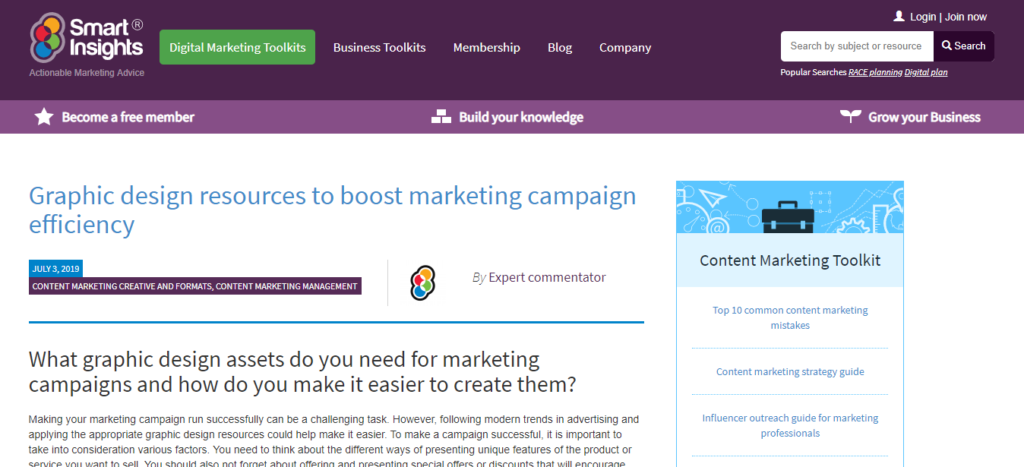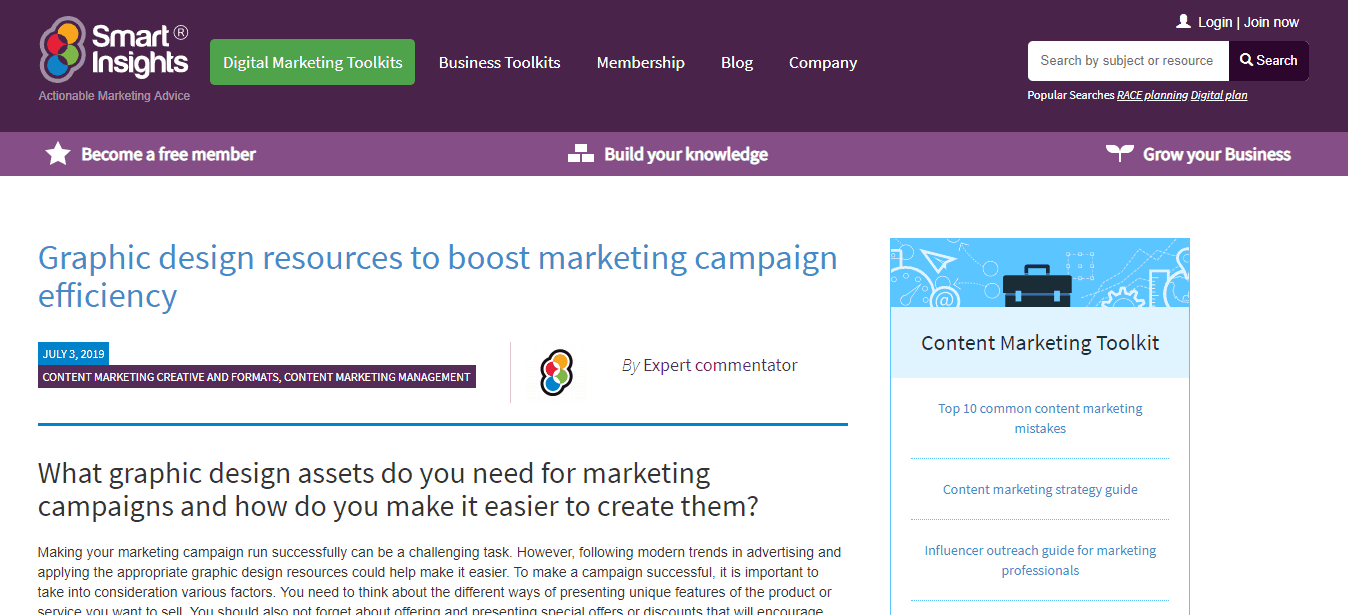 The website is dedicated to content marketing strategies. It was launched by Dave Chuffey and Stewart Miller in 2010. New articles are published one or two times per week.
Email marketing
Millions of people use email daily, so ignoring this product and services promotion medium would be unwise. However, it is important to prevent emails from ending up in spam boxes. Email marketing is not all about sending thousands of emails hoping that someone would click the link and order a product or service.
Emailmonks.com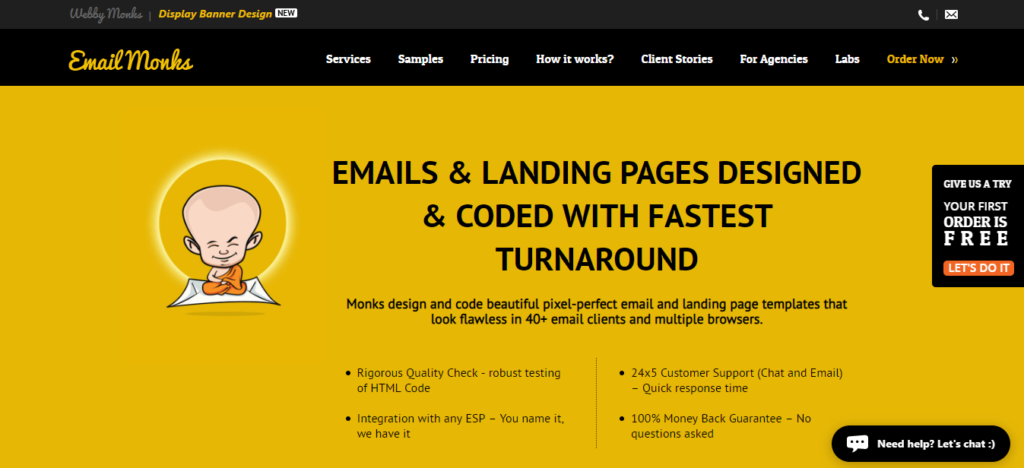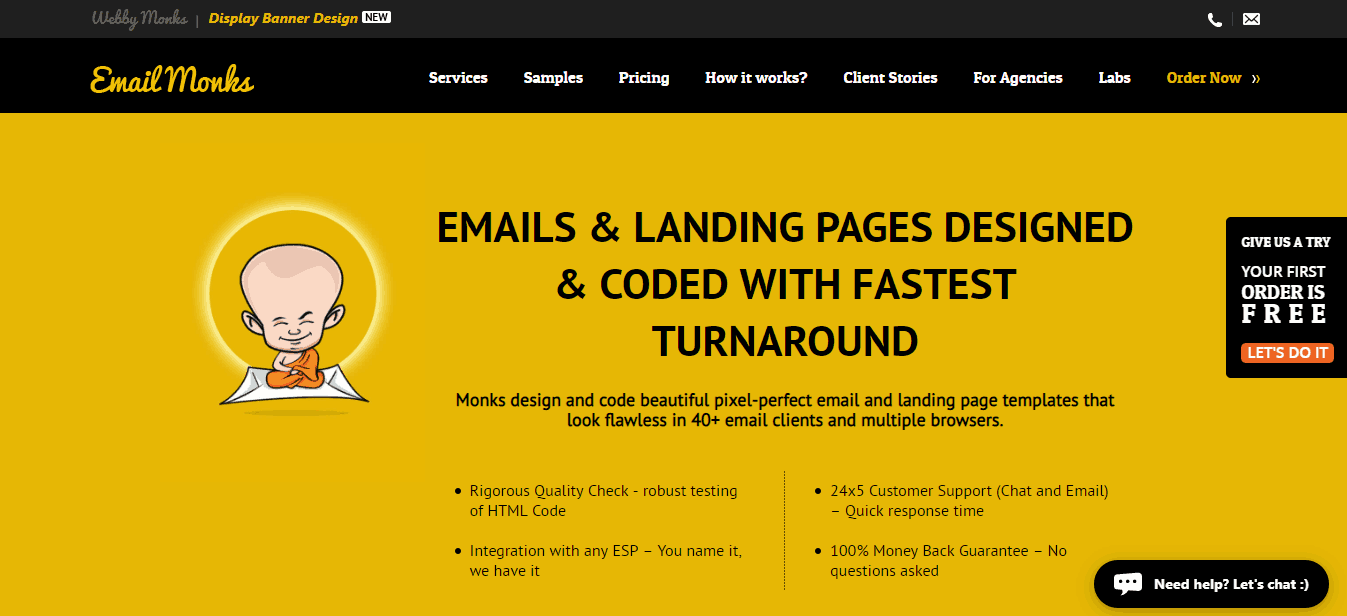 The platform, mostly dedicated to email marketing issues, was launched by Fabian Dech.
Sendinblue.com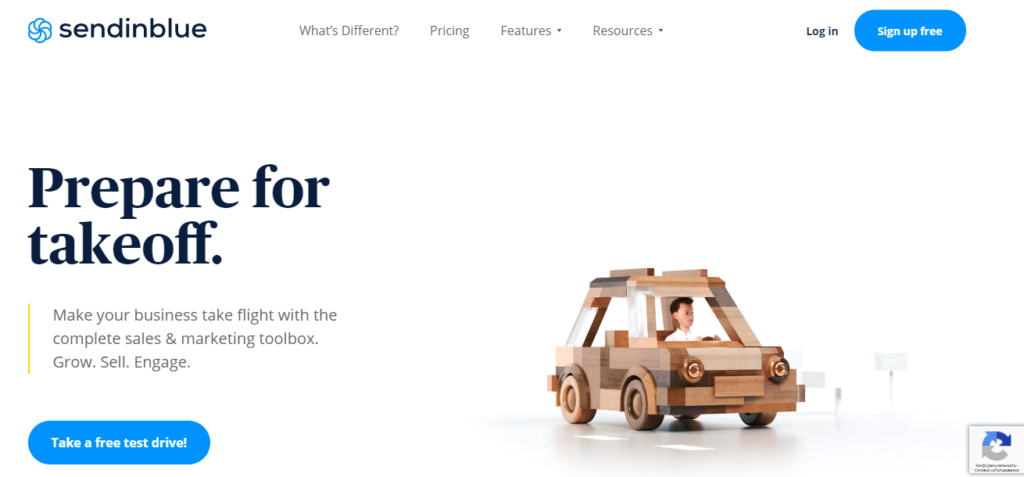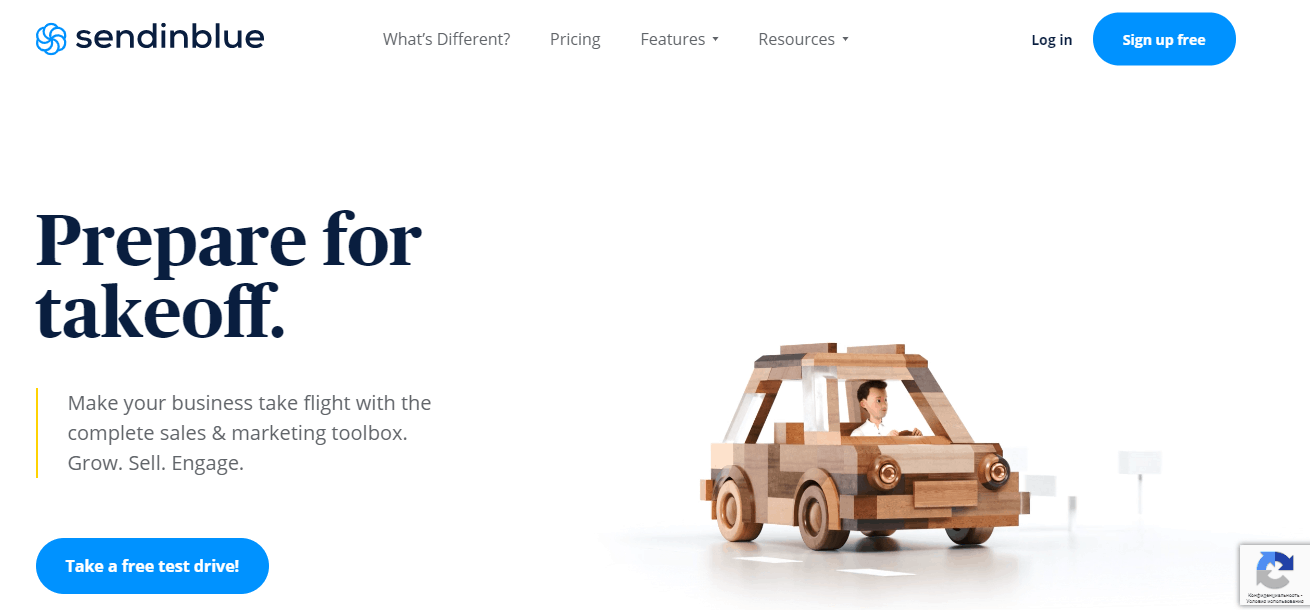 The website was launched in 2012 by Kapil Sharma and Armand Theberge. The website specializes in email and SMS marketing.
ConvertKit.com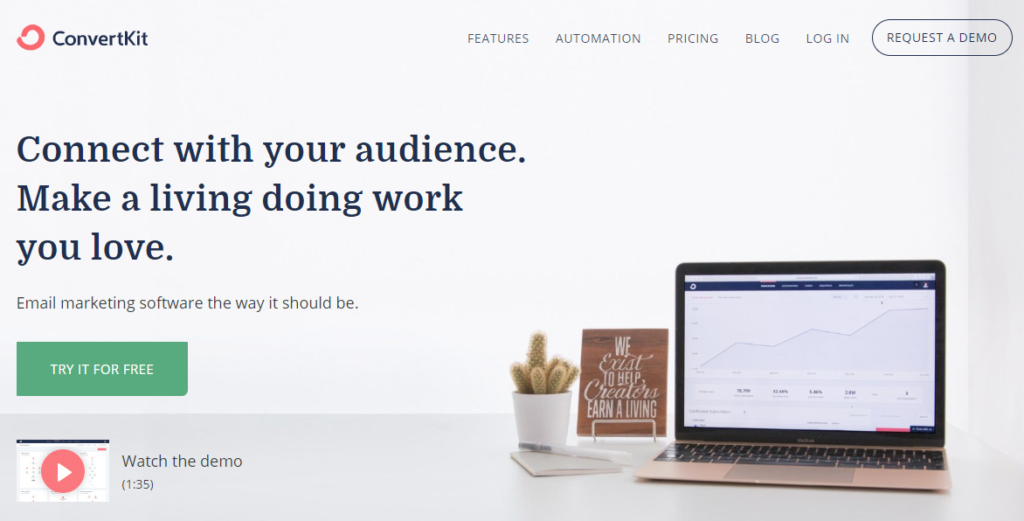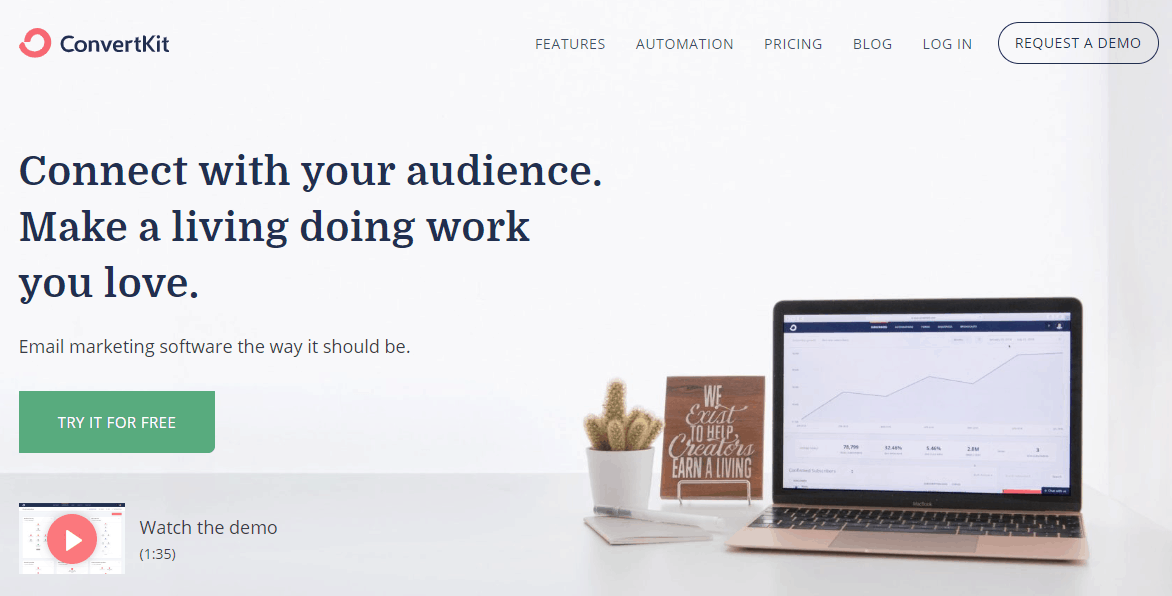 The website was created in 2013 by Nathan Barry. The platform ConvertKit is mainly aimed at the "creative" segment of the market. It also has its own email automation service.
Emailmonday.com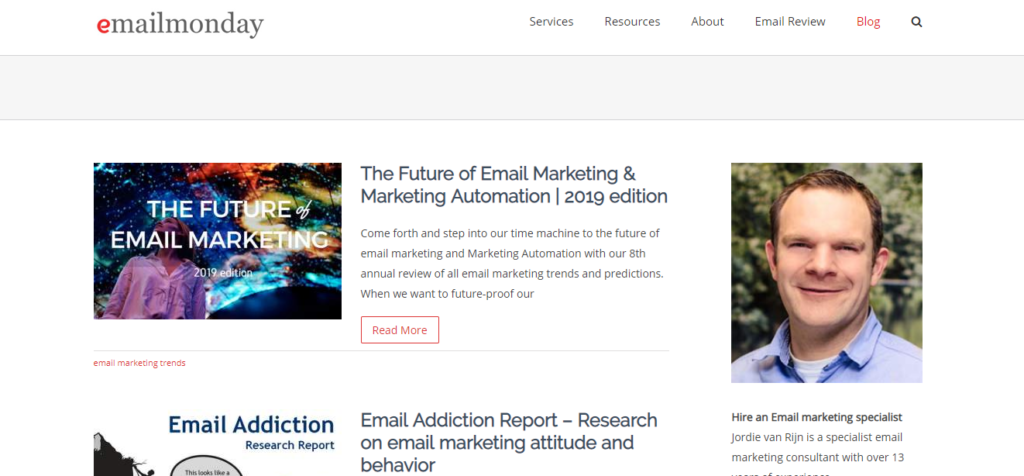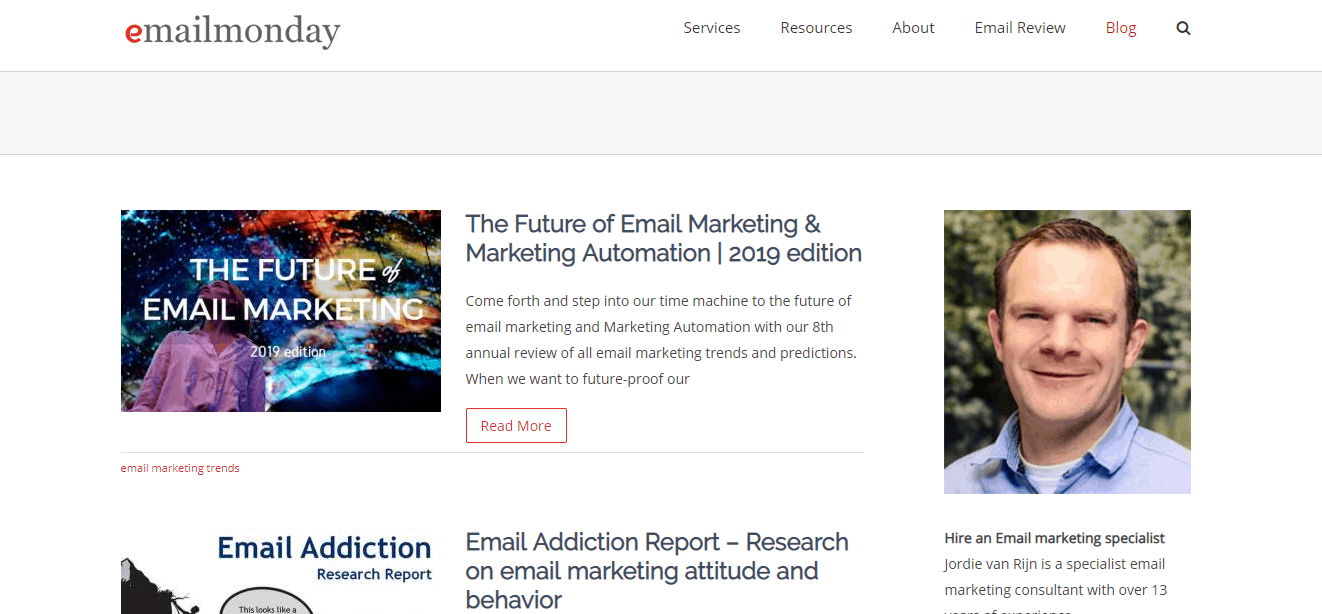 The project's author, Jordy van Rijn has been working in marketing for more than 10 years. He has collaborated with brands such as Heineken, AEGON, and KLM.
Pure360.com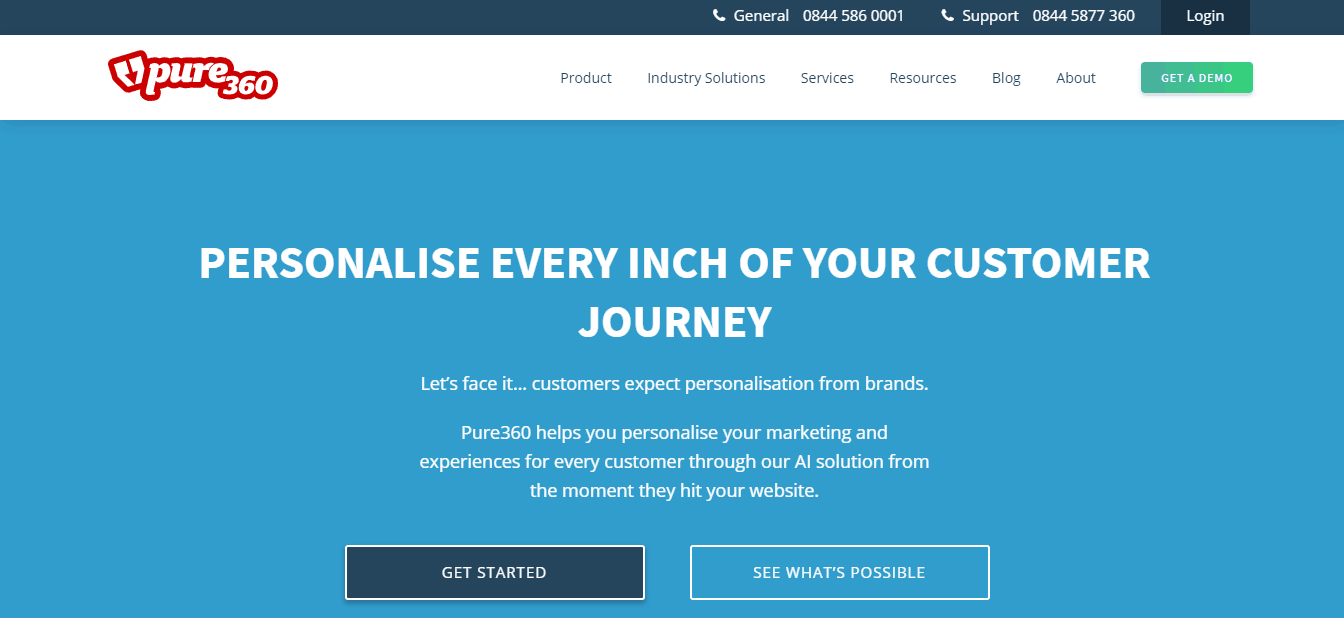 Since 2001, the company can boast fruitful collaboration with PayPal, Occam, Bravissimo, Wagamama, etc. Articles in the blog are not published regularly. However, on average, 3-5 new posts appear each month.
Sendgrid.com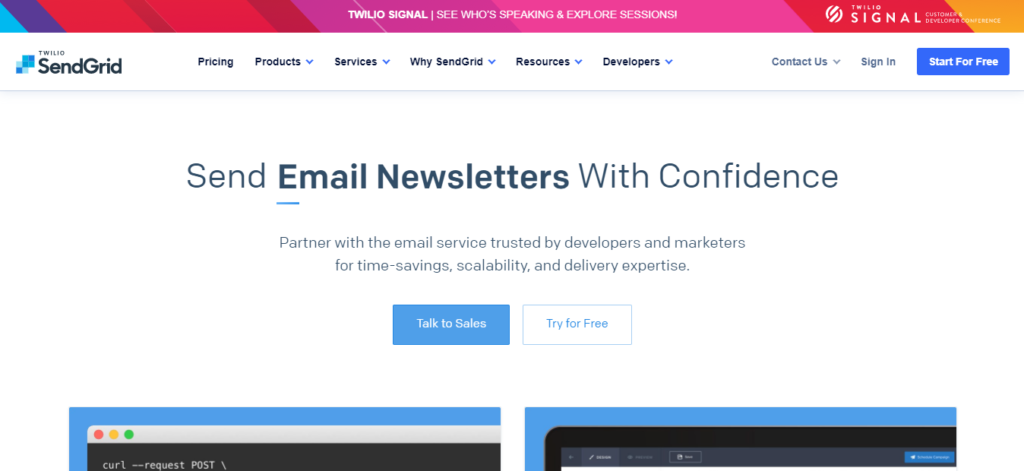 The platform Sendgrid was created in 2009 by Isaak Saldana, Jose Lopez, and Tim Jenkins. It is mainly concerned with email marketing. New posts appear in the blog not regularly; on average, 5-7 articles are published per month, but sometimes the blog can go without any updates for a week or two.
The company offers the creation and design of automated email campaigns. It also allows the clients to collect statistics and assess the effectiveness of marketing.  The platform has its own API and beta versions of contextual advertising services.
Emailonacid.com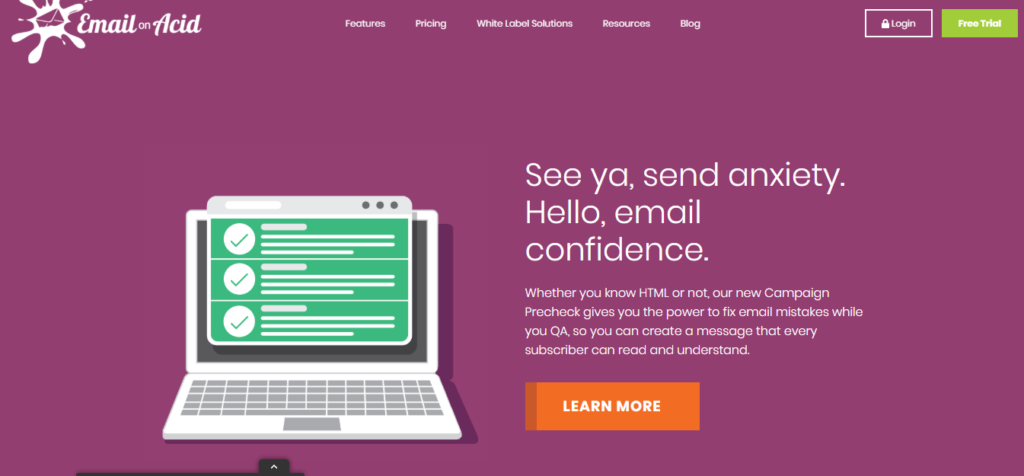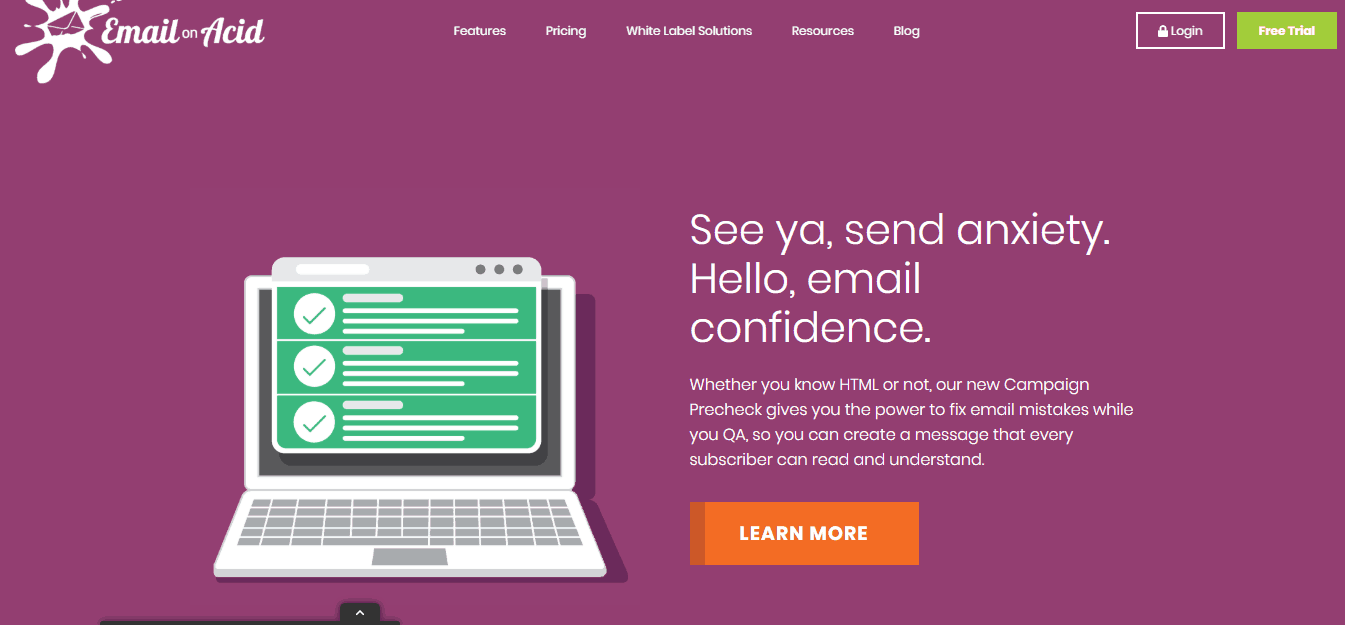 John Thies and Michelle Klann launched the website. According to the developers, their tools help create emails that their addressees will definitely read. In addition, the team is always there to conduct an audit of your marketing strategy or optimize it.
Social Media Marketing
Social media, blogs, forums, and various online communities are an almost inexhaustible source of business clients. However, one should be able to subtly encourage the user to click on the link and place an order. Below is a selection of great websites that have made social media marketing their priority.
Buffer.com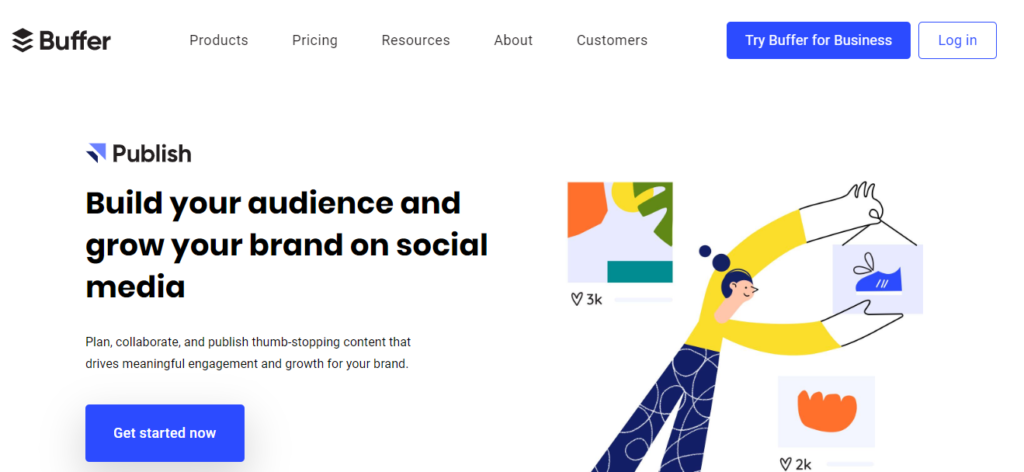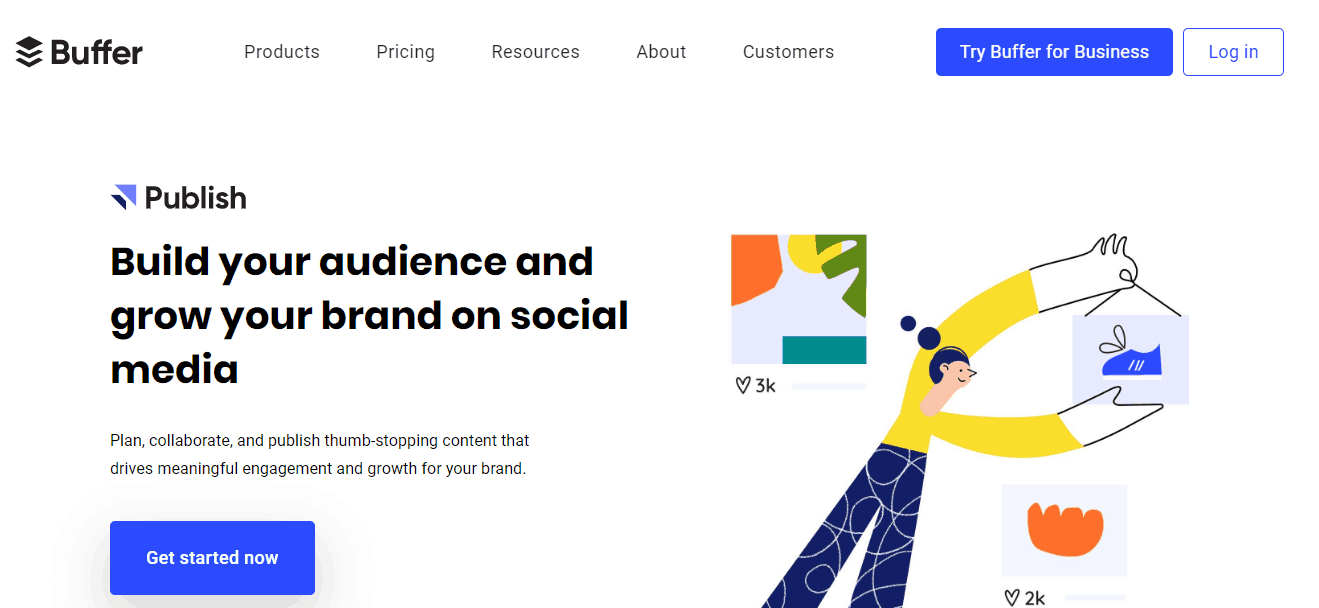 The website was created in 2010 by Joel Gascoigne. The project specializes in engaging clients from popular social media users. In addition, the company has created an application with the same name, which allows marketers to plan publications in social media and assess how they interact with the audience.
Socialmediaexplorer.com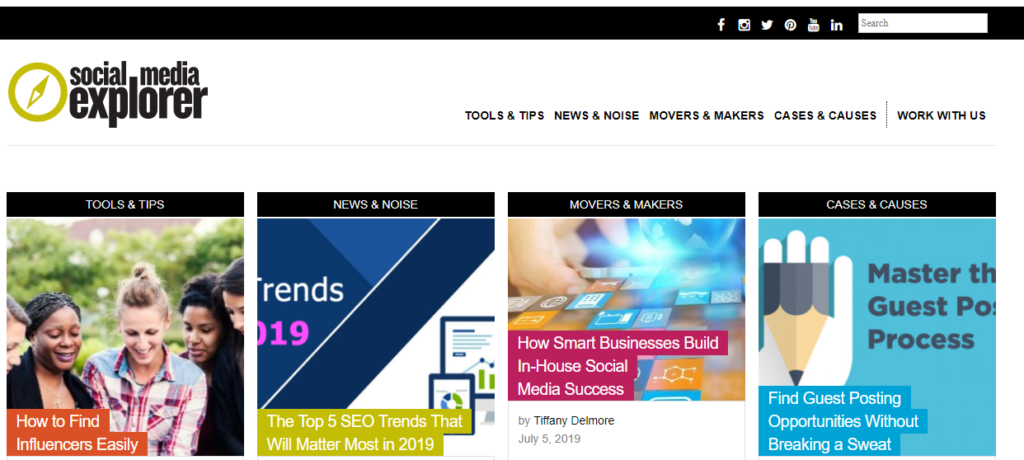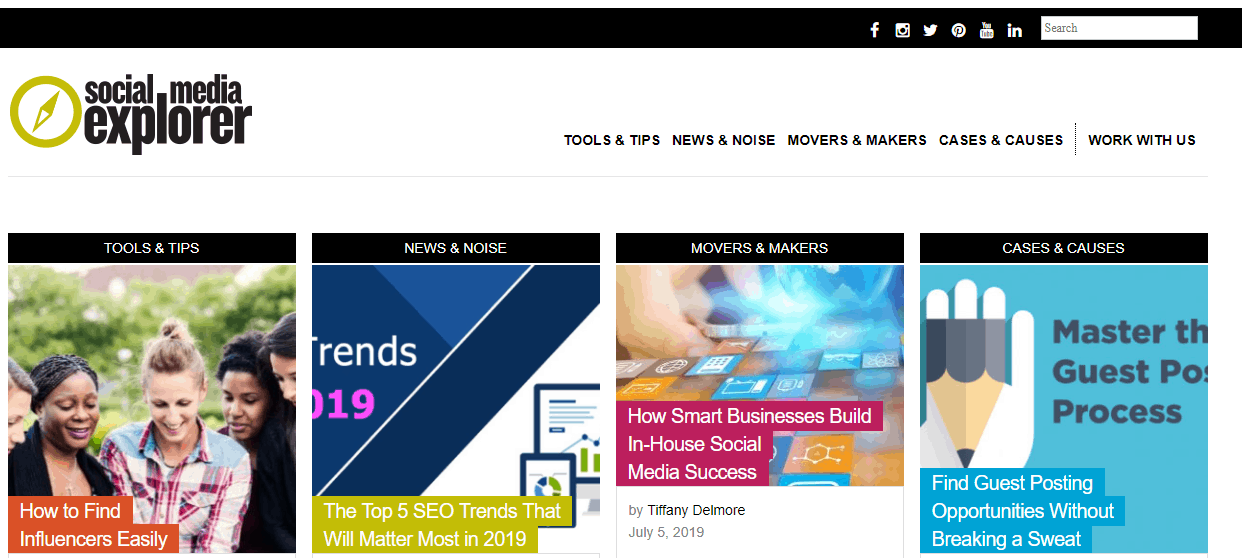 The project is authored by Jason Falls, and it is considered a great source of news from the world of marketing and various life hacks for product promotion in social media. Also, great solutions for business are offered.
Sproutsocial.com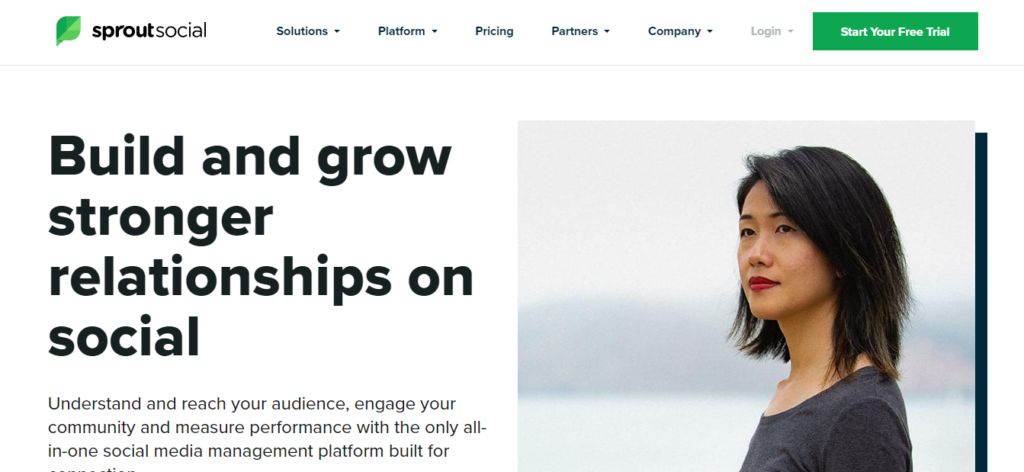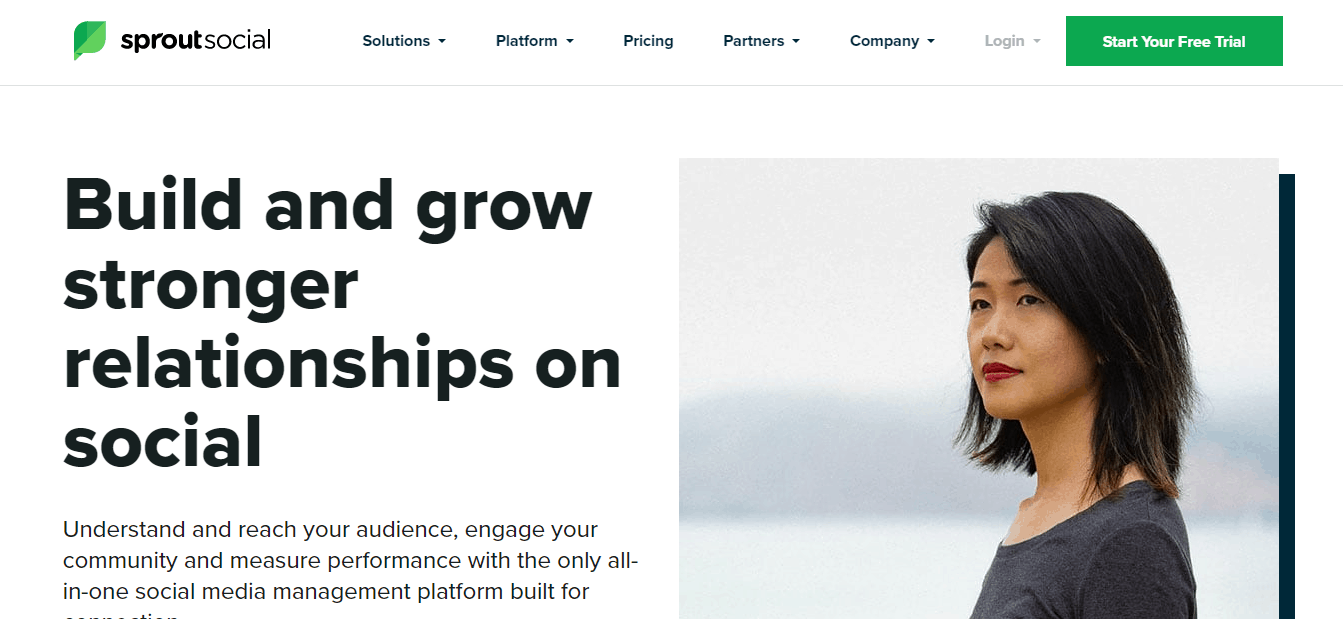 The platform appeared in 2010 thanks to Justyn Howard, Peter Sung, Aaron Rankin, and Gil Lara. First and foremost, this is the tool allowing the business to optimize communication with potential clients via all popular social media. Second, it is integrated with Google Analytics, which makes it possible to estimate its ROI.
Marismith.com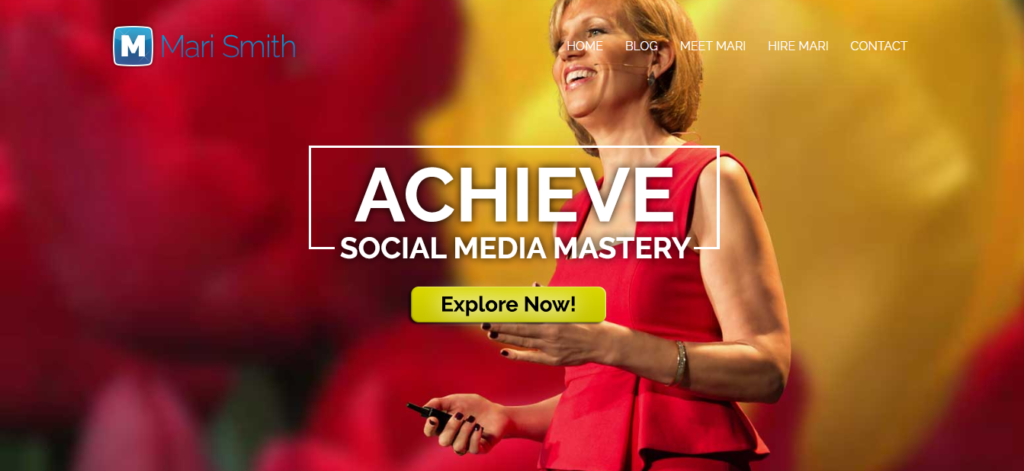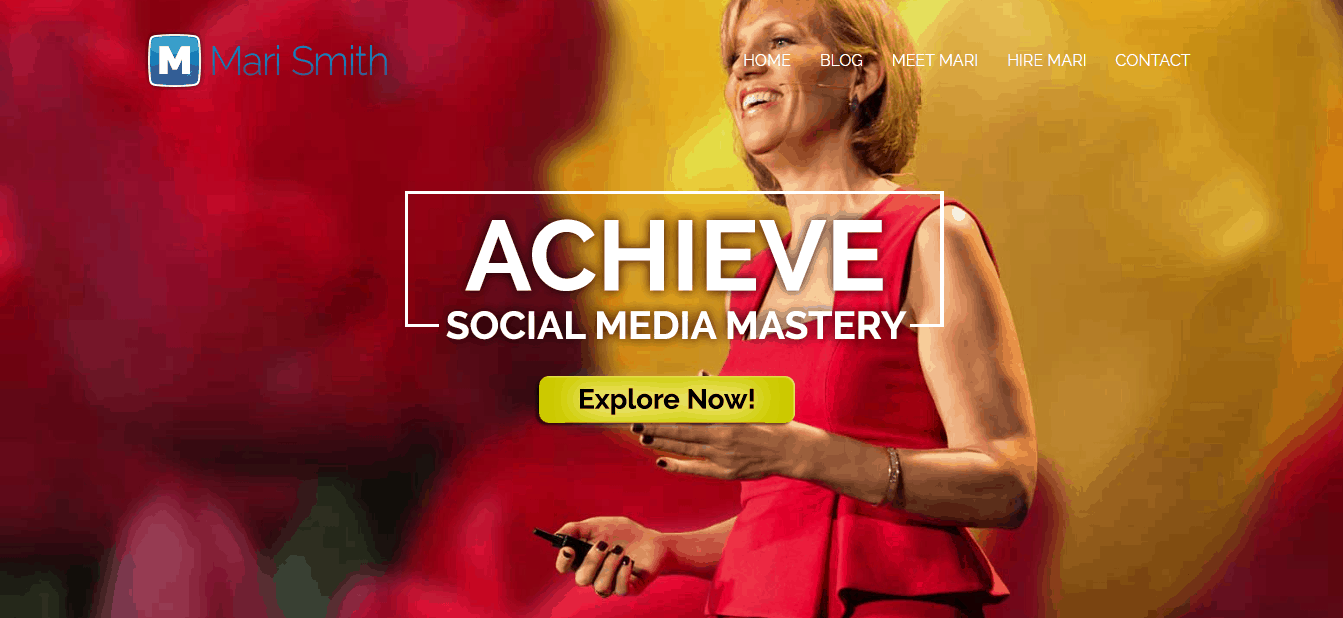 The website owes its name to Mary Smith – a renowned SMM specialist. Facebook considers her one of the best experts in small business and Facebook promotion. Moreover, her achievements in SMM have brought her fourth place in the respective Forbes rating.
Jennstrends.com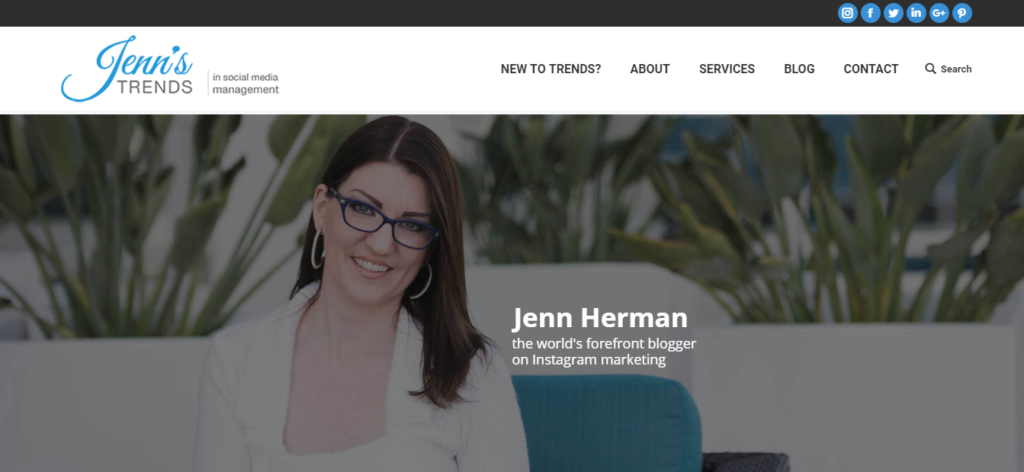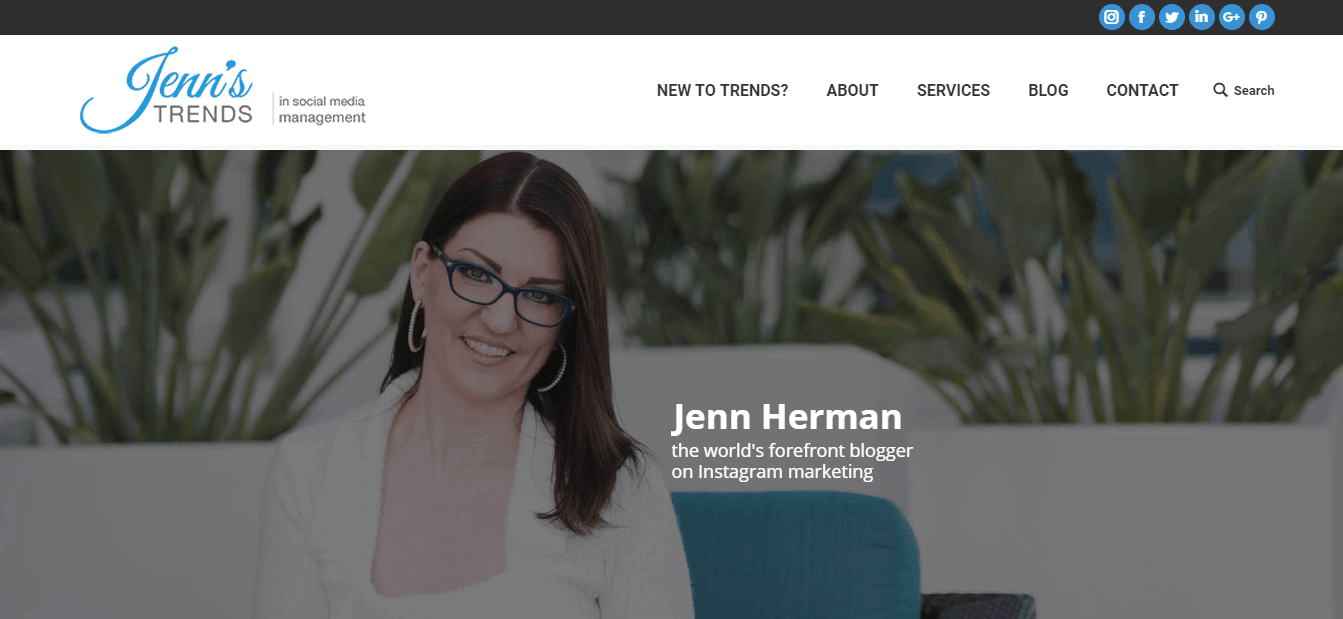 This website was created by Jenn Herman, a guru of Instagram promotion, so her blog is all about this marketing niche. She writes a lot about product promotion on Instagram, explains the principles of Ista algorithms, touches upon promotion on Facebook.
Hootsuite.com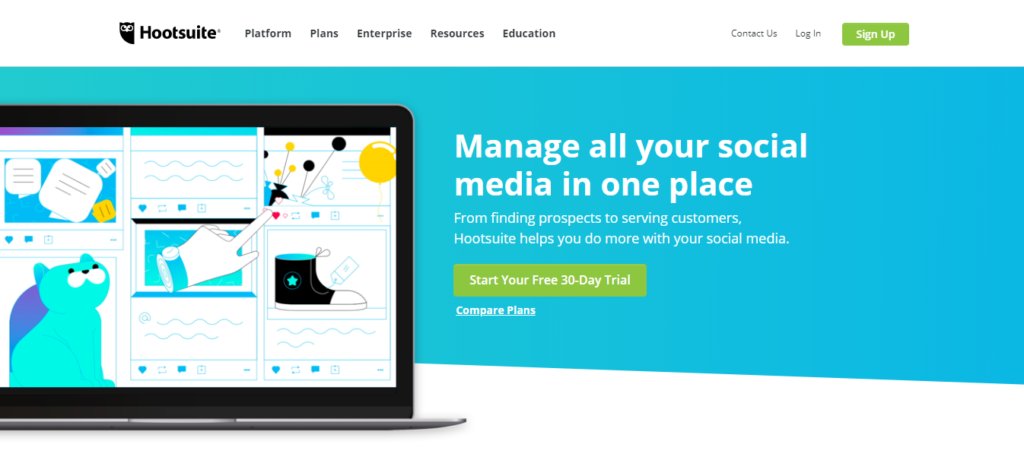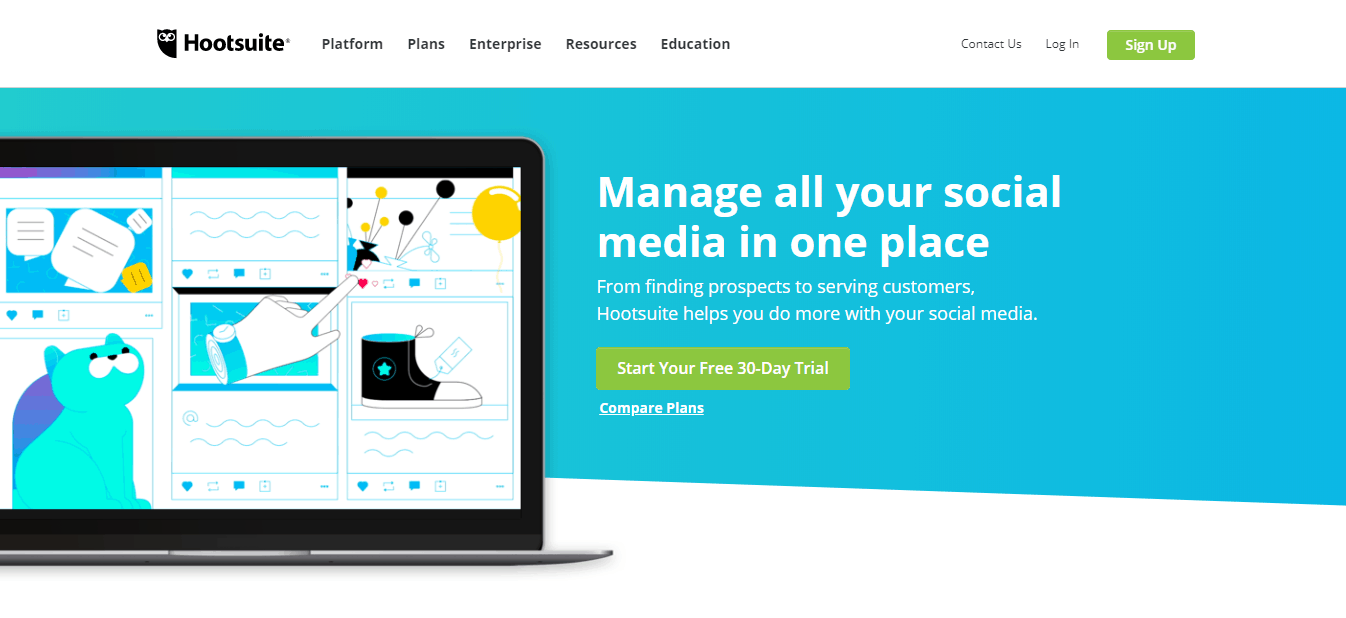 This website, created by Ryan Holmes, started its work in 2008. Hootsuite – is a platform allowing for easily tuned business promotion in all popular social media. It is integrated with Facebook, Instagram, Twitter, Linkedin, YouTube, Pinterest, Snapchat.
Socialmedia.biz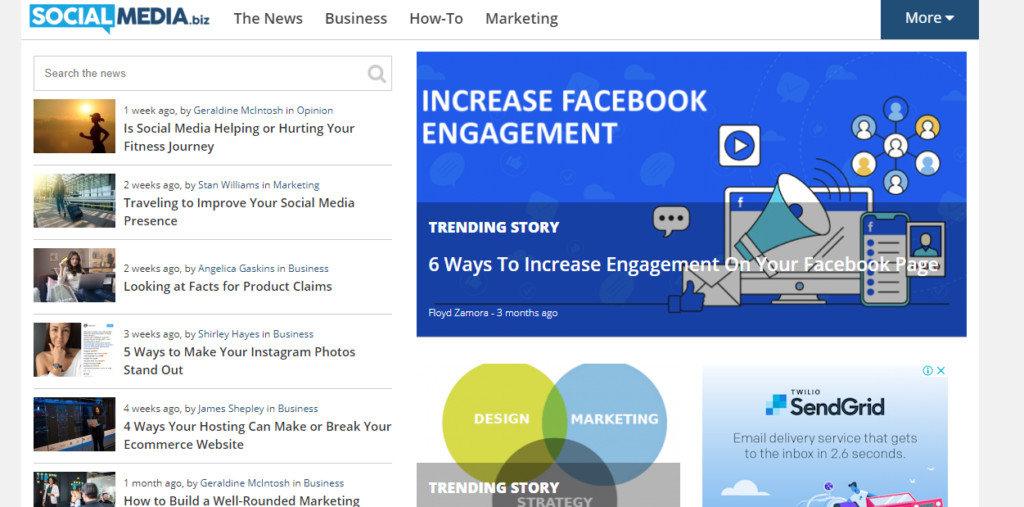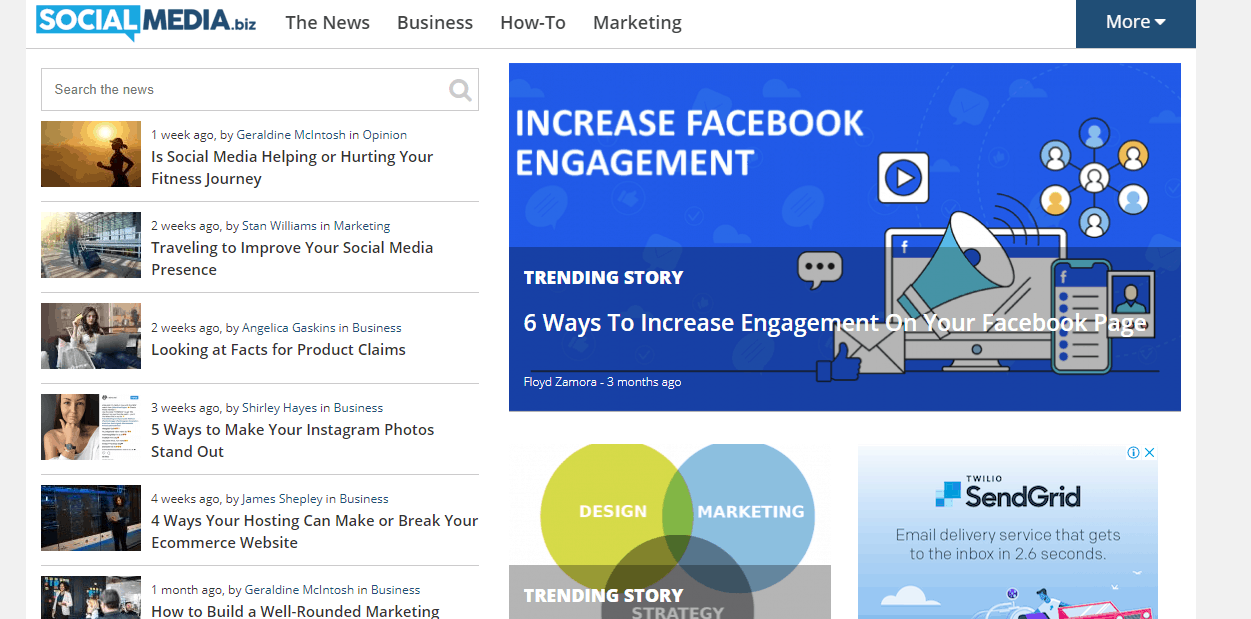 The website's editor, Angelica Gaskins, is an expert in general social media promotion and marketing. New articles appear weekly.
Conversion rate optimization
The main purpose of all marketing tricks is to maximize the conversion rates, or, in other words, convince the client to click the link and order a product or service from a website. Below you will find a list of cool websites offering good advice on CRO (conversion rate optimization).
Conversionxl.com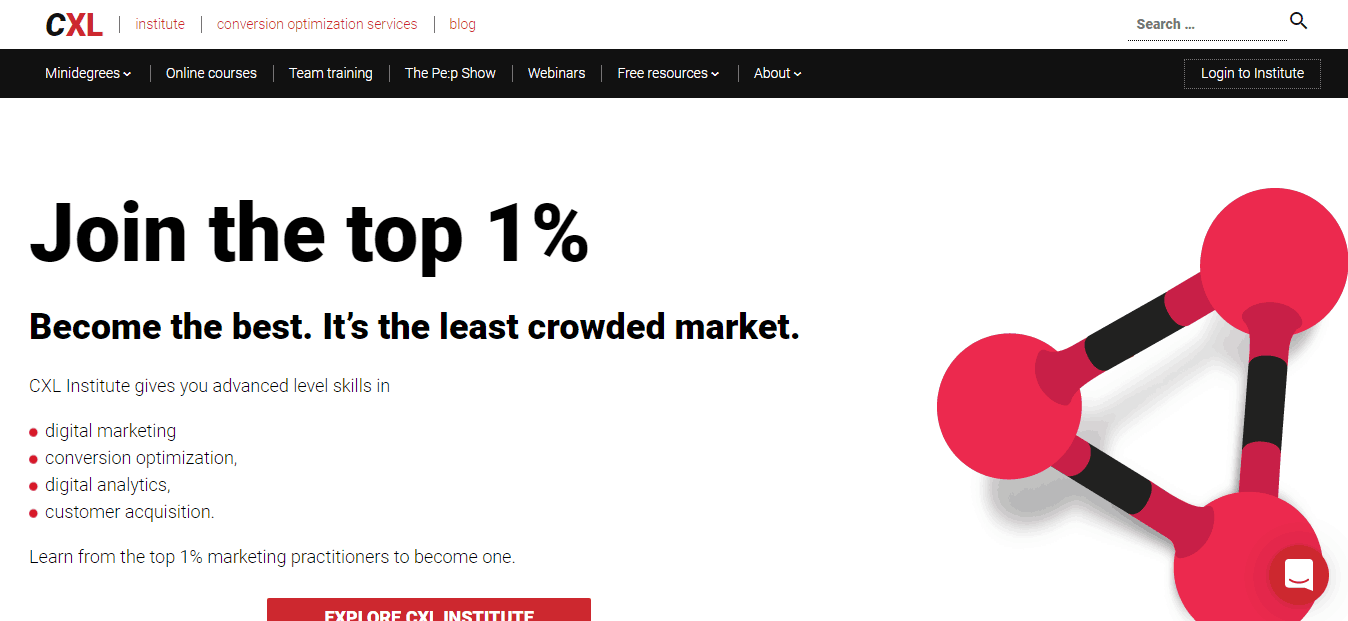 The project was founded by Peep Laja – one of the best marketing professionals. In 2015, PPS Hero ranked him first among the top specialists in conversion rate optimization.
Conversion-rate-experts.com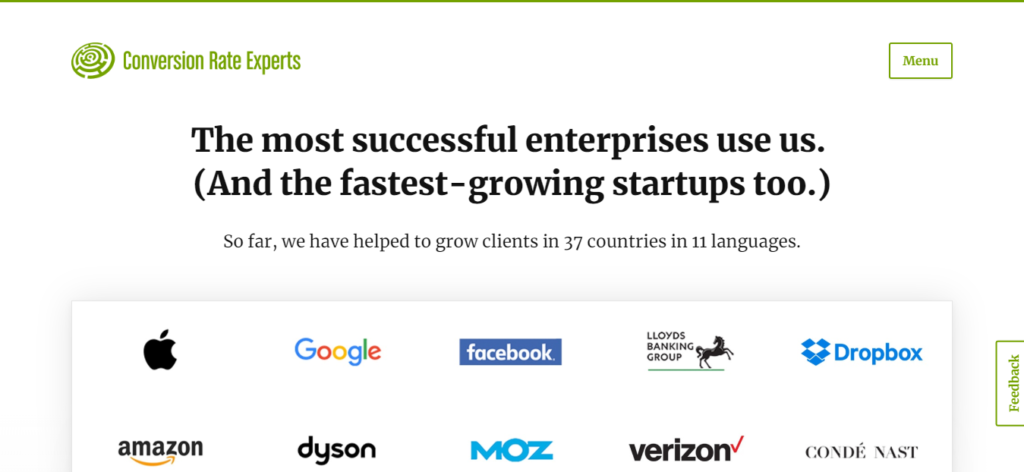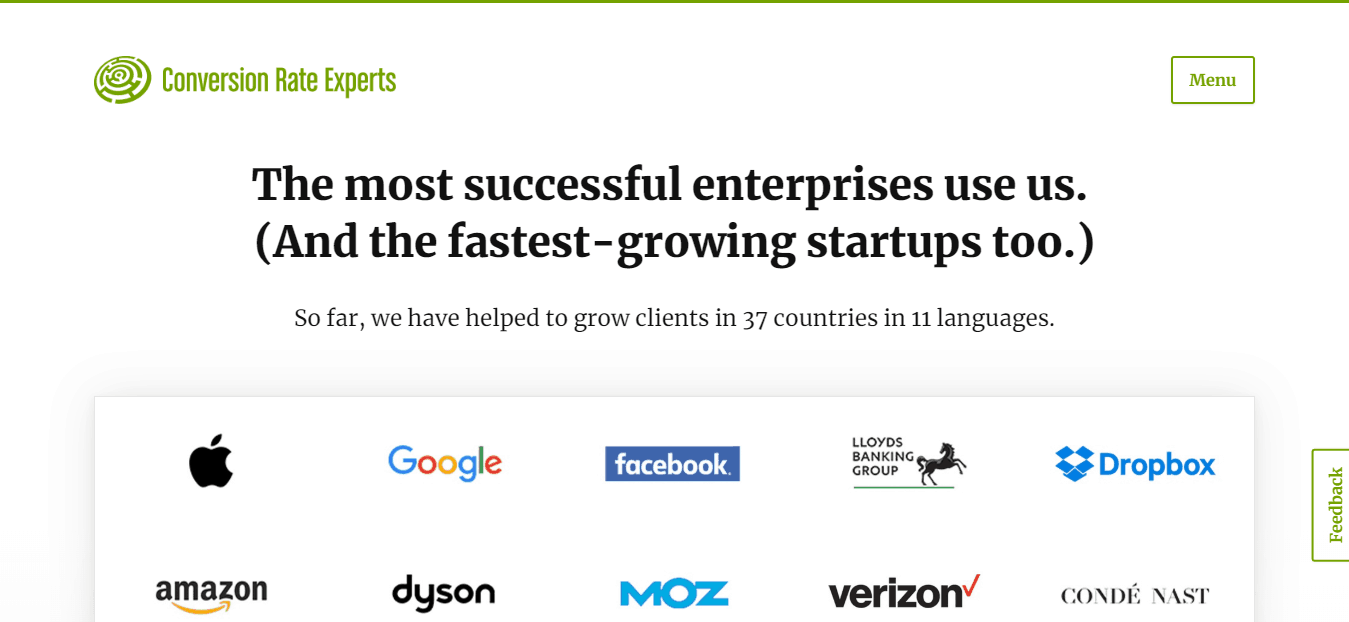 The project was funded in 2006 by Ben Jesson and Carl Blanks. The company has worked with such giants as Amazon, Facebook, Google, and Apple and received the highest award for the best business in the UK two times.
VWO.com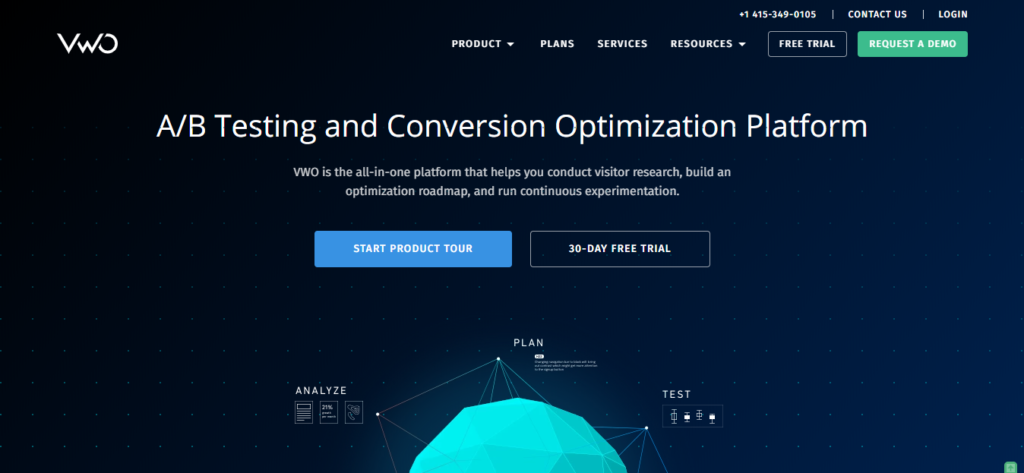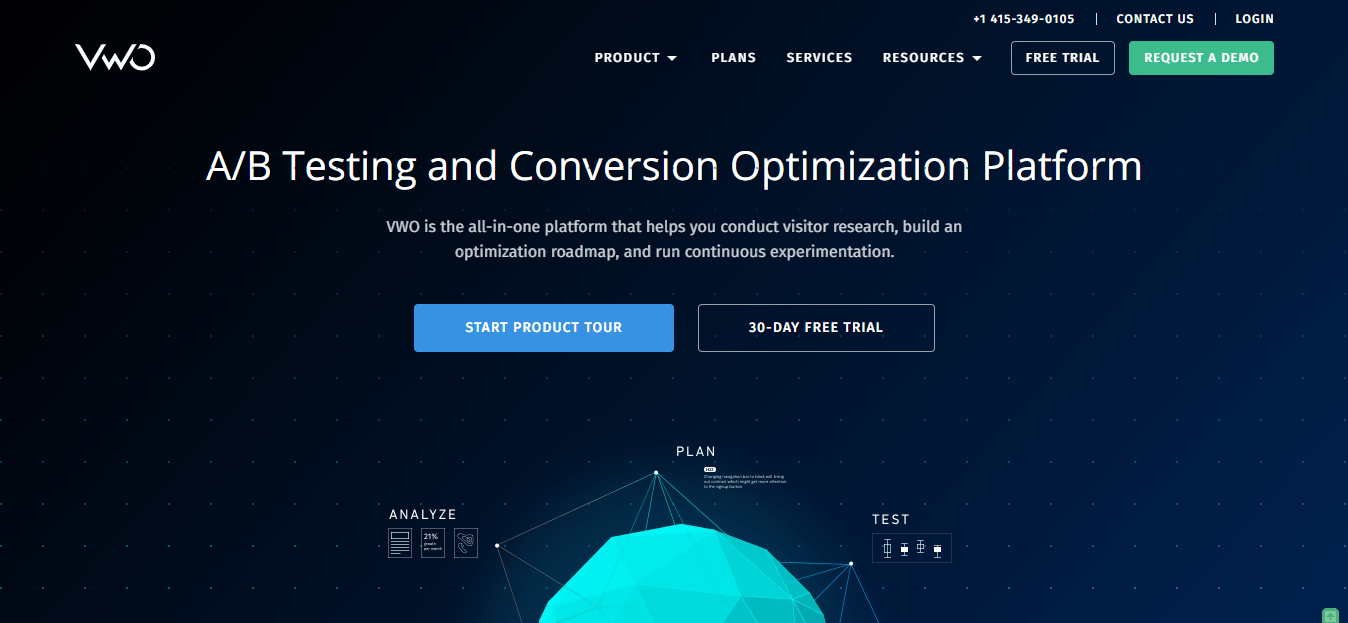 The project initiated by Paras Chopra began in 2009. The website suggests that its clients analyze the current conversion rates and then boost them to the maximum.
Unbounce.com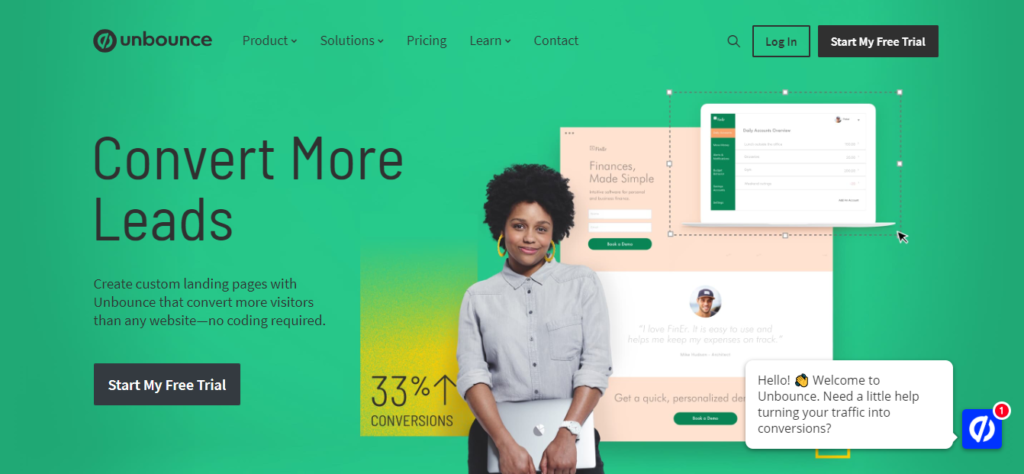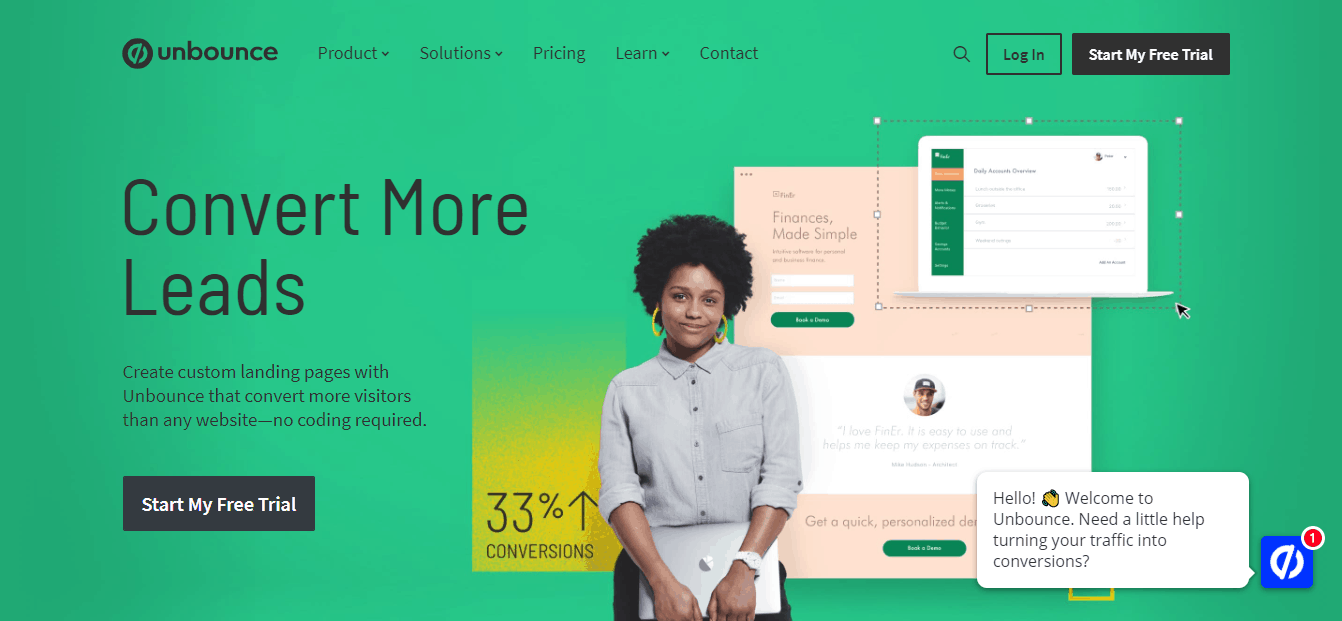 The website was created in 2009 by Rick Perro, and it is mainly concerned with the creation of landing pages. However, quite a lot of attention is dedicated to landing page conversion as well: in addition to landing page development, the company offers conversion rate estimation.
Crazyegg.com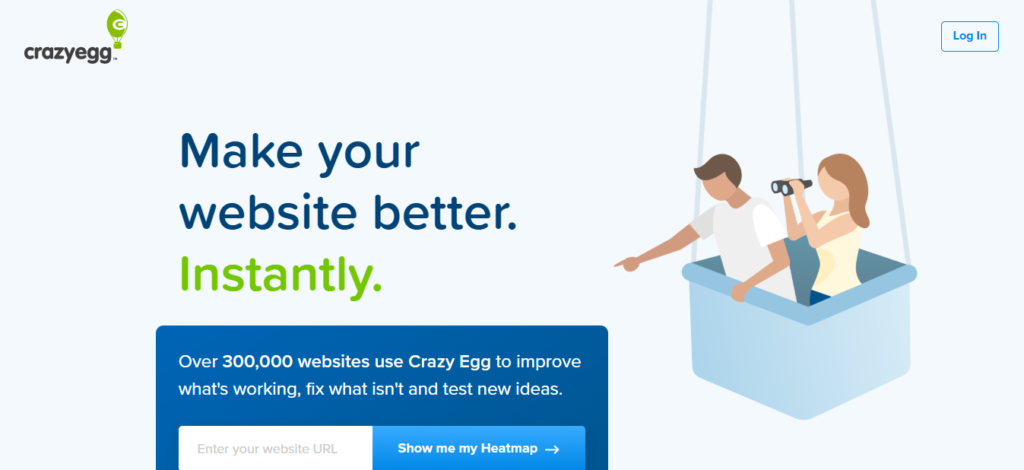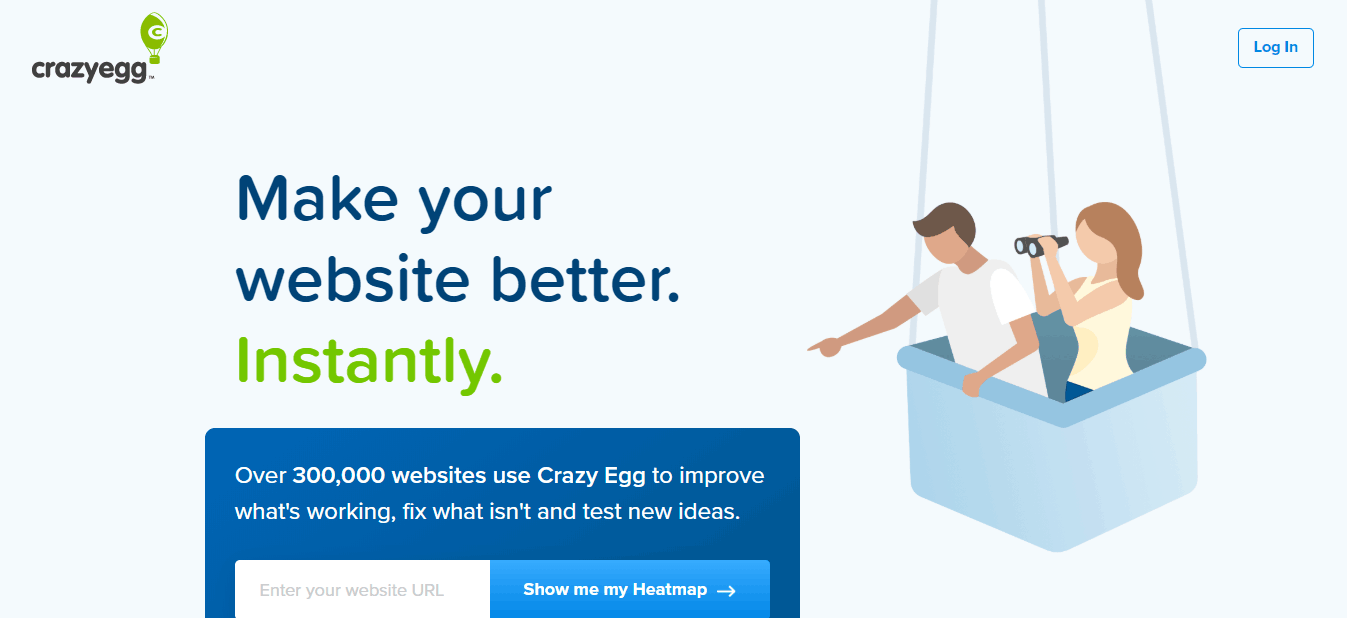 This is one of the first web services aimed at increasing conversion rates. It was launched by Ethan Schach and Neil Patel in 2006. The project offers business clients to build a heat map of their website, which demonstrates the users' behavior in case the website goes up. Also, the team promises to boost the website conversion rate to the maximum in 30 days.
Invespcro.com
Founded in 2006 by Khalid Saleh and Ayat Shukairi, Invesco. com is another one of those "oldies but goldies." The team specializes in assessing the current conversion rate, optimization, and subsequent audits, making the landing pages more effective and teaching CRO to the new professionals.
Monetate.com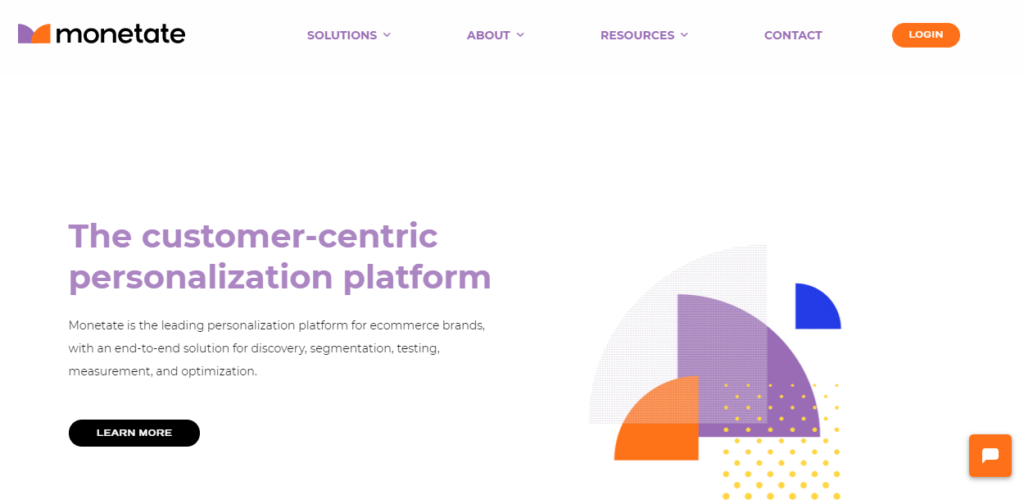 David Brassin and David Booksman launched the project. The main peculiar feature they offer is their own personalization mechanism Monetate, which can assess the marketing campaign's effectiveness for every client individually.
Widerfunnel.com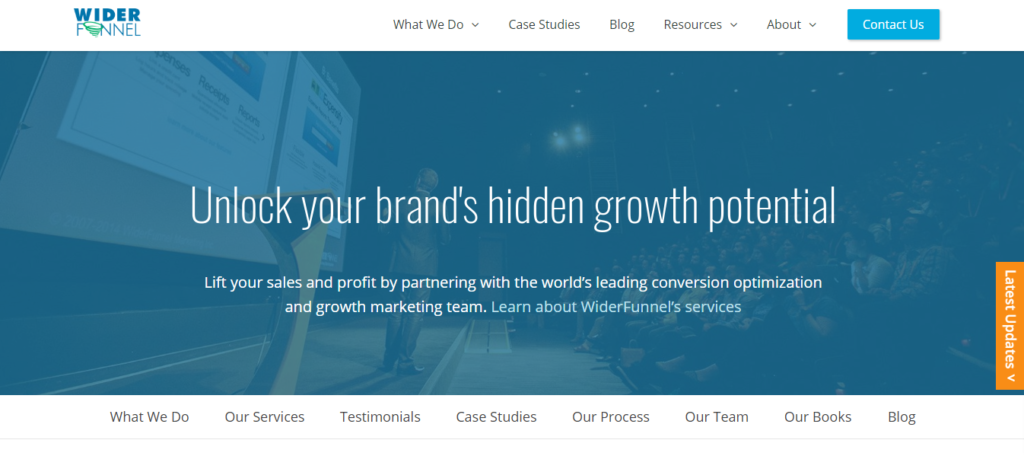 Launched in 2007 by Chris Howard, WiderFunnel has collaborated with such clients as Google, SAP, and tourism services in British Columbia.
Getuplift.co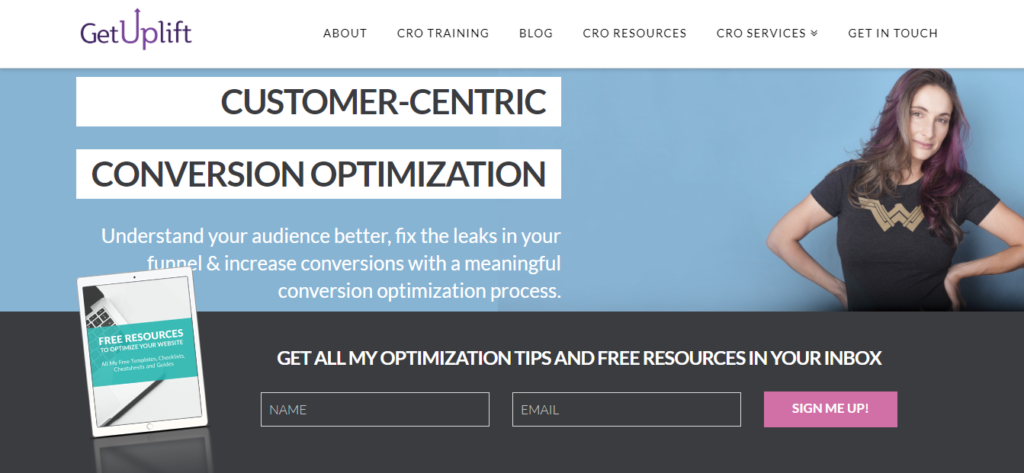 Talia Wolf is a well-known CRO specialist who also gives consultations and training sessions. The website gives you a chance to order a quality audit of your project, while the blog provides useful information on CRO.
Growth marketing
This is a comparatively new branch of marketing, which is aimed at achieving results quickly. For this purpose, experimental methods of working with the audience are employed to allow for the fast development of the business eventually. Below we have listed several cool websites that will make you rethink the concept of online business promotion.
OkDork.com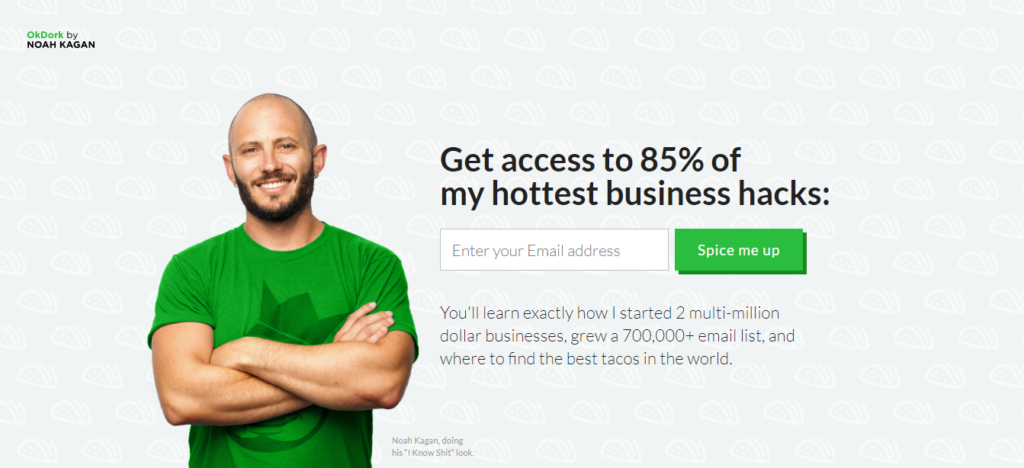 This is a personal project of Noah Kagan, the head of KingSumo, AppSumo, and Sumo. On this website, he shares his rich experience in business promotion as he has been able to grow million-worth businesses from scratch.
Intercom.com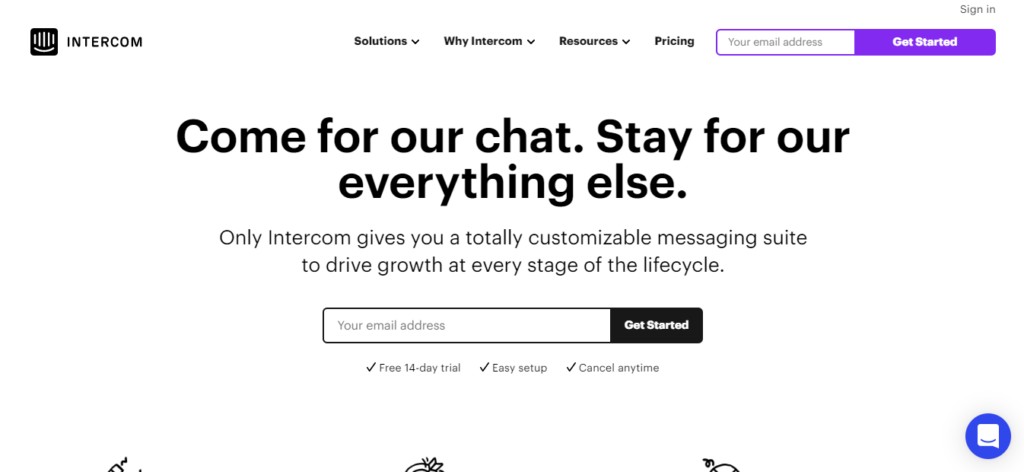 Eoghan McCabe, Des Traynor, and Ciaran Lee founded the project in 2011. Messaging applications are powered by a single platform, allowing the clients to use "Account-based marketing." And this is only one of the directions in the company's activity.
Quicksprout.com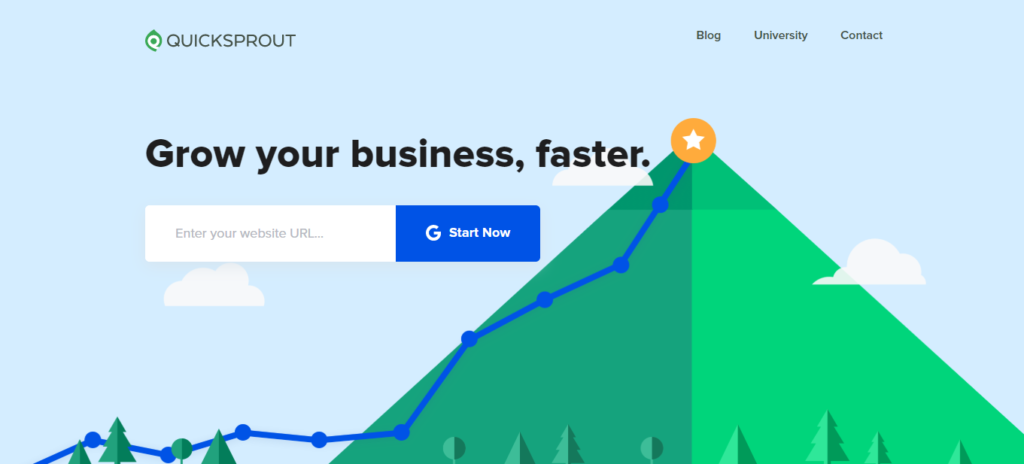 The service was launched in 2008 by Neil Patel. Now it is managed by Corey Cummings and Lars Lofgren. This is a very interesting website as it does not offer many services at once, unlike its competitors. Here you will find only links to the blog, contacts, and the section with educational materials.
Appcues.com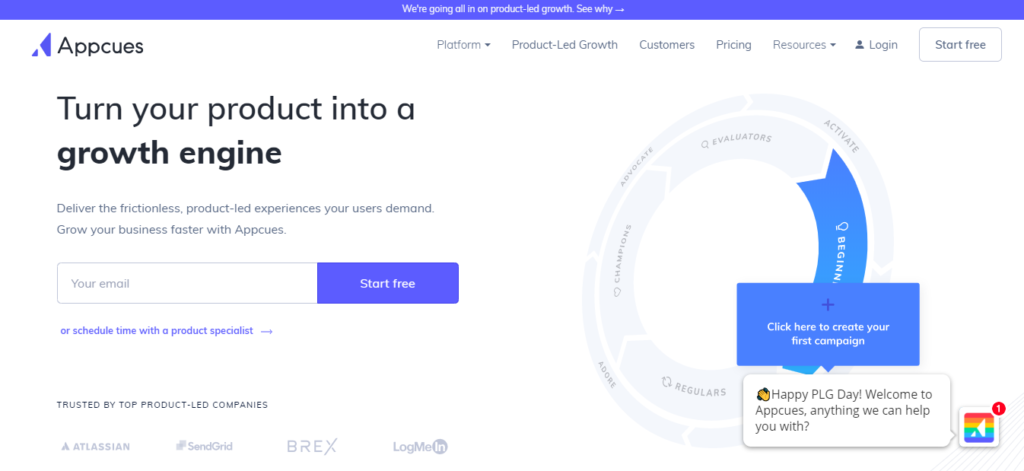 The service was founded in 2013 by Jonathan Kim. It promises a quick promotion to a business with a guaranteed influx of clients, which can be estimated along with other metrics with a specifically designed calculator.
Copyhackers.com
Joanna Wiebe launched this project in November 2016. Since 2004, she had been working as a copywriter focusing on boosting the conversion rates. Nowadays, this website offers a great collection of articles on marketing, copywriting, and freelance at large.
Bammboo.io
In addition to growth marketing, the Dutch company founded by Thierry de Vries and Barth de Lege offers SEO optimization services, creation, and optimization of landing pages and increases conversion rates. The results are monitored strictly at all stages. Since fast business growth is the main priority, the team widely applies experimental methods.
Pagetraffic.com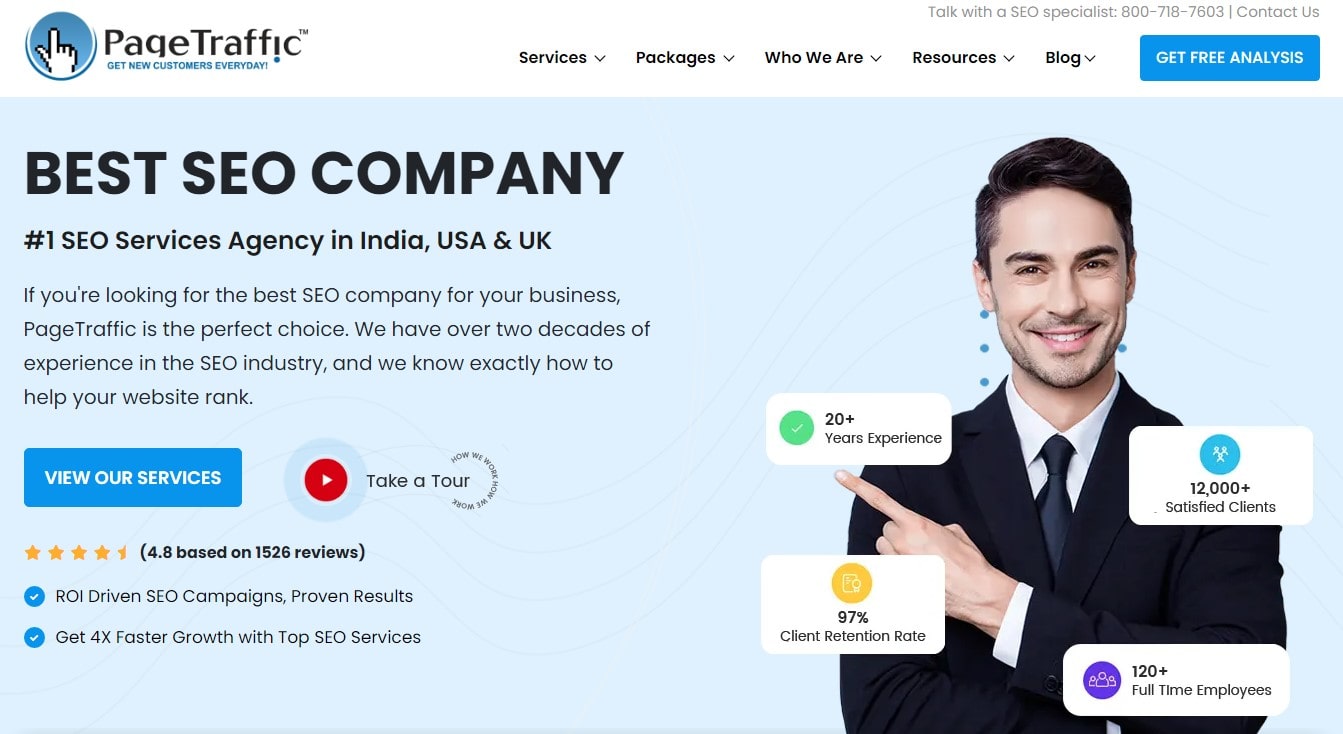 PageTraffic blog was launched in 2006. Navneet Kaushal founder and CEO of PageTraffic blogs regularly about everything that is Digital Marketing. The blog offers informative posts on SEO, Social Media, Paid Ads, Link Building, Digital Marketing and Web Design. Navneet also answers the audience questions in a dedicated section, Ask Me Anything. Blog is updated thrice a week with in-depth posts on various topics of interest to the serious SEO/Digital marketers. There are many listicles and how to posts as well that come handy to beginners. Read more https://www.pagetraffic.com/blog/
Summing up
Without a well-tuned marketing strategy, a business can hardly reach the highest conversion rates, and as a result, it can lose some of its potential profit. Furthermore, marketing should be adequate, so the client does not feel pressure to perform the target action. This is the main principle observed by the authors of the websites and blogs listed above to become a solid basis for a good marketing strategy.