Dive right in – the water's warm! ?‍♀️ Welcome to the bustling hub of affiliate marketing programs. Embarking on this journey can turn your web traffic into a revenue stream. All you need is the right program to partner with and a bit of marketing magic.
This article provides a comprehensive list of 30 top-tier affiliate marketing programs, ? tailored for varied niches. Whether you're an expert in tech gadgets, a maestro of fashion trends, or a culinary genius – we've got you covered!
Here's a sneak peek of what's inside:
High-earning programs for diverse niches
Robust tools for tracking commissions
Insightful tips on promoting your unique affiliate link
You'll discover how to craft stellar content that resonates with your audience and drives up sales. And don't forget, with Plerdy tool at your side, you can refine your SEO and UX strategies, supercharging your affiliate marketing success.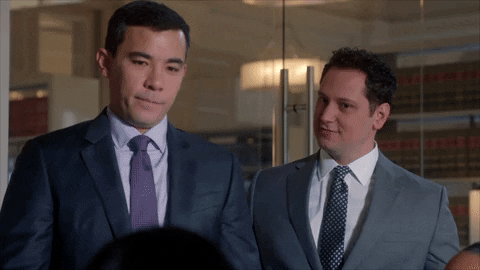 So, what are you waiting for? Gear up and dive into the dynamic universe of affiliate marketing. Let's turn your passion into a thriving business. ⚡ Don't hold back – start transforming clicks into commissions today!
How Affiliate Marketing Programs Work
Affiliate marketing programs operate on the principle of revenue sharing. They bridge the gap between product creators and marketers. This potent collaboration unfolds in three crucial stages.
Stage One – The Affiliate Joins a Program: At this stage, the marketer – also known as the affiliate – signs up for a program that matches their niche. A travel blogger might opt for a program promoting airline tickets, while a tech influencer might join a program selling gadgets.
Stage Two – The Affiliate Promotes the Product: Once the affiliate gets approval, they receive a unique link – a kind of digital fingerprint tracking all traffic and sales from their referrals. The affiliate then incorporates this link into their content. For example, a fashion blogger might showcase how they styled a particular dress and then provide their unique link for followers interested in buying the dress.
Stage Three – The Affiliate Earns a Commission: When a reader or follower makes a purchase using the affiliate link, the affiliate earns a commission on that sale. The rate varies among programs but often lies in the 5% to 50% range.
Affiliate marketing programs, therefore, offer a win-win situation for product creators and marketers. The creator gains increased visibility and sales, while the marketer earns a commission without the hassle of developing a product.
To be a successful affiliate marketer, it's crucial to understand this framework and adapt your strategies to each stage. Always remember that patience, perseverance, and meaningful engagement with your audience are key components of effective affiliate marketing.
Tips to Maximize Earnings from Affiliate Marketing Programs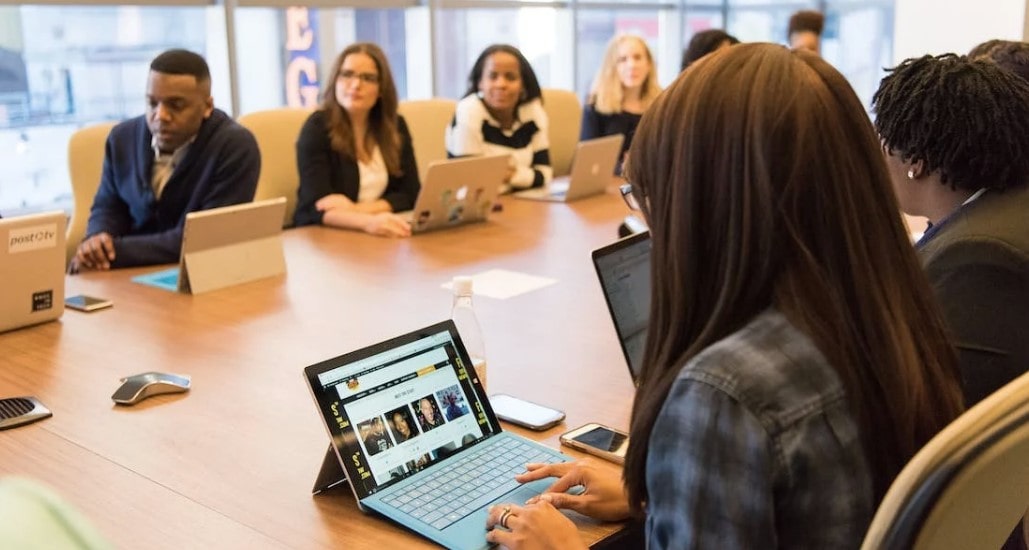 Harness the power of affiliate marketing programs and elevate your earnings with some practical and insightful tips. As an affiliate marketer, your primary goal is to generate ample revenue through commission-based promotions. However, mastering the art of affiliate marketing requires strategy, focus, and a clear understanding of your audience.
Take note of these pointers to maximize your earnings from affiliate marketing programs:
Understand Your Audience: Tailor your promotional efforts to the needs and interests of your audience. For example, promote health and wellness products that resonate with your followers if you're in the fitness niche.
Promote Products You Believe In: Trust is a priceless asset in the affiliate marketing space. Don't jeopardize it by promoting sub-par products.
Diversify Your Affiliate Portfolio: Don't put all your eggs in one basket – diversify. For instance, in the tech niche, balance high-ticket items like laptops with smaller ones like phone accessories for a well-rounded commission structure.
Leverage SEO: Yes, quality content matters, but it's equally important to ensure that your content is visible. Employ SEO best practices – incorporate relevant keywords, optimize meta tags, and create backlinks.
Affiliate marketing isn't a race – it's a marathon. The most successful affiliate marketers are those who treat it as a business. For example, if you're in the beauty industry, it would make sense to join affiliate programs from brands your audience already trusts, such as Sephora or Ulta. Then, create engaging content around these products, perhaps a tutorial or review, that'll entice your followers to make a purchase, earning you a commission.
By adopting these strategies, you'll ensure a steady income stream from your affiliate marketing efforts, transforming your digital platform into a profitable venture.

Dive into the Plerdy Affiliate Program – a stellar opportunity to augment your income from each successful referral. As a user-friendly software highly rated by users – evidenced by more than 200 glowing reviews on G2 – Plerdy offers a rewarding referral program. Once you sign up, spreading the word about Plerdy through your distinctive referral link will grant you a 50% commission for each consequent sale.
Becoming an affiliate with Plerdy means allying with a top-rated, user-centered platform. It holds a distinguished #3 rank for Heatmaps on G2 and ensures users maximize their experience with comprehensive tutorial videos. Plus, it's a breeze to promote Plerdy using our ready-to-use marketing assets, designed to capture attention and facilitate easy sharing.
Key features of the Plerdy Affiliate Program include:
Earning a substantial 50% commission per sale
User-friendly platform with extensive training materials
Ready-to-use marketing assets for easy promotion
How to rapidly leverage your earnings:
Follow a few do's and don'ts to stay aligned with the Plerdy Affiliate Partner program guidelines, such as creating educational videos and promoting on social media, but avoiding spammy activities and false advertisements.
The process for withdrawing your referral earnings is straightforward – the minimum withdrawal amount is $200, and you can easily apply to withdraw via PayPal. Assume an average purchase price of $80, and you could be making $40 per successful referral – that's a potential to earn thousands of dollars monthly!
Get on board the Plerdy Affiliate Program today and unlock a lucrative earning potential while partnering with a world-class tool for website optimization.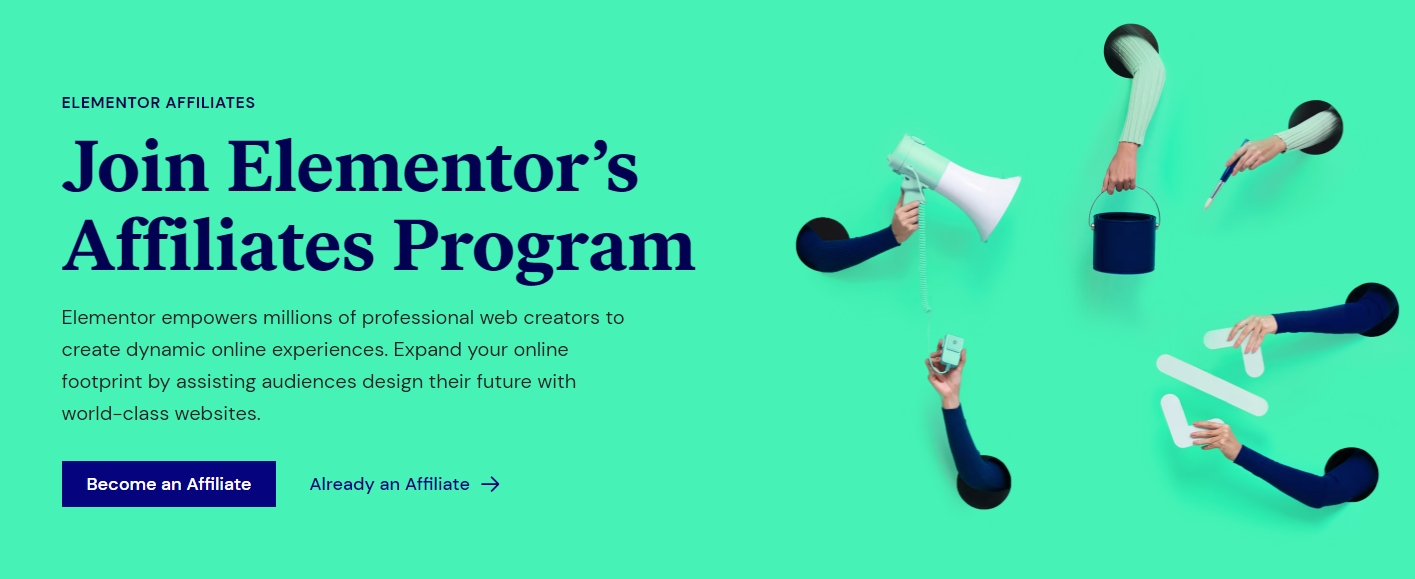 In the expansive domain of website creation and design, Elementor shines brightly. Launched with an aim to empower web professionals across the globe, this Israel-based company offers a powerhouse of tools to build stunning, highly-functional websites. Elementor's real magic lies in its affiliate marketing program, designed meticulously to reward those who help expand its user base.
Working as an Elementor affiliate, you promote a service that's in high demand. Businesses across all industries need intuitive, reliable platforms for website design—Elementor fills this gap perfectly. A tech blogger could seamlessly incorporate Elementor links into a tutorial on website setup, while a marketing consultant could suggest it to clients needing a site overhaul.
Elementor's affiliate program perks are manifold:
Handsome 50% commission per sale
Payouts processed consistently, without delay
Resources provided to help you succeed as an affiliate
Elementor's commitment to simplicity, functionality, and user experience has carved a unique niche in the marketing landscape. Its lucrative affiliate program offers the chance to earn a significant income, making it an attractive option for marketers in the affiliate marketing ecosystem.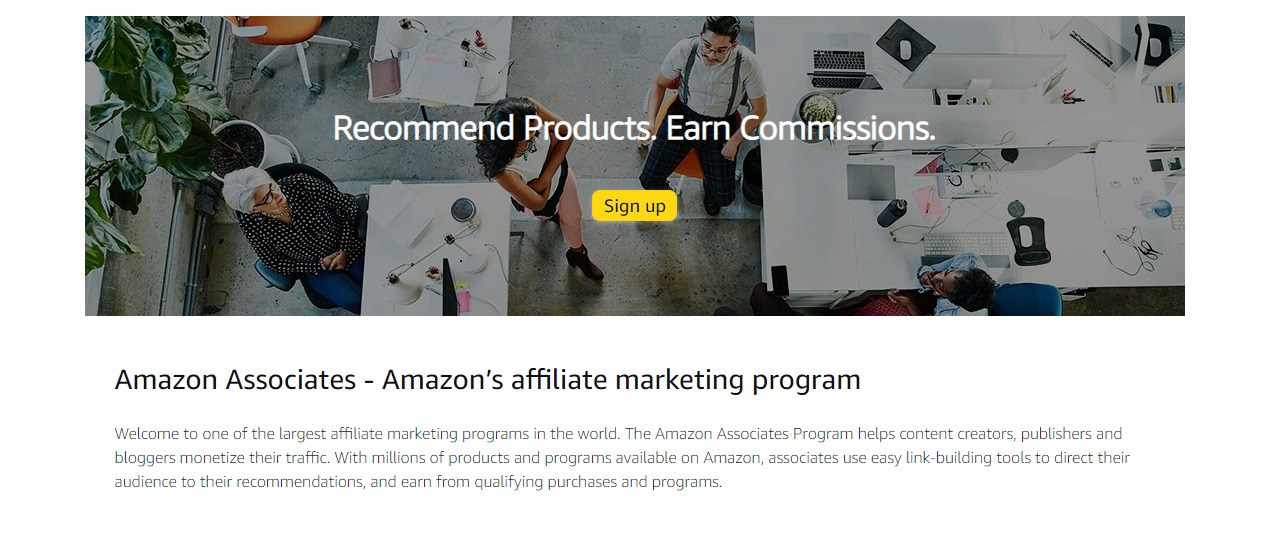 Synonymous with online shopping, Amazon's widespread influence isn't limited to eCommerce alone. Their affiliate marketing program, Amazon Associates, presents a significant revenue-generating opportunity for those harnessing the power of digital platforms.
As an Amazon Associate, you're promoting products from a globally recognized brand which spans an array of categories. A fitness enthusiast could rave about their favorite home workout equipment, while a beauty blogger might share her top picks from Amazon's cosmetics line.
Key features of Amazon Associates making it a choice pick for affiliate marketing include:
Diverse product catalog appealing to any niche
Tiered commission structure with potential for high earnings
Easy-to-use interface facilitating tracking and payments
Trust and credibility associated with Amazon's name
With Amazon Associates, you're not simply earning a commission—you're aiding your audience in finding the best products for their needs. By fostering this kind of trust, you solidify your position as a reliable source of advice while securing a steady income stream. This dual advantage is what sets Amazon Associates apart in the vibrant sphere of affiliate marketing programs, making it an essential tool for digital marketers worldwide.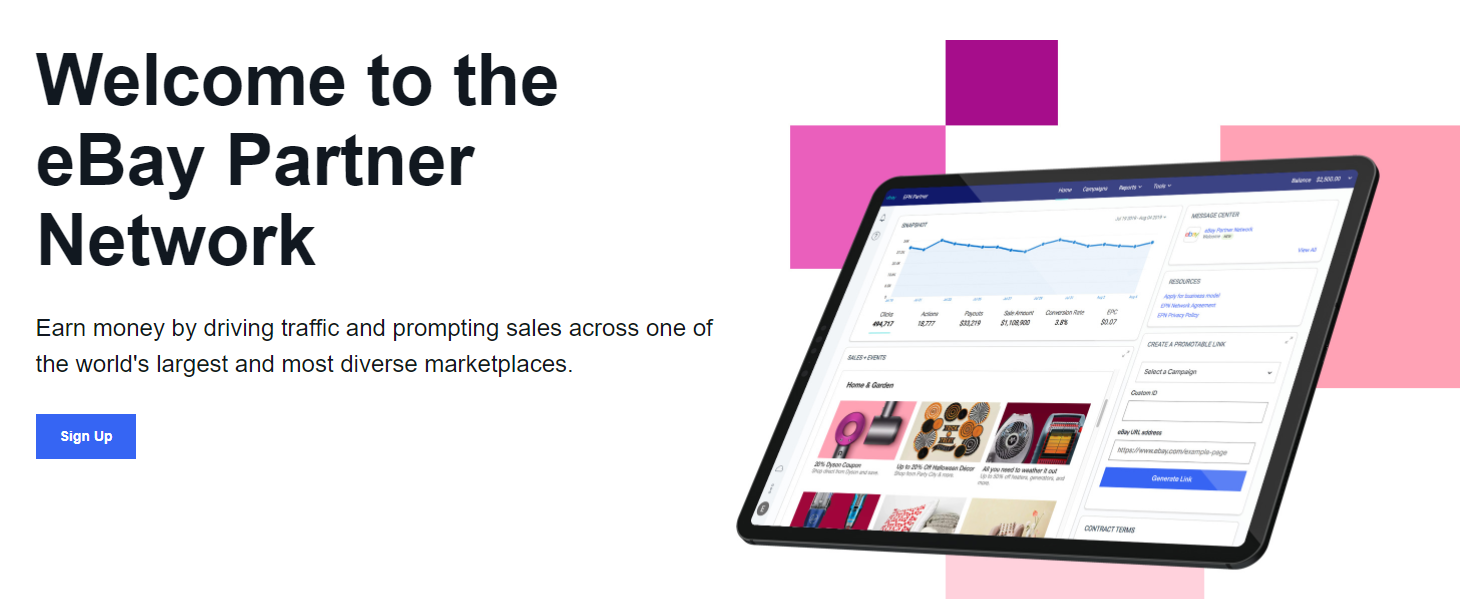 The eBay Partner Network stands as a prime example of affiliate marketing done right. With roots in a vibrant and diverse marketplace, it empowers affiliates to tap into the eclectic range of products found on eBay, granting opportunities to earn commissions across a multitude of niches.
Being an affiliate for the eBay Partner Network opens the door to promoting a vast array of products. A car enthusiast could tout auto parts to their audience, while a vintage collector could share finds with other history buffs.
Features that set the eBay Partner Network apart include:
Wide range of products catering to various interests
Sophisticated tools for tracking performance and earnings
Reliable, regular commission payouts
The established reputation of eBay
At the heart of the eBay Partner Network's success is the company's underlying commitment to fostering a community where people can find precisely what they're after. By tapping into this ethos, affiliates can guide their audience towards products that genuinely resonate with their interests, strengthening relationships while generating income. In the vast sea of affiliate marketing, the eBay Partner Network emerges as a valuable ally, offering both the resources and reputation necessary for affiliates to thrive.

Fiverr is a thriving global marketplace for creative and professional services, and their Affiliate Program is a testament to the platform's versatility. Through this program, Fiverr extends its opportunity for profit beyond the buyers and sellers, making a place for marketers to benefit from the platform's success.
As an affiliate marketer for Fiverr, you're promoting a platform that's home to a vast spectrum of services. For instance, a graphic designer might utilize affiliate links for Fiverr's logo design services, while a business coach could recommend Fiverr freelancers for their clients' content creation needs.
Fiverr's Affiliate Program shines in several ways:
Dynamic CPA up to $150 or a $10 CPA + 10% RevShare model
A vast range of high-quality services to promote
Access to professional marketing resources
Reliable tracking and easy payout procedures
At Fiverr, affiliate marketers don't just earn commissions—they become part of a vibrant ecosystem where creativity and entrepreneurship meet. This inherent value makes the Fiverr Affiliates Program not just a source of income but a strategic partnership. By working with Fiverr, affiliates are able to provide their audience with access to the resources they need while building a steady income stream. A more harmonious approach to affiliate marketing is hard to find.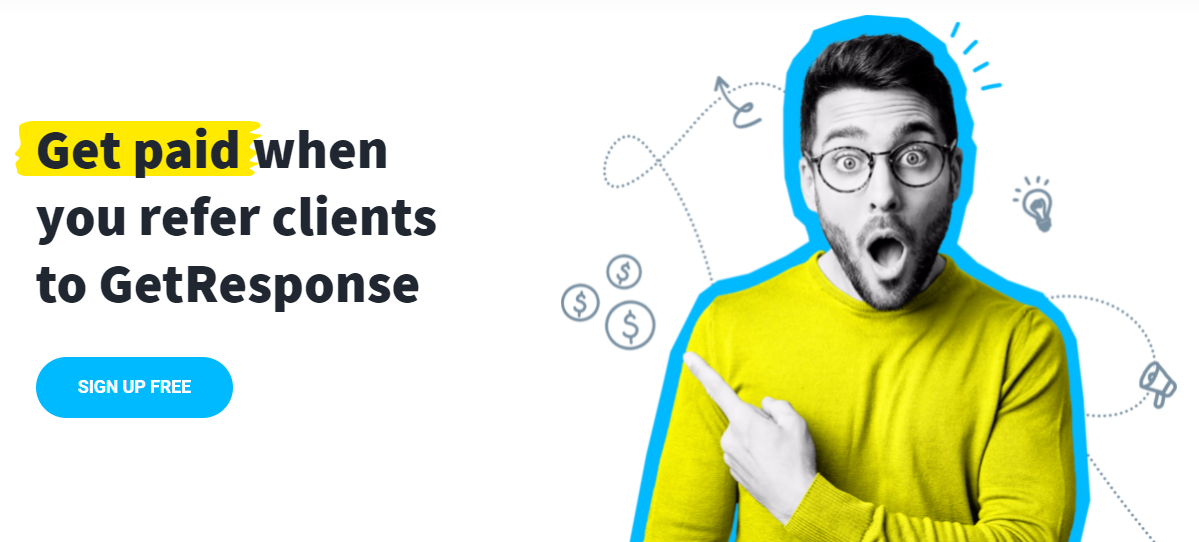 GetResponse is a powerhouse in the field of online marketing tools, specializing in email marketing, landing pages, conversion funnels, and more. The company's affiliate marketing program invites marketers to partake in GetResponse's continued growth and success.
When participating in the GetResponse Affiliate Program, marketers are championing a platform that brings comprehensive digital marketing solutions. For example, a marketing consultant might promote GetResponse's funnel builder to their audience, while a digital agency could share GetResponse's email automation with their clients.
The GetResponse Affiliate Program boasts:
Competitive commissions of $100 per sale or 33% recurring commission
Comprehensive suite of marketing tools to promote
Access to advanced reporting and analytical tools
Timely, hassle-free payment procedures
When you step into the affiliate marketing role with GetResponse, you're not just another marketer — you're a valued partner. This partnership is fueled by GetResponse's commitment to making marketing easier and more effective for businesses around the globe. It's about developing a symbiotic connection where affiliates can serve their audience with high-quality marketing tools while earning a sustainable income. This balanced approach to affiliate marketing sets the GetResponse Affiliate Program apart from others, establishing it as a reputable choice for digital marketers.

Shopify, a global leader in e-commerce solutions, has fostered business growth for countless online entrepreneurs with its robust platform. As an affiliate marketer, the Shopify Affiliate Program offers you an opportunity to tap into this digital goldmine and reap substantial benefits.
The program caters to a variety of niches — whether you're a business coach guiding start-ups, a web developer assisting with e-commerce setups, or an influencer nurturing an entrepreneurial audience, you can make a notable impact with Shopify. By promoting their intuitive, feature-packed platform, you can not only earn impressive commissions but also empower your audience to carve out their own online success stories.
Key highlights of the Shopify Affiliate Program are:
Up to $58 commission for each user who signs up for a paid plan
Earn $2000 for every Plus referral
Resources, training, and priority support to help you succeed
30-day cookie duration
Harnessing Shopify's strong reputation and extensive e-commerce capabilities, affiliate marketers can ignite their income potential. Simultaneously, they provide a valuable resource to their audience — an e-commerce platform that puts user-friendliness and robust features at the forefront. Whether it's creating a visually stunning online store, seamlessly managing inventory, or tapping into advanced analytics, Shopify is a platform that empowers businesses. Participating in the Shopify Affiliate Program means being part of this empowering journey, contributing to business growth, and driving your own commission-based revenue in the process.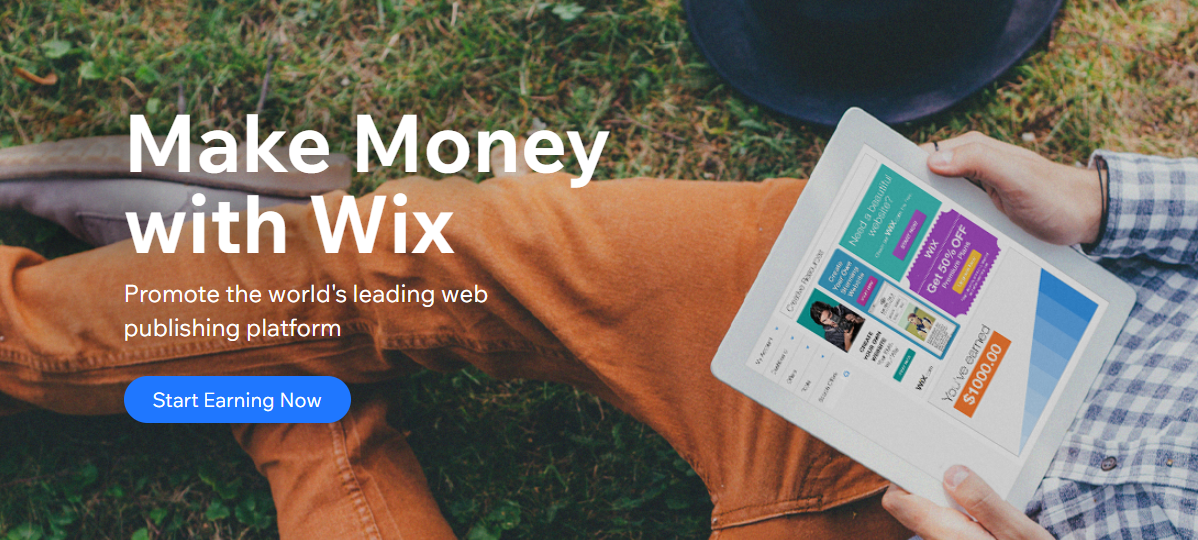 A major player in the web development industry, Wix shines with its user-friendly platform, enabling anyone to create stunning websites. As an affiliate marketer, the Wix Affiliate Program offers a compelling avenue to bolster your income while assisting your audience in realizing their digital dreams.
The program encompasses diverse niches. If you're a digital marketer, an SEO professional, or even a content creator guiding a digital-first audience, Wix gives you the chance to add value while earning handsome commissions.
Features of the Wix Affiliate Program that stand out include:
$100 per Premium user conversion
No limit on referrals or earnings
Access to creative resources and support
30-day cookie window
By partnering with Wix, you become an integral part of the journey for thousands of individuals and businesses aiming to establish an impactful digital footprint. With straightforward drag-and-drop capabilities, adjustable templates, and complex design options, the platform meets a variety of user needs. Users can build blogs, portfolios, online stores, and more with minimal technical knowledge.
As a Wix affiliate, you are not just earning attractive commissions, but you're also providing your audience with a path to autonomy in the digital landscape. From small business owners to freelancers and creative professionals, your influence as a Wix affiliate marketer can assist various individuals in carving out a successful online presence.

The WP Engine Affiliate Program presents an unrivaled opportunity for affiliate marketers keen on reaping substantial rewards by promoting the industry's leading WordPress digital experience platform. WP Engine empowers businesses with a suite of agility, performance, intelligence, and integration solutions, and their affiliate program is as impressive.
It caters to a range of niches – from web development and design professionals to digital marketers and bloggers – anyone with an audience keen on enhancing their WordPress experience can prosper with WP Engine.
Benefits of partnering with WP Engine include:
Minimum $200 commission per sale
Promotions, incentives, and bonuses
180-day return cookie
Co-branded landing pages and banners
As an affiliate, you're providing a high-value solution to your audience – WP Engine's robust, scalable platform that enables businesses to quickly and securely create compelling, fast, and optimized WordPress sites.
The beauty of promoting WP Engine lies in the caliber of the product – a dedicated WordPress host known for exceptional speed, advanced security, and top-notch customer service.
So, if you're steering your audience in the digital space, advocating for WP Engine becomes a straightforward proposition. Amplify your earnings while assisting businesses to streamline their online operations with a platform that's trusted by brands globally. With WP Engine, you're backing a leader, not an unknown quantity.

One of the key players in the affiliate marketing landscape is Rakuten – a global powerhouse delivering top-tier rewards to its marketing partners. This digital marketing juggernaut harnesses advanced technology to facilitate impactful connections between companies and customers. Affiliates partnering with Rakuten gain access to a dynamic network that caters to diverse niches, from fashion and travel to electronics and more.
Rakuten opens doors to a multitude of benefits:
Access to a wide range of globally recognized brands
Transparent, detailed performance tracking
Regular, reliable commission payouts
Dedicated support for optimizing your affiliate activity
Rakuten affiliates can promote high-quality products and services from trusted brands, increasing revenue. Suppose you're steering individuals eager to snag the latest designer ensemble or tech enthusiasts itching to secure top-of-the-line gadgets. In that case, Rakuten equips you with high-converting links to the hottest items on the market.
Partnering with Rakuten is synonymous with backing a well-established, respected brand. Their creativity and customer service have helped them stand out in the congested digital space. Now, with their affiliate program, they've extended that success to you. Amplify your earnings, seize the chance to drive growth while delivering value to your audience, and, ultimately, nurture strong, lucrative relationships – that's the Rakuten affiliate promise.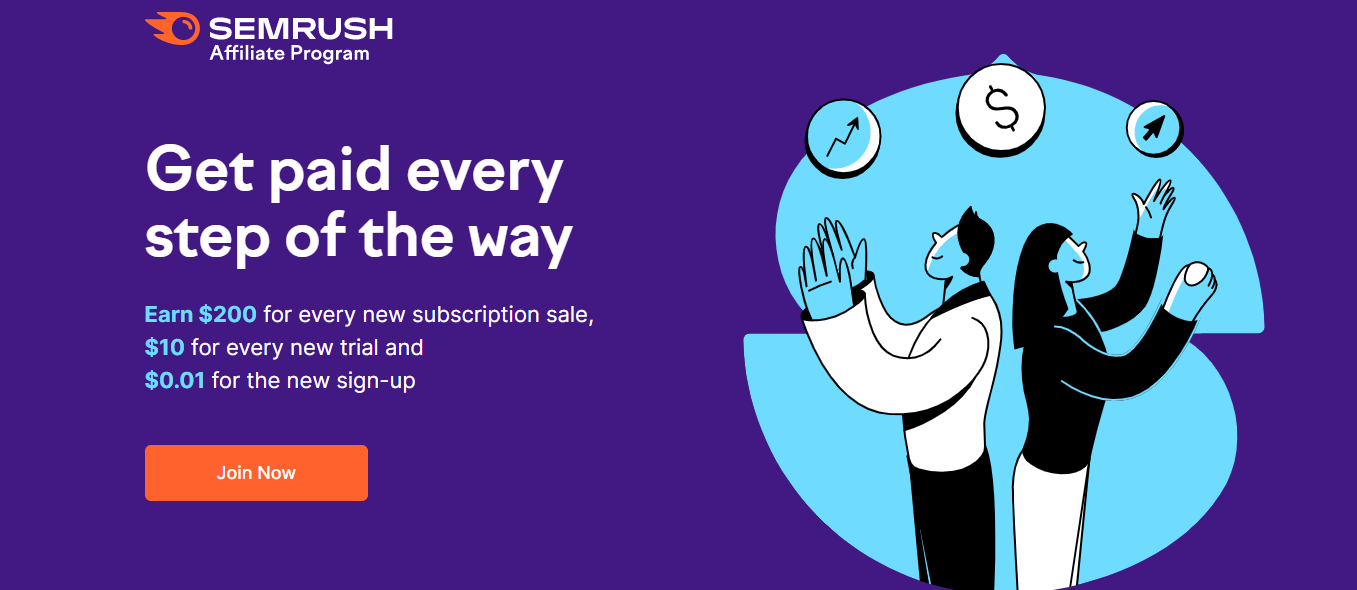 Semrush – a robust, data-driven platform – has emerged as a go-to resource for marketers worldwide. Their suite of tools has revolutionized the way businesses strategize and carry out online campaigns, earning Semrush a top-tier spot in the digital marketing universe. Their affiliate program lets partners share in their success.
Advantages that come with joining Semrush's affiliate program include:
Commission rates that are competitive within the industry
Quick and transparent payout schedules
Easy access to promotional materials
Complimentary access to their cutting-edge platform for successful affiliates
Leveraging the power of Semrush's brand, affiliates can promote a trusted, innovative suite of tools to their audience, driving conversions and boosting earnings. Whether you cater to budding entrepreneurs, established digital marketers, or SEO enthusiasts, Semrush offers a treasure trove of products that can help your audience thrive in the digital sphere.
Semrush believes in forging powerful partnerships, evidenced by their commitment to ensuring affiliates succeed. With a strong focus on growth, they offer a prime opportunity for those wishing to increase their earnings while promoting a platform that has become indispensable in today's digital marketing landscape. Semrush is an industry leader that's changing how businesses approach and execute their marketing. Join their affiliate program today.

NordVPN is renowned for its high-quality internet security and privacy. To extend their reach and influence, NordVPN has rolled out a lucrative affiliate program, offering a golden opportunity for individuals and businesses to cash in on their stellar reputation.
Benefits of joining NordVPN's affiliate program:
Attractive commission structure, generously rewarding partners
A broad range of high-conversion promotional materials
Quick and efficient payment system
Access to a dedicated affiliate team for guidance and support
NordVPN's affiliate program caters to a diverse array of niches. If your audience values digital privacy, whether they're remote workers seeking secure connections, travellers desiring unrestricted internet access or everyday netizens wanting to surf anonymously, promoting NordVPN could yield great dividends.
By standing with NordVPN, you get to represent a reliable brand trusted by millions globally. Their premium service, combined with an appealing commission structure, provides a rare affiliate marketing opportunity. Their dedication to partners' success manifests in the form of an easily accessible affiliate team ready to assist you in scaling your efforts.
In essence, becoming a NordVPN affiliate means stepping into a partnership with a powerful brand that's leading the charge in internet security. Now, you have a chance to be part of their journey, helping your audience safeguard their online presence while boosting your income. Dive in, and make waves with NordVPN's affiliate program.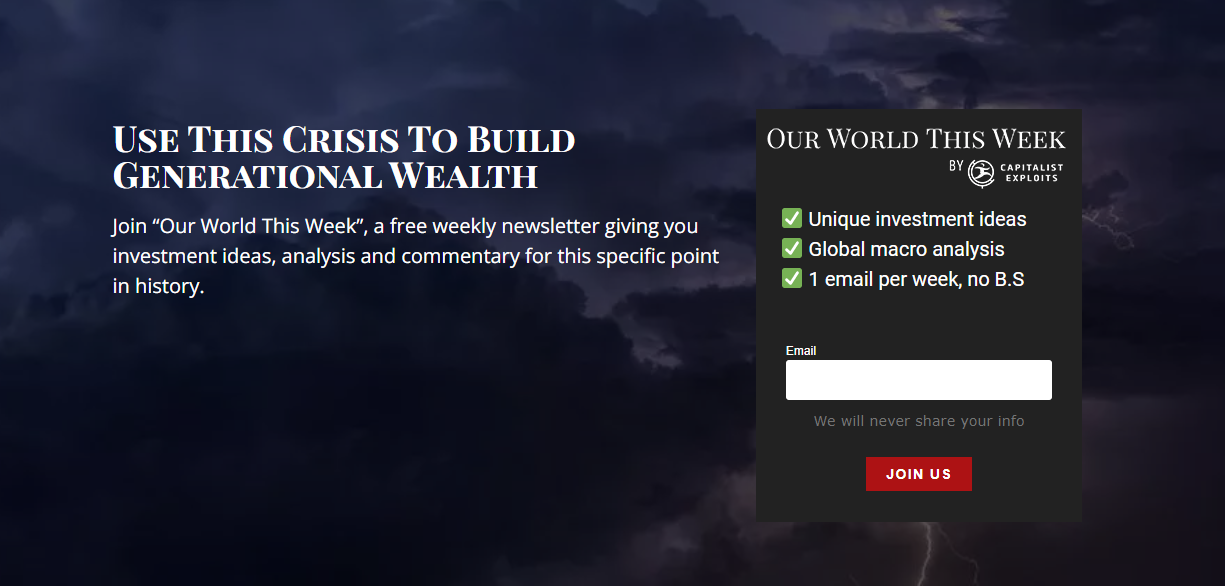 Capitalist Exploits serves as a beacon for investors worldwide, offering insights into markets that often get left in the shadows. As a part of their growth strategy, they've established a bountiful affiliate program that merges the worlds of investment wisdom and marketing in a unique way.
Joining the Capitalist Exploits Affiliate Program brings numerous benefits:
Generous commission rates, rewarding you for every referral
Exceptional conversion rates thanks to their reputation in the financial space
Payments processed quickly and reliably
Personalized support from a dedicated affiliate team
A perfect fit for financial bloggers, investment gurus, and wealth-management professionals, this program provides an opportunity to monetize your platform while promoting a trusted name in the financial arena. Whether your audience comprises day traders, retirement planners, or high-net-worth individuals, Capitalist Exploits' insights could add immense value to their investment strategies.
By becoming an affiliate, you have the opportunity to join forces with a company known for deep market analysis and smart investment advice. With their enticing commission structure and high conversion rates, you can enjoy considerable returns while offering your audience valuable insights. Dive headfirst into the rewarding sea of affiliate marketing with Capitalist Exploits – a move that's both savvy and profitable.

Leadpages, a significant player in the online marketing sphere, is not just another landing page builder. The company focuses on turning clicks into customers with conversion-oriented designs and strategies. An integral part of their operations is the affiliate program – a lucrative opportunity for digital marketers and bloggers alike.
The Leadpages Affiliate Program offers enticing benefits:
High commission rates ensuring that your efforts pay off significantly.
Recurring revenue for every customer you refer – making the income stream consistent.
A library of creative assets to assist in promoting Leadpages effectively.
A dedicated affiliate team, always ready to provide support and answer queries.
With this program, you can earn a steady income by leveraging your online presence. For instance, if you are a digital marketing blogger, it's a golden opportunity to educate your audience about the benefits of a tool like Leadpages while also earning commissions from referrals. Likewise, an e-commerce consultant can introduce Leadpages to clients to optimize their sales funnels, earning while providing value.
The Leadpages Affiliate Program is more than just a commission opportunity. It's about partnering with a company that's committed to client success. With their resources and your expertise, you can blaze a trail in affiliate marketing, all while promoting a product designed to enhance online businesses. In this partnership, success is mutual – when Leadpages wins, you win too.

Dedicated to helping creators earn a living online, ConvertKit has emerged as a powerful email marketing tool. Key to the company's growth strategy is the ConvertKit Affiliate Program – a high-paying opportunity for bloggers, influencers, and digital marketing experts.
The ConvertKit Affiliate Program stands out due to:
Recurring commissions, providing affiliates with a steady income source.
A 30-day cookie window, which offers a fair chance to earn from conversions.
A diverse range of promotional materials to boost your marketing efforts.
A supportive affiliate team, ensuring a smooth partnership experience.
By recommending ConvertKit, you're not just earning a commission but aligning yourself with a solution that is transforming the lives of creators around the globe. Whether you're a tech blogger illustrating how to build an email list, or an influencer guiding your followers on starting a digital business, ConvertKit is the tool your audience needs.
Similarly, if you're a digital marketing consultant, recommending ConvertKit to your clients to manage their email marketing needs will not only improve their business operations but will also serve as a profitable side gig.
With ConvertKit's Affiliate Program, you're encouraged to spread the word about a top-tier email marketing tool while the commissions keep rolling in. ConvertKit's success in boosting the income of creators translates to your success as an affiliate – a win-win scenario that underlines the program's effectiveness.

Teachable, the online course platform, has carved a niche in the e-learning industry. Fostering an atmosphere of knowledge sharing, it's simultaneously ignited a thrilling commission-earning opportunity for affiliates. The Teachable Affiliate Program rewards its members for advocating their services, allowing them to monetize their influence or expertise in their respective fields.
Here's what sets the Teachable Affiliate Program apart:
Recurring commissions contributing to a predictable income.
A 90-day cookie period boosting the probability of converting referrals.
A wide variety of promotional resources to amplify marketing endeavors.
A responsive affiliate team that prioritizes affiliates' needs.
Whether you're a blogger specializing in online learning platforms, a digital marketer, or an influencer passionate about sharing resources for online course creation, Teachable is the ideal partner for your affiliate marketing journey.
For instance, if you're an educational blogger, you can create a post on how to create and sell online courses, incorporating Teachable into your narrative. Similarly, digital marketers can recommend Teachable to clients interested in venturing into e-learning, thus cultivating an additional income stream.
With Teachable's Affiliate Program, the affiliate marketing landscape becomes a vast expanse of opportunity, promising both professional growth and rewarding commissions.

Positioning itself as an exclusive performance marketing agency, GiddyUp sets the bar high in the affiliate marketing sector. Its offering revolves around an innovative affiliate program packed with advantages that bring the interests of the marketer into sharp focus. The commission-driven initiative makes earning an exciting adventure.
Here's what makes GiddyUp's Affiliate Program a cut above the rest:
Exclusive access to high-performing, globally scalable campaigns.
Timely and secure payments, making the financial journey smooth.
Personalized assistance from dedicated account managers.
Cutting-edge technology to aid in tracking and optimizing campaigns.
The affiliate program at GiddyUp is suitable for many different markets. If you're an affiliate in the tech field, you can tap into the latest digital products or innovative tech solutions that GiddyUp promotes. Alternatively, if your expertise lies in health and wellness, GiddyUp's portfolio of fitness and health products can form the crux of your marketing strategy.
In essence, GiddyUp offers a treasure trove of high-performing offers, premium payouts, and comprehensive support to its affiliates. It's a promising platform to diversify income streams, whether you're an experienced affiliate marketer or someone at the start of their affiliate journey. With GiddyUp, the goal isn't just to push boundaries—it's to leap over them and redefine what's possible in the affiliate marketing niche.

Distinguished in the affiliate marketing industry, Awin dominates with a network that connects businesses across the globe. Awin's commission structure rewards affiliates for marketing a wide range of items and services, boosting earnings.
Awin's program benefits include:
Easy access to over 13,000 advertisers for a wide choice of campaigns.
An intuitive dashboard for tracking success and refining strategy.
Regular payouts to ensure affiliates are rewarded without delay.
A dedicated support team available around-the-clock.
For example, fashion bloggers can leverage Awin's connections with top clothing and accessory brands to earn commission. Tech-savvy affiliates, meanwhile, can promote electronics, software, or online services. Even travel enthusiasts can tap into Awin's links with hotel chains, airlines, and booking platforms.
In summary, Awin is not just an affiliate network—it's a bridge connecting affiliates to multiple industries. Through Awin, affiliate marketers can earn commission from promoting anything from beauty products to business software. Embracing a blend of diversity, inclusivity, and innovation, Awin encourages affiliates to carve out their path, embracing every opportunity to surpass their own benchmarks and succeed. With Awin, the journey of affiliate marketing turns into a road paved with possibilities and rewarding returns.

With Pabbly, it's all about simplifying business operations while simultaneously maximizing the potential of affiliate marketers. Known for its suite of online business management tools, Pabbly has designed an affiliate program that matches its reputation for quality and results.
Some of the significant advantages Pabbly's affiliates enjoy include:
A 30% lifetime recurring commission on every successful referral.
A broad spectrum of digital tools, from email marketing to subscription billing, to promote.
Transparent performance tracking through a real-time dashboard.
Rapid, reliable payouts without any minimum threshold hindrances.
For instance, digital entrepreneurs can reap rewards by recommending Pabbly's tools to their audience, earning commission on everything from subscription sales to customer sign-ups. Online educators might introduce their students to Pabbly's form-building or email marketing tools, making a significant passive income through the affiliate program.
Put simply, Pabbly extends a golden opportunity to affiliate marketers. With an array of digital solutions to endorse, affiliates can reap the rewards of a commission structure that's engineered to generate ongoing income. Pabbly is more than a software solution provider—it's a gateway to rewarding affiliate marketing opportunities. Affiliates of all niches find the platform's offerings relevant to their audiences, thereby making the Pabbly Affiliate Program an attractive option for long-term, lucrative partnerships.

In the sphere of landing page solutions, Unbounce stands as a sterling figure. Its focus—providing a boost to the efficiency of digital marketing efforts—makes it a platform worth partnering with for affiliate marketers.
The Unbounce Affiliate Program is a significant part of their success strategy. By valuing and leveraging affiliate partnerships, Unbounce has designed this program to reap mutual benefits.
The Unbounce Affiliate Program offers:
A recurring lifetime commission of 20% on every successful referral. This is an appealing feature for those focused on long-term revenue building.
Access to top-notch promotional resources, taking the burden off the affiliate in creating marketing materials and ensuring that the brand is represented accurately and consistently.
Working in the fitness industry? Promote Unbounce to gym and fitness studios seeking to grow their online memberships. Or perhaps your focus is e-commerce. Online retailers can benefit from Unbounce's proven conversion optimization.
The Unbounce Affiliate Program also includes a smooth payout process. Funds are transferred directly to the affiliate's bank account in a reliable manner, ensuring no hiccups disrupt the cash flow.
In conclusion, Unbounce presents a favorable opportunity for those in the affiliate marketing sector. It doesn't just offer an innovative product but an affiliate program that makes earning commissions a smooth ride. Dive into this opportunity and start reaping the rewards.

In the bustling online ecosystem, ClickFunnels is an established name. Renowned for its premier marketing software, it's the go-to solution for businesses craving a boost in their online marketing efforts.
An intriguing aspect of ClickFunnels is their Affiliate Program. A veritable goldmine for seasoned affiliates and novices alike, it's an opportunity to get a piece of the software's success. Here are some highlights of this impressive program:
Earn up to 40% recurring commission on referred accounts – a solid way to generate passive income.
Profit from the generous 'Sticky Cookie' feature, ensuring affiliates get credit for any purchases made by their referrals, even those beyond the initial one.
Take the eCommerce niche, for instance. A recommendation of ClickFunnels can skyrocket conversions for online stores, thanks to its robust set of sales funnels. Similarly, the real estate industry can benefit from its landing page capabilities to showcase properties and generate leads effectively.
The ClickFunnels Affiliate Program also guarantees prompt payouts. With swift, regular payments, affiliates can rest assured their hard work pays off in due time.
With its state-of-the-art marketing software and a promising affiliate program, ClickFunnels offers a lucrative path for affiliate marketers. It's a platform where innovation meets affiliate marketing, and the outcome is nothing short of spectacular.

HubSpot, a distinguished name in the digital marketing landscape, has been dishing out top-tier marketing solutions for years. It continues to dominate with a comprehensive suite of services—marketing, sales, and customer service—providing a unified platform for businesses to thrive online.
The company offers an Affiliate Program, a high-performing channel for marketers to monetize their influence. Here's the gist of it:
Engaging commission structure – Affiliates can earn up to $1,000 for each product purchased.
Reliable tracking – All your efforts are accurately tracked and rewarded.
Let's draw examples from the B2B niche. Suggesting HubSpot to a business owner or a professional consultant can significantly enhance their marketing strategies, leading to higher conversions. The same is true for the education sector where institutions can leverage HubSpot to manage their admissions and alumni engagement.
Beyond just marketing, HubSpot's Affiliate Program offers an affiliate resources portal ready to aid you with tailored advice and in-depth guides. This enables affiliates to harness HubSpot's tools effectively while advocating their benefits to potential clients.
HubSpot, therefore, bridges the gap between powerful software and worthwhile commissions—making it a favorite amongst affiliates and businesses alike. It embodies a beacon in the affiliate marketing landscape, illuminating the path to success for numerous affiliates.

Bluehost, a trusted name in the web hosting industry, delivers top-of-the-line hosting services to millions globally. It also fuels success for online marketers through its lucrative Affiliate Program. This platform allows affiliates to monetize their digital influence by promoting Bluehost's services, earning hefty commissions along the way.
Key perks of the program include:
Generous commission payouts — Affiliates can rake in $65 for each qualified signup.
Wide array of promotional materials — Bluehost provides all the banners and logos affiliates need to kick-start their campaigns.
Efficient tracking — Affiliates can monitor clicks and conversions via a comprehensive dashboard.
Drawing from the e-commerce niche, a budding online store could benefit from Bluehost's robust hosting solutions. Promoting Bluehost to such businesses could pave the way for higher conversions and subsequently, higher affiliate earnings.
Affiliates in the blogging niche can also reap benefits. Recommending Bluehost to fellow bloggers not only helps them establish a stable online platform but also allows you to earn from their success.
Being an affiliate for Bluehost isn't just about earning commissions but empowering businesses with reliable hosting solutions. This dynamic bridges the gap between earning opportunities and helping businesses thrive in the digital landscape. As an affiliate, you are not only growing your revenue stream but also advocating a service that brings real value to its users. Bluehost, indeed, stands as a pivotal player in the affiliate marketing ecosystem.

When it comes to reliable email marketing solutions, AWeber stands tall. Known for its robust tools and seamless automation, AWeber has carved out a significant niche in the email marketing landscape. Moreover, with its affiliate marketing program, it offers an impressive way to earn handsome commissions for digital marketers.
Diving into the program, you will find:
Recurring commissions — you earn a 30% cut from each referral for as long as they remain an AWeber customer.
Consistent payouts — AWeber prides itself on timely commission payouts, ensuring a steady revenue stream for affiliates.
Comprehensive resources — affiliates get access to promotional tools and materials to streamline their campaigns.
Let's dig into a specific niche, say, the fitness industry. Fitness trainers with substantial email lists can leverage AWeber's email marketing solutions to engage their audience more effectively. By promoting AWeber, they not only aid their peers in enhancing their email marketing efforts but also get a share of the revenue.
Similarly, bloggers who focus on digital marketing strategies can utilize their influence to recommend AWeber's tools, helping their readers optimize email marketing while also boosting their own commission earnings.
AWeber's affiliate program offers a striking balance of mutual growth — assisting businesses in bolstering their email marketing game while rewarding affiliates for their role in this process. So, AWeber isn't just about earning commissions; it's about driving tangible growth in the email marketing sphere.

BuyGoods, a prominent e-commerce platform, provides a unique fusion of business growth through the facilitation of global retail and compelling affiliate marketing opportunities. The platform's strength lies in its ability to create robust, scalable sales funnels while generating lucrative commission earnings for its affiliates.
What BuyGoods offers its affiliates:
Attractive commissions — Each successful referral lands you with a considerable percentage of the sale.
Regular payments — With BuyGoods, expect timely and secure payouts.
High-conversion products — Their wide range of trending products maximizes conversion rates.
Consider, for example, affiliates within the health and wellness niche. They can promote BuyGoods' extensive selection of health supplements, increasing both their audience's wellbeing options and their own commission earnings.
Similarly, for affiliates within the tech niche, recommending BuyGoods' array of innovative gadgets can significantly boost their revenue stream. By sharing information on the latest tech accessories available on BuyGoods, they not only offer their audience more choices but also maximize their commission earnings.
BuyGoods perfectly intertwines affiliate marketing with e-commerce retail, offering a remarkable growth opportunity for digital marketers. The platform, known for its innovative approach to online retail, has proven itself as a go-to resource for affiliates aiming to boost their income stream. This twofold success strategy — aiding customers in their buying journey and rewarding affiliates with hefty commissions — makes BuyGoods a standout choice.

Atera's Nexus Program stands out in the bustling hub of affiliate marketing with its comprehensive suite of advantages. Designed to bolster tech professionals, the program places a high-value commission structure right at your fingertips.
The initiative doesn't merely offer an affiliate program; it cultivates a community of IT aficionados keen to harness the dynamic potential of Atera's offerings and champion the brand, transforming networking efforts into a profit-making endeavor.
The Nexus Program carries the torch with:
Generous commission – Every referral nets substantial returns, mirroring your hard work.
Persistent payouts – You don't get rewarded just once; earn for the entire customer lifetime.
State-of-the-art tools access – Amplify your professional skills with Atera's industry-leading solutions.
For instance, affiliates operating in the IT services industry can maximize Atera's all-in-one remote monitoring and management (RMM) platform to optimize their services while profiting from client referrals.
Likewise, affiliates focused on the SME market can improve their service offerings and monetize their referrals by recommending Atera's platform.
Atera's Nexus Program goes beyond traditional affiliate programs – it's a lifestyle choice for ambitious professionals who grasp the true value of quality products and want to tap into a profitable, recurring revenue stream. With Atera Nexus Program, it's more than just a side hustle. It's about making a real difference in your professional life and turning your network into a true source of income.

Experience the high tide of success with Sandals Resorts' affiliate marketing program, a lucrative proposition for those savvy about travel and tourism. The opportunity to swim in generous commissions is not a mirage but a reality when joining this venture.
The program serves a dual purpose – amplifying brand visibility for Sandals and bringing attractive commissions to those who tap into their networks to endorse this leader in luxury vacations.
The Sandals' affiliate initiative stands apart with features like:
High reward rates – Sandals translates your efforts into substantial profits.
Lasting income – The rewards don't end with the first booking, enjoy sustained earnings.
An array of promotional tools – Ride the wave of success with effective marketing aids provided by Sandals.
Consider a blogger in the travel niche who can effortlessly align Sandals' luxury vacation packages with their audience's interests, thus driving bookings and subsequent commissions. Similarly, a travel agent can upsell these top-tier experiences to their high-end clientele, thereby maximizing their income.
Being part of Sandals' affiliate program isn't just about turning a profit. It's a journey to the heart of the luxury vacation market, giving you the opportunity to affiliate with a high-profile brand while making the most of your connections. Ride the wave with Sandals and dive into the deep end of affiliate marketing success.

Liquid Web, a titan in the hosting industry, offers a rewarding affiliate marketing program. The promise of attractive commissions makes this program an engaging journey for anyone equipped with a knack for promotion and a desire to excel in the field.
Once you've cast your lot with Liquid Web's affiliate program, you're in line to gain sizable returns. The program serves as a potent tool to increase income through clever use of your digital real estate.
A few highlights include:
Attractive payouts – Earn high commissions that reflect your promotional efforts.
Access to a broad product portfolio – Promote an extensive range of in-demand hosting solutions.
Supportive marketing materials – Make use of a rich set of resources to help you shine.
Imagine a web development or digital marketing firm. They could strategically integrate Liquid Web's hosting solutions into their service offering, yielding higher earnings by leveraging the commissions from client referrals. In another scenario, a tech influencer might find it rewarding to recommend Liquid Web to their audience, profiting from every successful sign-up.
As a participant in Liquid Web's affiliate marketing program, you're not just aligning with a brand but leveraging your influence to convert followers into revenue. With Liquid Web, let the streams of affiliate marketing income flow.

TripAdvisor, a globally recognized travel giant, unveils a unique affiliate marketing program where revenue growth opportunities converge with the joy of travel. By joining forces with TripAdvisor, affiliates stand to gain profitable commissions while promoting an extensive range of travel services.
Your journey as an affiliate begins when you become an ambassador of TripAdvisor's dynamic suite of offerings. You're tasked with bringing traffic to TripAdvisor's site – every successful booking steers a commission your way. The more bookings, the higher your earnings.
Standout features of the program are:
High commission rates – reap financial rewards that truly reflect your hard work.
A vast pool of services – draw from TripAdvisor's travel-related offerings to create diverse, engaging promotions.
Resourceful marketing materials – use top-notch creatives to enhance your promotional strategies.
Let's consider a travel blogger passionate about sharing the best travel tips and tricks. By enrolling in TripAdvisor's affiliate program, they can enhance their content by linking to specific experiences or accommodation reviews on TripAdvisor and earn commissions on the bookings their readers make. Likewise, an app developer specializing in travel assistance apps could integrate TripAdvisor's offerings into their app to create an additional revenue stream.
The beauty of TripAdvisor's affiliate marketing program lies not just in the promise of commissions but also in the opportunity to align with a renowned travel brand. Connect with TripAdvisor's affiliate program and steer your way to a revenue-rich journey.

Coursera, the e-learning platform that champions global access to world-class education, introduces a robust affiliate program that thrives on the principles of collaboration and commission-based growth.
By stepping into this affiliate marketing program, you partner with Coursera to expand the horizons of learning while also reaping the benefits of an attractive commission structure. The challenge is straightforward: drive traffic to Coursera's wealth of courses, and earn a commission on every successful enrollment that you generate.
Here are some distinctive characteristics of Coursera's affiliate program:
Generous commission rates – Your efforts are valued, and you earn substantial returns on every successful referral.
Wide array of courses – You can recommend from thousands of courses across numerous disciplines, enhancing the versatility of your promotions.
Comprehensive marketing tools – Benefit from a suite of resources to aid your promotional activities.
For example, consider an education blogger passionate about lifelong learning. By partnering with Coursera, they can augment their blog posts with links to relevant Coursera courses. As their audience enrolls in these courses, the blogger earns a commission. Similarly, a career coach could utilize Coursera's affiliate program to provide recommended course lists to clients, creating an additional income source.
Becoming a part of Coursera's affiliate program is not just about monetary rewards. It's an opportunity to unite with a transformative education platform, driving knowledge sharing while concurrently nurturing a growing revenue stream.
Conclusion
In the affiliate marketing landscape, opting for the right programs is the ticket to a constant flow of commissions. Now that you're well-versed in 30 of the finest platforms – ranging from ShareASale's robust system to Clickbank's impressive stats ?, it's time to step into action. Dip your toes into different methods, engage with vendors, and work those registration forms. Think of your pending decisions like an artist's palette ?, each affiliate program a unique hue that can transform your canvas. Remember, data is your best buddy here – use tools like Plerdy for comprehensive SEO and UX analysis to ensure your marketinghub is at its prime. So, why wait until the 15th of the month to start? Make the most of these tools today and secure a steady stream of income. The road to affiliate marketing freedom is just a few clicks away. Turn this knowledge into power – and power into profit! ⚡