Most users know that websites collect information about our visits when we navigate. Yet we usually don't bother to ask what data they gather and why.
Some of this information enables website owners to ensure the web resource works smoothly, but a large share they used to monitor user behavior. Details on clicks, scrolls, highlights, and selected elements allow them to see what people do to enhance their experience and tailor marketing.
How do websites capture user behavior? They integrate web resources with website trackers. Even though website owners can gather some information without additional tools, first-party tracking is limited. Hence, they adopted one of the professional website trackers that generated advanced statistics on website usage and customer behavior.
With website tracking software, you can learn:
Website interactions
Pageviews
Session duration or time on page
User source and medium
Device type (desktop, tablet, or mobile)
Visitor location
New vs returning users
Conversion path
Event tracking
Since website trackers provide data in timely reports and visualizations, using them is easy. You don't need to process or aggregate any data manually.
This article provides an overview of the top 11 website trackers. Learn more about their unique capabilities below.
11 Best Website Tracking Tools
Here are the most frequently used web tracking solutions to consider.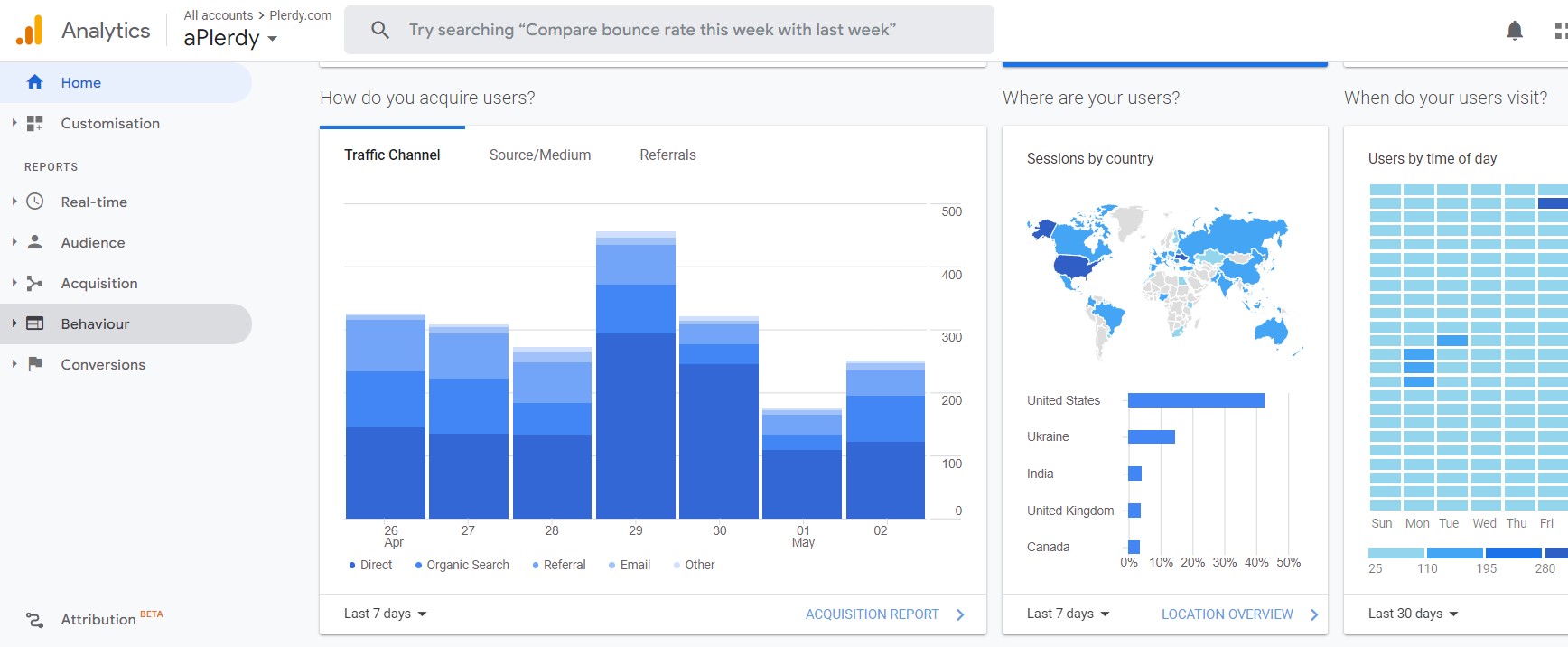 GA measures your website traffic and displays the best and worst-performing pages. You can also track new and returning users, retention, conversions, and events. This tool is the foundation of marketing and SEO website analytics and is usually applied with other website trackers for a more powerful effect.
Specials:
Traffic measurement
Audience reports
Advanced filtering
Channel grouping
Users: Airbnb, Slack, Udemy, Uber
Google Search Console is a free tool that can help you improve web ranking. It records Google Search data on keywords and traffic. You won't have much information about user behavior but get valuable details on what people search online. This way, you can better optimize your website SEO to make more people find it.
Specials:
Users: Most websites that aim to rank on Google

Plerdy is a platform with multiple online user behavior tracking and analysis tools. Its heatmap functionality helps see what visitors do on your website pages. The color-coded maps show high and low user activity areas to indicate which elements work as expected and which people ignore. Plerdy also has vart segmentation capabilities and event tracking to monitor visitors accurately.
Specials:
Real-time heatmaps
Click, scroll, and hover tracking
Custom events
99% click collection accuracy
Users: Subaru, SoftServe, Honda, KredoBank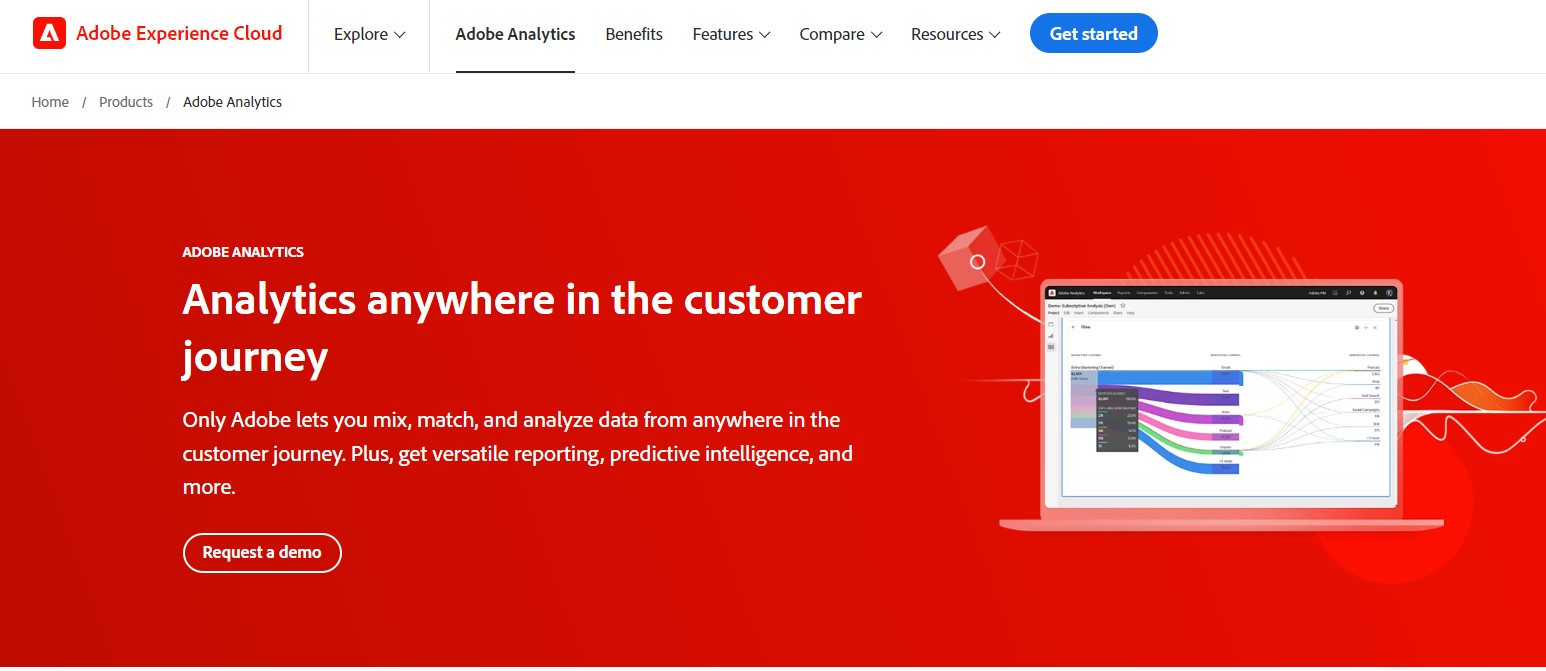 Web analytics is a part of the more extensive capabilities of Adobe Experience Cloud. Compared to other tools on this list, Adobe Analytics focuses on marketing and data integration.
Specials:
Predictive analytics
Integrated data from multiple channels
Users: Zendesk, Lewis, Asos, Ford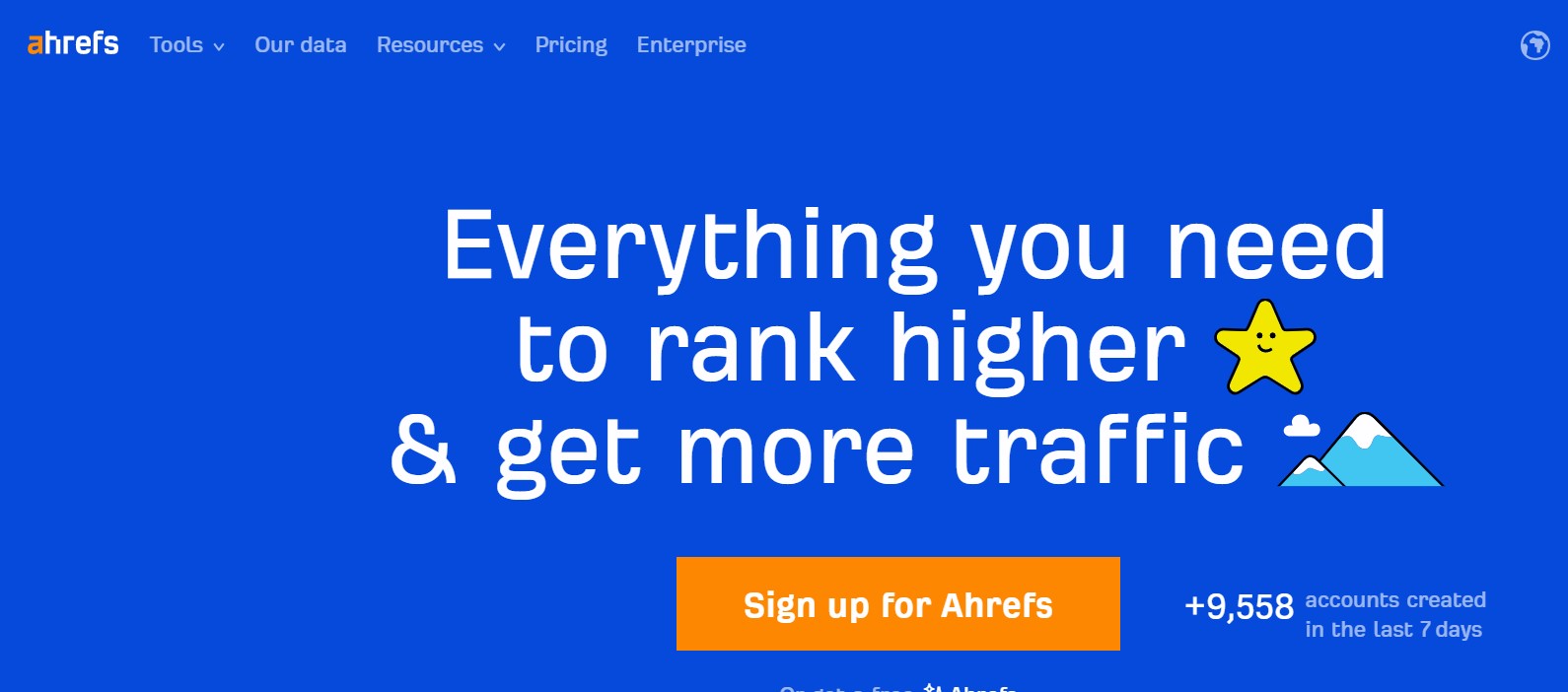 Ahrefs is a beloved tool of SEO experts running keyword analysis and researching competitors. It doesn't track what people do on your website but displays comprehensive data on its Google Search position and the rankings of similar web resources.
Specials:
Users: Netflix, eBay, Shopify

Mixpanel is a product analytics tool. This platform is designed for product teams seeking to improve in-app user experience. It analyzes how users engage with the application, what actions they complete, where they come from, etc.
Specials:
In-app user behavior analytics
Customer retention features
Detailed data on user conversion and drop-off
Users: Rakuten Viber, GoDaddy, BuzzFeed
Mogul is a SaaS companies' subscription and revenue tracking tool. You can measure churn, revenue, sales, customer lifetime value, subscribers, and other metrics that reflect your market success (or failure).
Specials:
Subscription reporting
Data auditing, editing, and enrichment
Users: Typeform, DocSend, Linux Academy

Matomo offers traffic analytics for websites and mobile apps. You can get reports on top keywords and search engines, top page URLs, user countries, operating system, desktop vs. mobile, engagement (time on site, pages per visit, repeated visits), custom variables, top entry/exit pages, etc.
Specials:
Users: NASA, United Nations, Amnesty International
Kissmetrics has product and marketing analytics features for SaaS and eCommerce companies. It's more suitable for enterprise-level use than for tracking separate user actions.
Specials:
Separate plans for SaaS and eCommerce businesses
Every action tied to a person
Revenue reports for each channel
Users: LucidChart, Tortuga, Unbounce
Clicky is a concise tool for real-time website traffic analytics. You can instantly see data on visitors, actions, total time, visit duration, and other details. Even though this solution has standard functionality, it's enough to learn the most critical information about your web resource.
Specials:
Real-time statistics
Content popularity tracking
Users: 1800Accountant, Bulb

Fathom is a privacy-focused and cookie-free tool for website analytics. Without spying on people, you can get valuable details about customer behavior, like unique views, goal completions, and referrers.
Specials:
Fast and small script
Cookie-free data collection
GDPR, ePrivacy, PECR, and CCPA compliance
Users: GitHub, IBM, Buffer
Conclusion
The choice of a website tracker depends on what type of business you run. Overall, there are solutions for eCommerce companies, online businesses, and product teams. They have different features and capabilities. Hence, you'd better test the functionality of the selected tool before adopting it.